CULINARY COUP  .   .   .
SATURDAY BRUNCH AT FOUR SEASONS RESORT THE BILTMORE IS A MUST!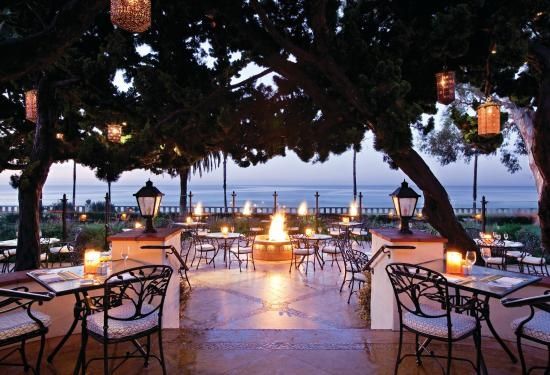 Everyone has had the pleasure of Sunday Brunch at their favorite restaurant or hotel destination, but recently I had the pleasure of savoring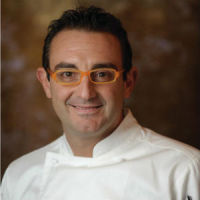 Executive Chef Marco Fosatti's new Saturday Brunch at Bella Vista Restaurant, overlooking beautiful Butterfly Beach, in the historic Four Seasons The Biltmore Resort in Montecito, California. This Four Seasons property has been one of my favorites for over forty years, and I still look forward to returning to enjoy the flavors of their innovative seasonal menu changes and take in their exquisite coastal location.
The ambiance of the patio restaurant Bella Vista in the Four Seasons Resort The Biltmore, where the sun dances off the ocean and seems to make everything glisten like a beautiful movie set, is an experience every visitor to the Santa Barbara area should experience. Four Seasons properties are renowned for their service and this five star property is no exception, the service is always superb and the dedicated staff respond to your every whim. I continue to find this hotel an irresistible place to enjoy pleasurable times with friends or family over the finest in food and beverage.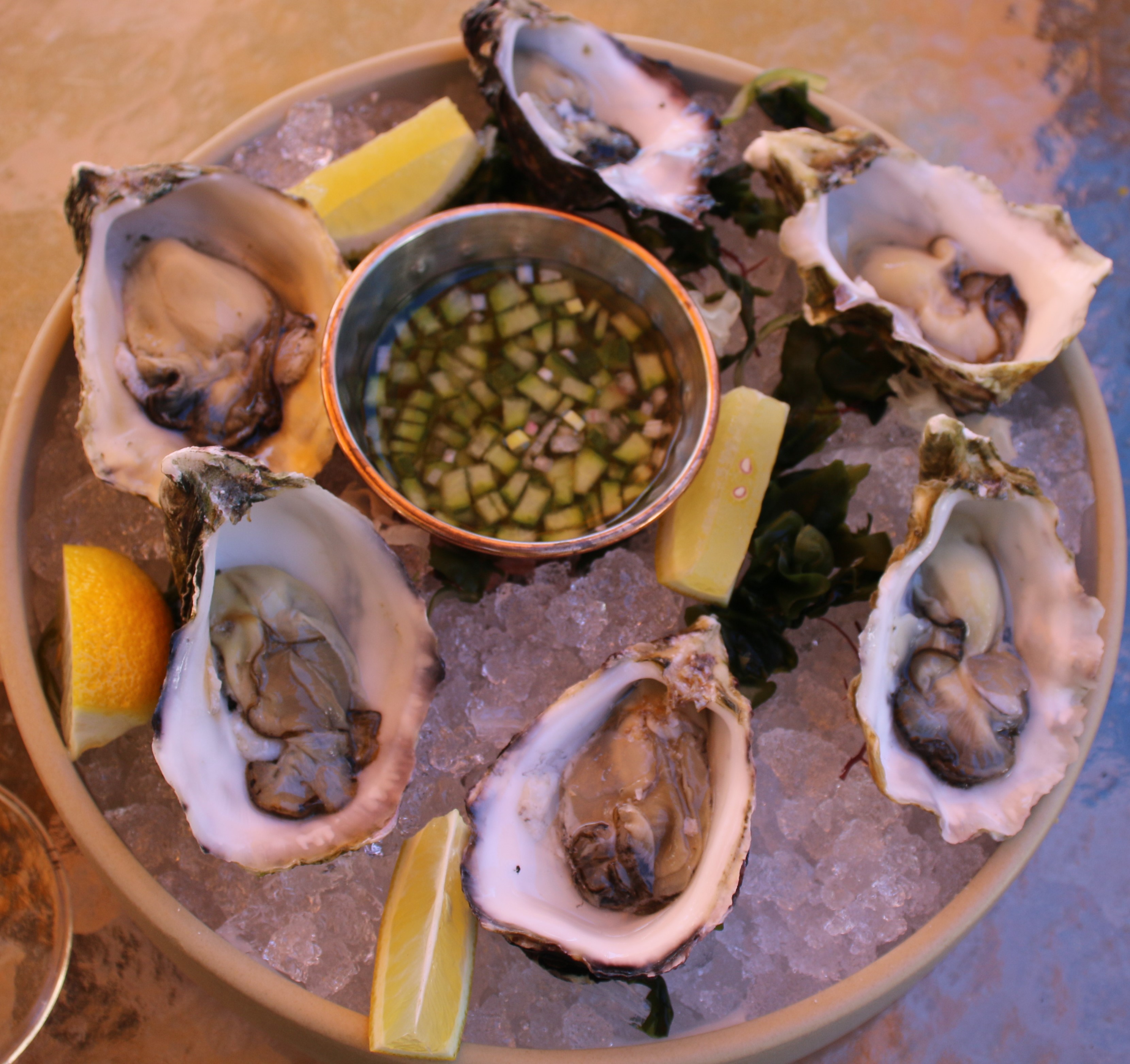 My brunch starter of 1/2 dozen Pacific Northwest Shigoku Oysters with champagne and cucumber mignonette was not only presented beautifully but featured six heavenly oyster bites to sip down with the chef's sensational sauce. Another choice I heartily recommend is the Lobster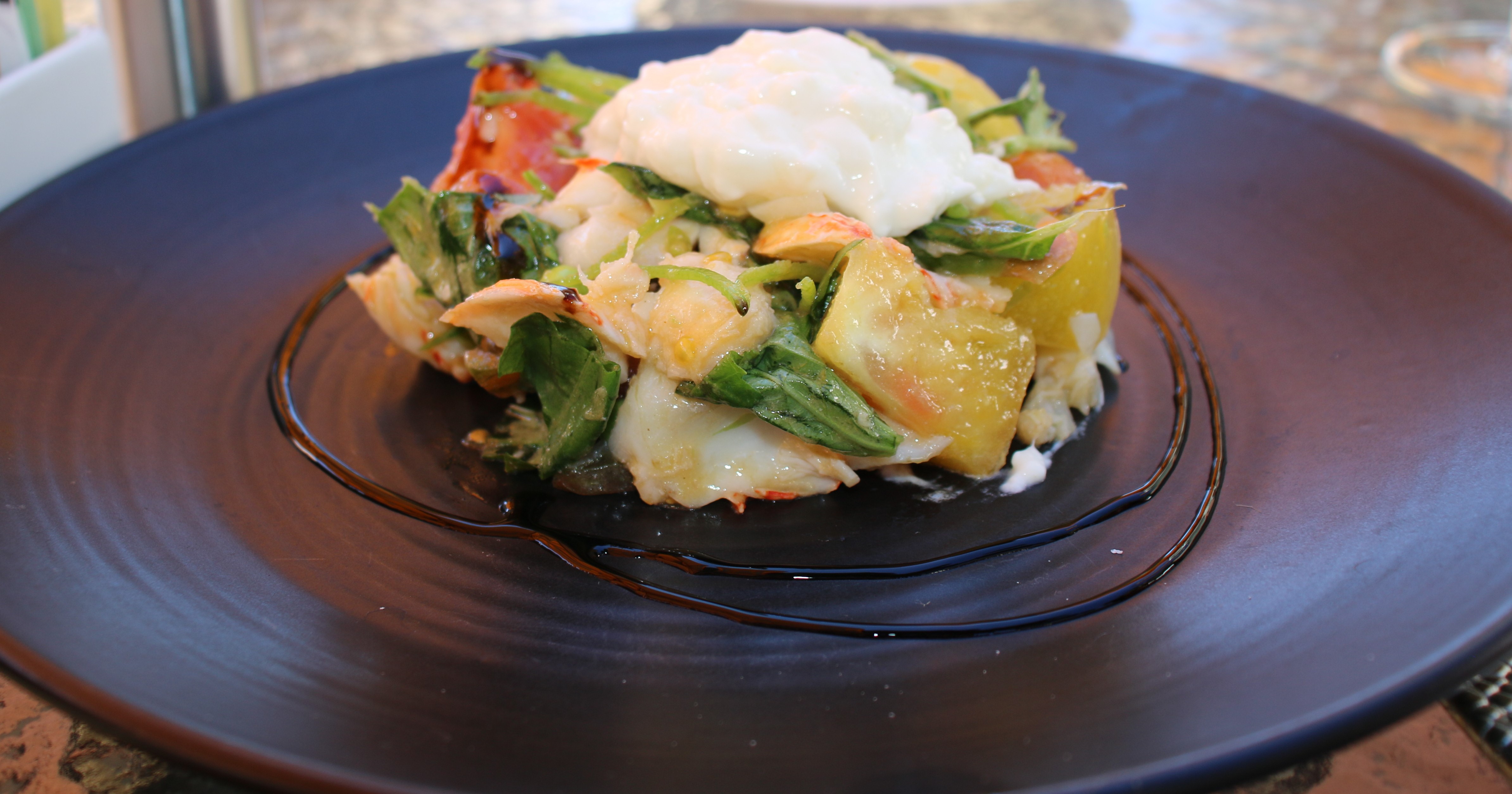 Caprese made with perfectly ripe heirloom tomatoes, fresh basil, snap peas, burrata cheese and poached baby Maine lobster. The Four Seasons properties are recognized for their conscious choice to include farm to table selections on their menus.
The brunch classics on this 'relax and be served brunch' menu includes two items that caught my eye; the Crab Eggs Benedict featuring crab cakes, poached eggs and lemon Hollandaise sauce, as well as a Steak & Egg dish of adobo marinated flat iron steak, roasted purple potatoes, patty pan squash and salsa Verde that were both exceptional.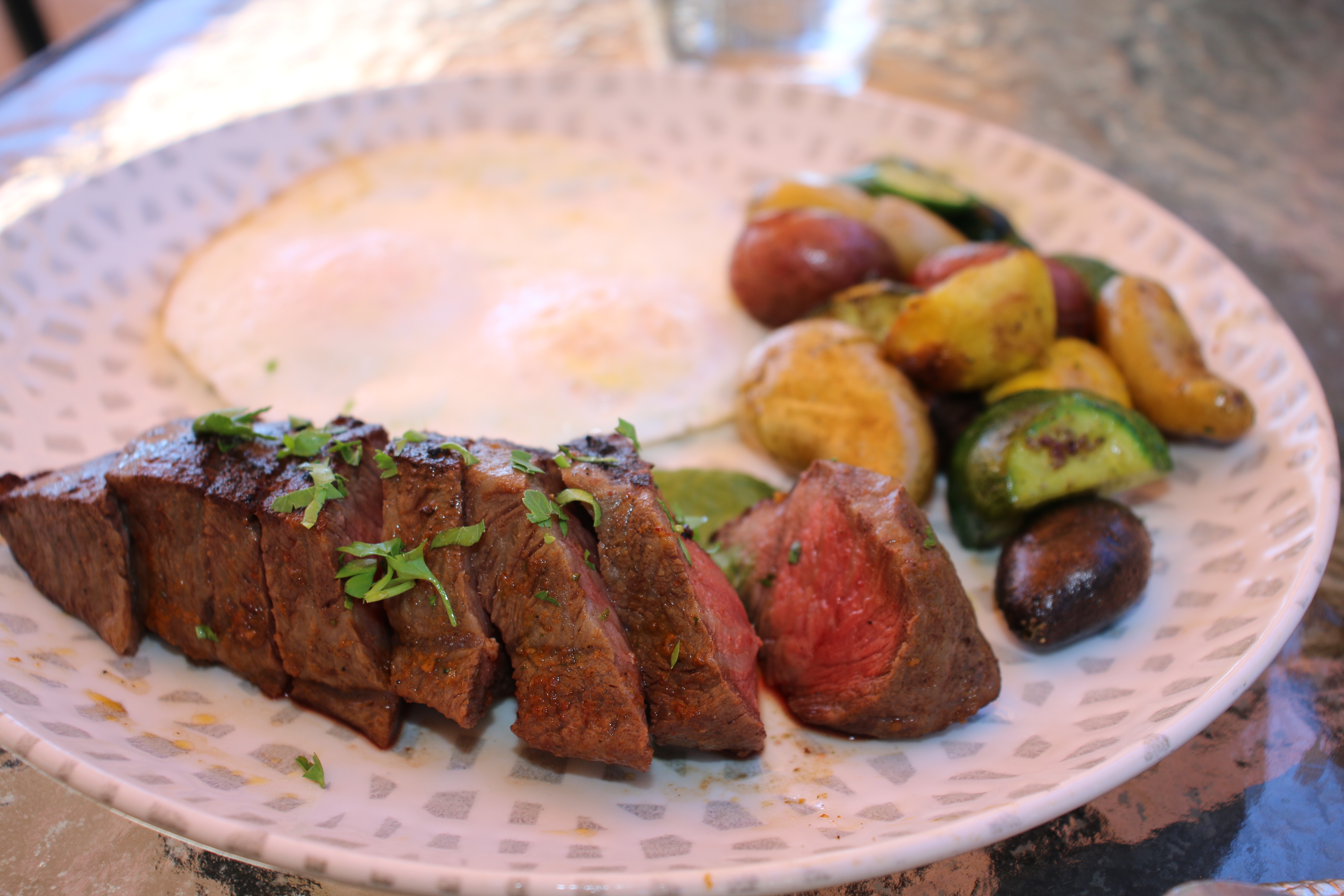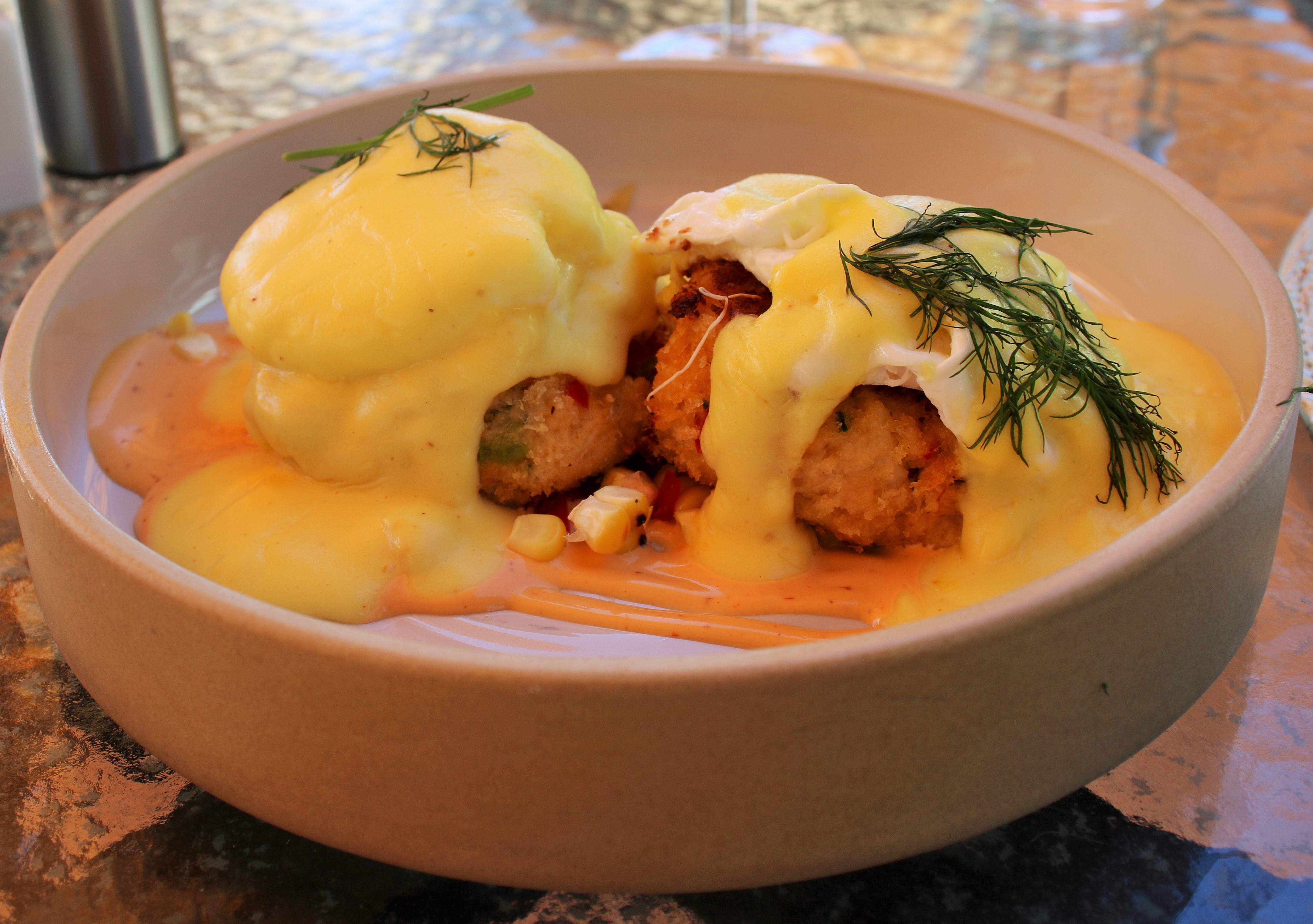 The rich crab cakes were covered with two nicely done poached eggs and the lemon gave a unique zesty flavor to the sauce offering a new twist on the classic Hollandaise. The Steak & Eggs entree offered a choice of eggs, I preferred eggs over easy and they were perfectly done and placed artistically next to steak slices so tender they melted in my mouth, while the tiny purple potatoes added a delicious crunch to the eye appealing combination. I'm still dreaming about this marvelous meat plate that I will return to Bella Vista to enjoy again soon.
The food portions at Bella Vista are large and the entree selection also include a buttermilk fried chicken & waffle dish with bacon gravy and burnt Meyer lemon that looked like a 'steel magnolia's' dream come true way to start the day. I also saw a Bella house-made vegan patty with vegan cheddar, onions, avocado, aloo gobi spread on an organic Ezekiel bun go by on a tray that would make anyone give a second thought to becoming a vegan devotee. Add on items of pork or chicken sausage, vegan bacon, turkey or regular bacon, and a bakery basket filled with fresh baked goodies are also offered.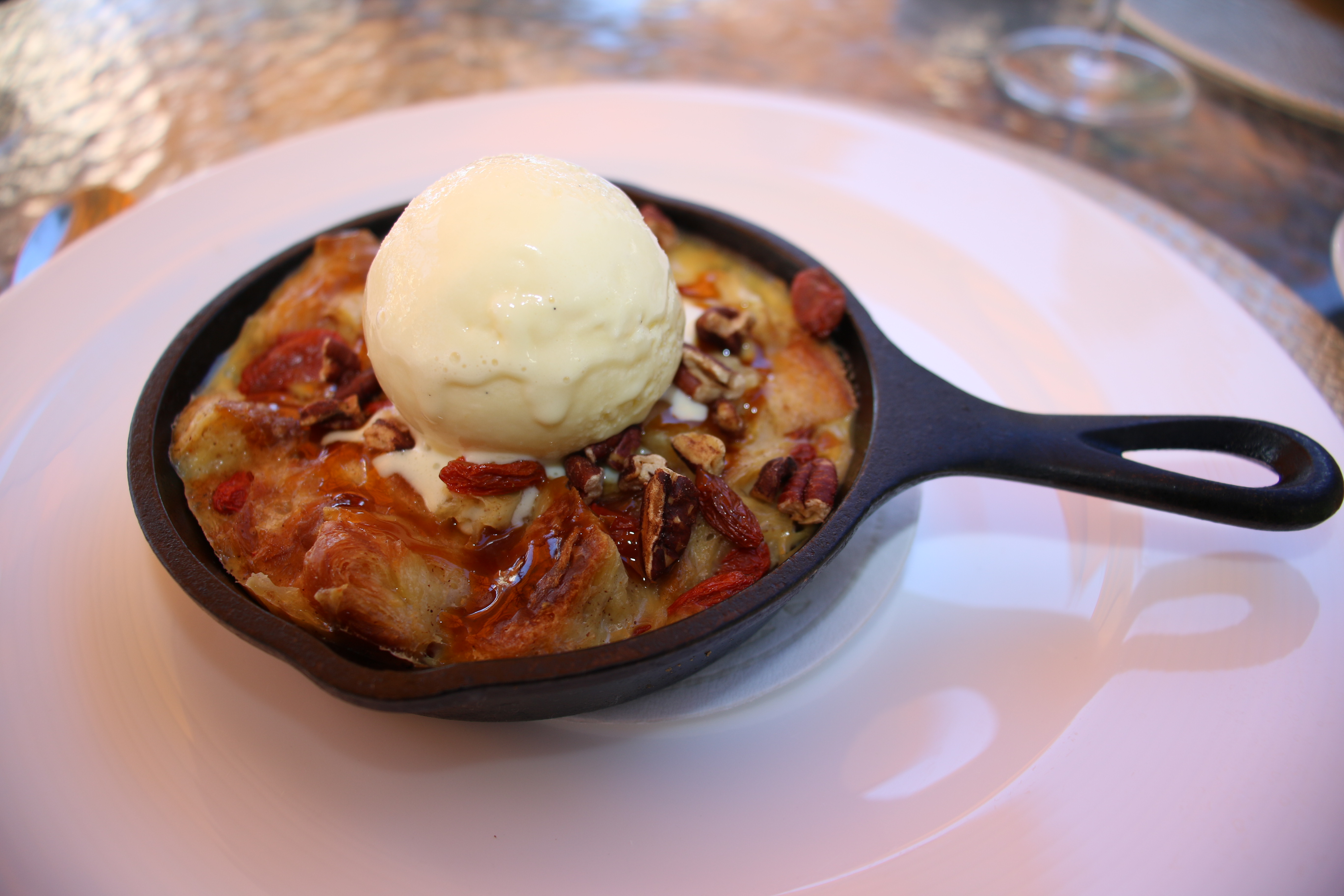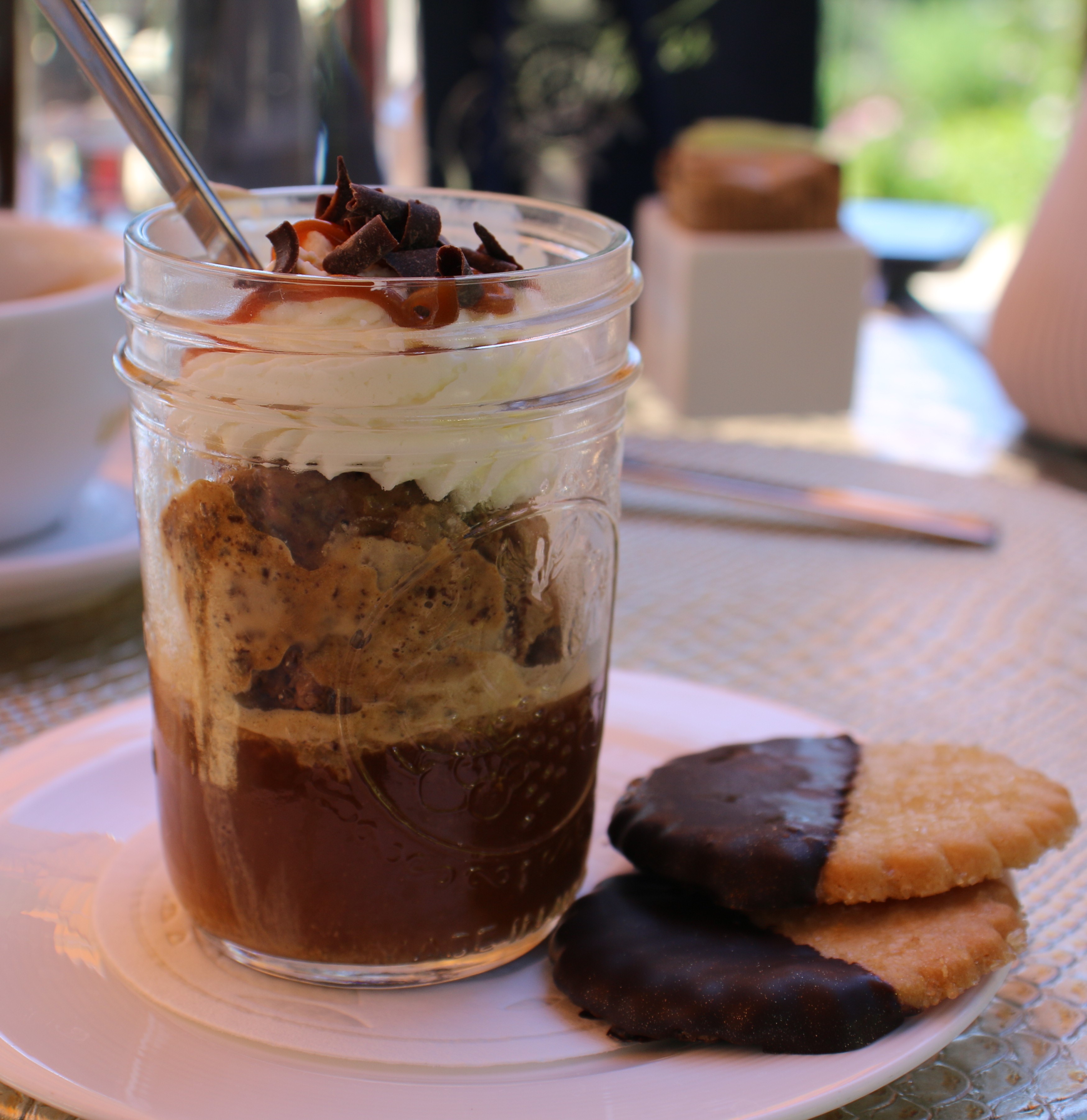 Just when you thought you could not swallow another divine bite they bring the dessert menu which is overflowing with outrageously creative sweet endings. I loved the Heather's bread & butter pudding with goji berries, toasted pecans and popcorn ice cream, and the "Affogato Al Caffe" house-made creamy ice cream with espresso caramel sauce with Italian cookies was a true trip to Italy experience. On my next visit I would welcome a taste of the Chef's signature lemon tart dessert recipe served with mascarpone creme.
Let us not forget the cocktails and wine offered on Bella Vista to enjoy with this Saturday Brunch by the sea. There are several endless options that include bellini's and mimosa's. Their champagne list is the best and we enjoyed a lovely prosecco with our brunch. The mixologists in the Ty Bar are renowned for their skill in building perfect and unique cocktails and aim to please.
Regarding a set menu Saturday Brunch I must say that although I've enjoyed more than my fair share of formal Sunday Brunch gatherings, I found being served brunch from a set menu allowed me to relax into my environment and enjoy some concentrated face-to-face communication with friends while also savoring my favorite food and wine items. Saturday Brunch works for this woman and I hope you will enjoy it as well.
The "Biltmore Sunday brunch" is still the stuff legends are made of with rooms of food tables and endless mimosas, made to order egg dishes and more served on Sunday 10:00 a.m. til 1;30 p.m.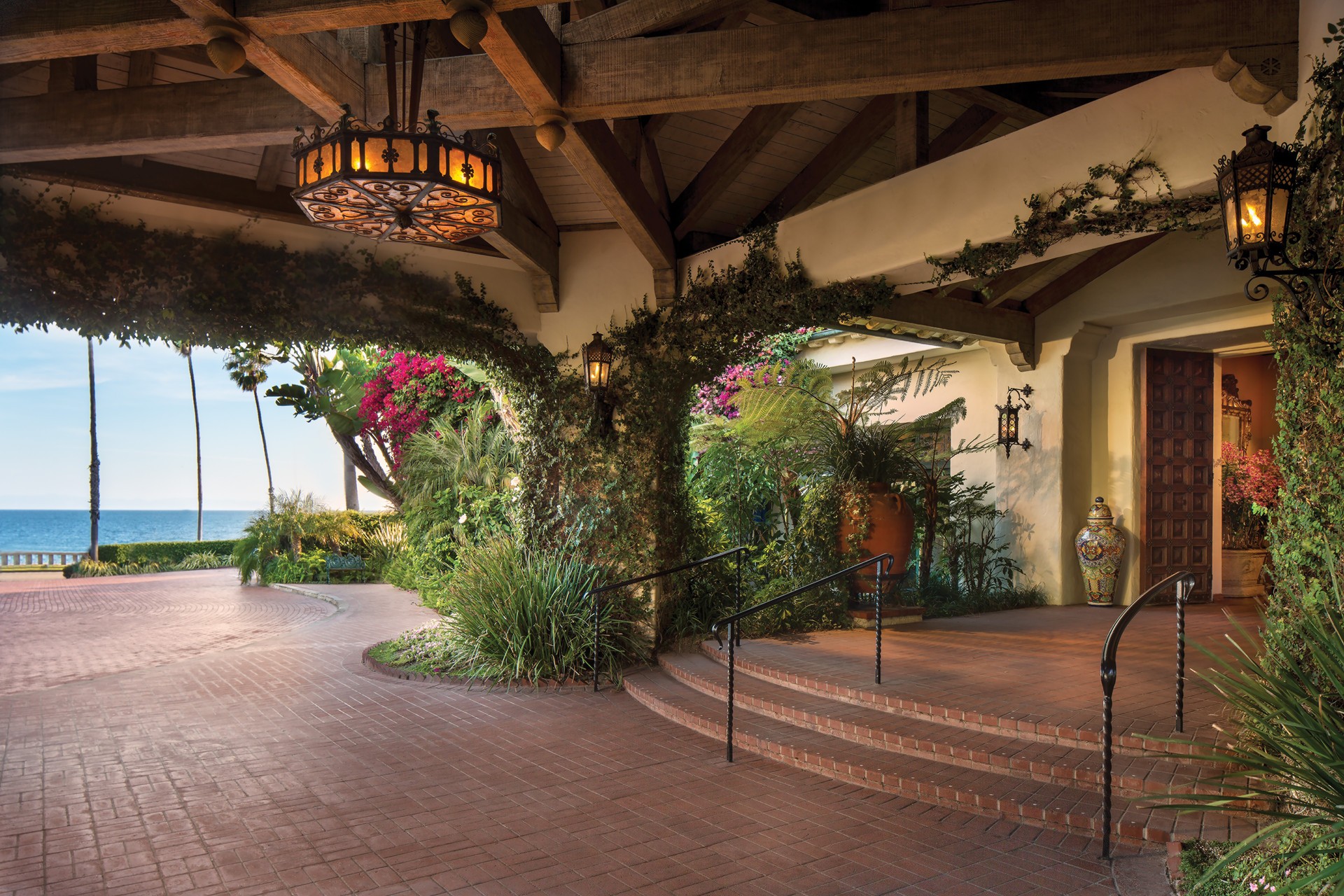 My sincere Congratulations to the dedicated Four Seasons The Biltmore staff who have worked so hard to successfully survive the fire and flood challenges that overtook the Monticeto area in 2018. The hotel looks beautiful, seasonal guests are returning to experience the unique beauty and renowned five star service they have come to expect from this historic hotel.
FOUR SEASONS THE BILTMORE RESORT
20000 Channel Drive
Montecito, CA 92108
805-969-2261
http:/www.fourseasons.com/santabarbara/
____________________________________________
Cooking Up Dreams Fundraising Event
Pairs Food and Wine with Chef Competition
Event to Highlight FSA's Work 'With Generations for Generations'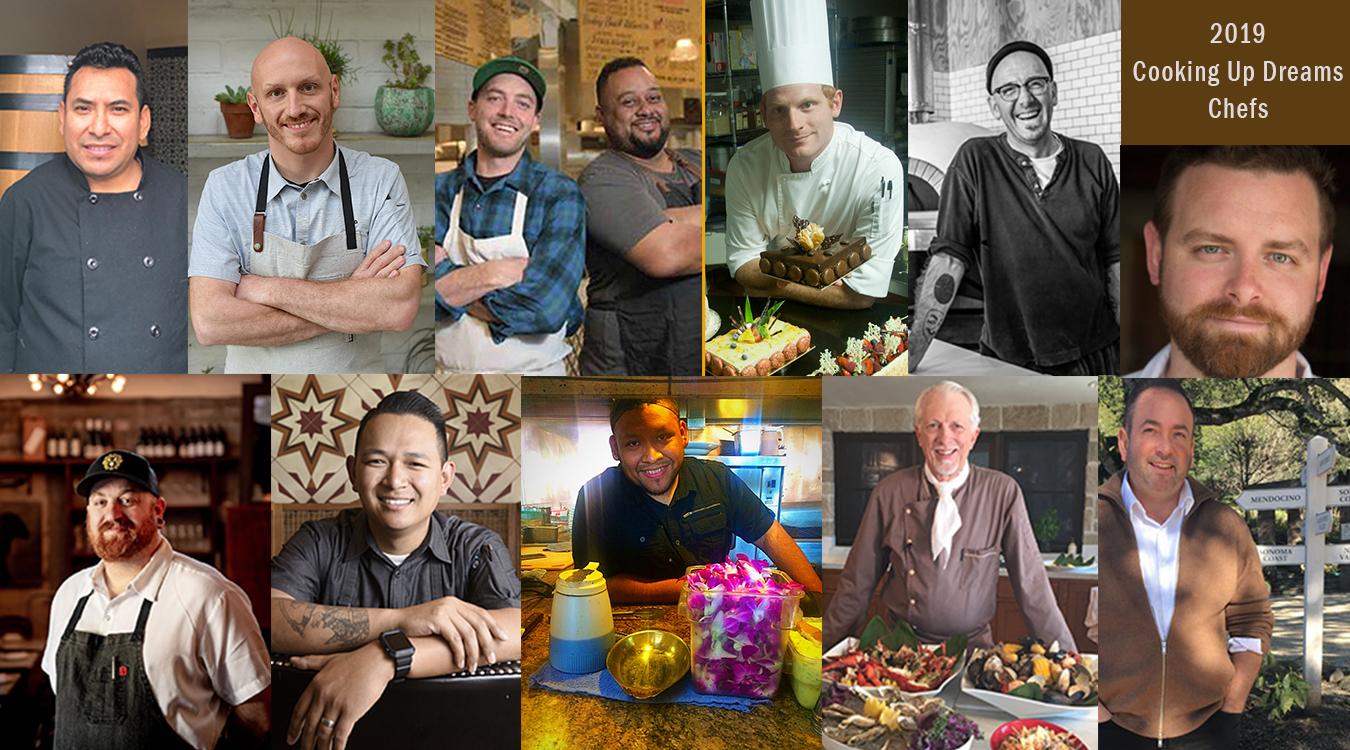 Photo Caption: Pictured, top row, left to right, Ranferi Rios of Casa Blanca, Damien Giliberti of Outpost at The Goodland, Justin West and Jason Carter of Soul Cal Smokehouse, Renaud Gonthier of Renaud's Patisserie & Bistro, Jeff Olsson of Industrial Eats, and Taylor Melonuk of The Middle Child. Bottom row, left to right, Weston Richard of Les Marchands, Peter Cham of Finch & Fork, Jesus Charco of Santa Barbara FisHouse; Michael Hutchings of Michael's Catering, and Michael Amador of Uncorked Wine Tasting & Kitchen.
The competition for People's Choice and Judges' Choice awards will be stiff at the 5th Annual Cooking Up Dreams. Local culinary aficionados will judge the masterful creations of 12 top-notch chefs and vote for their favorite at the event on Friday, April 12 from 6 to 10 p.m. at the Carriage and Western Art Museum in Santa Barbara. Attendees get to taste and vote as well, choosing the People's Choice award. Proceeds benefit Family Service Agency (FSA), providing mental health and basic needs programs for underserved children, families, and seniors in Santa Barbara County.
"This year we've assembled a great variety of culinary experts from Montecito to Buellton," said Event Co-Chair, Marni Cooney. "It's going to be a fabulous selection of dishes. It'll be difficult to choose the best ones."
 Participating chefs include winners and favorites from last year as well as a few first-timers! 
         Chef Chanel Ducharme of Bluewater Grill (NEW!)
         Chef Ranferi Rios from Casa Blanca Restaurant (NEW CHEF!)
         Chef Peter Cham from Finch & Fork
         Owner and Chef Jeff Olsson of Industrial Eats in Buellton
         Chef Weston Richards from Les Marchands Wine Bar & Merchant
         Chef Michael Hutchings from Michael's Catering (2015 winner)
        Chef Damien Giliberti Outpost at the Goodland (2018 Runner up!)
         Chef Renaud Gontheir of Renaud's Patisserie & Bistro (2018 Judges' Choice Winner)
         Chef Jesus Charco, Santa Barbara FisHouse (2017 People's Choice Winner)
         Chef Justin West from Soul Cal Smokehouse (NEW!)
         Chef Taylor Melonuk from The Middle Child (NEW!)
         Owner Michael Amador from Uncorked Wine Tasting & Kitchen (NEW!)
         Desserts by Rincon Events
In addition to tasting and voting, guests will enjoy complimentary wine from Babcock, Brander, Margerum, and Santa Barbara Winery. There will also be music by DJ Scott Topper, silent and live auctions, a premium photo booth experience by RUMOR Photo Media, and much more.
"We're also thrilled to be honoring Yardi this year," said Sandy Nordahl, Event Co-Chair. "Yardi has been a long-time FSA supporter and really cares about the well-being of families in our community."
Yardi Systems Inc., a longtime supporter of FSA, will serve as Honorary Chair. Gordon Morrell, Executive Vice President, and Kelly Johnson, Culture and Philanthropic Coordinator, will represent Yardi at the festivities. 
Judges for the event include Joey Buttitta, anchor for KEYT; George Yatchisin, food and drink writer; Hilary Dole Klein, writer and editor; and Geneva Ives, food and travel writer.
"Family Service Agency has a long history of providing services to ALL generations in our community, from families with young children, to adult children caring for their parents," said Executive Director, Lisa Brabo. "Because of the generosity of our supporters, most of our services are provided free of charge."
Sponsors of the event include:
Chef Sponsors:  John and Tania Burke, and Les and Zora Charles.
Restaurateur Sponsors: John and Jill Bishop; Michael and Marni Cooney; Tisha Ford; Robert and Susan Manning; Montecito Bank & Trust; Sandy and Dave Nordahl; Maryan Schall; and Union Bank.
Maître d' Sponsors: Bergquist Wang LLC; Tim and Ginny Bliss; Fred and Linda Gluck; Jim and Chana Jackson; Jim and Mary Morouse; Price, Postel & Parma LLP; SBCC Foundation; David Smith and Paulette Lambert; Fred and Jane Sweeney; Jon and Elen Vanderhoof; and The Point Market at Coast Village Chevron.
VIP Sponsors: Katya Armistead, Collette and Jeff Becker, Liz and Andrew Butcher, Rod Durham, Robert Janeway, Bruce and Cathy Milner, Kathy O'Leary, Gail Persoon, and Robert Reid.
To learn more about the event, purchase tickets or to become a sponsor with reserved seating, please visit www.cookingupdreams.org/.
___________________________________________________________________
Recipe: Mexican Chicken with Street Corn for Cinco de Mayo & Beyond
From Mexico's Velas Resorts
Mexico's Velas Resorts shares a recipe for Mexican Chicken with Street Corn, one of the menu items hotel guests will experience during Cinco de Mayo weekend. The dish will be served at Frida restaurant at Grand Velas Riviera Maya while all the properties will feature special activities and menus for the holiday. Cinco de Mayo celebrates the Mexican army's victory over France on May 5, 1862 at the Battle of Puebla during the Franco-Mexican War. Velas Resorts, with luxury resorts in in Los Cabos, Puerto Vallarta, Riviera Maya and Riviera Nayarit, will offer special themed parties, tasting menus and fiestas with menu items typical of the state of Puebla. For those unable to travel to Mexico to celebrate Cinco de Mayo, Velas Resorts shares its recipe below.
Mexican Chicken w/ Street Corn
Ingredients (10 people)
10 pcs                   boneless chicken (6 oz each)
½ C                       olive oil
2 T                         fresh thyme
10 T                       lemon juice
3.5 T                      garlic, peeled
3.5 T                      fresh cracked pepper
9 oz                       goat cheese, crumbled
9 oz                       cotija cheese, grated
2.5 T                      ​​epazote leaves, julienned
2.5 T                      serrano chili, minced
4 T                         bacon, chopped
3.5 T                      red onion, chopped
4.5 T                      lard
2 C                        charred white corn
                              salt and pepper to taste
Directions:
- Combine olive oil, thyme, lemon juice, garlic, salt and pepper in a blender. Marinate the chicken with the mixture for at least 1 hour. In a pan, brown the chicken on both sides for 2 minutes. Remove from pan and place on baking sheet to finish cooking in the oven for 5 minutes.
- Warm the lard in a pan and sauté the bacon until golden. Add the onion, chili and epazote and cook for two minutes. Add the cheeses and toss with charred corn. Season to taste.
- Plate the chicken on top of the corn.
All-inclusive rates include luxury suite accommodations, a la carte gourmet meals at a variety of specialty restaurants, premium branded beverages, 24-hour in-suite service, fitness center, taxes, gratuity and more. For reservations or more information, call 1-888-407-4869, email reservations@velasresorts.com or visit https://www.velasresorts.com.
___________________________________________________________________________
Voted Best Authentic Italian Restaurant in Santa Barbara by Italian Tourism LA!

NOW OPEN Ca' Dario Cucina Italiana
250 Storke Street
Goleta, California 93117
Ca' Dario Ristorante

37 E. Victoria Street
Santa Barbara, California 93101
805-884-9419
---