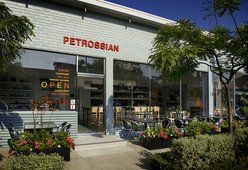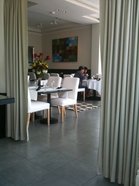 PETROSSIAN BOUTIQUE & RESTAURANT WEST HOLLYWOOD
Taste of Paris on Robertson Boulevard
By Bonnie Carroll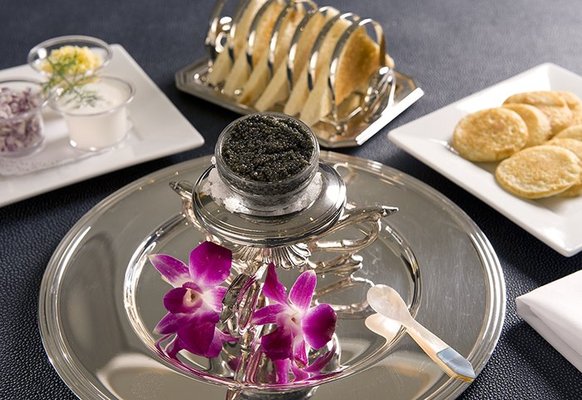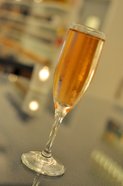 Located at 321 N. Robertson Boulevard at Beverly Hills, Petrossian is a hidden jewel just a few blocks from Beverly Hills, featuring a beautifully appointed restaurant and gourmet food and beverage boutique. On warm days they offer a charming outdoor food service.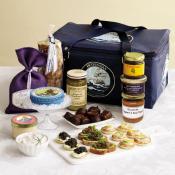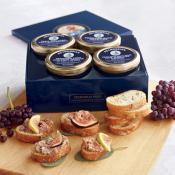 It's difficult not to stop and admire the beautiful gift boxes filled with champagne, caviar and specialty items like the Petrossian picnic basket that would be perfect for a night at the Hollywood Bowl. The entrance area offers tables for lunch and dinner with a view of Robertson Boulevard. Beyond this room is a private dining room that is a quiet and in the evening becomes an elegant dining room where guests may enjoy the best in Petrossian European inspired recipes.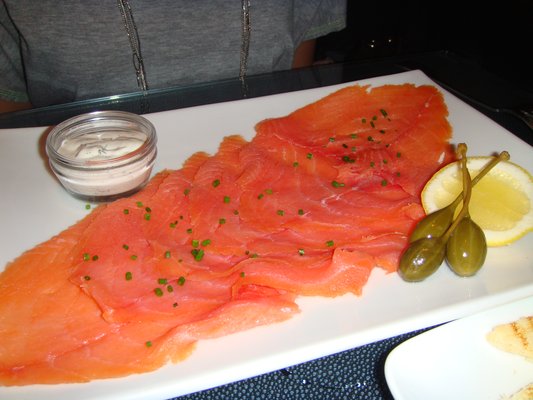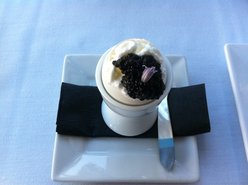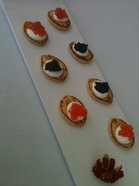 At dinner their signature appetizers of Egg Royal or Blini with Caviar are as delicious as they are appealing to the eye. Entrees include a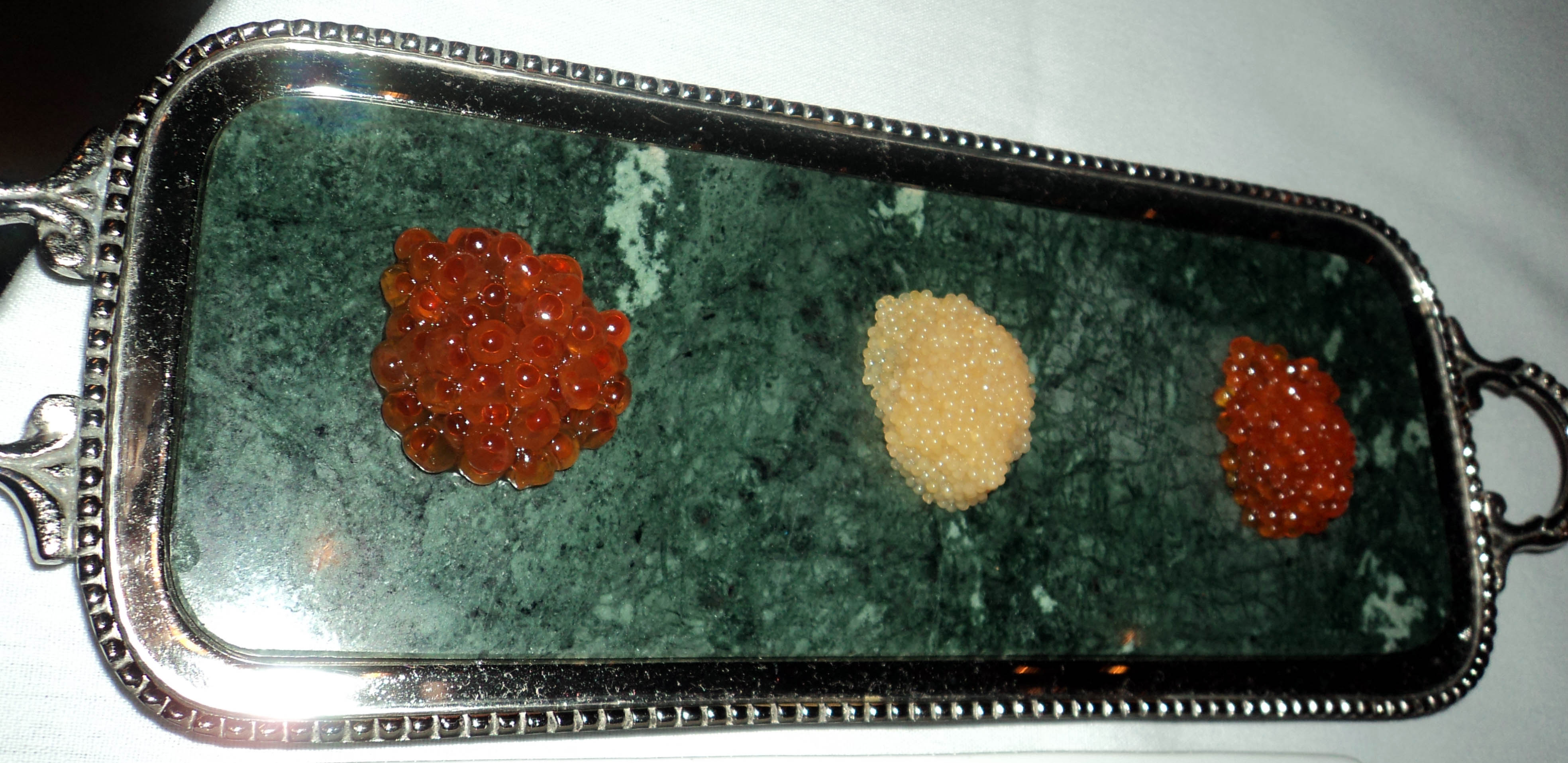 milieu of colorful and creatively plated caviar and smoked fish specialties that are paired with fine wines from the Petrossian cellars. The chef's delicate preparation and presentation is commendable. The borsht, one of my favorites, is served in a contemporary fashion, but retains the rich traditional flavors. Chef Giselle Wellman has been at the helm in West Hollywood for over three years and has brought her innovative talent to the table.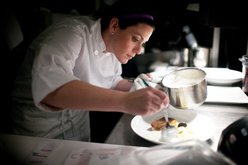 Wines to enjoy with meals feature selections that include a Louis Roederer Crystal 2005 for$240.00, a Chateau Cailou Sauterne 2005 for $40.00 and a Domain Brochard Sancerre 2011 for $21.00 per bottle. An assortment of fine bottled water is also offered to patrons with dinner. Their desserts are also spectacular.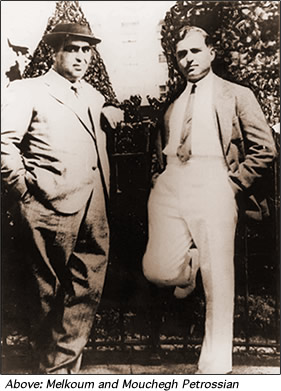 The Petrossian's, two Armenian brothers, Melkoum and Mouchegh Petrossian first introduced Paris to the magic of caviar in the 1920's and, in doing so, founded the company that today is the premier buyer and importer of Russian caviar worldwide. Their first attempts to create an awareness of caviar in Paris in the 20s were assisted by Cesar Ritz, the great impresario of the European hotel trade. His initial reluctance to offer caviar in his prestigious establishment at the Place Vendôme was quickly overcome as caviar caught on and assumed its own very special niche in the world of gastronomy.
Born on the Iranian side of the Caspian Sea and raised on the Russian side, the two Petrossian brothers emigrated to France to continue

their studies of medicine and law which had been interrupted by the Bolshevik Revolution in 1917. For more than eighty years, the Petrossian family has continued to develop this market, maintaining a rare and privileged relationship with the Russian fisheries. Even today, the family personally choose, on site, the very best of the fresh, high quality caviar produced in Russia during each catch.
Hours:
Monday-Friday: 11 a.m. - 10 p.m.
Saturday: 10 a.m. - 10 p.m.
Sunday: 10 a.m. - 4 p.m.
Happy Hour: Monday - Friday, 4 to 7 p.m.

Petrossian Boutique & Restaurant
321 N Robertson Blvd
West Hollywood, CA 90048
Neighborhood: West Hollywood
(310) 271-6300
_________________________________________________________________
CRAVE BROTHERS Farmstead Cheese
by Bonnie Carroll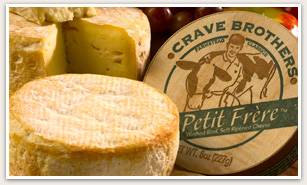 It's not that I favor cheese from Wisconsin because I grew up in a neighboring state, but I adore good cheese, and the cheese collection from this farm in Waterloo is surprisingly good. They are hand crafted on the family owned dairy farm in a traditional way that makes them perfect for everyday meal preparation or for the finest gourmet presentation. Crave is a customer supported locally owned and operated family farm, that uses 100% green power, water conservation and recycling practices.
Their Petit Frere, Les Freres, Farmer's Rope, Mascarpone, Fresh Mozzarella have all won many awards over the years. Brothers Charles, George, Thomas and Mark Crave are extremely proud of their award winning cheeses that go straight from the dairy farm to the factory within hours. Using Old World techniques, and crafted with great care they provide customers with products that reflect the freshest and highest standards in cheese making since 1978.
The Crave Cheese website offers a collection of unusual and original recipes from family cooks and chefs from around the country. A testing of the Mascarpone Beet Appetizer created by Chef Kristine Mertin of HyVee in Austin, Minnesota was simple to prepare and finished product was a culinary delight. The recipe is below and easy to follow. It is sure to please the most discerning guest. Crave recommend this dish be paired with Champagne, Riesling or Sauvignon Blanc.
MASCARPONE BEET APPETIZER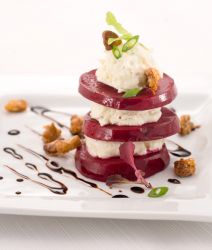 Ingredients:

2 large beets

Olive oil, enough to cover

¼ cup salt

½ cup mascarpone

2 scallions thinly sliced

Salt & pepper to taste

1/8 cup of red wine

¼ cup balsamic vinegar

½ of 1 egg white

2 tbls sugar

¼ cup walnut halves

Micro Greens to Garnish

Preparation:

Preheat Oven to 300 F

Coat beets in olive oil – place in pan. Cover with salt, wrap in foil.

Bake for 1 hr. Check for tenderness with toothpick until tender.

Salt beets in olive oil and place in deep pan. Cover beets with salt, wrap pan with tin foil.

Bake for 1 hour. Using a toothpick, check beets for tenderness, if still hard, cook for another 30 minutes, continue baking until toothpick goes through with ease. Cool.

Slice beets to 1/8 inch medallions (need 12 medallions) using circle cookie cutter.

Mascarpone Filling:

Mix mascarpone and scallions in a small bowl, add salt and pepper in small increments

Once well mixed set aside.

Red Wine & Vinegar mix

Using a small saucepan at medium heat mix maple syrup, wine and vinegar. Let cool.

Candies Walnuts: Preheat Oven 350 F

Put walnuts in small zip lock bag. With a large spoon crush walnuts into small chunks.

In another bowl wisk egg white until partially foamy, add sugar, continue to wisk

add walnuts. Place on slightly oil sprayed cookie sheet. Bake for 10 minutes stirring

occasionally until brown.

Assembly:

Place one beet medallion down, pipe mascarpone (about a tbls between layers).

Place next beet for three beet layers and two mascarpone layers. Drizzle balsamic reduction over beet tower and garnishing plate. Sprinkle walnuts and mIcro greens

on top. Serve immediately.

 

Crave Brothers Cheese, W1155 Torpy Road, Waterloo,Wisconsin 53594

__________________________________________________________________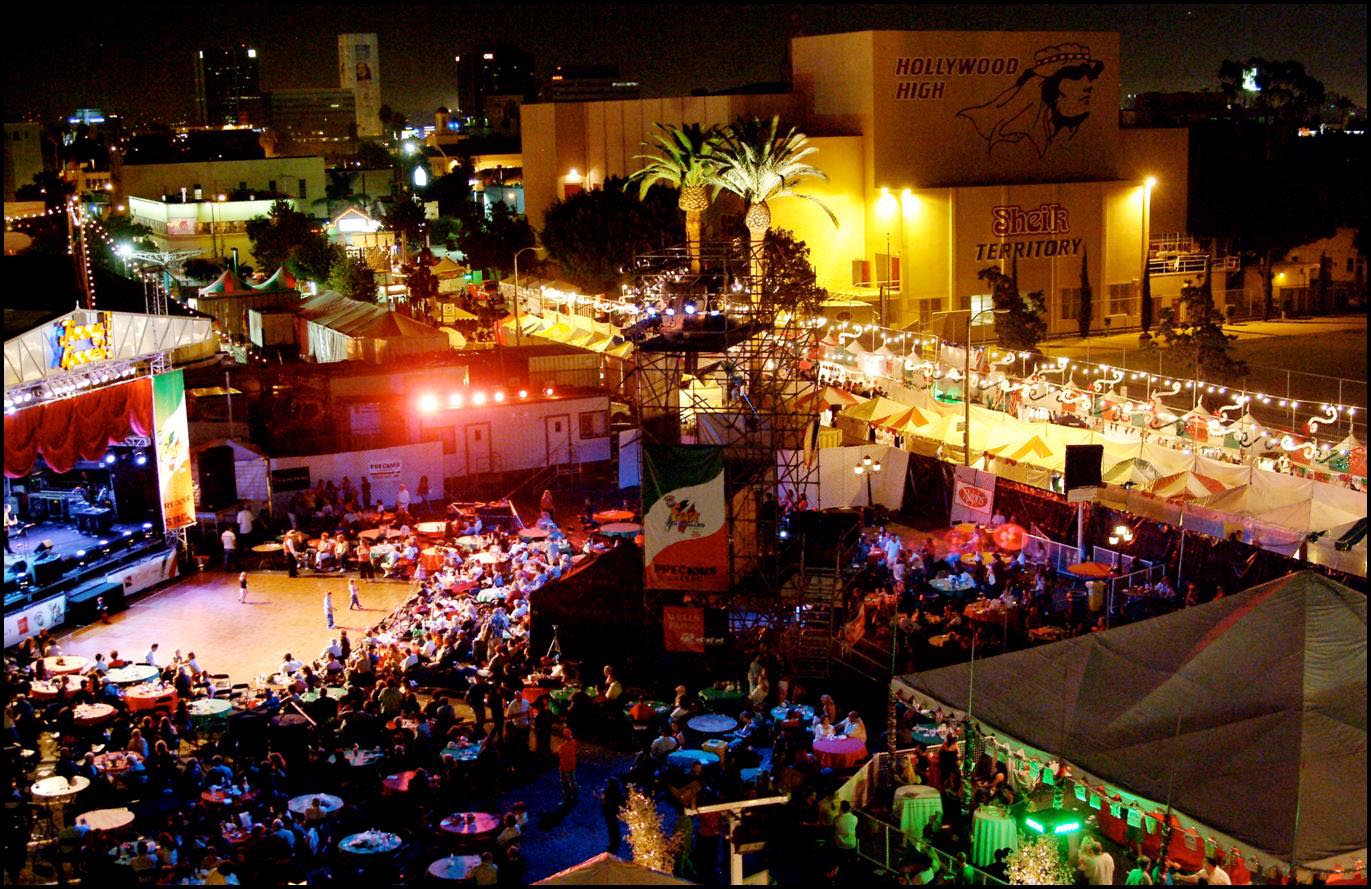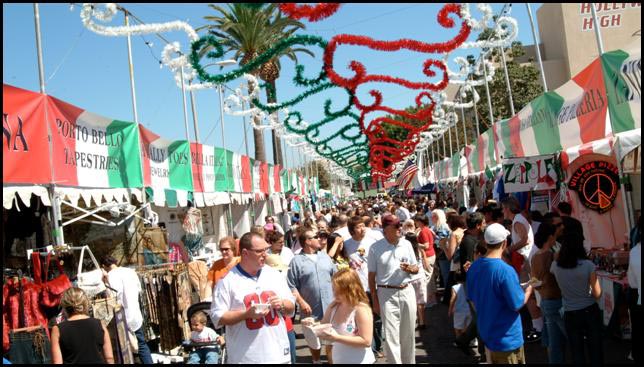 12th Annual Galbani® Cheese
Italian Feast of San Gennaro, Los Angeles
September 27–29, 2013
                    Prima Notte Gala on Thursday, September 26th
Hosted by Jimmy Kimmel and Adam Carolla
Celebrating Italy from Northan Songbook"
Casino night raises funds for Charity to South
Featuring famous songs from "The San Remo Music Festival"
and "That's Amore! An American Itali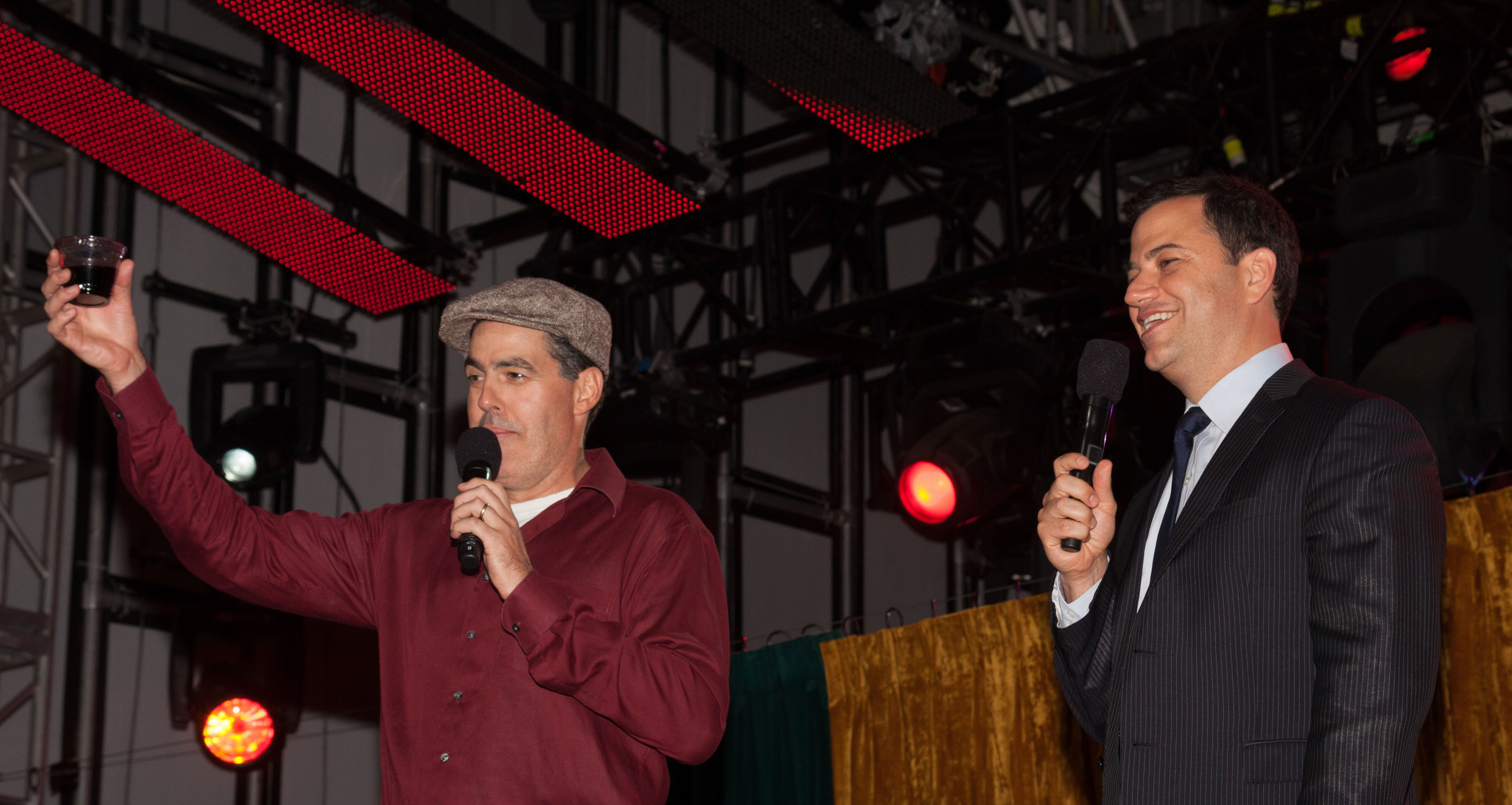 The Italians are coming! The Italians are here!
Community festival celebrates Italian culture with three days of music, food, wine, rides and games.
The San Gennaro Foundation kicks off October's Italian Heritage Month, a celebration of everything it means to be Italian, with their annual street festival, The Galbani® Cheese Italian Feast of San Gennaro, Los Angeles.  Since 2002, the San Gennaro Foundation has donated over $1,000,000 to local charities that benefit Los Angeles shelters for children and families, food banks for the homeless, and school programs for underprivileged youth, among others. Hosted by event co-founder Jimmy Kimmel and Adam Carolla, the Feast will once again take over Hawthorn Ave. (between Highland and Orange) in Hollywood.
 "The Feast of San Gennaro is something my family and I look forward to every year," Jimmy Kimmel said. "I have no doubt that our twelfth year will be a great one." Inspired by the 80+ year old New York City tradition, the Feast celebrates Italian culture, entertainment and cuisine, and will feature great food, music, genealogy research, kid's corner, bocce, bingo, carnival rides, games and more. Surprise celebrity guests will join the cooking team, as they demonstrate Italian recipes on the Galbani® Cheese La Cucina Italiana Cooking Stage with special guest, Galbani® Cheese's very own Chef Marco. A Procession of St. Gennaro on Hollywood Blvd. will begin at noon on Saturday, September 28th and conclude with a Mass on the Main Stage presided by Monsignor Antonio Cacciapuoti.
"We have been bringing Italian culture to the heart of Hollywood for eleven years running," said Frankie Competelli, President of The San Gennaro Foundation, Los Angeles. "We are thrilled to once again, celebrate tradition, family, and great food with the community."
The fun-filled weekend commences Thursday, September 26th with the opening night fundraising gala, "Prima Notte 2013", which will be hosted by Jimmy Kimmel and Adam Carolla and pay tribute to Italy from North to South, including music made famous from the "San Remo Music Festival" and "That's Amore! An American Italian Songbook."  The evening features Mark DeCarlo as Master of Ceremonies, silent and live auctions, an "Italian Casino & Poker Tournament" and The Italians are coming! weekend car raffle for a Fiat, all to raise funds for the San Gennaro Foundation.
Tickets for the opening night gala are available online at www.feastofla.org and are $30 each for general admission with food and drink available for purchase. Reserved tables for 10 guests are available for $1,000 with a five course family-style dinner included. Entry for Poker Tournament is $100 per player.
In honor of the Feast's 12th Anniversary and to raise funds for their various charities, there will be special events going on throughout the weekend, including a "Gravy-Sauce" competition and "Galbani® String Cheese-building" contest hosted by The Meatballs of Comedy, a Live Telethon for Veterans from the Main Stage on Sunday September 29th and a weekend 'Will You Marrow Me?" donor campaign for Be the Match registry, which recruits marrow donors to save lives of blood cancer patients.  A Blood Drive for City of Hope, Cedars Sinai, Children's Hospital and American Red Cross will also be hosted on-site.
Galbani® Cheese (formerly Precious® Cheese), same great taste, different name, is proud to be back for the 12th annual Feast! "We are very excited that Precious® Cheese has joined the Galbani® family of cheeses," said Jessica Ruth, spokesperson for Precious® Galbani®. "We're so happy to continue our support with The San Gennaro Foundation as title sponsor of the Galbani® Italian Feast of San Gennaro and are looking forward to this wonderful event that brings friends and families together to celebrate Italian food and culture."
The festival venue is conveniently located across the street from the Hollywood and Highland complex and Metro Red Line, directly behind the Jimmy Kimmel Live Theater at 1651 N. Highland Ave. The Feast will be held September 27-29, 2013 from 11:00 a.m. to 11:00 p.m. General admission is $5 and kids under 12 are free. All proceeds benefit the San Gennaro Foundation, established to provide aid to children and families in need in Los Angeles.
 For more information about the Galbani® Cheese Italian Feast of San Gennaro, Los Angeles, please visit www.feastofla.org or call (818) 508-0082.
About Precious® Galbani® Cheese
Precious® has joined Galbani®, Italy's favorite cheese brand. Galbani® is known worldwide for crafting authentic cheeses in the Italian tradition. So when you see the Galbani® name, you can count on the same authentic cheese you've come to know and love from Precious®, as well as a broader world of Italian cheeses to explore. Galbani® and Precious® brands are brought to you by Lactalis Retail Dairy, Inc. LRDI, a division of Lactalis American Group, Inc., is a part of Groupe Lactalis, one of the largest dairy companies in the world. Lactalis produces a wide array of natural cheese products included among the leading brands of mozzarella, ricotta, fresh mozzarella, and snack cheese sold in the United States. Our wide variety of specialty cheese is available to retail, foodservice and industrial customers. More information on Galbani® cheese may be found at www.galbanicheese.com.
About The San Gennaro Foundation
The San Gennaro Foundation is a 501(3)c non-profit created by celebrity Jimmy Kimmel and producer Douglas DeLuca, along with some of Los Angeles' most prominent Italian-American citizens, to benefit underprivileged children and homeless in Los Angeles, as well as to provide entertainment and cultural enrichment to the community through its non-profit, cultural outreach program.  The Foundation's mission is to uphold the principles established by St. Gennaro, patron saint of Naples who worked tirelessly to help people in need. In addition to fundraising, the group seeks to perpetuate cultural identity and solidarity within the Italian American community. All events are intended to embody the attributes of generosity and goodwill that define the Italian spirit. While some efforts celebrate Italian culture, the Foundation and its programs are not limited to Italian Americans and are supported by diverse individuals.
 _________________________________________________________________   
EL PASEO HISTORIC & CONTEMPORARY COCKTAILS
Santa Barbara Dining Delight Yesterday and Today
by Bonnie Carroll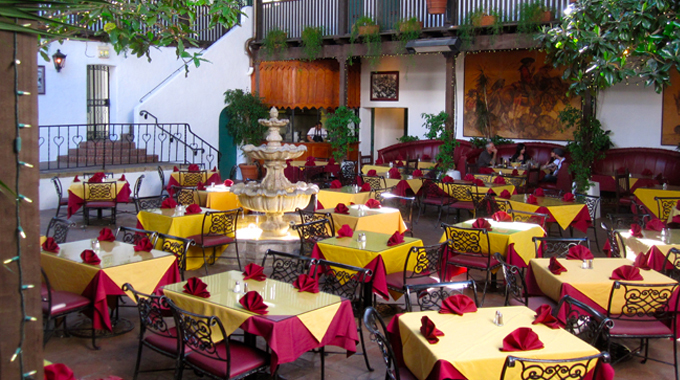 El Paseo Restaurant has a rich history in the Santa Barbara Community, and for warm hospitality and authentic Mexican cuisine since it was built in 1922 as part of an 1826 adobe complex which housed the Commandante of the Presidio Royale de Santa Barbara. La Casa de la Guerra was home of the civilian governor of the area from San Luis Obispo to Los Angeles. It was a natural setting for galas, including the three-day wedding fiesta immortalized by Richard Henry Dana in Two Years Before the Mast. The El Paseo is on the National Register of Historic Places.
T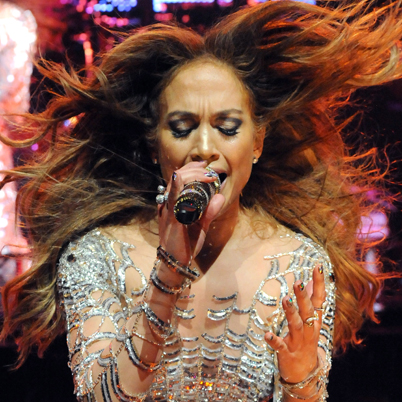 his historic venue has been and continues to be the site of memorable fiesta celebrations and has hosted numerous luminaries, including Clark Gable, Carol Lombard, Jean Harlow, William Powell, Ginger Rogers, Shirley Temple, Rita Hayworth, Edward G. Robinson, Fred Astaire, Katharine Hepburn, Salvador Dali, Stravinsky, Will Rogers, Howard Hughes, Charles Lindbergh, Herbert Hoover, and Jennifer Lopez.
El Paseo's film history includes the 1935 short comedy film "La Fiesta de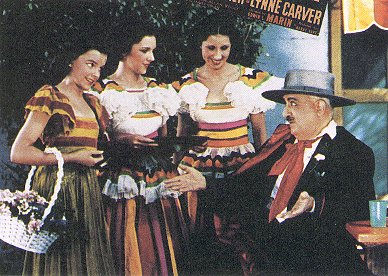 Santa Barbara" directed by Louis Lewyn. It was nominated for an Academy Award at the 9th Academy Awards in 1936 for Best Short Subject (Color). It features a young, pre-stardom 13-year-old Judy Garland singing "La Cucaracha" with her two sisters (billed as "The Garland Sisters"). It was Directed by: Louis Lewyn, Produced by: Pete Smith, Cinematography: Ray Rennahan, Distributed by: MGM, Release date(s): December 7, 1935, Running time: 19 minutes. Country: United States, Language: English.
Today it is a very popular destination for locals and tourists alike, especially during the local Santa Barbara International Film Festival. In 2013 award winning director Quentin Tarantino spent time dining at Restaurante del Paseo prior to receiving his SBIFF "Modern Master" Award at the Arlington Theatre.
Alex Castillo, Executive Chef has maintained the integrity of their renowned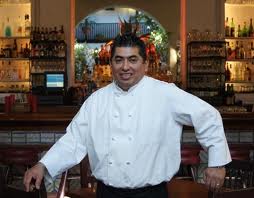 menu, and continues to present special new items. His culinary talents are well known to Santa Barbara "foodies" and visitors who savored his dishes at Wine Cask, Lucky's and Piatti. Chef Castillo once told me that he served Julia Child at the Wine Cask, and helped prepare holiday meals that were delivered to her home when she became ill. The restaurant menu of fine Mexican food is quite extensive, including everything from taco's (they have a Tuesday Taco Bar that is amazing and affordable) to a delicious a flan dessert. They also offer gluten free menu items. The restaurant garden ambiance is beautiful and the service very hospitable.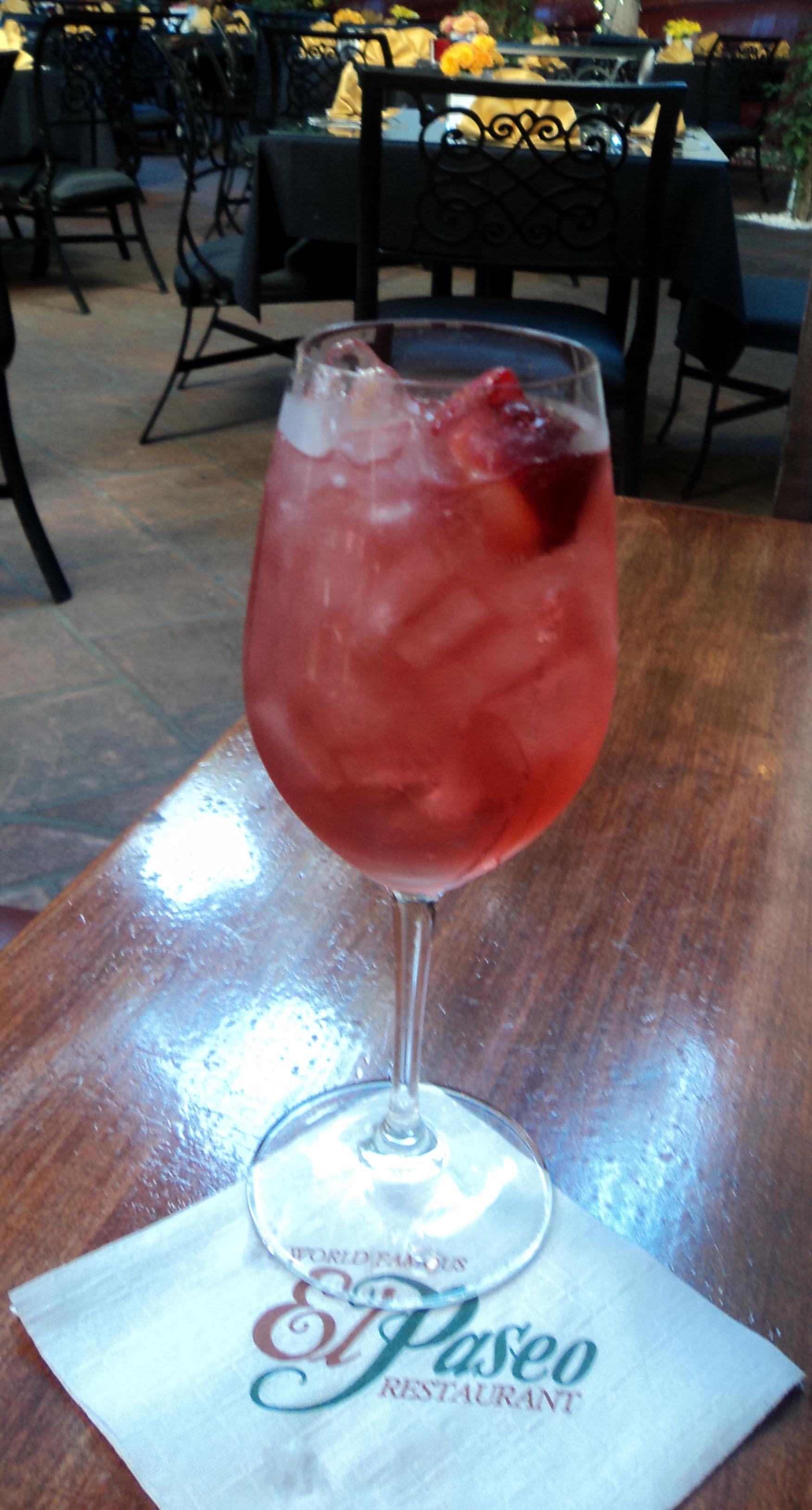 The bar menu is also extensive, with a generous collection of cerveza, wine by the glass or bottle, and an amazing selection of Tequila's, which can be enjoyed and included in tequila flight tastings. Their signature cocktails include margarita El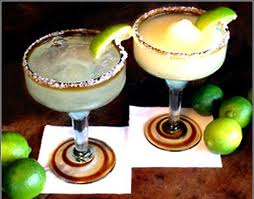 Paseo, Agave Martini, El Pepis and more. The Sangria Cocktail made with blush wine, vodka, cranberry juice and Monin sangria mix is one beautiful and refreshing beverage to sip with lunch or dinner, especially on a warm day or evening. Ole'
EL PASEO - 10 El Paseo - Santa Barbara, CA
805-962-60500: www.elpaseo.com
Hours: Monday-Saturday 4:00-10:00 p.m; Sunday 10:30 – 9:00 p.m. 
Directions:
From North: U.S. 101 South to Carrillo Street Exit, turn left on W. Carrillo St.. turn right on Anacapa St and turn right on El Paseo. From South: U.S. 101 North to Carrillo Street exit, turn right on W. Carrillo Street, turn right on Anacapa Street, turn right on El Paseo.
---