LA DOLCE VITA RISTORANTE
A Taste of Italian Familia in Historic Oxnard
by Bonnie Carroll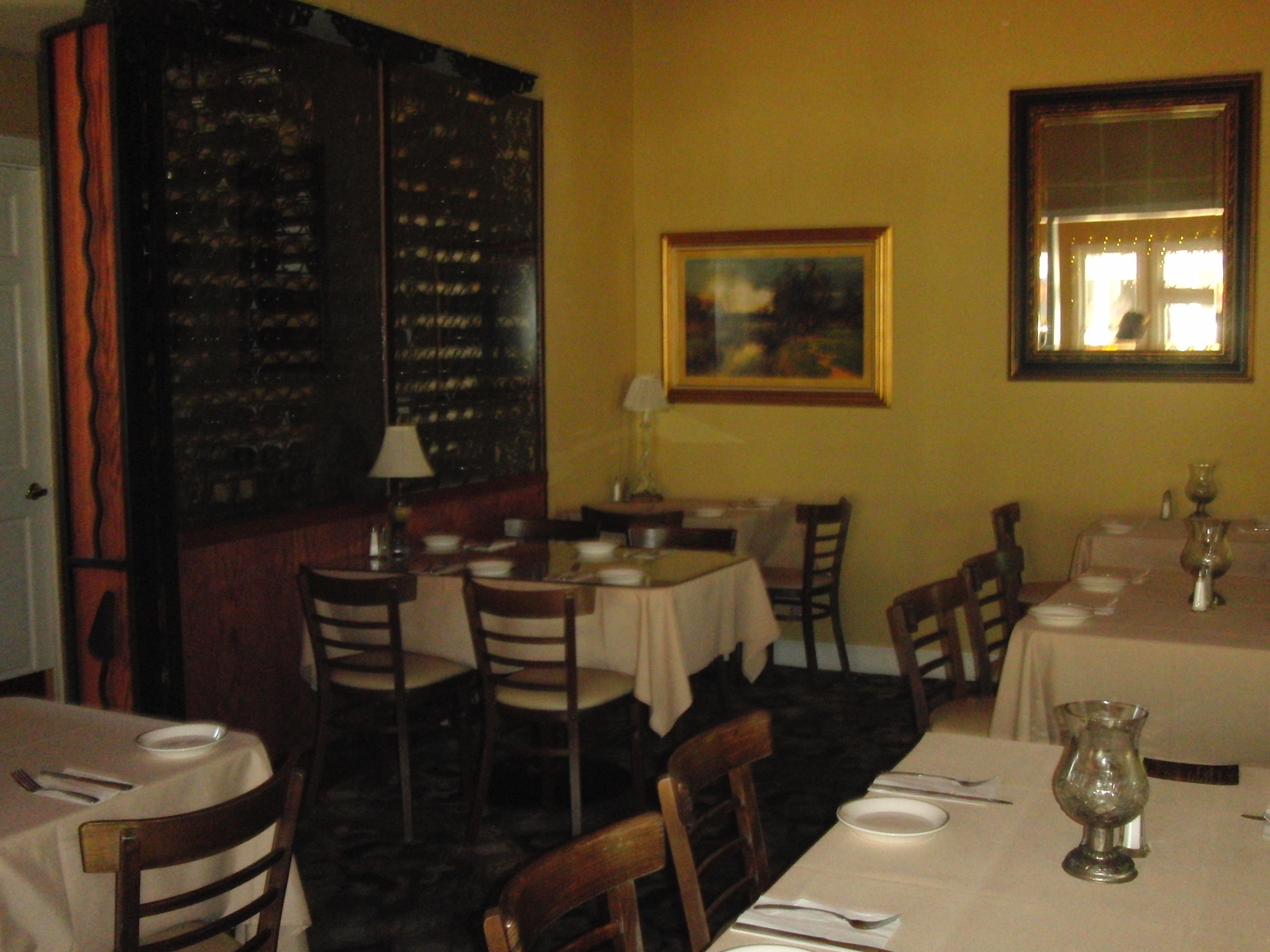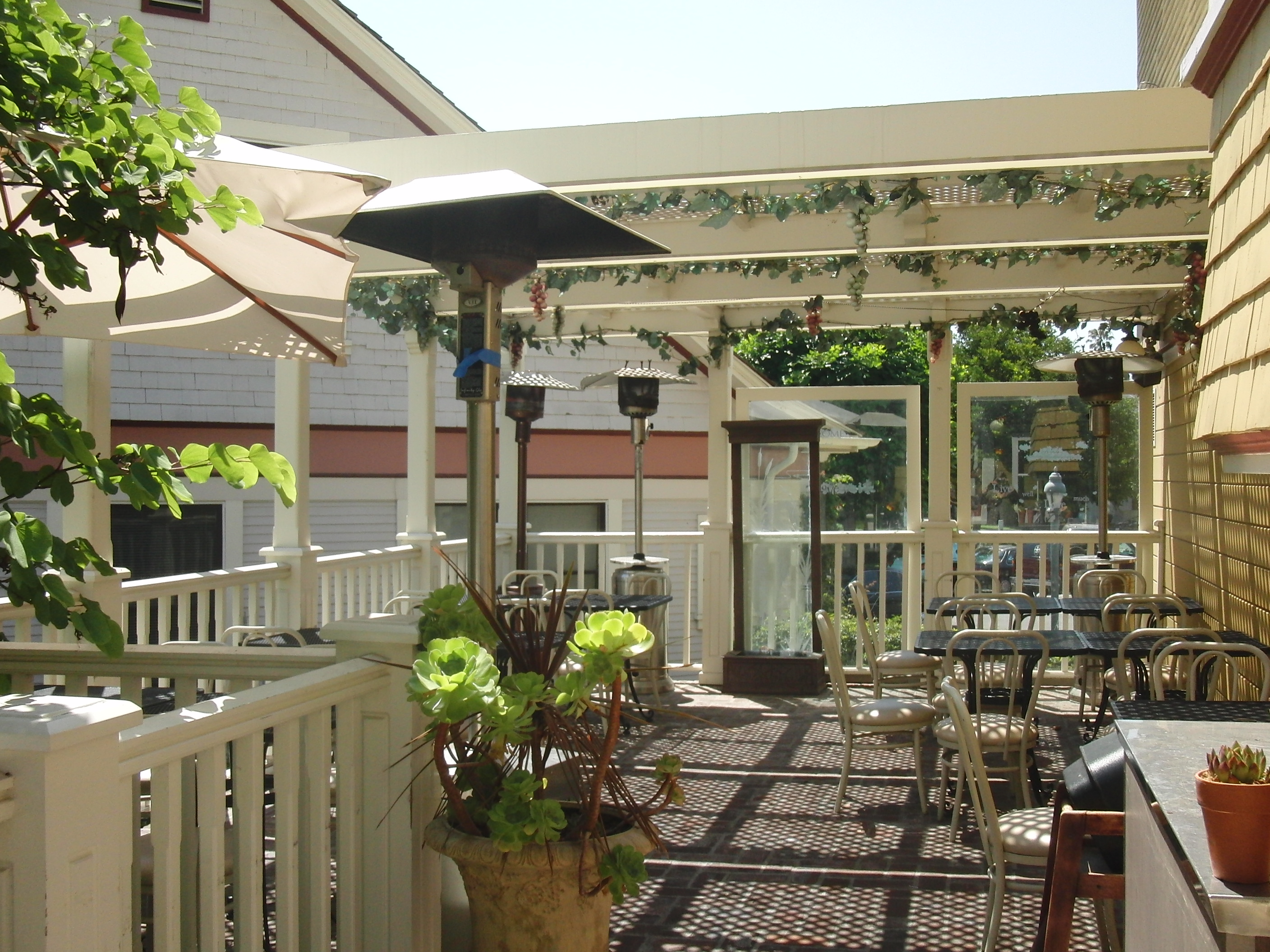 As you approach Heritage Square in search of La Dolce Vita Ristorante the view of all these beautiful historic houses is awe inspiring. The homes here represent a celebration of history from 1991-2011. The Square began in 1985 as a vision to preserve the historical and architecural uniqueness of turn-of-the-century Oxnard. It opened in 1991. Through investors, the commitment of original Oxnard families and the City of Oxnard it was realized. Eleven homes, a church, water tower, pump house and storehouse were moved to a single block and restored to their original beauty. Heritage Square serves as a major tourist attraction and event and curltural center.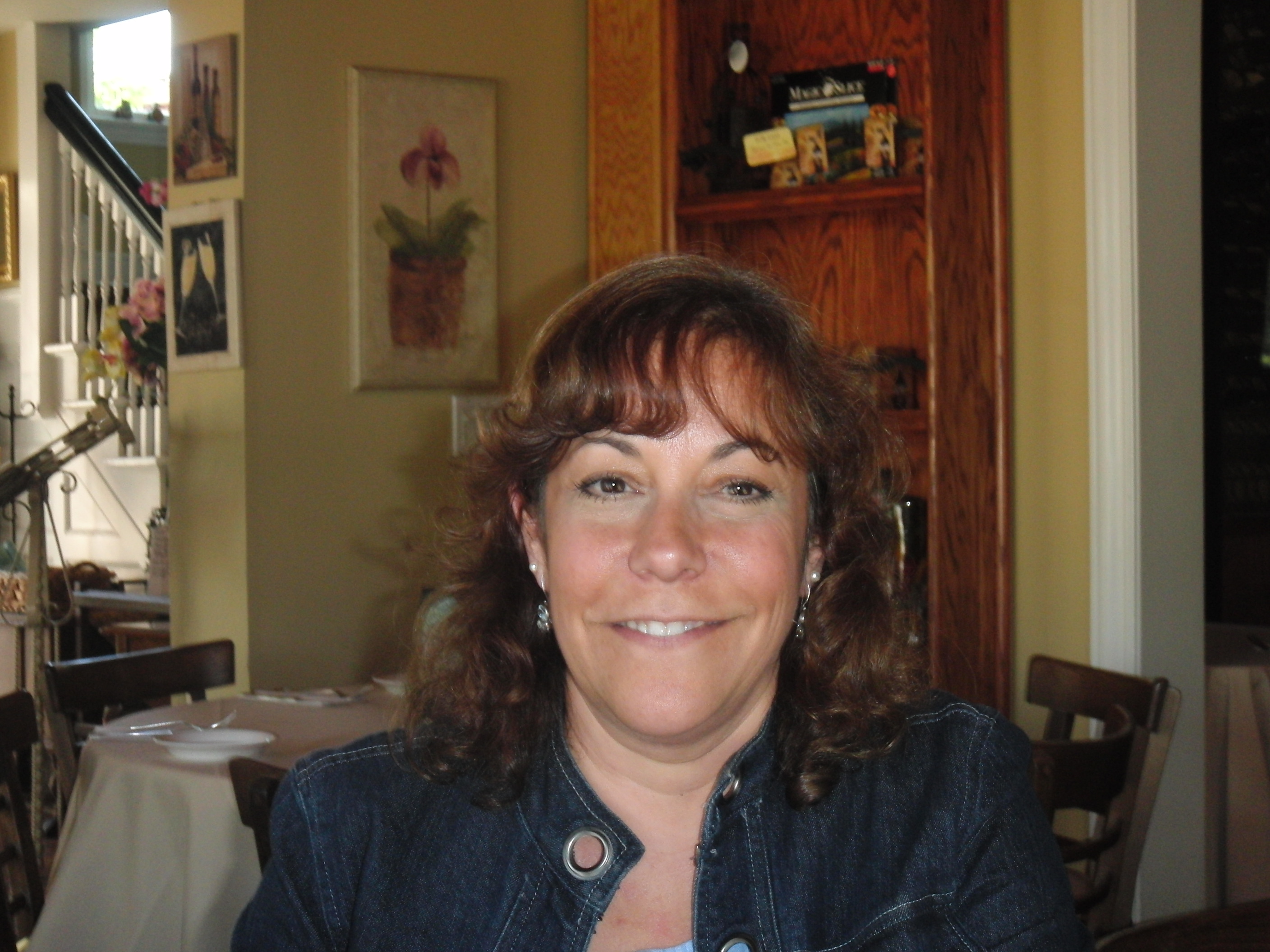 La Dolce Vita, founded in 1976 now fills every inch of the historic Laurent-McGrath House (1901) that was originally owned by the Laurent family and was sold to the mcGrath's. The original location of the home was 403 South C Street in Oxnard. Michelle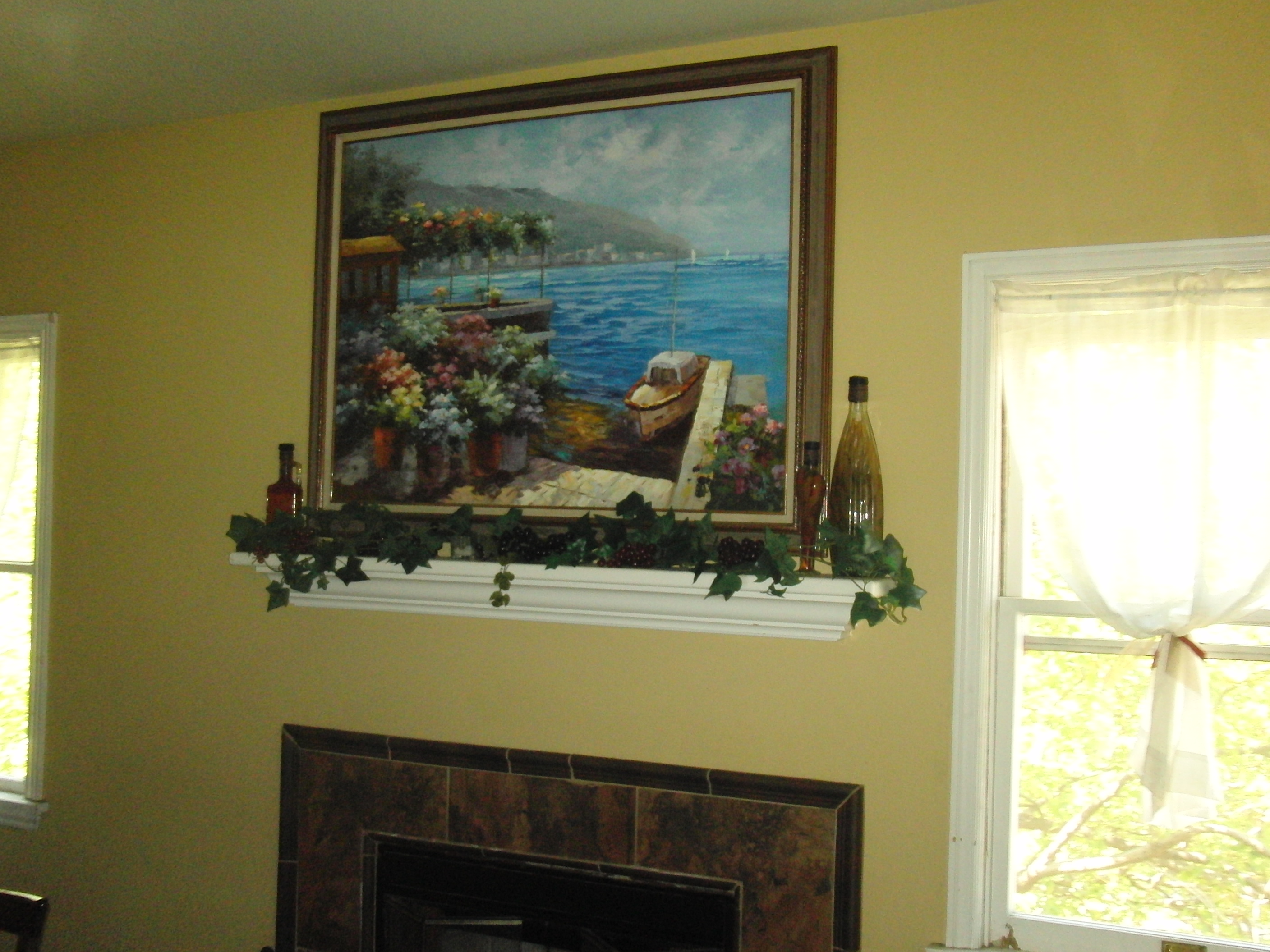 Kenney, Executive Chef/owner of La Dolce Vita has turned this once home into her own Italian restaurant home, where guests can enjoy dining on the beautiful outdoor patio, in one of the intimate diningrooms, have a special event on the second foor room or just a good time with friends in the downstairs bar. The walls are literally filled with family photos of her Italian family, as well as menus from her Aunt's restaurant.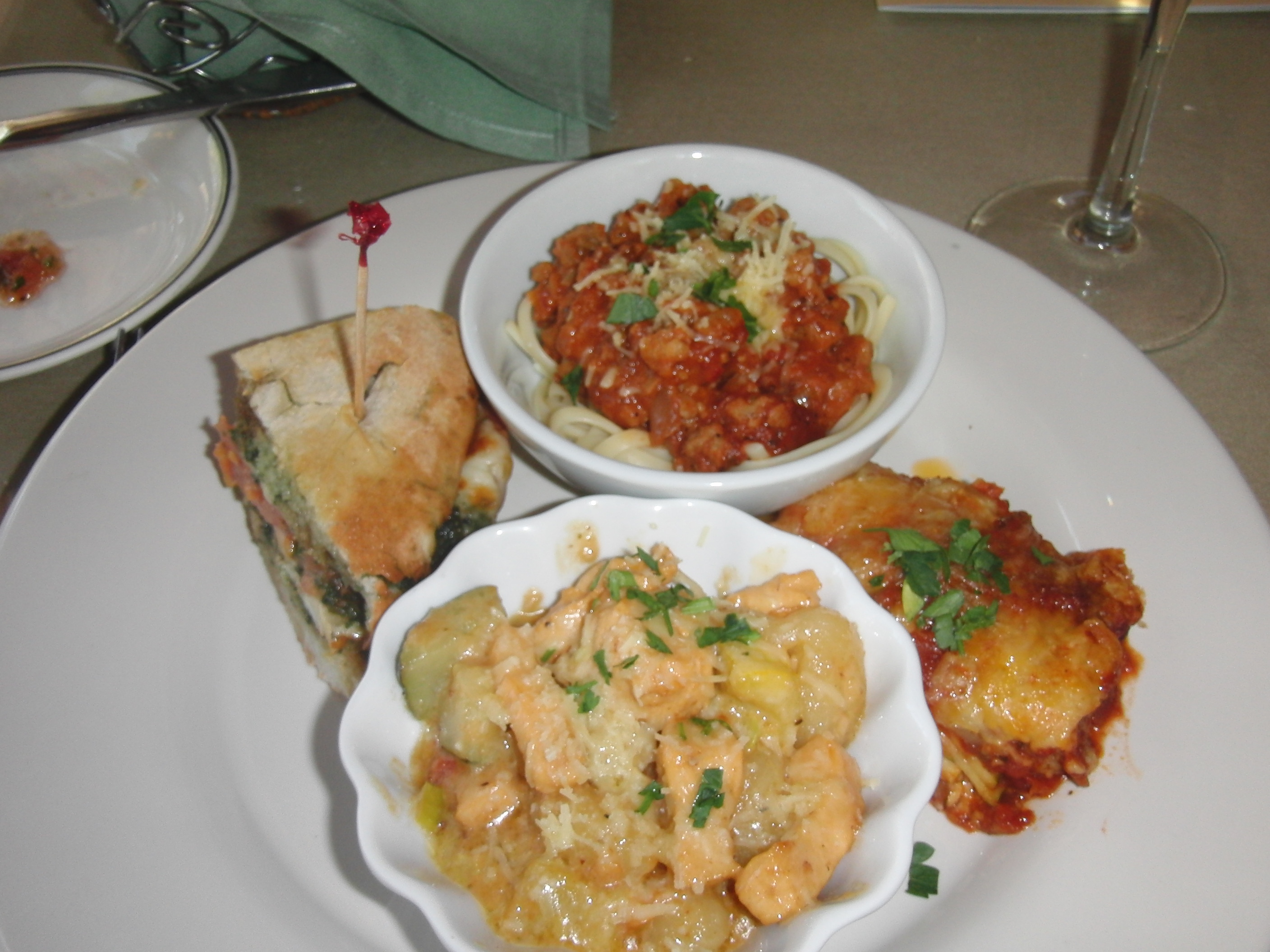 Dining in one of the charming small rooms overlooking the square is the experience of La Dolce Vita "The Sweet Life" because it has the relaxing ambiance of a time past. The lunch menu is filled with tempting dishes, familiar salads, soups and favorite desserts. Among the salads are Caesar, Caprese, Prawn, Salmon, Italian Antipasto Chopped and Seared Ahi. Entrees include farfalle marinara, fettuccini alfredo, gnocchi con pollo, linguini a la bolognese - lasagna, grilled vegetable ravioli, penne con salmone and seafood pasta. Sandwiches include portobello-Italina grinder, tri tip - chicken breast - salmon - roast turkey, caprese, grilled vegetable, meatball or sausage. Piatte include tri tip, chicken marsala, grilled salmon, veal picatta and ahi alla puttanesca. It's all authentic and it's all good!
Everything you put in your mouth at this ristorante is delicious from beginning to ending. It is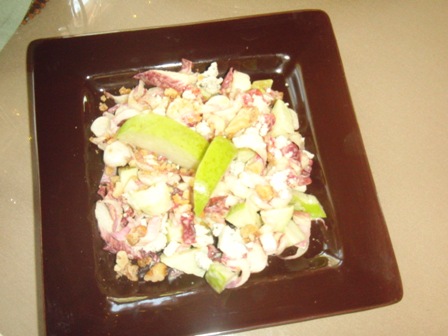 like an unexpected trip to Italy, and it is easy to see why so many people plan weddings and special events at this fantastic venue. Either outdoors in the square or indoors it is all delightful, and the attention to detail by Chef Kenney and her staff is like having your own family overseeing it all for you. The wines at the restaurante are the best as well. They include some fine Italian and european favorites, but also feature local California wines. The Rancho Ventavo Cellars have a historic house in Heritage Square, and their collection of fine wines are available on the restaurant menu, and can also be sipped Friday through Sunday 11:00-6:00 in their wine tasting room, located a few steps away.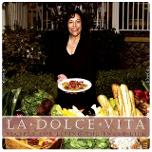 The beautifully restored interiors of this dining establishment are fascinating and create a very special ambiance for visitors. Michelle is an outstanding chef/hostess and really loves what she does. Her family have been involved with food all of her life, and she has written a fine cookbook "La Dolce Vita Recipes for Living the Sweet Life" filled with photos and family recipes to share with all who visit and cookbook afficionados.
I look forward to attempting to recreate some of these dishes I enjoyed so much during my lunch, and I also anxiously look forward to returning for a dinner to remember experience very soon. Mangia Bene!
 La Dolce Vita. Heritage Square
 Oxnard, CA 93030, 805-486-6878
---
One Chef and One Pumpkin Create One Great Meal
 Chef Kristina Vanni shows you how to create unique and cost-saving meals using fall's favorite vegetable.
With the coming of fall our thoughts turn to pumpkins.  Those lush, orange objects are more than just Jack O' Lanterns for Halloween.   One pumpkin can create several meals making it not only a multipurpose ingredient but a cost-efficient and nutritional powerhouse.  "Whether you purchase canned, make your own puree, or just buy one to carve for Halloween, there are so many ways to use this most versatile squash," explains Chef Kristina Vanni.  "Pumpkins can be turned into soups, casseroles, side dishes, breads, cakes, cookies, pies, and preserves.  In addition to its wonderful flavor, pumpkin brings a host of nutrients to the table, particularly Vitamin C, beta-carotene, and potassium." 
As a chef, Kristina Vanni is known for her "Easy, Elegant, and Everyday" approach to cooking.  Her recipes are approachable but have "that certain something" that makes them unique and special.   She is the food writer and on-camera talent for
BetterRecipes.com
  (part of the Meredith Corporation Food Sites).  As we head into fall, Kristina shows home cooks how to take a single pumpkin and transform it into a fabulous, affordable fall meal.
"You won't believe how easy it is to make your own fresh pumpkin puree and use it in delicious recipes that everyone will love. The dishes I have created here offer a new way to enjoy the entire pumpkin, all the way down to the seeds! " 
Once you buy your pumpkin, Kristina has these time-saving tips on how to get the most out of your pumpkin:
How to Cook a Fresh Pumpkin
Start with small pumpkins, about 2-3 pounds.  The smaller pumpkins are not only easier to handle, they are sweeter in taste.  First, wash the pumpkins over running water and pat dry with a clean dish towel or paper towel.  Next, cut the pumpkin into large chunks and scoop out all the seeds (save them for roasting!) and stringy bits. Now you are ready!  Here are some easy options on how to cook the pumpkins chunks.  Use whatever method is best for you.   
1)  Oven-Roasting:  Heat oven to 350 degrees.  Place pumpkin chunks, skin side up, in a glass baking dish.  Add 1/4 inch of water and bake, uncovered, for 45-60 minutes (depending on chunk sizes) until flesh is tender, checking occasionally to add more water, if needed. 
2)  Microwave:  Place pumpkin chunks, skin side up, in a glass baking dish.  Add 1/4 inch of water and cover pan with plastic wrap or wax paper, and vent.  Microwave on HIGH for about 10 minutes (or about 5 minutes per pound) until pumpkin is tender.
3)  Steaming:  Heat water to boiling in a saucepan that fits a steamer.  Place pumpkin chunks in steamer container and place over pan.  Reduce heat to medium and simmer, covered, for about 15 minutes or until pumpkin is tender. 
4)  Slow Cooker:  Place pumpkin chunks, skin side down, in slow cooker.  Cook on low for 3 to 3-1/2 hours or until pumpkin is tender. 
Easy-to-Make Fresh Pumpkin Puree:
For all methods after pumpkin is cooked, scoop out pulp and discard skin.  Pulp can be pureed in a blender or food processor, or stirred by hand until smooth, or you can keep it chunky, if desired.  Pulp keeps in the refrigerator for a week or it can also be frozen in airtight containers for 6 months.  A 2-3 pound pumpkin will make about 2-1/2 cups of puree.
Roasted Pumpkin Seeds:
To make roasted pumpkin seeds, place seeds in a colander and rinse.  Pick out all pieces of pulp.  Place seeds on a baking sheet and pat dry.  Heat oven to 350 degrees.  Drizzle a little vegetable oil over seeds and sprinkle with some salt and toss.  Bake for 10 minutes, stir, and return to oven.  Bake another 10-15 minutes, stirring every 5 minutes until golden and crispy.
Now that you have cooked and pureed your pumpkin Kristina has created two unique, but easy-to-make fall dishes that are sure to make everyone say "it's the Great Pumpkin!"
Pumpkin-Chorizo Pizza
Serves 4-6
2 Tablespoons olive oil, divided
12 ounce purchased pizza crust
1/4 cup finely chopped shallots
1 clove garlic, minced
1/4 teaspoon dried red pepper flakes
1 cup fresh pumpkin puree*
1/4 teaspoon smoked paprika
1/8 teaspoon salt
1 cup cubed fontina cheese
1/4 pound thinly sliced Spanish chorizo
1 Tablespoon chopped fresh sage leaves
Additional olive oil and chopped sage for garnish (optional)
Heat oven to 425 degrees.  Brush 1 tablespoon olive oil over crust; set aside.  Heat remaining tablespoon olive oil in a skillet over medium heat.  Add shallots, garlic, and pepper flakes to hot pan.  Sauté for 1 minute, stirring constantly.  Stir in pumpkin puree, smoked paprika, and salt. 
Cook, stirring, until sauce is thickened and hot.  Spread sauce evenly over pizza crust; scatter with cubed fontina. Arrange sliced chorizo evenly over top and sprinkle with chopped sage. 
Place pizza on a cookie sheet or directly on oven rack, if preferred.  Bake for 12 minutes or until crust is golden and cheese is melted.  If desired, drizzle a little olive oil over pizza and sprinkle with additional chopped sage. 
See Pumpkin Cannoli on Publisher's Page
ABOUT KRISTINA VANNI
Whether it is being named master of the grill or earning kudos for whipping up a sweet treat, this award-winning culinary diva can rock any cuisine and is always ready for her food to take center stage!
Kristina's passion for food began at the tender age of 12 when she earned a spot in the winner's circle at the Pillsbury Bake-Off. Since then she has gone on to win top honors from Martha Stewart, Betty Crocker, and Kraft, just to name a few. Most recently she represented the USA and won an international chef competition in Australia.   
Kristina shares her culinary knowledge with television audiences around the world. She served as the food and wine correspondent to Melbourne, Australia for the CBS travel special "Aussie Week." Kristina also hosted the Better Homes and Gardens series "100 Days of Holidays." She can often be seen as a culinary expert and product spokesperson on morning show segments in cities across America.
Kristina also takes the stage in live cooking demonstrations. As "America's Next Pork Personality," she cooked alongside Guy Fieri at the Food Network's New York City Wine and Food Festival. She was named the "Hot Chef 2009" by the National Restaurant Association and is a featured chef at their annual show in Chicago.
Kristina's recipes can be found in cookbooks, food magazines and online.  She is also a contributing writer for the National Pork Board, the National Restaurant Association, and is the host of
BetterRecipes.com
 (part of the Meredith Corporation Food Sites).  
 \\
---