HATCH PEPPER SEASON COMES TO SANTA BARBARA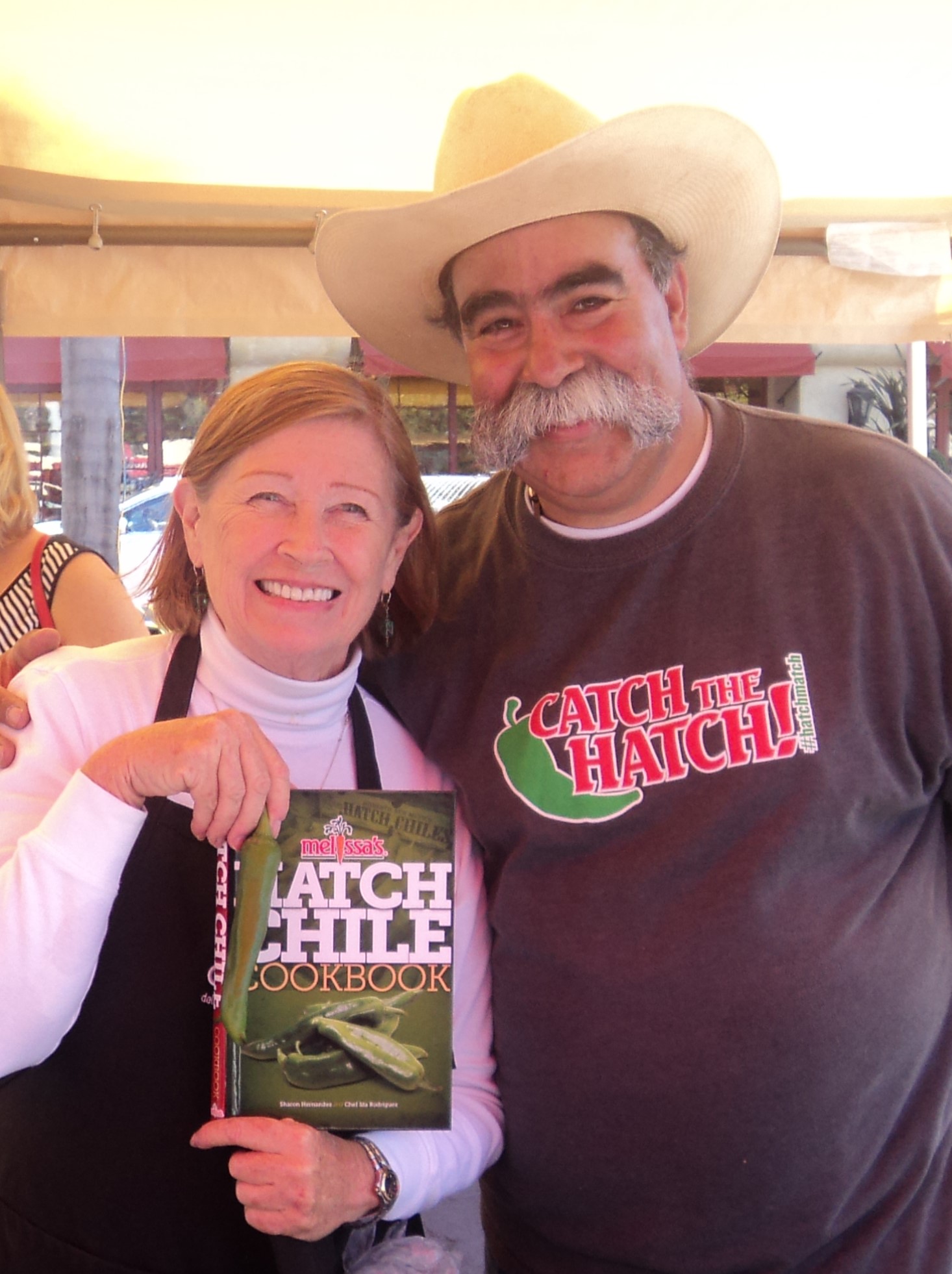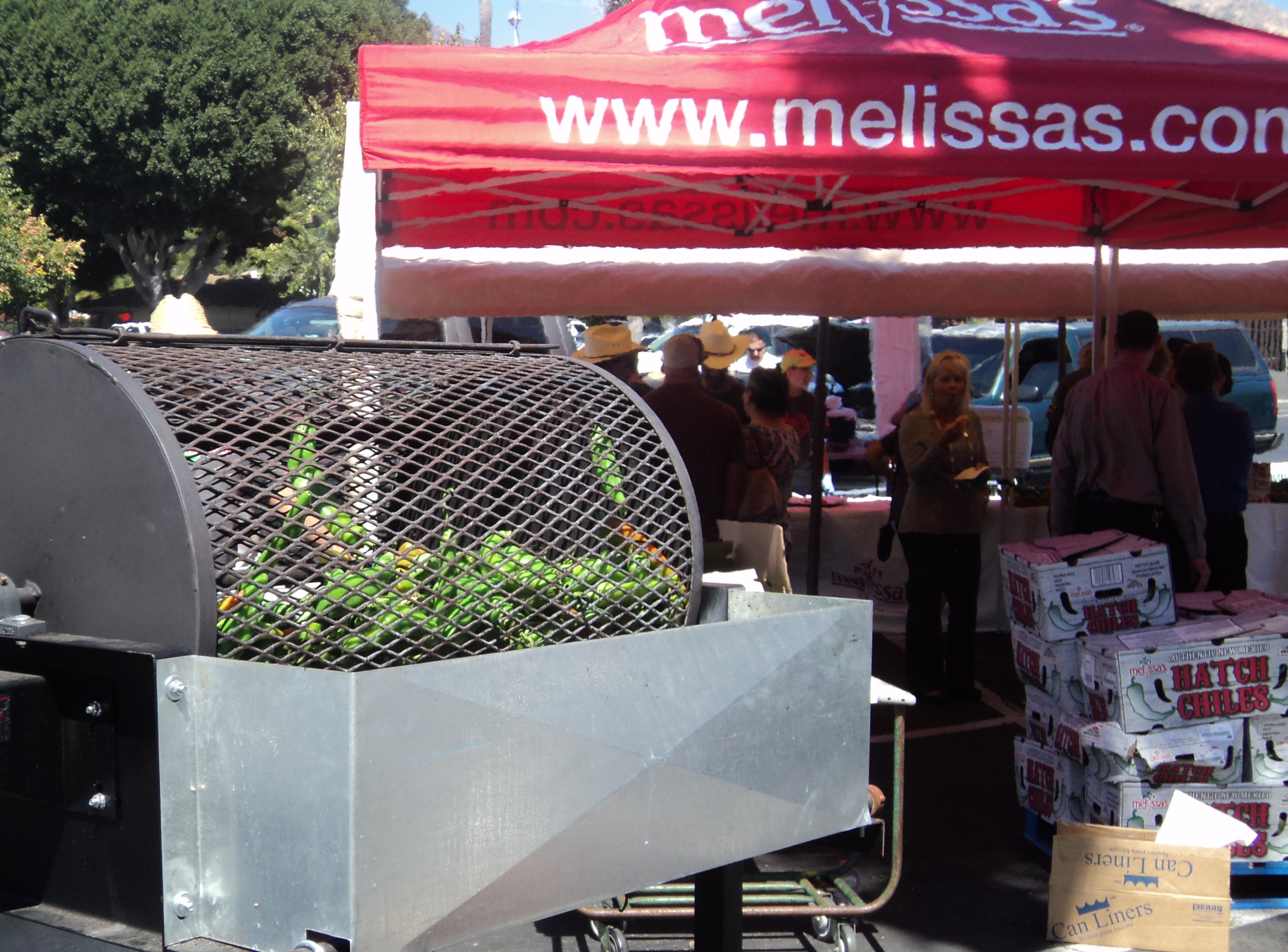 The Hatch Pepper folks from New Mexico paired up with Melissa's and Gelsons Market in Santa Barbara to share the pleasures of roasted Hatch peppers with locals during the season for these amazing peppers. Crowds gathered to watch the pepper roasting process, and taste great samples from the Melissa's Hatch Recipe cookbook.
Below I have shared a Taos Inn Chile Rellano recipe from Doc's in Taos New Mexico, where they really know what to do with these fantastic chilies.
The Historic Taos Inn Chile Relleno
Ingredients:
12 Rellenos
5 lbs of shredded jack & cheddar cheeses
1 red onion diced
1 bunch of cilantro-finely chopped
1/8 cup of cumin
1 ¼ cups of Blue Cornmeal
¾ cups of all-purpose flour
1 egg
1 beer
Water to texture – Should stick to finger and drip off slowly.
Procedure:
deep

 

fry chiles until skins turn white

 

Peeo Chiles
Stuff
Batter and roll into crushed tortilla chips
Deep fry to completion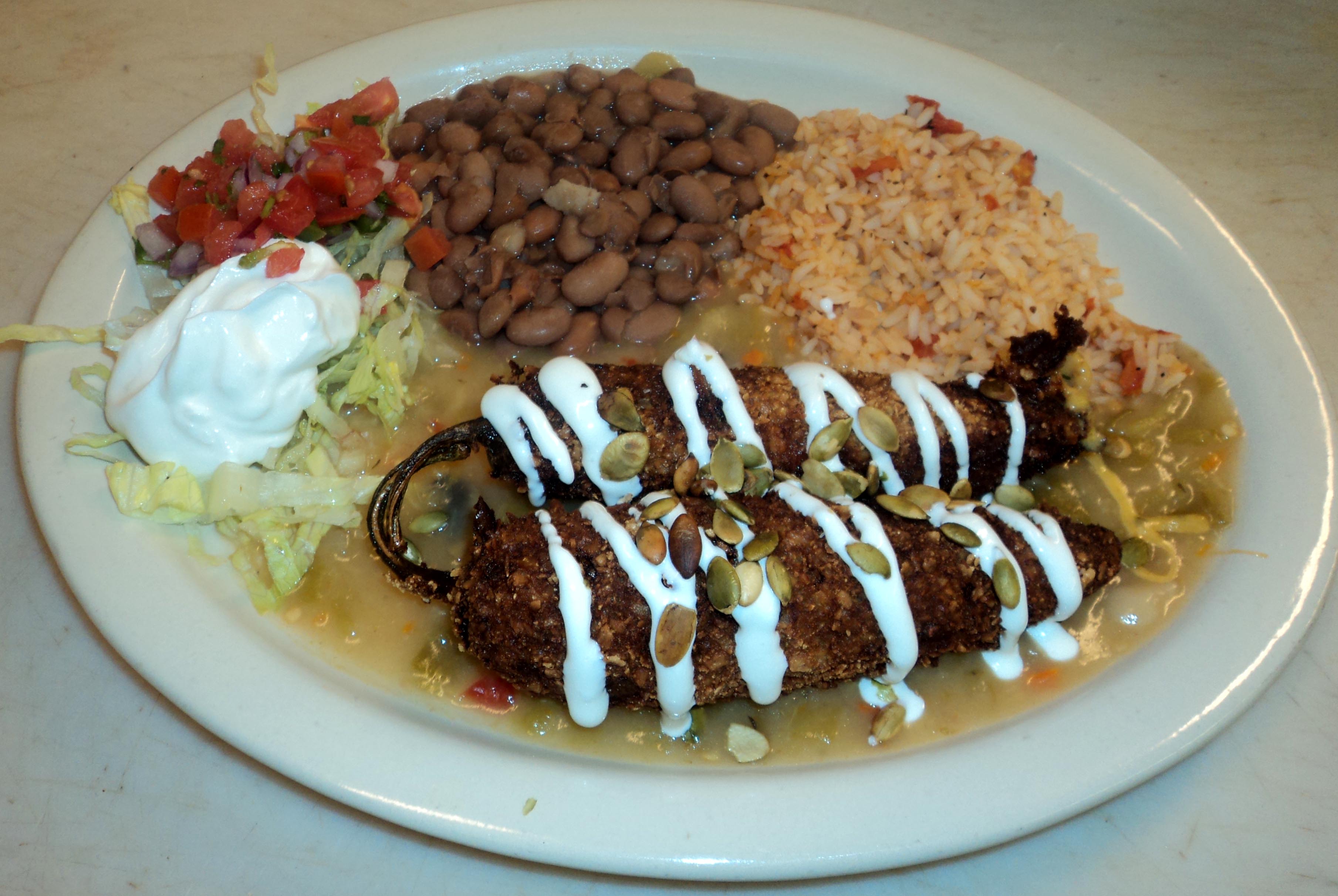 ____________________________________________________________________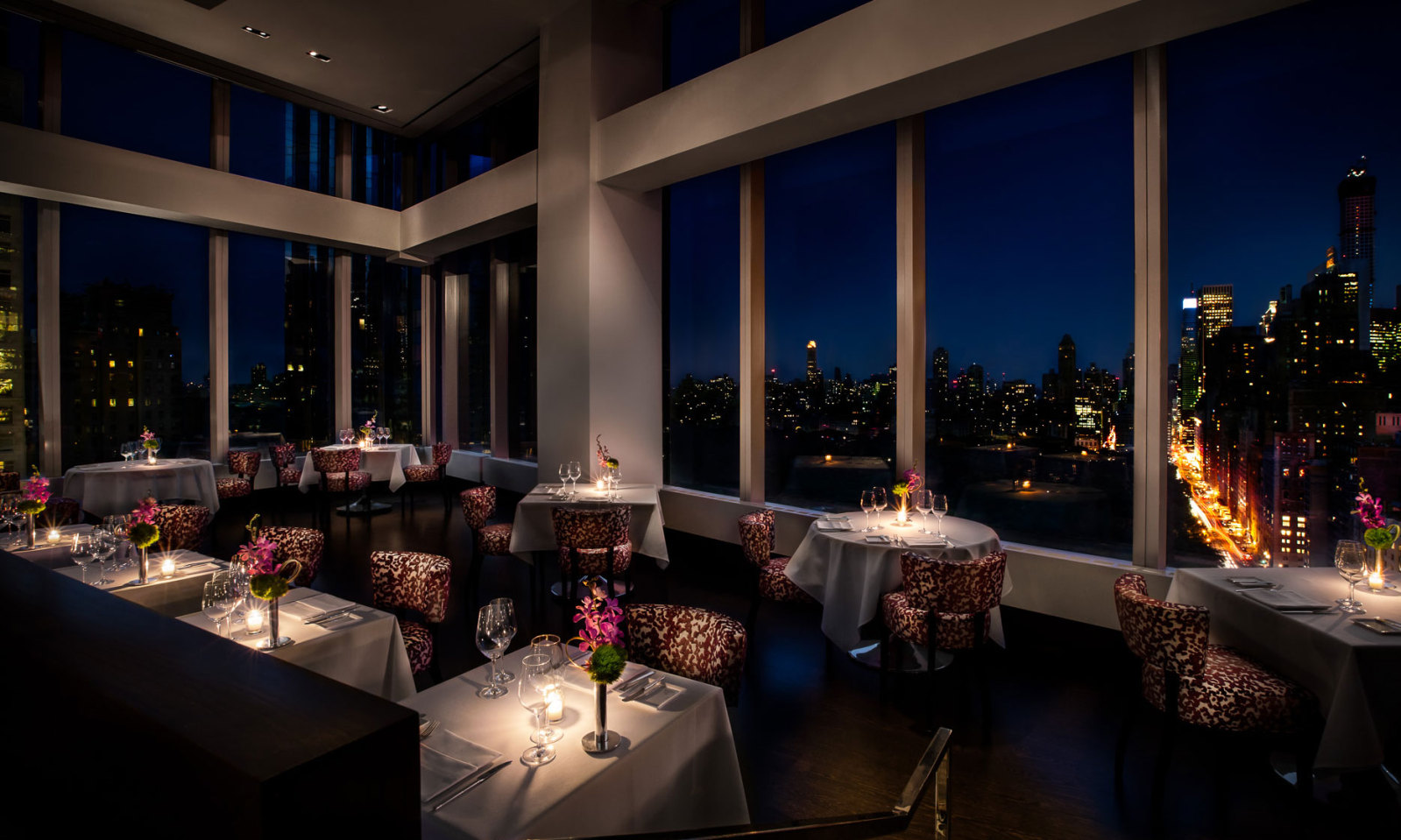 MANDARIN ORIENTAL, NEW YORK'S SIGNATURE RESTAURANT ASIATE CELEBRATES TEN YEARS WITH UPDATED MENUS AND A STYLISH NEW LOOK
In celebration of its 10th anniversary, Mandarin Oriental, New York is delighted to introduce updated menus and a stylish new look at its award-winning restaurant Asiate. Under the direction of Chef de Cuisine Angie Berry, the menus feature sophisticated modern American cuisine with a creative twist. The restaurant's new interiors include a rich color palette which showcases Mandarin Oriental New York
ASIATE
80 Columbus Circle at 60th Street,
New York, New York 10023, USA
+1 (212) 805 8800
____________________________________________________________________
WORLDS MOST EXCLUSIVE RESTAURANT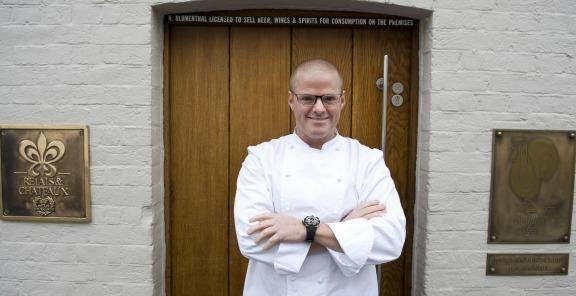 Fat Duck Chef Heston Blumenthal
It can be hard to make a reservation at a trendy restaurant, but at The Fat Duck, you literally have to enter a lottery to get in! For six months, the Michelin-rated restaurant will move from Bray, Berkshire to Melbourne, Australia—and you'll be surprised to hear how hard it will be to get a table.
Once rated the best restaurant in the world, The Fat Duck is the creation of famed chef Heston Blumenthal. The restaurant has received three Michelin stars, and for a six month stint, Blumenthal will move The Fat Duck from its original location in Bray, Berkshire to Melbourne, Australia. However, the restaurant will require a ballot system just to book a reservation!
The Fat Duck will actually be serving dinner from February 3 to August 15 in 2015. However, to make a reservation, you'll need to try your hand at the lottery taking place from October 8th to October 26th. Just 16,000 people will be able to eat at The Fat Duck in Australia, and according to The Daily Meal, the restaurant has already received 40,000 inquiries.
Should you actually get a reservation, the set price of the meal is $525. The dinner will take about four hours and include 15 courses. One of the signature dishes is a snail porridge, which is served with eggs, bacon ice cream and an iPod.
Watch the video above to learn more about the world's most exclusive restaurant. Then, check out the slideshow below to learn more about The Fat Duck.
__________________________________________________________________
BAR BOULUD, BOSTON MAKES ITS DEBUT AT MANDARIN ORIENTAL, BOSTON
The award-winning Mandarin Oriental, Boston and Chef Daniel Boulud are delighted to announce the opening of Bar Boulud, Boston. The French-inspired bistro and wine bar is Chef Boulud's first restaurant in Boston, and second partnership with Mandarin Oriental Hotel Group. The restaurant follows the successful format of Bar Boulud, New York, located on Manhattan's Upper West Side, and Chef Daniel Boulud's first UK restaurant, Bar Boulud, London, located at Mandarin Oriental, Hyde Park, both of which have achieved significant acclaim. This approachable restaurant concept is known for its traditional French bistro fare, seasonal New England inspired dishes, signature charcuterie with recipes by renowned Parisian charcutier Gilles Verot, and an impressive wine cellar showcasing Burgundy and the Rhone Valley, well-suited for leisurely dining, business meetings or special occasions.
____________________________________________________________________
QUEEN MARY TURNS 80 - HUGE CELEBRATION ON BOARD

SEPTEMBER 26, 2014    
 DETAILS: http://www.queenmary.com/history/launch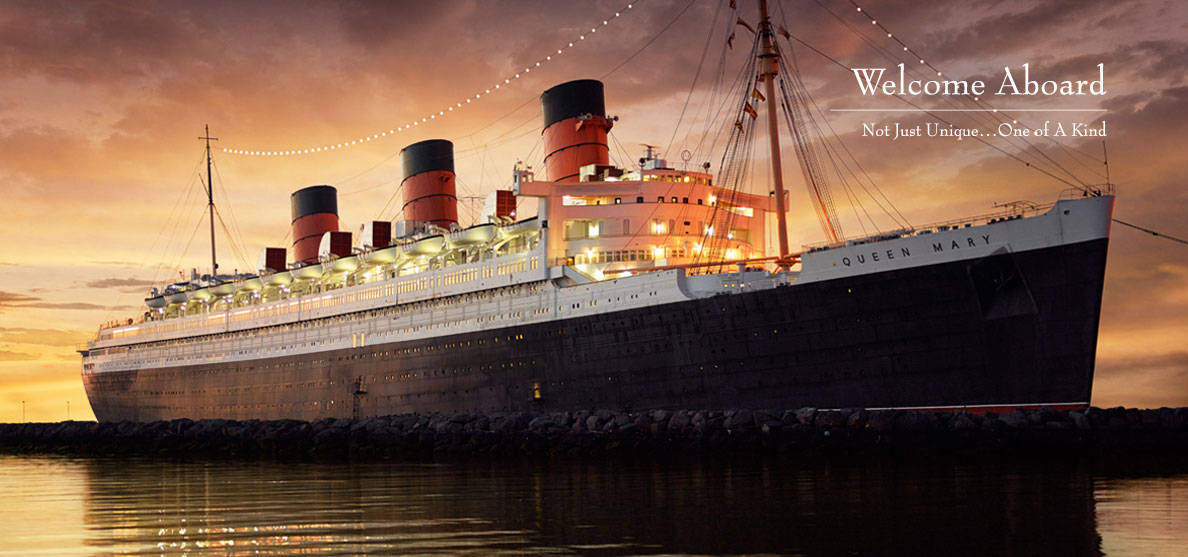 ____________________________________________________________________
Taking BVI's Culinary To The World; TB To Host Massive Food Fete
BVI Platinum News
The British Virgin Islands Tourist Board (BVITB) will be hosting its first culinary extravaganza, BVI Food Fete, which will offer a variety of delicious, locally focused events and activities throughout the month of November.

"The BVI Food Fete is a wonderful opportunity for the Territory to showcase the different flavours of its cuisine and we're excited to invite travelers to taste the best of the British Virgin Islands," stated Sharon Flax-Mars, Director of Tourism as the board made the announcement today, September 29.

According to the TB, the programme was designed so that diners will have the opportunity to island hop while sampling local dishes like famous Anegada spiny lobster; the BVI's signature cocktail, The Painkiller and more.

Throughout the month-long BVI Food Fete, unique events and programming will feature the destination's finest cuisine and chefs, with events such as BVI Restaurant Week, the Anegada Lobster Festival, On The Rocks Bar Crawl, Local Fridays, featured international chefs, and wine and rum tastings. To access the events online visit www.bvifoodfete.com.

In relation to the BVI Food Fete Programming, chefs from around the world are invited to bring their expertise to the festival and prepare dishes that incorporate ingredients traditional to their home countries with those local to the BVI. Visiting chefs include: Roshni Gurnani, Executive Chef and Culinary Chef instructor at The Art Institute of Houston; Erika Dupree Davis, Chocolatier and Creative Director of Graycliff Chocolatier; Digby Stridiron, Chef and owner of The Stridiron Group.

The Visiting Chefs Programme includes an educational component that is uniquely designed to bring the visiting international chefs together with culinary students in the British Virgin Islands to provide instruction and insight.

According to the board, the BVI Restaurant Week which takes place on November 14th-23rd will see participating restaurants throughout the destination serving luxurious three and six course meals at reduced prices. Over the course of the week, each restaurant will offer a fixed, special menu made with authentic flavors and ingredients of the Caribbean.

BVI Restaurant Week has developed into an interactive culinary event that continues to drum excitement and participation from restaurateurs, chefs and food lovers throughout the Caribbean region and internationally, introducing patrons to the varied dishes offered throughout the Territory for breakfast, lunch or dinner at significantly reduced prices. Restaurants that participate in BVI Restaurant Week will offer a special discounted menu for the entire week.

Activities for BVI Restaurant Week will include Taste of the BVI, Tortola (Nov. 14th) and Virgin Gorda (Nov. 15th) – Restaurants gather at one venue in a market-style setting offering free samples of food, which will be offered during BVI Restaurant Week. BVI wholesalers and beverage retailers will also be on site to offer free drink samples of various wines, spirits, mixes and juices.

Also, Chef Cook-offs – During the Taste of the BVI events local chefs on Virgin Gorda and Tortola will compete with the visiting Chopped Champion Chef Roshni Gurnani in a BVI style cook-off for the title of "Best Chef"; Barefoot Gourmet Soirée (Nov. 22nd).

A highlight of Restaurant Week will be the Barefoot Gourmet Soirée dinner on November 22nd. This incredible 5-course meal will be prepared by international and local chefs. Proceeds from the evening will go to a student interested in pursuing a career in tourism or culinary arts. With a theme of barefoot elegance, this exclusive evening is not to be missed.


Sharon Flax-Mars, Director of Tourism

Photo Credit: BVI Platinum News

Then there will be the highly anticipated Anegada Lobster Festival on November 29th-30th which will culminate the BVI Food Fete activities. The two-day event will be celebrating the Caribbean's indigenous spiny lobster.

During the two-day event, travellers can expect to indulge in lobster dishes prepared by several restaurants on the island of Anegada, each with their own unique twist on the Caribbean favourite. In addition to the participating restaurants, beachside music and entertainment entices guests to linger a little longer on the "drowned island."

The British Virgin Islands Tourist Board, together with the population of Anegada, will feature talented local chefs who will be on-hand to prepare, cook, and serve plated sample lobster dishes at participating Anegada restaurants. Travelers don't have to stay on Anegada to experience the festival – ferry services will be running daily from the other islands, including Virgin Gorda and Tortola.

According to the board, hotel and resort properties participating in the destination's culinary month have created programmes that bring the BVIs' culinary flare to guests on-site with new offers that incorporate ingredients and flavors local to the islands. These hotels include Peter Island Resort and Spa; Rosewood Little Dix Bay; and Scrub Island Resort, Spa & Marina.

___________________________________________________________________
---