CULINARY COUP  .  .  .
SPRING EGG BITES . . .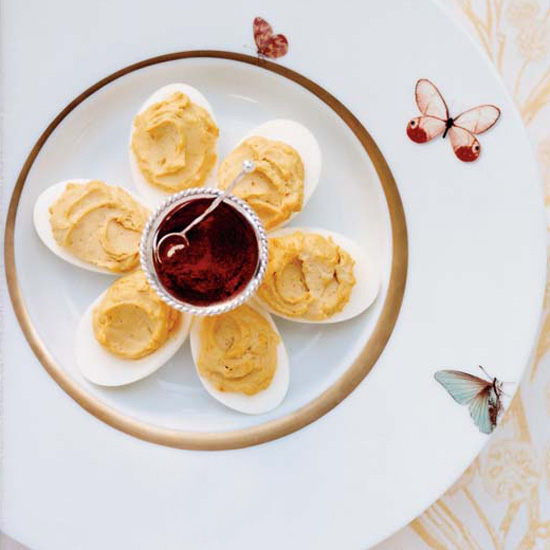 DEVELED EGGS FOR BRUNCH
Ingredients
1 dozen large eggs

1/2 cup mayonnaise

1 1/2 teaspoons Dijon mustard

1 1/2 teaspoons yellow mustard

3 dashes of Worcestershire sauce

Salt

Sweet paprika or pure ancho chile powder, for garnish

DIRECTIONS:
In a medium saucepan, cover the eggs with cold water and bring to a rolling boil. Cover, remove from the heat and let stand for 12 minutes.

Immediately drain the eggs and gently shake the pan to lightly crack the shells. Fill the pan with cold water and shake lightly to loosen the eggshells. Let stand until the eggs are cool.

Drain and peel the eggs; pat dry. Cut the eggs in half lengthwise. Carefully transfer the yolks to a mini processor. Add the mayonnaise, Dijon and yellow mustards and Worcestershire sauce and pulse until smooth and creamy; season with salt.

Using a pastry bag fitted with a star tip or a teaspoon, fill the egg whites with the yolk mixture. Arrange the eggs on a platter, garnish with paprika and serve.
Make Ahead
The recipe can be prepared through Step 3 and refrigerated. Serve chilled or at room temperature.
Notes
Watch this Mad Genius Tip for the fastest way to peel eggs.
Suggested Pairing
Alexis likes to pair a rosé with these deviled eggs; rosé wines have enough substance to balance the eggs' richness, but almost no tannins, which tend to make eggs taste metallic.
POACHED EGGS WITH SPINACH & CRUMPLED BACON BITS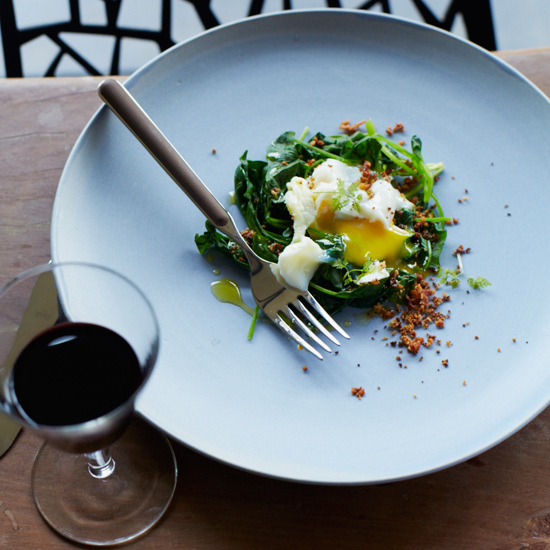 2 ounces day-old baguette, cut into 1/2-inch pieces
1/4 pound bacon, minced (1 1/4 cups)

Kosher salt

Freshly ground pepper

1 tablespoon extra-virgin olive oil

10 ounces baby spinach

1 tablespoon distilled white vinegar

4 large eggs

Freshly grated nutmeg, for garnish
   DIRECTIONS:
In a food processor, pulse the baguette pieces until coarse crumbs form. In a medium skillet, toast the crumbs over moderate heat, stirring occasionally, until golden, 8 minutes. Transfer the bread crumbs to a medium bowl.

Wipe out the skillet. Add the bacon and cook over moderate heat, stirring occasionally, until browned and crisp, 8 minutes. Using a slotted spoon, transfer the bacon to paper towels to drain, then stir the bacon into the bread crumbs. Season with salt and pepper.

In a large skillet, heat the olive oil until shimmering. Add the spinach and 3 tablespoons of water and cook over moderately high heat, stirring, until just wilted, about 3 minutes. Using tongs, transfer the spinach to a bowl and season with salt and pepper; keep warm.

Meanwhile, bring a large, deep skillet of water to a simmer over moderate heat. Add the white vinegar and a generous pinch of salt. Crack the eggs into a small bowl, one at a time, and carefully slide into the simmering water. Poach the eggs over moderate heat until the whites are set but the yolks are still slightly runny, about 4 minutes. Transfer the poached eggs to paper towels to drain.

Transfer the spinach to plates. Top with the eggs, a sprinkle of bacon crumbs and a pinch of nutmeg. Serve. Make Ahead The bacon crumbs can be stored in an airtight container at room temperaturefor up to 3 days.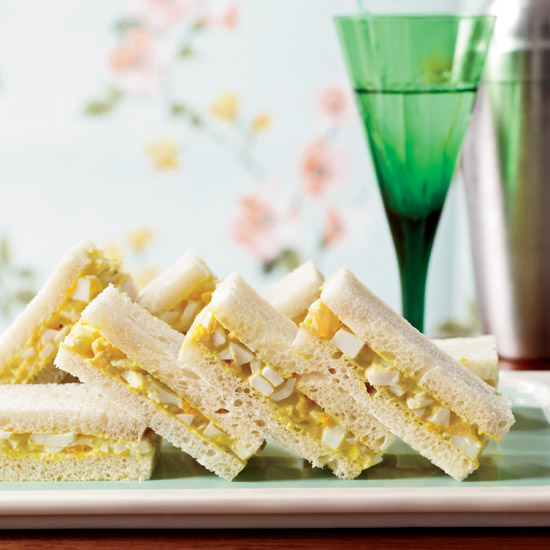 CURRIED TEA SANDWICHES
Ingredients
1 dozen large eggs, at room temperature

1/2 teaspoon finely grated orange zest (optional)

1 tablespoon freshly squeezed orange juice

1 teaspoon Madras curry powder

1/4 teaspoon dry mustard

1/2 cup mayonnaise

Salt and freshly ground pepper

20 slices of packaged white sandwich bread
  DIRECTIONS:
Put the eggs in a large saucepan of cold water and bring to a vigorous boil. Cover, remove from the heat and let stand for 10 minutes. Drain the eggs and cool under running water, shaking the pan to lightly crack the shells. Transfer the eggs to a bowl of ice water and let stand until completely cold, about 15 minutes.

Peel the eggs and pat dry. Finely chop the eggs and transfer to a large bowl. Add the orange zest and juice along with the curry, dry mustard and mayonnaise. Season with salt and pepper and mash with a fork.

Arrange 10 slices of bread on a work surface and divide the egg salad among them, spreading it to the edges. Top with the remaining bread and trim off the crusts. Cut each sandwich in half. Transfer to a platter and serve.
_____________________________________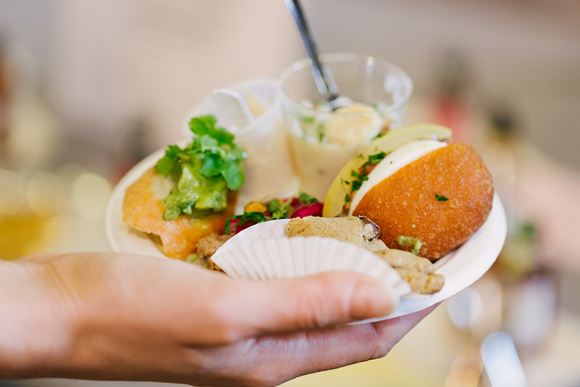 2017 PPLA FOOD FARE RAISED ITS HIGHEST AMOUNT OF FUNDS EVER
Highly Anticipated Annual Event Celebrated its 38th Anniversary and Breaks Fundraising Record

  Over 2,000 Planned Parenthood Los Angeles (PPLA) supporters and foodies gathered together at Santa Monica's Barker Hangar on Thursday, March 2 for PPLA Food Fare, one of LA's best and oldest annual culinary fundraisers. Celebrating its 38th consecutive year, PPLA Food Fare delighted adventuresome attendees with an exceptional variety of food and drink from some of Southern California's best restaurants, caterers, wineries, breweries and libation purveyors.
 
PPLA Food Fare's VIP sponsor reception included remarks from President and CEO, Sue Dunlap; Annie Miler, Food Fare's Chef of the Year; and Pam Beeks and Kathy Katz, PPLA Guild Co-Presidents. VIP sponsor guests enjoyed exclusive food and drinks, including ham biscuits, deviled eggs and shrimp ceviche from Chef of the Year Annie Miler of Clementine, paired with specialty cocktails from VIP Libations Sponsor Greenbar Craft Distillery and VIP Wine Sponsor Four Brix Winery.  Past Honorees include: Bravo TV's Top Chef Season 14 Winner Brooke Williamson, Nick Roberts, Suzanne Goin, Mary Sue Milliken, Susan Feniger, Joseph Miller, Alain Giraud, Jenny Rush and Celestino Drago.
 
At the main event, a record number of enthusiastic PPLA supporters explored the offerings on display throughout the Barker Hangar, sampling gourmet food and libations in a spirited and festive atmosphere.  In between eating and drinking, attendees shopped at retail vendor booths and placed bids on various raffle and auction items, including sought-after wines, one-of-a-kind prizes and luxury travel experiences.
 
PPLA Food Fare is PPLA's largest annual fundraiser, and with threats of defunding looming from Washington, the event attracted more attendees and sponsors than ever before.  Just days before the event, PPLA Food Fare sold out of tickets and had raised over $1M according to preliminary figures, which for PPLA, is the highest amount the event has ever raised.  Of that total, over $700,000 was raised in sponsorships alone, setting a new record.  PPLA Food Fare is hoping to continue this upward trend in the years to come.  As always, funds generated at PPLA Food Fare benefit the health care and education services that PPLA provides at their 19 health centers throughout LA County.
 
About Food Fare & Planned Parenthood Los Angeles Guild
Food Fare began in 1979 with a cooking demonstration by Julia Child and has grown over the last 38 years to become one of Los Angeles' oldest and most cherished food events.  Held annually, Food Fare is highly anticipated by food lovers, PPLA supporters and the general public as an opportunity to sample the best food and drinks Southern California has to offer. Food Fare is hosted by the Planned Parenthood Los Angeles Guild, a group of more than 170 volunteers dedicated to providing financial support for PPLA.

About Planned Parenthood Los Angeles
PPLA's 19 health centers in Los Angeles County provide over 242,000 patient visits each year.  Over 95% of the care PPLA provides is preventative, including life-saving cancer screenings, birth control, annual exams, and STD testing and treatment.  PPLA's education and community outreach programs reach over 60,000 women, men and teens in LA County annually.
_______________________________________________________________________________________
Six of the best: luxury cooking courses in London
Ever wondered what happens behind the scenes of a Michelin-starred chef's award-winning kitchen, or wanted to learn the secrets of how to produce top-level restaurant dishes? Whether you're a total novice or a talented amateur, Britain's best cookery schools - including a new one opening this March - have a course for you. So tie on your apron, unleash your creativity, and get cooking!
The Kitchen at Chewton Glen, Hampshire, southern England
Set just a few minutes' walk from the sea on the edge of the New Forest National Park, this world-renowned boutique hotel wins award after award - so its new purpose-built cookery school is set to be something special. Opening in March 2017, The Kitchen at Chewton Glen will be headed up by chef tutor Rob Cottam, as well as visiting celebrity chefs. There will be classes suitable for all skills and ability levels and a dedicated kitchen garden providing ingredients for students.
Swinton Park Cookery School, Yorkshire, northern England
Set in the grounds of a 17th century castle hotel, Swinton Park Cookery School looks out on a backdrop of majestic turrets and lush parkland. In this tranquil environment students work their way through hands-on courses, covering a range of themes and techniques - from exciting dinner party menus to 'Wild about Food' foraging courses - and even pick fresh fruit, vegetables and herbs from the hotel's four-acre walled kitchen garden to use in their cooking. The school offers half-day, full-day and two-day courses, as well as different levels of complexity - from children's cookery lessons to fine dining.
Belmond Le Manoir aux Quat'Saisons, Oxfordshire, south-east England
For a supreme foodie retreat surrounded by orchards and gardens in the beautiful English countryside, book into star chef Raymond Blanc's Cookery School at his intimate luxury hotel and restaurant, Belmond Le Manoir aux Quat'Saisons. Heralded as one of Britain's finest gastronomic experiences, it's held two Michelin stars since opening in 1984 - so what better place to learn how to wow your dinner party guests? Head tutor Mark Peregrine and his expert team give students the skills to create incredible dishes, including signature recipes from Raymond Blanc's own culinary journey. The school offers a huge range of options, from 'Mama Blanc's Classic Cuisine' and parent-and-children cooking days, to a private cooking class or a four-day residential course including accommodation and evening dining.
Angela Gray's Cookery School at Llanerch Vineyard, Vale of Glamorgan, south Wales
Head into picturesque south Wales, just 20 minutes from Cardiff, for a cookery masterclass at the culinary oasis of Angela Gray's Cookery School at Llanerch Vineyard. Food writer and former chef to famous composer Andrew Lloyd Webber, Angela teaches the majority of her classes, which are open to all ages and levels of expertise, allowing students to develop their culinary skills in a relaxed, informal environment. Angela has a tireless passion for teaching people to cook and her students make up to five dishes during a class.
Leiths School of Food and Wine, London, south-east England
This renowned cookery school is regarded, quite literally, as the crème de la crème. Many of Leiths' alumni go on to work in Michelin-starred restaurants and the school has even welcomed the Duchess of Cambridge as a student. Founded in 1975 by restaurateur and writer Prue Leith, it has an outstanding international reputation, with students visiting from all over the world. It offers courses for all abilities - discover how to cook perfect macaroons, or get a full professional diploma.
Chef for a Day at Blackaddie Hotel, Dumfries and Galloway, Scotland
For a cookery class with a difference, head to Blackaddie Hotel, owned by Ian McAndrew. He was the youngest British chef to gain a Michelin star in 1981 and has trained chefs who have gone onto attain their own Michelin stars. This is not your normal cookery school, but hands-on work in a real kitchen, with a maximum of two students at a time. Experience what goes into a full day in the kitchens, from initial menu planning with the chefs in the morning through to preparation and live service.
_________________________________________________________________
EASTER CHOCOLATES BY CALIFORNIA RIVIERA CHOCOLATIER JEAN MICHEL CARRE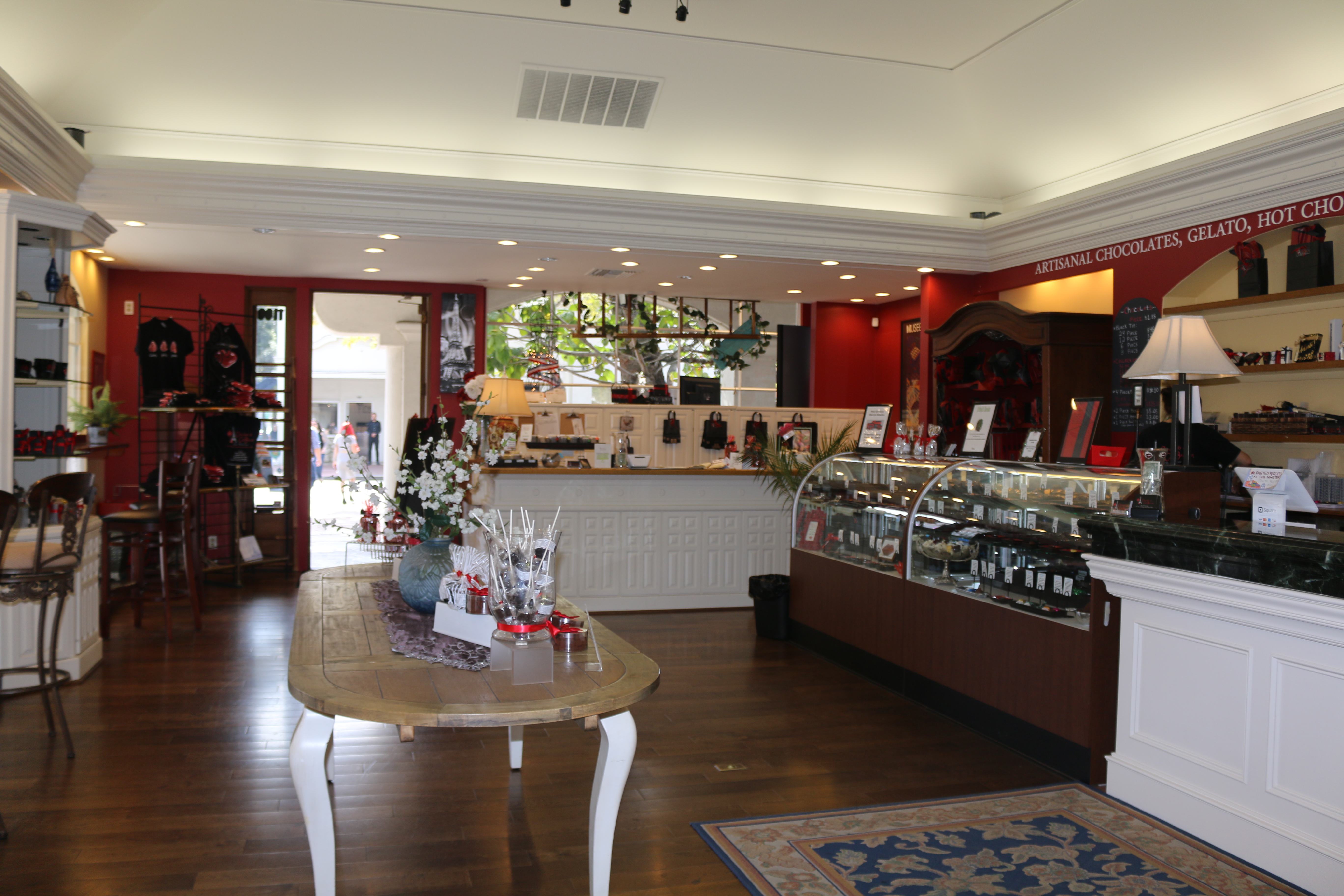 ____________________________________________________________________
---