VIENNA BEEF'S BISTRO SOUPS AND CHILI INTRODUCES
A VARIETY OF NEW ITEMS FOR FALL 2007
Just in time for cooler weather, Bistro Soups and Chili, a division of Vienna Beef, has added a variety of new soups and chili to its repertoire, now available for food service purchase.
Established in 1985, Bistro Soups and Chili provides soups and chili with natural ingredients, adding regional and global flavors that appeal to traditional and adventurous tastes. Bistro Soups and Chili products are used by some of the largestfoodservice entities including Jewel, White Hen Pantry and Culvers.
"With market penetration into almost 99 percent of all homes, soup maintains its ongoing popularity," said Howard Eirinberg, president of Vienna Beef."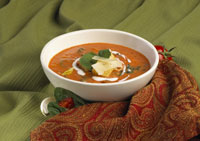 Bistro Soups and Chili currently offers 50 different soups and chili.Four of their latest recipes available for purchase include: Butternut Squash with Apples: Tangy Granny Smith apples combine wonderfully with ripe butternut squash, a sprinkling of brown sugar, cinnamon, nutmeg and a hint of rosemary.Tomato Bisque with Spinach and Orzo: A perfect marriage of heavy cream and artfully seasoned vine-ripened California tomatoes, fresh basil and spinach.
Vienna Beef Introduces New Soups and Chili: Shredded BBQ Beef Chili: Tender, shredded Vienna roast beef is combined with famous Vienna BBQ Sauce and mixed with a smoky blend of chili spices to create a delicious and filling Southern-style chili. BBQ Baked Beans with Brisket & Sausage: A time-honored side of hot dogs, sandwiches, grilled items and more, this version uses Vienna's famous-recipe BBQ Sauce, tender beef brisket and smoked sausage to set the standard for this year-round classic.
Now in its 113th year, Vienna Beef offers premium branded deli items in both the retail and foodservice channels, including hot dogs, Polish sausage, corned beef, Italian beef, pastrami, soups, and pickles. For more information on Vienna Beef and the Bistro Soups and Chili division, visit www.viennabeef.com.
---
VIENNA Solutions
The Vienna people from Chicago have fantastic soups and chili waiting for you during the fall and winter. I simply love all of their products and so has everyone on our tasting team. Bon Appetit! Visit: www.vienna.com.
---
WINTER SOUP SOLUTIONS
Fantastic World Foods has the answer for those cold winter days...a hot bowl of instant soup. The variety of flavors will offer something to please everyone on the family. This is also a great item to carry along on busy days when you just need hot water to have a satisfying lunch, or it also works for older kids on the go. Visit www.fantastic.com.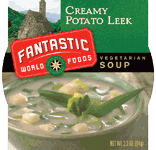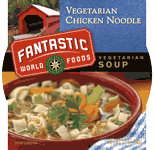 ---
THANKSGIVING FOR A SMALL CROWD
Chef Michael Vignapiano of The Art Institute of New York City Offers
Tips for Throwing a Thanksgiving Meal for a Small Gathering
Though one of the famous images of Thanksgiving is the iconic Norman Rockwell painting depicting a big family gathered around the table in hungry anticipation of a big turkey dinner, for many, Thanksgiving is a much smaller affair.
Chef Michael Vignapiano of The Art Institute of New York City offers tips for
throwing a small Thanksgiving gathering for a crowd of 4 to 6 people. "I like
to keep it simple for Thanksgiving, and have more time to spend with friends
and family," he says.
Chef Vignapiano can offer easy tips for throwing a Thanksgiving dinner for a
small crowd including:
" Alternatives to a big bird, including bone-in turkey breast, and dark
meat pieces like thighs"
" Add carrots, onions and celery halfway through cooking to make a
simple pan gravy"
" Consider using good quality, organic frozen vegetables that save
preparation time"
" Add chestnuts or sausage to turn good package stuffing for a
homemade taste "
The Art Institutes system of 32 education institutions is located throughout
North America, providing an important source of design, media arts, fashion
and culinary professionals. The Art Institutes system of schools has provided
career-oriented education programs for more than 40 years. For more
information visit The Art Institutes Web site at www.artinstitutes.edu/nz
---
NEW PRODUCT --- E4B IS HERE!
E4B is a sensational new all fruit product that can be taken along anywhere, for a 100% fruit meal or refresher. They come in a variety of delicious fruit combinations, and remind me of astronaut food containers. The pear with carmel is great on ice cream, but the berry combination is my absolute favorite. This great, easy to use product will be available at Whole Foods. The company will be creating and publishing cleaver recipes for use, but it is so good that it stands perfectly fine all alone, and kids will adore it!

---
'Jingletinis,' Sumptuous Feasts, Special Offers: Millennium Knickerbocker Celebrates Holidays in Classic Chicago Style

The Millennium Knickerbocker takes center stage for Chicago's holiday season with exciting activities during the Magnificent Mile Lights Festival, Thanksgiving and December holidays. The following is a list of exciting holiday activities that the Millennium Knickerbocker is helping to celebrate:
"Magnificent Mile Lights Festival, November 18th-19th"
For more than 40 years, Chicago has kicked off the winter holiday season in classic style with the Magnificent Mile Lights Festival. This year's event, November 18th-19th, features live musical shows, spectacular window displays, a festive procession to light more than one million lights along North Michigan Avenue, one of the great shopping streets in America. Right at the center of the action will be the historic Millennium Knickerbocker Hotel as it, too, launches into the holiday mood. Kicking off the event on November 18, the hotel's culinary team will create a magical replica of the Chicago skyline and the Knickerbocker in GINGERBREAD! In this traditional holiday setting, the Knickerbocker will serve eggnog, hot apple cider and holiday cookies while Charles Dickens carolers perform everyone's favorite holiday songs.
"Holiday Shopping Package"
From November 1 through December 30, the hotel, situated across the street from Bloomingdale's department store, will offer "Stay & Shop at the Gateway to the Magnificent Mile" overnight packages starting at only $199 per room, including shopping discount cards. For reservations please visit www.millenniumhotels.com or call 800-621-8140.
"Bountiful Thanksgiving and Christmas Feasts"
Wonderful holiday meals with friends and family are always a highlight of the holiday season and the Millennium Knickerbocker brings the best of the holiday traditions to Chicagoans and visitors alike.
The "Jingletini" has been created specially for the holidays by Mr. Mora Vera, the bartender in the Knickerbocker's popular Martini Bar. Vera has been a bartender with the Knickerbocker for 17 years. It will be served nightly to the accompaniment of live jazz, November 1st-December 30th.
NiX, the hotel's bistro restaurant will offer a sumptuous Thanksgiving feast served from noon to 9 p.m. that features such holiday themed dishes as cream of pumpkin soup, herb roasted turkey and honey baked ham, sweet potato casserole and tempting choice of desserts, including pumpkin and pecan pies.
Guests staying at the hotel over the Christmas holiday will enjoy an elegant brunch buffet with everything from traditional eggs Benedict and French toast to roasted turkey, roast beef with mushroom sauce, asparagus with béarnaise sauce and a display of holiday desserts.
"New Year's Festivities"
The Millennium Knickerbocker continues in the holiday mood right through the New Year, with a magnificent New Year's Eve Celebration dinner that is highlighted by lobster bisque, grilled beef tenderloin, New Zealand Blue Nose with pineapple rum sauce, crème brulee, cinnamon pecan cake and champagne. Once guests have rung in the New Year and perhaps caught a few hours sleep, the hotel winds up the holidays with a hearty New Year's Day brunch. Reservations at NiX can be made by contacting 312-867-7575.
About the Millennium Knickerbocker Hotel
A venerable establishment among Chicago hotels, The Millennium Knickerbocker has a storied and intriguing past. The landmark hotel was constructed in 1927 for a then-staggering amount of $3 million. Millennium Hotels and Resorts purchased the hotel in 2000 and made a substantial investment to preserve this historic building for future generations of Chicagoans and guests. The recent renovation of all 305 guestrooms, in a luxurious European style, maintains the hotel's timeless elegance while providing state-of-the-art guest accommodations. The Millennium Knickerbocker Hotel is a four-diamond AAA rated hotel and is a member of the Historic Hotels of America. The Millennium Knickerbocker celebrated its 75th anniversary in 2002, making it one of the city's most historic hotels.
Interestingly, during the Prohibition, the hotel's penthouse, which houses two small ballrooms, served as a casino and a secret doorway leading away from the casino to the floor below was later discovered. Al Capone was rumored to be a frequent visitor to the hotel at that time. In the 1970s, the hotel also served as the Chicago outpost of the rollicking Playboy Towers and Playmate Bar.
The Millennium Knickerbocker today has the feel of a boutique hotel, providing quality and personalized service with the ability to meet modern needs. A contemporary restaurant, NiX, and the Martini Bar located in the lobby means guests can enjoy a meal or cocktail without leaving the comfortable confines of the hotel. The hotel's 18,000 square feet of meeting space includes the renowned 5,000 square-foot Crystal Ballroom featuring a gilded, 28-foot-high domed ceiling; two Tower Suite meeting rooms on the top floor; eight conference parlors; and an executive boardroom. The hotel is located downtown, just off the Magnificent Mile, Chicago's famous entertainment, shopping and dining district and home to the city's famous Water Tower landmark. With such a prime location it is no surprise that many luminaries have stayed at the Millennium Knickerbocker including former presidents Richard Nixon and John F. Kennedy (under the assumed name of Dave Powers), the Rolling Stones, Muhammad Ali and actress Daryl Hannah, who resided at the hotel as a child.
About Millennium Hotels and Resorts
Millennium Hotels and Resorts (MHR), established in the United States in 2000, is the North American arm of London-based Millennium and Copthorne Hotels plc (MLC). The MHR portfolio includes 19 holdings in The Americas, and the company operates properties including: Millennium Broadway Hotel, New York City; Millennium UN Plaza Hotel, New York City; Millennium Airport Hotel, Buffalo, New York; Millennium Biltmore Hotel, Los Angeles; Millennium Knickerbocker Hotel, Chicago; Millennium Bostonian Hotel, Boston; Millennium Hotel, Minneapolis; Millennium Hotel, St. Louis; Millennium Hotel, Cincinnati; Millennium Harvest House, Boulder; Millennium Hotel, Durham; Millennium Alaskan Hotel, Anchorage; Millennium Resort, Scottsdale, McCormick Ranch; the Millennium Maxwell House, Nashville; and the Royal Palm Resort, Galapagos Islands. MLC holdings outside of the Millennium brand include the Millenium Hilton Hotel in New York City. For further information on Millennium Hotels and Resorts, call 866-866-8086 or visit www.millenniumhotels.com.
Millennium and Copthorne Hotels comprises 100 four and five star hotels with 24,681 rooms worldwide in 16 countries. Our World of Hospitality marketing alliance partner Maritim Hotels has 45 hotels with 13,069 rooms in 9 countries. For more information please visit www.millenniumhotels.com or www.maritim.com.

---
LIFE IS SWEET AS SWEET LADY JANE EXPANDS
INTO A 7,000-SQUARE FOOT BAKERY FACILITY
Owner Jane Lockhart's legendary desserts to be
distributed throughout Southern California
Los Angeles's legendary Sweet Lady Jane bakery will open a 7,000-square-foot, state-of-the-art commercial baking facility in the Silverlake neighborhood of Los Angeles. The sleek new facility will allow Sweet Lady Jane, founded by CEO, Owner and Executive Pastry Chef Jane Lockhart, to dramatically increase its production capacity and consistency, while maintaining the high levels of quality that Sweet Lady Jane fans have come to know and love. With the increased output of their new facility, Sweet Lady Jane will be building a wholesale distribution network throughout Southern California. Soon, consumers will be able to purchase a selection of Sweet Lady Jane desserts, including the famous Triple-Berry Shortcake and Blackout Fudge cakes, in their local gourmet shops, and to enjoy them at the end of a meal in a local restaurant.
"This new facility will give Sweet Lady Jane better product consistency and greater production and will provide us with ample room to grow," said Lance Paine, Vice President of Business Development. Jane Lockhart agreed, "I am very excited about this new stage for Sweet Lady Jane. This will allow us to reach even more fans than ever before."

With the bakery's new capabilities, Sweet Lady Jane will have increased potential for growth into the wholesale market, targeting restaurants and specialty stores. For her company's expansion, Jane enlisted Paine, Vice President of Business Development. Paine came to Sweet Lady Jane with a strong background in the bakery business, having worked at La Brea Bakery, as a Business Analyst. Together, this team is poised to take Los Angeles's favorite bakery to an even greater audience, with Sweet Lady Jane desserts soon-to-be-available in every neighborhood.
Since it was founded in 1988 by self-taught baker Jane Lockhart, Sweet Lady Jane has been Los Angeles's premier destination for desserts, with legendary cakes, pies, cheesecakes, cookies and treats. Interested restaurants and retailers can reach Sweet Lady Jane's wholesale operations by phone: 323.662.8900, fax: 323.662.8950.
These divine desserts are also available at Whole Foods in the Los Angeles area, and at PC Greens on Pacific Coast Hwy. in Malibu California. Visit: www.sweetladyjane.com
---
THE INN AT SAWMILL FARM RECEIVES CULINARY AWARD
West Dover, Vermont, October, 2006…The Inn at Sawmill Farm, a upscale 20 room inn located in West Dover, Vermont, known far and wide for elegance in lodging, fine dining, superb cuisine and attention to detail has received a Culinary Award from Sante for excellence in Culinary Hospitality.
The Sante Restaurant Awards were created to recognize excellence in restaurant food, wine, spirits and hospitality. There are four distinct categories: Culinary Hospitality, Wine Hospitality, Spirits Hospitality and Service Professional awarded to eight regions nationwide.
The restaurant at The Inn at Sawmill Farm is the crown jewel of the inn with specialties including an eclectic array of regional and international dishes, such as Peekytoe crabmeat, grilled loin of venison with mushroom duxelle in a green peppercorn sauce, Scottish smoked salmon and Indonesian curried chicken breast with caramelized bananas, toasted coconut and chutney.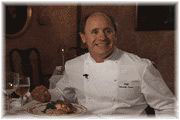 Chef/Owner Brill Williams joined his parents as a partner after he finished college. He has developed his own skills as gourmet chef and wine expert. His menus contributed to The Inn at Sawmill Farm receiving the DiRona Award (Distinguished Restaurants of North America) and now the Sante award for Culinary Hospitality. His skills at selecting wines led to Wine Spectator awarding its "Grand Award" and a place of the 100 best wine cellars in the world.