MDA'S BLACK & BLUE BALL A TASTE OF SUCCESS
Local Restauants & Caterers Serve it up for Gerry's Kids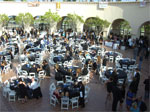 The 16th Annual Black & Blue Ball at the Fess Parker Doubletree Resort in Santa Barbara was an enormous success thanks to the hard work of local MDA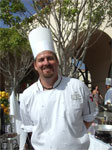 staff, area volunteers, the Santa Ynez Band of Chumash Indians, media sponsors and local restaurants and caterers. Among those bearing food, wine, sweets and more were Albertsons, Bar Cliff & Bair, Bay Cafe, California Pizza Kitchen, Chef Karem's, Coast of Santa Barbara, El Torito, Jake's Cafe, Marmalade Cafe SB, Mondial, Rodney's Sterak House, Santa Barbara Chocolate Fountains, Santa Barbara Olive Company,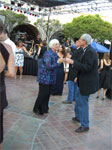 Sugar Bliss Sweets, Wahoo's Fish Taqcos, Woody's BBQ, and Zookers Restaurant and Stateside Restaurant & Bar.
The Family Stone rocked the rotunda, and everyone was moved to get up and dance, including Mayor Blum and her husband. Accoring to Mehgan Fay, District Director for MDA, the event which is voted the 'best party in Santa Barbara' by a local newspaper each year had certainly lived up to its reputation this year. For information visit: www.mda.com.
---
MIMOSA . . . TOUCH OF FRANCE ON DE LA VINA
By Bonnie Carroll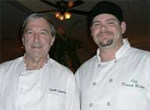 The Mimosa Restaurant at 2700 De La Vina Street in California is a charming venue where guests enjoy privacy and delicious French inspired recipes. They offer lunch specials, and wonderful dinner options. Originally founded twenty-five years ago by Camile Schwartzs, the restaurant is now owned by a talented couple Derrick and Chris Melton.                             
Camille Schwartz, former owner and creator of award winning French cuisine at Mimosa Restaurant, was on hand to celebrate the 25th Anniversary of the French Mediterranean inspired restaurant with owner Derrick Melton and Chris Melton in May of 2008.  Executive chef/owner Derrick Melton and his wife Chris have been working together for thirteen years, Derrick as the chef and Chris as the pastry chef. They are a dynamic duo at Mimosa, and combine their talents to create unique menu combinations.
Chef Schwartz's career in gastronomique has taken him around the world and prior to opening Mimosa on De La Vina and Alamar he was a chef in many fine international kitchens, including San Ysidro Ranch. Today he owns and operates Mirabelle, an award winning French restaurant in Lake Tahoe.
The delicately prepared French casual cuisine includes pastas, salads, house specialties such as Bouillabaisse, fish venison lamb, and ostrich. Outstanding pastries are created by Chris, and all are paired perfectly with delicious French and California wines. Visit: www.mimosa.com.
---
WHAT 2008 OLYMPIC FOODIES WILL
EXPERIENCE IN BEIJING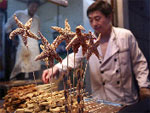 Sushi and sashimi? Ocean fresh. Persian grilled meats and stews? In the heart of the city. Fish and chips? Beer-batter or breadcrumbs, take your pick. Greek, Vietnamese, Italian, German, French, Ethiopian, Spanish, Singaporean, even kosher ... anything the appetite could desire.

"Simply put, we've gone from eating just to fill our stomachs to the stage where we are open to the complete pleasures of the dining experience," says Chitty Chung, editor-in-chief of Beijing's Food & Wine magazine.

---