Hyatt Regency Monterey Introduces a Month-Long Salute to Love with an Aphrodisiac Menu at TusCA Ristorante
TusCA rings in romance with an unforgettable menu for the entire month of February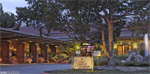 The newly renovated Hyatt Regency Monterey introduces an enticing new destination for both local and visiting lovebirds with a month-long Aphrodisiac Menu at TusCA Ristorante during the month of February. Celebrating the month of love, Hyatt Regency Monterey invites locals and travelers alike to experience true romance with a four-course menu of passion-inspiring dishes.
Nestled in 22 acres of soaring Monterey Pines, Hyatt Regency Monterey is a destination-resort providing the discerning traveler the quintessential Monterey experience. Setting the standard for Monterey, TusCA Ristorante's design embodies warmth and vibrancy, with a rich color palette representative of the bold hues of local wines, and low banquettes that offer unobstructed views of the pristine display kitchen and Tuscan-inspired duo brick ovens.
Executive Chef Mark Ayers has created an authentic and sophisticated menu that includes seasonal aphrodisiacs guaranteed to raise romance levels. Known for his regional Italian dishes created from the wealth of locally and seasonally sourced California produce, meats and fish, Ayers has prepared a tantalizing four-course menu including ingredients historically known for inciting romance. TusCA's Aphrodisiac Menu highlights include: Beau Soleil Oysters with Citrus Vinaigrette – the ultimate aphrodisiac; Vanilla Scented Champagne -- known to increase lust; Fennel Flan with Nutmeg – recognized for awakening the libido; and Pancetta-Wrapped Beef Tenderloin – rumored to possess aphrodisiac powers. Desserts include indulgences sure to amplify love, such as Warm Banana, Chocolate and Ginger Cake and Pepper Parfait with Sambuca Cream.
Nothing says romance like a luxurious weekend getaway in the newly renovated guest rooms at the Hyatt Regency Monterey. Guests can connect with their sweetheart throughout the month of February by dining at TusCA Ristorante and hiding away at the beautiful Hyatt in one of the many elegant and comfortable rooms boasting spectacular views of the Pebble Beach Company's Championship Del Monte Golf Course.
The price for the Aphrodisiac Menu is $100 per couple, excluding tax and gratuity. For more information or to make dinner reservations, please visit www.hyatt.monterey.com or call 831-657-6675.
---

Farm Fresh and Local Cooking classes at The Santa Fe School of Cooking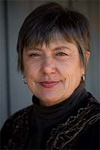 The mission at the Santa Fe School of Cooking has always been to support local, New Mexican businesses. Susan Curtis, the schools founder and matriarch is passionate about educating residents and out of-town-guests alike to the unique food culture that exists in this great state. From the wild-crafted herbs available at the School's market to the coveted Santa Fe Farmers Market classes, Susan and her team are always seeking new ways to feature our states proud culinary traditions.
In 2008 the School has raised the bar by adding no fewer that 5 new, cooking classes, including the much anticipated Farm Fresh and Local! Santa Fe School of Cooking has teamed up with the historic Los Poblanos Farm for this celebratory series of seasonal, local produce.
Twice a month, one of the talented chef-instructors from the Santa Fe School of Cooking will employ their skills and creativity to weave a multi-course meal out of a box of goodies from the certified-organic gardens of Los Poblanos as well as local, organic meats from such revered producers as Pollo Real and Shepard's Lamb. Described by one patron as the "Adobe Chef Challenge", the instructor has only the knowledge of the seasons to anticipate what will be in the box that day! Look forward to rolling up your sleeves and having a fun, delicious, educational and ever changing 3-hour class.
Class size for Farm Fresh and Local is limited to 16 participants so book your space today and join the SFSC in this exciting journey, celebrating the agriculture of New Mexico. Check the schedule on line at www.santafeschoolofcooking.com or call the School at 505-983-4511. The School is located at 116 West San Francisco Street, a short walk west of the Plaza, in downtown Santa Fe.
The fee for this class is $95.00 plus tax, and reservations are required.
---
New Mexico's Incredible Cuisine Offers Food Network's Chef Robert Irvine his Latest 'Dinner Impossible'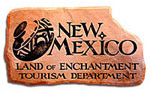 One hundred years ago, it would have been beyond comprehension. Firing up the hornos and preparing an authentic New Mexican meal large enough to feed 60 family members, friends and fellow villagers using only traditional cooking equipment and methods would have taken all day, if not longer.
Doing it in six hours would have been impossible – unl

ess, of course, Chef Robert Irvine was on your guest list. Each week, Irvine - the star of "Dinner Impossible" on the Food Network - is thrown a new culinary curveball, and his team must figure out a way to solve their mission before time runs out.
On January 12, 2008, that curveball was thrown at Irvine and his sous chef David Britton, when the pair arrived at El Rancho de las Golondrinas, located just south of Santa Fe, to film an episode of what has become one of the Food Network"s hottest shows, now in its thi

rd season, with approximately 7.8 million total weekly viewers.
You'll have to tune in to "Dinner: Impossible" to see if Irvine was able to complete his Santa Fe challenge. The Santa Fe episode is tentatively scheduled to air in March.
"We are honored, but not necessarily surprised that the Food Network and 'Dinner Impossible' chose Santa Fe's El Rancho de las Golondrinas as a location and New Mexico's incredible cuisine as a challenge for Chef Irvine," said Michael Cerletti, Secretary of the New Mexico Tourism Department. "New Mexico has lon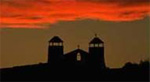 g been known as a world-class culinary destination."
Joining Irvine at El Rancho de las Golondrinas were New Mexico Lt. Gov. Diane Denish, who first welcomed Irvine, then tossed him his culinary challenge; Virginia Vigil, Leroy Romero (Assistant Curator of Agriculture at Las Golondrinas), and Noe Cano (an instructor at the Santa Fe School of Cooking), who all helped Irvine learn New Mexican cuisine and acted as guest sous chefs; and the Danza Azteca de Anahuac dance group, which entertained guests before the meal was served.
Born in England, Robert Irvine has been cooking since he joined the Royal Navy at the age of 15. His wide-ranging culinary and entertaining experience has taken him all over the world, from cooking for dignitaries aboard the Royal Yacht, Britannia, to traveling across Asia as a consultant. He has prepared meals for The Royal Family, as well as four United States Presidents.
"Dinner: Impossible" is produced by Marc Summers Productions and Shooters Post & Transfer. The show was created by Brian O'Reilly of Purple Sage Productions.
El Rancho de las Golondrinas is a living history museum located on 200 acres in a rural farming valley just south of Santa Fe. The museum, dedicated to the heritage and culture of Spanish Colonial New Mexico, opened in 1972. Original colonial buildings on the site date from the early 18th century. Visit www.golondrinas.org.