FARMER BOY
Celebrates 50 Years Feeding Santa Barbara Locals
By Bonnie Carroll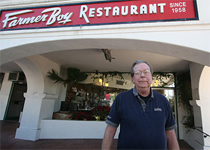 Breakfast or lunch at Farmer Boy is always a flash back to the fifties for patrons. The hand painted murals of farm scenes on display throughout the restaurant were done in 1958 when they opened their doors, and local kids and their parents have been enjoying burgers and shakes since then. The overhead pie and dessert cases with mirrors to display selections, and the wrap around coffee bar are typical of a rash of family restaurants that opened throughout the nation in the 50s.
Every newspaper and local news magazine in Santa Barbara and surrounding communities can be found at the entrance to enjoy with your morning coffee at Farmer Boy, and now they also offer free wireless internet connection. Owner, Karl Eskint says his family opened the restaurant at 3427 State Street in 1958, when the landscape was open and very few other business and homes were there. The family also owned an earlier business at 805 State Street, Karl's Food. When asked why he loved the restaurant business?  Karl said "the restaurant life is in my blood, but my mother-in-law says a restaurant owner is really just a dishwasher with his brains beat out!"
The bulk of their family business comes from Karleskint Company Catering who does barbecues, weddings, party trays, and box lunches for patrons throughout Santa Barbara County. Every local in Santa Barbara knows Karl, and he greets them each at the door as they come in and bids them good day as they leave.  He also has a loyal staff of servers and cooks that are friendly and aim to please.
The restaurant menu includes great breakfast specials of Belgium waffles, pancakes, railroad French toast, eggs with every side imaginable, oatmeal and cereals, as well as a bevy of omelets. Breakfast is served with a choice of hash brown, home fries, cottage cheese, fresh fruit or tomatoes and toast, hot cakes, mini cinnamon roll or biscuits.
Luncheon specials are served with soup or salad, and a dinner roll at $7.99, and change daily. Monday is sirloin tips on rice; Tuesday baked meat loaf, Wednesday chile rellenos rice and bean soup or salad, Thursday old fashioned pot roast, Friday fish and chips, Saturday Rubin sandwich, Sunday Spaghetti and meat sauce with garlic bread and soup or salad. Saturday and Sunday specials include chicken fried steak with eggs and tri-tip and eggs at $8.25 and $9.25.
Burger options and side dishes are popular, as well as a variety of sandwiches, hot or cold, with soup and fruit. They offer many interesting lunch combinations. Everyday there are delicious Mexicana dishes available, including chili verde omelets, pozole and abondigas soup. Fresh lemonade, coffee, 2 flavors available each day, beer wine by the glass and carafe are also offered. Desserts include baked egg custard, pie or cake. Lunch special are ready by 11:30 a.m. and breakfast is served all day.
This is a special place to enjoy warm hospitality and a good breakfast or lunch anytime.
For information call 805-687-7011 or visit www.farmerboy.com.

---
ORFALEA FUND & S'COOL FOOD INITIATIVE
A BIG HIT IN SANTA BARBARA
Marion Nestle, Morgan Spurlock and Chef Kate Adamick Talk Good Health
by Bonnie Carroll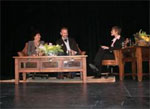 Upon my arrival at the Marjory Luke Theatre in the Santa Barbara Junior High School in Santa Barbara it was obvious this was going to be a very special evening. There were lines of people that went around the building waiting to get in for the pre-show reception. The lobby was set up for a complimentary food servic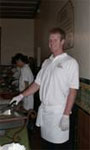 e, and throngs of people were being served plates of delicious and healthy dinner items that seemed to please everyone, including the kids and me. Chicken from Santa Rosa Poultry and local fresh fruits, vegetables, rice, bread and tortillas were presented by Village Modern Foods Catering.
 
Natalie Orfalea, Chairwoman of the Orfalea Fund, opened the program by thanking the many people who had worked to make the evening a reality, and introduced the panel, which included Chef Kate Adamick, consultant to the Orfale Fund and Director of s'Cool Food Initiative, Marion Nestle, author of "Food Politics" & "What to Eat"and a Professor in the Department of Nutrition, Food Studies and Public Health at New York University, and, last but not least, the very entertaining Morgan Spurlock, filmmaker/author of "Super Size Me" and "Don't Eat This Book."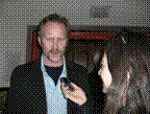 "No nation is healthier than its children…" was Harry S. Truman's fix on how important good food was for children's health, and the discussion in the auditorium was a tribute to this philosophy. According to Spurlock "School lunchrooms are failing our kids nutritionally." He believes that things have gotten all mixed up in this country, and said "I think a bag of organic apples should cost five cents, while a box of Oreo cookies should cost fifteen dollars" "Good food should be affordable to people everywhere."
 
Nestle stated that from her own observations, a healthy school meals program requires three elements; a committed food service director, a supportive principal, and devoted parents. "We also need to be supported by a Congress who cares about the health of our young, who will not assist huge food companies in supplying food that will destroy our youth."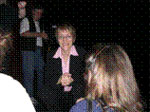 Adamick stated that "Santa Barbara County, with its progressive thinkers, organic farms and dedicated community members, is perfectly positioned to model healthful, sustainable eating habits in its schools and create a community of healthy children who make educated food choices throughout their lives."
 
They all agreed that corporate practice and federal policy converge to negatively impact children's food, education and health. That the United States Government needs to look at these problems and find more effective ways to really help American children be healthy. Many people took the microphone to ask questions and were given a bevy of information on current practices in place that are affecting our schools and our children, as well as possible solutions.
 
In the 2007-2008 school year, the s'Cool Food Initiative is charged with conducting a needs assessment focused on the 116 public schools in Santa Barbara County, which together serve more than 66,000 students. The aim of this study is to map out pathways and obstacles to the incorporation of "cooked from scratch" foods and local agricultural products into existing and developing school lunch programs. With almost universal district support the initiative is already making headway in many of our communities.
 
This was the second program brought to Santa Barbara by the Orfalea Fund S'Cool Food Initative. For additional information visit: www.scoolfood.org.

---
MARMALADE CAFÉ JOINS THE
SANTA BARBARA DINING SCENE
Family Restaurant Makes its home in La Cumbre Plaza
by Mary Hilton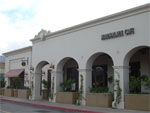 Marmalade Café, an Innovative California restaurant, opened its doors by serving complimentary meals to La Cumbre Plaza business owners and their employees, who enjoyed savoring samples of their vast menu. "We are extremely pleased with the positive response we are receiving from the people who work and shop here. We strive to maintain a reputation for hearty food, friendly service and prices that surprise," said Selwyn Yosslowitz, co-owner and founding partner.
 
The atmosphere in the café is inviting, offering patrons beautiful views of the La Cumbre mountains, which were the inspiration for the name of the Plaza when it opened in 1967. The shopping hub includes department stores, as well as 50 shops, and eateries. At Marmalade guests can enjoy a beautiful Italian marble bar area, where they can get a quick meal accompanied by a glass of wine, from a selection of local and international vintners. The full service bar also serves specialty cocktails, and beer favorites. On Wednesday from 1:00 p.m. til 6:00 p.m. restaurant patrons can walk out the door and do their weekly produce marketing at the Farmers Market
 
The breakfast, lunch and dinner menu is extensive and offers entrée specialty dishes which include parmesan crusted red snapper served on a bed of spinach and mashed potatoes, topped with lemon butter broth or a Kansas City Pork Chop marinated with fresh herbs and served with cinnamon apples, roasted potatoes and seasonal vegetables. Authentic tacos and fajitas are served with Spanish rice, fresh salsa, guacamole and sour cream. Italian dishes are numerous and include seafood saffron risotto, fettuccine Bolognese or salmon and asparagus on a bed of farfalle pasta. A wood burning grill imparts a unique flavor to a bevy of excellent grilled meats available on the menu.
 
The complete menu is available for take out. And the staff is dedicated to providing exceptional full service catering, whether it is for a luncheon of 10, a large garden party, or a major event for 3,000 people. Marmalade Catering can provide everything, including food, staff, décor, flowers, valet and any additional services to ensure a memorable event.
 
The Plaza offers easy parking, and Marmalade is open from 7:30 a.m. til 10:00 p.m. M-F; 8:00 a.m. til 11:00 p.m. S-S. For information call 805-682-5246 or visit: www.marmaladecafe.com
---
WHAT STAR CHEFS KIDS EAT

DAVID BURKE
David Burke Fromagerie, Rumson, N.J.
Tuna Salad
I always pack a school lunch for my kids to assemble. Even if it's tuna salad, I put it back in the tuna can with a snap lid, like Tupperware. That way, when they put it on the bread themselves, it does not get soggy, it's fresher and they are in control of what they are eating. Or, I turn it into a snack: Make the tuna salad in a small container and include bagel chips for dipping or spreading. That way, it's kind of like canapés.
In addition to plastic wrap, I also like to wrap sandwiches in something we want our kids to read—a magazine article or whatever. It becomes their place mat. There's a good chance that if something's sitting in front of them, they will read it.
Plus: David Burke's Pancake Sandwich
WOLFGANG PUCK
Spago, Beverly Hills, and host of Cooking Class on The Food Network
Mini Pizzas
Your kids should eat what you eat. For instance, my youngest son loves risotto, just like I do. But for lunch, we make little pizza sandwiches. Make a square with whole-wheat dough, lots of fresh vegetables and a little cheese, then cut it into small squares. Cook it the night before at home, and then the kids can eat it cold at school like focaccia.
You also can do the same thing with panini. My older son, Cameron, loves to use the panini grill. He started when he was 12. Use tomato slices, zucchini, ham or turkey and a little bit of cheese. You can make it the night before, and then have it wrapped in the refrigerator for the kids to take whenever they want.
Plus: Wolfgang's Whole Wheat Pizza
RACHEL THEBAULT
Tribeca Treats, New York City
Homemade Cookies
My daughter loves foods in different shapes. Sometimes I'll use cookie cutters to cut out her  sandwiches or vegetables. Of course, I also always include fruit in my daughter's lunch. But if you are worried about your child getting homesick during the day while he or she is at school, I think it's nice to include a cookie or a piece of cake that you baked together over the weekend—and maybe a small note telling them that you love them. Or you could pipe the words "Love, Mom" in frosting onto the cookie itself.
Plus: Rachel Thebault's Tribeca Treats Sugar Cookies
EMERIL LAGASSE
Emeril's Gulf Coast Fish House, Gulfport, Miss.
Shrimp Spring Rolls
My son E.J. starts school this fall, so we haven't begun making lunch boxes, but we will soon! My kids are great eaters. For lunch or a snack, E.J. helps me prepare fun foods, such as shrimp spring rolls. They're great for kids, because they are portable and you can fill them with lots of fresh veggies. My kids also love anything with pasta, like a sesame noodle salad. For a special treat, sometimes we will make a mango lassi [an Indian yogurt drink] for them.
Plus: Emeril's Peanut Noodle Salad
TYLER FLORENCE
Host of Tyler's Ultimate, Food 911 and How To Boil Water on The Food Network
Stuffed Sandwiches
I try to keep my son Miles' menus straightforward—but with a twist. He's big into wraps stuffed with grilled vegetables and goat cheese. A chicken Caesar salad also makes for an unbelievably good sandwich on a sourdough roll. One of his other favorites: fresh heirloom tomatoes sliced thick, with buffalo mozzarella and a touch of fresh pesto. If he happens to trade what I made for him when he gets to school, it's a great way to break the ice with the girls.
Plus: Tyler Florence's Food Tube
CLICK HERE for Tyler's BLT with a Twist

---
ANNOUNCING JADE CUISINE
St. Lucia's world Class "green resort", Jade Mountain
teams up with the renowned chef Allen Susser.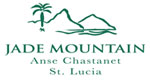 Jade Mountain, "…the most exciting new resort to open in the Caribbean," now offers cuisine to match. Jade Cuisine is now under the direction of Chef Allen Susser of Chef Allen's Restaurant in Miami. Well known for his culinary innovations, he displays extraordinary originality by using the fresh caught fish and seasonal locally grown fruits, vegetables and herbs from the hotel's historical plantation. The islands rich history and cultural influences, Indian spices, volcanic soil and abundant natural resources make it a chef's paradise.
Chef Allen Susser, considered one of America's leading chefs, is known for his Miami restaurant Chef Allen's. As the chef and owner, Allen is praised for his Florida seafood dishes served with imaginative style, consistent emphasis on a high quality of service and his own very apparent personal commitment to the enjoyment of his guests.
The New York Times called Allen the "Ponce de Leon of New Florida Cooking". His original style and uncanny talent for understanding flavors and exotic spices continues to make his restaurant one of the most popular culinary destination in Miami.
Now Chef Allen brings his talents to Jade Mountain in St. Lucia. Along with his culinary team, he utilizes the island's local sustainable resources such as local fresh finfish like yellowtail snapper, grouper, cobia and wahoo and seasonal shellfish including stone crabs, conch, Caribbean lobsters and wild shrimp. His working relationship with local organic farmers and tropical fruit growers give him and his staff the fresh and direct resources needed to develop creative plates. He makes great use of the local naturally diverse flavors, shapes and colors. The island and its water's are rich with ingredients inciting Chef Allen to produce a Jade Cuisine unmatched in the Caribbean.
Chef Allen's cross-cultural tropical cuisine, which started with new world cuisine more that 20 years ago in Miami, has been constantly evolving. He is glad to join Jade Mountain. His vision of what the future holds is a culinary fusion of cultures that share similar landscapes and tropical ingredients. The cuisines derived from the Caribbean, Latin America, the Pacific Rim and the tropical Mediterranean fuse into a sweet, spicy and aromatic harmony. They all fit together very well, though each offers a diverse spice box full of exotic flavors. Chef Allen's touch and talent, fresh and flavorful, like a tropical vacation on a plate – will be delicious at Jade Mountain.
---