26TH ANNUAL AMERICAN WINE & FOOD FESTIVAL
An Evening of Savoring Bliss for Food & Wine Aficionados
by Bonnie Carroll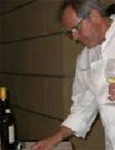 The Wolgang Puck –Barbara Lazaroff 26th Annual American Wine & Food Festival in Universal City attracted over 2,000 guests in support of Meals on Wheels and Sisters of St. Vincent. I caught Wolfgang perusing the bidding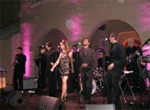 tables for his favorite items. The silent auction items included everything from cases of rare wine to round trip American Airlines tickets to European destinations, as well as an endless list of dinners at the best hotels and restaurants in the country..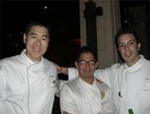 Over sixty chefs flew in from around the world to participate in the by-invitation-only event, where they presented delicious morsels of their signature dishes. They included Joachim Splichal, Pierro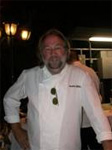 Selvaggio, Wolfgang Puck, Lee Hefter, James Boyce and the entire entourage of Spago chefs, Sam Chow, Roy Yamaguchi, Paul Prudhomme, Nancy Silverton, Acadamia Barilla chefs, and many more, who were all on hand to support what "foodies" consider the charity food event of the year.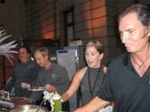 Serving wine samples were  Hendry Winery, Napa; Niner Wine Estates, Paso Robles; Argino-Bisol-Damilano, Italy; Hitching Post Winery: Beckman, Santa Ynes; Summerland Winery. Over seventy vintners and liquor sponsors from throughout the world provided tastes t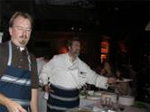 o pair with gourmet bites. Perrier Jouet sponsored a lounge with live music where guests savored sweets prepared by the best pastry chefs on earth, including Sherry Yard, Spago. A new addition was Wolfgang Puck coffee. There were at least three live bands performing throughout the Universal backlot, and many guests were sharing their opinion that it was the most spectacular event yet.

---
BRUMMIS RESTAURANT
A True Taste of Germany in Santa Barbara California
by Bonnie Carroll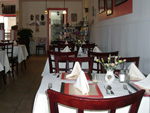 For nine years Manuela and Veronika Brunn, talented mother and daughter restaurateurs, have been preparing and presenting delicious German dishes in Germany, and now they are running a venue in Santa Barbara, California. They took what had been a very Mexican style restaurant and made changes to transform it into an inviting place that is perfect for enjoying real German cuisine.
The Brumm family have been restaurant owners for generations in Germany, and the recipes being prepared and savored will take you back,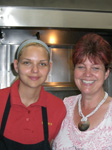 if you have any German roots or have had good experiences traveling in Deutchland.
The service is kind and thoughtful. The food is outstanding, and the prices are very fair. The cuisine and atmosphere provides all the ingredients for a delightful European style dining experience, and the hostess' are so likable. Dinner is served Monday – Saturday 5:00 p.m. – 9:00 p.m. and prices range from $10 - $20. Guten Essen!
Brummis - The German Taste
3130 State St, Santa Barbara
Phone: (805) 687-5916
---
EXECUTIVE CHEF TIMOTHY A. RALPHS
LOEWS CORONADO BAY RESORT

Influenced by years of extensive training in diverse kitchens around the world, Chef Timothy A. Ralphs brings more than 16 years of eclectic culinary experience to his role as Executive Chef of Loews Coronado Bay Resort.
Chef Ralphs' culinary career began by accident. Setting out to become a restaurateur, he attended the esteemed L'Ecole Le Cordon Bleu Culinary Institute in Scottsdale, Ariz. after graduating college. Not only did culinary school introduce him to an assortment of techniques from a variety of ethnic influences, it also affirmed his love of cooking. He has not left the kitchen since.
Shortly after school, Chef Ralphs worked at Pinot Blanc (now Go Fish) in St. Helena, Calif. under the direction of James Beard award-winning Chef Joachim Splicham. This disciplined and passionate Chef taught Chef Ralphs the most important lesson of his career by comparing cooking to a tuxedo: "A tuxedo is only black and white yet it is the most elegant item a man can wear. When you cook, think about the simplicity of a tuxedo. You do not need to change it; you just need to accent it." After two years in this creative environment, the door to Europe opened.
Experiencing different seasons, regions and techniques throughout France, Brussels and Spain, Chef Ralphs' visit was scheduled to last two months yet quickly turned into years. Wanting to learn as much as he could, he worked without pay, sleeping on the couches of some of Europe's finest Chefs while developing a strong foundation of classic European cooking techniques. Throughout his travels, he was afforded the opportunity to taste countless varieties of cheese and wine from small French cheese shops and châteaus. Understanding the important marriage between wine and food, Chef Ralphs also obtained his Advanced Sommelier certification from the International Court of Master Sommeliers in London.
Upon returning to the U.S., Chef Ralphs refined his skills while working as an Executive Sous Chef in Yosemite National Park and then Gilroy, Calif. His menus were graced with farm-fresh garlic and artichokes and unique pairings from breweries along the Monterey Peninsula.
After hearing about an Executive Chef position at Top of the Cove in San Diego County, Chef Ralphs took a chance and moved to La Jolla. Not only did the position introduce him to the city he now calls home, but it also gave him the chance to utilize his classic European influences. His seasonal menus earned critical acclaim, including Best French Restaurant and Most Romantic Restaurant by San Diego Magazine.
After three years at Top of the Cove, Chef Ralphs transitioned into an Executive Chef role at Omni San Diego Hotel. Because the hotel was home to one chain restaurant, and not a signature restaurant, Chef Ralphs approached the hotel's banquet program as if it were his own fine-dining establishment. Pulling away from typical "banquet food," Chef Ralphs took a groundbreaking approach to meetings and special events at the hotel by launching one of San Diego's first seasonal banquet programs complete with amuse bouches, small plates, Chef's tastings and organic menu options.
Today, Chef Ralphs brings his world-class experience to Loews Coronado Bay Resort, embracing organic fruits and vegetables from nearby farming communities, locally-caught seafood from the Baja coastal waters and a variety of herbs from the resort's own organic herb garden. In Mistral, diners will enjoy a new Chef's tasting menu, revamped organic wine program in conjunction with Director of Wine Kevin Brady and European and American-Artisan cheese service. Meeting attendees will opt for organic seasonal banquet programs, and even visitors in Cays Lounge will enjoy an elegant new bar menu that highlights a rare flight of cow, sheep and goat cheeses.
His final thoughts on cooking reflect different traditions he experienced throughout Europe: "I believe a great Chef should stay true to the natural flavors of an ingredient; get back to its roots and let the history come out."
---
The French Pastry School Names
MASTER BAKER Jonathan Dendauw
as Chef Instructor
Jonathan Dendauw brings years of experience and passion to The French Pastry School
The French Pastry School today announced that Master Baker Jonathan Dendauw has been named Chef Instructor.  Jonathan is thrilled to be able to share his knowledge and dedication to the art of Artisan bread making with the students of The French Pastry School.
"We are pleased to have Jonathan join The French Pastry School instructing team.  Jonathan has shown a true passion and drive for the art of baking and pastry which the students are sure to benefit from." Jacquy Pfeiffer, Sébastien Canonne, M.O.F. of The French Pastry School. 
Originally from a small town in Belgium, Dendauw's devotion to the art of pastry has taken him all across France and the United States. He and his family moved from Belgium to France at the age of six, and Dendauw began his baking apprenticeship 10 years later in Nimes through a centuries-old organization called the Compagnons du Devoir . Since the 12th century, this organization has connected young apprentices with experts in many different trades all across France and throughout the world. Most recently, the Compagnons took Dendauw to Cary, North Carolina to La Farm Bakery. At La Farm, Dendauw worked under Master Baker Lionel Vatinet who coached the United States Baking team to victory in the World Cup Baking Championship in 1999. 
The French Pastry School is honored to welcome Jonathan to the chef instructing team.  The students will truly benefit from his experience, talent, and dedication to the craft.  He is delighted to be able to work alongside Master Pastry Chefs and Co-founders of The French Pastry School, Jacquy Pfeiffer and Sébastien Canonne, M.O.F. Jonathan will share his knowledge, skill and enthusiasm with his students while continuing his lifelong pursuit of excellence in the French pastry arts.
About The French Pastry School:
The French Pastry School's goal is to provide the very best educational experience in pastry while molding the best-prepared chefs entering the profession. Our programs are ideal for anyone interested in pastry, from the career changer to the professional to the novice.
The French Pastry School's L'Art de la Pâtisserie program offers a 24-week course to learn in an intimate, hands-on setting, using state-of-the art equipment and top-of-the-line ingredients. The French Pastry School also hosts more than 500 professionals from around the world yearly who come to The French Pastry School for food enthusiasts, advanced classes as a part of the Continuing Education program. Information about the school's programs can be found at www.frenchpastryschool.com.
---
HOLIDAY PACKAGES,
SPECIAL SERVICES & SEASONAL DINING
Island Hotel Newport Beach Celebrates From Thanksgiving to New Year's Day
Guests will want to plan family, friends and business shopping sprees, entertaining, dining, rejuvenation and vacationing around the line-up of holiday offerings awaiting for them at Island Hotel Newport Beach this year. The famous annual Newport Harbor Christmas Boat Parade – celebrating 100 years – is another compelling reason to book early for Yuletide festivities.
Packages – Holiday Bed & Breakfast and Fashionably Yours
Island Holiday Bed & Breakfast Package invites guests to spend escape time in luxurious accommodations, enjoy a full-American breakfast for two in the privacy of their guestroom or in the hotel's Palm Terrace Restaurant. The package also includes complimentary valet parking for one vehicle and starts at $279 each night.
Fashionably Yours – Holiday Shopping at Island Hotel includes one-night guestroom accommodations with a $50 gift card and VIP Discount Card valid at the nearly 200 specialty shops and restaurants of nearby Fashion Island – Orange County's premier outdoor shopping center. This shopper's mecca package also includes transportation to or valet parking at Fashion Island. Price starts at $319. One $50 gift card is available per stay.
Holiday packages are based on availability and offered through December 30, 2008. They are limited to two people and do not include taxes and gratuities. For reservations, please call toll-free, 1-888-321-4752. See below for information on New Year's Eve packages.
Fashion Island Shopping Exclusive
All Wrapped Up for the Holidays program, is a complimentary offering to hotel guests and locals from December 1 through December 20. Leave your car at Island Hotel and be chauffeured to and from Fashion Island and its array of shopping temptations.
Upon your return, gifts will be elegantly wrapped and placed directly into your car. While Santa's helpers wrap, guests unwind at Palm Terrace Lounge and sip on a signature seasonal martini, such as the Mistletoe, Reindeer or Frostini, or they may opt to choose a quaff from the extensive champagne-by-the-glass menu paired with Chef Bill Bracken's savory small bites.
'Tis the time to give back to the community, so shoppers are also encouraged to donate new, unwrapped toys, valued at $10 or more, or make a cash donation, through December 15 to The Marine's Toys for Tots program, continuing the hotel's longstanding relationship with The Marine Corps Reserve as a toy drop location.
Parking, chauffeured transportation to and from Fashion Island, and wrapping services are complimentary. Champagne-by-the-glass starts at $18.
Holiday Spa Rejuvenation
Holiday Party Facial is a signature spa ritual that features a customized blend of antioxidants and Vitamin C to increase cellular vitality and metabolic activity, revitalizing, toning and brightening the skin to a radiant glow. Certainly a glamorous way to prepare for any celebratory occasion. Price is $140.
Douglas Fir Salt Scrub is a signature seasonal tribute to the most popular Christmas tree on the West Coast, the Douglas fir -- its essential oil is aromatic with antiseptic attributes and is also beneficial to the body's respiratory, nervous and muscular systems. The scrub mixture combines antioxidant rosemary with its delicious evergreen scent and pink Himalayan sea salt containing over 84 minerals and trace elements along with an infusion of fir tree essential oil. The luscious scrub is followed by a moisturizing mango butter massage. Price is $230.
The Spa at Island Hotel has perfected its Peppermint Reflexology treatments – an especially welcome treat after an exhausting day of holiday shopping. This special treatment lasts 30 minutes and utilizes a distinctive ancient technique focusing on the pressure points of the hands and feet to restore the flow of energy and promote an overall sense of well-being delivering hours of release from the stress of rush and list fulfillment that come with this time of the year. Price is $90.
Each treatment is followed by a complimentary glass of champagne in the relaxation room. Prices do not include gratuity. For appointments, call (949) 760-4992.
Holiday Repasts to Remember
Chef Bill Bracken presents his annual Table-less Thanksgiving Buffet in Palm Terrace Restaurant, offered 11 a.m. to 7 p.m. It's a delectable and varied presentation of small-plate appetizers; choice of entrée (choices to include the traditional roast turkey with all of the trimmings); and then guests are enticed by mouthwatering desserts created by Pastry Chef Michael Owens. The cost is $75 for adults and $38 for children 12 years and under.
Festive carolers will bring beautiful holiday music to Palm Terrace Restaurant during special Christmas Dinners from 5 to 9 p.m. on Christmas Eve and Christmas Day. Dinners are $88 per person and $42 for children 12 and under.
Family-Style Christmas Brunch, similar to the Table-less Thanksgiving Buffet, is served on Christmas Day from 11 a.m. to 2 p.m. Price is $75 for adults and $38 for children 12 and under.
Tax and gratuity is not included in the above prices. For reservations, contact dining reservations at (949) 760-4920.
New Year's Eve Revelry
From celebratory cocktails and indulgent hors d'oeuvres to an extravagant four-course dinner and dancing, New Year's Eve festivities and live entertainment are a perfect way to welcome 2009 and it all its opportunities. Palm Terrace Restaurant will be the setting for two sumptuous New Year's Eve prix-fixe dinners, served at 6 p.m. for $95 or 9 p.m. for $175 per person. The later dinner price includes the annual "Cocoa Lounge" dessert buffet, admission to the party and midnight celebration in Palm Terrace Lounge (see below).
A live band will play jazz, rock and pop tunes for celebrants from 9 p.m. to 1 a.m. in Palm Terrace Lounge. Cover charge for the evening is $110 per person and includes assorted small plates, the "Cocoa Lounge" dessert buffet, party favors, a champagne toast and balloon drop at midnight.
Island Hotel Newport Beach New Year's Eve Package includes: one or two nights in luxurious accommodations; New Year's Eve dinner for two at Palm Terrace Restaurant; daily full-American breakfast for two; and complimentary valet parking for one vehicle. Price starts at $725 for the one-night package and $995 for two nights.
visit the website at www.IslandHotel.com.
---
UNION SQUARE'S JOHN'S GRILL, "HOME OF
THE MALTESE FALCON," TO CELEBRATE 100TH
BIRTHDAY ON NOVEMBER 13-14, 2008
The Centennial of Historic John's Grill will be celebrated on November 13 and 14, 2008.  On Thursday, November 13, the media are invited to cover a series of invitation-only events. The public will be invited to turn out and toast the beloved landmark restaurant on Friday, November 14. Vintage automobiles will arrive, and scores of colorfully costumed San Franciscans will disembark to the strains of Sousa bands and belly up to John's bar for 8-cent martinis.  Celebrity watchers will not be disappointed. 
Historic John's Grill was the one of the first restaurants to rebuild out of the rubble and ashes of San Francisco's Great 1906 Earthquake & Fire.
Historic John's Grill is the 27th "Literary Landmark" in the United States.  Just off Union Square, John's Grill was made famous internationally by Dashiell Hammett's 1927 "Maltese Falcon" mystery novel (later a classic Humphrey Bogart movie):  "Sam Spade went to John's Grill, asked the waiter to hurry his order of chops, baked potato, sliced tomatoes and was smoking a cigarette with his coffee when..."  was written by Hammett, who ate at John's while working next door in the Flood Building as a Pinkerton agent.  Detectives, politicians, reporters and celebrities have been coming to John's Grill for the past century.  Their pictures adorn the walls above their tables and you never know whom you might see at John's Grill.  Be sure to visit the Grill's Hammett museum located on the third floor and see the 150-pound lead filled bronze statue of the famous Maltese Falcon.
---
HOTEL HANA-MAUI AND HONUA SPA APPOINTS
KEITH MALLINI DIRECTOR OF FOOD AND BEVERAGE
The Hotel Hana-Maui and Honua Spa today announced the addition of Keith Mallini as director of food and beverage.
"Keith is an excellent addition to our culinary team," said General Manager John Stoddard. "He brings a vast experience in the hotel industry. He will be a true asset to the culinary team here."
Keith's culinary career has taken him from New Orleans to Tokyo, but he has family ties to Maui, where his grandfather managed a plantation store. Prior to the Hotel Hana-Maui, Keith was with the Westin Moana Surfrider in Waikiki, where he was the food and beverage director and Beachhouse Restaurant general manager. He also worked as general manager at the Hanohano Room, Sheraton Waikiki, and as a lecturer in food and beverage management at the University of Hawaii, School of Travel Industry Management. In addition to owning and operating restaurants in Louisiana, other establishments where Keith has worked include the Ritz Carlton in New Orleans, the Whiskey Bar in Tokyo, and the Royal Kona Resort on the Big Island.
At Hotel Hana-Maui, Keith will oversee the award-winning Ka'uiki restaurant, the casual Hana Ranch Restaurant, Paniolo Lounge, and room service as well as food and beverage services for meetings, weddings and special events.
"It's a great opportunity at Hotel Hana-Maui. I am excited to work with Executive Chef John Cox: he has a fabulous reputation for his sustainable culinary program," said Keith. "I look forward to applying my skills here and plan to expand the guest experience by adding more interactive guest dining options and wine-related events and working with Chef Cox as he continues to expand the culinary program and enrich his menus with a local, farm-to-table sensibility."
Keith is a graduate of Tulane University with a degree in history and concentrations in Russian, Japanese and art history. He has received recognition and awards for his work, including two gold medals and two bronze medals in Louisiana Culinary Classic competitions.
Hotel Hana-Maui's Ka'uiki restaurant recently garnered several awards, including the 2008/09 AAA Four Diamond Award; a Wine Spectator Award of Excellence, one of only two new recipients in Hawaii in 2007; and the first annual Maui County Friends of Agriculture Award in 2006.
For more information about the hotel, call (800) 321-HANA or visit www.hotelhanamaui.com.
About the Hotel Hana-Maui
The Hotel Hana-Maui and Honua Spa is located on the eastern coast of Maui-an area known for its lush tropics and rich Hawaiian history. Consistently ranked as a top destination, the hotel is a AAA Four Diamond hotel. It is listed No. 2 in Hawaii on Condé Nast Traveler's Gold List and No. 5 in Hawaii on Travel + Leisure magazine's "World's Best Hotels," and in 2006 the hotel was named one of the "Top 100 Luxury Resorts" by Robb Report. The Honua Spa was named by Luxury SpaFinders Magazine in its "Spas We Love" and ranked as the "Most Excellent Spa Hotel" by Condé Nast Johansens.
Hotel Hana-Maui is managed by Passport Resorts. Sister resorts include Post Ranch Inn, Big Sur, Calif., Jean-Michel Cousteau Fiji Islands Resort, and Cavallo Point - the Lodge at the Golden Gate, Sausalito, Calif. All three destinations are 'Resorts with Soul.'
---