CULINARY COUP . . . .

PUERTO VALLARTA'S RESTAURANT WEEK TO TAKE PLACE
FROM MAY 15 TO JUNE 10
Almost 60 restaurants will offer patrons the opportunity to taste Puerto Vallarta's gastronomy scene
 
Puerto Vallarta is home to over 300 restaurants. From modest eateries managed by local Vallartenses to fine-dining restaurants offering the latest international fusions to street tacos, Puerto Vallarta's abundance of cuisines has made it Mexico's gastronomy beach destination. Those looking for a foodie challenge and try as many of the destination's restaurants as possible will find a bargain with the city's Restaurant Week, which will last 25 days with 59 participating restaurants in its 2018 edition.

 
Now
on
its 14th year, Restaurant Week will have a record number of participants and Vallarta Lifestyles Media Group, which organizes the gastronomic festival, has increased the number of days to provide a larger number of visitors to the destination the opportunity to taste more of the destination's plethora of culinary offerings.
"One of the most common "should have" we hear from visitors to Puerto Vallarta is that they should have tried more of our restaurants," said Javier Aranda Pedrero, Director of the Puerto Vallarta Tourism Board. "Restaurant Week allows visitors to taste great quality restaurants without breaking the bank. We are especially excited with this year's participants as it includes many restaurants popular within the local community, which will provide visitors the opportunity to eat with Vallartenses."
All participating restaurants will offer three-course menus (with three different options) at fixed prices (tips and beverages not included). This year, many of the participating restaurants will also offer three menu price categories: $269, $399 or $466 MXN, which in some cases represent up to 50 % discount.
This year's 59 participating restaurants are: Agrodolce, Ambrosia Grill, Archie's Wok, Azafrán, Barcelona Tapas, BARRIO BISTRO by Memo Wulff, Boccon Di Vino, Café des Artistes, Coco Tropical, Daiquiri Dick's, Da Simone, De Cántaro, Di Vino Dante, Eishan Oriental Cuisine, El Arrayan, Florios, Fusion Gourmet, Gaby's Restaurant Bar, Gaviotas, Hacienda San Angel, India Gate, Kaiser Maximilian, Katana Sushi & Bar, La Cappella, La Cigale French Bistro, La Leche, La Pancha, La Trattoria, Layla's Restaurante, Mamá Sirena, Mark's Bar & Grill, Matiz, Mérida Grill, Mikado, Nicksan, No Way José!, Oso's Fish Market Restaurant, Pezlimon, Pizzeria La Dolce, Porto Bello, Restaurante Icú, River Café, Roberto's Mexican Seafood, Sapori Di Sicilia, Seasons P.V., Serrano's Meat House, Sí Señor Beach, Sushi Pop, Taste Restaurant @ Casa Cupula, Teresa Bar & Bistro, The Blue Shrimp, The Iguana, The Swedes, Tintoque, Trio Mediterranean, Tuna Blanca, Vallarta Factory, Vitea Oceanfront Bistro and Warique Restaurante.
In addition to Restaurant Week, Puerto Vallarta is home to numerous food-focused festivals celebrating the destination's raicilla, coffee and seafood. Two of the most well-known are the Vallarta Nayarit Gastronomica 

and 

the International Gourmet Festival. Each providing visitors the opportunity to enjoy Puerto Vallarta's gastronomy scene.
For more Information on Restaurant Week, please visit www.restaurantweekpv.com ​
For more information on Puerto Vallarta, please visit: www.visitpuertovallarta.com
_____________________________________________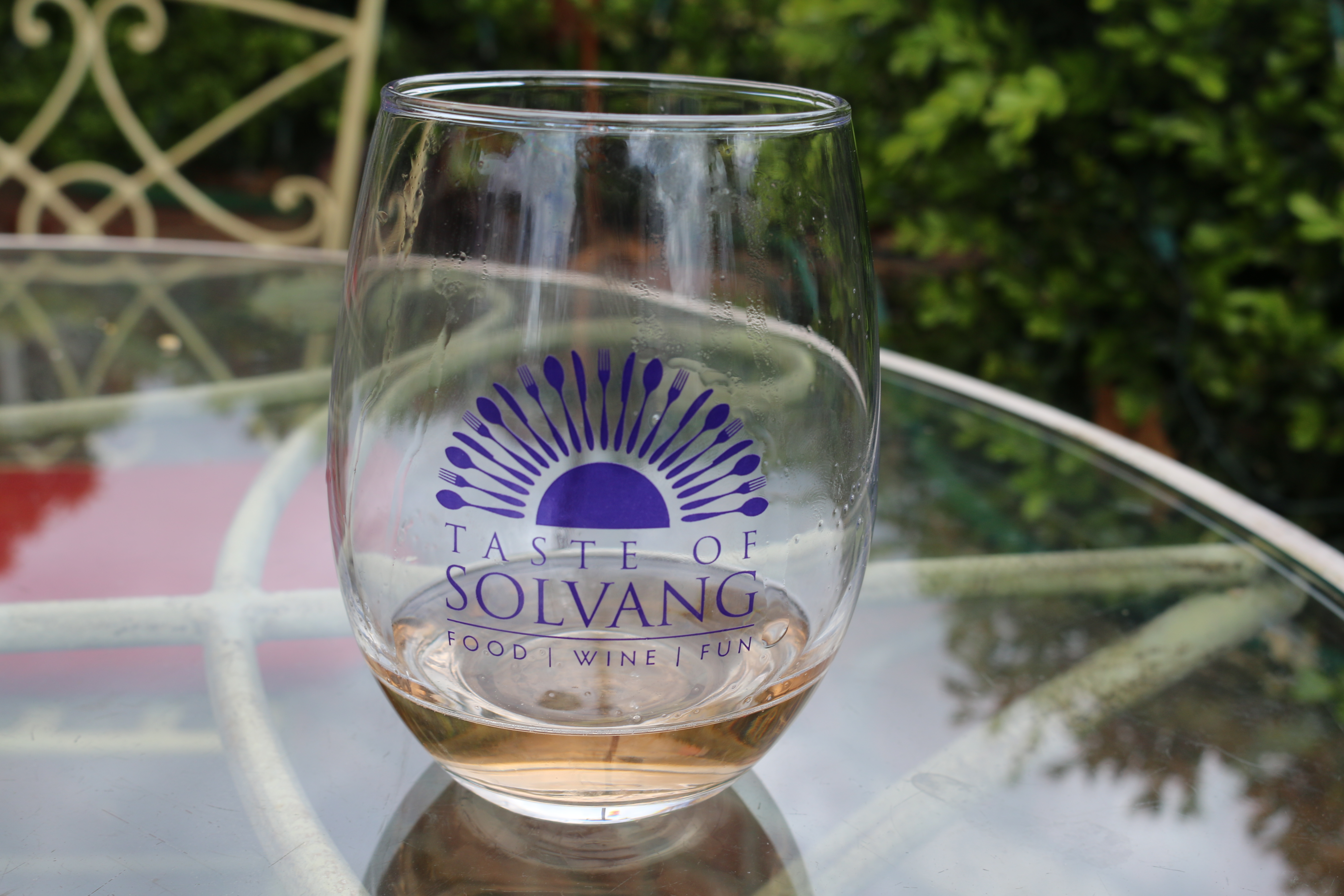 Danish Taste of Solvang Celebration A Favorite For 26 Years
by Bonnie Carroll
The annual Solvang walking and tasting extravaganza celebrated 26 years in March and offered delicious delights and savory flavors to passport holders who were also celebrating St. Pat's Day. The March 17th stroll through the historic destination was festive and fun. The annual weekend event ran from Friday, March16 through Sunday March 18, with a collection of sips and tasty bites along the route through downtown Solvang. Weekend activities included a kick-off party, walking and tasting and a grand finish with aSunday Brunch created by Chef Brooke Stockwell looked to be an outstanding way to spend a Sunday.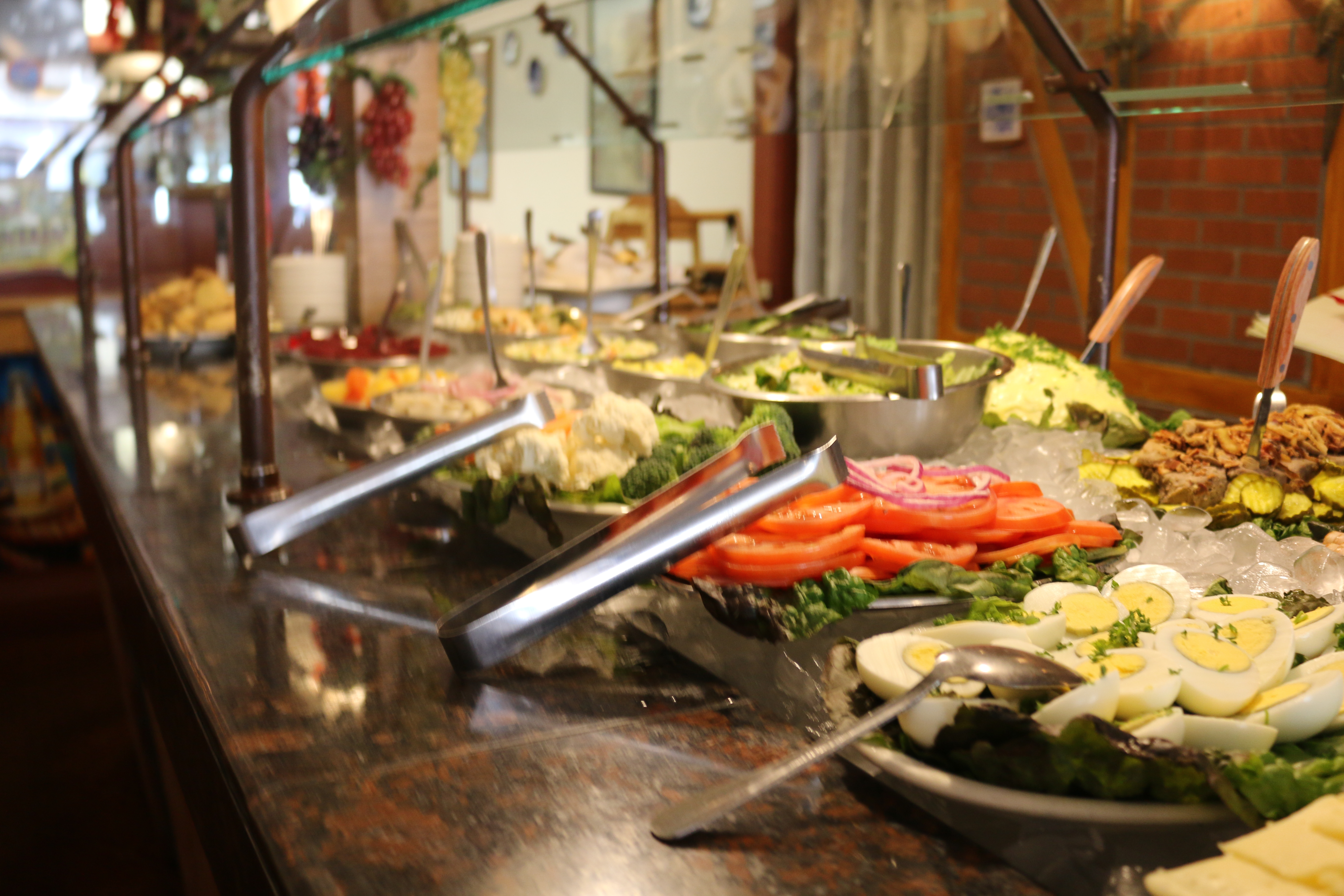 My tasting adventure began on St. Pat's Day at 11:00 a.m. and ran until 4:00 p.m. The 26th Annual Taste of Solvang Tasting Trail featured more than 30 taste stops at restaurants and retailers around the village featuring delicious bites at restaurants, retailers and more. A ride on the Solvang Trolley gave visitors a birds eye view of the renowned Solvang Theatre, Actors Cafe, and Hans Christian Anderson Park, along with additional historic sites of local importance in the community. Everyone loved the horse drawn trolley!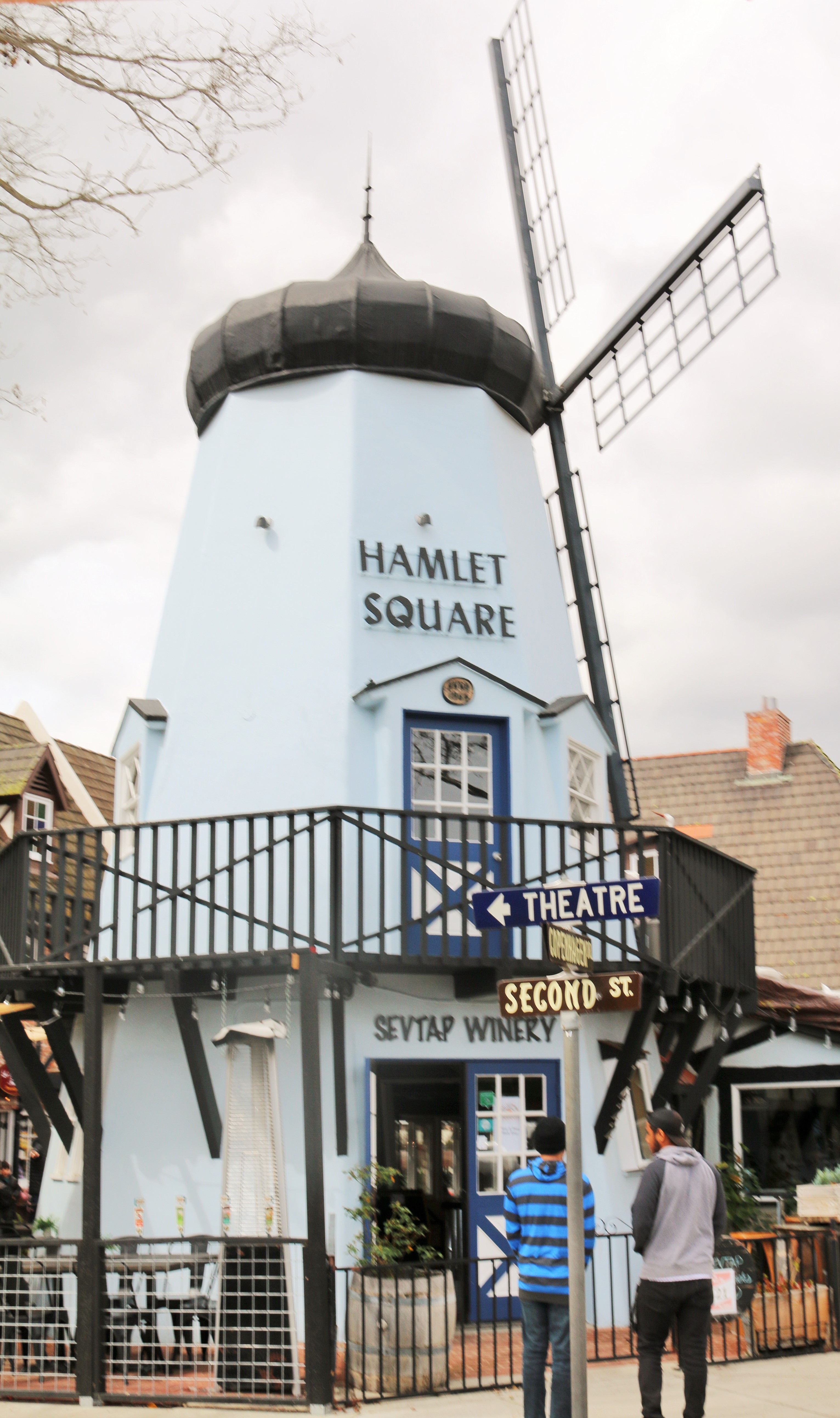 The afternoon soujourner Wine & Beer Walk offered 16 stops at downtown tasting rooms pouring their wines and samples of craft beer into Taste of Solvang keep-sake glasses. I met a couple from San Diego who drive up for the Taste of Solvang each year, as well as a sweet young couple who live in Solvang and said they come every year to support their community.
The Wine & Beer Walk ticket was valid for both Saturday and Sunday. Stops for sips included Cali Love, Casa Cassara, Copenhagen Sausage Garden, CrossHatch, Lion's Peak, Lucas & Lewellen, Lucky Dog, Royal Oaks, Roxo Port Cellars, Sevtap, Solvang Brewing Company, The Olive House, Toccata, Valley Brewers/The Back Room and Wandering Dog Wine Bar.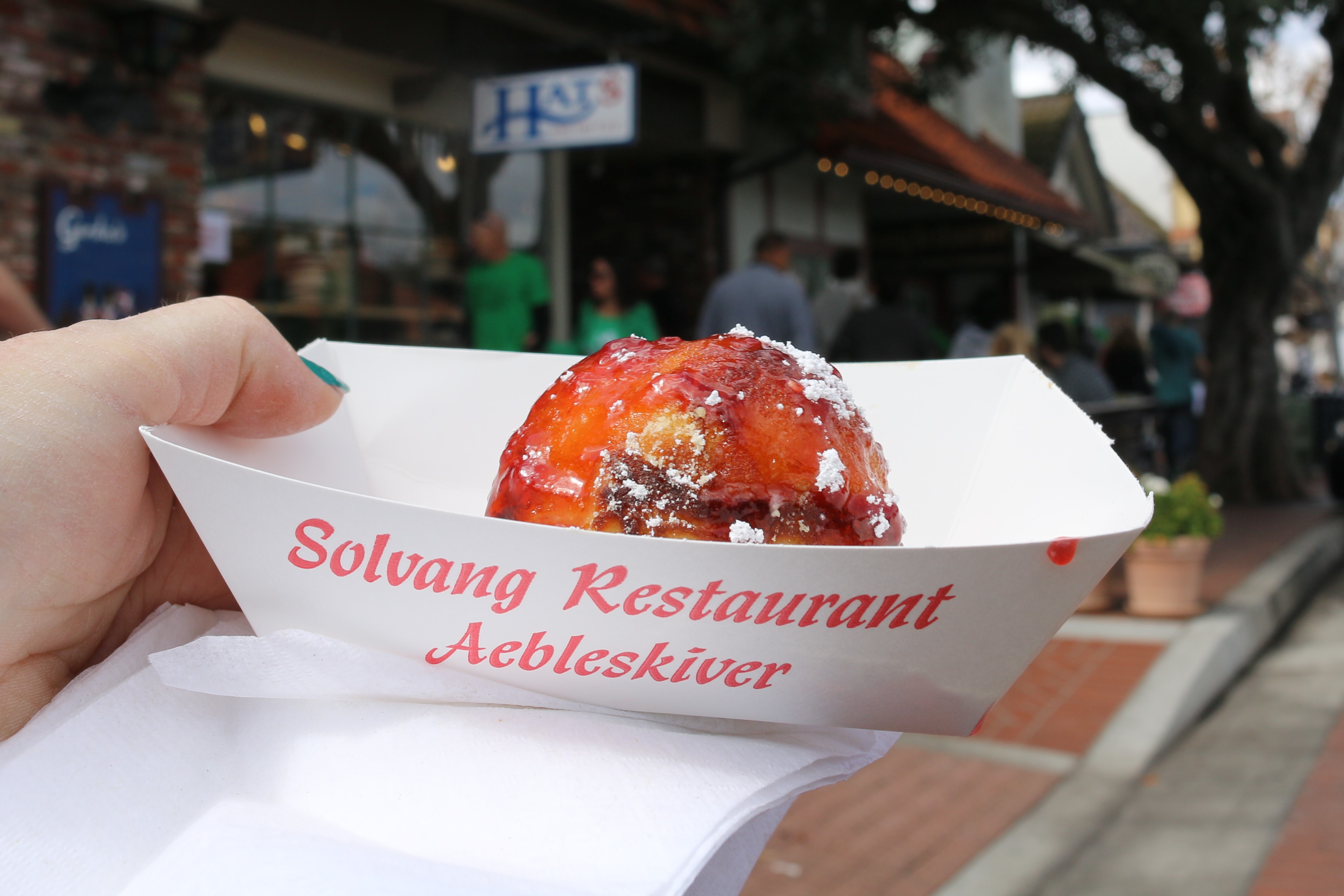 Among the collection owners giving tastes for 2018 was Ingeborg's World Famous Danish Chocolate venue, where I spent time talking with Kim Jenson, chocolatier and owner of the charming chocolate and ice cream shop. Kim invited to see his chocolate kitchen, and the samples they were giving to Taste of Solvang visitors was simply wonderful.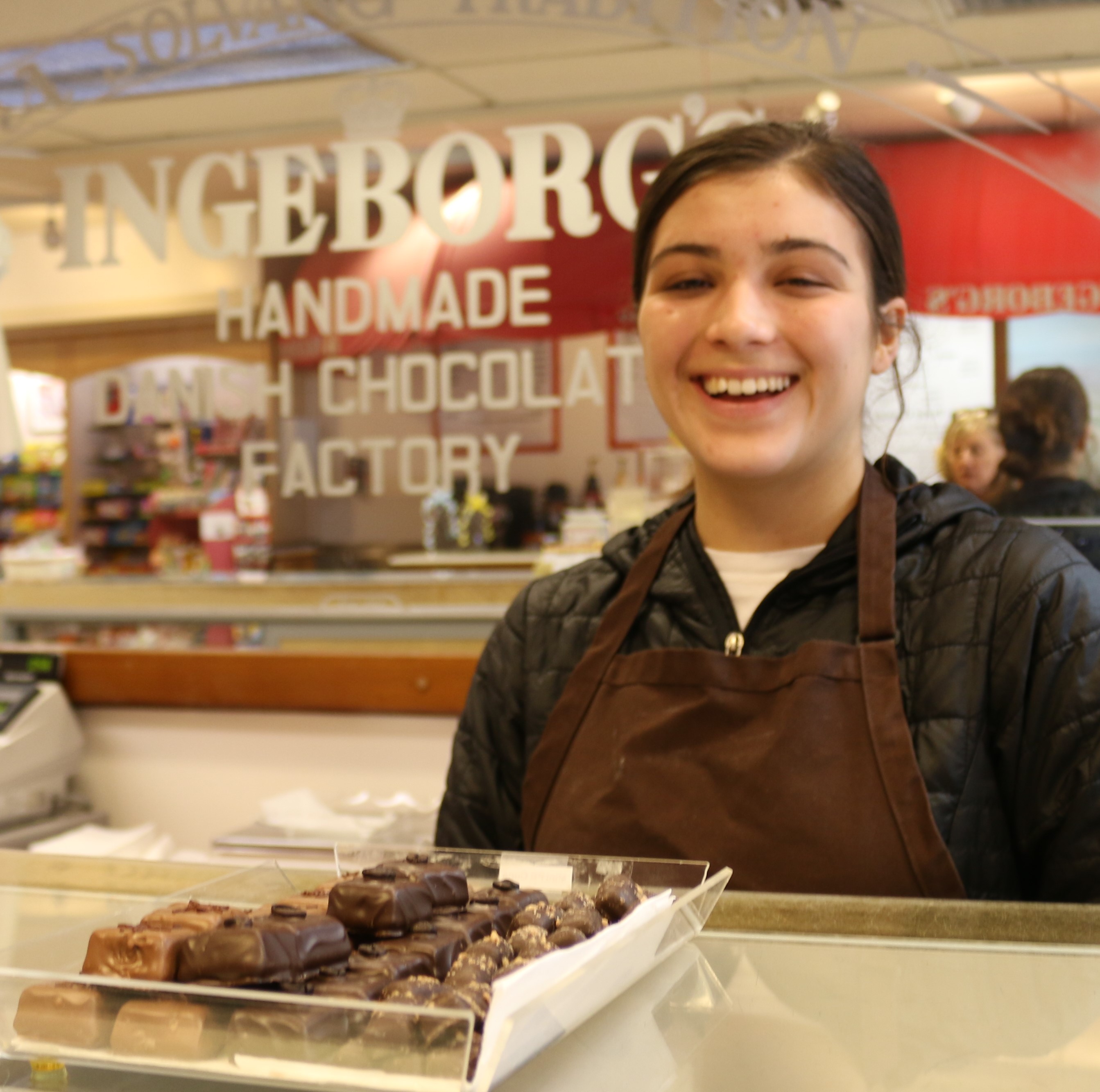 The Red Viking Restaurant, a favorite of mine for many years, features the best authentic smorgasbord table in town offering a bevy of tastes that are renowned and their staff cater to personally serving handicap people. The Olsen's Danish Bakery people are behind this inviting taste of Denmark restaurant, and they were offering signature meatballs to people on the tasting tour. Olsen's Bakery were also offering samples of their award winning pastry in their inviting cafe on Mission Street. Years ago I had the pleasure of interiewing Mr. Olsen and photographed a special pastry he was making for the Taste of Solvang. The walls of this venerable patisserie are filled with awards and honors he has won for his pastry chef skills.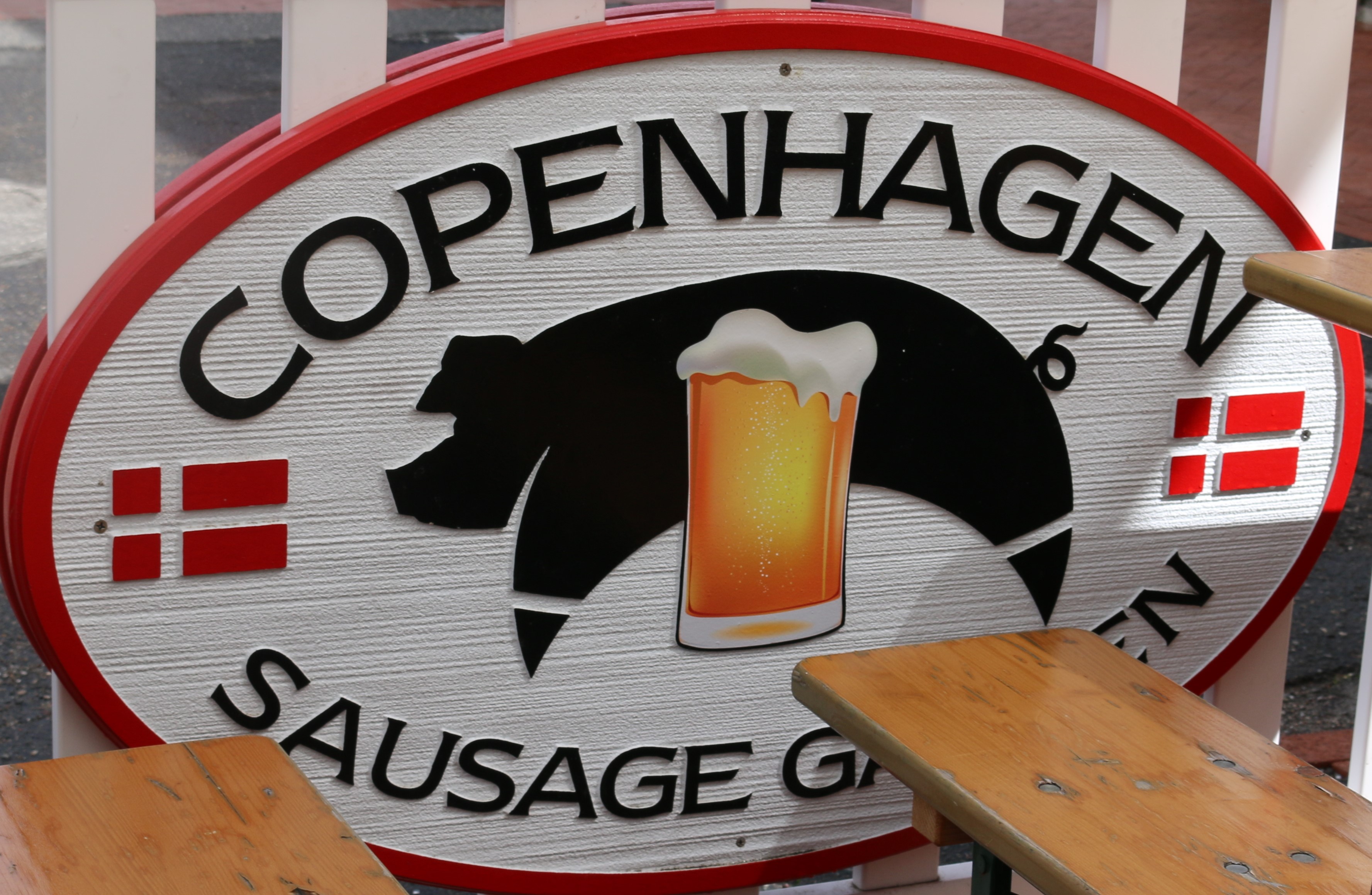 The entire list of blissful bite donors included the Landsby Hotel, where Josiah Avery was offering warm pita with Romesco Sauce and marinated Castlevetrano olives, Olive Press, Viking Garden Restaurant, Solvang Bakery, PHO 805, Danish Mill Bakery, Cafe Dolce, Petros Kave, Fresco Valey Cafe, Copenhagen Sausage Garden, Solvang Restaurant, Old Danish Fudge Kitchen, Tower Pizza, Ableskiver Cafe, Birkholm's Bakery & Cafe, Red Viking, Solvang Coffee Company, Chomp, Solvang Inn & Cottages, Olsen's Danish Bakery. Solvang Brewing Company, The Little Mermaid Restaurant, Mortensen's Bakery, Swedish Candy Factory, and more. I loved meeting Chef Harold at Humming Bird Caribbean Cafe, the jerk chicken was a unique change, and the bruchetta at Fresco Valley Cafe was quite tasty as well.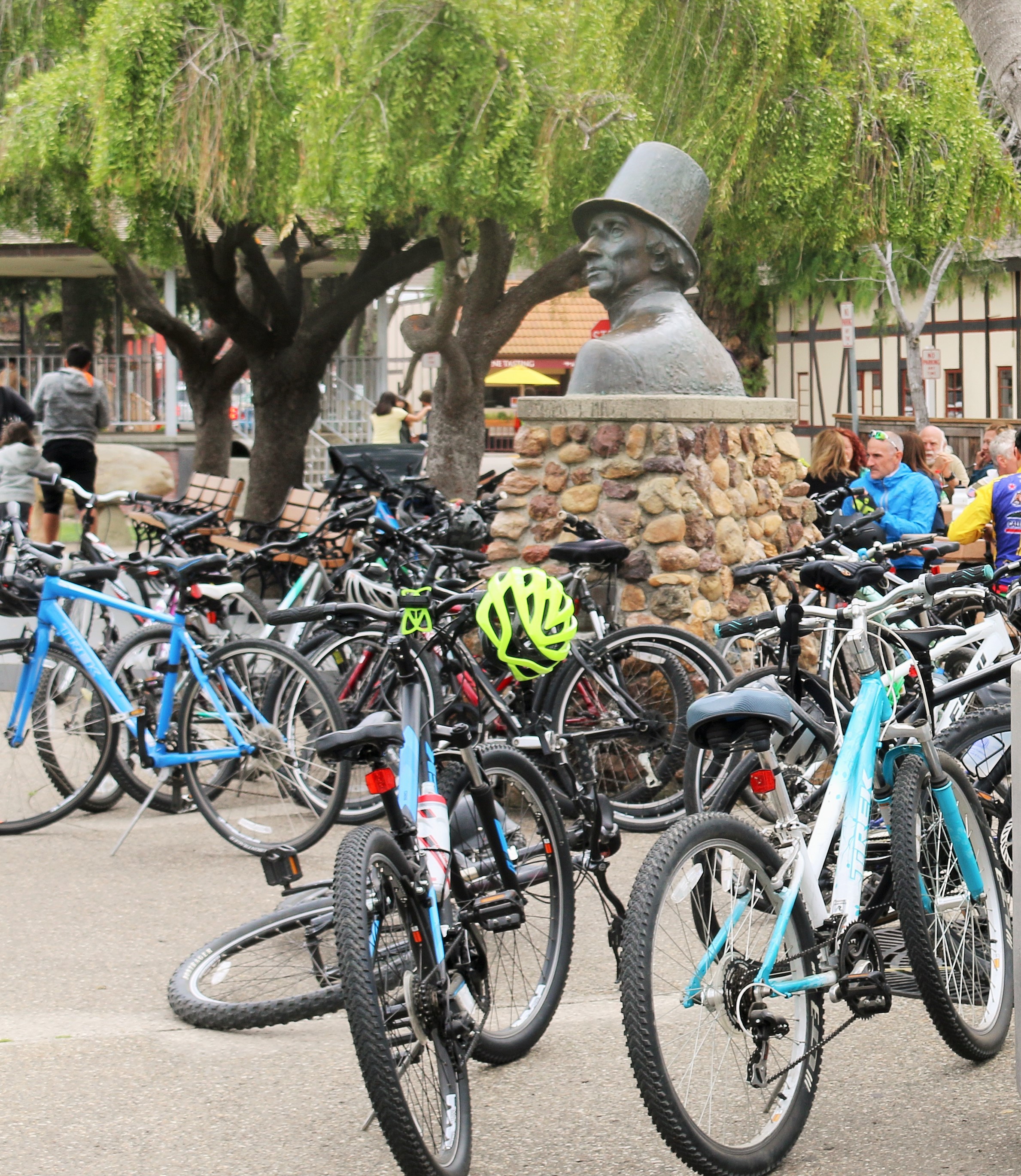 This year passport holders also were provided free admission to the Hans Christian Andersen Museum, Elverhoj Museum of History and Art and The Wilding Museum. Biking is big in this community and the Hans Christian Andersen Park was the place to be for this crowd. For children this is a magical destination that is not only filled with sweet shops, but has some wonderful toy shops and play areas kids love.
The Taste of Solvang is presented by the Solvang Conference & Visitors Bureau since 1993 with sponsorship support this year from Visit Santa Ynez Valley and City of Solvang. For more information about lodging, dining and attractions year-round in Solvang visit www.SolvangUSA.com

_____________________________________________
Holy Guacamole! Guacamania is Coming to Casa Velas in Puerto vallarta

Adults-Only Boutique Hotel to Feature Guacamologist, All Avocado Themed Menus, Spa Treatments & More
Forget WrestleMania, it's time for Guacamania! With special avocado-focused menus, avocado-themed spa treatments, dedicated guacamologist and more, guests visiting Casa Velas, an adults-only boutique in Puerto Vallarta, in March get to experience a tribute to the green fruit. At Emiliano, the resort's gourmet Mexic an restaurant, a special menu highlighting avocados is available. Highli ghts include avocado burritos, chocolate mousse made with avocado, waffles with avocado and walnut jam, avocado ceviche with mushrooms and jicama, avocado tiramisu, and more. Additionally, a guacamologist  prepares fresh guacamole for guests at the pool area and private ocean club. Guests can also participate in a cooking class to learn how to prepare different types of guacamole. To keep guests cool in Puerto Vallarta's temperate 85'F weather, avocado shaved ice is offered in the pool area. At the spa, different treatments are off ered using avocado as the main ingredient, such as an exfoliation with avocado skin, avocado body wrap with natural yogurt and an avocado moisturizing hair treatment. To cap off the experience, the bar has a menu of avocado drinks, such as cold avocado cream and an avocado and piña colada martini.
The resort will also be offering the Guacamania experience in September in honor of Mexico's Independence Day.
All-inclusive resort rates start at $280 per person per night based on double occupancy. At Casa Velas, luxury accommodations,&n bsp;gourmet meals, premium liquor and wine, 24-hour suite service, use of the fitness center facilities, WIFI, taxes, and gratuities are included in the nightly rate. For more information please call 1-888-407-4869 or visit www.hotelcasavelas.com.
About Casa Velas:
Casa Velas is a luxury all-inclusive boutique hotel and ocean club for adults only, reminiscent of a Spanish hacienda. The hotel features a private ocean club and is just minutes from the beach. Located just five minutes from Puerto Vallarta Airport and only 15 from the popular downtown area, art galleries and "El Malecon" (the boardwalk), the hotel features 80 spacious suites, some with private pools and Jacuzzis. Nestled on the greens of Marina Vallarta's 18-hole golf course, the hotel offers guests complimentary golf at three nearby signature-designed 18-hole cours es. Lotus Spa at Casa Velas encompasses treatment rooms for singles and couples, a hydrotherapy area, garden-view fitness center equipped with state-of-the-art exercise equipment, and a beauty salon. A novel service is a handbag bar where guests can enjoy use of a "loaner" designer handbag at no extra charge. Emiliano, the AAA Fo ur Diamond rated a la carte fine dining restaurant, is in the hands of one of the area's leading chefs serving Mexican and international cuisine. Guests can also enjoy dining privileges at the sister resort, Grand Velas Riviera Nayarit, with three gourmet specialty options. Forbes Travel Guide has awarded Casa Velas Four Stars, the only boutique hotel on the Mexican Pacific coast to receive. A member of SLH (Small Luxury Hotels of the World), it has been in the top two in TripAdvisor for Puerto Vallarta since 2010. Casa Velas is operated by Eduardo Vela Ruiz, founder and president of Velas Resorts, with brother Juan Vela, vice president of Velas Reso rts, by his side. For more information please call 1-888-407-4869 or visit https://www.hotelcasavelas.com.
---