BEACH TOWN DINING
By Bonnie Carroll
If it is a quick date after work at Arch Rock Fish or a romantic dinner after a sail at Chuck's Waterfront Grill it's all on the menu in Santa Barbara.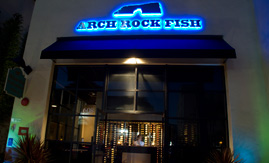 Arch Rock Fish is described by its owners as a neighborhood joint. People looking for a special place to get to know someone new or couples looking for a big private both to put some spark in their marriage will find it at this California Riviera favorite.
This month I will talk about the two restaurants mentioned above. Arch Rock Fish is a very popular meeting place for a young professional set in Santa Barbara. They offer a fantastic appetizer or small plate menu to enjoy at the bar with after work cocktails or provide something to nibble on while waiting for your table before dinner.
The servers at Arch Rock Fish are handsome young go-getters who do everything to please, and in a hurry if necessary. They are great!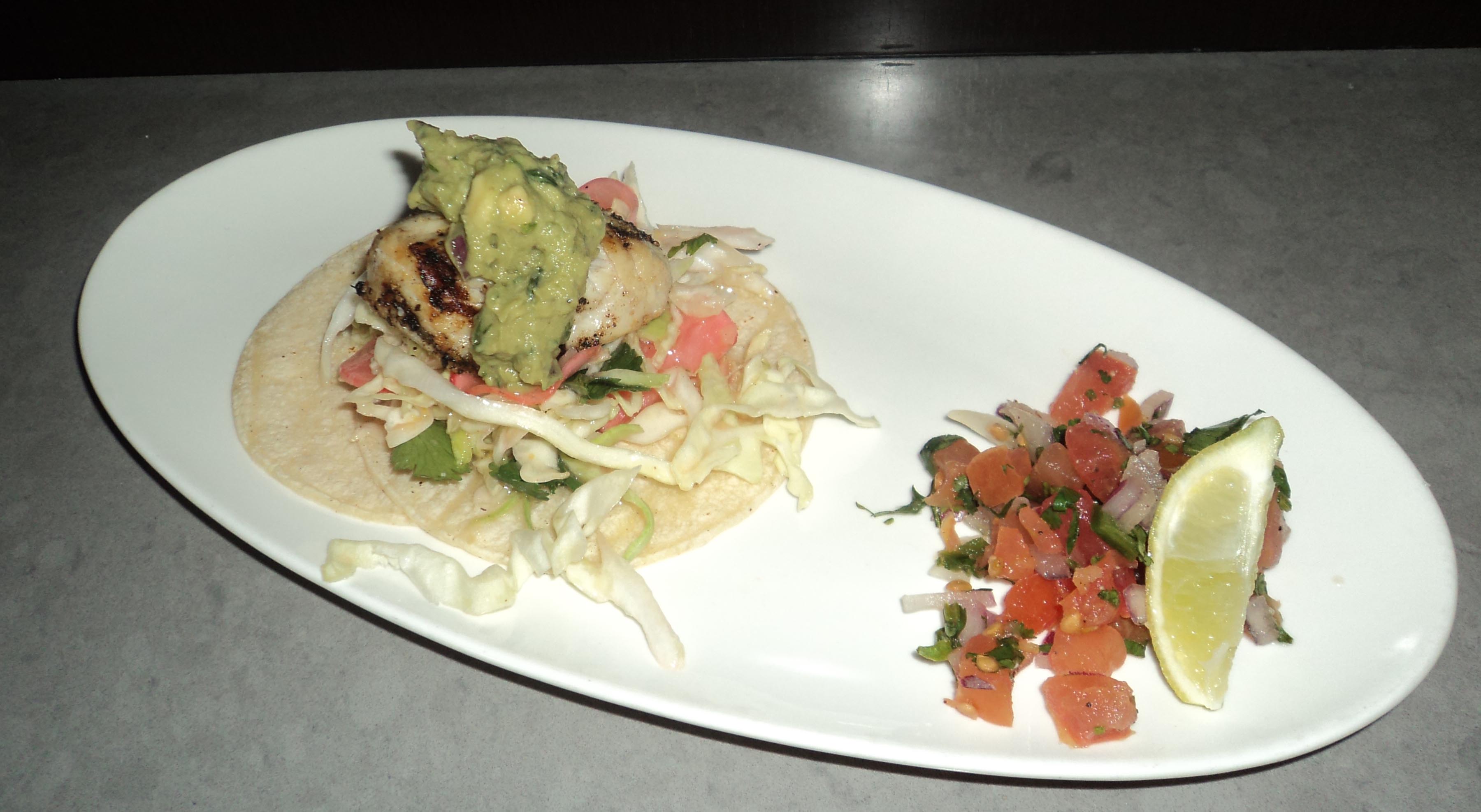 Happy hours promises $3 wine or beer and significantly discounted martini selection. Small plates offer salmon deviled eggs, guacamole & chips, fish tacos and much more. Dinner entrees run from large delicious salads to fish, meat or pasta specials with all the sides. They have a wine menu that suits their dinner items well. Desserts include some luscious chocolate and ice cream specials. Menu and prices are just right here.  For information or reservations go to www.archrockfish.com.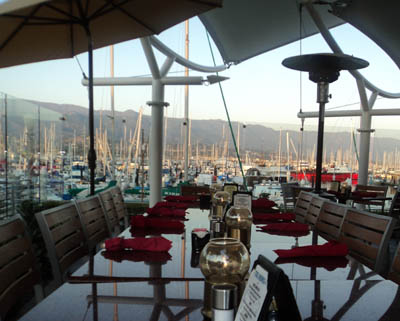 Chuck's Waterfront Grill is a part of the Chuck's Restaurant family, an old and respected restaurant group in Santa Barbara. Three generations of families have loved the great steak and seafood items coupled with a delicious fresh make-it-yourself salad at Chuck's. The original restaurant is located on State Street near La Cumbre Center, and the Hawaiian motif is inviting and thoroughly enjoyed by patrons.
The menu includes countless varieties of outstanding seafood and steak, along with crisp delicious salads, side dishes, a bevy of amazing appetizers all paired with fine wines from their huge wine list.
Chuck's has always been renowned for their big well cocktails, meaning they provide a good sized drink, with ample liquor at an affordable price. Sitting at the bar to wait for a table is something their patrons look forward to. Chuck's at the Beach has a beautiful view of the harbor and is also a nice spot for people watching. Recently, the Swiss tourism office of Los Angeles sponsored a wonderful dinner for area writers that gave diners the feeling they were really in the islands.
The service is simply wonderful, and servers seem to be there when you need them and gone when you want privacy. It's all good! www.chuckswaterfrontgrill.com
_________________________________________________________________
GET THE GRILL GOING
Great New Ideas for Summer BBQ's
By Bonnie Carroll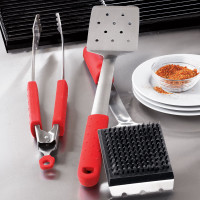 It's that time again! Pull out the Weber Grill and find some great new recipes. Be sure to check out the new Mc Cormick 'Grillenhood' first-ever social media hub where grilling experts share their secrets with each other at
www.grillmates.com
and begin preparing for summer 2012 creative cooking at your grill.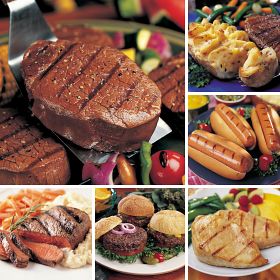 I love Omaha Streaks, along with some of the delicious pork and seafood entrée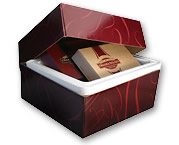 items, rubs and spices and side dishes that can be ordered online and arrive overnight in lovely little temperature controlled packages: delivery is free. From the strip steak to the New York to the filet mignon they are all outstanding, and the many recipes offered online make preparation at the grill to presentation at the table an adventurous spring and summer experience. Visit:
www.omahasteaks.com
.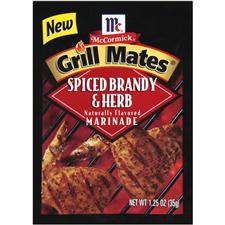 McCormick has new Grill Mates products out this spring that are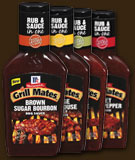 perfect for real Southern food lovin' folks, and they include Molasses Bacon Seasoning Blend, Steakhouse Onion Burger Seasoning, Spiced Brandy & Herb Marinade, Slow & Low Memphis Pit BBQ Rub, and Slow & Low Smokin' Texas BBQ Rub. They also offer two new marinades that sound finger licken' good. Their site offers a bevy of wonderful recipes for outdoor dining satisfaction. Visit:
www.mccormick.com
.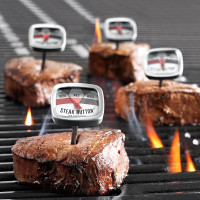 To insure just the right cooking results I found these great little individual Steak Buttons thermometers at Sur la Table that make cooking perfect steaks and chops a snap. They are small, insert easily into each steak or chop, and they are completely accurate. Everybody gets their meat just the way they like it. Sur la Table also offers grilling utensils, and everything you need to set a great looking outdoor table. Visit:
www.surlatable.com
for new offerings and their 'must have' chef items for summer dining on the patio.
Below are some tips from the chef at one of my very favorite Texas steak venues.
The Perfect Steak Tips

by Scott Kroener of Del Frisco's Grille
1. Find a reliable source to purchase good quality beef from. Make friends with the butcher and discuss his recommendations for various cuts he would cook or order from Omaha.
2. Let your steak come to room temperature before introducing the steak to a heat source. When a cold protein initially comes in contact with a high-heat source, the protein constricts yielding and tough piece of meat.
3. Season your steak generously with kosher salt and black pepper before cooking. The salt and pepper will aid in bringing out the natural flavors of the steak.
4. Preheat your grill prior to cooking to ensure the proper searing of the steak. This ensures that surface sugars are caramelized, adding complexity to your steak, as well as sealing in the juices of the steak itself.
5. After cooking a steak to your desired temperature, let it rest and let the blood come back to the center. Notice when you cook and immediately slice a steak that you end up with the blood exiting the steak quickly, leaving the steak dry and flavorless.
6. Lastly, finish your steak by brushing it with a bit of melted butter to take the edge off the seasoning as well as adding a slight richness to the steak.
7. Plate with your favorite side and enjoy!

_____________________________________________________________
ENDS JUNE 12
https://www.facebook.com/FarberwareCookware/app_150794994973742
Grand prize is one (1) Farberware Millennium Stainless Steel 10 Piece Nonstick Cookware Set, valued at $149.99.
Bonus prizes are three (3) Farberware Millennium 12" Nonstick Stainless Steel Skillets, valued at $39.99, one per winner.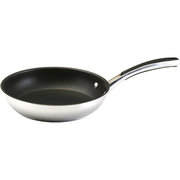 ___________________________________________________________________
     WESTSIDE MARKET NEW YORK - RECIPE FOR YOUR HEALTH
 MARIA'S HOME MADE SPINACH QUINOA MEDITERANEO
Makes 4 Servings
Ingredients:
8 ounces Quinoa, 1 bunch scallions, 1 Spanish onion, 8 ounces olive oil
1 bunch parsely, 1 bunch anise, 1 bunch of dill, 2 tsp kosher salt, 1 tsp pepper
6 cups water.
Preparation:
Saute onions, scallions, parsely and anise in olive oil. Add 6 cups
of water and cook for 5 minutes than add quinoa and cook for
additional 15 minutes.
_______________________________________________________________________
                         COOK LIVE ON INDIAN TV
Liberty India's new Culinary Tour takes gastronomy to new levels including a Nepalese twist
Gastronomists everywhere can dine their way through some of India's most special restaurants and chefs' kitchens with Liberty India's revolutionary new Culinary Experience. Guests will not only sample culinary delights, but will also roll up their sleeves to participate in interactive demos in restaurant kitchens, as well as on a live TV cooking show.
Foodies everywhere will be enchanted by the innovative highlights throughout the journey, which include special experiences such as rickshaw tours through ancient spice markets with a spice expert, hands-on cooking at famed spots including The Spice Route, Lodi Restaurant as well as demos with Indian street food and traditional tandoor ovens while cooking delicacies including varieties of fluffy naan breads , vegetarian dishes and a lavish array of kabobs in a rustic Peshawri atmosphere.
Guests will even have the opportunity to take part in a cooking demonstration live on Indian TV, on one of the country's most popular food-focused shows.
The tour also includes intriguing highlights including Delhi and Agra's most famous forts and palaces, the Taj Mahal, and private shopping experiences including interactions with local artisans creating age-old handicrafts, as well as elephant and camel safaris, all conducted on a fully escorted basis by a highly experienced guide.
Guests wishing to infuse a bit of Nepalese culture and dining into the experience can easily add on a variety of curated jaunts including cultural tours of Kathmandu, visits to local villages, a heritage show including traditional dance lessons, jungle trekking, hiking and kayaking experiences. All fully escorted by expert, experienced guides.
The Culinary Experience takes place 09-21 February, 2013 and pricing starts at US $7625 per person, double occupancy including all luxury and heritage hotel accommodations, tours, most meals, culinary experiences, ground transportation and internal flights in India where indicated.
Liberty India is part of the global Liberty International network of DMCs, custom crafting itineraries throughout India, Sri Lanka, Maldives, Bhutan, Nepal and beyond. http://www.liberty-india.com/
________________________________________________
Four Seasons Gresham Palace Budapest has created unique activities for guests interested in Hungarian culinary traditions for the summer season.
Cake and Café Culture
The charm of Hungary includes the decadent compulsion to indulge in a leisurely appointment for coffee and cake; it is not a treat, it is a culture. One of the most famous local cakes, the Rigó Jancsi, is bound to a romantic legend:
She was a princess, and he a Hungarian gypsy prímás. He played violin at the restaurant while she dined with her husband. Eyes met, hearts fluttered. The diamond ring she removed from her finger to put in his hand. Secret meetings, then abandoning her young family. All this, in 1896 in Paris. Love was born and a cake was named after him: racy for its time, lavish with chocolate. The affair didn't last, but thanks to the delicious cake, his name lives on Rigó Jancsi.
To present the cake and café culture at its best, Four Seasons has created a cooking class with Pastry Chef Arpad Szucs and/or a two hour city tour including cake tastings in famous Ruzwurm Café in the Buda Castle district originating back to 1827. The cooking class is priced at EUR 215.00 per couple. When combined with the city tour and tasting, the activity is priced at EUR 415.00 per couple.
It's All About Paprika
Hungarian paprika is thought to be one of the finest in the world, with more than 40 different types available. Executive Chef Simone Cerea will give a cooking class around the famous ingredient. The lesson includes a visit to Central Market Hall, shopping and preparation of a Hungarian three course lunch menu. A set of hot and sweet paprikas and apron are provided as a keepsake gift. Cooking class is priced at EUR 285.00 per couple.
Experience More at Four Seasons
Four Seasons Hotel Gresham Palace Budapest offers the Experience More package, applicable only for Danube River view rooms and suites. The package includes daily American breakfast and a Hotel Credit of USD 100.00 (EUR 75.00) once per room per stay, which can be used against any food and beverage and Spa treatment charges. Rates are starting at EUR 555.00 based on double occupancy. The package is available from May 15 to September 30, 2012.
______________________________________________________________

New Bakery Café by illy Opens at The Culinary Institute of America at Greystone

Partnership also Includes Coffee Educational Programs for Professionals and Coffee Lovers


 
The sweet smell of success wafts through the air at The Culinary Institute of America (CIA) at Greystone. It is the smell of fresh baked breads, cookies, pastries and gourmet coffees being made by baking and pastry arts degree students and faculty in the college's new Bakery Café by illy. The new cafe just opened to the public, offering morning pastries and a lunch menu of soups, salads, sandwiches, and a variety of beverages including illy specialty coffee drinks. The Bakery Café by illy will be open Tuesday through Saturday from 10 a.m. to 5 p.m. The full menu is available for takeout for a wine country picnic or a working lunch. Guests may also enjoy their meal in the café's casual dining area with complimentary Wi-Fi.

The Bakery Café by illy is an integral part of the CIA at Greystone's baking and pastry degree program, and has been made possible thanks to the generous support of illycaffè, a global leader in premium specialty coffee.

"As the world's premier not-for-profit culinary college, we are grateful for the support of leading companies like illy who embrace our mission to provide the best culinary education to CIA students," explains Dr. Tim Ryan, president of The Culinary Institute of America. "The new Bakery Café by illy enables our students to apply their professional skills in a fully operational setting while they continue to learn about subjects like service, management, and—of course—coffee. Everyone is welcome to come see our students and taste their talents right here at the CIA's Greystone campus."

While working in the Bakery Café by illy, students will also learn about coffee, from the history and cultivation, to current economics and preparation techniques. In addition, illy and the CIA will develop educational programs for professionals and consumers based on the education illy has provided for the last 25 years to its coffee-growing partners and to hotels, restaurants and cafes around the world. Future coffee education classes tailored to the consummate professional include a two-day "Coffee Expert" course and a series of Barista Certification courses. CIA's weekend food enthusiasts courses will offer "Coffee Aficionado" and "Master Barista Series" classes led by illy's Master Barista, Giorgio Milos. This new partnership with the CIA allows chefs, students, and consumers the chance to get a world-class coffee education from two leaders in food and beverage education.

"Partnering with the CIA allows illy the opportunity to reach the most dedicated and engaged students in the world, and further expand our education platform which is at the core of our brand. Together, illy and CIA will offer a premier training experience for culinary professionals and coffee lovers alike," stated Andrea Illy, chairman and CEO of illycaffè.

For more information about the Bakery Café by illy, please visit our website.
---