CULINARY COUP   .  . .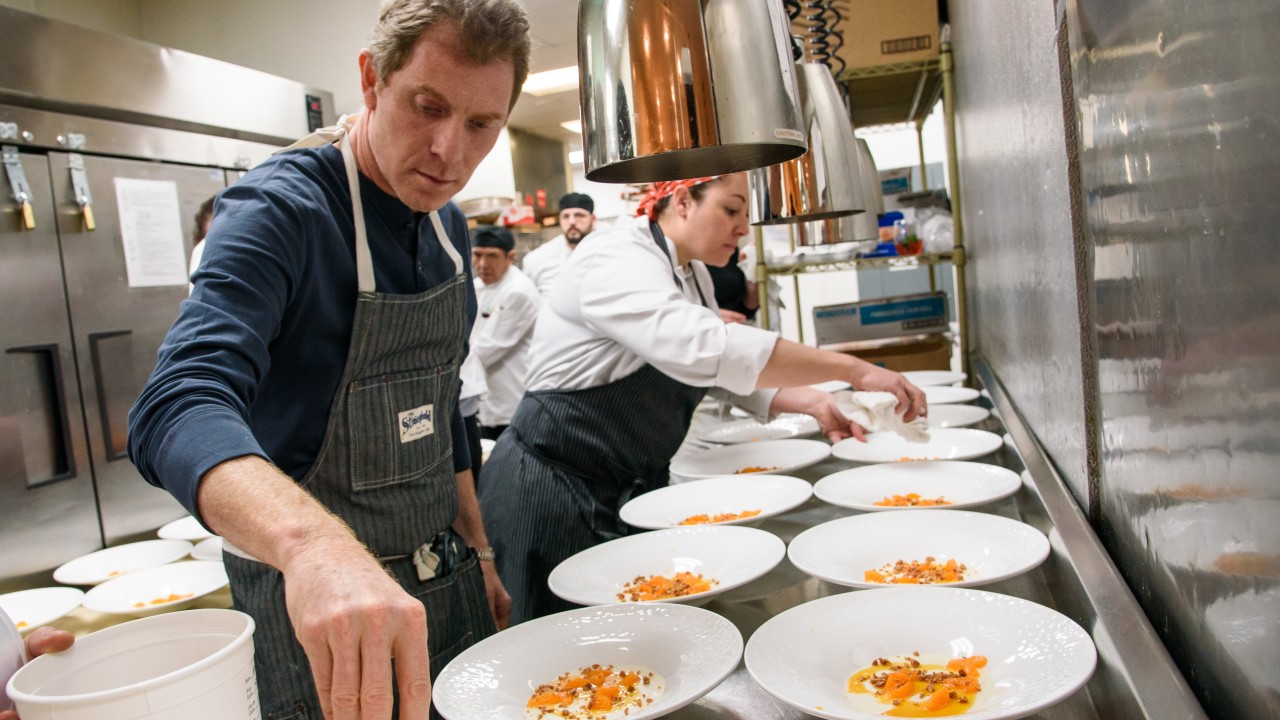 SOFT OPENING FOR BOBBY FLAY'S NEW AMALFI
By Bonnie Carroll
Amalfi is flowing through a soft opening and you will see people enjoying the mostly seafood plates in the room which has an inviting ambiance. The Coastal Italian cuisine appears to be a hit and dishes look amazing. Chef Bobby Flay is often seen in the kitchen working with his staff and was viewed walking through the dining room.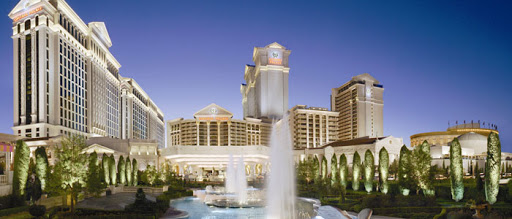 Supposedly, it may not be easy to get a reservation at the new Amalfi until after their June opening. Managers said the soft limited opening included friends and invited guests, but more tables will be offered to the public as the restaurant slowly ramps up toward normalcy in May with June opening. Spaces will be limited until an official grand opening in June, with Flay and his team will be opening up spots on a night-by-night, or even hour-by-hour basis, as they become comfortable that the menu and service are executed in the way Flay envisions.
The menu is heavy on seafood, inspired by Flay's travels on Italy's Amalfi Coast. The appetizer sections include a salmon carpaccio with pistachio breadcrumbs ($27), scrambled eggs with tomato toast and cured fish roe ($19) and a trio of roasted butterfly prawns ($32). The "primi" section includes eight pastas ($28 to $38), three of which come with seafood. For the carnivores, Chef Flay offers a trio of steaks ($58 to $78) as well as jidori chicken al forno ($38).
The real salt of the menu is the fish section (priced by weight). Guests are encouraged to visit the "market" at the rear of the restaurant to select their whole fish to be prepared in one of three ways of choice. The seafood offerings include golden snapper, red snapper, robin fish, black bass, striped bass, branzino, dorade, Carabineros shrimp and swordfish steak.
Amalfi is located in Caesars Palace in the space that housed Flay's Mesa Grill for 16 years. Guests hoping to score a reservation are encouraged to try OpenTable first or call or stop by the reservation stand to see if any spaces have opened up.
Wishing Chef Bobby Flay and staff the best with the attractive and delicious new venture. Vist www.caesarpalace.com.
_________________________________________________________________
ELEGANT COMFORT FOOD FOR A DREARY DAY IN BASEL
Kunsthalle Restaurant at the Museum
by Bonnie Carroll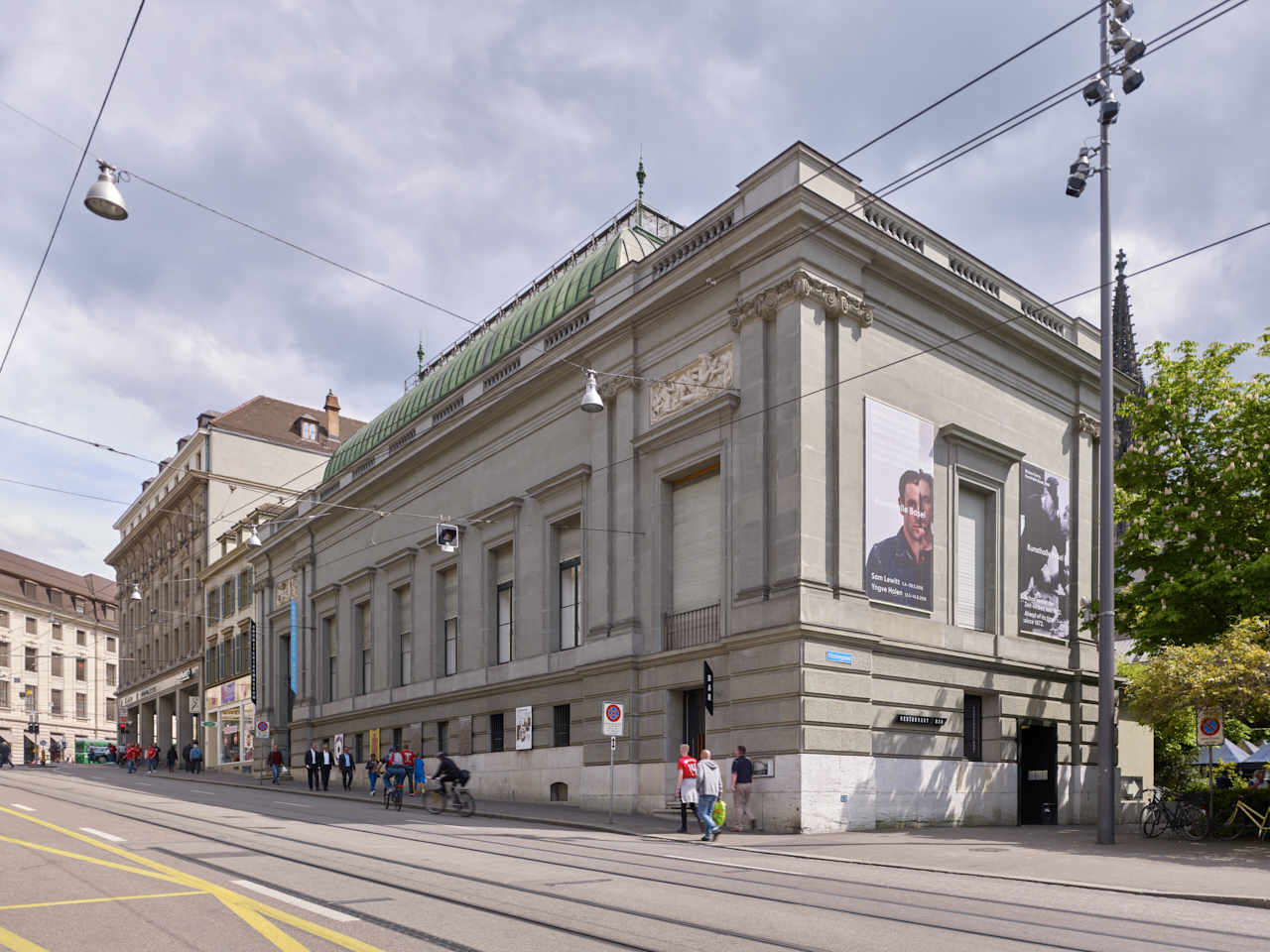 Kunsthalle Basel Since 1872
The gray skies seen from the bus window on our ride to Basel made it clear we were wise to bring along our umbrella, and as the rain began to fall in Basel we hurried across the congested street past the cable cars to the Kunsthalle Restaurant, which had been recommended to me by our Viking program coordinator.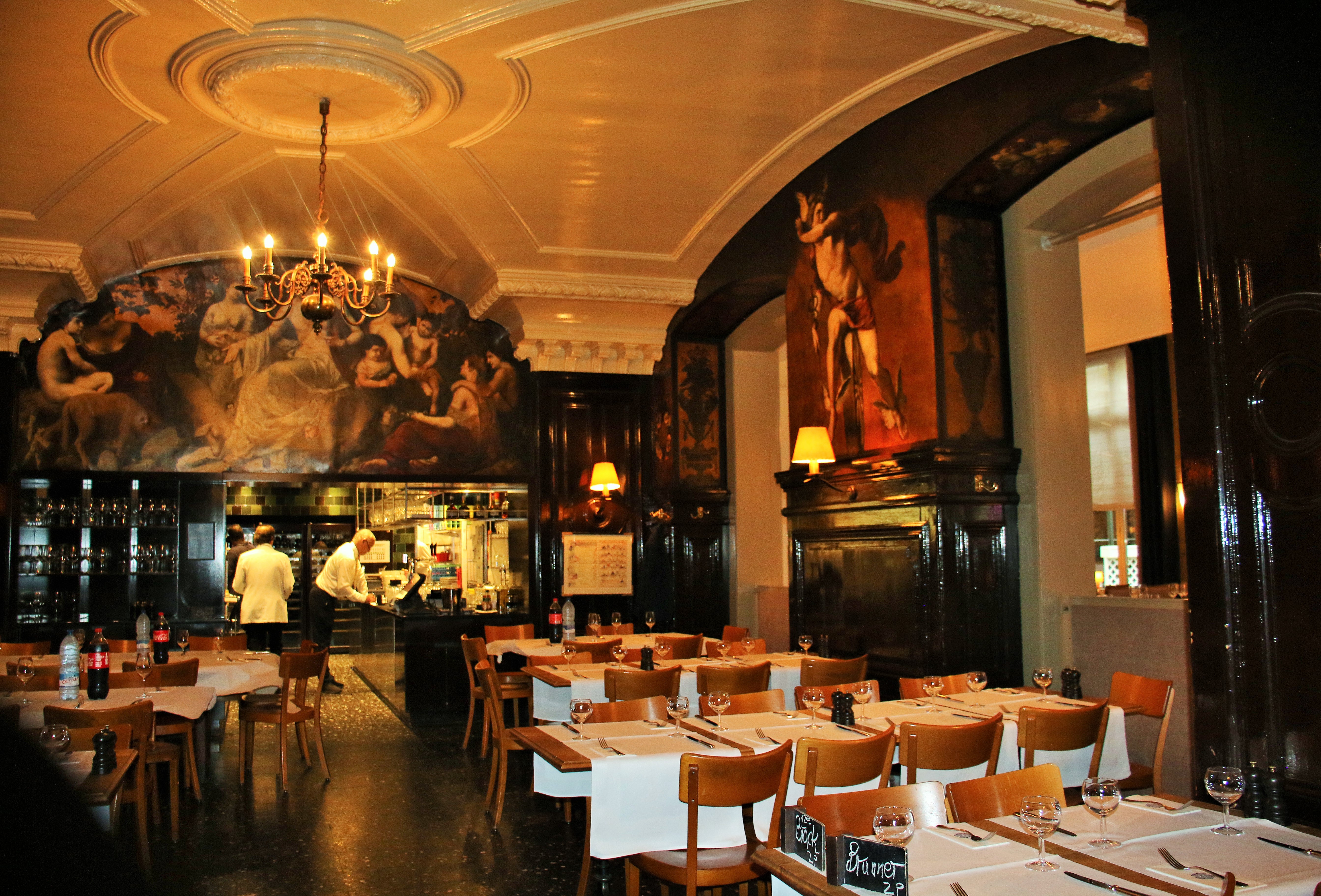 Kunsthalle Brasserie
The Kunsthalle Restaurant is within the Museum complex, and I will be forever grateful for this recommendation because the Brasserie was an incredibly elegant old world space, with rich wood and colorful murals on the walls, elaborate ceilings and sconces, and was oozing with warmth and a cozy ambiance, but surprisingly showcased a modern open kitchen allowing us to watch the chefs at work. The Kunsthalle location includes a brasserie, formal dining room and bar that are all outstanding.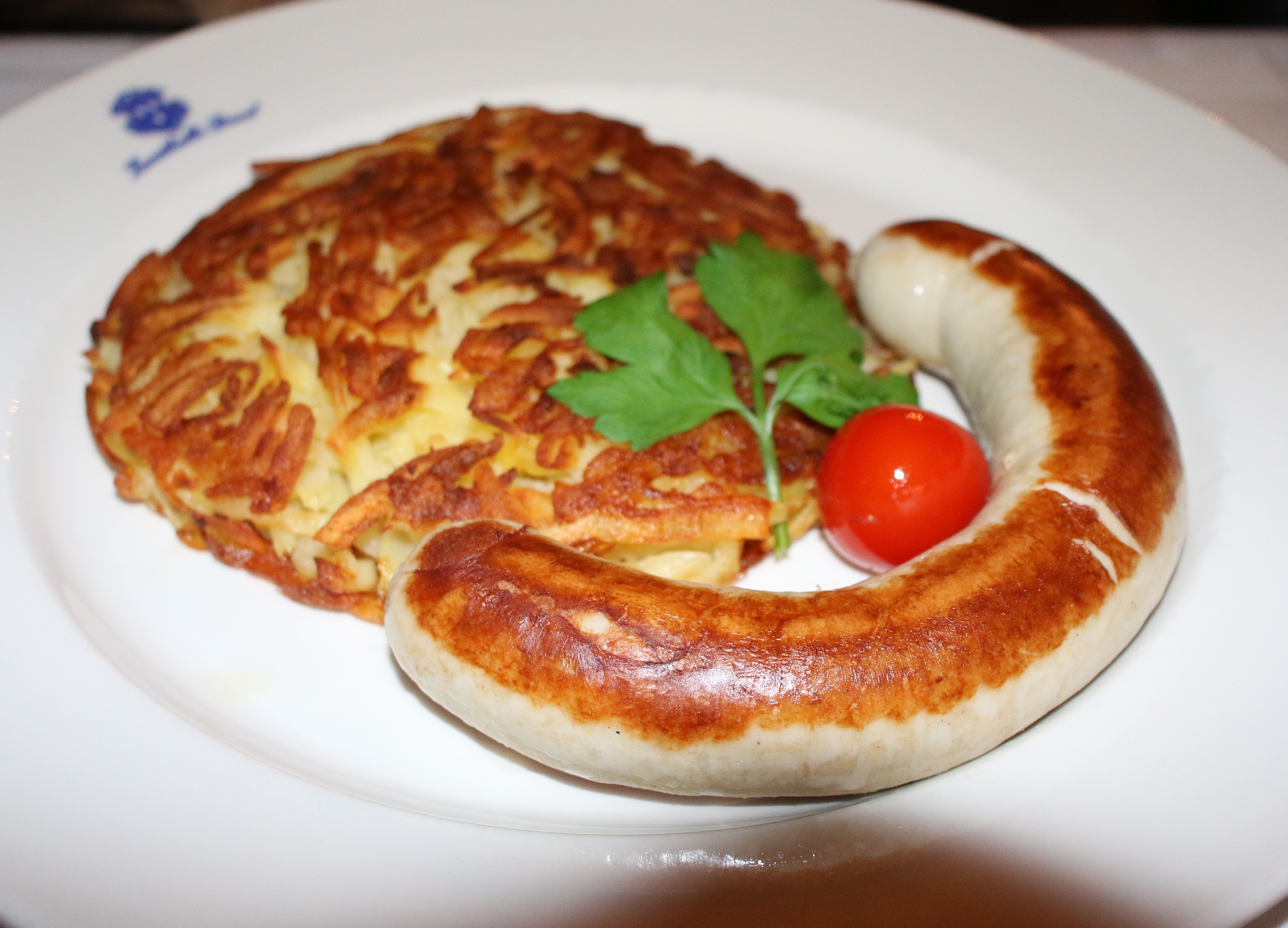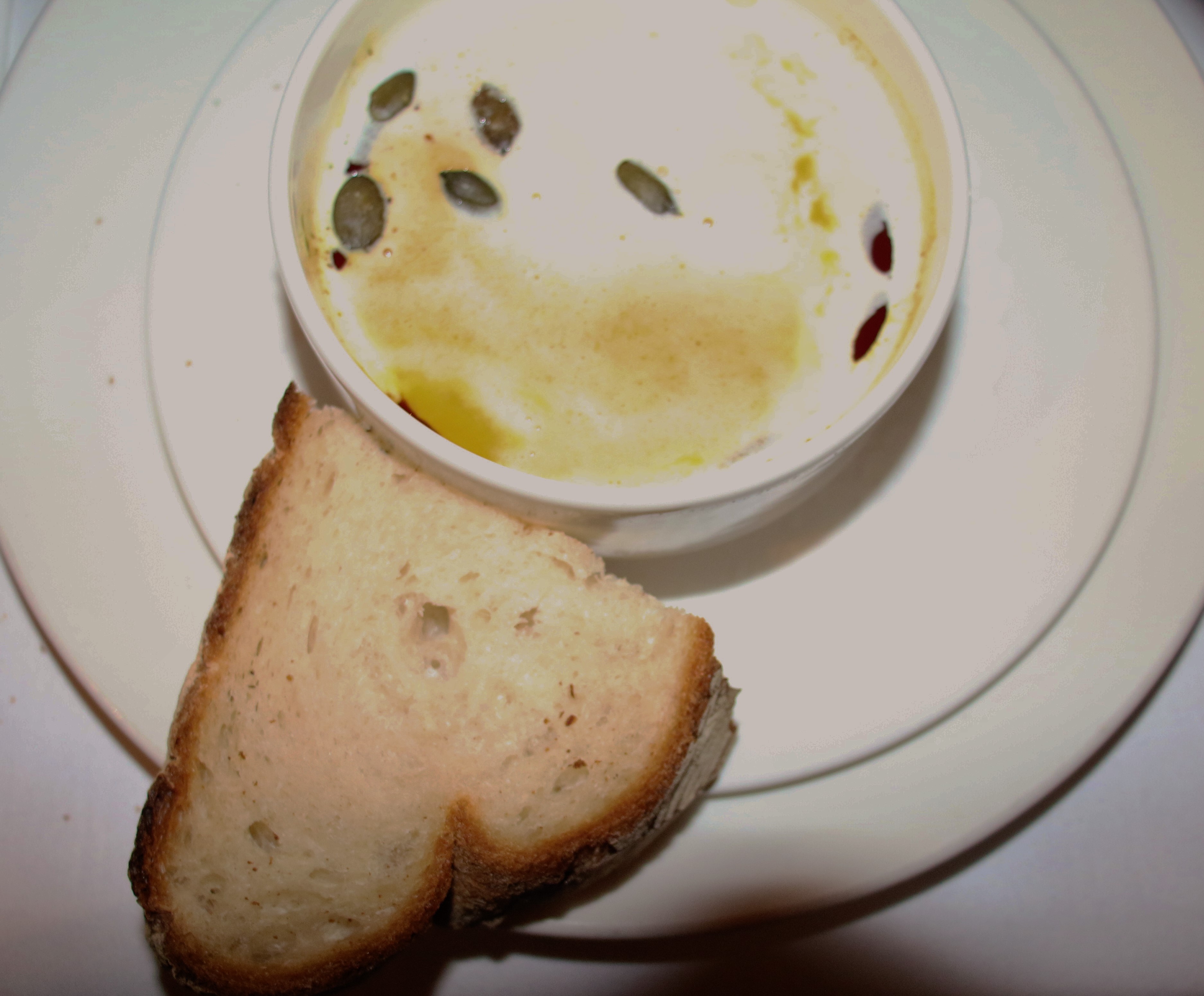 Potato with Sausage Plate  - Cream of Mushroom Soup with Pumpkin Seeds
Their menu offers everything that is great about Swiss, Mediterranean or European food, including comfort foods like rich cream soups, specialty sausage plates, outrageous white asparagus with morel mushroom sauce, scampi Saint Jacques, familiar schnitzel options, grilled Loup de Mer and more. The spacious outdoor garden becomes a hot spot in summer where Fondue Chinoise is popular, while in winter it's all about the Fondue Stubli experience. The attractive Compari Bar offers a bevy of signature cocktails, including some actually featuring Compari.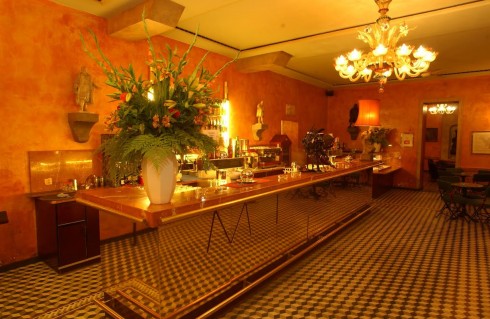 Kunsthalle Compari Bar
For champagne lovers there is Bollinger, Laurent-Perrier, Moet & Chandon, Dom Perignon and Prosecco Superiore at varying prices per bottle (some by the glass). I found it fun to see a Cannonball Sauvignon Blanc 2016 from Sonoma County on their menu. The dessert wagon is off the charts with simply gorgeous options to enjoy with a hot cup of coffee. The staff are cordial but formal and during our visit the restaurant was jammed by 12:45 with young attractive business people conducting business over lunch.
Kunsthalle Basel Museum is a place for innovative contemporary art exhibitions of an emerging generation of artists exhibiting, discussing and reflecting on the art of the present since its founding in 1872. As Switzerland's oldest and still most active institution for contemporary art, Kunsthalle Basel forms a vital part of Basel's cultural centre and is located next to the city's theatre, opposite the concert house Stadtcasino, and in the same building as Restaurant Kunsthalle.
Kunsthalle
Steinenberg 7
4051 Basel Zentrum
Phone +41 61 272 42 33
Fax +41 61 272 42 55
info@restaurant-kunsthalle.ch
Website
---