STELLA MARE'S SANTA BARBARA
A Frenchman Savors 'The American Dream'
by Bonnie Carroll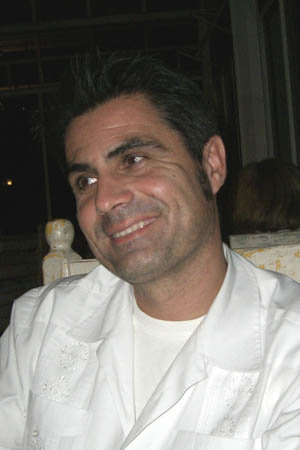 For over a decade Kym and Philippe Rousseau, owners of Stella Mare's Restaurant have devoted themselves to preparing and presenting the finest in country French food. Rousseau's life in
Santa Barbara represents what he calls "living the American Dream." Twenty years ago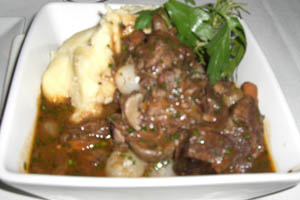 he came to America, after completing his education in Paris, where he met a visiting student who lived in Santa Barbara. The grateful American beckoned him to call him if he ever got to California. During his last year in college Philippe was working as a limo driver in Paris, and by chance was assigned to drive an American producer from 20/20, who was making a special segment in France. For years the ambitious young Rousseau had been unable to put together enough cash to get a ticket to America, and he shared his story of his American dream with this man as they traveled through the Paris streets. When it was time for the producer to leave he gave Philippe an envelope. According Rousseau "We did not know about tips, this was not done then, and after he left the airport and I looked in the envelope I was astounded to find enough money to buy a ticket to America." "I called my college friend, who invited me to stay at his house until I could get settled, and that was the beginning of my American dream." "The American dream is still possible, but people have to be willing to work for it," says Rousseau.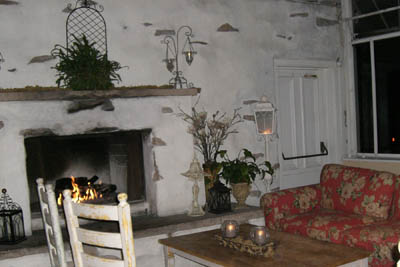 Initially, he opened a company that transferred old bookkeeping systems to new computerized systems, which he had learned during his college work in Paris, and the business grew very quickly. Fourteen years ago he was given the opportunity to become owner of Stella Mare's and he took it. Although he says he is not a chef, he was from a farming family in Normandy, France, where he was very familiar with growing food, and he praised his mother as a masterful cook. Rousseau feels fortunate that he knew how to run a successful business, and has used these skills to develop in a variety of business ventures, including Stella Mare's.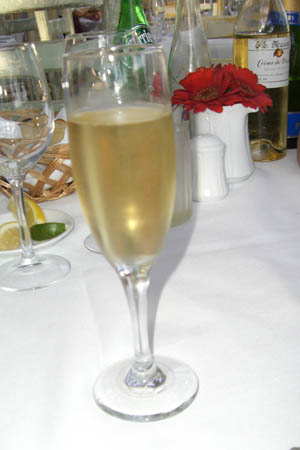 Wine is an ultimate part of the experience at Stella Mare's, and the wine menu is outstanding. A seductive start to a dinner here would be a special Bellini made with French champagne and peach liquor or any cocktail of your choice. The presentation is simply magnificent, and a very positive preview of what's to come.
Country French food is one of my favorites, and nothing here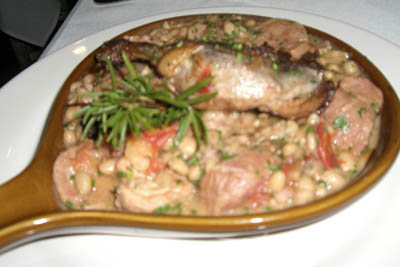 disappoints. The proper preparation of a good roasted chicken is considered a test of culinary skill in France, and by most French people, and the Rousseau's are proud of their roast chicken plates. Rousseau said that when renowned chef Julia Child was alive she came to his restaurant very often, she always would sit at the same table, always asked for a menu, but always ordered the chicken. "Every time she ordered the chicken, and I knew she was going to order the chicken," said Rousseau.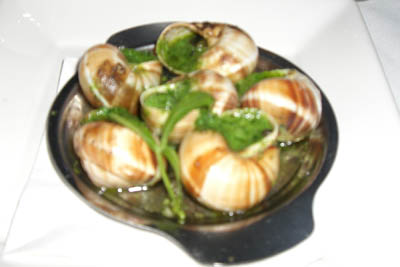 A great starter here is the esgargots in shell, made with a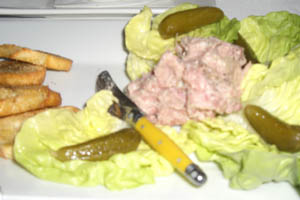 delicious butter filling that is heavy on the parsley and light on the garlic. The Coquille Saint Jacques are delicious as well. Coq au vin, cassoulet and duck confit, boeuf Bourguignon, canard a l'orange are all outstanding, and are very authentic. You might wish to start with a warm goat cheese salad, or a traditional Nicoise salad. 
The oak wood burning grill at Stella Mare's offers patrons an opportunity to experience unique grilled chicken, salmon, ahi, trout, New York steak, filet mignon, rib eye steak, or rack of lamb prepared with herbs from Provence, and accompanied with a choice of fresh vegetables and potatoes. You may also add your own sauce for an additional $2 and they include warm béarnaise, bordelaise, cognac peppercorn sauce or cold horseradish cream, maitre d'hotel butter or tartar sauce. Side dishes include sautéed green beans or mushrooms, potato gratin, creamed or sautéed spinach and roasted asparagus.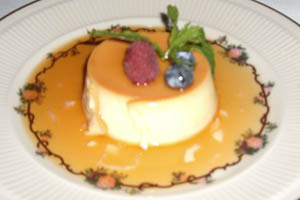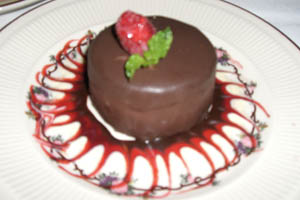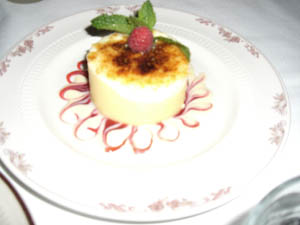 Well, the desserts here are possibly the best I have seen on the coast, that are as delicious as they are visibly artistic, including chocolate & raspberry "Ding Dong" bitter sweet chocolate mousse, lemon cake, crème brulet and more.  The hand-made selections from a local Santa Barbara French chocolatier called Chocolats du Calibressan are sensational, or you might just want to sample a taste of fromage with a sip of rare port. What a perfect ending to your Stella Mare's experience.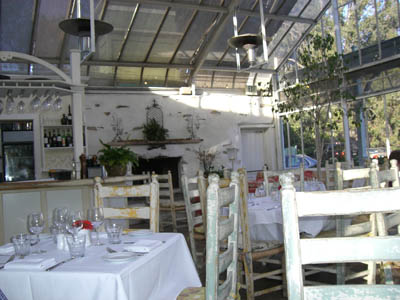 The restaurant is totally charming from beginning to end, and has a Monet at Giverny feeling about it. The décor is warm country French, with openness, but also intimacy. There are large areas that can accommodate group parties, and small rooms for very romantic little dinners. The bar, living room area is actually a greenhouse, and offers a beautiful openness, with sliding glass panels that let the ocean breeze float in. The atmosphere in the evening is nothing short of enchanting, and the restaurant offers a Stella's Bistro Menu, which features a 3 course dinner with wine or beer for $28 Sunday through Thursday. They are open for lunch Tuesday through Friday 11:30 to 2:30, brunch Saturday and Sunday 10:00 to 2:30 or dinner Tuesday through Sunday 5:00 to closing.
Happy Anniversary to Philippe on his celebration of twenty years in America and fourteen years as owner of Stella Mare's this month.
Stella Mare's Restaurant
50 Los Patos Way
Montecito, CA 93108
805-969-6705
www.Stellamares.com
---
McCormick® Flavor Forecast™ 2009: Holiday Edition Names Five Ultimate Flavor Pairings for the Season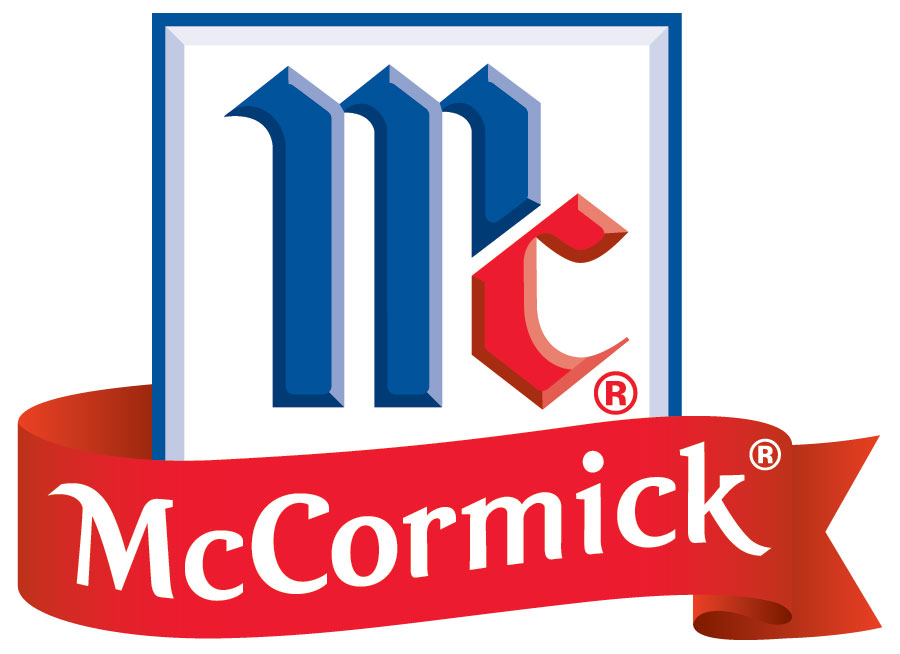 Think ginger combined with molasses only means gingerbread cookies during the holidays? Think again. According to the McCormick Flavor Forecast 2009: Holiday Edition, expect to see America's favorite holiday flavors used in new ways to reflect the latest baking trends. McCormick spotlights five definitive flavor pairings that instantly evoke the essence of the holidays, then deconstructs classic desserts and puts them back together in playful variations.
"We're putting a spin on holiday sweets this year," said Kevan Vetter, Executive Chef at McCormick. "By looking at timeless holiday flavors and the latest trends, such as nostalgic desserts, regional influences and restaurant-inspired small-bite indulgences, we have transformed celebratory favorites into contemporary seasonal treats."  
Here are the top flavor pairings according to the McCormick Flavor Forecast 2009: Holiday Edition.
Ginger & Molasses - The duo behind timeless gingerbread is cleverly reinvented from a childhood classic into contemporary goodies for all ages.
Warm Spices & Pumpkin – The aromatic blend of cinnamon, nutmeg, ginger and allspice unites with creamy pumpkin to inspire remakes of its namesake pie.
Peppermint & Chocolate – This refreshing yet sweet combination comes together in everything from a festive martini to a chocolate tart.
Vanilla & Red Food Color – The lush, alluring flavor of vanilla and the joyous hue of red transform the show-stopping qualities of red velvet cake into updated indulgences.
Nutmeg & Rum – The unforgettable essence of eggnog comes out of the punch bowlas inspired treats from breakfast to the dessert table.
Though the flavors may be familiar, updated recipes invigorate these classic pairings. Spicy and tangy Gingerbread Whoopie Pies with Lemon Crème are a playful take on timeless gingerbread. Chocolate Tarts with Peppermint Crème are like tiny presents for the mouth, filled with cool mint and silky chocolate. And, packing all the warm flavors of the definitive holiday beverage into bite-sized treats, the essentials of eggnog converge as Eggnog Truffles.
Regionally and classically inspired Americana also pays a visit to holiday tables this season. Everyone will welcome Caramel Pumpkin Oatmeal Bars, a modern rendition of the classic pie. And, in need of no introduction, Red Velvet Cheesecake packs all the drama of the Southern centerpiece dessert in a decadent modern package.
Infuse the Season's Special Flavors into Everyday Occasions 
Make the season bright and flavorful by decorating each day with festive flavors. Try these easy and delicious ideas:
Convert a traditional sugar cookie to a nutmeg spice cookie by adding Ground Nutmeg to the dough before baking. Top baked cookies with cream cheese frosting enhanced with a few drops of Rum Extract.
Crush peppermint candies in a small bowl or food processor. Melt semi-sweet Chocolate in a sauce pan, cool slightly and flavor with a few drops of Peppermint Extract. Dip one half of a large marshmallow into the melted mint chocolate and then in the peppermint pieces. Place on parchment to dry. Serve on a festive candy platter or float in a cup of hot cocoa.
Transform vanilla milkshakes into a taste of the season. Add a generous spoonful of Pumpkin puree and a dash of Pumpkin Pie Spice to vanilla ice cream and milk to create a smooth ice cream treat.
For recipes, tips and more information on the Holiday Flavor Forecast visit www.McCormick.com
---
Something Souper for Fall 
Tomato Soup from Marché Restaurant

A great fall soup from chefs Andre Guerrero (Max, The Oinkster, BoHo) and Gary Menes (last seen at Palate) new owners of Marché, a low-key French restaurant in the San FernandoValley. Bon Appetit!
Tomato Soup
Serves 4
Ingredients
5 ripe heirloom tomatoes, washed and diced
3 cloves garlic, peeled
4 shallots, sliced
10 basil leaves
4 tbsp. extra-virgin olive oil
1/8 tsp. fennel seeds
Salt and pepper
1. Preheat oven to 375°.
2. Add ingredients to a large roasting pan in a single layer, cover tightly with plastic wrap and foil, roast for 1 hour, remove, and let stand for 15 minutes.
3. Blend in blender till smooth. Serve immediately or get fancy with a garnish.
Garnish
1 pt. cherry tomatoes
3 tbsp. extra-virgin olive oil, plus extra
Sea salt
Freshly ground black pepper
10 basil leaves
8 oz. burrata cheese
1. Preheat oven to 400°. Mix cherry tomatoes with olive oil, salt, and pepper. Spread tomatoes in roasting pan; bake for about 5 minutes to blister.
2. Line plate with plastic wrap, place basil leaves on top, and brush both sides with extra-virgin olive oil. Cover with plastic wrap, pressing tightly to eliminate air. Microwave for 2.5 minutes to crisp.
3. Sprinkle burrata with olive oil, salt, and pepper.
4. In each bowl, place 1 tbsp. of burrata, an even amount of cherry tomatoes and basil leaves, add soup, and serve.
Then Marché on back for more.

Marché, 13355 Ventura Boulevard, between Dixie Canyon and Fulton Avenues, Sherman Oaks (818-784-2915).
Photo: Fred Guerrero / Courtesy of Marché

---
·  
Craving great content for your upcoming Thanksgiving feature? The Food Channel is here to help. We offer a wide variety of editorial assets designed to support the food and lifestyle features on which you're working. These include sumptuous plated food and dining photography, short, simple how-to videos, and easy-to-prepare chef-tested recipes.
---
Bob's Red Mill Wins World Porridge Making Champion 2009 Title
              And Takes Home Coveted Golden Spurtle Trophy
Portland-based Bob's Red Mill Claims Title of World's Best Oats
Carrying the culinary hopes of the USA on his shoulders, American Matthew Cox from Bob's Red Mill Natural Foods has done what no American has done before – he has claimed the coveted Golden Spurtle trophy and won the title of World Porridge Making Champion.
Competing against the world's finest porridge makers at the 16th Annual "Golden Spurtle" World Porridge Making Championships on Sunday, Oct. 11, Cox took first place in the traditional porridge category and also competed in the specialty category with his pear brandy-infused Oregon Orchard Oat Brûlée recipe.
"What an incredible honor," said Matt Cox, who represented Portland, Ore.-based whole grains company Bob's Red Mill in the international competition. "We came to Scotland to celebrate our passion for porridge with the Scots and we are just elated to win the world title."
Cox competed against 14 porridge-makers who came from Scotland and the United Kingdom, Sweden and Canada. The competitors included professional chefs, hoteliers, caterers and porridge enthusiasts.
The first (and only) U.S. competitor to enter the international competition, Cox prepared Steel Cut Oats from Bob's Red Mill for the competition's traditional category, which permits chefs to use only oats (the Scots call them "pinhead" oats), water and salt.
"I am absolutely delighted that Bob's Red Mill has won the Golden Spurtle," said Bob's Red Mill founder Bob Moore. "Since my first visit to Scotland, I've always been impressed with the quality of Scottish oats. To have won this title says great things about our oats – we can really say that we have the world's best oats."
Cox also competed in the Specialty Porridge category, preparing Oregon Orchard Oat Brûlée: an Oregon-themed oatmeal recipe featuring Bartlett pears, dried cherries, hazelnuts and Pear Eau de Vie from Clear Creek Distillery. Celebrating the best of Oregon agriculture, the recipe was developed over several months. First place in the specialty category went to Anna-Louise Batchelor from Reading, England for her recipe of steamed porridge Spotted Dick with custard.
The team from Bob's Red Mill will return home with the coveted "Golden Spurtle" trophy. A Scottish kitchen tool dating back to the 15th century, a spurtle is a rod-like stirring stick that is traditionally used to prevent porridge from becoming lumpy. Expanding on its Oregon theme, Bob's Red Mill competed with its own custom "Myrtle Spurtle" made from Oregon myrtle wood.
Team Bob's Red Mill teammate and Executive Vice President of Sales & Marketing Dennis Gilliam noted that the company was looking forward to sharing their oats with some of the world's foremost experts on the subject.
"We have had an amazing time at the Golden Spurtle event in Carrbridge," Gilliam added. "And there's no doubt that we will be back again next year to defend our title."
Additional information about the Golden Spurtle competition is available online at www.goldenspurtle.com. visit www.bobsredmill.com.
---
TROUBLE MAKING PIE CRUST? CRISCO TO THE RESCUE!
Every year, thousands of home chefs struggling with their pie crusts
rely on the brand they can trust - Crisco®. Available beginning October
1, 2009, the Crisco Pie Hotline is back to offer the latest baking,
storage tips, time saving hints and the option to talk to a live pie
pro.  Consumers can call 1-877-FOR PIE TIPS toll-free to find answers to
some of the most common pie-baking questions.

---
Taste of Tulalip



The 1st Annual TASTE OF TULALIP will be November 14 & 15--only 35 minutes from downtown Seattle. Tulalip Resort Casino has collaborated with Wine Spectator and Cigar Aficionado to bring a Food and Wine event unlike any other. Executive Chef Perry Mascitti partnering with Sommelier Tommy Thompson lead their teams to bring you on a culinary journey that celebrates Tulalip style.
 
---
---