CULINARY COUP   .   .   .
Flash From The Past (October 2007)
KUDOS FOR VIA MAESTRA 42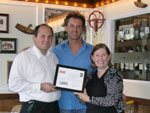 Bonnie Carroll, publisher/editor of Life Bites News, presented Renato Moiso and Dante Sigismondi with a special award for their recent successful Abruzzo Week Celebration crea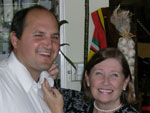 ted to inform Santa Barbara patrons on the history, culture, food and wine of Abruzzo, Italy. They were also sent a special letter of thanks from the Italian Government Tourist Board, Italian Travel Promotion Council, and Eurofly Airlines. Sigismondi was presented a sterling silver "Abruzzo" lapel pin from the region for his support; his family sent authentic recipes from the region to be reproduced for the event. For information on Abruzzo visit: www.italiantourism.com.
Via Maestra 42 is a very popular fine Italian restaurant on upper State Street in Santa Barbara in the Loreto Plaza, where Renato Moiso and family continue serving up amazing recipes from his home town in Piede Monte, Italy. The restaurant is named for his parents address in Italy. They built an outside dining area and have trudge through the pademic. I try to go there often and recommend it highly at www.viamaestra42.com.
___________________________________________________________________

BEEF BOURGUIGNON IN A CLAY POT
LBN, Bonnie Carroll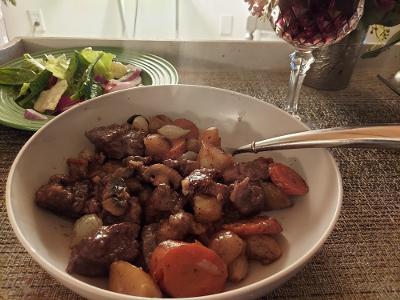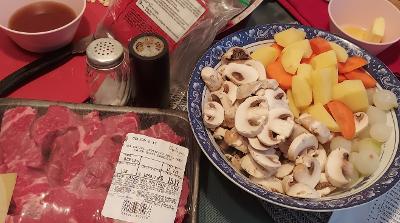 I was recently sent a clay pot and had never used one for preparing meat and fowl dishes, so my first dinner experiment was Beef Bourguignon. Below you will find the recipe I created combining two from different cookbooks on my shelf, with a few touches of my own. A heart of palm and tomato salad vinaigrette was perfect with this entrée. A red wine would be nice with this dish.
This recipe turned out perfectly and I put ½ in the freezer to enjoy during Christmas week.

This recipe is for 3 people:
Ingredients:
1-pound chuck steak, cut into cubes
1 ½ tbsp flour
Salt/pepper to taste
½ tsp olive oil
1 tbsp butter
3 oz bacon
1 cup pearl onions (frozen)
½ lb mushrooms, sliced
1 carrot sliced
1 medium potato cubed
½ cup beef stock
¾ cup Merlot wine
1 clove garlic, minced
½ bay leaf
½ sprig fresh parsley, chopped fine and pinch of fresh thyme
½ tbsp Cornstarch
4 tbls cold water
Soak clay pot and lid for 15 minutes in cold water. Mix beef cubes with flour and pinch of salt and pepper. Heat oil and butter in large skillet over high heat. Brown meat and transfer to clay pot.
Cut bacon in strips and fry until nearly crisp. Drain on paper towel. Brown the onions and mushrooms in leftover bacon fat and add all ingredients to pot, stirring gently.
Cover the clay pot and place in middle oven Cook at 450 degrees until meat is tender, about 1 hour. Add cold water to cornstarch and dissolve to pour over stew and cook for another 15 minutes until thickened.
Don't forget to protect clay pot from spontaneous temperature changes and do not use detergent, only water and a soft sponge or brush.
_________________________________________________________________
FOR GOLDEN GLOBE OR OSCAR BITES TRY MY CAVIAR EGGS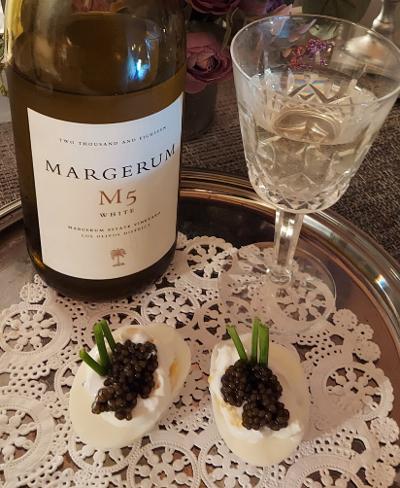 This is a quick and easy elegant bite to serve for Golden Globe or Oscar home viewing. Have hard boil eggs and smash the yolk with diced onion, cream, salt and pepper, paprika. Refil egg halves and cover with a dollop of sour cream and top with caviar and snipped chives. I love Margerum M5 White with these egg and caviar bites. To order wine visit: www.margerumwine.com.
___________________________________________________________________

Irish Corned Beef and Cabbage
4 pounds corned beef
1 onion stuck with 5 cloves pepper
1 sprig thyme and 1 bunch parsley, bound together
2 onions
1 whole carrot
2 pounds cabbage, cut in 4 pieces
Tie the beef neatly. Put it in a large pot and cover with cold water. Add all the other ingredients except the cabbage and bring very slowly to a boil uncovered. Simmer for 3 hours. Skim the scum occasionally. Remove the thyme, parsley and cloved onion. Now add the cabbage, which should be sitting in salted cold water. Simmer 20 minutes, or until the cabbage is done. Remove the meat and remove the string. Strain the cabbage, pepper well, and place on a plate surround the beef. For cabbage that is not too salty cook in a separate pot, add a few cups of the meat stock for flavor. Garnish with fresh parsley.
Yield: Serves 8
---