Culinary Coup 

AMITA THAI COOKING SCHOOL
Recipes by Tam from a Magical Bangkok River Residence
By Bonnie Carroll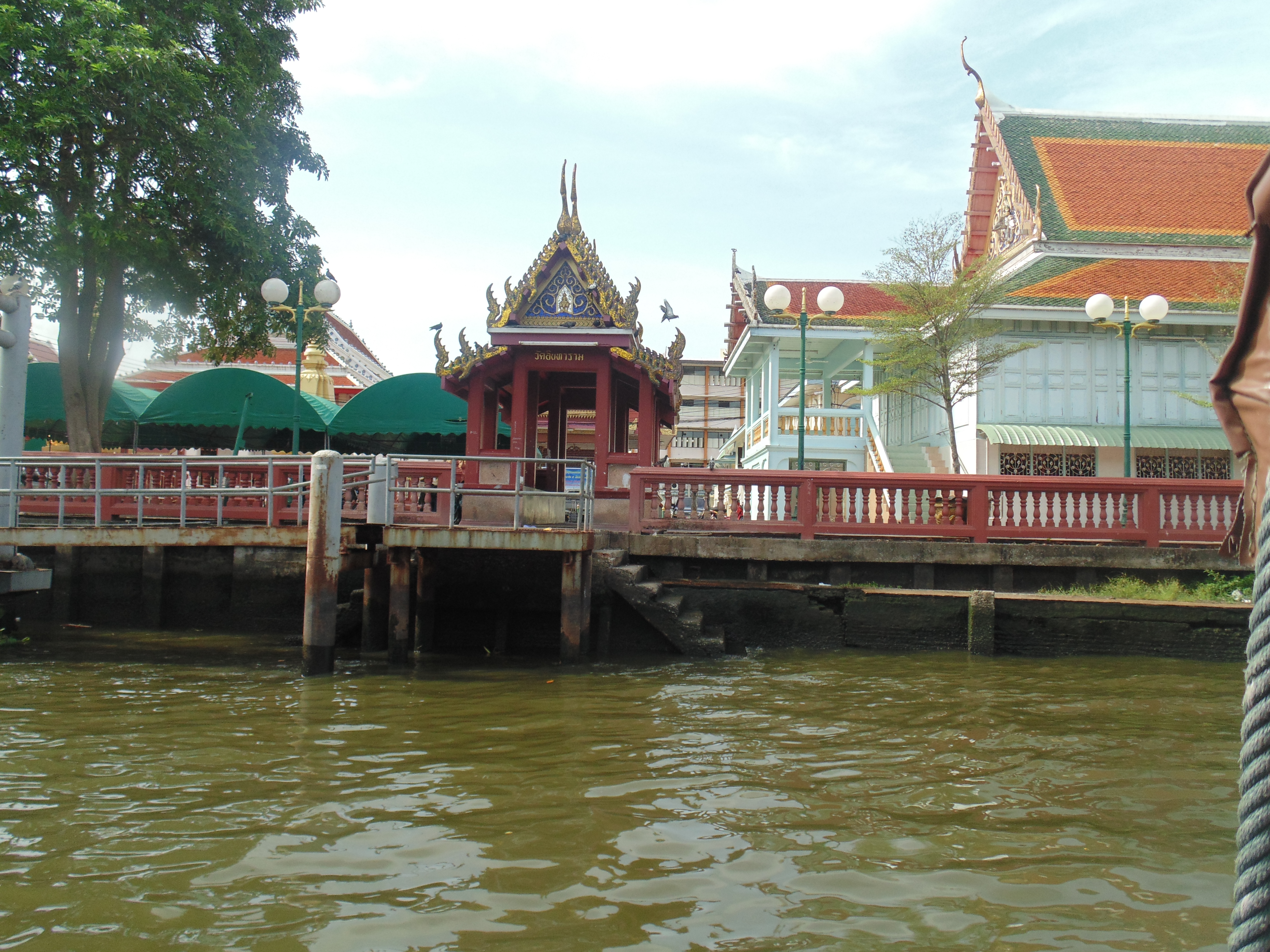 The scenic boat ride from the Lek Silom Pier up the Chao Phraya River to Yai Canal which passes the Grand Palace and Temple of Dawn before dropping guests on the door step of the dock of Tam, owner and instructor of Amita Thai Cooking School is a fascinating journey.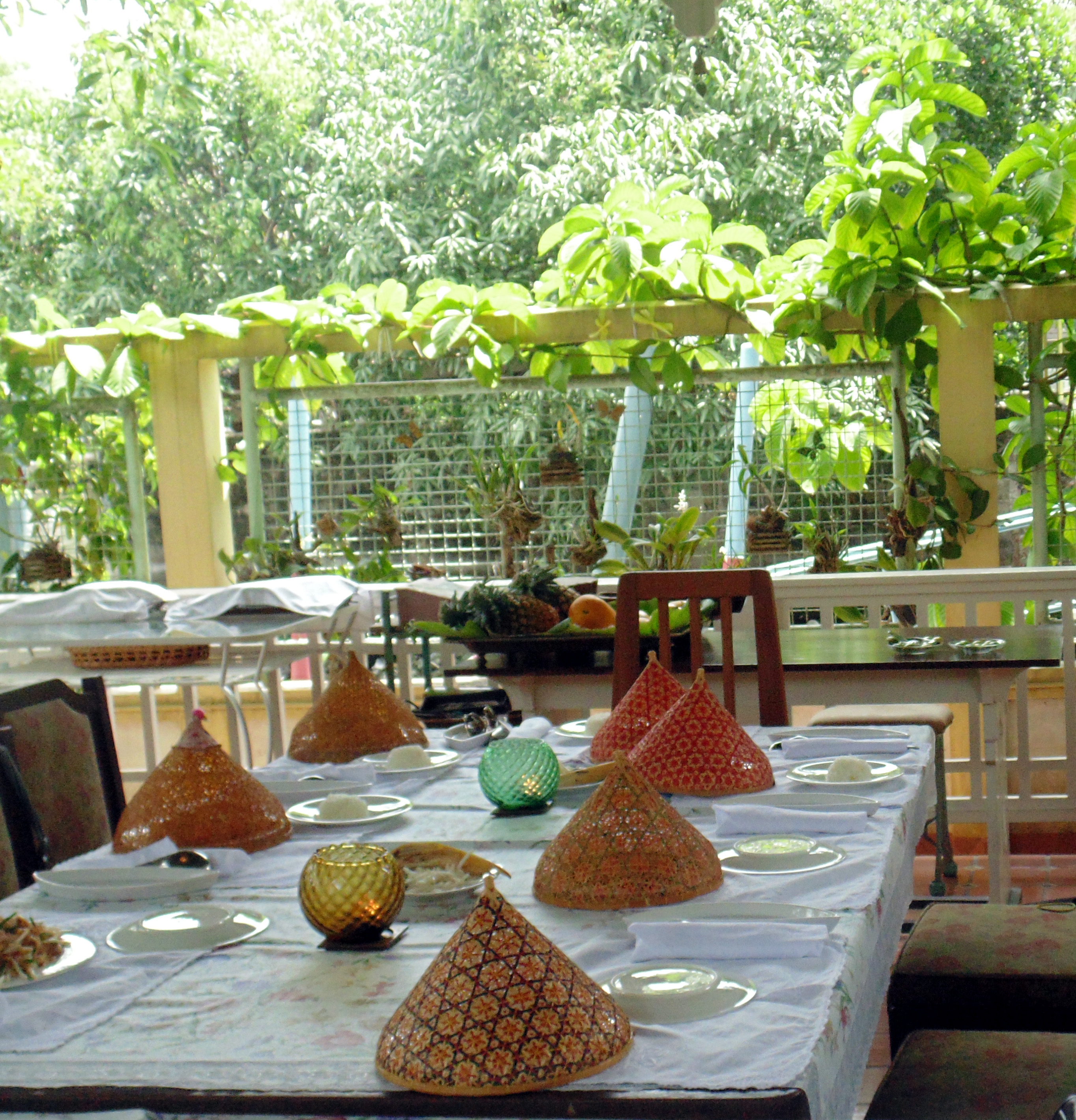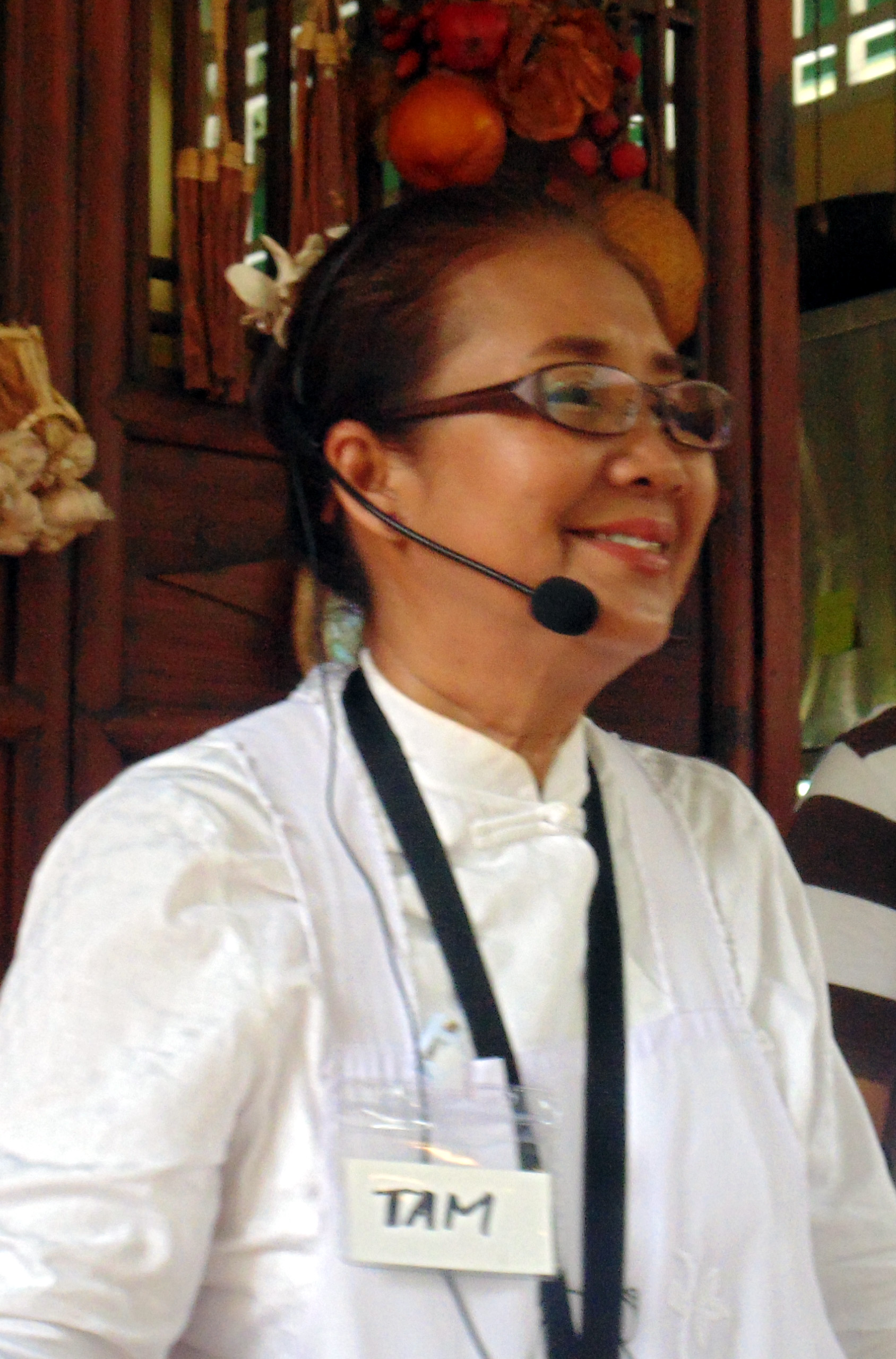 This beautiful French-Colonial style looking residence, which includes a lush garden, open kitchen, and verandah dining room becomes a magical venue that is considered by many to be the best Thai cooking class in Bangkok, where visitors study the many home grown ingredients used in Tam's recipes during a stroll through her garden to touch, taste and smell the plants vital to a perfect Thai recipe.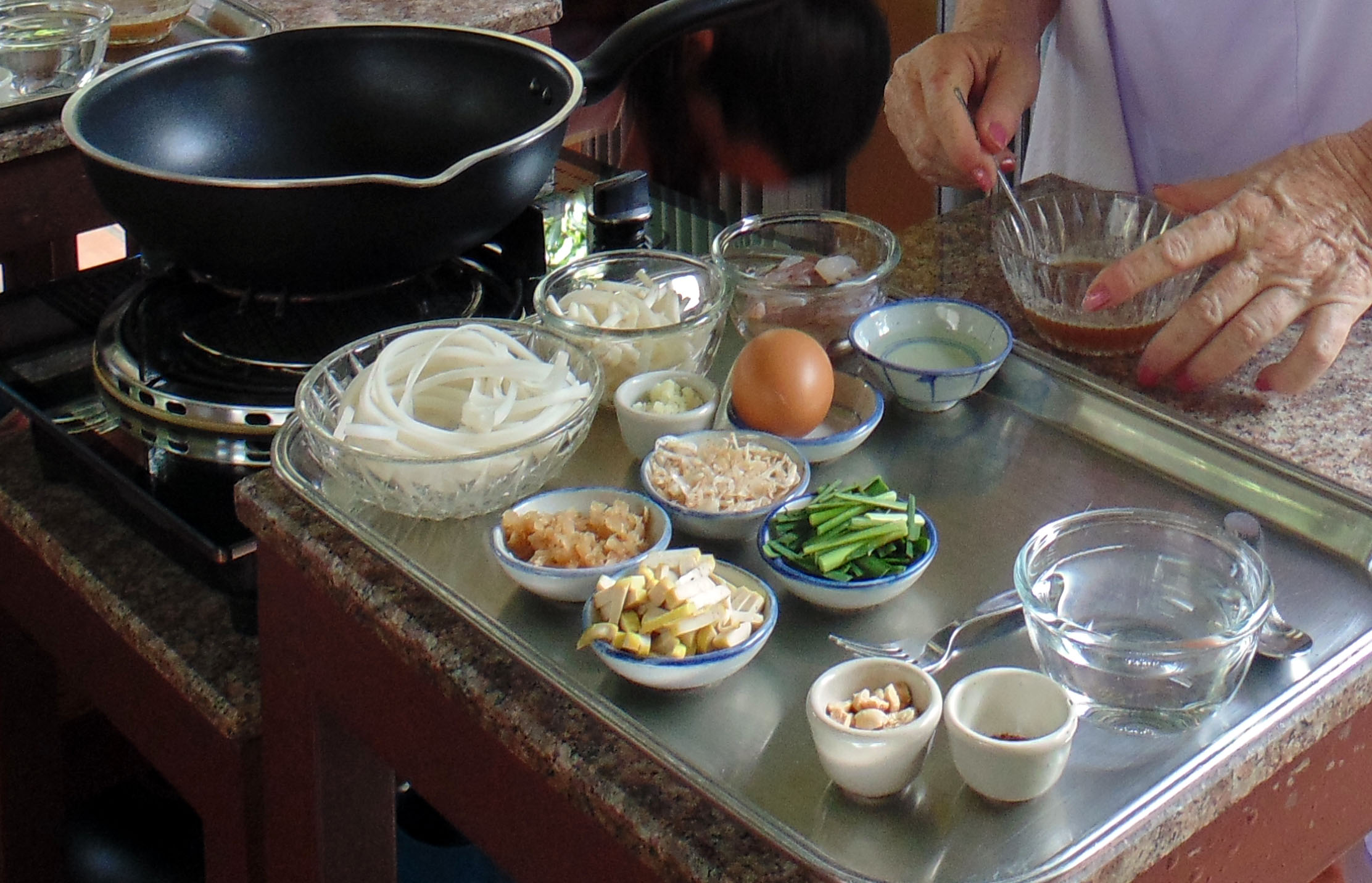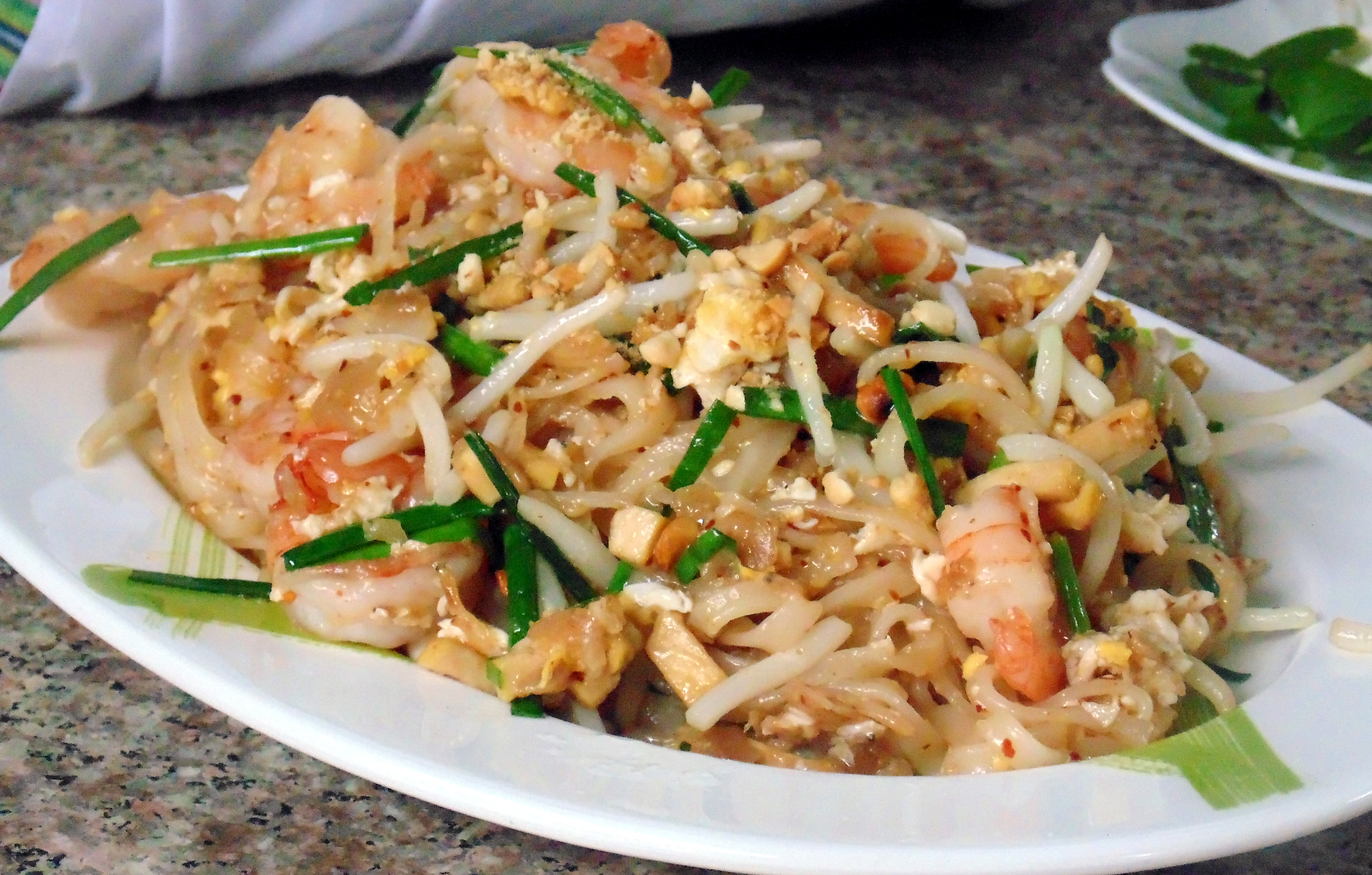 Guests are greeted at the boat by the Amita staff and enjoy a lovely lemon-grass tea before the class moves into an open kitchen area where each student has their own work station with a stove, where they will attempt to duplicate dishes being demonstrated by Tam and her staff.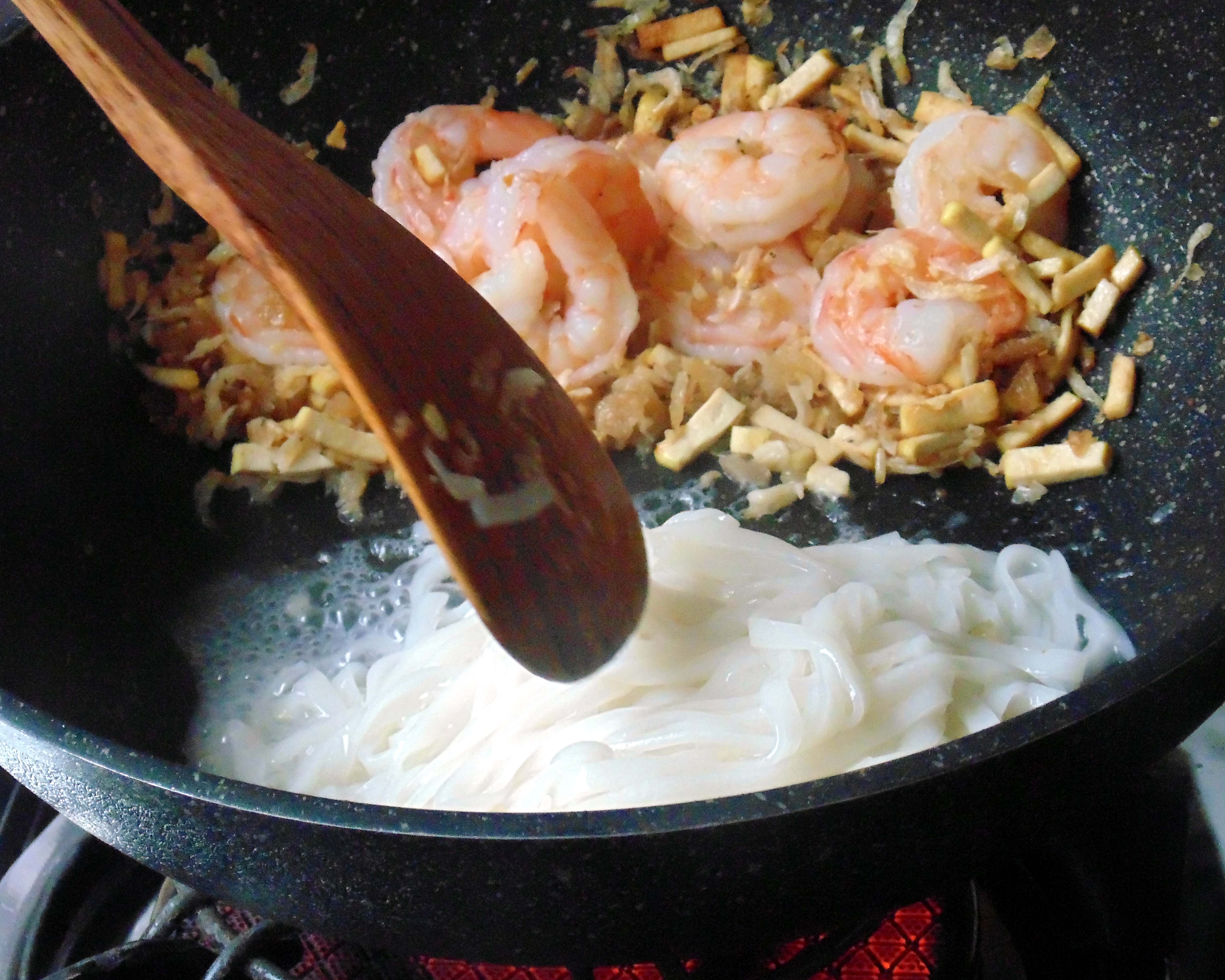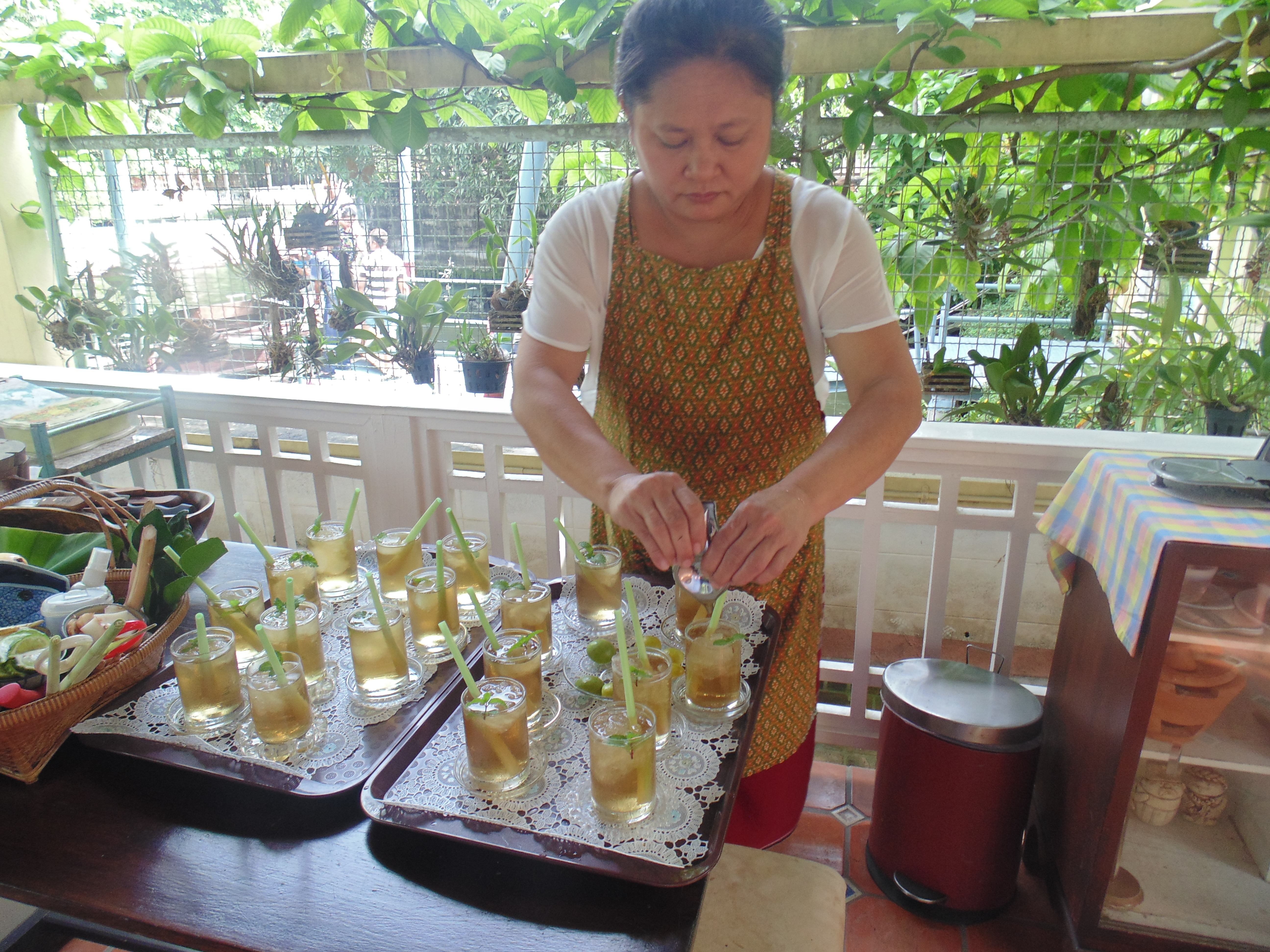 Following an explanation of the recipe ingredients Tam begins a step-by-step preparation of the recipe for the class, including every helpful detail, and a small sample taste before they begin cooking their own version of the dish. Pad Thai, stir-fried soft rice noodles with prawns and tamarind sauce and Tom Kha Gai, chicken in coconut soup were the dishes we were preparing during our visit to Amita.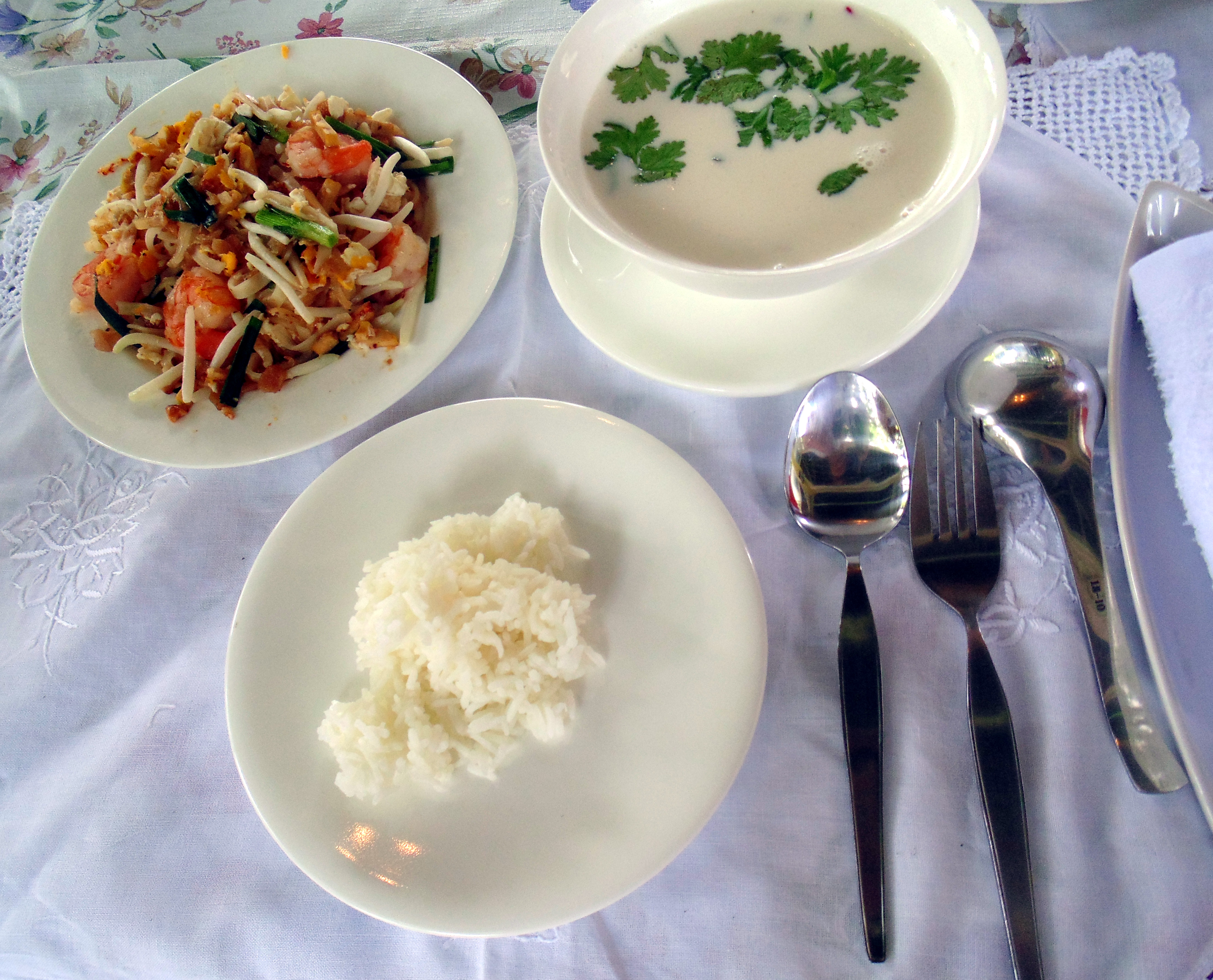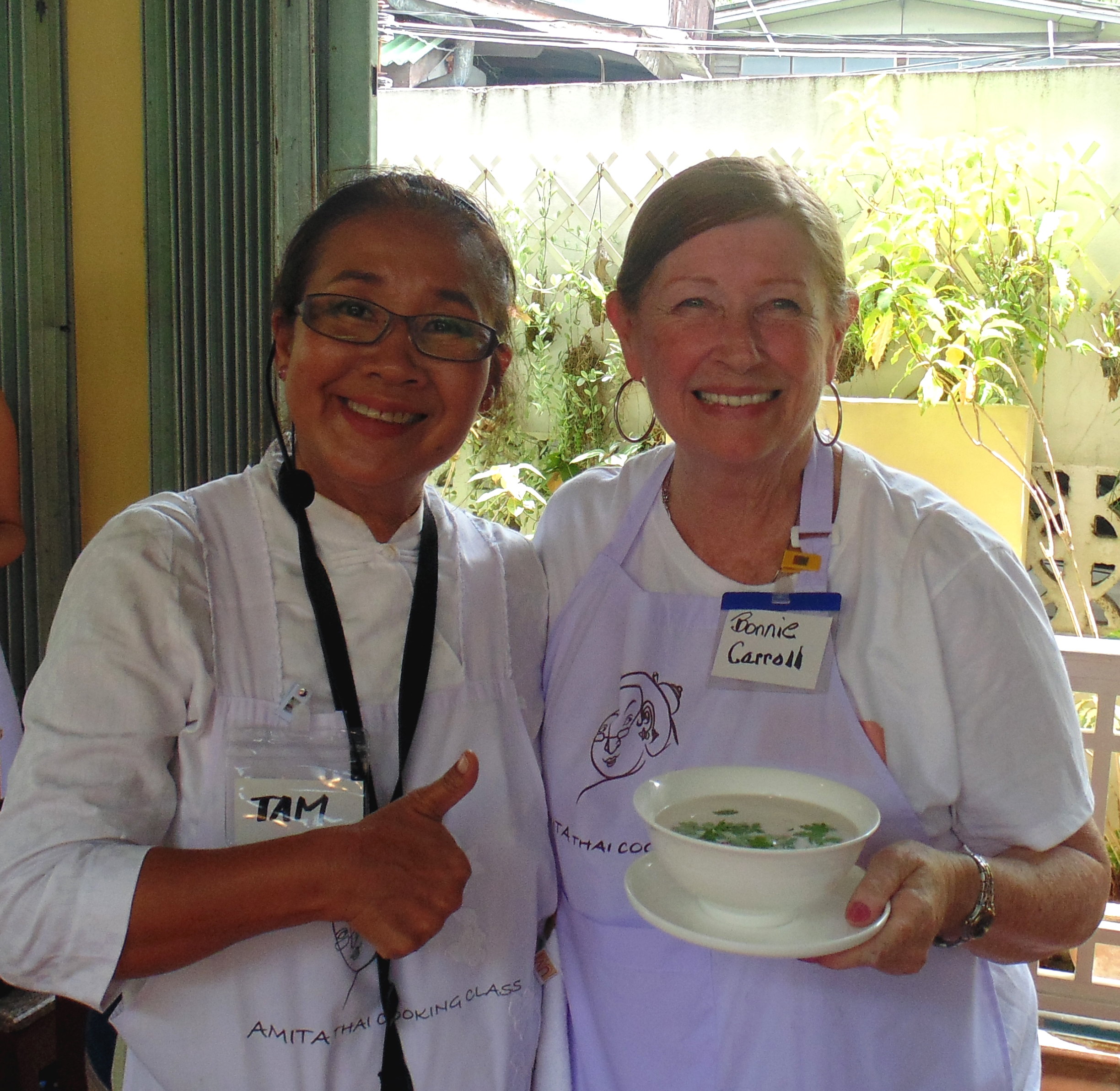 Each student, especially me, seemed delightfully surprised with the results of their labor, and that they had successfully duplicated Tam's recipes. The dishes were then taken to the Thai style verandah, where they were savored in a four course luncheon they had helped prepare. Below please find the Amita's recipe for Pad Thai that I hope you will enjoy in your own home. 
                                            PAD THAI
   Stir-fried Soft Rice Noodles with Prawns and Tamarind Sauce
Ingredients:
80 grams Thai rice noodles (soak 15-20 minutes in water)
4 prawns, shelled and deveined
1 egg
½ cup bean sprouts (soak 10 minutes in water)
2 tablespoons crushed roasted peanuts
1 tablespoon dried shrimps
1 tablespoon palm sugar
1 tablespoon fish sauce
2 tablespoons tamarind paste
1 teaspoon minced garlic
2 teaspoons chives cut in 1 ½ inches length
¼ cup soya bean curd, cut into small pieces
2 tablespoons fine chopped pickled white radish
4-5 tablespoons vegetable oil
1 teaspoon chili powder
Preparation:
1.     Mix fish sauce, palm sugar and tamarind paste in a bowl, set aside for seasoning sauce
2.     in a wok, fry minced garlic until light brown
3.     add pickled white radish, soya bean curd and dried shrimp
4.     add prawns and noodle and some water to soft the noodle. Season with seasoning sauce and stir well.
5.     add egg and stir
6.     add chives, roasted peanuts, chili powder and bean sprouts
7.     garnish with bean sprouts, lime slices and chives
Makes 1 Serving
So, If you are in Bangkok, have an interest in Thai Cooking, and want to spend an unforgettable afternoon in Tam's magical garden and kitchen her contact information is below.
AMITA THAI COOKING SCHOOL
+66 2 466 8966

______________________________________________________________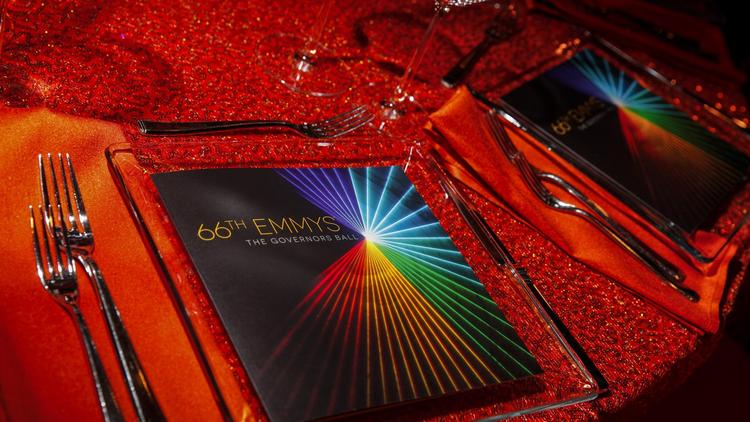 66th Emmy® Awards Governors Ball
by Bonnie Carroll
The West Hall of the Los Angeles Convention Center was completely transformed for the 66th Emmy Awards Governors Ball on August 25. The décor theme, "kaleidoscope of color," fused modern optics and lighting technologies with creative color concepts, fine dining and electrifying entertainment for nearly 4,000 guests.
Those responsible for the magnificent 66th Governors Ball included Russ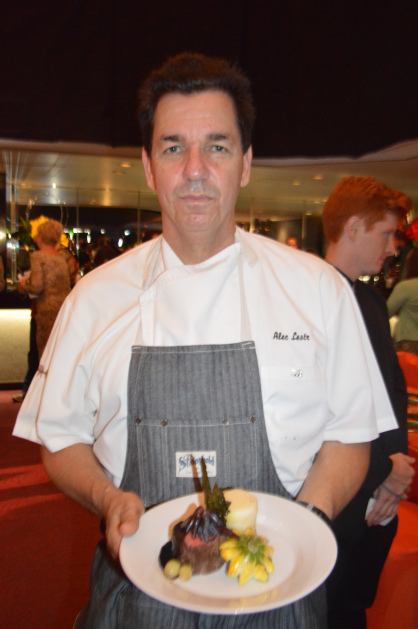 Patrick, Governors Ball Chair, Cheryl Cecchetto, Event Producer, Sequoia Productions; Alec Lestr, Executive Chef, Gregg Wiele, Corporate Executive Chef, and Carlos Enriquez, Pastry Chef, Patina Catering; Michael Patrick, Media & Entertainment Communications, Audi®, Jeffrey Stambor, Director of Winemaking at Beaulieu Vineyard®; Erika Chavez Graziano, Head Chocolatier at Cellar Door Chocolates, Extreme Beam, Governors Ball performers, and more.
WHAT THE STARS ATE .  .  . THE MENU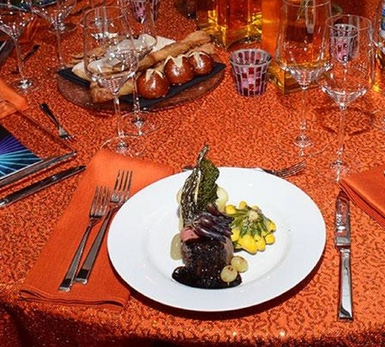 First Course
Grilled Peach and Heirloom Tomato Salad
Little gem lettuce, candy striped figs, burrata, honey vidalia, peppermint,
basil, toasted Marcona almonds, fleur de sel
Main Course
Filet of beef, artisan grapes, Idaho 90 potato "bone," zephyr squash,
caramelized cippolini, crisp lacinato kale
Dessert
Chocolate S'mores
Alunga™ whipped ganache, torched marshmallow fluff, graham crumble,
Inaya™ chocolate pop rocks
Wines
2013 Beaulieu Vineyard® Maestro Collection Sauvignon Blanc
2011 Beaulieu Vineyard Georges de Latour Private Reserve Cabernet
Sauvignon
2012 Beaulieu Vineyard Maestro Collection Napa Valley Port and NV Muscat
de Beaulieu will be served at the bars.
66th Emmy® Awards Governors Ball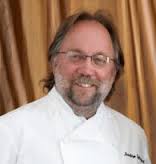 For your home enjoyment please find below the main course recipe by Chef and Founder, Joachim Splichal of Patina Restaurant Group.  Serves 6.
Main Course - Filet of beef, artisan grapes,  Idaho 90 potato "bone", zephyr squash, caramelized cippolini, crisp lacinato kale
Ingredients:
2lbs. prime beef tenderloin
5 ounces olive oil
6 medium sized russet potatoes, 4 ½ inches in length
2 large Yukon gold potatoes
2 cup milk
5 ounces butter
6 zephyr squash
½ ounce fresh basil, cut in strips
8 leaves kale
3 ounces olive oil
A pinch of nutritional yeast
6 cipollini onions
3 ounces witch fingers grapes
3 ounces cotton candy grapes
4 tablespoons finely chopped onion
1 clove garlic, smashed
1 cup red wine
1 tsp Dijon mustard
Preparation for the beef:
 Season the beef with salt and pepper, and sear in a pan
with 2 ounces olive oil, until caramelized on all sides
 Place in oven, and cook to an internal temperature of 128 degrees
 Remove from oven and let rest 5 minutes
Preparations for the red wine sauce:
 Sauté the 4 tbsp. finely chopped onion over low heat for 2 minutes,
then pour in the red wine  Add the smashed garlic and 1 branch of the thyme,
raise the heat, and cook until the wine is reduced by half
 Remove the pan from heat and stir in 3 ounces butter, followed by the mustard.
 Season with salt and pepper
Preparation for the potatoes:
Bake the Yukon gold potatoes until cooked through, peel and pass through
a strainer or food mill, and place in a saucepot
 Add milk until potatoes have the consistency of mashed potatoes
Add butter, salt and pepper and set aside
Trim the russet potatoes into bone-shaped cylinders, place in a saucepot
covered with cold water, and cook very slowly until the potatoes are just barely
cooked  Let cool and carefully hollow out the center with a small spoon
 Season with salt and pepper, and fill with mashed potatoes. www.patina.com
---