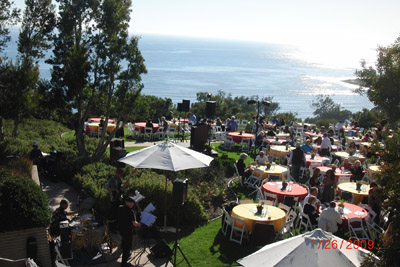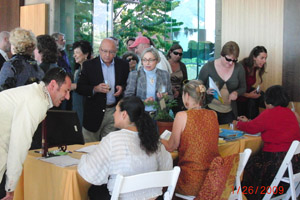 THE FUND FOR SANTA BARBARA 17TH ANNUAL BREAD & ROSES DINNER   by Bonnie Carroll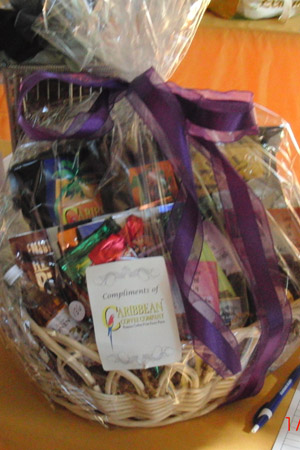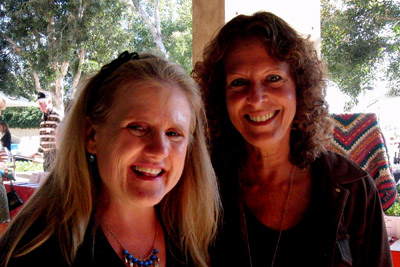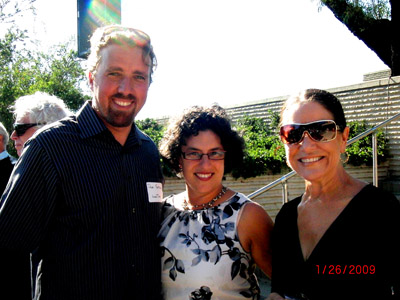 The 17th Annual Fund for Santa Barbara Dinner & Auction attracted a huge crowd to their September 19th event at the QAD. Hundreds of people enjoyed food and beverages from local business owners. An auction offering wonderful gift items, and a wonderful live auction that included trips to Europe, a week on Kauai, six nights in Tuscany, Platinum Passes to the 26th Annual Santa Barbara International Film Festival and more.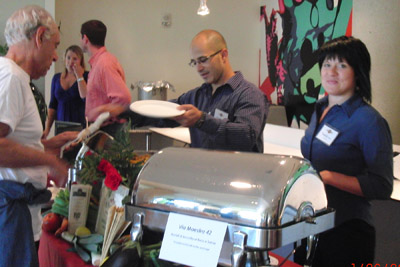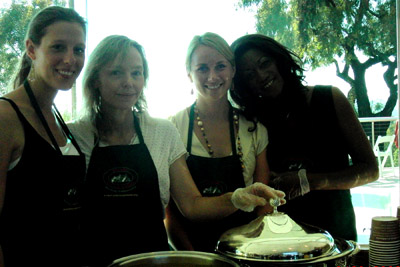 Proceeds from the event benefit The Fund for Santa Barbarqa's Grant Making and Technical Assistance Programs, which support grassroots organizations working for social, economic, environmental and political change throughout Santa Barbara County.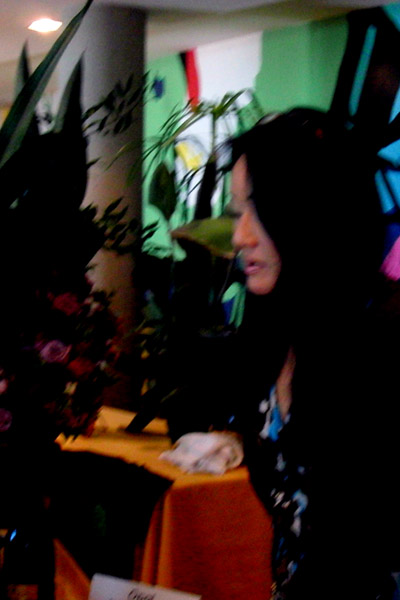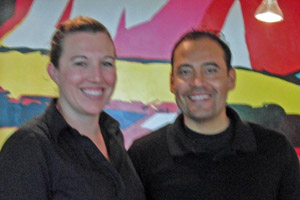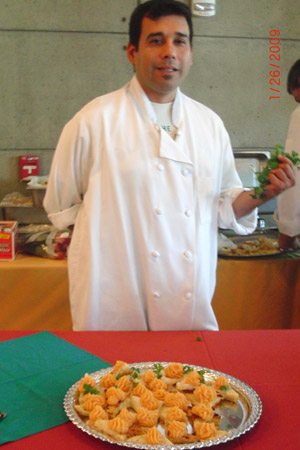 Food and wine sponsors included Hollister Brewing Company, Jade, Louies California Bistro, Omni Fresco Catering, Opal Restaruant & Bar, Del Pueblo Cafe, Organic Soup Kitchen, Pascucci's, Soho, SB Museum Cafe, Via Maestra 42, The Good Cookie, and Wine Cask.
Wine & Spirits were provided by ExCellars Wine Agencies, Inc., Kalyra, Alma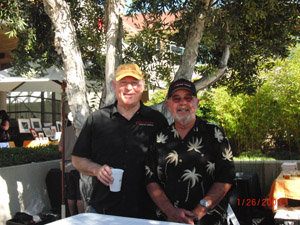 Rosa Winery & Vineyards, Buttonwood Farm Winery, Flying Goat Cellars, New Vineland, Hollister Brewing Company, and Caribbean Coffee Company.
Live music, great food and drinks, and one of the best groups of people in town, along with a breathtaking ocean view made this a memorable occasion for all who attended, including Mayor Helene Schneider and a bevy of community leaders.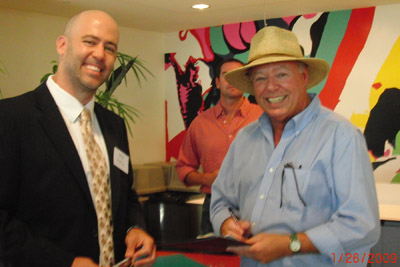 Geoff Greene, Executive Director greeted guests personally at the door and welcomed all to participate in the auctions. Richard Mineards, social columnist for the Monetcito Journal was on hand to interview Geoff and the guests who were in attendance. Members of the SB Independent, noozhawk.com, Classic Party Rentals, Danielle Siano Graphic Design, Easy Lift Transportation, EdHat.com., Harrington Investments, Healing Grounds Nursery, Island Seed & Feed, McGowan Guntermann, Montecito Bank & Trust, Mullen & Henzell, Planet Solar, The Towbes Group, Inc., Walden Asset Management, Robobank, Verizon, Sage, Coastal Management, Brownstein/Hyatt Farber/Schreck, Seiu Radio, Decker's, Santa Barbara Foundation, Hutton Foundation, Ameriprise, Green Project Consultants, all sponsors for the event were there in force taking photos and enjoying the day For additional information visit www.thesantabarbarafund.com..
_____________________________________________________________________

  BERNARD MCDONOUGH NAMED EXECUTIVE CHEF OF CUTTING-EDGE
HOTEL OPENED SEPTEMBER IN SAN MIGUEL DE ALLENDE

TRADITIONAL DISHES BEING REINVENTED WITH CREATIVE TWISTS,
EXCITING NEW INGREDIENTS AND UNEXPECTED PRESENTATIONS
 
Hotel Matilda (www.hotelmatilda.com) has announced that Bernard McDonough has been named the Executive Chef of this iconoclastic boutique hotel in San Miguel de Allende which opened September 2010.
   
     At Restaurant Matilda, Chef McDonough is preparing comfort foods with creative twists, reinventing traditional dishes with exciting new ingredients and textures, and giving familiar and popular flavors a different persona with unexpected presentations. Underpinning the creativity and innovation is an unwavering commitment to traditional culinary techniques and to cuisine that is seasonal and ingredient driven. He has gone to unsurpassed lengths to find and procure the finest locally sourced ingredients, including establishing partnerships with artisanal food producers, developing organic gardens and even obtaining facilities to produce unavailable food products.

    "In creating inspiring cuisine that is both delicious and healthy, there is no detail too small, whether we are preparing an elaborate entrée or the simplest menu item," explained Chef McDonough. "Take our morning biscuits: they are made fresh daily using organic flour and locally sourced organic butter and buttermilk. The butter is seasoned with a delicately flavored artisanal sea salt from Baja. The preserves are made in small batches from recipes that have been passed down for generations using either rare indigenous fruits or heirloom varieties grown just for us and sweetened with organic cane sugar."


Chef McDonough comes to Hotel Matilda with 20 years of diverse culinary experience, notably as Executive Chef with private clubs that emphasized world-class cuisine for an exclusive membership. Most recently, he was Executive Chef of the Snake River Sporting Club, Jackson Hole, Wyoming;  previously he was Executive Chef at the Turks and Caicos Sporting Club, Ambergris Cay, Turks and Caicos, and at the historic Ford Plantation, Richmond Hill, Georgia.

    Restaurant Matilda is a blend of time-honored traditional foods and techniques and today's innovative culinary artistry. Chef McDonough builds upon classical American, Continental and Latin American cooking with the latest trends and global influences. The result is a menu that delights a cross-section of palettes, from those who enjoy traditional comfort foods to sophisticated and adventurous diners.

    Chef McDonough spent months researching, sampling and testing to determine the highest quality and freshest ingredients available in the region. He established partnerships – with small, specialty local food producers, organic farmers, ranchers and dairies – to procure and produce all his ingredients. A key partnership is with Via Organica, a non-profit organization where the hotel became a sponsor of the organic farm school and acquired a large garden that is providing specialty organic produce such as heirloom tomatoes, baby vegetables, lettuces and herbs. The Chef is using the facilities of several local entities to create his own European-style dry-cured meats and sausages as well as home-made artisanal cheeses made from raw, organic sheep, cow and goat's milk. An emphasis on such proven techniques as charcuterie, smoking, canning, pickling and preserving allows the restaurant to take advantage of seasonal foods as well as those grown in the chef's own rooftop garden. Some ingredients are being sourced from further a field such as the unique salt offered at the restaurant tables, Sal de Manantial, which comes from an ancient dried lake near Mexico City.
For more information on Hotel Matilda and reservations:  info@hotelmatilda.com, 1-800-Matilda, or (011) (52) 415-152-10-15. 
http://www.hotelmatilda.com
____________________________________________________________________
 NEW FOUR SEASONS OPENS IN WESTLAKE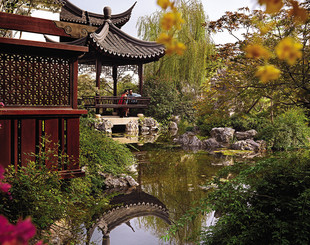 Four Seasons Hotels and Resorts prepares to expand its China collection with the

opening of Four Seasons Hotel Hangzhou at Westlake, the hotel is welcoming the newest addition to its team, Executive Sous-Chef, Tan Chwee Chan. Tan Chwee Chan will bring his culinary expertise to oversee the hotel's WLB (Westlake Bistrol Restaurant as well as the Lobby Lounge and Bar and In-Room Dining. Known for sourcing his ingredients locally whenever possible, guests looking to dine at the hotel can expert savory signature dishes including Fried Shrimps with Longjing Tea (a local Hangzhou dish) and Pyramid Braised Soy Pork with Bamboo Shoots.
____________________________________________________________________
THE FOOD CHANNEL® RECAPS COVERAGE OF SCHOOL NUTRITION ASSOCIATION ANNUAL NATIONAL CONFERENCE
Healthy products and innovations featured on the new foodchannelpro.com Web site
As part of the Web site's ongoing commitment to provide information to both consumers and the foodservice industry about events that help to shape the trends in food, The Food Channel (foodchannel.com and foodchannelpro.com ) crew conducted interviews and showcased products and innovations at the School Nutrition Association (SNA) Annual National Conference 2010 (ANC).
"The country is very tuned in to school nutrition right now," says Kay Logsdon, editor in chief of The Food Channel. "That's why we've made it a priority to bring our audience the latest news and products. Our stories highlight the people and the companies who are making a difference."
More than 5,000 school nutrition professionals from around the country visited the school nutrition industry's largest exhibit floor at the Dallas Convention Center during the 64th ANC. And at 760 exhibit booths, more than 340 companies showcased healthy, energy efficient and kid-friendly improvements in school nutrition.
With school nutrition professionals working hard to meet the goals of First Lady Michelle Obama's "Let's Move!" campaign, exhibitors stepped up to the challenge with new, healthier, kid-friendly products. Among the items seen this year were whole grain/multigrain products; fresh fruits and vegetables; low-fat dairy options such as flavored milks; peanut-free alternatives and healthy student favorites including whole-grain pizzas with low-fat cheese and low sodium toppings; zero trans fat, baked sweet potato fries and wedges; breaded whole-grain chicken products and high quality, calcium-rich ice cream.
The Food Channel's coverage of the event—which included daily reports, video interviews, photos and feature stories—was sponsored by the SNA and underwritten by Advance Food Company, Michael Foods , National Dairy Council, and Pinnacle Foods . Click here to see the full SNA coverage and photos from the event on The Food Channel's Facebook page.
For additional food news, trends, recipes, professional tips, and reviews visit www.foodchannel.com, or follow on Twitter at twitter.com/foodchannel and on Facebook at facebook.com/FoodChannel .
About The Food Channel
The Food Channel (www.foodchannel.com ) is a vibrant online community reaching foodies, food enthusiasts, chefs, and culinary students and professionals sharing a passion for all things food. The digital hotspot creates an intersection between enthusiasts and professionals, providing food trends, news, recipes and more. For more information, visit www.foodchannel.com.
____________________________________________________________________
LEGENDARY CHEFS RICK MOONEN & ANDRÉ ROCHAT TO HOST JEAN-LOUIS PALLADIN FUND DINNER ON SUNDAY, OCT. 17

8th Annual Benefit Dinner to be Held at Rick Moonen's rm seafood at Mandalay Bay
as part of the Friends of James Beard program
Rick Moonen's rm seafood is pleased to announce a dinner in honor of famed chef and mentor, Jean-Louis Palladin on Sunday, Oct. 17, 2010.  As is tradition with previous Jean-Louis Palladin dinners, Chefs Rick Moonen and André Rochat have invited chefs and friends of the late Chef Jean-Louis to create a magnificent meal to please even the most discerning gourmands.
This year's dinner features formidable talent including Rick Moonen, Adam Sobel and Gerald Chin (Rick Moonen's rm seafood), André Rochat and Gary LaMorte (André's and Alizé), Mark Hopper (Bouchon), Luciano Pellegrino (Valentino), Vincent Pouessel (Aureole), Barry Dakake and Geno Bernardo (N9NE/Nove), David Werly (Le Cirque), Martin Heierling (Sensi/Silk Road), Hugo Coudurier (Restaurant Guy Savoy), Jean Joho and Joung Sohn (Eiffel Tower Restaurant), Michael and Wendy Jordan (Rosemary's) with desserts by Megan Romano (Aureole) and Michelle Lee (Rick Moonen's rm seafood) and wines provided by Wirtz Beverage.  All the dishes for the evening are recipes prepared from the Palladin's legendary book, "Cooking with the Seasons."  A complete menu is available upon request. 
The evening will begin with a cocktail reception and auction preview at 5 p.m., with dinner at 6 p.m., in the upstairs dining room of Rick Moonen's rm seafood.  Celebrity journalist Robin Leach will emcee the event alongside hosts Chefs Rick Moonen and André Rochat.  Tickets are $295 per person and proceeds benefit the Jean-Louis Palladin Fund of the James Beard Foundation
For reservations, please contact Melissa Eichelberger with Rick Moonen's rm seafood at (702) 632-9300 or melissa@rmseafood.com and reference the Jean Louis Palladin dinner.
ABOUT CHEF JEAN-LOUIS PALLADIN
Chef Jean-Louis Palladin is considered one of the culinary geniuses of the 20th century.  He was a master of his craft, known for his creativity, passion, technique, and commitment to the very best. Jean-Louis was as much a teacher as a chef, encouraging and mentoring many while demanding perfection of himself and all around him. He was funny, laughed easily, and embraced life fully.  The James Beard Foundation is proud to offer the Jean-Louis Palladin Professional Work/Study Grant. Created to perpetuate the mission and programs of the Jean-Louis Palladin Foundation, the initiative will provide a series of annual grants of up to $10,000 to working chefs.  This grant will allow recipients to spend time learning from and working with master growers, producers, and food artisans; to toil alongside renowned chefs in America and abroad; and to study varied specialized skills.  For more information http://www.jamesbeard.org/index.php?q=education_jlp_main.
ABOUT THE JAMES BEARD FOUNDATION
There's something delicious happening every day at the James Beard Foundation. Our diverse programs include workshops, classes, conferences, readings, and other educational experiences that help people learn about and engage with food.  We offer scholarships to culinary students who need financial support to pursue careers in the food and beverage industry.  We invite chefs to participate in events at the James Beard House in New York City and at events abroad to allow people to experience America's dynamic cuisine first hand.  We also administer the annual James Beard Foundation Awards, which recognize and honor excellence among chefs, cookbook authors, food journalists, restaurant designers, and others working in the food and beverage industry. For more information www.jamesbeard.org.
____________________________________________________________________
                    THANKSGIVING TURKEY WITH TEQUILA
Maestro DOBEL Tequila Thanksgiving Turkey
1, 26lb Turkey

1, Roasting Bag with tie

1 Cup of cranberry juice

2 Granny smith apples quartered

1 White onion quartered

3 Cups Maestro DOBEL tequila

1 Lemon quartered

1 Orange quartered

1 Teaspoon of kosher salt and pepper to taste

2 Sticks unsalted butter, cut into 1-inch wedges

2 Cups of brown sugar

1 Cup of honey

2 Teaspoons of garlic salt

1 Cup of fine chopped walnuts

1 Cup of fine chipped dried cranberries

Fresh Sage and Thyme bundle
 How to make Maestro DOBEL Tequila Thanksgiving Turkey
Preheat over to 325 degrees F

Wash turkey well and pat dry then set turkey in roasting bag next set into roasting pan

How to make the turkey rub

Mix 2 cups of brown sugar, 1 cup of Maestro DOBEL Tequila, and 1 cup of cranberry juice in a large bowl

Add 1 cup of fine chopped walnuts and 1 cup of fine chopped dried cranberries to brown sugar and tequila and cranberry mixture. Set turkey rub mixture aside

Next, stuff cavity of the turkey with 1 lemon quartered, 1 orange quartered, 2 granny smith apples quartered, and 1 white onion quartered. Add Fresh sage and thyme bundle

Pour 1 cup of honey over the top of turkey, add salt and pepper to taste, and 2 teaspoons of garlic salt to the top of turkey

Cut 2 sticks of butter into half inch pieces and place around the bottom of the turkey in the bag

Inject one cup of Maestro DOBEL tequila into the turkey

Pour one cup of Maestro DOBEL tequila over the turkey in the roasting bag

Place turkey in a roasting pan and bake for 5 hours

Easy Gravy

Strain the juices that have accumulated in the bag, skim off any fat, pour the turkey drippings into pan, add cup of flour and salt and pepper to taste. Stir on med. Heat until all the flour is mixed well

Your Maestro DOBEL Tequila Turkey is ready!!!



________________________________________________________
---