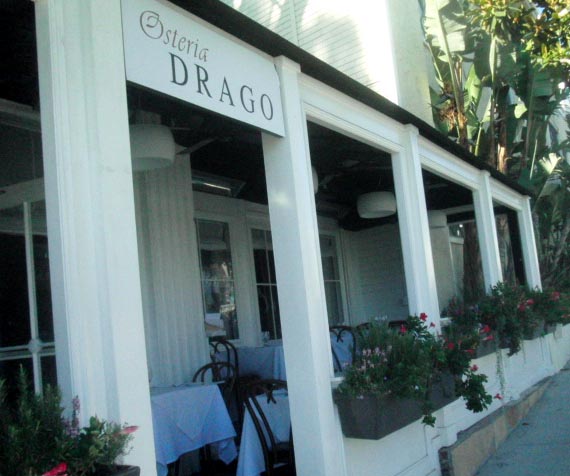 OSTERIA DRAGO
'Drago Dynasty' Restaurant on Sunset A Dining Delight
By Bonnie Carroll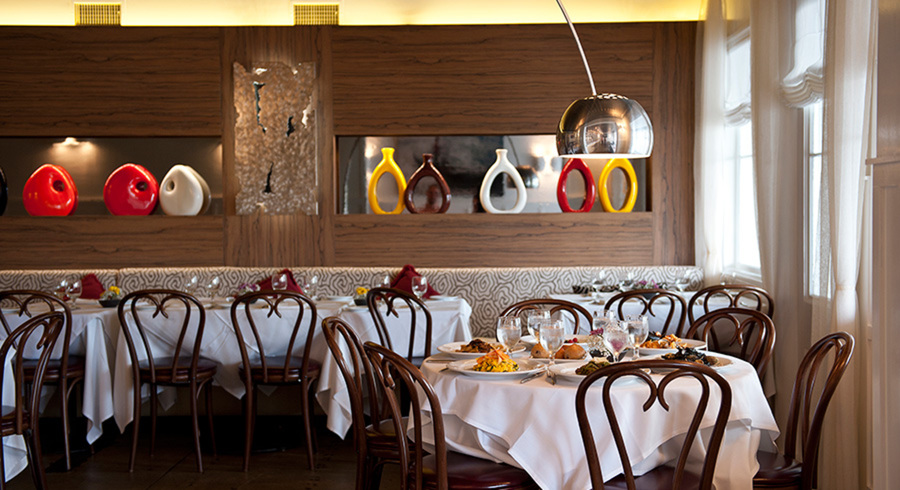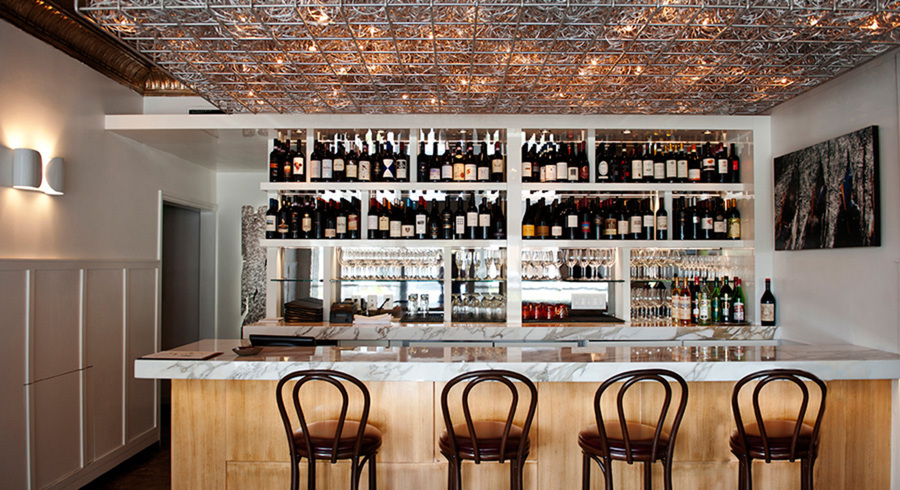 Well, the 'Drago Dynesty' boys have done it again with a charming restaurant at 8741 W.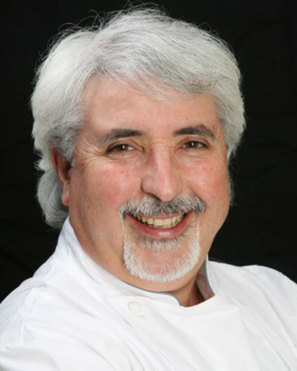 Sunset Boulevard in West Hollywood. First view is a lovely open patio area,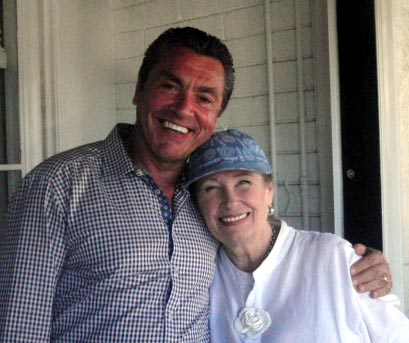 where diners watch all the action on the boulevard while enjoying some of the best Italian dishes to be had in Los Angeles. According to Osteria Drago managing partner Rinaldo Colantoni, who first met Celestino Drago when he showed up at Osteria Romana Orsini in 1977. "He arrived straight from Sicily, carrying a suitcase and looking for a job" said Colantoni. These two talented Italians shared a bachelor apartment, and became great friends and business associates through the years.
Following Celestino's chef stint at Osteria Romana Orsini, he opened his first restaurant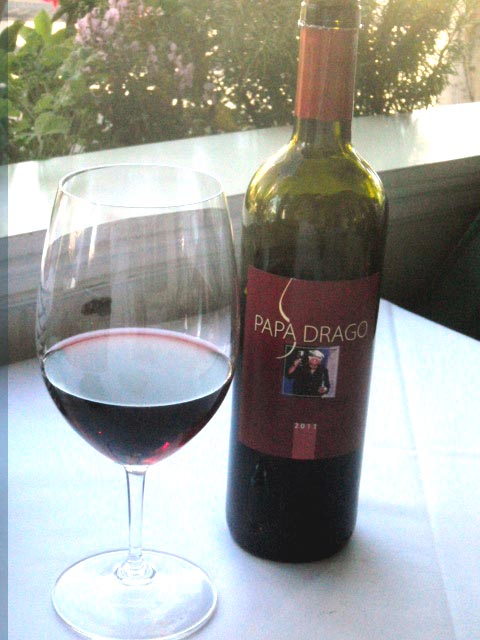 Celestino in the 80s (which later closed and was reborn in Pasadena in 2011 under the same name). The rest is fine Italian dining in Los Angeles history. The Drago brothers Celestino, Tanino, Calogero and Giocomino have created an outstanding collection of distinctive fine dining restaurants. Centro Drago, Downtown, Yojisan Via Alloro and Il Pastaio in Beverly Hills, Shu, Sushi House Unico in the Beverly Glen, Celestino in Pasadena and Osteria Drago,which opened in West Hollywood in 2012 are among their dining dynasty. They also now have a line of specialty Italian foods, and wine made in Sicily "Papa Drago" which is poured in their restaurants.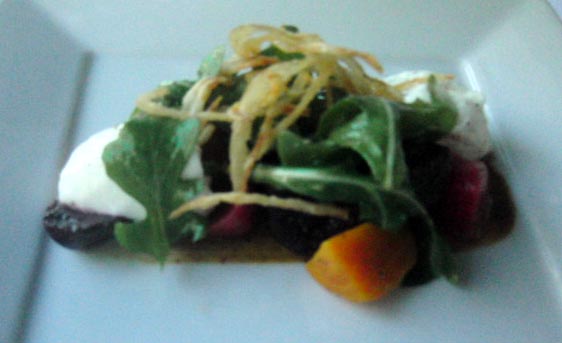 Osteria Drago has off street patio dining, as well as an inviting little bar at the entrance. The main diningroom is filled with colorful Murano glass vases, and offers some small booths for more intimate dining. Appetizer and salad selections we enjoyed were Burrata con Barbabietole, Burrata cheese with baby beets, pistachios and white balsamic dressing or Insalata di Rucola, arugula with shaved baby artichokes and parmigiano cheese. Both dishes were both prepared with the freshest farm produce and were a delicious start memorable meal. The Drago family food philosophy is to source the highest quality seasonal produce "keep things simple" and let the ingredients be the stars.  
Pasta selections we tasted included Taglietelle al Ragu D'Agnello, fresh ribbon pasta with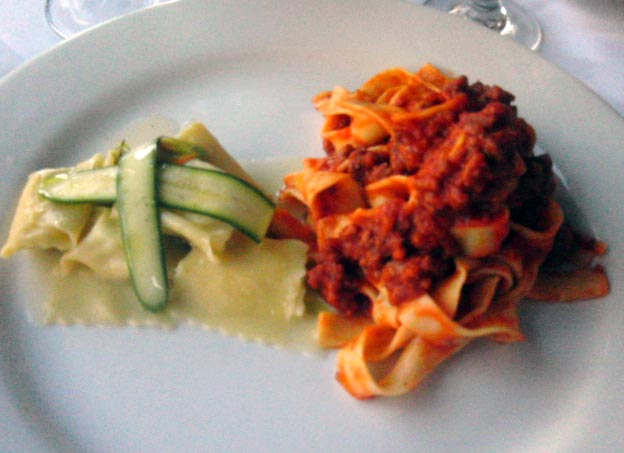 lamb ragu that is rich, full bodied and delicious. The Agnolotti di Mais, sweet corn filled agnolotte with butter glaze and zucchini flowers is very light and is one of my favorite Celestino recipe. I consider this dish one of the best on the planet. If I must ever select a last meal before going to the electric chair it would no doubt be Agnolotti di Mais.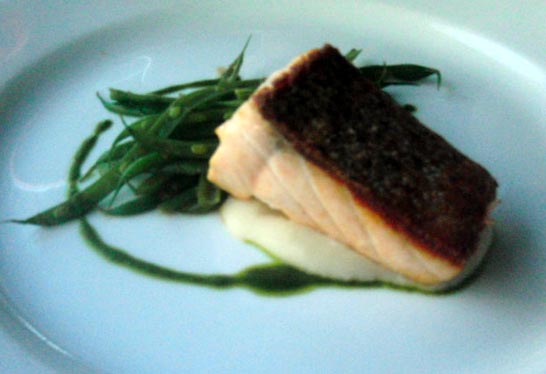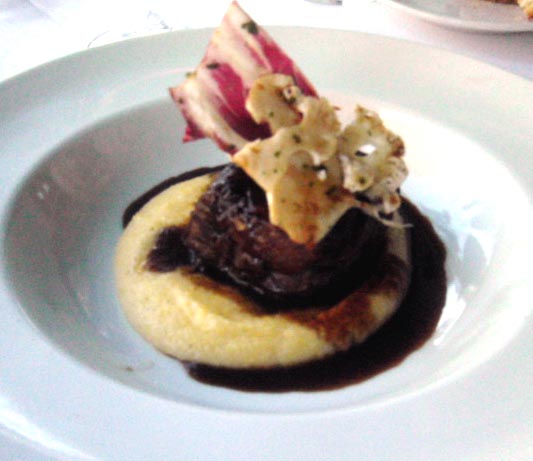 The pan seared salmon is an amazing surprise for fish lovers, and is served with cannellini bean puree, green beans and salsa verde. The salmon is perfectly cooked, with a crisp delicious top skin and the salsa provides a zesty punch. Brasato di Manzo con Polenta is such a special dish, featuring tenderly cooked short ribs with a rich gravy resting on a creamy polenta – so delicious!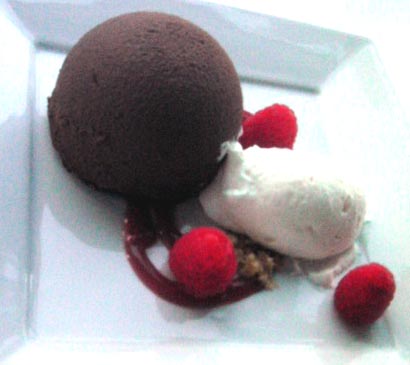 Sweet endings at Osteria Drago include tiramisu and popular Italian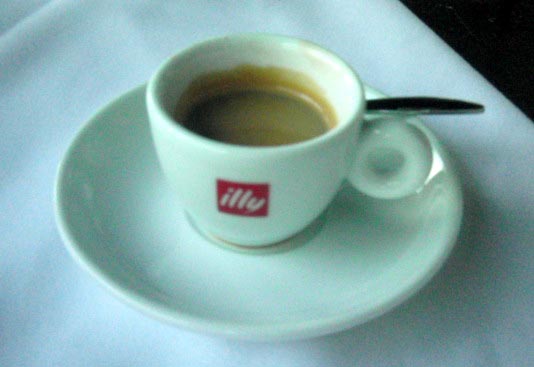 favorites, but we selected the Mousse de Cioccolato, a chocolate mousse ball filled with a raspberry jam and topped with fresh whipped cream that is amazing. For a light finish they serve a selection of wonderful gelato favors, and of course, it all ends well with a sweet little cup of Illy espresso. The ambiance is inviting and relaxing, which seems to be a solid thread of hospitality that runs through the entire Drago collection of restaurants.  Buon Appetito!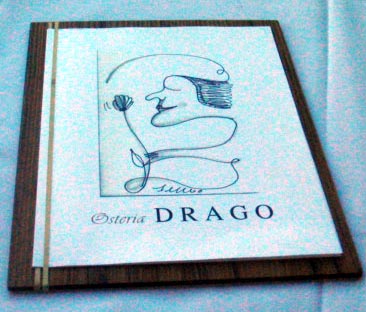 Osteria Drago  8741 W. Sunset Boulevard
West Hollywood, CA
310-657-1182
_____________________________________________________________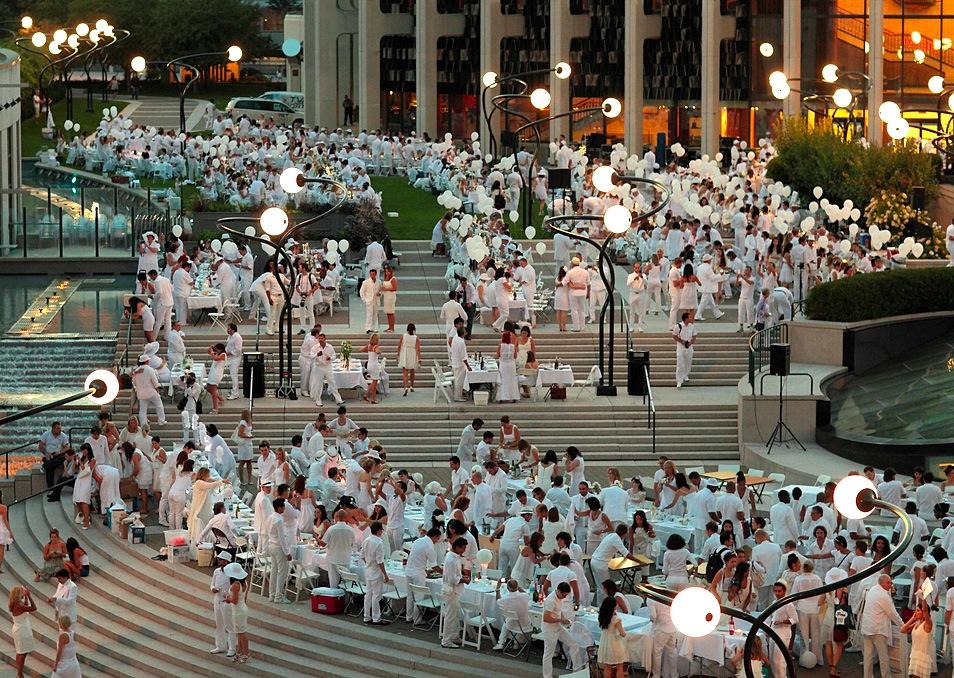 Le Diner en Blanc, the worldwide epicurean phenomenon, is now celebrating its 25th anniversary!

Launched by François Pasquier and his close friends 25 years ago, Paris' Dîner en Blanc now brings together over 10,000 people each year in some of the most prestigious locations throughout the French capital.
 
In the summer of 1988, Pasquier had just returned to Paris after a few years abroad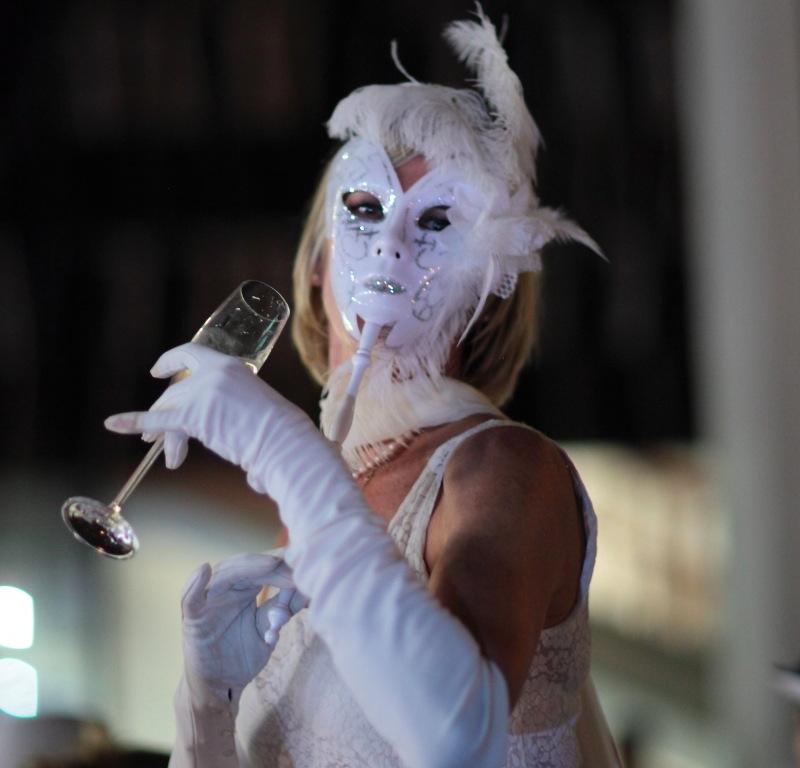 and held a dinner party to reconnect with friends. So many wished to attend that he asked them to convene at Bois de Boulogne dressed in white, so as to be recognizable to one another. Each attendee was also asked to bring a friend. The evening was such a hit that guests wanted more friends to join-in the following year and thus was born the concept of Dîner en Blanc.

In June 1991, four years after the event's debut, the founding group of friends decided to organize their Dîner in one of the French capital's most beautiful locations, Pont des Arts, in the heart of Paris (a first). Knowing fully well that local authorities would never allow such an event to take place there, keeping the location a secret until the very last minute was crucial to the success of the event.

The event goes on August 15, 2013. Please visit the site below for details visit: http://montreal.dinerenblanc.info/?locale=en_US.  __________________________________________________________
 KILLER SHRIMP OPENS IN SANTA BARBARA

Reel Deal for Beach Dwellers
by Bonnie Carroll 
Kevin Michaels and his partners have opened a new "Killer Shrimp" at 416 State Street in Santa Barbara, where their menu duplicates items that have been successfully served in their Marina del Rey venue for years. A restaurant concept that started twenty-five years ago was the brain child of Kevin's father over twenty years ago, and began as a one bowl concent in the Marina, where they only served bowls of Killer Shrimp with French bread, and had lines of people waiting around the block to savor the delicious recipe created by Kevin's dad Lee Michaels, renowned rock musician who performed with a milieu of great rock bands in the 70s.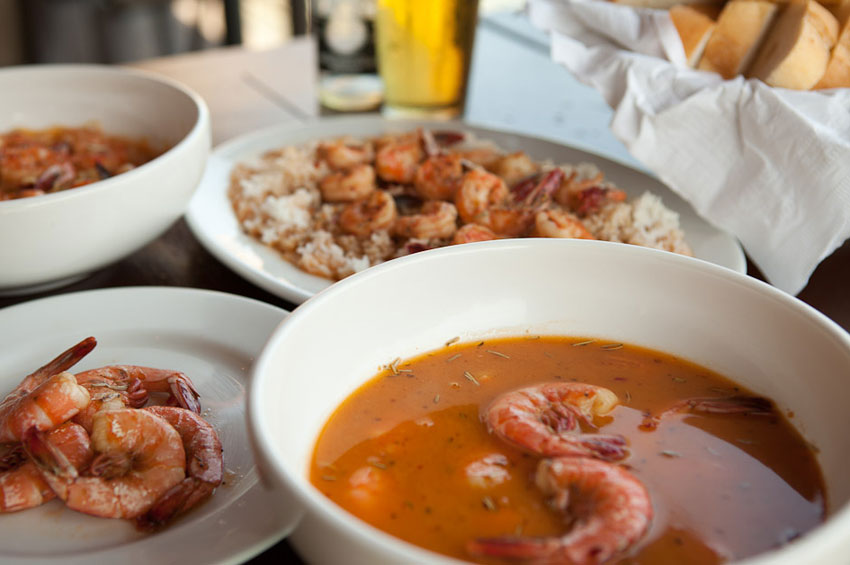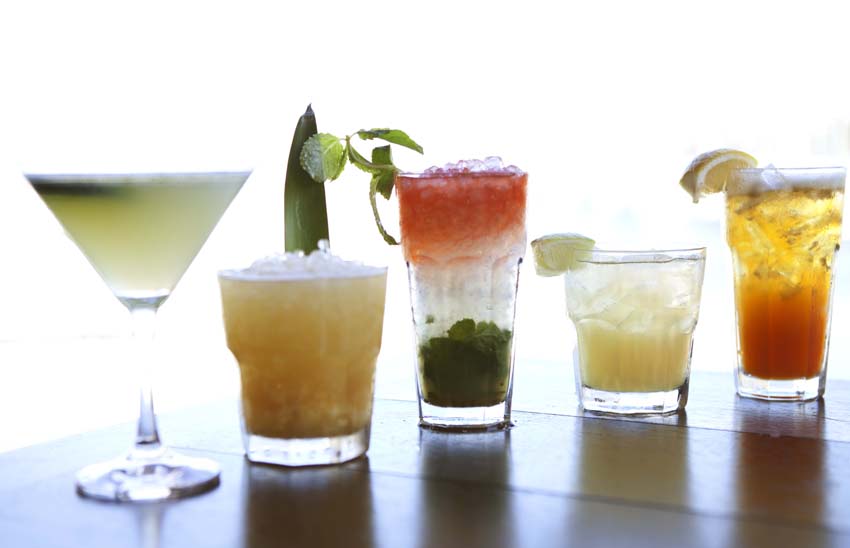 Growing up on the beach in Malibu, Kevin Michaels an avid surfer and his friends enjoyed his dad's recipes on the beach, and they are having great fun sharing these dishes with guests at Killer Shrimp. "We serve dishes that we know and like. Patrons seem to enjoy dishes on our menu, and the "Killer Shrimp" dish has put us on the map in Marina del Rey," said Michaels.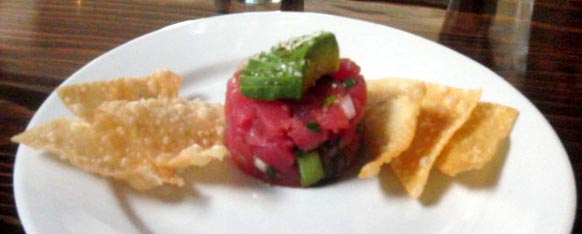 Huge and delicious shrimp for the "Killer Shrimp" bowls come from the Sea of Cortez area in Mexico. According to owner Michaels "this area in the Sea of Cortez is where you find the finest shrimp. Mexican shrimp from this area have just the right salt count and are perfect for our secret recipe," says Michaels. The recipe is a secret preparation Kevin's dad cooked up during family meals when Kevin and his brother were kids growing up on Point Dume, and this recipe is the foundation for the family business they run today.
The full menu in Santa Barbara includes a delicious warm seafood salad featuring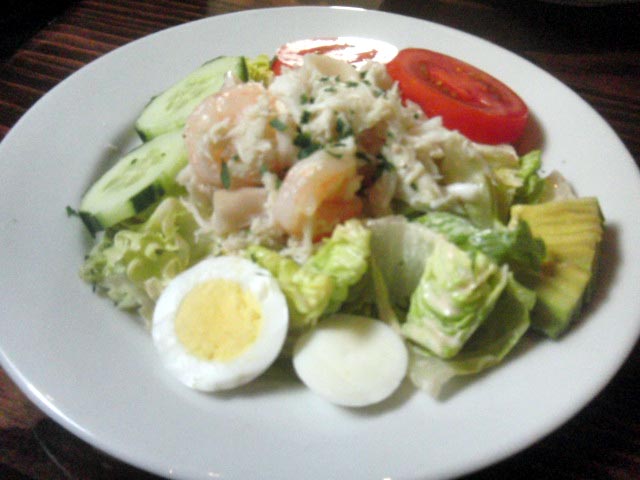 shrimp, calimari and crabmeat with lettuce, avocado, hard boiled egg, tomatoes and cucumber in a creamy warm dressing; a deliciously different mac & cheese; steamed mussels; crab cakes with hot or mild dipping sauce; ahi tuna with crisps; garlic mashed potatoes with scallops and capers in a buerre blank sauce that is outstanding, as well as steak, lobster, oysters, clams, salmon and so much more. The "Killer Shrimp" is also available over rice or angel hair pasta, on a sandwich with extra sauce for dunking and with mac & cheese.
Cocktails were designed by renowned mixologist Marcos Tello offer sips of popular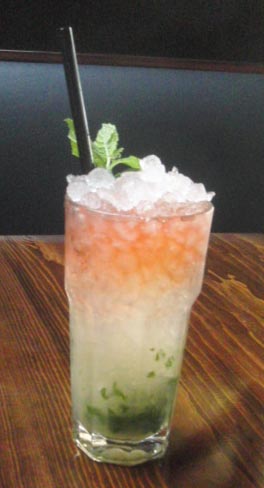 new herbal delights that have become so in trendy LA bars, and include the best ingredients in a visually exciting presentation. One of these amazing herbal inspired cocktails is a beautiful tri-colored mojito that is served with fresh muddled mint (this recipe is from the Queen's Park Hotel in the 1920's). The bar offers 20 beers on tap, a selection of wine and a treasure trove of 'man size" cocktails. Happy Hour at Killer Shrimp is a great value and a bowl of the delicious Killer Shrimp is only $15.00, and comes with a large basket of French bread. The entire restaurant menu offers great value for the price.
The huge restaurant venue offers a front patio, restaurant and bar and a private open air patio. During Fiesta week July 31-August 4 they will have live entertainment and welcome locals and visitors celebrating Fiesta in Santa Barbara to stop in and experience the "Killer Shrimp." Visit: www.killershrimp.com.
 Killer Shrimp - 416 State Street - Santa Barbara CA - (805) 284-9262 ___________________________________________________________
FABULOUS FOOD, FUN & LIVE ENTERTAINMENT
HEADLINE 55TH ANNUAL PASADENA GREEK FEST
"Celebrate… Eat… Live… Greek" With Something ForThe Entire Family
OUTDOOR FESTIVAL AT SANTA ANITA PARK IN ARCADIA, CA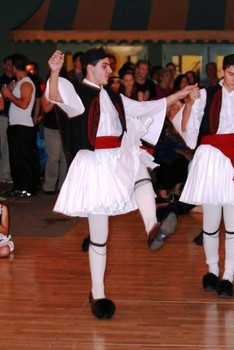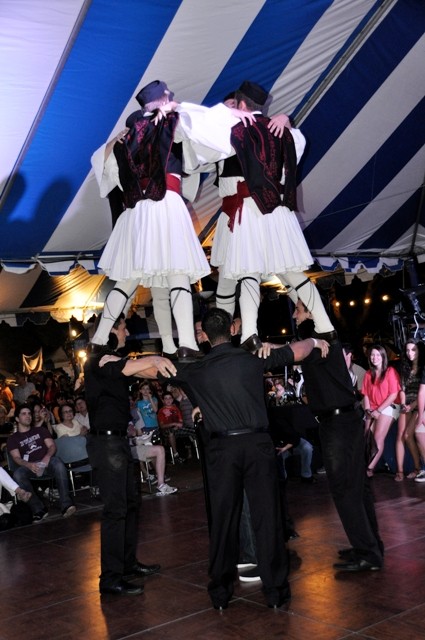 Southern  California's  preeminent Greek Festival, the 55th Annual Pasadena Greek Fest, sponsored by Santa Anita Park, Pasadena Star News, and Metaxa, invites the public to join the festivities in "all things Greek" at an endless summer fun event as the Los Angeles Greek community comes together on Friday-Sunday, September 20, 21 and 22, 2013 at Santa Anita Park in Arcadia, California, located at 285 W. Huntington Drive in Arcadia, CA  91107.
Greek Fest hours are from 5 p.m. to 1:00 a.m. on Friday, September 20, 2013; noon to 1:00 a.m. on Saturday, September 21, 2013; and on Sunday, September 22, 2013 from noon to 10 p.m.
The event is priced at $5 for adults and children under 12 years are free. Parking is $4 per car at the main entrance of Holly and Huntington Drive at Santa Anita Park.
"Pasadena Greek Fest offers one last chance to celebrate the end of summer. Take a trip with us as we transport you to Greece for a weekend. Enjoy food, wine, spirits, music and dancing! Visit our Hellenic Theater featuring culinary and cultural presentations.  There is so much to see, hear, taste, smell and feel, all your senses will be pleased" says Greek Fest Chairman Louis Kades.
Visit: www.pasadenagreekfest.org.                 ___________________________________________________________________

LOS ANGELES - With just a few short weeks before
THE TASTE
, takes over Paramount Pictures Studios, the
Los Angeles Times
has announced the rockstar roster of chefs, bartenders and restaurants participating in the annual Labor Day weekend celebration of the Southern California culinary scene. Each of the five unique events, taking place Friday, August 30th through Sunday, September 1st, will showcase the people, eats and trends at the heart of L.A.'s dining scene along with unlimited tastings and specialty cocktails:










Los Angeles Times THE TASTE is produced in association with Best Events. Sponsors include Cadillac, Icelandic Glacial, Stella Artois, Svedka and Sysco. Tickets start at $65 and LA Times members save 20%. The schedule of events, complete list of participating restaurants and tickets are available at latimes.com/thetaste. Connect with THE TASTE on Facebook, Twitter and Instagram @ TheTasteLA (#TasteLA).
---