CULINARY COUP: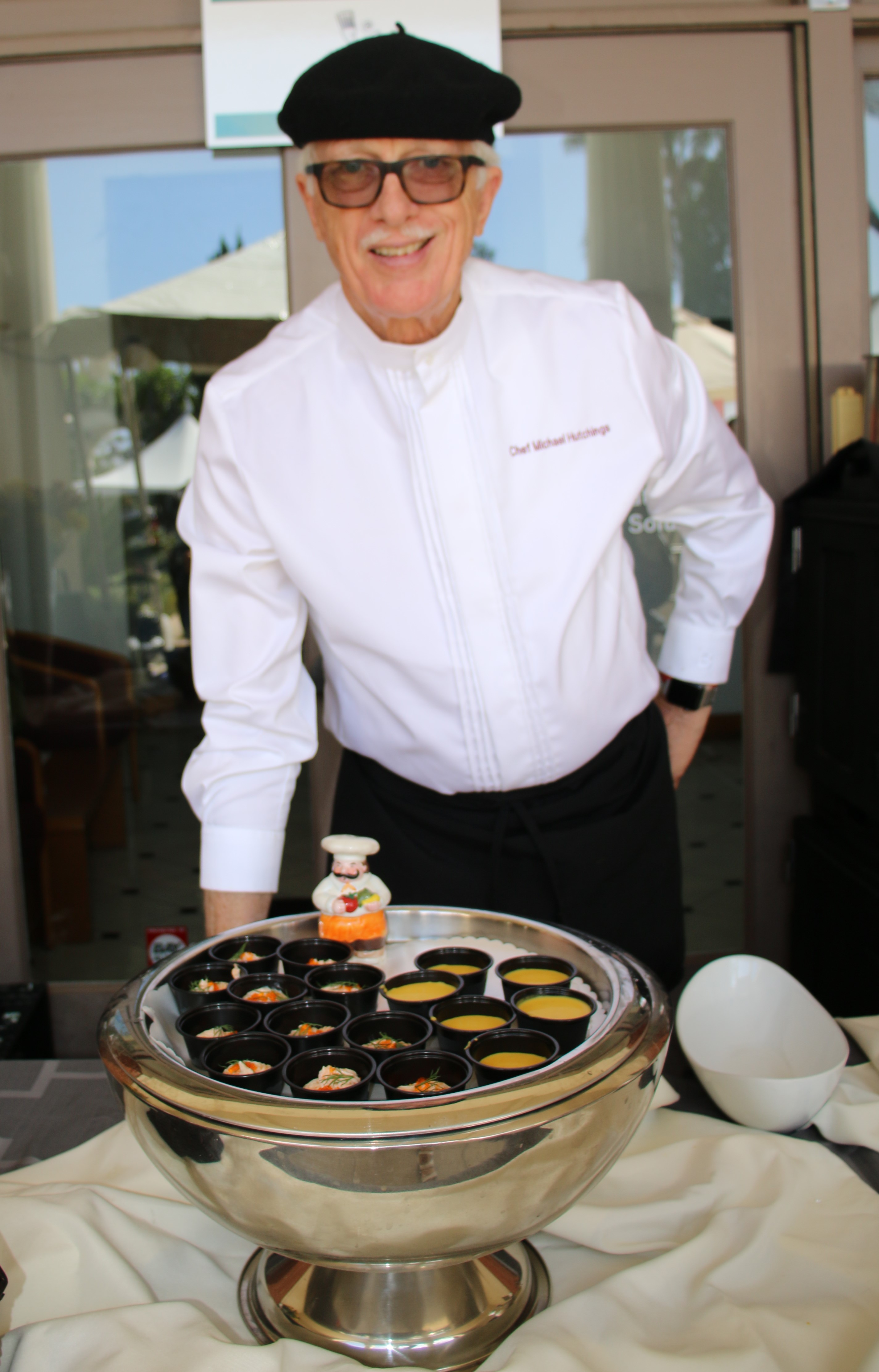 Chef Michael Hutchings at Arthritis Taste of the Town in Santa Barbara
CHEF MICHAEL HUTCHINGS WELCOMES NEW LIFE IN CHARLESTON
Renowned Santa Barbara Chef Begins A New Culinary Chapter
Bonnie Carroll
Seventy year old chef Michael Hutchings has spent nearly fifty years in Santa Barbara pleasing everyone with his gourmet cuisine but recently announced he and his pastry chef wife, Christine Dahl, will retire and relocate to Charleston, South Carolina. The renowned Santa Barbara chef has appeared on The Inn Crowd on KEYT-TV for five years, taping more than 100 episodes, and owned Michael's Waterside Restaurant.
"We have purchased a lovely home on a lagoon full of birds and other wildlife which reminds me of the Bird Refuge in Santa Barbara where my restaurant was located," says Michael. He is looking forward to spending time with two of his five children living in the Charleston area, and enjoying his six grandchildren who reside in the charming southern city.
The couple plan to be active in the food community of Charleston, since son-in-law Clint Wood manages a country club and has already planned a Julia Child tribute dinner, an introduction to Michael's friendship with the late Montecito chef, whose TV show Dinner at Julia's he worked and appeared on. Chef Michael believes spending time with the grandchildren and exploring the East Coast will keep him busy. "Proximity to Europe means we will be off to Spain, France, and Italy on cultural and culinary journeys."
His long and successful career includes work in Paris, Monaco, and London, where he was a chef at Le Roche. Michael ran the food operations at the Santa Barbara Polo Club and was Chef de Cuisine at the Olive Mill Bistro. His food preparation and presentation graced innumerable fund raising tables for charities in Santa Barbara, including Girls Inc., the Teddy Bear Cancer Foundation, Camerata Pacifica, The Music Academy of the West, Arthritis Foundation Central Coast and the Santa Barbara Rescue Mission.
"Santa Barbara has been a wonderful place to raise a family, build a career and enjoy the unique lifestyle on the Central Coast. Cooking in paradise was fueled by an abundance of great products from local farms and the ocean." He said he will miss the Santa Barbara community.
I know that I am among a huge group of Santa Barbara 'foodies' who will miss Michael Hutchings and his fabulous cuisine so much and I wish he and his wife happiness in their new home in Charleston. It is my hope to plan a travel writing journey through that area and perhaps include a stop in Charleston so I might do a follow-up story on chef Michael's southern comfort life and new culinary adventures.
___________________________________________________________________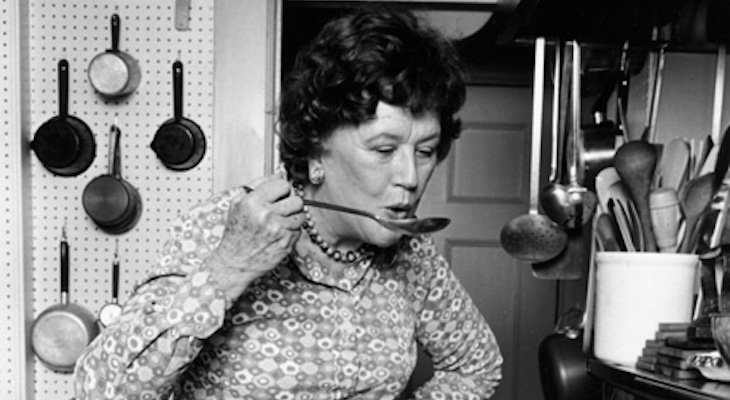 SANTA BARBARA CULINARY EXPERIENCE ANNOUNCES ALL-STAR LINEUP
FOR INAUGURAL MARCH 2020 EPICUREAN EVENT
Chefs Nancy Silverton, Suzanne Goin, Ludo Lefebvre, Susan Feniger,
Mary Sue Milliken, Sherry Yard, Chris Bianco, Michael Cimarusti,
Valerie Gordon and Claudette Zepeda Join Santa Barbara Talents in
Celebration of Julia Child's Legacy and Santa Barbara's Culinary Scene
Santa Barbara Culinary Experience
in partnership with The Julia Child Foundation
The Santa Barbara Culinary Experience (SBCE), in partnership with The Julia Child Foundation for Gastronomy and the Culinary Arts, announces an expansive citywide calendar of events for the three-day weekend on March 13-15, 2020. The SBCE will be an epicurean celebration of both Julia Child and Santa Barbara's culinary scene involving chefs, mixologists, restaurateurs and the local community, with guest appearances from nationally renowned food and beverage talents. The late cookbook author, chef and TV personality Julia Child was passionate about teaching others about the culinary arts—and was an aficionado of Santa Barbara, as a longtime resident herself. The Santa Barbara Culinary Experience aims to gather the community and visitors to celebrate the bounty of Santa Barbara's abundant resources found in its local farms, ranches, vineyards and ocean, inspired by the spirit of Julia and her legacy of culinary education.
Event pricing ranges from $15 for a single event to the all access Platinum Pass for $995 per guest. Platinum Passes purchased by February 14, 2020, will be entered into a drawing to win two seats at  the intimate and exclusive February 29 dinner featuring James Beard Foundation award-winning chefs Nancy Silverton, Suzanne Goin, and Michael Cimarusti, hosted by Executive Chef Jason Paluska at The Lark.
General event tickets go on sale to the public January 21, 2020 and can be purchased HERE. All events can be viewed at SBCE Events with still others to be added.
Highlights include:
·  A new, complimentary downloadable Julia Child Map of the beloved chef's favorite haunts in the Santa Barbara area for self-guided tours, specially created for the launch of the Santa Barbara Culinary Experience
·  A Celebration of Santa Barbara Wine: SBCE Welcome Reception
·  Border Grill on the Beach: SBCE Signature Luncheon featuring Julia Child Award Recipients Chefs Mary Sue Milliken and Susan Feniger
·  Tour of wine cellar and Julia Child-inspired dinner at San Ysidro Ranch
·  Documentary screening of Nothing Fancy and dinner from Chef Claudette Zepeda (El Jardín) at Belmond El Encanto
·  Five-course dinner at Bettina with special guest Chef Chris Bianco of Pizzeria Bianco 
·  An evening with Raj Parr and Chef Kiran Bheemarao at Bibi Ji
·  Sunday Brunch at Miramar Rosewood Beach Resort with James Beard Foundation Award-Winning Pastry Chef Sherry Yard
·  Alisal Guest Ranch exclusive after-party featuring Chef Ludo Lefebvre
·  Savor Santa Barbara: SBCE Neighborhood Tasting, showcasing Santa Barbara's unique culinary districts at the Santa Barbara Historical Museum
·  Paella Class and DIY Gin and Tonic Bar at Loquita
·  Jonata Winemaker Dinner at The Lark with Chef Jason Paluska
·    40+  additional unique educational and experiential sessions, including:
o    Santa Barbara's History Through Food (with acorn pasta demo) at Barbareño
o    Farmers' Market Tour & Gourmet Dinner with Executive Chef Greg Murphy at bouchon
o    SBCE Wine Academy seminars, including "Santa Barbara Wine 101," "GSM Wine Blending," "Pinot Noir Through the Ages," "California Charcuterie and Cool-Climate Syrah" and more
o    Olive Oil Master Class with Theo Stephan from Global Gardens
o    Ganna Walska Lotusland Tour and Garden Cocktail Making Class
o    Share your own "Julia Moment" at a live taping of the Heritage Radio Network podcast, INSIDE JULIA'S KITCHEN, featuring some of Julia Child's closest friends, colleagues and family members' best Julia stories
Santa Barbara Culinary Experience – March 13-15, 2020
Visit www.sbce.events/events for calendar and details
Tickets sold on NightOut.com
Julia Child – ©Schlesinger Library, Radcliffe Institute, Harvard University
About the Santa Barbara Culinary Experience
The Santa Barbara Culinary Experience (SBCE) is a world-class three-day event celebrated throughout greater Santa Barbara from March 13-15, 2020. Immersed in the American Riviera and showcasing a taste of Santa Barbara by bringing together local and national talent in the spirit of Julia Child, the public will enjoy Santa Barbara—Julia's final home—with its dynamic food and wine scene. In partnership with The Julia Child Foundation for Gastronomy and the Culinary Arts, participating restaurants, bars and hotels across the city and waterfront will offer their inspired spin on classic Julia Child dishes, signature Julia and Paul Child cocktails, educational programming, memorable stays, tours, talks and other creative programming, all to benefit The Julia Child Foundation.
The net proceeds of the Santa Barbara Culinary Experience will flow to The Julia Child Foundation for Gastronomy and the Culinary Arts.  The majority of those funds will be used to support a range of nonprofits in Santa Barbara County. For more information, visit www.sbce.events.
About The Julia Child Foundation for Gastronomy and the Culinary Arts
The mission of The Julia Child Foundation for Gastronomy and the Culinary Arts is to honor and further Julia's legacy, which centers on the importance of understanding where food comes from, what makes for good food, and the value of cooking. Headquartered in Santa Barbara, California, the Foundation is a nonprofit organization, which makes grants to support research in culinary history, scholarships for professional culinary training, food writing and media, as well as professional development and food literacy programs. Over the last decade, the Foundation has made more than $2 million in grants to other non-profits. In 2015, the Foundation created the Julia Child Award, presented at an annual Food History Gala hosted by the Smithsonian's National Museum of American History. This annual award honors an individual who has made a profound and significant difference in the way America cooks, eats and drinks and is accompanied by a $50,000 grant from the Foundation to a food-related non-'profit selected by the recipient.  For more information, visit www.juliachildfoundation.org. 
For further information on the Santa Barbara Culinary Experience visit:
____________________________________________________________________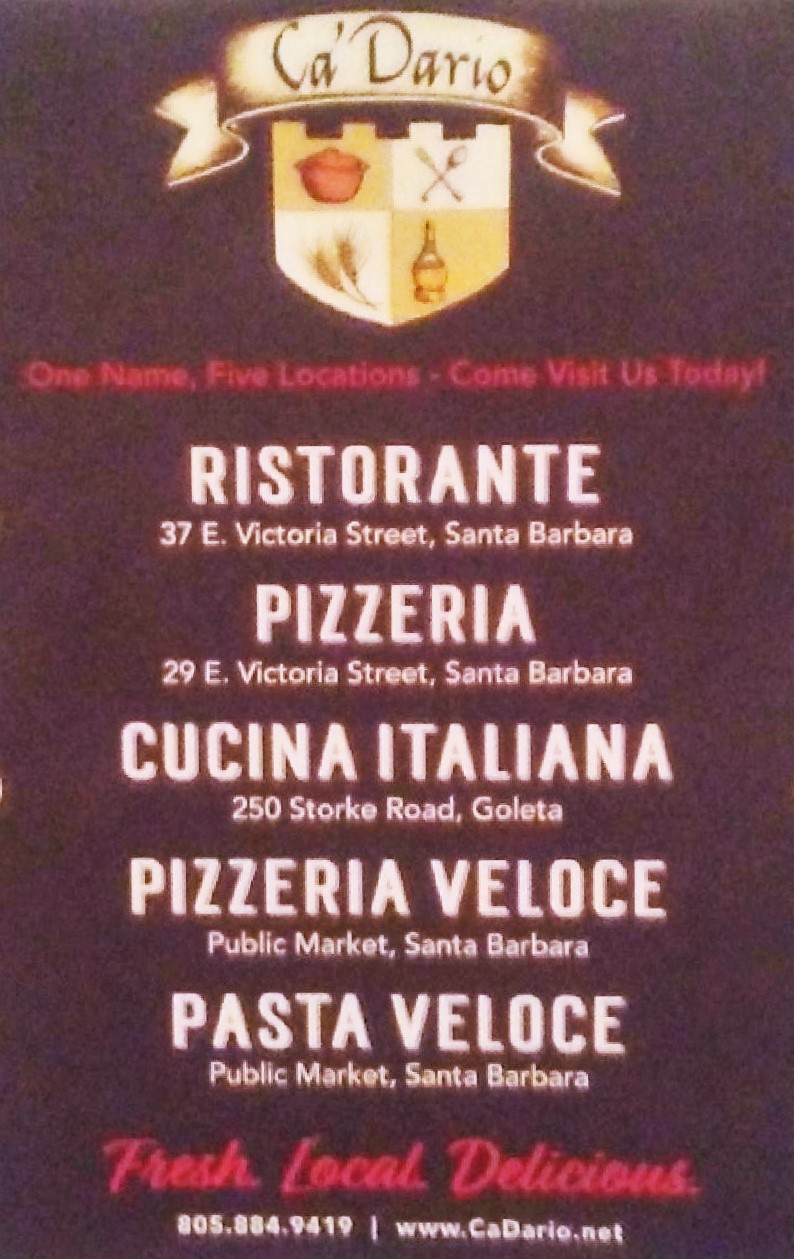 Ca'Dario Ristorante
37 E. Victoria Street
Santa Barbara, California 93101
805-884-9419
---