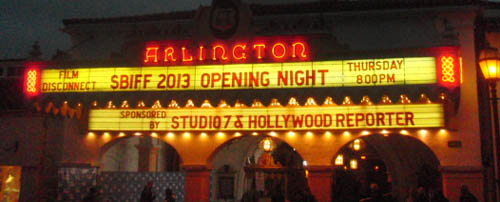 PATRONS ENJOY FILM INSPIRED SIPS AT OPAL RESTAURANT & BAR
2013 Santa Barbara Int'l Film Festival Attendees Enjoy "Film Feast"
By Bonnie Carroll
Opal Restaurant and Bar, located next to the historic Arlington Theatre at 1325 State Street, has designed a "Film Feast" prix fixe menu of outstanding dinners paired with wine by the glass, to please the hundreds of visitors and film professionals looking for a pleasurable dining experience during the 28th Santa Barbara International Film Festival, January 24 through February 3.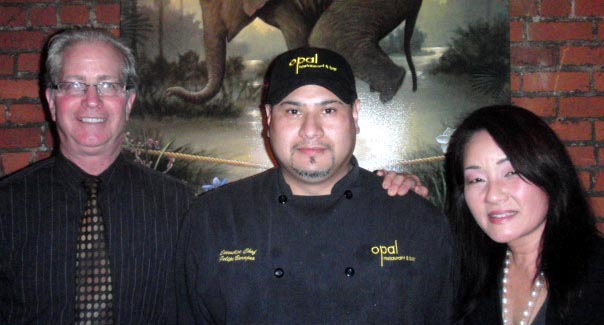 Restaurant proprietors Tina Takaya and Richard Yates, working closely with Executive Chef Felipe Barajas and his brother Gerardo Barajas, Executive Sous Chef, have designed fun and delicious dishes, paired with fine wine by the glass to be served during the ten day film event.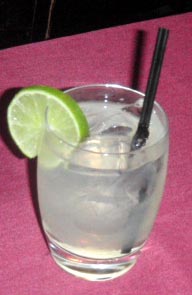 Before Dinner Cocktails with film theme names are being skillfully prepared by Opal mixologist Chris Reeder and they include: Silver Linings made with Moet & Chandon Champagne, Bluecoat Gin., St. Germain Elderberry Liqueur and fresh lime juice. $11.00 The Clooney made with Tito's Vodka, Cranberry Juice, Brown Sugar, fresh Ginger Cucumber and fresh lemon juice. $10.00. Opal's Tarantini features Plymouth Gin, Luxardo Cherry Liqueur, Crème Yvette Violet Liqueur, and fresh lemon Juice. $10.00 Emancipation made with Tito's Vodka, Cointreau, fresh mint, fresh lemon, raspberry, and a splash of orange bitters. $10.25.
As a salute to this year's festival they created a dinner experience with paired wines by the glass for $39.95. The SBIFF dining experience menu features a "Celebrate Santa Barbara Wines" menu which includes "Take One" Wild mushroom risotto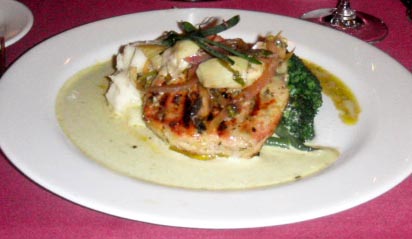 tiger prawn crab cake with a Meyer lemon buerre blanc made with Daniel Gehrs unoaked Chardonnay (suggested wine by the glass: Daniel Gehrs or Riverbench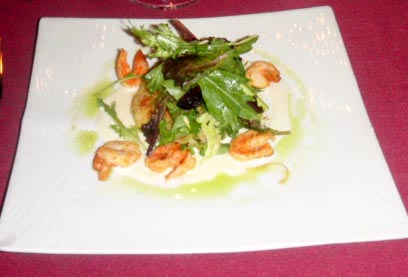 Chardonnay). "Take Two" Grilled kurobuta pork loin on an asparagus truffle butter buerre blanc with gratin Yukon gold potatoes and a warm artichoke mushroom relish (suggested wine by the glass Margerum Sauvignon Blanc) or Grilled fresh Salmon Filet on a homemade Crispy potato crepe with a wild mushroom Prodigal Pinot Buerre Rouge and roasted corn-wild mushroom salsa (suggested wine by he glass Prodigal Pinot Noir or Bishop's Peak Pinot Noir). "Take Three" is a divine Callebaut dark chocolate crème brulee with Consilience Zinfandel Port (suggested wine by the glass: Consilience Late Harvest Zinfandel).
Opal hours: Monday & Tuesday 11:30-2:30, 5:00-10:00, Wednesday & Thursday 11:30-2:30, 5:00-10:00, Friday & Saturday 11:30-2:30, 5:00-11:00, Sunday 5:00-10:00. For details visit: www.opalrestaurantandbar.com.
___________________________________________________________________
HOME FOR THE HOLIDAYS
By Bonnie Carroll

With the financial challenges our economy is traveling through families are coming together not only on holidays, but more frequently to share familiar comfort as well as comfort foods. Smart food providers are in touch with this and are acting accordingly to assist with delicious home style dinners for busy working families. Below are a few companies who are providing family faire online to meet the needs whole families or groups during special holidays or throughout the year.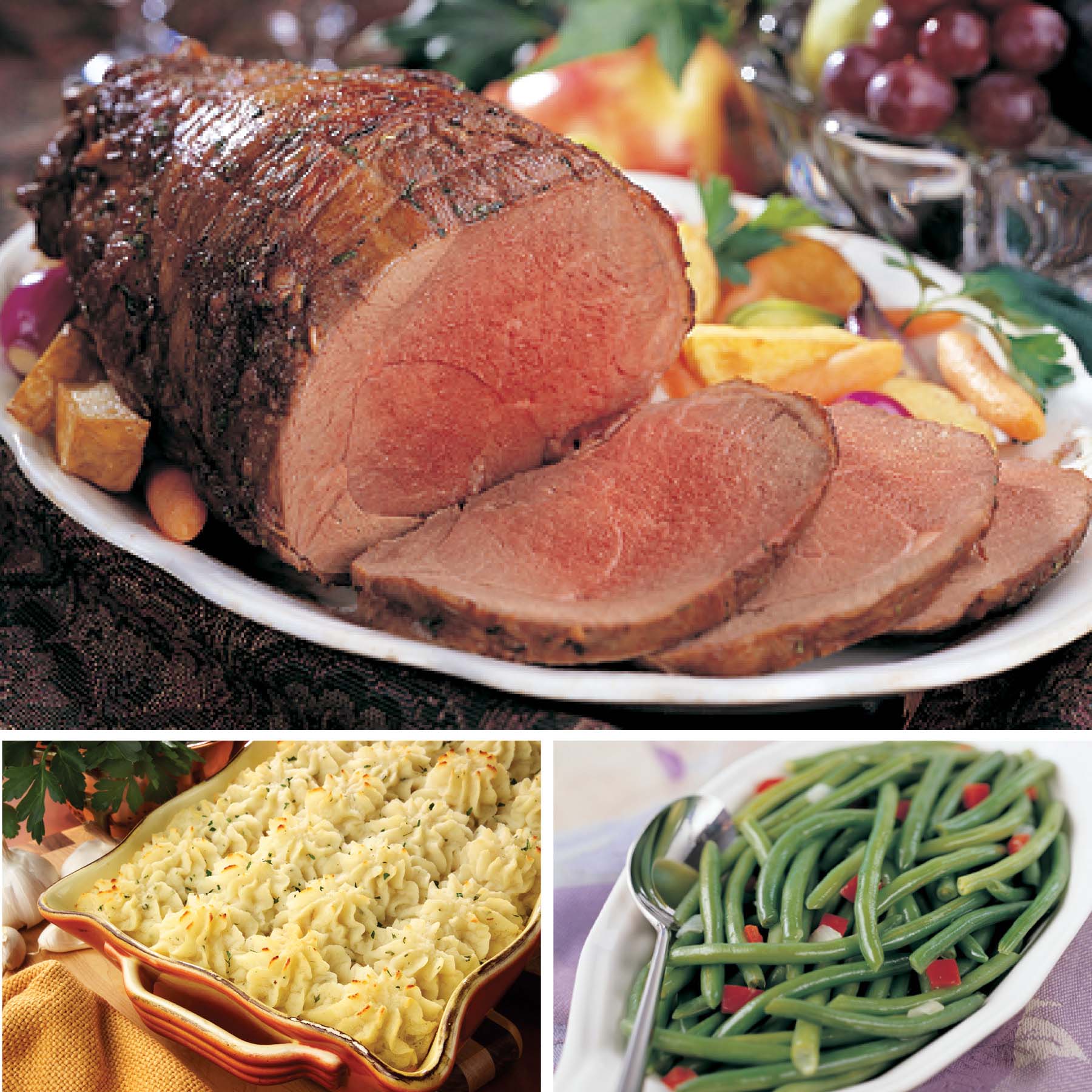 My first recommendation is Omaha Steaks for their incredibly delicious complete dinners delivered in a box and ready to be defrosted, heated and put on your table. The leg of lamb with green beans and potatoes is fantastic, or lobster & steak with twice baked potatoes is perfect for a New Year's Eve gathering. They also have complete turkey, roast beef, standing rib and a huge assortment of sides to enjoy along with the entrees, as well as family BBQ boxes with steak, burgers and more.
For holiday or anytime family dinner information visit www.omahasteaks.com or call 1-800-228-9872.


Another great possibility is Schiltz Foods, a company founded in the 1940s that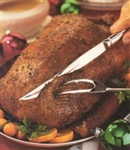 today is the most successful goose farm of its kind in the US. They are the leading producer of Geese and Fine Geese Products in America. They will send you a whole goose or duck with wonderful cooking directions in two days. Martha Stewart has a complete Goose dinner with all the trimmings that is available online, including great recipes with simple preparation instructions. I have done all of this and the result was delicious. Like duck you must use a trivet when doing the final cooking in your oven, and be patient in your cook time. Slow and easy does it for great goose or duck.
For goose dinner information visit www.schiltz.com or call 877-872-4458.

If you live in close proximity to a Whole Foods or Gelson's Market you can also have a complete holiday dinner with all the trimmings prepared for pick up. Whole Foods offers organic and gluten free family feeding solutions, and Gelson's also offers individual dishes to go with your selected entrée. For ready to go holiday dinners Visit www.gelsons.com and www.wholefoods.com.
____________________________________________________________________

Rockin' the Today Show:
Mary Sue & Susan Share New Year's Eve Recipes
Picture this, it's New Year's Eve and your party is rockin' the house thanks to four hostesses with the mostesses . . . Mary Sue and Susan and Kathie Lee and Hoda! Watch The Today Show on Friday, December 28, 2012 and that picture will become reality as Mary Sue and Susan teach you how to whip up a flavor-packed menu of New Year's Eve cocktail party bites. Latin-style surf and turf turns up the volume on flavor with two easy, crowd-pleasing dishes--Spicy Seared Shrimp with homemade Mexican cocktail sauce and Grilled Skirt Steak Skewers with aji amarillo aioli and minted chimichurri. The Latin flavor adventure continues with a gorgeous platter of Escalivada, a popular Spanish dish of roasted vegetables drizzled with herbaceous vinaigrette, dotted with goat cheese, and served with warm, crusty bread. And to top it all off, Cava Guava, a sassy, guava-infused sparkling wine cocktail with a celebratory hit of tequila.

Margarita Toast?
Start a New Tradition at Border Grill
Forget champagne! Start a new tradition this New Year's Eve with a margarita toast. That's right, the perfect way to begin and end the night is with one of Border Grill's award-winning margaritas, paired with a sensational 4-course dinner, of course.

Border Grill Santa Monica
Meet a cranberry margarita with a New York attitude (yes, the Cranhattan is back!), and then introduce your tongue to braised beef lengua quesadillas, chipotle crab enchiladas, and more! Take a disco nap and then roll back in on New Year's Day for a restorative Border Brunch.

Border Grill Downtown LA
Go old school with a classic Border margarita, the perfect accompaniment for lobster ceviche, duck carnitas enchiladas, and a bevy of creative dishes from new Executive Chef Scott Linquist. Oh, and did someone say Mexican chocolate lava cake?

Border Grill Las Vegas
Spice it up with a ravishing raspberry chipotle margarita before diving into a luscious bowl of king crab, Maine lobster, shrimp, mahi mahi, manila clams, and Carlsbad mussels in marisco broth with chile crusted crostini.

Special Offer:
Give AND Receive the Gift of Good Food
Buy a $50 Border Grill gift card and get a $20 dining certificate for free! Share the gift of your favorite modern Mexican dishes and cocktails with your family, friends, and colleagues this holiday season, and all that love will bounce right back to you with your very own Border Grill $20 dining certificate for every $50 gift card you buy. Gift cards are good at all three of our locations--Border Grill Santa Monica, Border Grill Las Vegas, and Border Grill Downtown LA--and are available for purchase online or at your local restaurant.

___________________________________________________________________________________
---