CULINARY COUP   .    .    .
Epic Steak, San Francisco (photo: Epic Steak)
PETE SITTNICK TALKS PADEMIC RECOVERY

LBN Staff
Managing Partner of Epic Steak & Water Bar Shares on Pandemic Recovery
Many changes due to the pandemic have now become trends within the industry. What is the most interesting trend that you have observed, and do you see it becoming a staple within the restaurant industry?
With a smaller footprint to work with in terms of guest seating, many restaurateurs focused on efficiency; that is why you saw smaller, more focused menus that could be executed with less personnel.  Many of the COVID protocols prohibited some of the technical aspects of fine dining service and made the experience a tad more casual.  Many restaurants expanded their to-go and delivery programs which helps with incremental sales.  At Waterbar and EPIC Steak, we wanted to concentrate more on the in-restaurant experience because that is what we do best.  I think that we have had to adapt our spirit of hospitality in a more energetic way because we have not been able to deliver this with a smile as the masking hides that feature.
With QR codes and other tech savvy programs, how are you envisioning embracing technology while maintaining a fun interactive environment? Do you see the traditional wait staff being effected in the next 10-15 years and why?
I believe that the diversity in options for dining out will be differentiated enough that the guest can decide for themselves which experience is most appropriate for them.  I think that the fast casual segment will embrace technology because it enhances speed and efficiency in an environment that is not as dependent on people.  Full-service restaurants can use technology to be speedier and more efficient, but it will NOT replace humans and it will be more in the background.  My sense is that guests want a certain element of social interaction to be involved in the dining experience.  There is a need for menu knowledge and suggestive selling that can enhance dining.  The unique energy of a restaurant only happens when it involves human interaction…..that is not going away.
 What advice can you give to other restaurateurs that may be struggling to get back in business/find success in this new time post-COVID?
My advice to restaurateurs coming out of the pandemic is one that I have experienced and learned personally.  Do not get caught up in the comparison of our current circumstance with what used to be before COVID hit. During the first reopen in 2020, all I wanted was for the restaurants to be back to "normal".  That would be like trying to put a round peg in a square hole.  Our world and environment is different now, and change is never easy to deal with, but, in this case, it is out of our control.  Make the best of the present time and be grateful for each positive step in a forward direction no matter how big or small.  Over my career, I have experienced a devastating earthquake, global wars and terrorism, the 9/11 tragedy, the dot-com bust and a huge economic recession in addition to COVID-19.  In all of these cases, we have persevered, and we have survived.  The spirit of humanity is such that if we just try to do our best, it will be rewarded with positivity.  Be grateful that we have the opportunity to do what we do and have fun and create joy while doing it.
 What separates Waterbar and EPIC Steak from their local and national competition?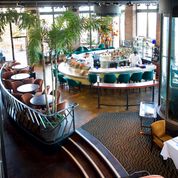 Waterbar, San Francisco (photo: Waterbar)
 Waterbar and EPIC Steak are unique for a number of different reasons.  The first one is obviously the location on the San Francisco Bay directly across from the Bay Bridge.  It is truly an iconic location and view and it is greatly enhanced in the evening by The Bay Lights, which we are proud to have participated in their inception and ultimately their continuation.  Then, the restaurants were designed by Pat Kuleto who concentrates on enhancing the ambiance to impact the guests' feeling of comfort and awe.  The floor-to-ceiling aquariums at Waterbar are case in point-they require about $100,000 of maintenance and upkeep per year, but our guests can't stop smiling when they look at them. Kuleto did a magnificent job of combining an upscale, modern look with a traditional feel of history and timelessness. Our chefs - Parke Ulrich, Justin Baade, and Dirk Tolsma - all put their heart and soul into the menus.  They balance everything with their commitment to food quality, seasonality, explosive taste, sustainability, creativity and understanding what the guest and concept call for.  Both restaurants also make a strong commitment to the community and to San Francisco.  We are always involved in charity events and giving back to those who are less fortunate and who need help in making the world a better place.  I don't know the exact total of money that we have raised over our 13 years in business, but I am confident in saying that it is over $1 million.  Ultimately, though, it is the people who make up the culture of Waterbar and EPIC Steak.  We all work hard, we respect the responsibilities of all the team members, and we always try to "do the right thing in the spirit of love".
 About Pete Sittnick
Managing Partner, EPIC Steak & Waterbar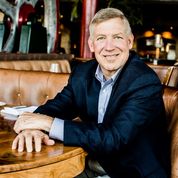 Pete Sittnick is a longstanding operator on the San Francisco culinary scene, having more than 35 years of experience in the Bay Area restaurant industry. He has served as managing partner of San Francisco's iconic waterfront establishments EPIC Steak and its sister restaurant Waterbar since opening in 2008 where he oversees daily operations.
Sittnick has opened, operated and supervised more than 20 restaurants in the Bay Area and across the country. Sittnick worked for the Kimpton Group for 12 years and helped their management team grow the restaurant portfolio from four to twenty five. In 2001, he joined Pat Kuleto Restaurants as Director of Project Development. In addition to supervising renowned Bay Area restaurants Boulevard, Farallon and Jardiniere, he helped open Martini House in St. Helena.
In 2016, Sittnick was awarded a first time ever lifetime achievement award from the Golden Gate Restaurant Association. Apart from his roles with local industry committees and associations, he is also involved in numerous charitable endeavors such as Glide Memorial Church, Do It For The Love, and Guide Dogs for the Blind to name a few. Sittnick resides in San Francisco and Sonoma County.  
About Waterbar
Widely regarded as San Francisco's foremost seafood restaurant and offering one of the city's most extraordinary views of the San Francisco Bay, the Bay Bridge, the famed Ferry Building, and the Embarcadero skyline, Waterbar has set new standards of sustainability, variety, and excellence in the sourcing, preparation, and presentation of food from the sea.  Under the guidance of Executive Chef Parke Ulrich, Waterbar presents a daily menu of fresh-caught, sustainably raised fish as well as the most expansive selection of oysters on the West Coast.  Waterbar features a full bar and an extensive wine list culled from the world's great seafood-centric cultures. 
Waterbar is located at 399 The Embarcadero South, next to the familiar bow and arrow sculpture, Cupid's Span. For more information and to book reservations, please visit www.waterbarsf.com or call (415) 284-9922.
 About EPIC Steak
EPIC Steak is a contemporary waterfront steakhouse featuring interpretations of traditional steakhouse favorites and more.  Under the guidance of Executive Chef Parke Ulrich the menu features an inventive combination of traditional and contemporary dishes, showcasing everything from fish to fowl, and specializing in a variety of meats and steaks.  Handmade seasonal and classic cocktails, local Bay Area craft beer, and a well-selected wine list complement the menu.  The restaurant features an intimate upstairs bar and lounge with panoramic views of the city, Ferry Building and bay, and beautiful patio bar featuring the full restaurant menu and bar menu.
 EPIC Steak is located at 369 The Embarcadero in San Francisco.  For more information and to book reservations, please visit www.epicsteak.com or call (415) 369-9955.
____________________________________________________________________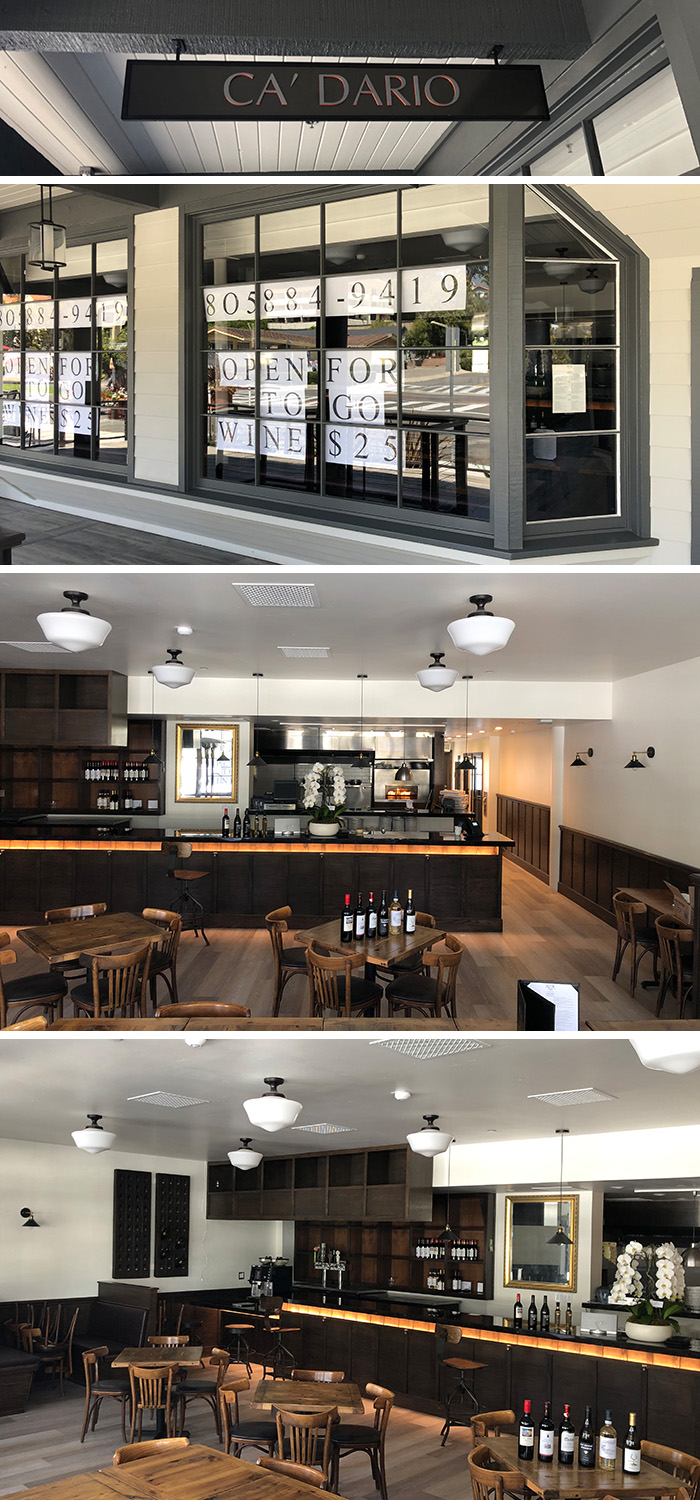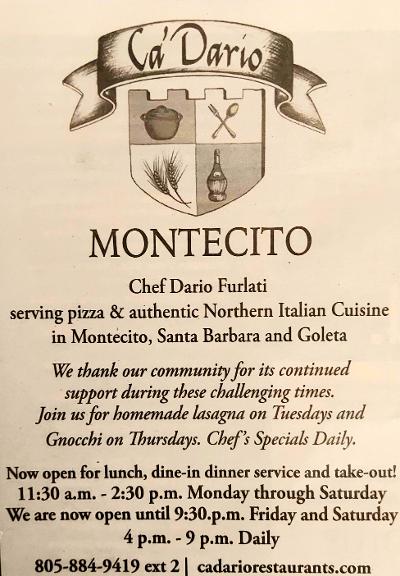 ---