JOËL ROBUCHON AT MGM GRAND RECEIVES
MOBIL FIVE-STAR RATING FROM MOBIL TRAVEL GUIDE
One of Only Two Las Vegas Restaurants to Receive Recognition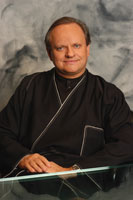 Joël Robuchon at MGM Grand was honored with a Mobil Five-Star Award by Mobil Travel Guide, originators of the prestigious Five-Star rating system and providers of one of the most comprehensive evaluation systems of hotels, restaurants and spas. This rating recognizes Joël Robuchon as among the top restaurants in the United States and Canada for 2007.
"We are thrilled to receive this recognition from the Mobil Travel Guide," said MGM Grand President & COO Gamal Aziz. "Joël Robuchon was designed to be a special and extraordinary experience. The Five Stars tell us we are delivering on that promise."
Mobil Travel Guide rates restaurants using a proprietary ratings process that is based on more than 250 rigorous and standardized criteria that are evaluated and updated annually. The process begins with a facility inspection which considers every aspect of the property, from its overall cleanliness and condition to its location. To achieve Mobil Five-Star status, properties must then meet or exceed Mobil's bar-setting service standards, which are determined through an unannounced, undercover service evaluation conducted by Mobil Travel Guide's expert inspectors. For a detailed explanation of Mobil Travel Guide's industry-leading ratings process, visit www.mobiltravelguide.com. Joël Robuchon's comprehensive review by Mobil Travel Guide's incognito experts can be found online at www.mobiltravelguide.com.
Shane O'Flaherty, VP of Quality Assurance for Mobil Travel Guide, said "While most travelers may be familiar with the concept of star ratings, many are surprised when they discover how few restaurants actually achieve Mobil Five-Star status. Our standards are undeniably the most stringent in the industry, meaning that Joël Robuchon's Mobil Five-Star award places them at the pinnacle of service and luxury."
Culinary history was made in Las Vegas in September 2005 when legendary Chef Joël Robuchon opened his first fine dining restaurant in the United States at MGM Grand. Named "Chef of the Century" along with scores of other accolades and honors, Chef Joël Robuchon presents unparalleled cuisine in a stunning setting. Only 16 restaurants in North America received the Mobil Five Stars for 2007; only two of those are in Las Vegas. Last month, Joël Robuchon received another tremendous distinction when it was recognized by AAA as a Five Diamond restaurant.
---
SEAFOOD RECIPES FOR LENT
CARLOS' N CHARLIE'S CEVICHE ACAPULCO
(Serving Size: 1)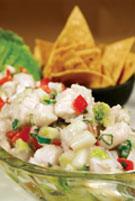 Ingredients:
2 tablespoons Hass Avocado
2 tablespoons White onion
1 teaspoon Serrano Chile pepper
1 teaspoon Cilantro
3 Salted crackers
1 Lettuce leaf
4 tablespoons Lime
2 tablespoons Cucumber
1 7 oz. mahi mahi, diced
2 tablespoons Tomato
1/2 teaspoon Ground black pepper
A pinch of Salt
Preparation:
1. Cut fish, avocado, onion, tomato and cucumbers into half-inch inch dice.
2. Mince Serrano chili pepper, chop cilantro and add to above ingredients.
3. Mix all the above ingredients together along with the lime, salt and ground black pepper. Marinate in refrigerator for at least an hour before serving.
4. Serve the ceviche on a lettuce leaf accompanied by three salted crackers for your guests.
Chef's Beverage Recommendation:
Pair the Ceviche Acapulco with a crisp, slightly-acidic white wine, such as a Pinot Grigio or a Sauvignon Blanc that will enhance the taste of this appetizer.
From: Carlos' n Charlie's Chef Andres Bahnsen
---
SEÑOR FROG'S LOBSTER TACOS
(Yield: 3 Tacos)
Ingredients:
Lobster Tacos
1/2 cup diced onion 3 corn tortillas, fried and shaped into cones
1/3 cup Poblano Chile 1/4 cup chopped lettuce
3 tablespoons corn kernel 1 1/4 cups Mexican rice
5 tablespoons olive oil 1/2 cup guacamole
1 clove garlic 4 tablespoons Ranch dressing
4.2 oz. lobster meat (canned or live) 2 tablespoons chopped onion
3 tablespoons lime juice 1/2 lime
1 dash each salt and pepper
4 teaspoon cream
Method (Lobster filling):
1. Dice the onion, peel the Poblano pepper and put to the side.
2. Cook the corn and warm the olive oil in a frying pan.
3. Add the onion and garlic and sauté.
4. Add the lobster meat, salt, pepper and lime juice.
5. Once the lobster meat is cooked, add the cut Poblano Chile and corn.
6. Add cream and taste for seasoning.
Method (Tacos):
1. Have the crispy tortilla cones and lobster prepared.
2. Warm the rice and keep the guacamole cold.
3. Fill tortilla cones with the lobster filling, lettuce, ranch dressing and chopped onion and garnish with lime. Serve tacos over Mexican rice with guacamole served on the side.
From: Señor Frog's Chef Jorge Camino
---
AWESOME AL'S SHRIMP PIE
Ingredients:
1/4 cup yellow onions finely chopped
2 green onions sliced
1/4 cup sliced mushrooms
2 teaspoons chopped garlic
1 teaspoon oregano
1 teaspoon salt
1/4 cup white wine
1 teaspoon olive oil
12 ounces medium peeled Gulf shrimp
8 ounces cream cheese
1/2 stick butter
1 tablespoon Worcestershire sauce
1 tablespoon honey
12 ounces chopped, thawed and well-drained spinach
2 8-inch pizza pie crusts
10 ounces shredded provolone or mozzarella cheese for each pie
Cocktail sauce (optional)
Instructions:
1. Sautee yellow and green onions, oregano, salt, mushrooms and garlic in olive oil and white wine.
2. Add shrimp once the yellow and green onions, mushrooms and garlic are soft. Cook shrimp until it turns a pinkish color.
3. Remove from heat and let cool.
4. Once cooled, pour into mixing bowl and add cream cheese, butter, Worcestershire sauce, honey and spinach.
5. Mix until there are no lumps of cream cheese or butter remaining.
6. Spread 1 cup of cream cheese mixture on each pie crust.
7. Sprinkle each pie with 10 ounces of shredded provolone or mozzarella cheese.
8. Bake for 8-10 minutes at 350 degrees until each pie is lightly brown on top. (Check periodically).
9. Serve with a side of cocktail sauce.
From: Po' Boys Creole Cafe Corporate Chef Carmen Calabres
---
DOUGHNUTS FOR THE BLING BLING CROWD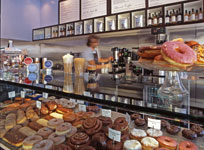 Fritelli's Doughnuts and Coffee, a gourmet donut shop, opened its flagship store in Beverly Hills on Oct. 28.
The new shop sells donuts in flavors as varied as espresso latte, lemon poppy, dolce de leche, zucchini chocolate chip and pumpkin cake.
The donuts are made fresh from recipes developed by a master pastry chef and are hand decorated. Ingredients include real fruit fillings, rich Swiss and French chocolates.
The new shop is the brainchild of Alison Winston. Visit bakingbusiness.com
---
White Castle® Recipe is Good "Stuff" for the Holidays
White Castle Releases Famous Turkey Stuffing Recipe
Ready to try something new to complement your turkey this Holiday Season? White Castle is offering a new twist on traditional turkey stuffing that is made with that famous little burger, the Slyder.
The White Castle turkey stuffing recipe has been a quick and easy favorite for many people over the past 14 years. The recipe can be found online at , along with the top ten recipes from the 2006 White Castle Crave Time www.whitecastle.com Cook Off, the annual contest that asks Cravers to send in their favorite recipes using 10 White Castle hamburgers. White Castle fans testify that the turkey stuffing recipe is a surefire way to liven up holiday gatherings and is always a hit and a sack of 10 can be purchased at grocery and convenience stores as well as the restaurants themselves.
White Castle has also published a recipe book, "By the Sackful: A Scrapbook with Recipes from 85 Years of Craving" which is also available online at www.whitecastle.com. Proceeds from the sale of the book are donated to the non-profit group Turkeys4America, Inc. The cook book is stuffed with quality recipes submitted by White Castle fans in contests over the past 14 years.
Here's what you need to turn your Holiday meal into a meal everyone will be craving.
Recipe for White Castle Turkey Stuffing
10 White Castle hamburgers, no pickles
1 ½ tsp. ground sage
1 ½ cups celery, diced
¾ tsp. coarse ground black pepper
1 ¼ tsp. ground thyme
¼ cup chicken broth
In a large mixing bowl, tear the burgers into pieces and add diced celery and seasonings. Toss and add chicken broth. Stuff cavity of turkey just before roasting. Recipe makes about 9 cups (enough for a 10 to 12 pound turkey) Note: Allow one (1) hamburger for each pound of turkey, which is the equivalent of ¾ cup of stuffing per pound.

About White Castle
White Castle was founded in 1921 in Wichita, Kansas. The company owns and operates 393 units in 11 states and is considered to be the first fast food hamburger restaurant. Its unique steam-grilled hamburger is the featured ingredient in the company's third recipe book, By the Sackful: Recipes from 85 Years of White Castle Craving, now on sale via www.whitecastle.com or in select bookstores. Proceeds from the book go to Turkeys4America.
---
---