CULINARY COUP  .  .  .
SANTA BARBARA CHOWDER FEST 2015
6th Annual Charity Cookoff Exceeds Expectations
by Bonnie Carroll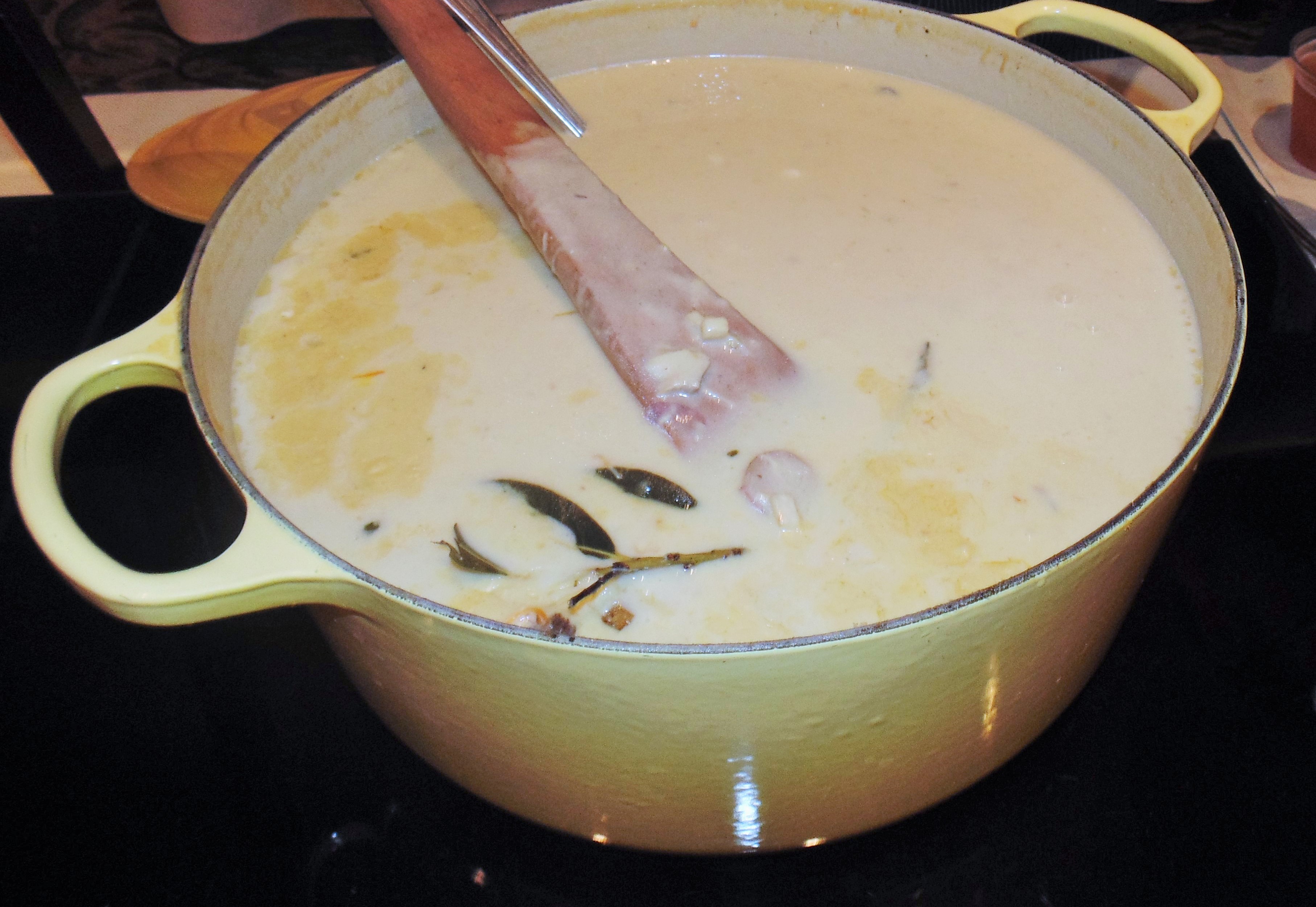 1st Place Winner - Four Seasons Biltmore - Chef Grant Macdonald
The Santa Barbara Chowder Fest produced by Food & Home Magazine to benefit Legal Aid Foundation of Santa Barbara County attracted not only very talented chefs and restauranteurs who participated in the charity cookoff in the Fess Parker Hotel. The four outstanding judges panel included Renowned Chef Michael Hutchings, Chef and food writer Laurence Hauben, Chef Diana Cuttrel and Cielito Chef Kurt Steeber.

Over 650 guests enjoyed sampling outstanding chowder, beer & ale and local area fine wine to the great sounds of John Corbett and the John Corbett Band, while dancing and waiting for the winners to be announced. The silent auction was a beehive of activity, and included fantastic gift items generously donated by local area business owners.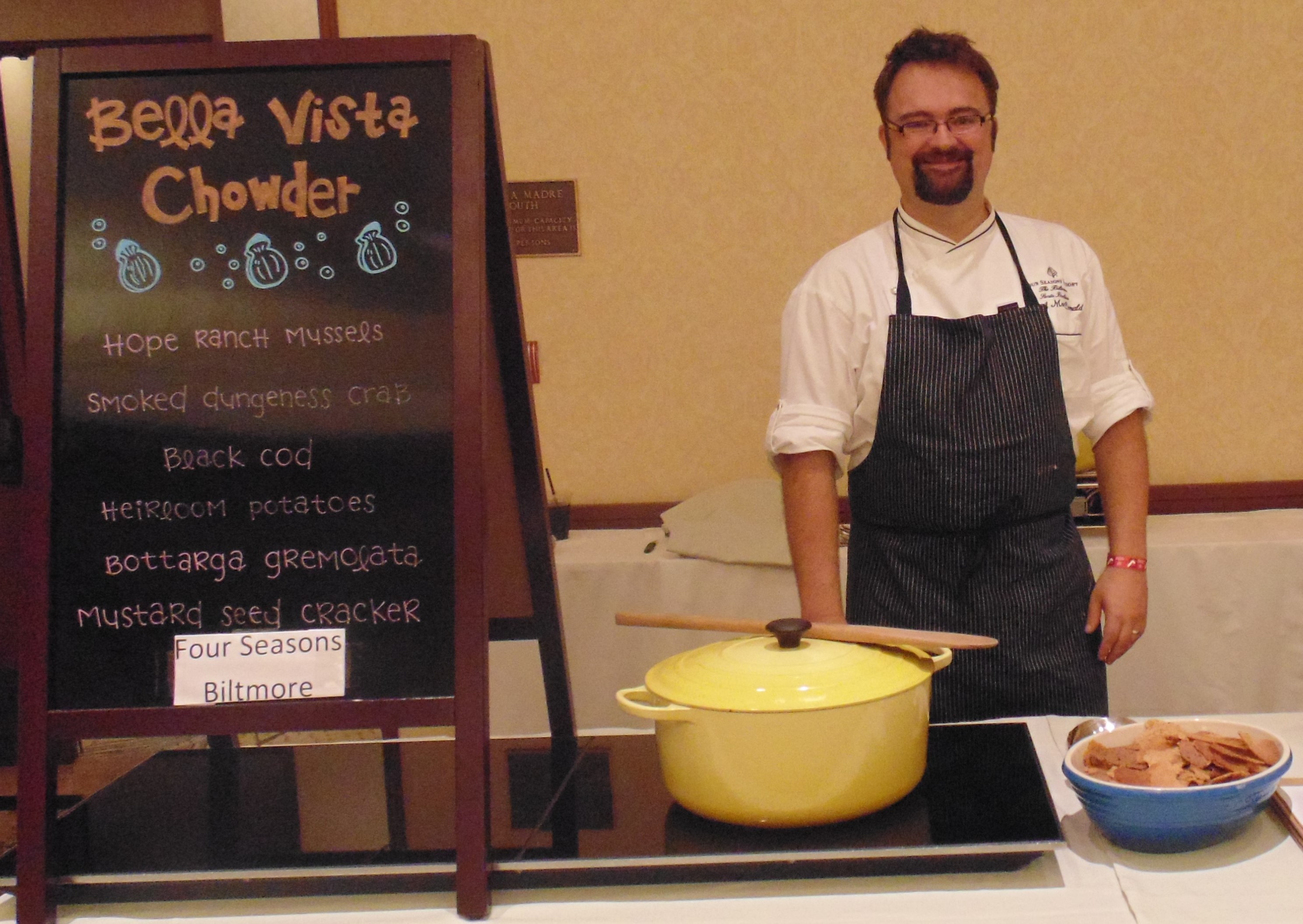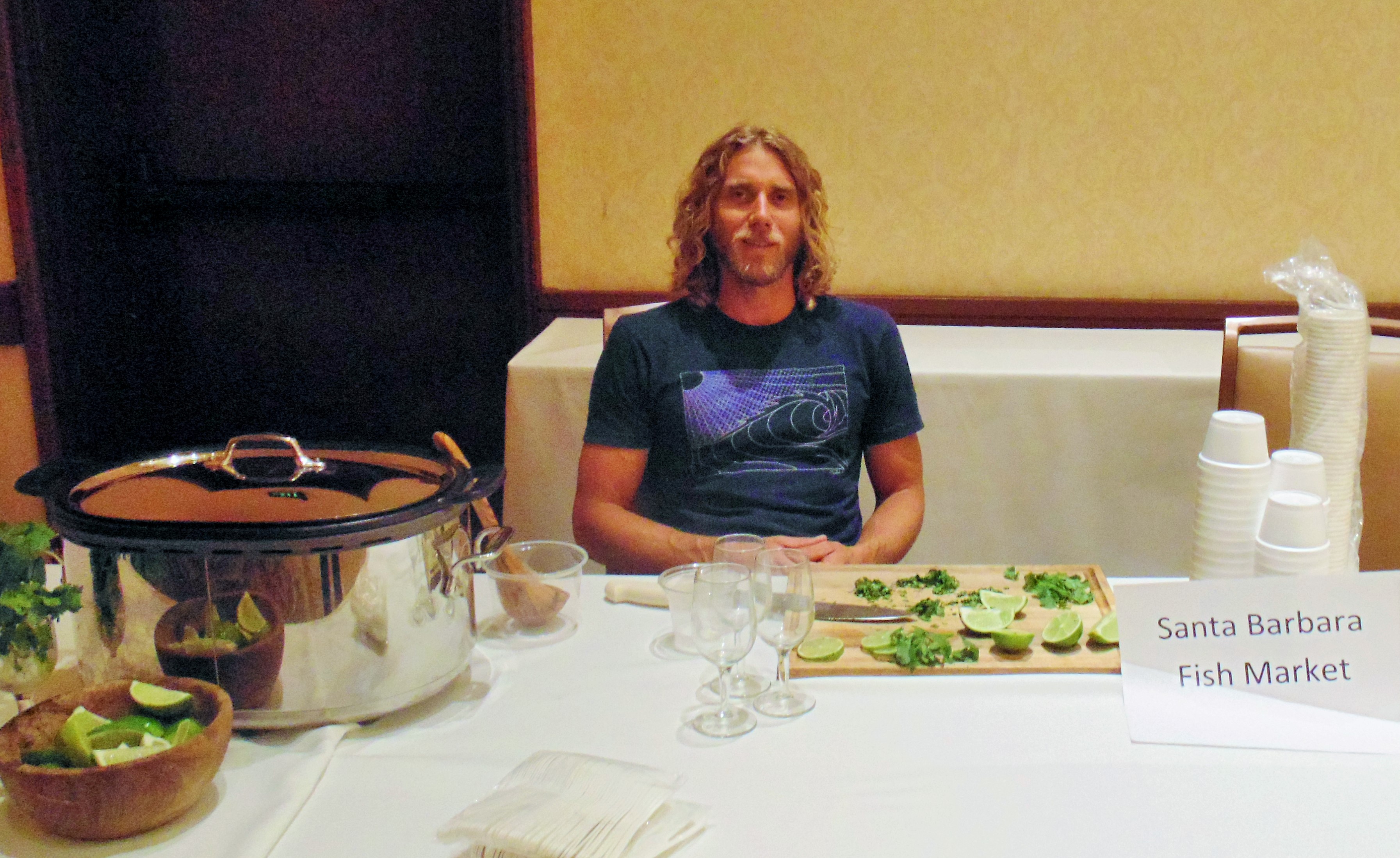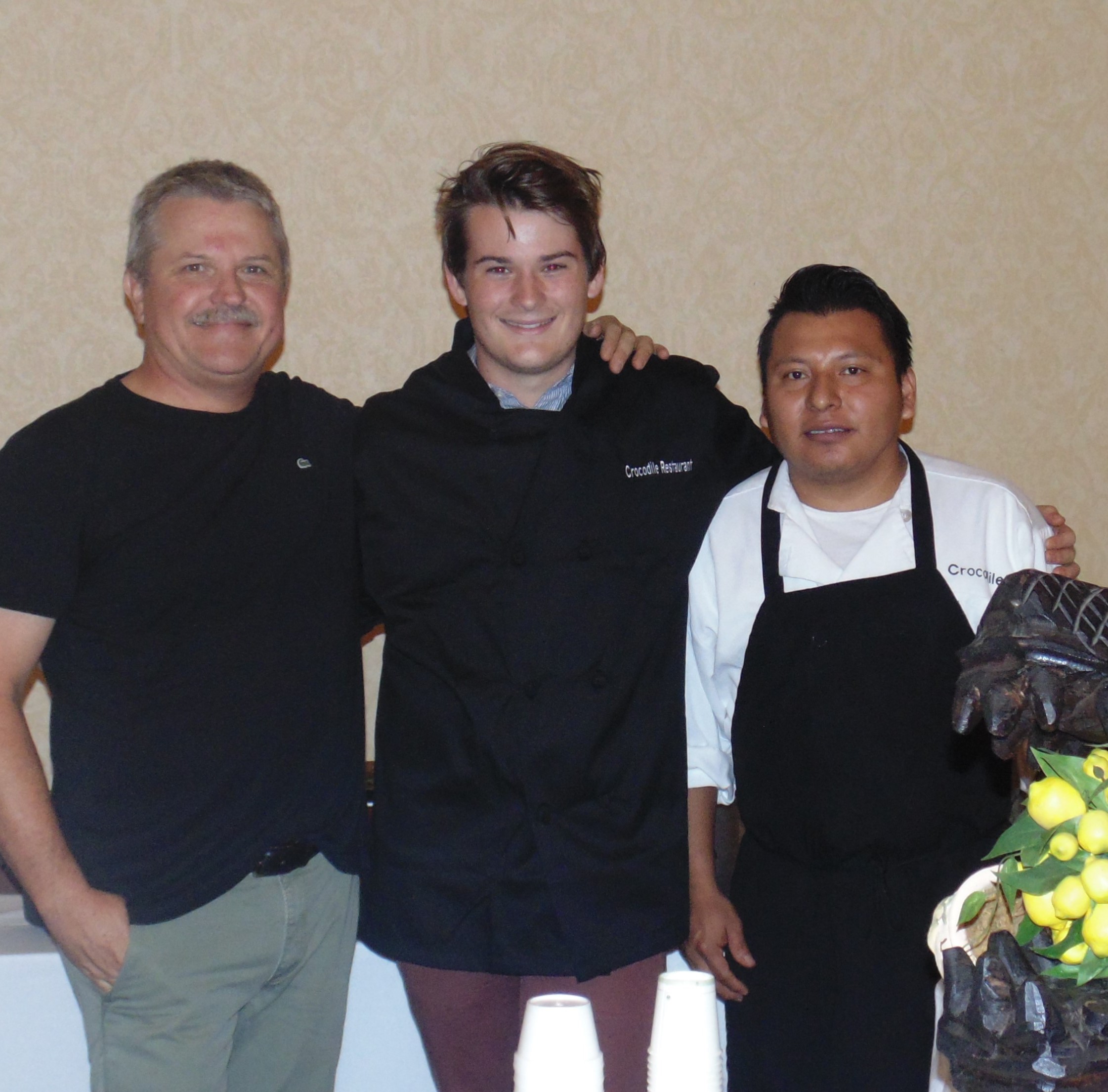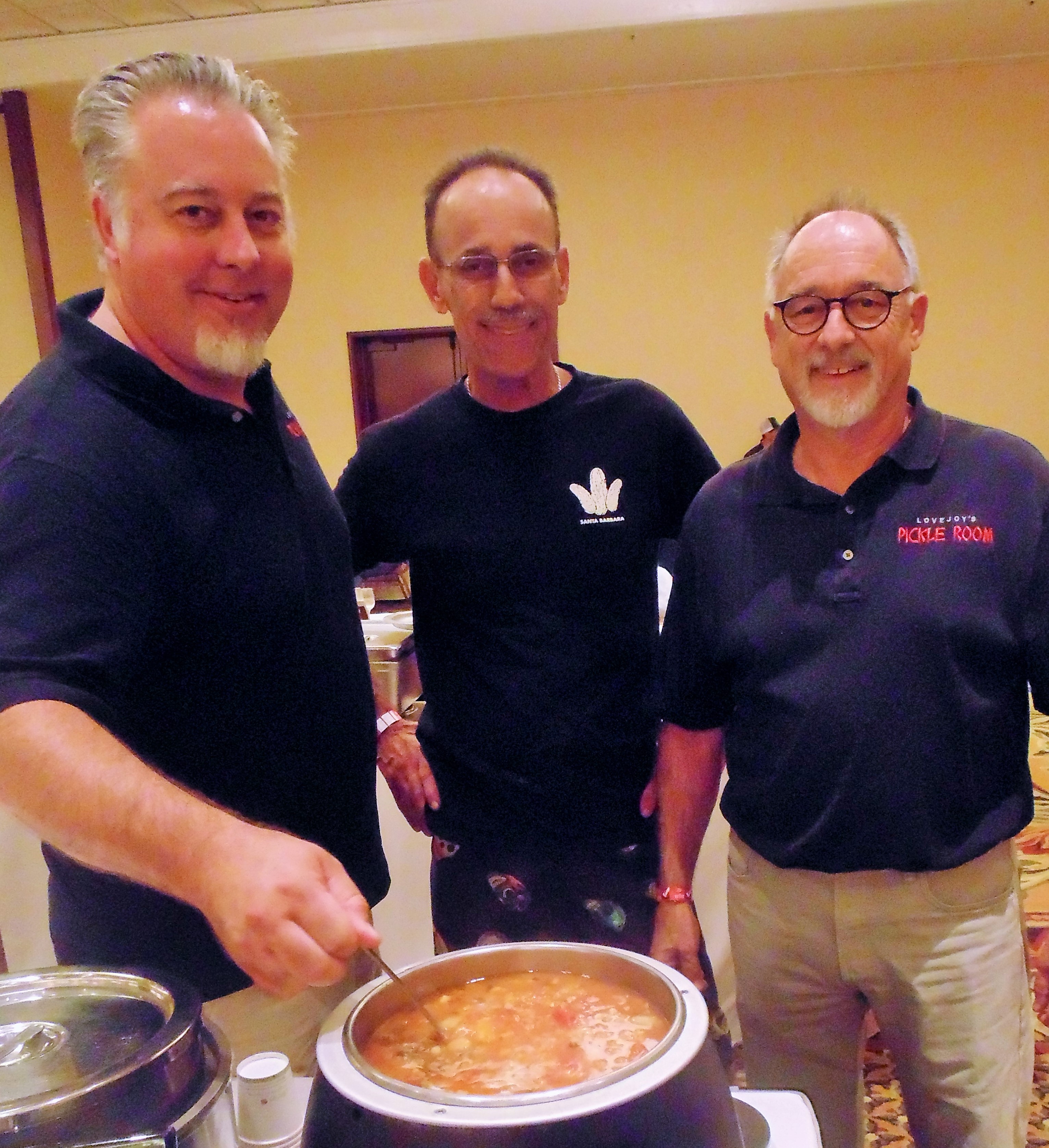 Top winners for this year's competition were Four Seasons Biltmore Grant Macdonald & Alessandro Cartumini, who won best creative division and also was crowned Chowder Champ 2015. Santa Barbara Fish Market took second place in the creative division. First place in the traditional division went to Crocodile Restaurant team Conrad and Scott Perry and Juan Rios, with second place going to the Three Pickles team. Jalama Beach Grill won the People's Choice award by a landslide vote. It was reported record funds were raised for Legal Aid Foundation Santa Barbara at this year's event.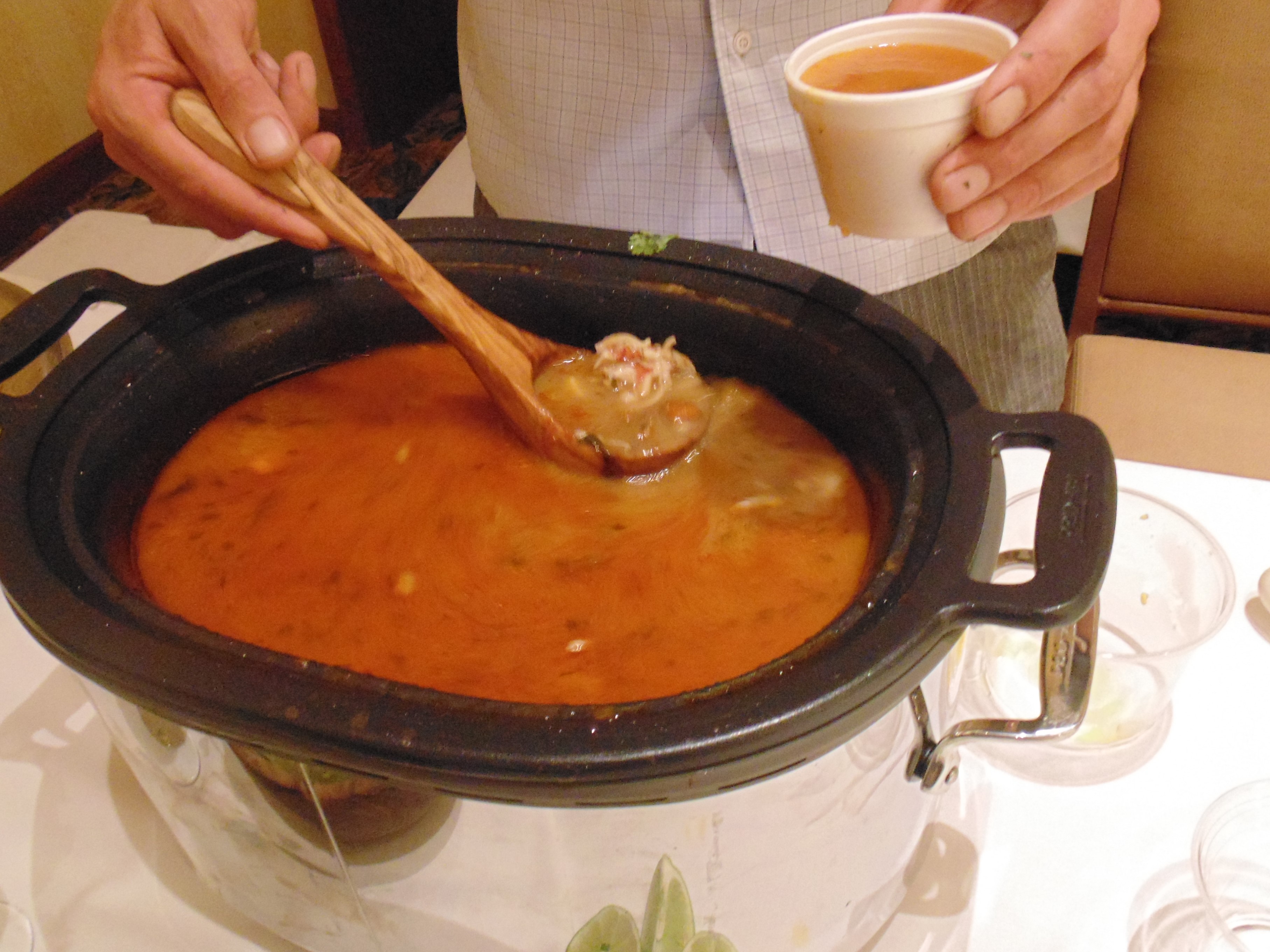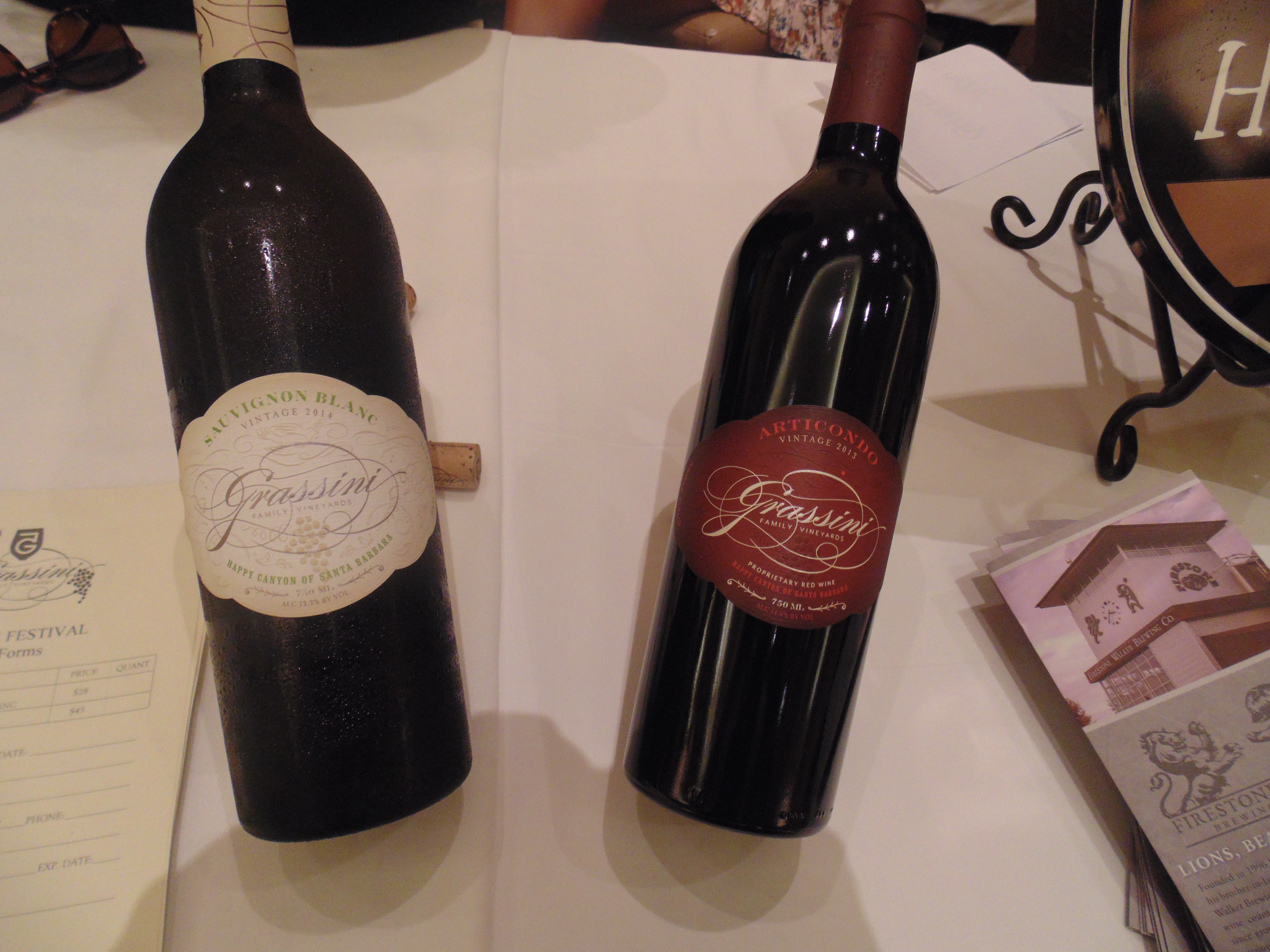 Chowder, Food, Beer & Wine Vendors included: Santa Barbara Fish Market, Brander Winery, Lucas & Lewellen, Mac's Fish & Chips, Enterprise Fish Co., The Chase Restaurant, Roy, Demetria Winery, Summerland Winery, Ojai Jelly, Max's, Whole Foods Market, Santa Barbara Shellfish House, Fess Parker Winery, Island Brewing Co., California Wood Fired Catering, Oreana Winery, Kalyra Winery, Outpost at the Goodland, Deux Bakery, Scarlett Begonia, Telegraph Brewing Co. Three Pickles Deli, Firestone Brewing Co., Grassini Winery, Cultured & Saucy, Figueroa Mountain Brewing Co., Daniel Gehrs Winery, Stolpman Winery, Lagunitas Brewing Co., Buttonwood Winery, Jalama Beach Grill, Crocodile Restaurant, and Lazy Acres Market.
For information on the Legal Aid Foundation of Santa Barbara County visit: www.lafsbc.org/
______________________________________________

CIAO BELLA CHILI
by Bonnie Carroll
This recipe took 4th place at the Beverly Hills Chili Cook-off, and I got some help from Chef Celestino Drago. Mangia Bene!
INGREDIENTS:
Light olive oil as needed
3 large cans Northern white beans (Gelsons Market)
2 large cans white sweet corn
4 cups finely diced celery
4 cups finely chopped yellow & green Italian squash
1 large yellow pepper
2 large cans yellow Roma tomatoes (.99 Stores)
1 cup each: ground veal, chicken, turkey
3 cups chopped white onion
3 tbs chopped shallots
½ cup chopped scallions
½ cup chopped water chestnuts
1 can finely chopped artichoke hearts (15 oz. can)
1 cup dry white Italian wine (Bristol Farms)
3 cloves garlic finely chopped
1 tbs. white Worchester sauce
1 tsp. white rice vinegar
1 tsp white balsamic vinegar (Surfas chef supply)
juice of 1 lemon
1 tsp cinnamon
1 tsp cumin
1 tsp oregano
1 tsp chili powder
1 bayleaf
3 large mushroom chopped
1 tbs white chocolate cocoa powder (Bellagio Brand at Bristol Farms Market)
keylime white pepper and salt to taste
(8-10 servings)
PREPARATION:
Brown meat, remove from pan and add onion, scallions, shallots, celery, pepper, squash in enough oil to cover bottom of the pan; cook over medium heat until lightly brown. The liquid can then be drained or can be left for added flavor. Add all spices (except white key lime pepper and salt, which should be added 30 minutes before serving) along with lemon juice, Worchester sauce, rice and balsamic vinegar, and simmer for 30 minutes. Place mixture in a gallon size pot and add the northern beans, white sweet corn, tomatoes, water chestnuts, artichokes and white wine and continue to cook on low heat until ready to serve. Don't forget white key lime pepper and salt in last 30 minutes.
GARNISH:
Fresh grated Parmesan cheese
Sliced tiny yellow and red tomatoes
1 small basil leaf or basil leaf
2 small breadsticks
_________________________________________________________________
IDAHO POTATO COMMISSION ANNOUNCES FIRST EVER TAILGATING RECIPE CONTEST
Grand Prize Winner will receive VIP trip to the Famous Idaho® Potato Bowl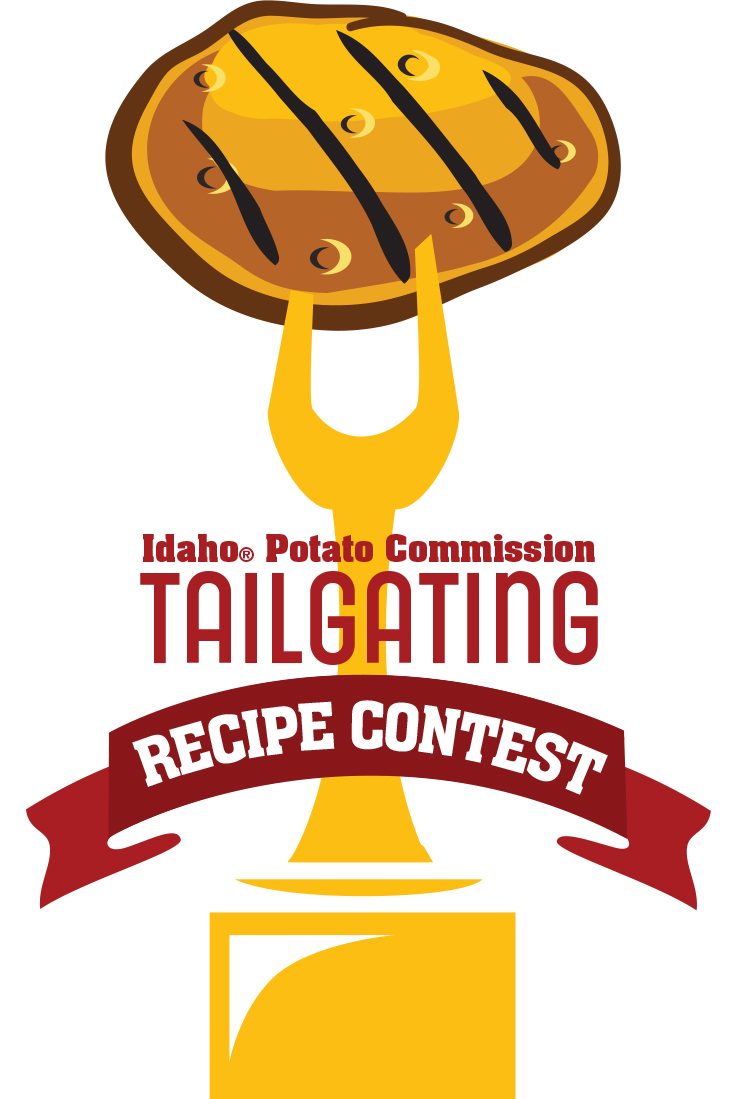 – The Idaho Potato Commission (IPC) is kicking off the college football season on October 23 with a recipe contest that gets fans excited about tailgating with Idaho® potatoes all season long. In partnership with professional college football reporter, Heather Cox, the IPC is asking fans to submit an original game day recipe that features Idahopotatoes in a prominent, creative and delicious way. Cox is promoting the contest through a series of videos filmed live from the sidelines of top college football fields across the country. The 30-second videos will be uploaded and shared across all the IPC's social media channels during the contest period.   "We know that athletes rely on the important vitamins, minerals and carbohydrates in potatoes to keep them fueled on and off the field," explained Frank Muir, President and CEO, IPC. "This recipe contest is a perfect way for fans to experience for themselves how Idaho® potatoes offer a natural and healthy energy boost." "Idaho® potatoes are the perfect ingredient for powering your game day," said Cox. "They taste great any way you prepare them – grilled, stirred into your famous chili, or sliced thin and served with your favorite dip. We want to see how football fans and Idaho® potato lovers make the most of game day!"   One lucky spud fan will win the grand prize of an allexpense paid trip to the Famous Idaho® Potato Bowl (includes round-trip airfare for two, two nights at a luxury hotel, ground transportation and  $1,000 spending money) where they will receive box tickets and a private behind-the-scenes tour with Cox. The winner also has the option of receiving $5,000 cash in lieu of the FIPB Experience.  Five runners up will each receive $500 cash.    The contest will run from October 23 – November 20, 2015 and the Grand Prize winner and runners up will be notified on December 7. The winning recipe will also be featured on the IPC's website and social media channels.   Recipes will be judged by their combination of creativity, taste, ease of preparation, and, of course, use of Idaho potatoes. To enter, fans should . Visit www.idahopotato.com for more info.
___________________________________________________________________
Tristán says goodbye
---
Dear valued guests,
After 29 years of hard work, dedication, joy and sorrow, Tristán will close its doors on 1st of November. It is not a farewell, but more a "see you soon", giving way to a new gastronomic project under the management of "Grupo Alborada Hostelería", providing a new culinary experience in Puerto Portals.
We thank all our guests for their trust and 29 years full of beautiful memories. A big thank you also goes to our hundreds of team members that add a great contribution to success with their enthusiasm and passion for work. We are proud of everything we have achieved and are looking forward to the future project, which will open in March 2016!

Your Tristán team
Tristán
Puerto Portals, Local 1, 07181 Calvià, Illes Balears
___________________________________________________________________
Roasted Turkey Recipe Courtesy of Paula Deen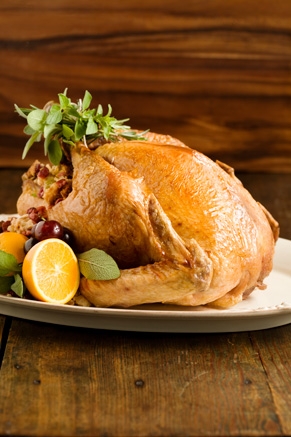 www.pauladean.com/recipes
Tip: Drizzle the bird with its own juices once every 30 minutes 
Servings: 12 servings
Cook Time: 3 hours 30 min
Difficulty: Easy
Ingredients

1 1/2 teaspoon kosher salt
1/2 teaspoon + 1/8 teaspoon pepper
1 turkey, 12-14 lbs, thawed if frozen
1 onion, quartered
1 head of garlic, halved crosswise
Several sprigs of fresh herbs, such as thyme, parsley, rosemary, and sage
2 bay leaves
1/2 cup unsalted butter, melted
1 can (14 1/2 oz) chicken broth
2 teaspoons chopped fresh thyme
1/4 cup cornstarch
Directions
Preheat oven to 325 F. Sprinkle 1/2 teaspoon kosher salt and 1/4 teaspoon black pepper inside turkey cavity. Place onion, garlic, herb sprigs, and bay leaves insides cavity. Place turkey breast-side up on rack in large roasting pan. brush with half of butter; sprinkle with 1/4 teaspoon pepper and remaining salt. Truss, if desired.
Tent turkey with foil, roast 2 hours, 30 minutes. Remove foil, brush with remaining butter. Increase oven temperature to 425 F. Roast turkey until meat thermometer inserted into thickest part of thigh away from bone registers 180 F about 45 minutes, tenting with foil during last 15 minutes of cooking time, if browning too quickly. Let stand 15 minutes before carving.
Meanwhile, skim and discard fat from pan juices. Place roasting pan with 1 1/2 cups juices over medium heat. Add broth, chopped thyme, and remaining pepper, stirring up browned bits from bottom of the pan. Simmer 3 minutes.
Stir together cornstarch and 1/3 cup water. Strain gravy into small pot over low heat, gradually whisk in cornstarch mixture. Simmer stirring, until thickened, 2 minutes.
Enjoy With  . . .
Campbell's Green Bean Thanksgiving Casserole
2 cans (10 3/4 ounces each) Campbell's® Condensed Cream of Mushroom Soup (Regular, 98% Fat Free or Healthy Request®)
1 cup milk
2 teaspoons soy sauce
1/4 teaspoon ground black pepper
8 cups cooked cut green beans
2 2/3 cups French's® French Fried Onions
Stir the soup, milk, soy sauce, black pepper, beans and 1 1/3 cups onions in a 3-quart casserole.
Bake at 350°F. for 25 minutes or until the bean mixture is hot and bubbling. Stir the bean mixture. Sprinkle with the remaining onions.
Bake for 5 minutes or until the onions are golden brown.
Five Tasty Twists on Campbell's Green Bean Casserole
For added crunch, add ½ cup sliced almonds to the onion topping.
For bacon lovers, add 4 slices bacon, cooked and crumbled, to the bean mixture.

F

or a festive touch, stir in chopped red pepper with soup.

F

or cheese lovers, stir in 1 cup shredded Cheddar cheese with soup. Omit soy sauce. Sprinkle with an additional 1/2 cup additional Cheddar cheese when adding the remaining onions.
For Golden Green Bean Casserole, substitute Campbell's Condensed Golden Mushroom soup for Cream of Mushroom soup. Omit soy sauce. Stir in 1/2 cup chopped red pepper with the green beans.
---