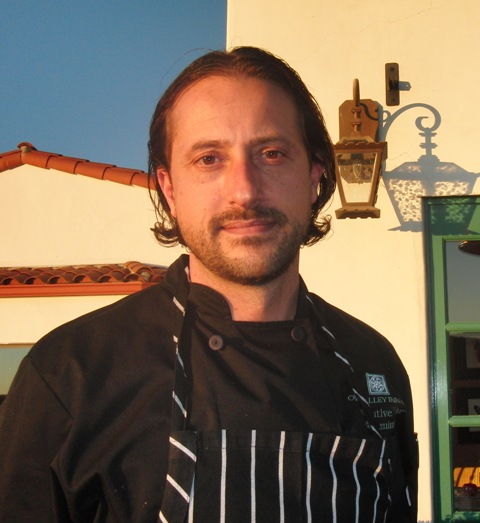 HEIRLOOM TOMATO SALAD SECRETS
From Executive Chef Chad Minton, Ojai Valley Inn & Spa Resort
Story & Photos by Bonnie Carroll
Welcome to Chad Minton the new executive chef on the block at the Ojai Valley Inn & Spa Resort. The innovative new chef brings a love for the flavors of fresh grown produce, and the expert use of unique slow cooking techniques that are creating a buzz with guests at the Inn.
With a solid culinary history in the kitchens of a collection of impressive restaurants and hotels chef Minton explained "I am delighted to be in Ojai, using the outstanding produce available at the farmers market as well as the beautiful heirloom tomatoes and herbs growing right here on our property. I have always enjoyed the best in comfort foods and have included some new recipes in our winter menus that guests are already enjoying."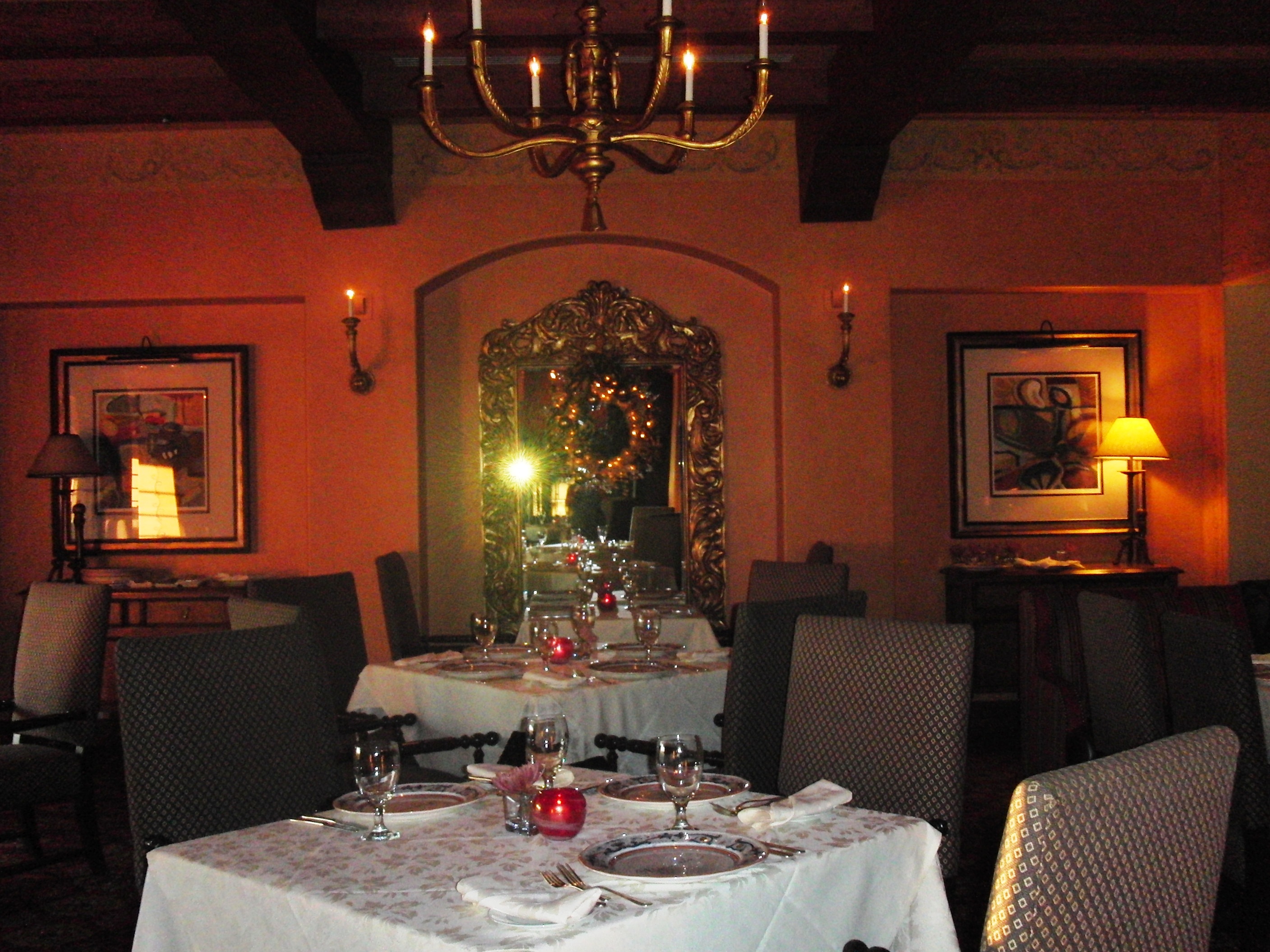 One of the outstanding salad recipes on the chef's Maravilla Restaurant menu is his fresh from the garden heirloom tomatoes and herb salad, which the chef was pleased to create for me in the hotel kitchen.  If you love tomatoes, you will want to recreate this gem. Follow Chef Minton's recipe below and you will have a salad that will leave your guests begging for more, or at least expecting a copy of this delicious prescription for fresh tomato bliss.
HEIRLOOM TOMATO SALAD, Chef Chad Minton
Serves 4
Ingredients for the Tomatoes: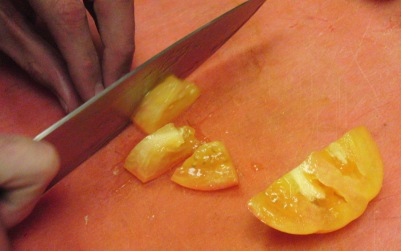 Selection of 3 different Heirloom Tomatoes. 1 Tomato of Each Variety
Corse Sea Salt, to taste
Cracked Black Pepper to taste
Sherry Vinegar, to taste
Burrata Mozzarella Cheese, 2 cups
Ingredients for the Dressing:
 "Green Goddess Dressing"
Prepared All Natural Caesar Salad Dressing
Avocado, 1 Each
Basil, 1 Bunch
Tarragon 1 Bunch
Lemon Juice 2 teaspoons
Ingredients for the Croutons:
"Torn Croutons"
Day Old Focaccia or Olive Bread
Extra Virgin Olive Oil, 2 Tablespoons
Corse Sea Salt, to taste
Method for Dressing: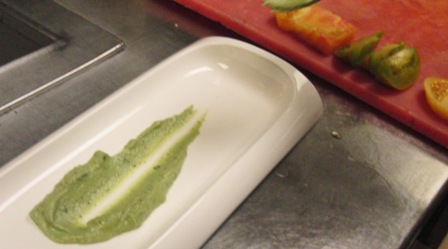 At the Inn they make a Caesar Salad Dressing from organic free range eggs and use that as our base for the dressing. Making Caesar dressing for four can be a bit ambitious for home cooks so for this purpose you can substitute your choice of an all natural prepared dressing. Pour dressing into food processor or blender and add peeled and seeded avocado, fresh herbs and blend until smooth. Adjust the seasoning with salt and lemon juice and keep cold.
Method for Croutons:
Using your fingers simply pinch and pull small pieces of bread from the loaf and toss them in a mixing bowl with olive oil. Lay them out flat on a sheet pan and bake in 300-degree oven until they are dry and crunchy.
Method for the Tomatoes: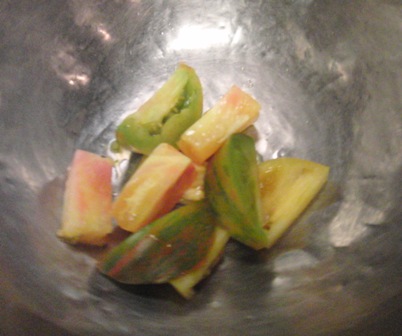 Just prior to serving use a sharp knife to cut each variety of tomato into a different shape, there are no rules here just use your creativity and have fun. In a stainless mixing owl toss the tomatoes with a small splash of Sherry vinegar and season with salt and pepper.
To Plate: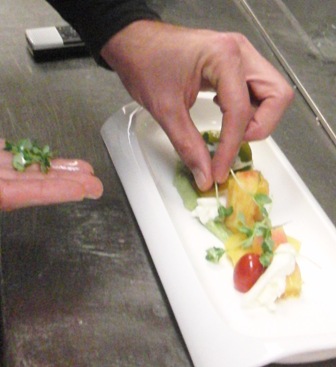 Spread a generous amount of the dressing on the plates. Place the tomatoes as you like on top of that and spoon the buratto alternating between the tomato slices. Place the croutons where you like. Garnish with a sprinkle of coarse sea salt and a drizzle of extra virgin olive oil and enjoy.
Bon Appétit from the Ojai Valley Inn. This is one of my favorite destinations in California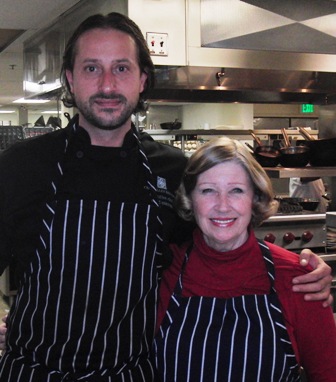 and a divine spot to unwind, especially during the winter months. The menu at Maravilla, Cafe Verde and the Oak Grill provide preparations and presentations to please the palate of every guest, from the very young to the young at heart. Watch for additional recipes from Chef Minton in our February 2012 issue. For details on specific recipes and dining options visit www.ojairesort.com.
---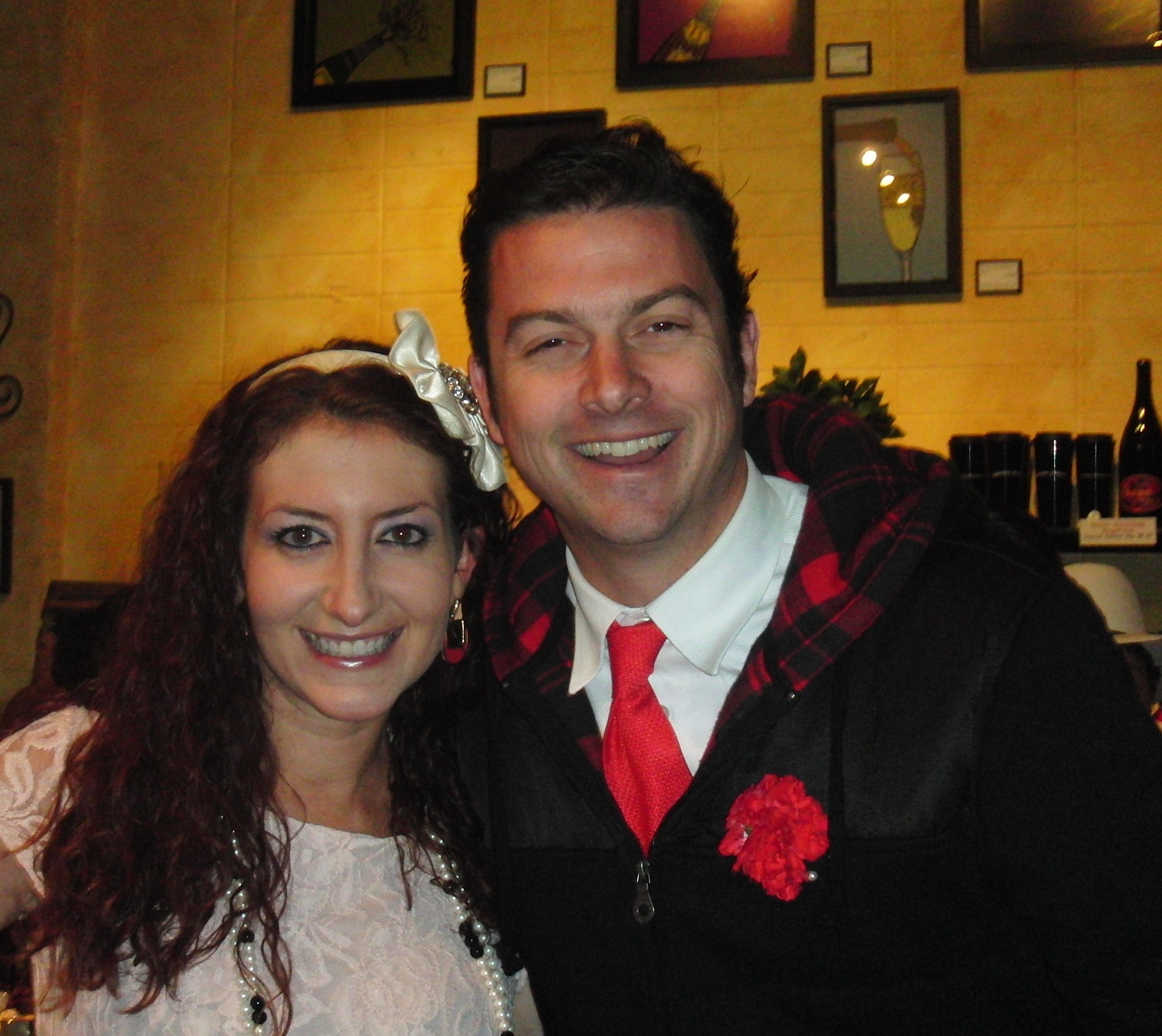 SANTA BARBARA BAKER IS A CUPCAKE WARRIOR
Creative Recipes Win "Cupcake Wars" Title for Alison Riede
by Bonnie Carroll
Alison Riede clearly earned the 'Cupcake Wars" title on her recent episode of Cupcake Wars on the Food Network. Riede, owner of the Santa Barbara-based online cupcake company Sugar Cat Studio and her assistant Erica Lively created a holiday trio of cupcakes that won the top prize. The creative baker received her degree in visual and performing arts from Syracuse University, and moved to California to get her master's in education at UC Santa Barbara.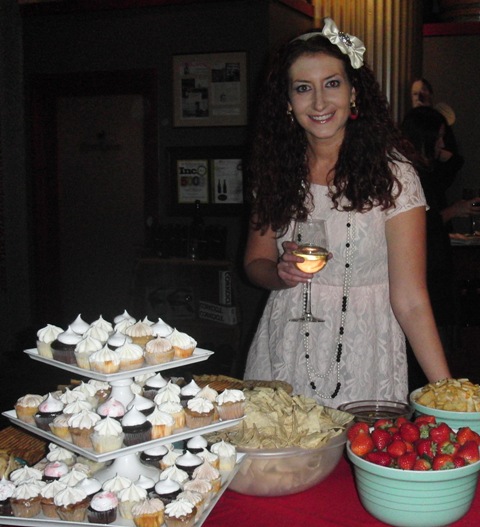 Now entering its fourth season, the show pits four bakers from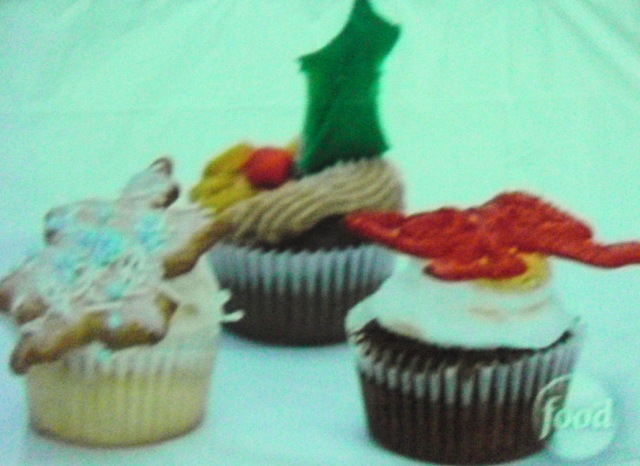 across the country in a competition to create the tastiest and most attractive cupcakes based on a theme the show selects. Riede's episode was the Hollywood Christmas Parade, and her "White Christmas," a white chocolate coconut cream dream, "It's a wonderful life," a mulled wine cupcake based on Clarence the angel's favorite drink, and "A Christmas Story" an Ovaltine chocolate chip inspired by the decoder ring scene.
This victory won Alison $10,000 and the opportunity to offer her cupcakes to celebrities at the Hollywood Christmas Parade on November 27. Her three year old company offers custom catering for weddings and special events on California's Central Coast and has sold its custom-0made cupcake wrappers worldwide. Recently she branched out by offering cake pops and hosting wine-and-cupcake pairings.
Christian Garvin, owner of Oreana Winery in Santa Barbara hosted a party-viewing of Alison's winning episode (12.11.11) to share her win and celebrate her success with a wine and cupcake sampling. Oreana Winery is located at 204 Anacapa, and has received rave reviews in publications like Wine Spectator for their sparkling wines and award winning Pinot Noir.
Proud winner Allison Riede hopes to use her prize money to continue developing Sugar Cat Studio and continue to provide sweet assistance through donations to organizations like Santa Barbara Soup Kitchen and the Santa Barbara County Arts Commission. Visit: (www.sugarcatstudio.com) for information.
---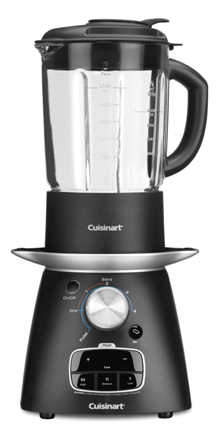 CUISINART IS BRINGING TO THE TABLE. . .
Blend and Cook Soup Maker
Food for Thought:
Cuisinart Unites Blending and Cooking in One Innovative Product
Soup is one of the most diverse and beloved dishes in a home cook's repertoire, and has been a staple of kitchens around the world for centuries.  Traditionally, soups of all kinds are prepared in stages: chopping vegetables, slicing meats, prepping and measuring herbs and spices, and of course, actually cooking the soup.  Now, consumers can do all of this – even cooking – in the new Cuisinart Blend and Cook Soup Maker (model no. SBC-1000).  This innovative new blender utilizes patented technology that allows for cooking and stirring ingredients, which allows permits fresh homemade soup to be prepared from start to finish: the nonstick heater plate can be used to sauté ingredients, simmer and even boil soups, all of which can then be blended to the perfect consistency with the touch of a button.  In addition, the blender is ideally suited for more traditional tasks like crushing ice and blending smoothies and cocktails.
"Cuisinart is proud to introduce this exciting new blender, and to once again change the way consumers think about preparing meals at home," says Mary Rodgers, Director of Marketing Communications for Cuisinart.  "The Blend and Cook Soup Maker is ahead of the curve, as it addresses a need for expediency in the kitchen and offers a level of performance and convenience that is unrivaled in the category."
What to Look for When Purchasing a Blender:
Performance:
Cuisinart's Blend and Cook Soup Maker has numerous features that allow home cooks to make any soup, chowder or stew quickly and efficiently.  The blender has 900-watts of cooking power (with the blender alone, without the heater, being able to achieve a maximum of 500-watts) and a thermal, shock-resistant glass blending/cooking jar with a sturdy, wide-mouth design.  This unique blender jar can hold 48 ounces of hot liquids and 56 ounces of cold liquids, with markings for each clearly visible on the jar itself.  The unit's electronic touchpad controls allow users to choose speeds from one to four (one to three only for blending hot ingredients) and pulse ingredients to the desired consistency.  The blender also has a countdown timer that can be set for up to 30 minutes in one-minute increments.  In addition, a leak-proof rubber gasket holds the blender jar snugly in position for safe operation.
Design:
Aside from the ability to cook ingredients, the Blend and Cook Soup Maker has other significant design elements as well.  The unit has high, medium and low temperature settings to ensure that any type of soup is brought to the proper cooking and serving temperature, as well as a stir function that gently agitates ingredients as they cook.  The Blend and Cook Soup Maker is also designed with a nonstick interior and is equipped with high-quality stainless steel blades and slip-proof feet that prevent movement during use.  Additionally, all parts of the blender that come in contact with food are BPA-free.
Convenience:
Cuisinart's new blender offers a bevy of convenience features, including an easy-to-read LED 30-minute countdown timer to allow for perfect timing, whether preparing a light carrot and ginger soup or a hearty corn and clam chowder.  The blender also has a press-on lid with a tight-fitting seal to prevent leakage, which is equipped with vents to allow steam to escape during the cooking process.  Additionally, the lid includes a removable measuring cup that allows home cooks to measure up to three ounces of ingredients to add through the lid opening created by the removal of the measuring cup.  For added convenience, a heavy-duty cleaning brush is included to aid in cleaning the heater plate and blades.  Lastly, all removable parts of the unit are dishwasher safe. Retail price $199, available at Williams-Sonoma. 3 year warranty.
---
ARTISAN CHEESE FESTIVAL
If you love cheese as much as I do, you're going to want to put this event on your calendar: the 6th annual Artisan Cheese Festival held March 23-25 in the charming and hip (yes, hip) town of Petaluma. More than 6,000 attendees gather every March to meet more than a dozen international award-winning cheesemakers and learn how to how to taste, buy, serve, and enjoy distinctive artisan cheeses from the experts.
You'll also get to sample locally made jams, jellies, breads, beer from as many as 65 artisan producers and discover the many charms of this pastoral town that is only 32 miles north of San Francisco. The educational seminars and tastings are led by cheesemakers, chefs, and fromagiers (I didn't even know that was a word) from across the country, and virtually every session involves tastings and/or pairings of artisan cheeses.
---