Bake Me A Wish! Launches "Project Wish Cake"
Project to Donate a Percentage of Cake Sales to the Make-A-Wish Foundation®, Gives Foundation 5,000 Cakes, Creates Specialty Cake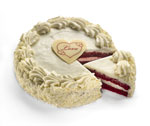 Bake Me A Wish!™, a national gourmet cake provider www.bakemeawish.com, will donate five percent of all online cake sales to the Make-A-Wish Foundation of America for one year. The campaign, called "Project Wish Cake," begins this month.
In addition, Bake Me A Wish! will donate 5,000 gourmet cakes to the Foundation to be used at its discretion and offer a 30-percent discount to all Make-A-Wish® chapters that purchase gift cakes.
The company will also create a fabulous Make-A-Wish Foundation specialty cake to be sold at www.bakemeawish.com. The organization will receive 30 percent of the sales from this specialty cake.
"Our birthday and special occasion cakes have created joyful experiences for thousands of people across the country," said Josh Kaye, president of Bake Me A Wish! "We understand how wishes impact wish kids and their families, and we're happy to donate resources to help bring some joy to these very courageous children."
"The support of Bake Me A Wish! is a wonderful gift for the Make-A-Wish Foundation," said David Williams, president and chief executive officer of the Make-A-Wish Foundation of America. "Project Wish Cake's financial support will help us grant more magical wishes this year, and the cakes will help us make those wish experiences a little bit sweeter."
About Bake Me A Wish!
Established in 2004, Bake Me A Wish! (www.bakemeawish.com) is a national gourmet cake provider. Cakes are made with only the finest, freshest ingredients by an award-winning family-run New York bakery that also supplies pastries to some of Manhattan's most elite restaurants and food vendors. Bake Me A Wish! presents a unique way to send gourmet birthday and occasion cakes to family, friends, clients and employees. All cakes are packaged in a customized box at the bakery with a personalized note. On-time delivery is guaranteed.
Bake Me A Wish! offers corporate loyalty programs for organizations to reward customers or employees with gourmet cake gifts. This reinforces and improves their brand image, employee morale and customer relationships. World-class casinos in Atlantic City and Las Vegas such as Borgata, Treasure Island, New York-New York and Luxor Casinos, and MGM / Mirage Corporate properties participate in this program as well as Sweet Indulgence Dessert Club.
About The Make-A-Wish Foundation®
The Make-A-Wish Foundation grants the wishes of children with life-threatening medical conditions to enrich the human experience with hope, strength and joy. Born in 1980 when a group of caring individuals helped a young boy fulfill his dream of becoming a police officer, the Foundation is now the largest wish-granting charity in the world, with 71 chapters in the U.S. and its territories. With the help of generous donors and nearly 25,000 volunteers, the Make-A-Wish Foundation grants more than 12,500 wishes a year and has granted more than 135,000 wishes in the U.S. since inception. For more information about the Make-A-Wish Foundation, visit www.wish.org and discover how you can share the power of a wish®.
---
CREATE A VALENTINE'S DAY TO REMEMBER
AT THE RITZ-CARLTON, HALF MOON BAY
Northern California's only AAA Five Diamond resort
offers the ultimate romantic getaway
Couples seeking a Valentine's Day destination perfectly suited to romance and relaxation find the ultimate getaway at The Ritz-Carlton, Half Moon Bay. Exquisite sensory experiences await, whether it be a tempting chef's tasting menu for two in Navio, the Chocolate Tasting Menu in The Conservatory, a Rosé Champagne flight in The Wine Room, a Couple's Massage in The Spa, or delicious "Pillow Top Picnic" delivered to their room.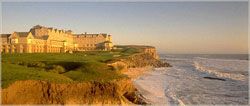 Valentine's Day Dining in Navio
Wednesday, February 14 – 6 to 10 p.m.
Navio Chef de Cuisine Aaron Zimmer presents a four-course prix fixe dinner menu in one of the most romantic oceanfront settings in Northern California. Included in the menu is a complimentary rose and box of fine chocolates. $105, with optional $75 wine pairing, per guest, exclusive of tax and gratuity; reservations required. Please call 650-712-7040 for reservations and further information.
Navio Valentine's Day Chef's Tasting Menu
East and West Coast Seafood Platter for Two
~
Parsnip Soup with Toasted Brioche, Black Truffles and Aged Cheddar
~
Pan Roasted Beef Tenderloin with Arrow Leaf Spinach,
Tempura Maitake Mushroom and Red Wine Shallot Sauce
or
Shallow Poached Arctic Char with Baby Carrots and Marcona Almond Mage
or
Whole Braised Abalone Mushroom with White Bean Ragout
and Farmer John's Swiss Chard
~
White Chocolate Textures with Rose Ice Cream and Ruby Red Grapefruit
Chocolate Tasting Menu
Friday, February 9, through Friday, February 16
Dessert takes center stage in the resort's Conservatory, with a decadent chocolate tasting menu created by Pastry Chef William Werner, known for his innovative desserts and flavor pairings. $18 per guest, exclusive of tax and gratuity. No reservations required.
Chocolate Tasting Menu
White Chocolate Coconut Soup, Black "Pearls" and Lime
~
Liquid Chocolate Center Mochi, Sweet Potato and Black Tea Ice Cream
~
Salted Chocolate-Caramel Ganache, Mandarin-Amaretto Salad
Rosé Champagne Flight in The Wine Room
Friday, February 9, through Friday, February 16 – 4 to 10 p.m. Monday through Friday;
2 to 10 p.m. Saturday and Sunday.
The resort's warm and inviting Wine Room, a popular destination for wine aficionados and collectors from the Bay Area and beyond, offers guests a tasting flight of exquisite Rosé Champagnes. The flight includes Nicolas Feuillate, Rosé, 1er Cru, Chouilly, Champagne; Bruno Paillard, "Premier Cuvee," Brut, Rosé, Reims, Champagne; and Bellefon, "Cuvee de Moines," Brut, Rosé, Epernay, Champagne. Accompanying the flight is a pairing of sweet and savory tapas: Cube of Crisp Pork Belly, Paprika Hollandaise and Black Olive Oil, and Shaved Pineapple, Citrus Ravioli and Mint Ice. $42 per person, exclusive of tax and gratuity. No reservations required.
Pillow Top Picnic
Tuesday, February 13 through Thursday, February 15
For couples desiring a more intimate and private dining experience, a three-course prix fixe dinner for two is delivered directly to the guests' room. Designed to be shared and eaten in bed, the Pillow Top Picnic menu includes rose petals, a box of gourmet truffles and specially-printed menu. $90 per person, exclusive of tax and gratuity. Twenty-four hour advance reservations and overnight stay required; please call 650-712-7657 for reservations.
Pillow Top Picnic Menu
Homemade Foie Gras Terrine with Toasted Brioche
Mount Tam Cowgirl Creamery Cheese
Seasonal Fruit Basket
Shrimp Cocktail
~
Lobster Cannelloni with Black Truffles
~
Valentine Celebration Cheesecake
The Ritz-Carlton Spa, Half Moon Bay
Northern California's only Mobil Four Star spa offers the perfect way to retreat from the winter blues. Open to day guests during the week and overnight guests seven days a week, The Spa offers a trio of treatments specially suited to the month of romance. Guests enjoying any spa treatment have full access to The Spa's facilities, including the fitness center, for that entire day.
Hot Oil Rose Massage
Available the month of February
This treatment begins with gentle exfoliation through lymph stimulating body brushing and warm, hydrating, chamomile and rose compresses, followed by aromatic full-body relaxation massage with rose oil, one of the most precious of all essential oils. Leaves skin silky, emotions elevated, and muscles relaxed. Includes glass of Champagne and chocolate covered strawberries.
60 minutes, $185; $365 as a couples treatment. Please call 650-712-7040 for reservations and further information.
The Romance Blend – In-Room, Butler-Drawn Bath
Available throughout the year
Set the stage for romance with an immersion in a luxurious bath filled with rose and lavender scented bubbles and fresh rose petals. The glow of candle light and romantic music will surely enhance this sensual soak. Candle and CD are complimentary. $65 per room. Chilled split of Champagne, $42, bottle, $58. Available to overnight guests only. Please call 650-712-7040 for reservations and further information.
Couples Massage
Available throughout the year
Enjoy the Half Moon Bay Signature Massage side by side with a loved one in a candle-lit, couples room scattered with rose petals. Individual therapists use combinations of modalities and energy work for a customized experience for two. $295 per couple, February 12 through February 15; $325 during rest of the year, exclusive of gratuity. Please call 650-712-7040 for reservations and further information.
Fire and Wine Package
Ideal for a romantic Winter getaway on the coast, this package includes Terrace Fire Pit Room accommodations; a bottle of wine; a s'mores kit for two, perfect for roasting in front of the patio fireplace; rose petal turndown; deluxe candle; resort fee; and overnight parking for one car. This package begins at $629, single or double occupancy, exclusive of tax and gratuities. For reservations, please call 800-241-3333.
Escape Spa Package
Reserve a Coastal View guestroom and receive a $100 credit to use toward any treatment in The Ritz-Carlton Spa, Half Moon Bay, Northern California's only Mobil Four Star spa. Credit not valid for retail purchases. This package begins at $429 per night, single or double occupancy, exclusive of tax, overnight parking and resort fee. For reservations, please call 800-241-3333.
The Ritz-Carlton, Half Moon Bay is a 261-room destination spa and golf resort, 30 miles south of San Francisco. Set atop a rugged bluff overlooking 50 miles of pristine California coastline, the timeless oceanfront estate provides guests with a relaxed yet refined experience, whether for a romantic getaway, meeting or special event. The resort opened spring 2001 and has earned the prestigious AAA Five Diamond Award for the sixth consecutive year. For reservations, please contact your travel professional or toll-free at 800-241-3333. For additional information, please call the resort directly at 650-712-7000, or visit www.ritzcarlton.com/hmb.
---
Yummy Brownies Get an Adult Makeover
Creative New Company Give Brownie A New Twist
Dolcielo, an Atlanta-based company specializing in innovative desserts,
announces gourmet brownies targeted for adults.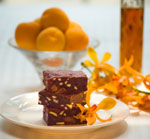 "Brownies have grown up," says Dolcielo's owner, Nanette Littlestone. "We wanted to turn an ordinary treat into something designed for the adult palate."
Traditional comfort food takes on a new twist. The brownies showcase a combination of dried fruit and liqueur surrounded by dark chocolate. Dolcielo carries this theme in four unique flavors: Amureo -- apricots with Disaronno Amaretto; Bellasanti -- cherries with Cherry Heering; Celesola -- pineapple with Bacardi Gold; and Donamato -- plums with Kahlúa Especial. The company also offers an original brownie without fruit and liqueur, Divina, for those who prefer an unadulterated sweet.
"Chocolate lovers beware," says Sara Levy, Atlanta based food guru. "These are the most luscious and decadent brownies I have ever tasted. I am in the food industry which allows me the opportunity to try many food items, and I can honestly say you will not be disappointed."
Dark chocolate continues to gain recognition for its health benefits, giving Dolcielo a natural boost. Only the finest natural ingredients and premium liqueurs are used. Because the brownies are made without preservatives, each batch is baked to order. The keyword at Dolcielo is elegance. From the high-quality ingredients to the beautiful packaging, everything combines for a luxurious experience. Dolcielo was founded from a love of baking and sharing good food. Owner Nanette Littlestone envisions Dolcielo as a way to make a difference.
"I want to help create a better place for everyone," she says. "My goal is to heal the world with love and chocolate." With that idea in mind, the company donates two percent of each sale to Heifer International and the National Wildlife Federation. For further information about Dolcielo, visit www.dolcielo.com.