THE ROYAL HOLIDAY BREAKFAST
Preparing a Mother's Day Brunch Fit for the Queen in Your Life
by Bonnie Carroll
The economy challenges we are all facing present some special choices for pleasing that special woman in your life on Mother's Day, and just making a beautiful brunch at home may be on the top of your list for a variety of reasons this year.
So, if you are leaning this way, I do attempt to provide some tried and true recipes, techniques, and tools to make it easy for you to hve a memorable occasion sharing some of these dishes and sips at your annual celebration to remember your mom.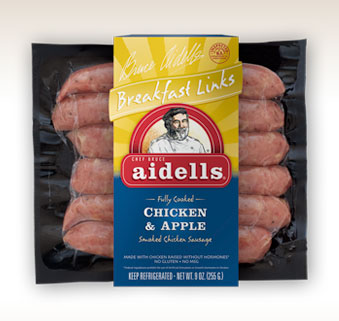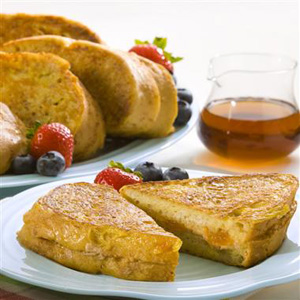 You can always depend on McCormick to have delicious standard recipes on their site for every holiday including Mother's Day or any special occasion meal. They offer a Cheesy Bacon & Egg Brunch Casserole with a Very Vanilla Fruit Salad that can be made in advance, and the presentation looks professional. Another favorite of mine is their Stuffed French Toast, which includes a stuffing of cream cheese and brown sugar and topped with maple sugar. It's delicious! Visit: www.McCormick.com for a treasure trove of great cooking ideas. For cheese try something new and exciting, perhaps brie or a soft middle-eastern cheese. Another favorite brunch item with our family is the Aidells Apple & Chicken Breakfast Sausages, made with Washington State farm apples. These sausage products come in a variety of flavors and are easy to prepare, either as a side dish with pancakes and waffles or combined with eggs in a main dish. Visit: www.Aidells.com  for their recipes and product information.
.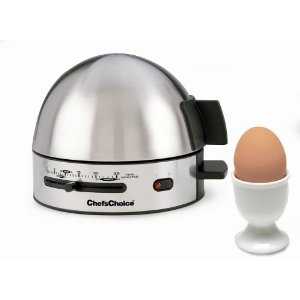 For those of us who really do love dishes like Eggs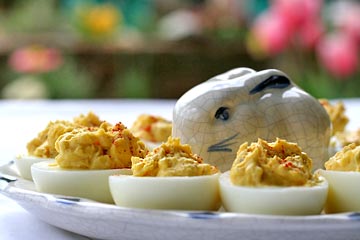 Benedict there is a new Gourmet Egg Cooker on the market by Chef's Choice International that takes all the mess and guess work out of making perfectly cooked poached eggs, as well as soft boiled eggs and hard boiled eggs for deviled egg presentations. I am delighted with this product because it is so simple to use, and  I am big on having protein in the form of boiled eggs available at all times. Visit: www.chefschoice.com.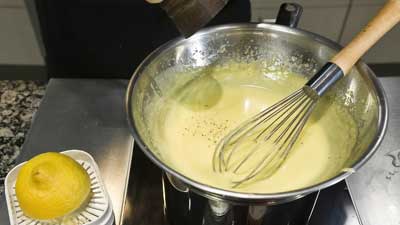 My favorite egg recipe is created with home-made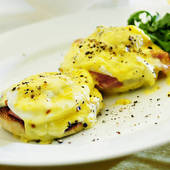 Hollandaise, and sometimes the packaged Knorr sauce mix works well, but the quickest and best tasting ready to go product is the new Trader Joe's Hollandaise in a jar. English muffins also come in many varieties, but I think whole wheat offers the best balance with a rich sauce recipe. Some chef's do an Italian twist using Italian sausage on brushetta with truffle oil and arugula for this dish.
Preparing Eggs Benedict: This dish basically consists of half a buttered English muffin at the bottom, topped with Canadian style bacon (can be substituted with ham) followed by a perfectly poached egg and drizzled with a smooth Hollandaise sauce. The Preparing a Simple Hollandaise Sauce recipe below may help:
Ingredients:
8 oz (225 g) butter
3 large egg yolks
2 tbsp hot water
Just over 1 tbsp lemon juice
Pinch of salt
Pinch of cayenne pepper
Method: 1. Melt the butter slowly in medium saucepan. When butter is melted remove pan from the heat and put to the side. 2. Whisk egg yolks in a small bowl. 3. Add lemon juice, salt and cayenne to the eggs yolks while continuing to whisk. 4. Very slowly begin to whisk in the melted butter and 2 tbsp of water. 5. Return mixture to the saucepan, heat over a very low heat while continuing to whisk until the sauce thickens. 6. Serve immediately or keep warm for up to 30 minutes before serving.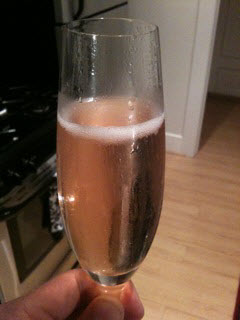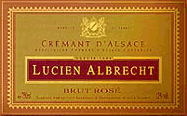 If you are serving champagne you might like to try the Lucien Albrecht Brut Rose or a Sparkling Cider is also a nice beverage choice to toast the great women in your life. Wishing you a very Happy Mother's Day, today and everyday.         BC
---

 Chicago's top culinary talent honored at StarChefs.com Rising Stars Review

  Innovative beverage pairings at each winner's table

Fairmont Chicago, Millennium Park
200 North Columbus Drive
Chicago, IL 60613
CHEFS


Jimmy Bannos Jr.
The Purple Pig
Milk-braised Pork Shoulder and Mashed Potatoes

Curtis Duffy
Avenues at the Peninsula Chicago
Australian Wagyu Beef Cheeks, Savory Black Sesame Sponge, Smoked Coconut Pudding, Preserved Kumquats, and Sudachi

Dirk Flanigan
Henri and The Gage
Roasted Loin of Cervena Venison, Liver-Mushroom Croquette, Brussels Sprout Purée, Woodland Mushrooms, Berries, and Vadouvan Curry Reduction

Stephanie Izard
Girl & the Goat
Braised Beef Tongue, Masa, Beef Vinaigrette, and Salsa Verde

Chris Pandel
The Bristol
Rabbit Liver and Kidney Lyonnaise, Poached Egg, and Frisée Lettuce

Shin Thompson
Bonsoirée
Scallop-Crab Motoyaki, Ponzu Aïoli, and Crisped Scallion and Carrot

Andrew Zimmerman
Sepia
Pheasant Agnolotti, Morel Mushrooms, Albufera Sauce, and Grana Padano Cheese



PASTRY CHEFS


Patrick Fahy
Blackbird
Kentucky Bourbon Barrel Panna Cotta, Macoun Apples, Bourbon Liquor Candies, and Candied Pine Nuts

Jimmy MacMillan
Cathedral Hall at the University Club of Chicago
Chocolate Cake with White and Dark Chocolate Mousse, Spiced Gooseberry Sorbet, and Chocolate Jam



HOTEL PASTRY CHEF


Meg Galus
Café des Architectes at the Sofitel Chicago Water Tower
Gâteau Basque, Black Cherries, Lemon Zest, Pastry Cream, and Black Cherry Jam

COMMUNITY CHEF


Ryan Poli
Tavernita
"Fish Tacos": Hiramasa Sashimi, Mango-Papaya-Serrano Chili Relish, Avocado Purée, and Tortilla Infusion



SUSTAINABILITY CHEF


Geoff Rhyne
SugarToad at Hotel Arista
Braised Australian Lamb Neck, Warm Heirloom Tomato Panzanella with Olive Foccacia Croutons, and Sauce Aureole



CONCEPT CHEF


Jared Van Camp
Old Town Social
Duck Wings, Harissa, and Cucumber-Mint Raita



RESTAURATEURS


Kevin Boehm and Rob Katz
Boka Restaurant Group
Spiced Yellowfin Tuna, Prickly Pear, Cilantro Purée, Jicama, Asian Pear Wasabi Vinaigrette, and Kaffir Lime Chip



MIXOLOGIST


Paul McGee
The Whistler
• 21st Century: Death's Door Gin, Cocchi Americano, Crème de Cacao, Lemon Juice, Chocolate Bitters, and Coffee Bean
• One Trick Pony: Featuring Highland Park 12-Year Single Malt Scotch Whisky



SOMMELIERS


Rachael Lowe
Sixteen at Trump International Hotel & Tower
Wine pairings for chefs' dishes

Michael McAvena
The Publican
Beer pairings for chefs' dishes



HOST CHEFS


Brad Parsons
Fairmont Chicago, Millennium Park
Beverly Kim-Clark
Aria Restaurant at Fairmont Chicago, Millennium Park
• Caviar Parfait: Bellini Custard, Chopped Dressed Egg, Horseradish Créme, and Petrossian Ossetra Caviar
(VIP reception)
• Grand Cru Gruyère Croque Madame: Jinhua Ham on Brioche Bread with Black Truffle Hollandaise
(VIP reception)
• Buttermilk Blue Cheese Semi Freddo, Port Foam, Macerated Grapes, and Five-Spice Caramelized Walnuts
for more information go to
www.starchefs.com/risingstars
---
AN ITALIAN FAVORITE FROM MAMA - ItalianCookingVacations.com
MAMMA CELESTE'S EASTER PASTIERA
Pastiera Crust:
1kg flour
8 eggs
400g lard or butter
400g sugar
Cinnamon, as desired
Zest of 1 lemon
Filling:
1 kg grain or Italian Arborio, soaked over night until opened
200g milk
1 tsp vanilla
700g-1kg sugar, to taste
1kg fresh whole milk ricotta
10 eggs
1 tsp cinnamon
Splash of liquor- limoncello, cognac or whatever you have on had
Organic orange peels, soaked in limoncello for several days, then blended (this is for those who do not like canditi)

To make the crust, add flour, eggs, lard, cinnamon and lemon zest to a large bowl and mix together until uniform. Form into a ball, trying to handle it as little as possible. Do not knead it. Cover and refrigerate overnight or freeze until ready to use.

To make the filling, first prepare the grain. (If you find the already canned soaked grain, add 200g milk, a pat of butter, sugar, and vanilla and mix together over low heat to combine flavors. Set aside and allow to cool before using.) If starting from dry grain. First, soak it overnight in water until grains open up. In a large pot, over low heat, mix grain, milk and vanilla. Stir together until absorbed. Allow to cool. Blend part of the grain in a food processor and add back to the mixture. Add blended orange peels and stir.
In a separate bowl, mix ricotta, eggs, sugar and cinnamon together with an electric mixer until they form a smooth cream. Add to the grain mixture and stir until well combined, making sure to continually reach to the bottom of the bowl. If needed, use your hands to break down clumps that may have formed in the grain. Add a splash or two of liquor of your choice, limoncello, cognac, Kirsch or whatever you have on hand and mix until combined.
Roll out the dough with a generously floured rolling pin on wax paper, and carefully place into pie plate, using a knife to cut away any extra dough above the rim. Add the filling until about 1 cm below the rim of the pie plate, and fold the rim of the dough down onto the filling. Make long strips of dough about 1cm wide to make the lattice on top of the pastiera, usually 4 to 6 strips is enough.
Bake at 400 degrees F until the pastiera is golden, about 1 to 1½ hours. Allow to cool completely. Served with a dusting of powedered sugar over the top.
---
CHEFS COLLABORATIVE
This year, Chefs Collaborative and 65 restaurants are partnering with Organic Valley to bring Earth Dinners, a series to raise awareness about local, sustainable and organic food, to the dining public.  
Chefs across the country are taking the best Spring has to offer in an effort to raise funds for Chefs Collaborative, the leading nonprofit network of chefs and farmers that fosters a sustainable food system using the power of education, collaboration and responsible buying decisions. The Midwest dairy farmers of Organic Valley will match every dollar donated by each restaurant partner, up to $10,000.
"Chefs in cities and towns across the country have really stepped up to the plate to hold delicious dinners in celebration of Earth Day - and in particular, to put a spotlight on sustainable and organic choices," said Melissa Kogut, Executive Director of Chefs Collaborative.  "We really value our longstanding partnership with Organic Valley," added Kogut.
Visit http://chefscollaborative.org/events/earth-dinners/2011-earth-dinner-participants/ to find an Earth dinner in your city, and join Earth Dinner on Facebook to share in the conversation about food, farming and our connection to the Earth.
---
---