CULINARY COUP   .   .   .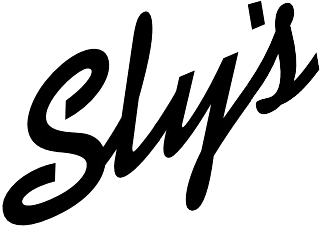 HOME TOWN COMFORT AND GOURMET TASTES AT SLY'S
Chef James and Annie Sly Stars of Hospitality in Carpinteria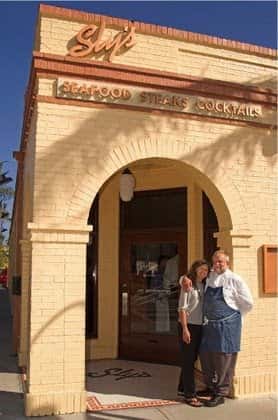 Sly's Restaurant on Linden Street in Carpinteria was created by Chef James Sly and his delightful wife Annie Sly in 2008, and has become a home-away-from-home for locals throughout the Santa Barbara area since it's inception. What began with a wish to host locals in a warm and welcoming environment has become a 'not to miss' experience where favorite traditional dishes far surpass expectations.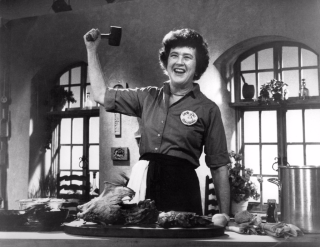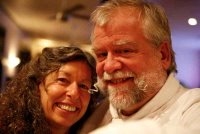 Annie and James say they hold a special place in their hearts for Chef Julia Child, who was involved in their meeting, which lead to their subsequent marriage. They are now partners in one of the most beloved dining establishments on the Central Coast. At lunch or dinner it is obvious Sly's has the ambiance of a "Cheers" neighborhood favorite meeting place, but it's the culinary skill of Chef James Sly and his team that seals the deal for 'be back' patrons.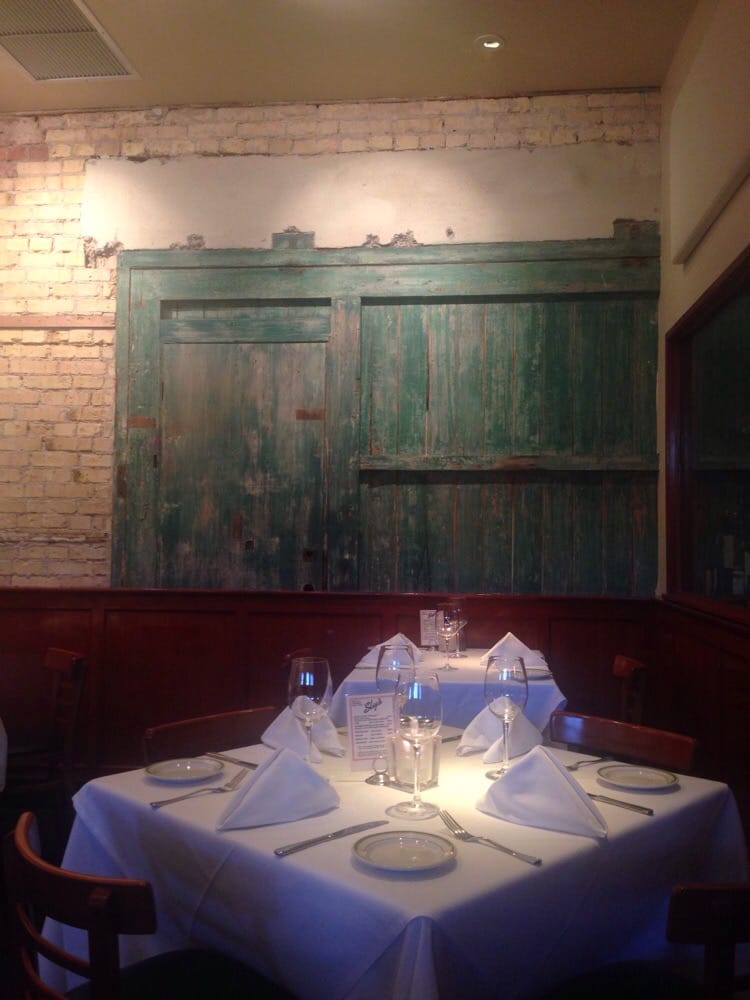 Chef James, with a culinary career of over forty-five years has a culinary history in fine food at some of the most renowned restaurants in the world. They include taking Lucky's in Montecito to the top of the charts as Executive Chef & co-owner, as well as working at the Ritz in Paris, and in tandem with renowned chefs like Chef Michael Hutchings at Le Serre. Sly is a master at making impeccably done cuisine look like it's an effortless accomplishment, and his recipes and family style presentation insures patrons a warm dining experience that far exceeds anyone's expectation.
This couple are so real, and love what they do so much that the food, service and ambiance are addictive. During my visit to Sly's I noticed that one of Montecito's most renowned families, who have been regulars since the restaurant opening in 2008, were celebrating a birthday in the back dining room, and they all stopped at the chef's table to personally thank Chef James and Annie. There is real love and respect being exchanged in this venue of honorable food.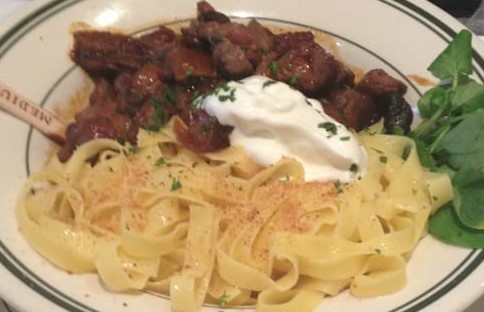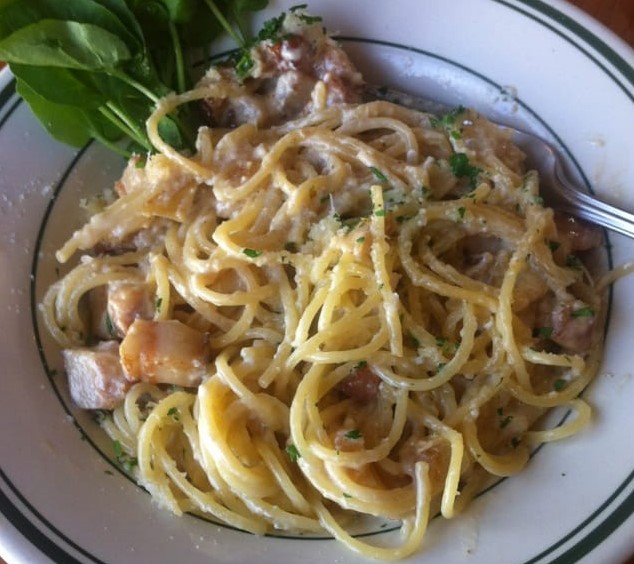 I saw people come in salivating for the daily blue plate special, which includes a variety of authentic traditional dishes that many of us know and love, and on that night the special was an amazing beef Stroganoff with wild mushrooms and buttered noodles. The vegetable dishes have completely hooked me in. The creamed vegetable and potatoes plates served at Sly's made me remember eating at Stouffer's Restaurant on Wabash Street in Chicago with my mother, and when I mentioned it Chef James smiled and said he also loved eating at Stouffer's as a kid with a favorite family member. Every veggie dish was outstanding and Chef James said he buys his produce from the local farmer's market. The "Mama's Brussels sprouts" sauteed in Costa Olive Oil with garlic will now be my lifelong favorite dish, and the creamed spinach and Chef James favorite scalloped potatoes with gruyere cheese, were ideal to combine with the moist and delicious Salmon in Bernaise Sauce I requested.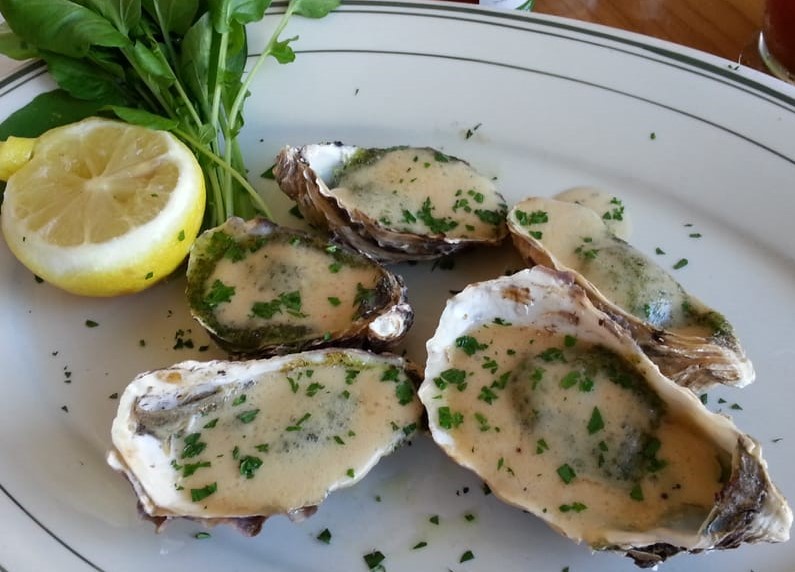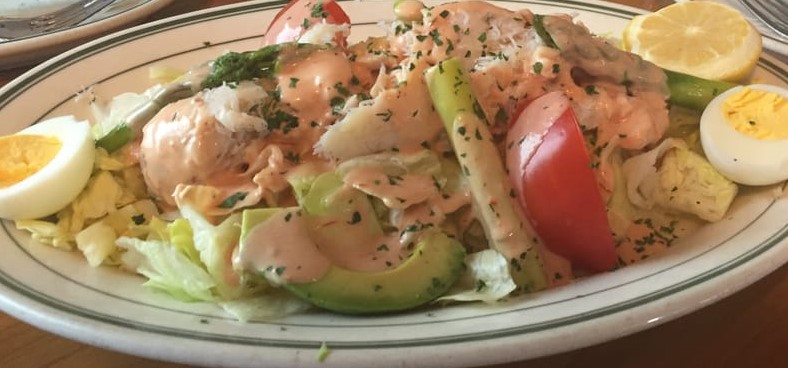 If you love freshly baked breads, and home-made desserts you will quickly be addicted to the brioche and dessert served at Sly's. Breads and rolls are always served warm at your table. The rye breads are ideal with double chicken broth Matzoh Ball Soup, escargot baked in green butter, or a shrimp with avocado salad swimming in chef made Louis dressing.
There is nothing I desire more than a great souffle with fresh crème anglaise, and Chef James serves the best you will find anywhere, including the Le Cinq in the George V, Paris. Some desserts are also topped with sweet and ripe berries from Harry's Berries that become one more recipe component of a perfectly prepared dessert combo. "Combining several well prepared components is the secret of any well done plate," says Chef Sly.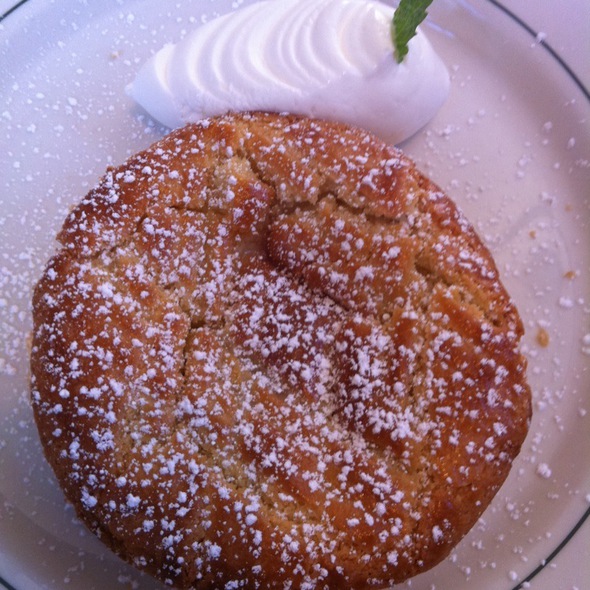 With a reputation as a place to get a delicious steak, ribs, rack of lamb or hamburger, Sly's attracts a varied crowd of hungry diners. On both my visits to the Linden Avenue restaurant I was amazed how the staff aim to please, and accommodate any special needs of guests, and by the variety of patrons which included everything from young mother's with babies, to groups celebrating special occasions, and couples having a night out. "We want everyone to feel comfortable in our place, from families sharing dinner in the back dining room to biker's having a burger and beer at the bar," says Annie.Aiming to please, James and Annie are happy to provide gluten free items when requested, and although they are closed for the holidays, they offer patrons the opportunity to order advance to-go delicious holiday dinners to enjoy at home with their families.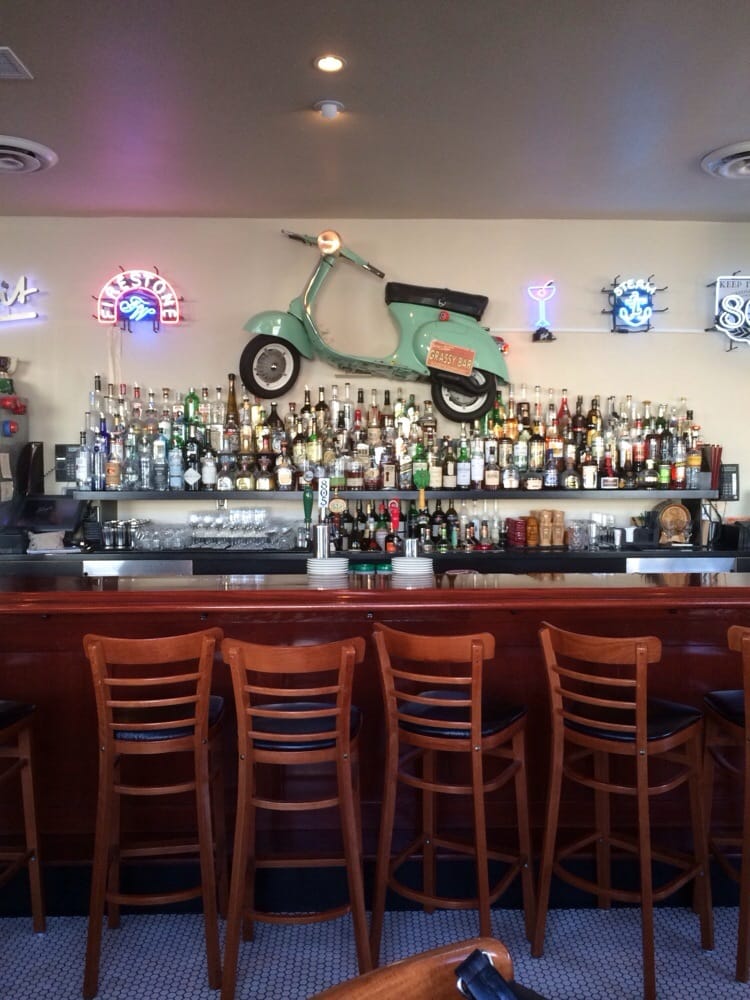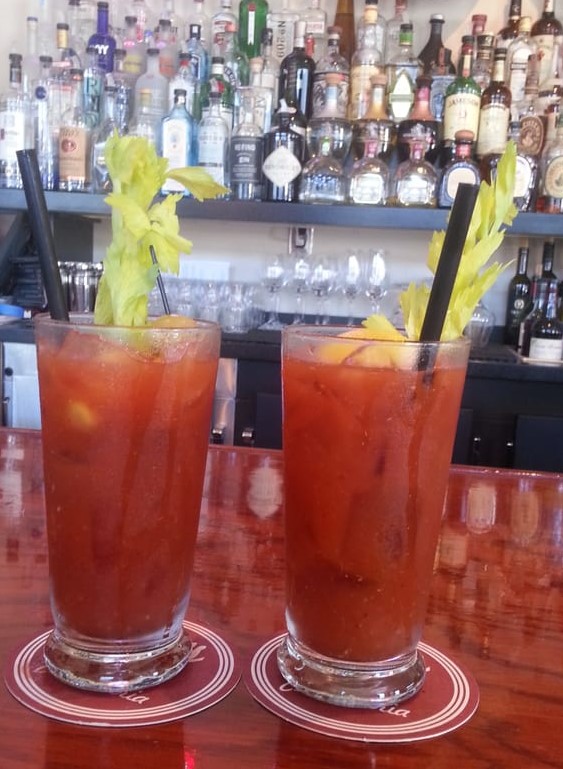 Sly's has received an 'Award of Excellence' from Wine Spectator for the past three years, and the wine menu offers something for everyone from a Pinot by Hitchcock that goes with every dish, to selections from what they call their "Us" and "Them" approach. They feel their basic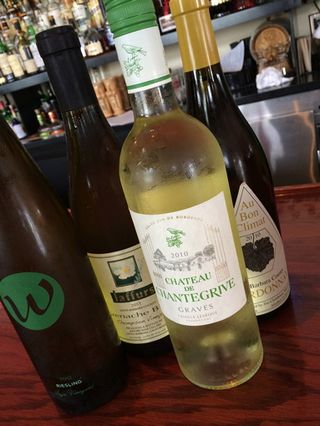 list of about 100 wines are all good choices in their price range. The "Us" part includes wines from Carpinteria, Summerland, Santa Barbara County, and California. What they consider the "Them" part, however, is what tends to set Sly's apart. "Them" at Sly's means they offer some comparable wines from France in a number of categories. Ten Chardonnay, ten white Burgundy. Ten Pinot Noir, ten red Burgundy. Seven Rhône style wines from California, seven from the Rhône Valley in France. They welcome guests to try these fine wines from France.
The Full Bar offers classic cocktails, and an extensive list of wines by the bottle and by the glass. They also offer a a bevy of beer and ale choices to enjoy at the bar or with meals.
From the warm greeting you receive when entering Sly's, to the personal good-bye from Annie and James, who in the evening are always seated at the Chef's table where guest must pass when they exit, it is a warm and personal experience, where fine food and wine reign. For reservations and menu details, including daily blue plate specials visit:
www.slysonline.com
.

Sly's Seafood - Steaks - Cocktails
Corner of Linden Avenue and Seventh Street
Carpinteria • Reservations: 805-684-6666
Valet Parking from 5:30 pm, Seven Days a Week
____________________________________________________________
Hot Thai Shrimp and Green Tomato Curry
THAI DISH WITH GREEN CURRY SAUCE
1 tablespoon peanut oil
1⁄4 cup green curry paste
3 -4 slices fresh ginger
1 stalk lemongrass, outter leaves discarded and insides finely chopped
1 cup coconut mil
1 lb shrimp, uncooked, peeled, deveined, and shells reserved for the stock
7 green tomatoes, peeled and chopped
4 green onions, thinly sliced
1⁄4 cup cilantro, chopped
Stock
1 small hot chili choppedpper, halved lenghtwise
1 stalk lemongrass, bruised and split in half lengthwise
3 -4 shallots, halved
jasmine rice, to serve
Directions
For the stock: Put the shrimp shells, chile, lemongrass, garlic, and shallots in a saucepan with 1 quart of water and bring to a boil. Simmer for about a half hour and then pour through a strainer. Only 1 1/2 cups of the stock is needed for this recipe. Reserve the rest by freezing.

Heat the oil in a sauce pan and add the curry paste. Stir fry for several minutes, stirring constantly.

Add the shrimp stock, ginger, and lemongrass to the pot and bring to a boil, then lower the heat to a rapid simmer.

Add the coconut milk and stir constantly to keep it from separating.

Lower the heat and simmer for 10-15 minutes.

Add the shrimp and cook until just done.

Add the tomatoes and cook for one minute so they're just heated through.

Add the sugar, green onions, and cilantro.

Serve with the jasmine rice to soak up the juice.

Enjoy!

_______________________________________________________________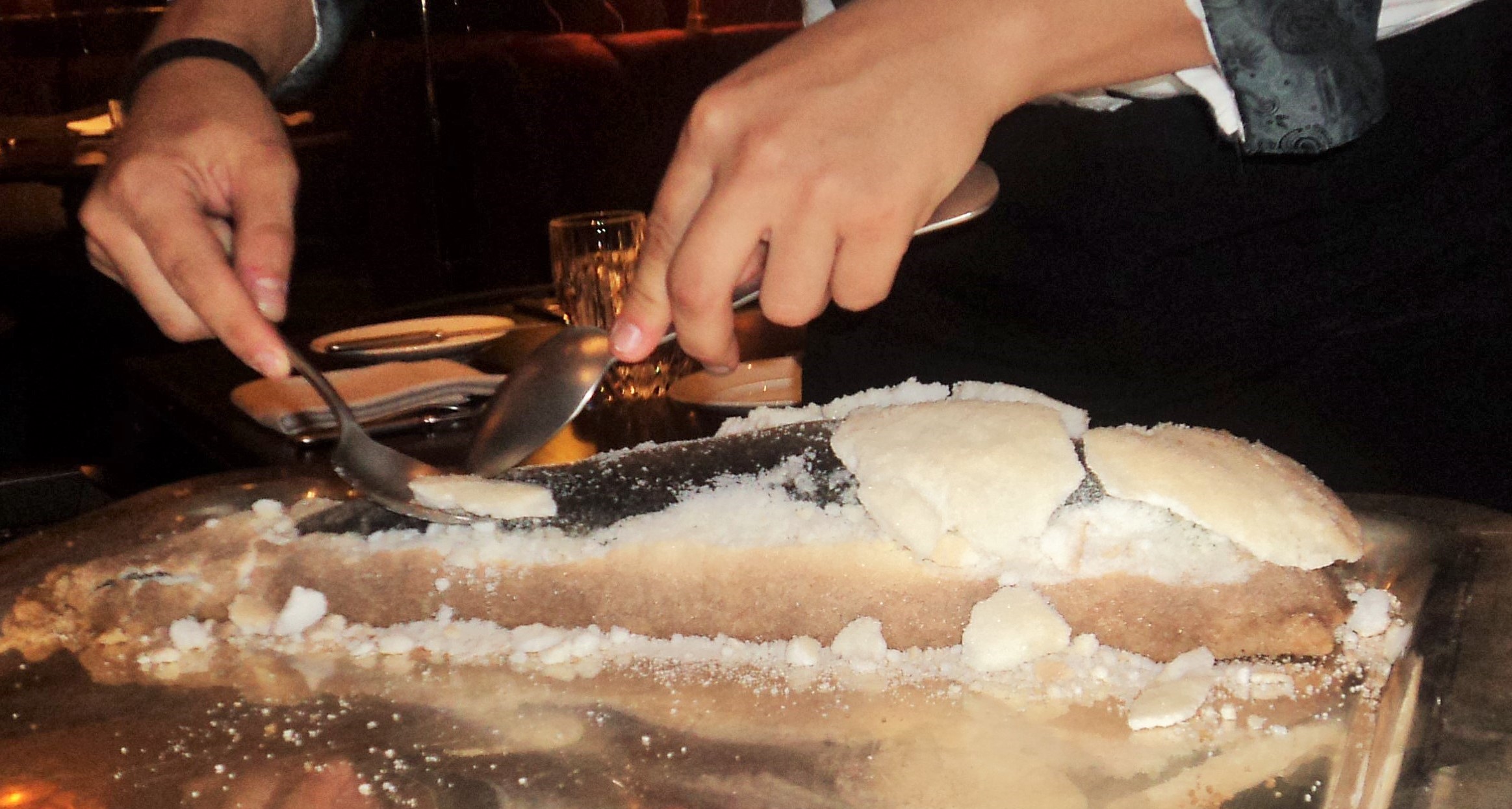 Hungarian Recipe for Balkin Baked Fish

(Four Seasons Gresham Palace)
Directions
If needed, scale and gut fish. Cut off head behind gills/dorsal fins, and cut off the tail.

Wipe fish dry with a paper towel. Rub inside and out with salt and pepper and put in the refrigerator.

Put flour, salt, and yeast in a large mixing bowl and stir to combine.

Whisk egg, milk and water in a separate bowl. Add about half to the flour bowl and knead to make a soft dough. Add a little more liquid if needed,.

Move dough to a floured work surface and kneed until smooth. Cut into two pieces, one a little larger than the other.

Roll the smaller piece so that it is larger than the fish, with about 2 cm (1 1/2 in) border on all sides. Place on a greased baking sheet and put the fish on top, centered.

Roll the larger piece of dough until it is large enough to drape over the fish and still have 2 cm (1 1/2 in) of border. Don't put it on the fish yet.

Apply some warm water on the border area of the lower piece of dough. Place top dough on the fish and press the border areas together to form a seal.

Allow to rise for 30 minutes.

Brush the remaining egg/milk/water onto the dough to form a glaze. Bake 30

minutes at 180 C (350 F).

_______________________________________________________________

CAVIAR FOR THE HOLIDAYS

During the 2016-2017 fall and winter seasons Marky's Gourmet Store and Caviar.us are glad to offer the best price for one of the most exclusive and luxurious products in the vast array of the world's delicacies - Beluga caviar (Hybrid). This incomparable product shines even when served on its own — no accompaniment is necessary to bring out its superb qualities. Visit markys.com, caviar.us,

___________________________________________________________

CHOCOLATS DU CALIBRESSAN

Jean-Michel Carre, French Chocolatier of the American Riviera, will create dream chocolates for Your special occasions, or corporate needs. Special holiday occasion chocolate boxes are divine French chocolates featuring unique and inspired designs and flavors. Chocolates Du Calibressan, Santa Barbara, CA, 805-568-1313. www.chococalibressan.com
---