CASTELLO DI VICARELLO WELCOMES GUESTS TO
THANKSGIVING IN TUSCANY


The Castello di Vicarello, the 900-year-old castle that has been transformed into a seven-suite luxury retreat with organic vineyards, restaurant and olive orchards, has introduced a new package to welcome guests to Thanksgiving in Tuscany.

For the week of November 21-28, 2010 (Sunday to Sunday), guests can book the entire property in the
Maremma region of southern Tuscany  for their exclusive family holiday retreat for Euro 26,000 (approximately US$36,355), a savings of more than $8,000 off the regular rate.

In addition to exclusive use of the Castello di Vicarello, the whole family can indulge in the authentic Tuscan farm-to-table cuisine produced by owner Aurora Baccheschi Berti and her team of chefs, who prepare feasts of rustic seasonal cuisine in the Castello's open kitchen, all sourced from their own organic gardens. In preparation for their Thanksgiving meal, guests can even participate in a hunting excursion to the Castello's exclusive nearby Valle di Buriano estate, where they can hunt wild boar, quail and partridge. And to pair with their rich Thanksgiving cornucopia, guests can enjoy the estate's award-winning red wines, the
Castello di Vicarello and the Terre di Vico.

And when the Thanksgiving feasts are over, guests canrelax, stretch and soak at the Castello di Vicarello's Ayurvedic spa with a massage, yoga lesson or visit to the hot tub, sauna and Turkish bath.
   
For more information, please visit: www.vicarello.it.

ABOUT CASTELLO DI VICARELLO
Set on 60 acres of natural landscape with some of the most spectacular vistas of Italy, Castello di Vicarello is a restored 12th-century medieval castle surrounded by vineyards, lush gardens and centuries-old olive groves in the Maremma region of southern Tuscany. The property has been meticulously restored with seven suites, featuring original details and Eastern design accents.  Special features include a farm-to-table restaurant, Italy's first infinity pool, an organic vineyard and Ayurvedic spa.  Special guest activities include on-property cooking classes, the annual organic olive oil press and wild-boar hunting excursions on the Castello's exclusive Valle di Buriano estate.
______________________________________________________________________
STAR CHEFS TEACH AT CULINARY INSTITUTE
3RD ANNUAL NEW YORK CULINARY EXPERIENCE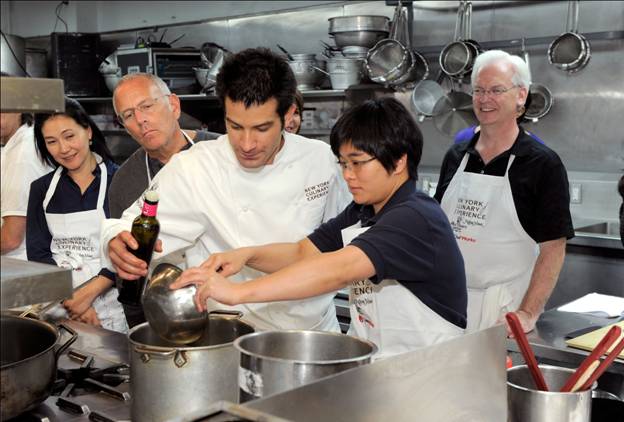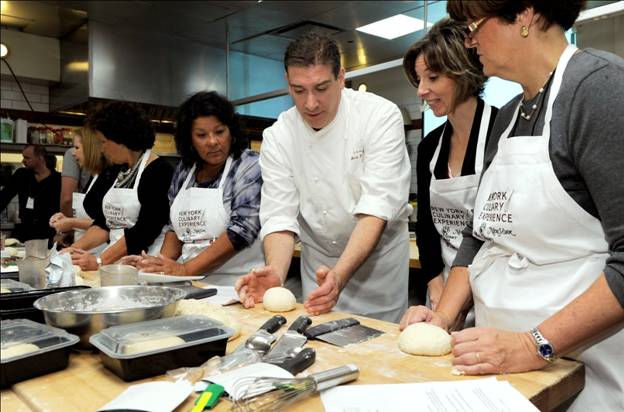 This past weekend over 30 of New York's most respected chefs including Alain Ducasse, Morimoto, David Bouley, Andrew Carmellini, Jacques Torres and Todd English were not where you would have expected to find them.  These amazing chefs were all at The French Culinary Institute teaching at the 3rd annual New York Culinary Experience, a two-day culinary camp that offered foodies the opportunity to cook hands-on and side-by-side with some of these culinary legends. 
New York Culinary Experience was hosted by New York magazine culinary editor Gillian Duffy and The French Culinary Institute CEO and Founder, Dorothy Cann Hamilton and benefited the Future Chefs Scholarship Program which was created to make it possible for aspiring chefs to attend The French Culinary Institute. 
The contributions of such great event partners including Basis Foods, Champagne Paul Goerg, ChefWorks, CHOW, D'Artagnan, Ed's Lobster Bar, Exhale Spa, Icelandic Glacial Water, illy, Jacques Torres Chocolate, Mercer, Niman Ranch, Salumeria Rosi, Something Different Party Rentals, St. Dalfour Gourmet Foods, and The City Bakery were incredibly beneficial to The Future Chefs Scholarship Program as well.
__________________________________________________________________
 Cooks! Event airing live on HSN on November 5th, HSN is cooking up a special treat for viewers.  HSN's kitchen will be boiling over with celebrity chefs and food connoisseurs including Emeril Lagasse, Wolfgang Puck, Padma Lakshmi, Colin Cowie and Todd English as they launch an exciting array of products on air and share recipes.
Each chef will be cooking up a special course for the Holidays. Check out the recipes and more details here: HSN.com/HolidayMenu. Don't miss out on these celebrity's secrets and products!
__________________________________________________________________
MÄNI'S MOVES TO MAPLE DRIVE
Bringing healthy food to foodies, a Fairfax institution expands its vision and makes the move to Beverly Hills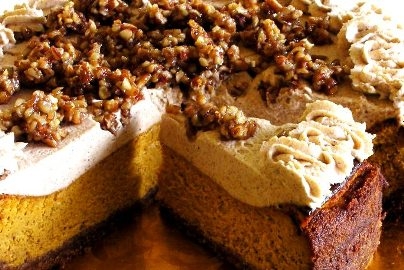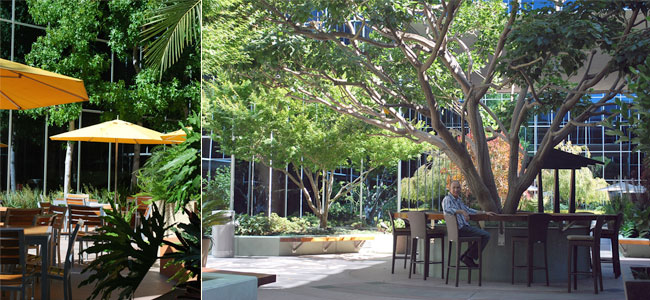 Mäni's on Maple, the new location of one of the city's classic favorites, is now open in Beverly Hills for breakfast, lunch and dinner. Celebrated for serving "good food that's good for you," Mäni's on Maple brings all of the tradition of the famed Fairfax location to a bigger and brighter space on Maple Drive.  From the healthy and eclectic American menu to the organic cocktails, Mäni's on Maple is poised to become an indispensable part of the dining scene in Beverly Hills.  
          What started as a tiny bakery 21 years ago has evolved into a sought-out dining destination for breakfast, lunch and now dinner. With a focus on utilizing healthy and local ingredients, the new Mäni's on Maple features a larger dining room as well as a full bar, expansive patio, private dining room, special events capabilities and soon-to-come retail bakery. Credited to his long-standing relationship with his customers, owner and co-founder Larry Maiman wanted the new Mäni's to serve as an outlet to bring healthy cooking into the mainstream, with regular patrons often requesting organic, vegan, gluten-free and increasingly healthful cuisine. "Expanding the Mäni's concept is something that we've wanted to do for years to provide more options to our customers," says Maiman. "We are taking the idea of food that is 'good and good for you' into dinner, cocktails and catering, in addition to keeping our classic breakfast, lunch and brunch menus."
          Under the direction of Executive Chef David Wolfe, new menu additions highlight Mäni's on Maple's mission to utilize locally-grown produce, grass-fed meats, organic and free range poultry as well as sustainable seafood. New menu items are complemented by a full bar with custom cocktails using organic fruits and juices, house-made mixers and fresh herbs, as well as a wine list highlighting biodynamic, organic and sustainably produced wines.  The new dinner menu includes Farro Risotto with Grilled King Trumpet Mushrooms & Asparagus ($17); Seitan Meatballs with Tomato Ginger Curry ($16); Polenta Lasagna with Roasted Sweet Corn, Mushrooms, Manchego Cheese & Smoked Tomato Sauce ($17); Grilled Yellowtail with Wilted Spinach, Pineapple, Pumpkin Seeds & Cumin Vinaigrette ($20), Roasted Pork Tenderloin with Sweet Corn & Carrot Hash and a Nectarine Reduction ($21) and Tagine Style Pulled Smoked Lamb with Rose Scented Peach Chutney ($22).  
          Classic breakfast and lunch dishes from the original Mäni's on Fairfax menu can still be found at Mäni's on Maple, including morning meals ranging from Huevos Rancheros with Avocado & Tomato ($11) to Quinoa Oatmeal with Strawberries & Bananas ($10) or Organic Multi-Grain Pancakes with Mixed Berry or Blueberry Compote ($11), as well as an assortment of pastries made daily using organic flour, whole grains and natural sweeteners. Lunch options include Red Beet Salad with Goat Cheese & Tropical Fruit ($14); an "in-shape" version of the classic Cobb Salad ($15); Warm Brie & Artichoke Sandwich ($11); Mäni's Signature Chili ($8 Cup/$10 Bowl); and a new Moroccan Lamb Burger with Mint Yogurt Sauce ($12). 
          Serving "good food that's good for you" since 1989, Mäni's on Maple is now located at 345 N. Maple Drive in Beverly Hills with valet parking, validated self-parking and street parking readily available. Restaurant hours are Monday through Friday 8 a.m. to 10 p.m. with a limited menu from 3:30 p.m. to 5 p.m; Saturday and Sunday 9 a.m. to 11 p.m. with a limited menu from 3:30 p.m. to 5 p.m. For more information, please call 310.247.0009, visit www.manisonmaple.com or become a Mäniac on Twitter by following @ManisOnMaple.
---
---