Chakra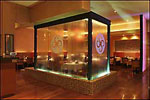 The hottest new Indian spot in LA is on Doheny Boulevard in Beverly Hills. Owners, Ravi and Sunitha Koneru have designed a sophisticated lunch and dinner venue that is an inviting and blissful place to enjoy food or cocktails with friends. This is a unique and chic experience in Indian dining, and one that should not be missed.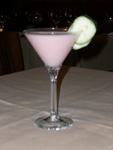 The bar is stunning and colorful, with a menu of amazing original cocktails that have names with Indian inspiration. This is becoming a hip place for people to meet before dinner and after hours. The Chakra chef is charming and very talented, presenting a menu of very eclectic versions of favorite Indian plates that are accented with authentic traditional Indian spices and herbs. The food and drink presentation is really beautiful.
The restaurant offers private and romantic dining areas with silk enclosed booths, where couples can have the elusion of total privacy while enjoying their favorite menu items, and merge with re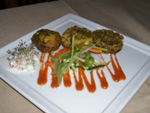 laxing background music. There is also a private lounge are for parties and they can easily accommodate large groups. Every detail of the restaurant is rich and exotic in color and detail. Chakra blows everyone's preconceived notions about Indian restaurants. It is a class act, and delightfully upscale in every way.
Some of the dishes I especially enjoyed included Tandoori mushrooms stuffed with cheese, shrimp with Indian spices, and seekh kabob "Gilafi" lamb mince with herbs and cucumber raita. They also offer many delicious vegetarian favorites, creative chicken dishes, wonderful desserts, and a totally unique selection of cocktails, wine, Indian yogurt drinks and teas.
According to Brian Keeth, General Manager, the Beverly Hills location is the second venture created by the owners. They also have a Chakra restaurant in Irvine, California, and are pleased to now offer their creative Indian cuisine to people in the Los Angeles community.
Chakra 151 S. Doheny Drive, Beverly Hills, CA 310-246-3999 www.chakracuisine.com
---
INDIAN POTATO SPRING ROLLS
Yield: 24 servings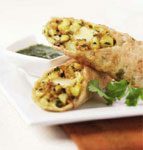 Ingredients

Indian Potato Spring Rolls:
3lbs & 12 oz Yellow potatoes,
peeled and cut into 3/4-inch dice
6 tablespoons Canola oil
1 tablespoon Cumin seed
1 tablespoon Black mustard seed
½ teaspoon Asafetida
3 tablespoons Minced garlic
2 tablespoons Ground coriander
2 tablespoons Paprika
1 tablespoon Salt
1 tablespoon Turmeric
¾ teaspoon Cayenne pepper
2 tablespoons Chopped cilantro
24 Egg roll wrappers, 8-inch square
6 ounces Paneer or queso fresco, cut into 1/4- x 1/2- x 2-inch batons
3 Eggs, beaten
Cilantro Chutney:
7-1/2 cups Cilantro leaves, loosely packed
6 each Serrano chiles, stemmed and seeded
6 tablespoons Lime juice
6 tablespoons Water
¾ teaspoon Cumin seed
¾ teaspoon Salt
Canola oil, as needed
Method
In large pot, cover potatoes with water. Bring to a boil, reduce heat and simmer about 10 minutes or until just barely tender..
In large sauté pan, heat oil over medium heat. Add cumin seed, mustard seed and asafetida. When mustard seeds start to pop, add potatoes; stir until coated with oil and spices. Add garlic, coriander, paprika, salt, turmeric and cayenne. Cook, stirring occasionally, about 10 minutes, mashing potatoes with spoon or spatula until chunky. Stir in cilantro.
Place about 3 tablespoons potato mixture in center of 1 egg roll wrapper. Flatten slightly and top with 1 baton of paneer. Fold up bottom edge of wrapper to enclose potato mixture and paneer. Brush top of wrapper with egg, fold in sides and roll up tightly to form spring roll Repeat with remaining ingredients to make 24 spring rolls. Refrigerate, covered.
In blender or food processor, pulse all ingredients until roughly puréed. Refrigerate, covered.
Yield: 1 1/2 cups
For each serving, to order: Deep-fry 1 Indian Potato Spring Roll in hot (350°F) oil about 2 minutes or until golden brown and crisp. Cut in half diagonally serve with 1 tablespoon Cilantro Chutney.
Nutrition Information Per Serving: 229 calories; 8 g fat; 32 mg cholesterol; 398 mg sodium; 34 g carbohydrate; 3 g fiber; 7 g protein
Recipe provided by the United States Potato Board www.healthypotato.com
---
CUT - THE BEVERLY WILSHIRE
A NICE SLICE OF DELICIOUS
By Bonnie Carroll

Well, Wolfgang Puck is still reinventing himself and his talent by presenting original and outstanding dining venues, and CUT in The Beverly Wilshire, Four Seasons Hotel, is certainly no exception. What was once an old fashioned formal dining room where guests danced after dinner has now become a clean and chic dining venue, featuring some of the best steak in the world.
The SIDEBAR, located across the lobby from CUT, is a great bar that serves wonderful appetizers and cocktails before dinner. I love the mini-burgers offered here, and the place is always jammed. This has always been a favorite meeting spot for locals, but it is now busier than ever.
The huge room, with an open kitchen, is managed by an outstanding staff of servers, managers, and sommeliers, who all give 100% to provide the best in everything for guests. The design of the room, dinnerware, furniture and window designs is all perfect and in line with the menu, which is simply clear cut and outstanding. Steaks vary from renowned United States areas, and also include selections of the revered Kobe beef. The appetizers, salads, side dishes and desserts are emotional favorites that have the Puck style interjected in them. Dana Farmer, Beverage Manager, will be happy to assist you with wine selections from an endless variety from their outstanding wine menu. Be advised that ala carte is the word at CUT, so bring your Visa Gold Card, the one with the big line of credit.
Initially, people in Beverly Hills were a bit skeptical about the drastic change in this historic room, but now you are lucky if you can get a reservation, and no one leaves feeling empty or anything but delighted with the food, wine, service and general ambiance. CUT was given a special award by Life Bites News for 2006, and we congratulate the Beverly Wilshire and CUT for a job well done as the hottest new restaurant in LA.
CUT
The Beverly Wilshire, A Four Seasons Hotel
9500 Wilshire Boulevard
Beverly Hills, CA
310-276-8500
---
George Mavrothalassitis to open Cassis Honolulu
Cassis Honolulu, a second restaurant by George "Chef Mavro" Mavrothalassitis, will open Monday, April 30, 2007 at the corner of Nimitz and Bethel in Chinatown. Mavrothalassitis is also chef/owner of Chef Mavro restaurant, on S. King and McCully, which was recently acclaimed as one of the Top 10 Restaurants in the World (Fodor's).
"Of course my flagship Chef Mavro restaurant (www.chefmavro.com) will continue exactly as it is right now. My second restaurant, Cassis Honolulu, will offer food for everyday dining," said Mavro.
"People are always asking me to open a casual restaurant where they can drop in frequently for lunch or cocktails or dinner. Cassis Honolulu will be just that," explained Mavro.
The cuisine will be familiar down-to-earth bistro classics with a contemporary Hawaii Regional spin including Tako-green papaya salad, Rotisserie chicken-plum wine sauce; Steak-curried fries-Manoa salad; and Li hing mui tarte tatin.
The name: Cassis Honolulu was chosen because George Mavro's first restaurant was in Cassis, a picturesque harbor village on the Mediterranean and because he now draws inspiration from Honolulu his longtime home.
---
Who Will Be the Next Best Teen Chef?
Calling all aspiring culinary professionals! If you are a high school senior graduating in 2007, The Art Institute of California—Los Angeles invites you to participate in the eighth annual Best Teen Chef Culinary Scholarship Competition. The contest will take place during the first half of 2007 on a local and national level with over $200,000 in tuition scholarships awarded to the final competitors.
You have the opportunity to turn your goals of a culinary career into reality. Take the first step and create a menu for an original, two-course meal, compose an essay, and submit a high school transcript by February 23, 2007. The deadline has been extended. For complete eligibility and entry information, see
www.artinstitutes.edu/btd.
Ten students will be chosen to compete in a local cook-off held at The Art Institute facility in Santa Monica. The winner will be flown to The Art Institute of Dallas and join other finalists from participating Art Institutes nationwide. Each will display their culinary talent for a panel of professional and certified master chefs in a final cook-off on May 5, 2007.
The top three winners will receive a full-tuition scholarship worth over $35,000, while partial-tuition scholarships will go to the other national candidates. For all participants, the competition offers an invaluable experience.
Students interested in the competition or any of the culinary programs offered at The Art Institute of California—Los Angeles may contact the Admissions Office at
(310) 752-4700 and ask for an admissions representative or email ailaadm@aii.edu.
About The Art Institute of California—Los Angeles
The Art Institute of California – Los Angeles is one of The Art Institutes (www.aica.edu/), with 32 education institutions located throughout North America, providing an important source of design, media arts, fashion and culinary arts professionals.
---
The Irish Range – A 4-Cheese Salute
To the Emerald Isle from Roth Käse USA
Monroe, Wisconsin – The national celebration of St. Patrick's Day proves that there's a bit of Irish in most of us! Now, the cheese makers at Roth Käse make it possible for cheese lovers to savor a taste of the Emerald Isle all year long, with The Irish Range, a collection of imported and Irish-inspired Wisconsin-made cheeses. The four selections in The Irish Range include:
Donovan's Double Diamond Darby – A revival of the traditional Derby cheese, this semi-soft table cheese is made with whole milk and cultured cream, and aged for six months to develop a slightly sweet flavor with a tangy finish. Slice on sandwiches, or pair with a light ale or dry white wine.


Emerald Swiss – A mild, nutty cheese that's perfect for snacking and cooking. Aged for six weeks, Emerald Swiss has a delicate, approachable flavor.


Kelly's Cow – The mild-and-mellow flavor and smooth, velvety body of Kelly's Cow appeals to a broad range of palates, and is well suited for snacking and melting applications.


Donovan's Auld Irish Cheddar (Imported from Ireland) – Produced by a cooperative of small family farms, this "Vintage" Cheddar is selected for its superior flavor and texture. Rich, robust, and buttery, Donovan's Auld Irish Cheddar can be enjoyed for breakfast, lunch, snacks, and dinner…it's that good. Cheddar lovers rejoice
Keep those Irish eyes smiling with recipes that feature Roth Käse's Irish Range of cheeses. Simple pleasures include the traditional Ploughman's Lunch, with all four Irish Range cheeses, served with a chunk of rustic bread and a pickle. An "Irish Melt" with Donovan's Auld Irish Cheddar, Kelly's Cow, or Emerald Swiss melted on sliced soda bread, tomatoes, crisp bacon and fresh basil is always a crowd pleaser. For a new twist on Fondue, try an Irish blend with equal parts Emerald Swiss and Kelly's Cow…and a shot of Irish whiskey for added kick.