DANIEL BOULUD 'ONCE IN A LIFETIME' DINNER
WINE & FOOD FESTIVAL CANCUN-RIVIERA MAYA 2014
By Bonnie Carroll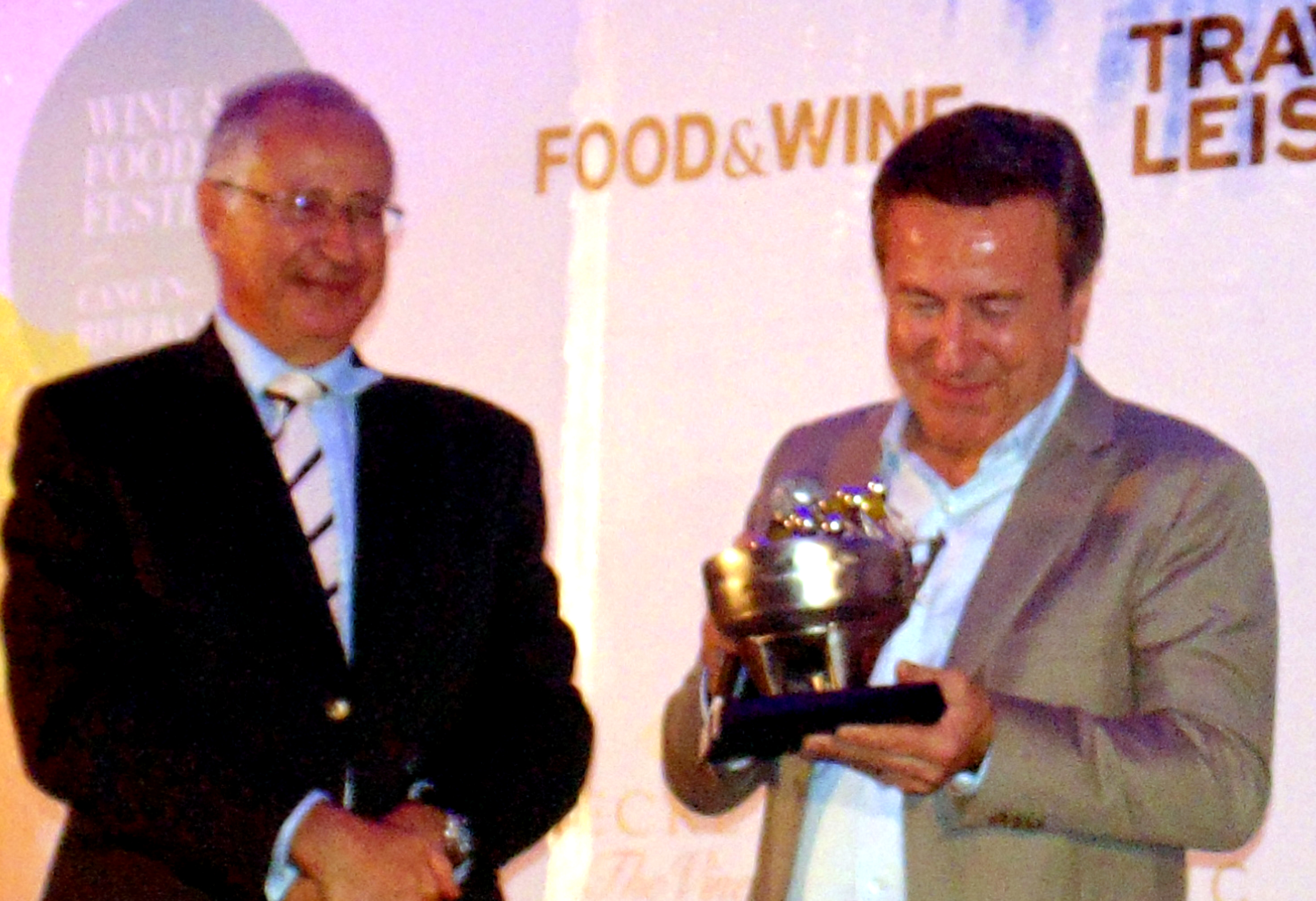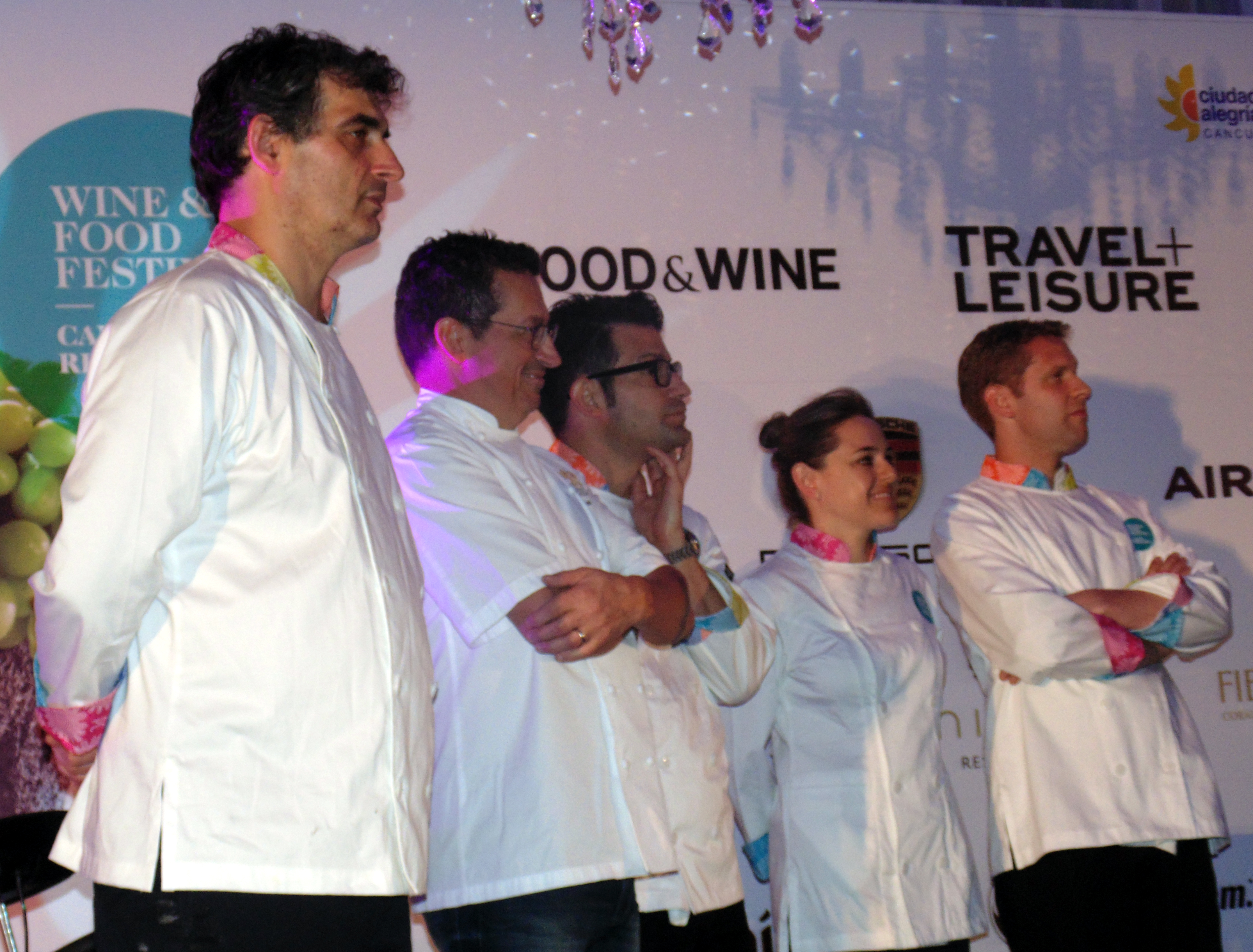 Daniel Boulud was raised on a Rhone Valley farm in Lyon, France where he learned traditional French cooking from his family, and today he is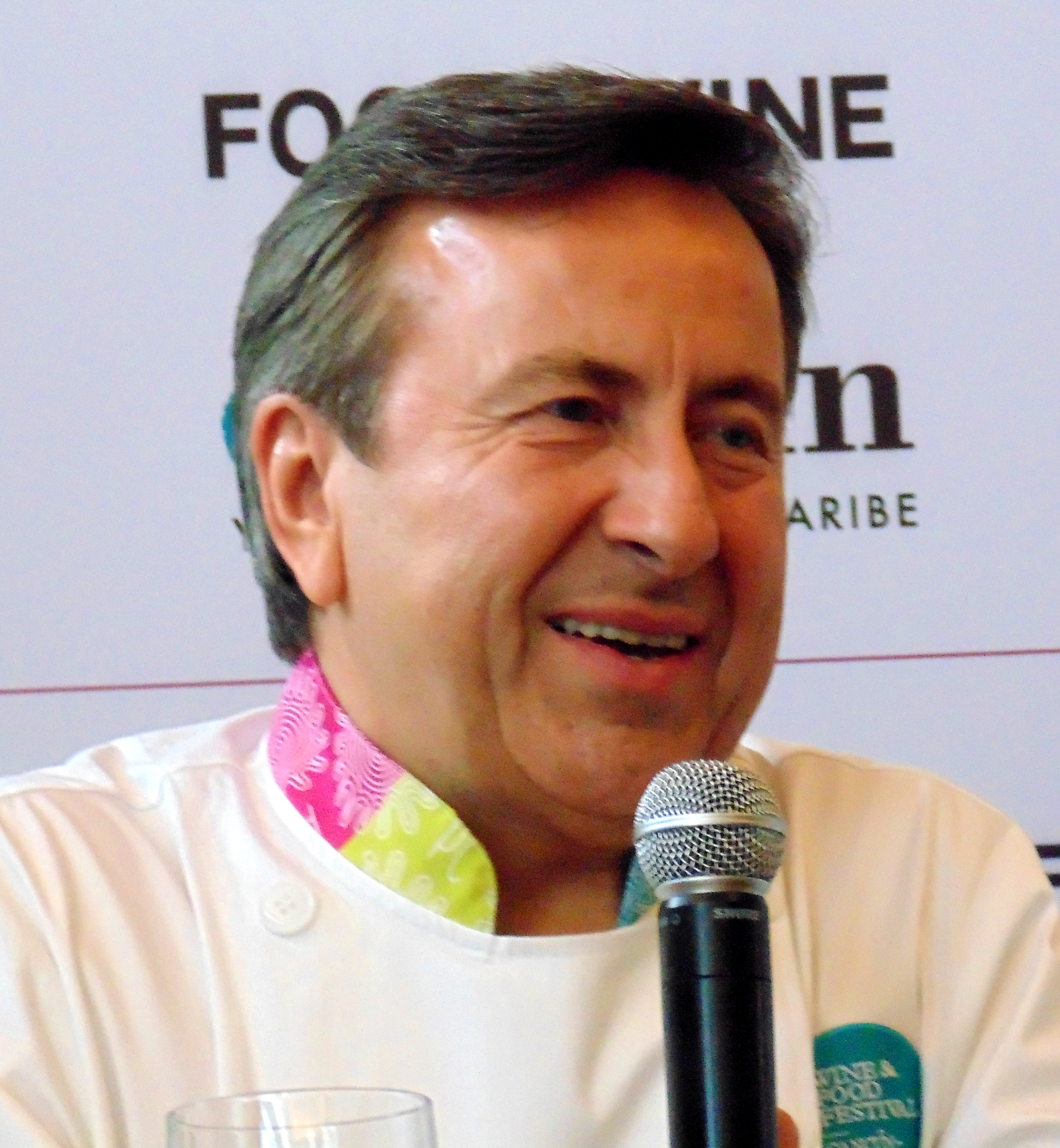 considered one of America's leading culinary authorities on French cuisine and one of the most revered French chefs in New York, where he has resided since 1982. He is chef-owner of Bar Boulud, Boulud Sud, Café Boulud, db Bistro Moderne, DANIEL, DBGB Kitchen and Bar, Epicerie Boulud and Maison Boulud. His honors include being the recipient of three James Beard Foundation awards, Chevalier de la Legion d'Honneur by the French Government, and Chef of the Year 2011 by The Culinary Institute of America. Chef Boulud has served on the board of directors for Citymeals-on-Wheels since 2000, and he is the author of eight cookbooks.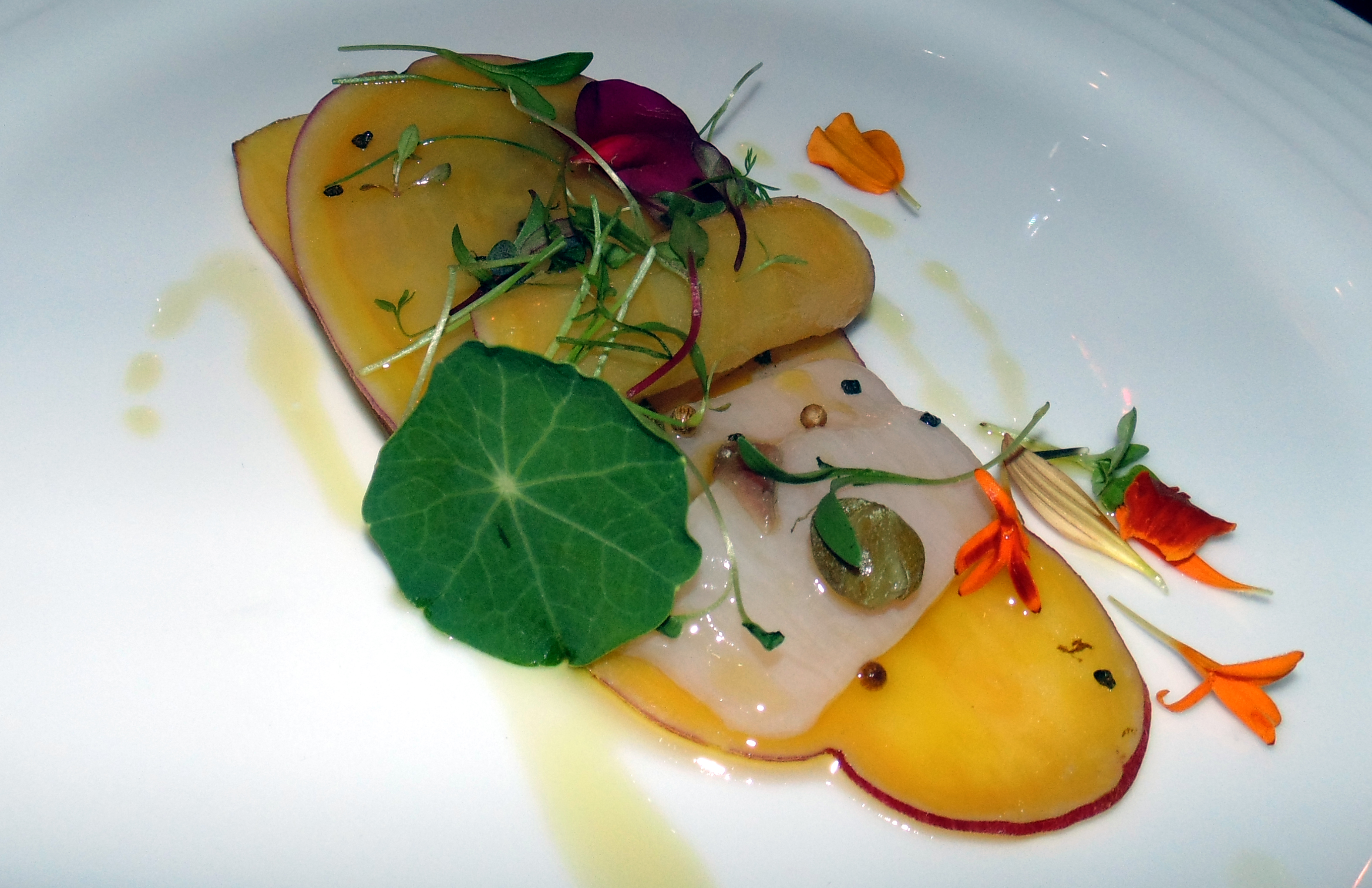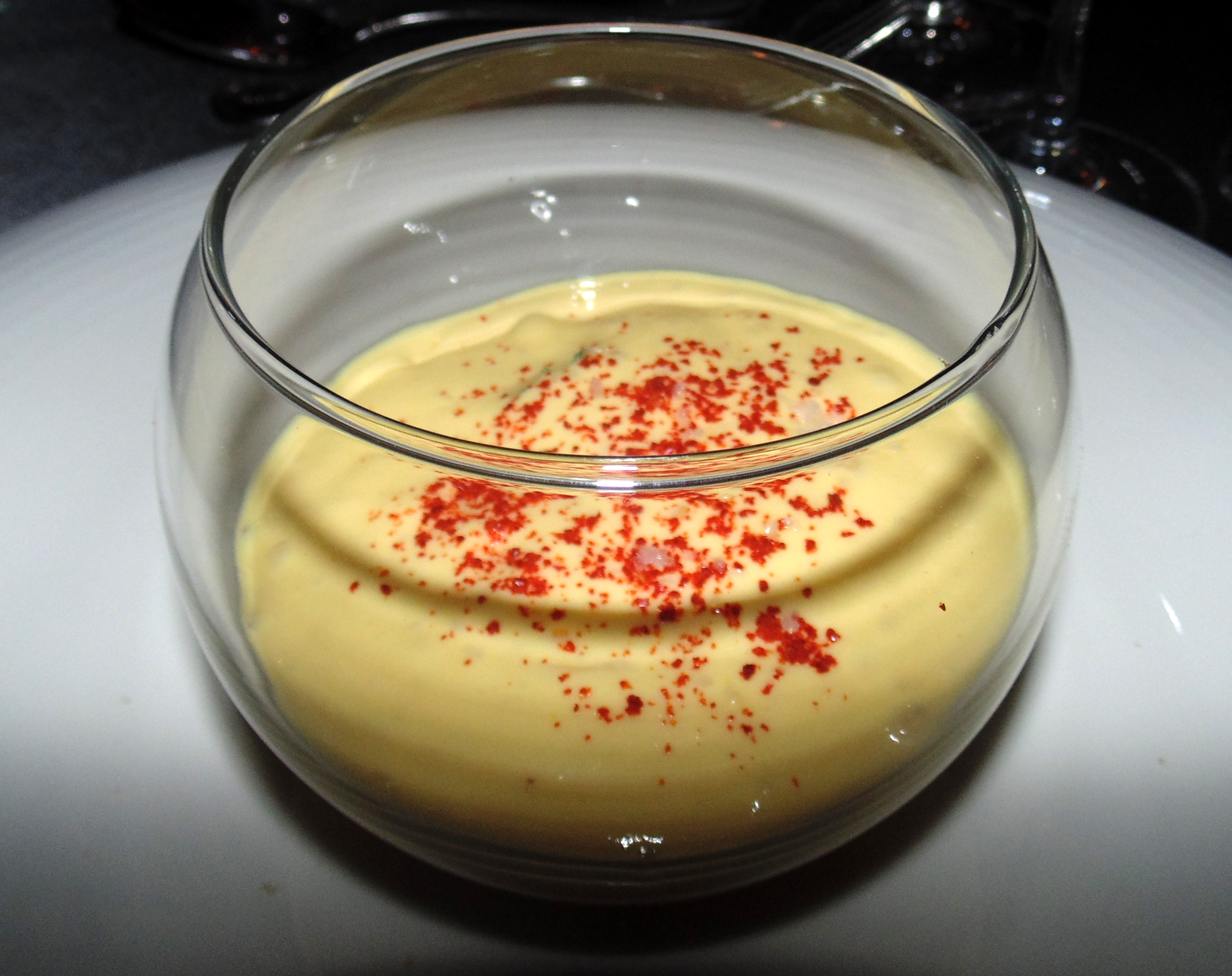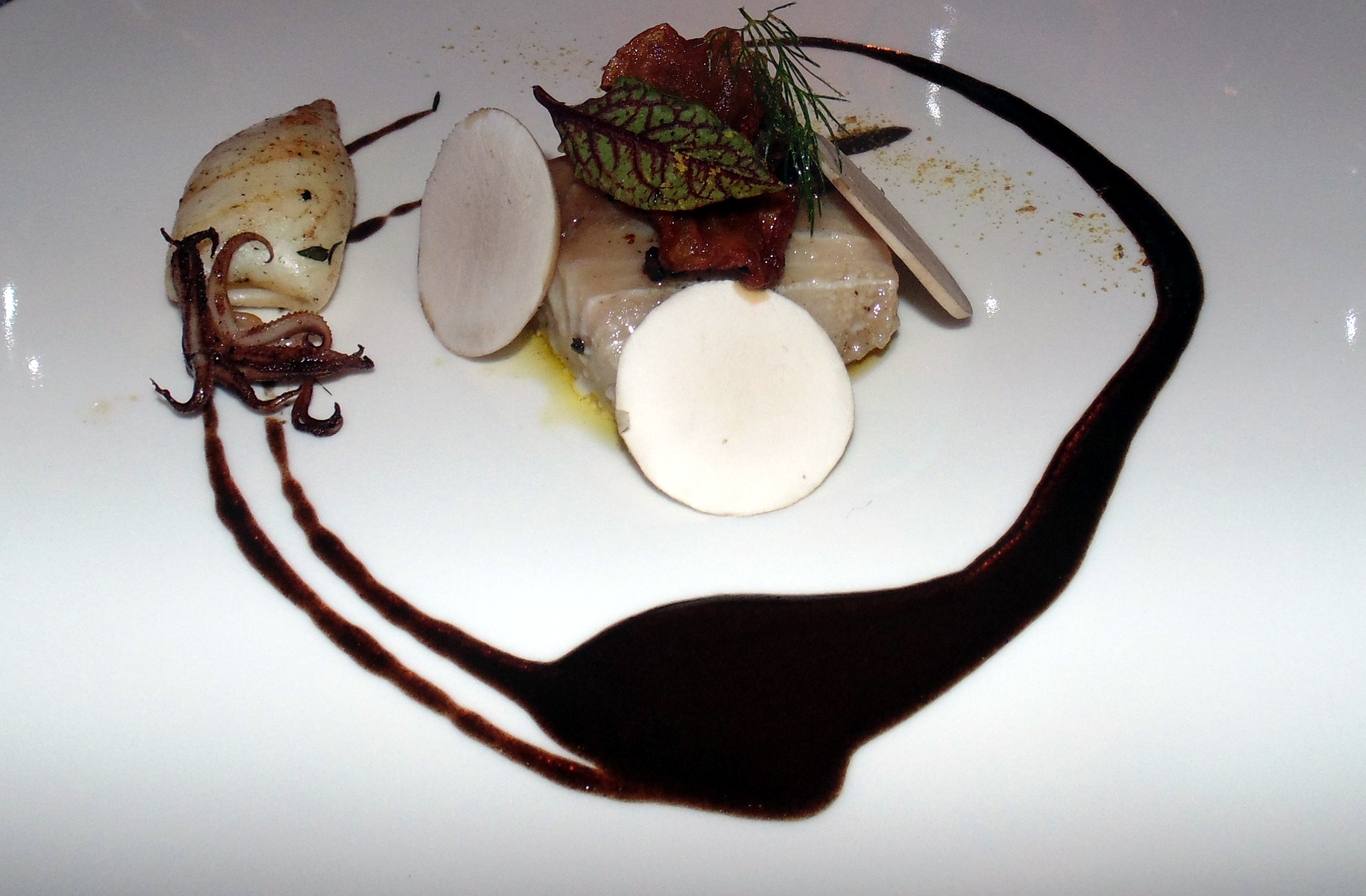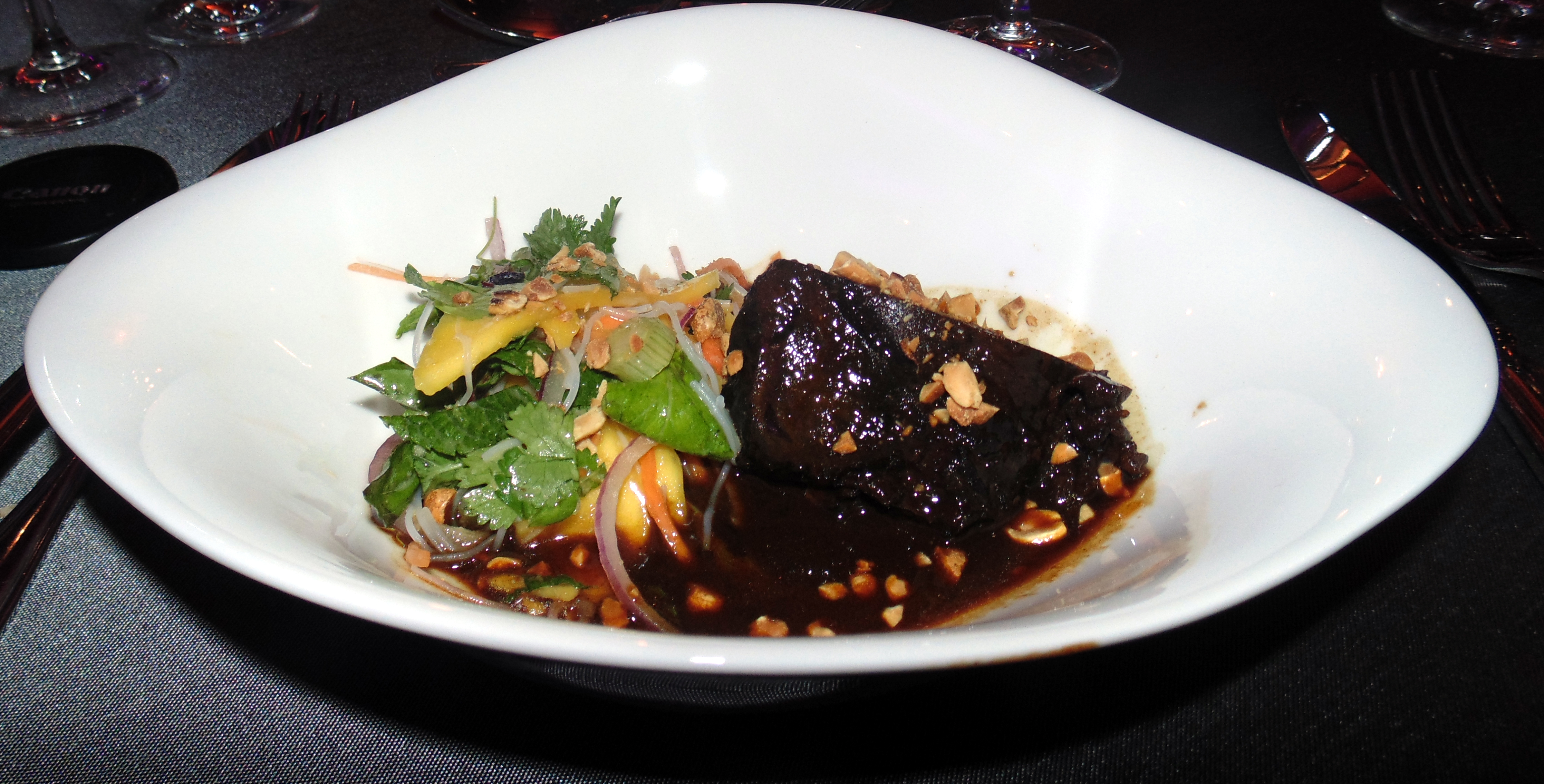 The Daniel Boulud Gala held in SECRETS The Vine Cancun Resort & Spa was described by guests as 'a once in a lifetime magnificent dinner' prepared with love by a group of world renowned chefs. Menu items included Canapés by Chef Oliver Augeard inspired by Daniel Boulud and prepared by Oliver Augeard that were served with Champagne, Brut Reserve, Taittinger, France. Chef Claude Troisgros presented Saint Jacques Carpaccio and sweet and sour sweet potato paired with Riesling, Les Princes Abbes, 2009, Schlumberger, France. Chef Normand Laprise gave homage to Daniel's corn soup version 1993, served with lobster and okra pepper Quebecoise style paired with Chassagne Montrachet ler Cru, 2008, Louis Latour, France. Chef George Mendes served a dish of salted cod with squid, tomato confit and red wine juices paired perfectly with Morey St. Denis, 20109, Bouchard, France. Chef Bruno Loubet created beef Indochine braised in sweet soy and mango salad paired with Gigondas,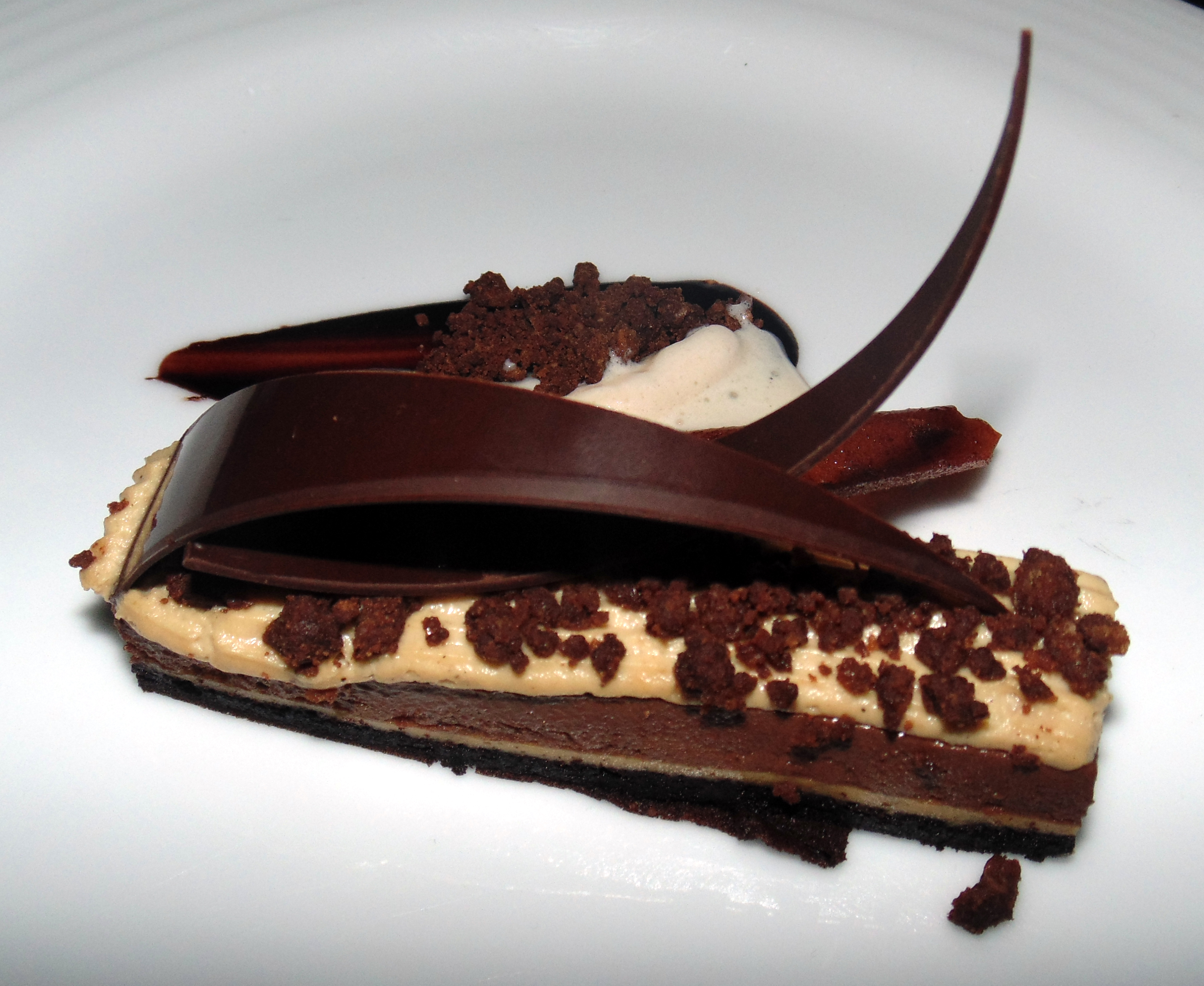 La Gille, 2010, Perrin, France. Chef Claudia Oyuela & Chef Raphael Haasz prepared a dreamy Chocolate Opera dessert of creamy caramel, speculoos praline, Columbian coffee mousse, citrus tuile, hibiscus flower and Arequipe ice cream paired with Sauternes, 2010, Petit Guiraud, Francia. The final touch was petit fours, tangerine and Mexican vanilla Pavlova served with Nespresso Coffee/Ristretto.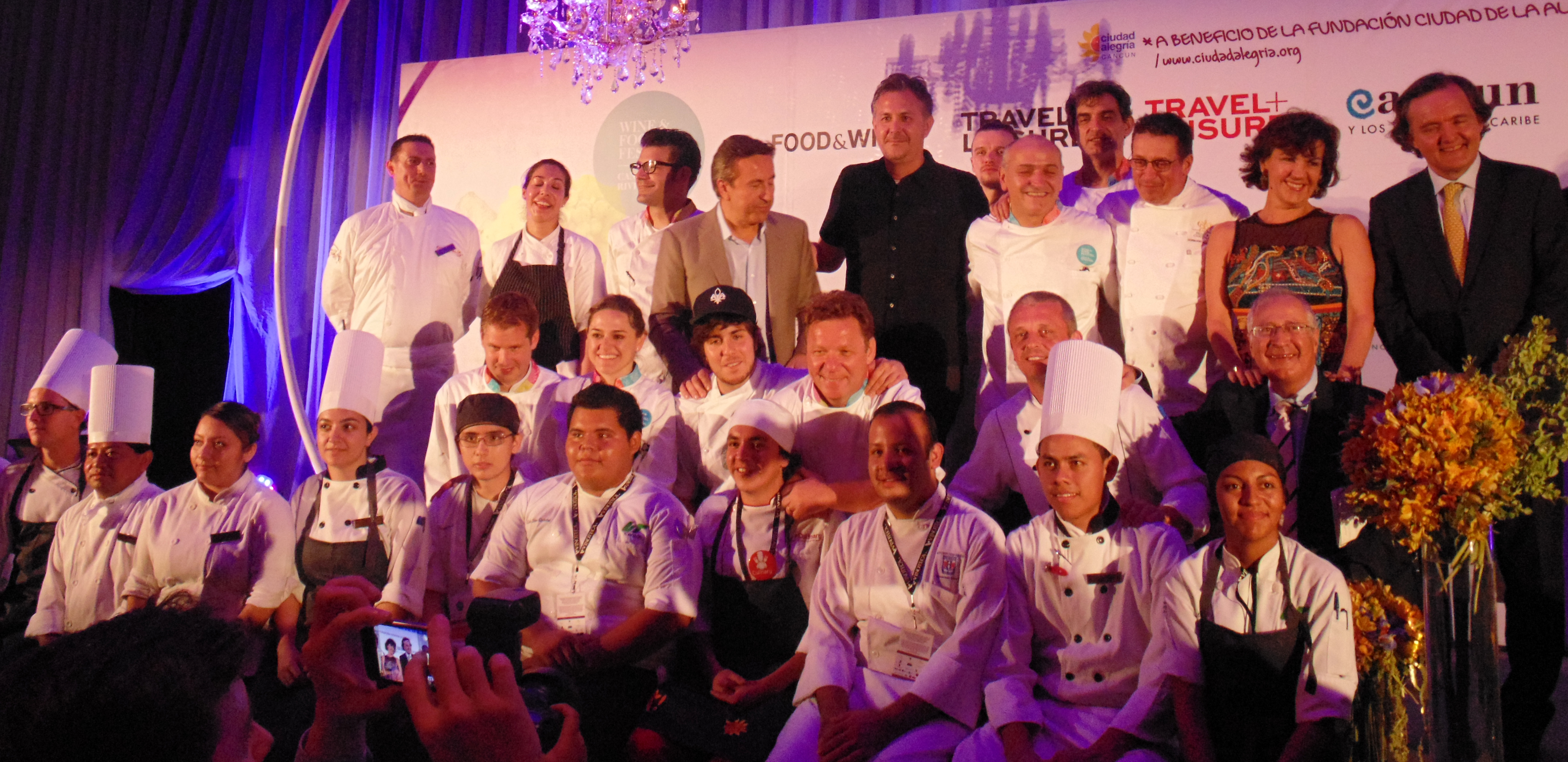 The Star Chefs preparing courses for the tribute dinner were all recognized on stage, and described the dishes they were preparing for their mentor Daniel. Following the prestigious award presentation to Chef Daniel Boulud by Festival Founder & CEO David Amar all the participating chefs and VIP attendees were invited on stage to take a bow and be recognized for their contribution to the success of the 2014 festival.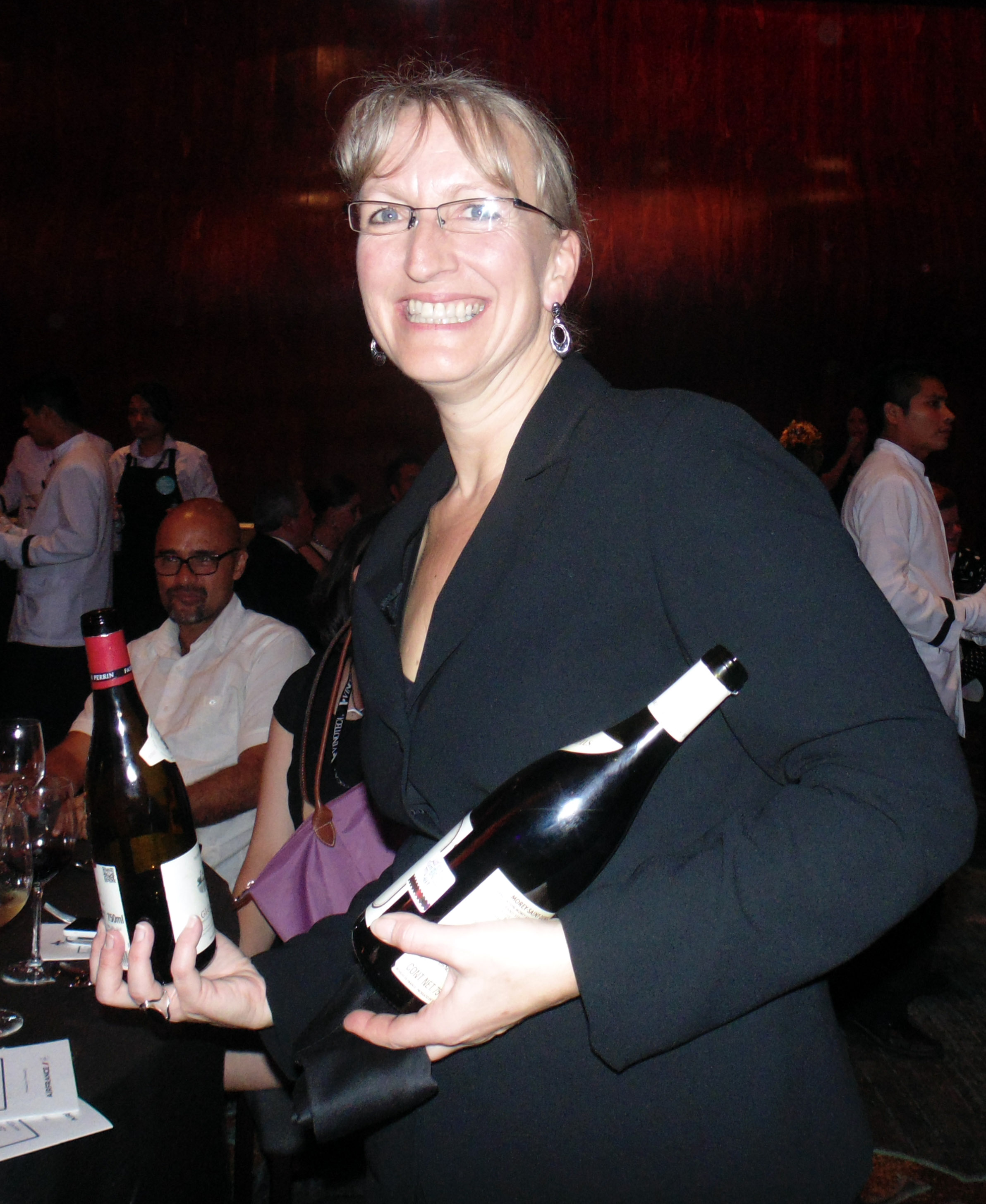 The perfect wine pairing for the dinner was skillfully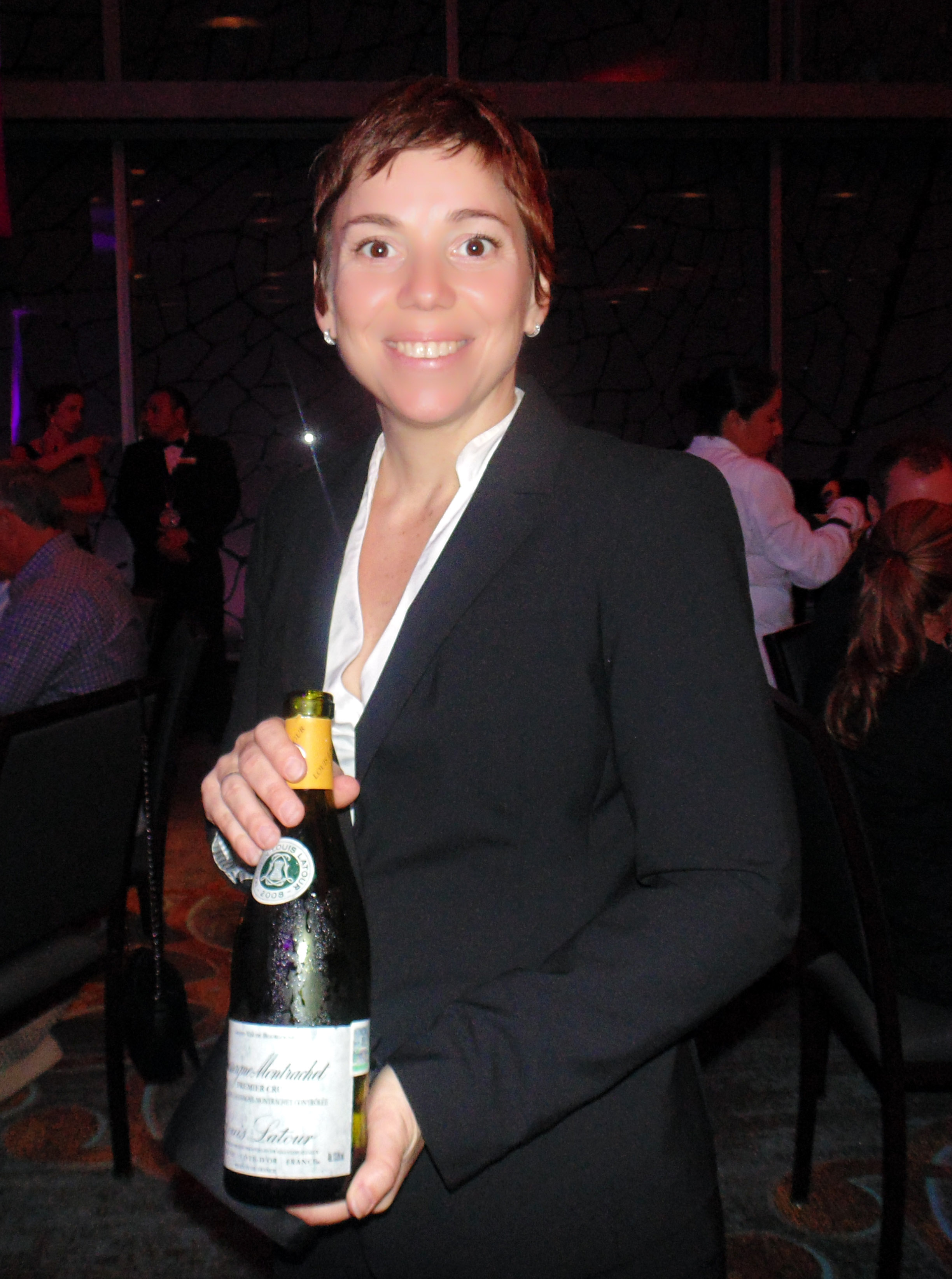 coordinated by award-winning sommeliers Elyse Lambert, Veronique Rivest of Canada and Juan Carlos Flores of Mexico, who dazzled the crowd of celebrity guests with their selections. Taittinger Champagne was a sponsor for the four day festival, and provided the wine for the dinner reception.
The crème de la crème was the Viva La France extravaganza finale, sponsored by AIRFRANCE, featuring French delights and sinful desserts at Hotel Iberostar Cancun. It was a sweet and delicious ending to the magical 3rd Annual Wine & Food Festival in Cancun-Riviera Maya. For information on the 2015 event please visit www.crmfest.com.
 ___________________________________________________________________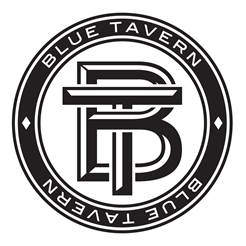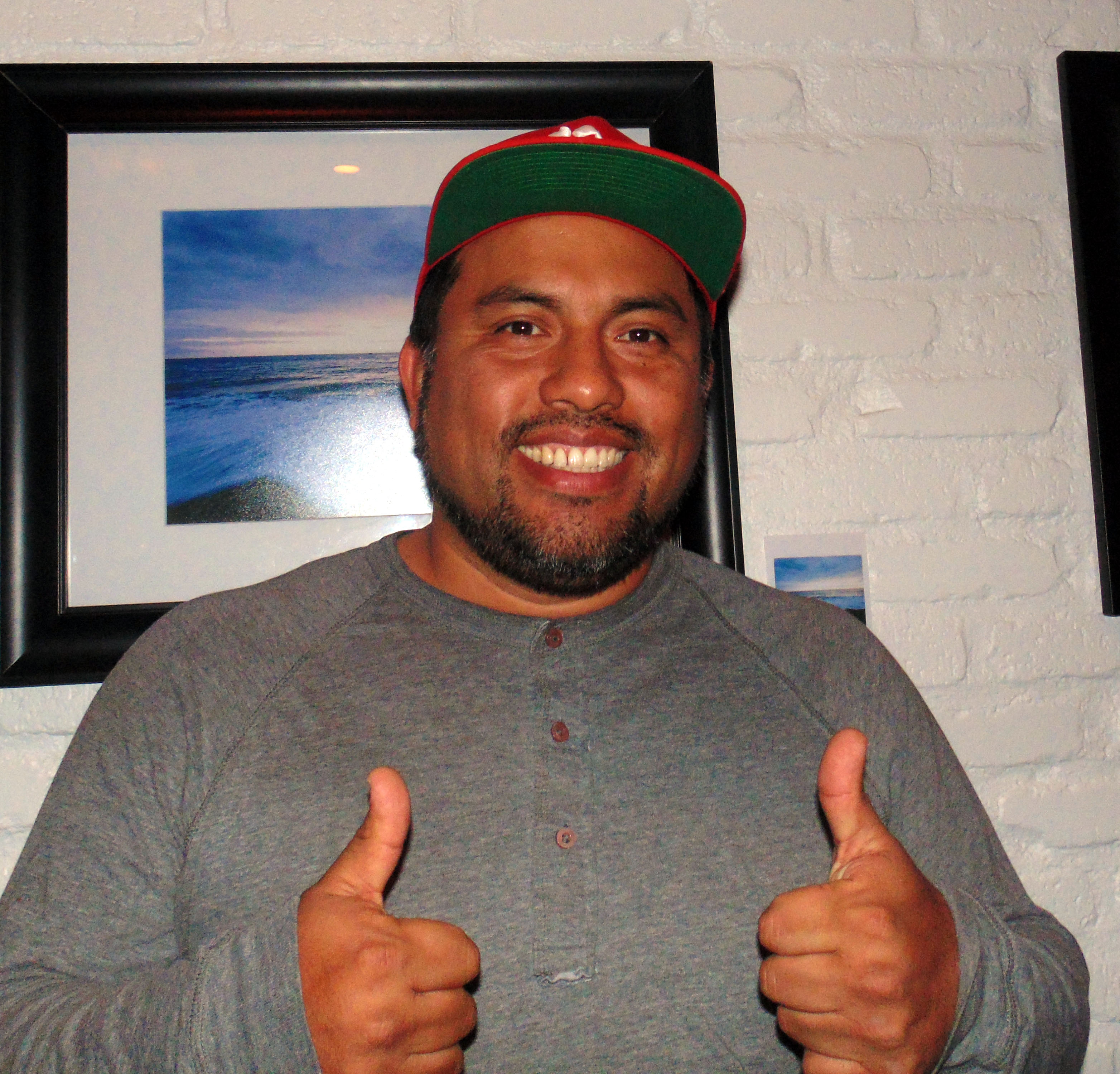 PERUVIAN SPIN ON HEALTHY FARE A SUCCESS AT BLUE TAVERN
Newly opened Blue Tavern, located at 121 State Street in Santa Barbara, is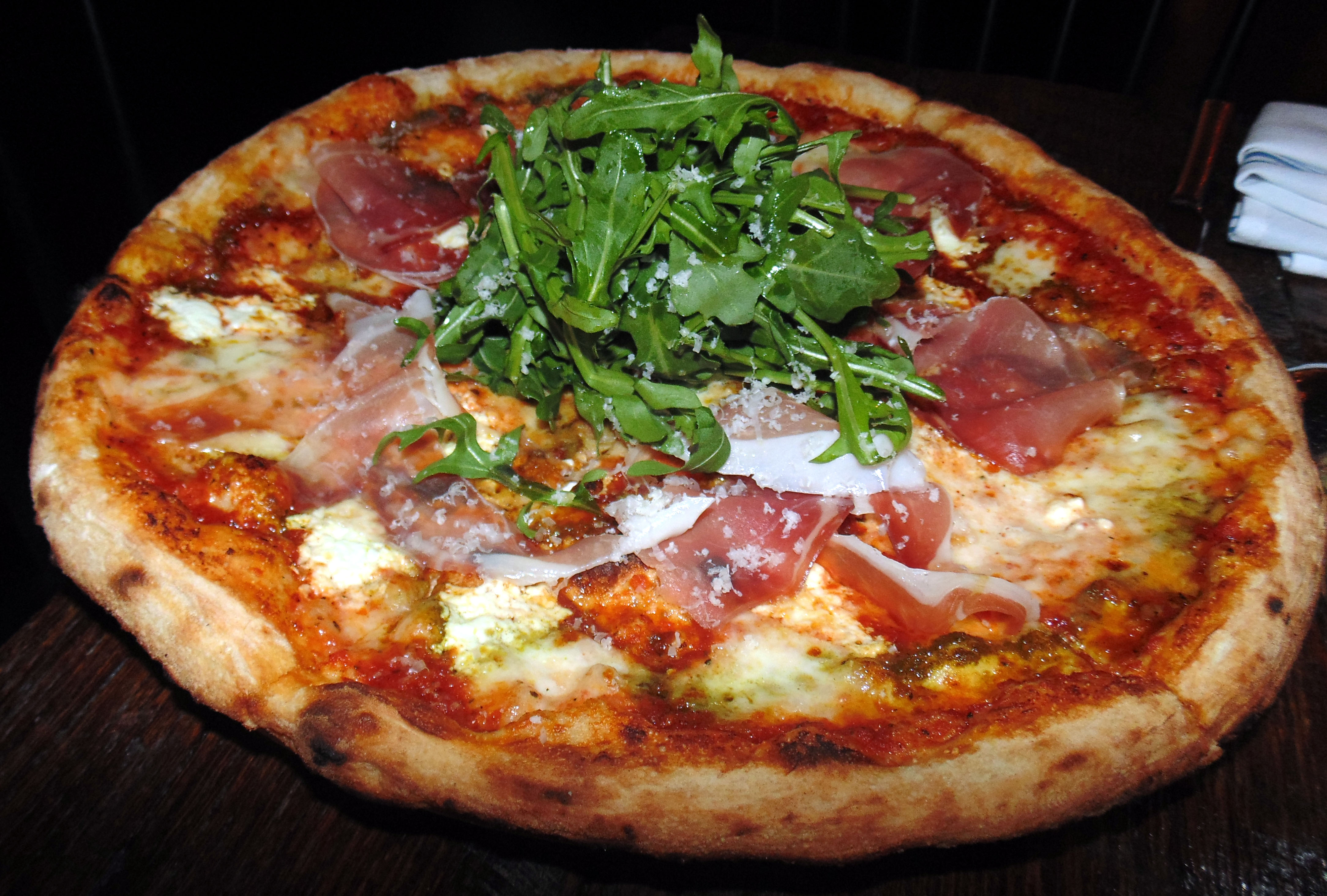 the creation of Chef Ricardo Zarate and business partner Stephane Bombet of Chef Zarate Restaurant Group. Zarate, a native Peruvian has skillfully blended typical California fare, including pizza, pasta and grilled meats with the favorite flavors of Peruvian cooking. The talented restaurant group now have four dining venues that include Blue Tavern, Mo-chica, Picca, and Paiche which all feature a relaxed ambiance where guests savor the inspirations of Zarate's heritage.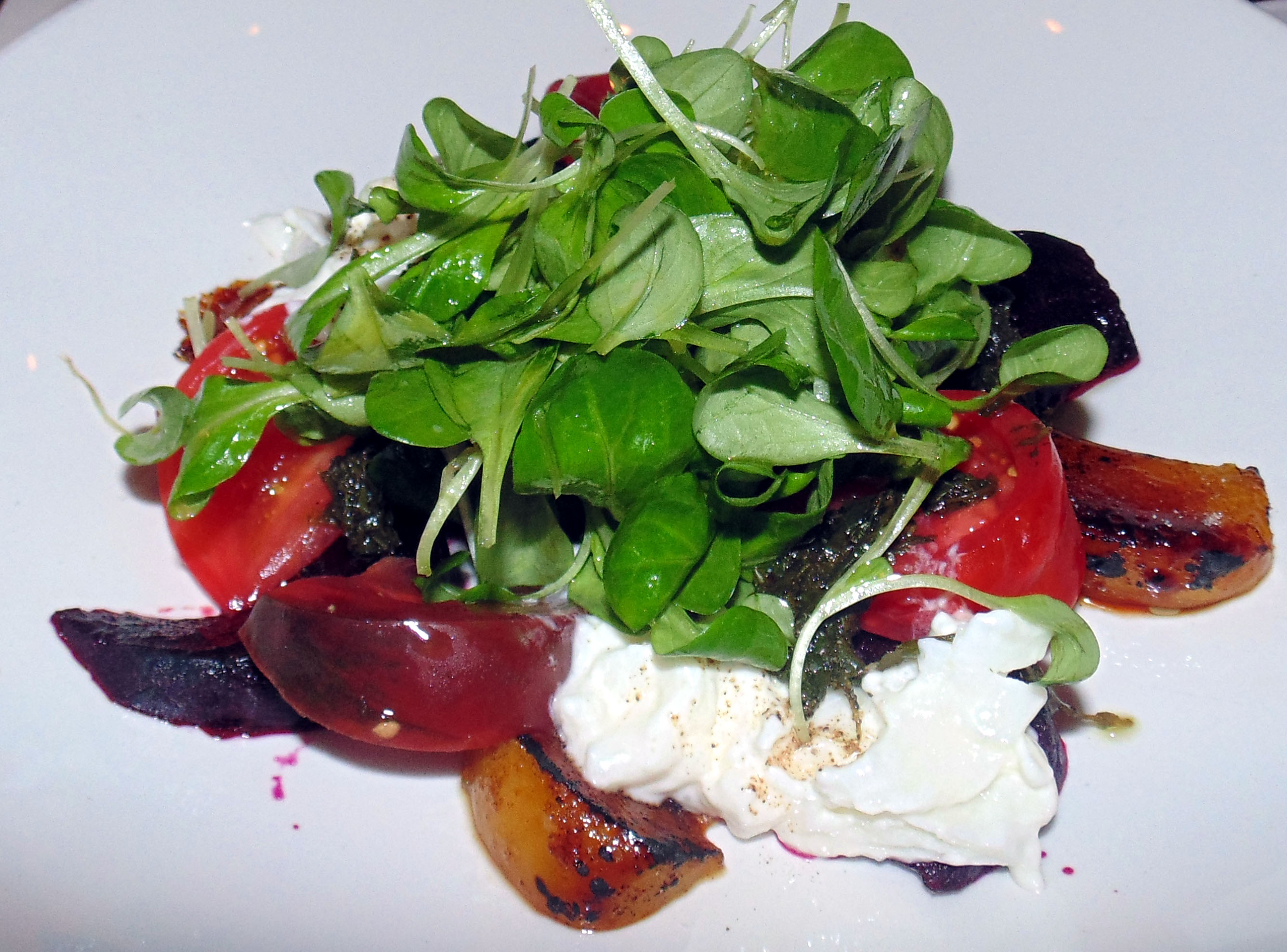 "I always try to blend inspiration from my past and present when I create a menu," Zarate said in a statement. "To update classic Californian dishes with ingredients from my country, along with produce from local farmers markets, is a culmination of decades of cooking, which I am looking forward to introducing to Santa Barbara."
Zarate, a 2011 Food & Wine Best New Chef and two-time James Beard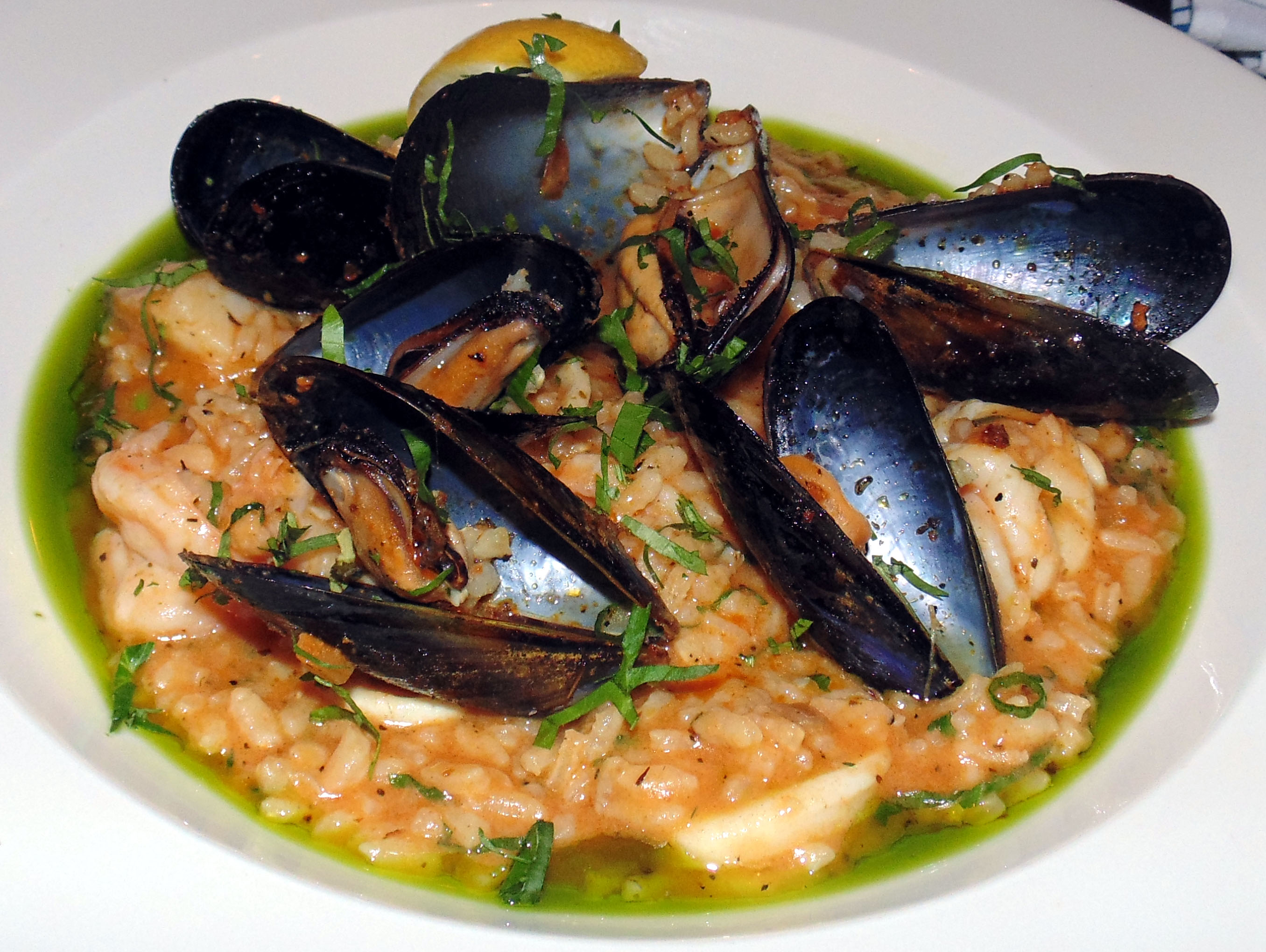 Foundation Award semifinalist for Best Chef: West, has mastered the merging of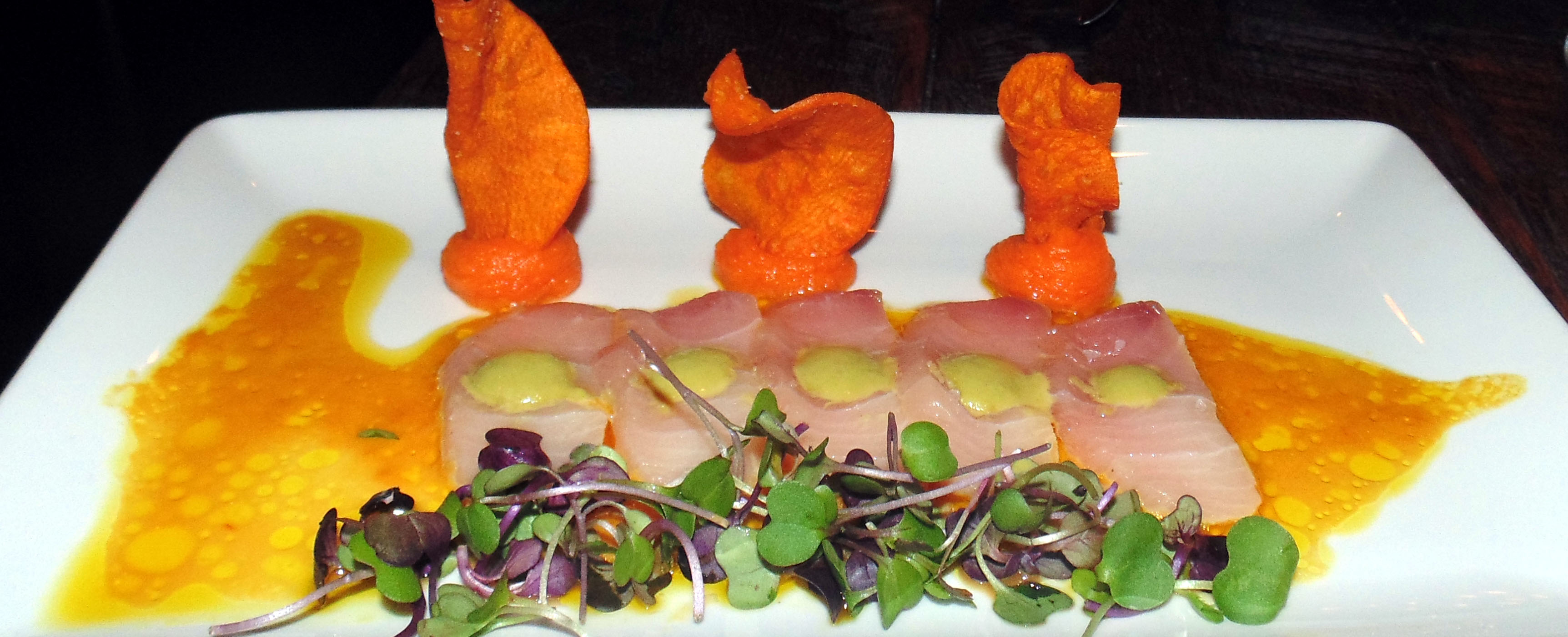 Californian techniques and Peruvian ingredients throughout his menus. A delicious beet, tomato, and burrata salad tossed in a  huacatay-pesto dressing or steamed mussels and chorizo with aji Amarillo butter and lime juice, along with Zarate's entire menu represent Peruvian style perfectly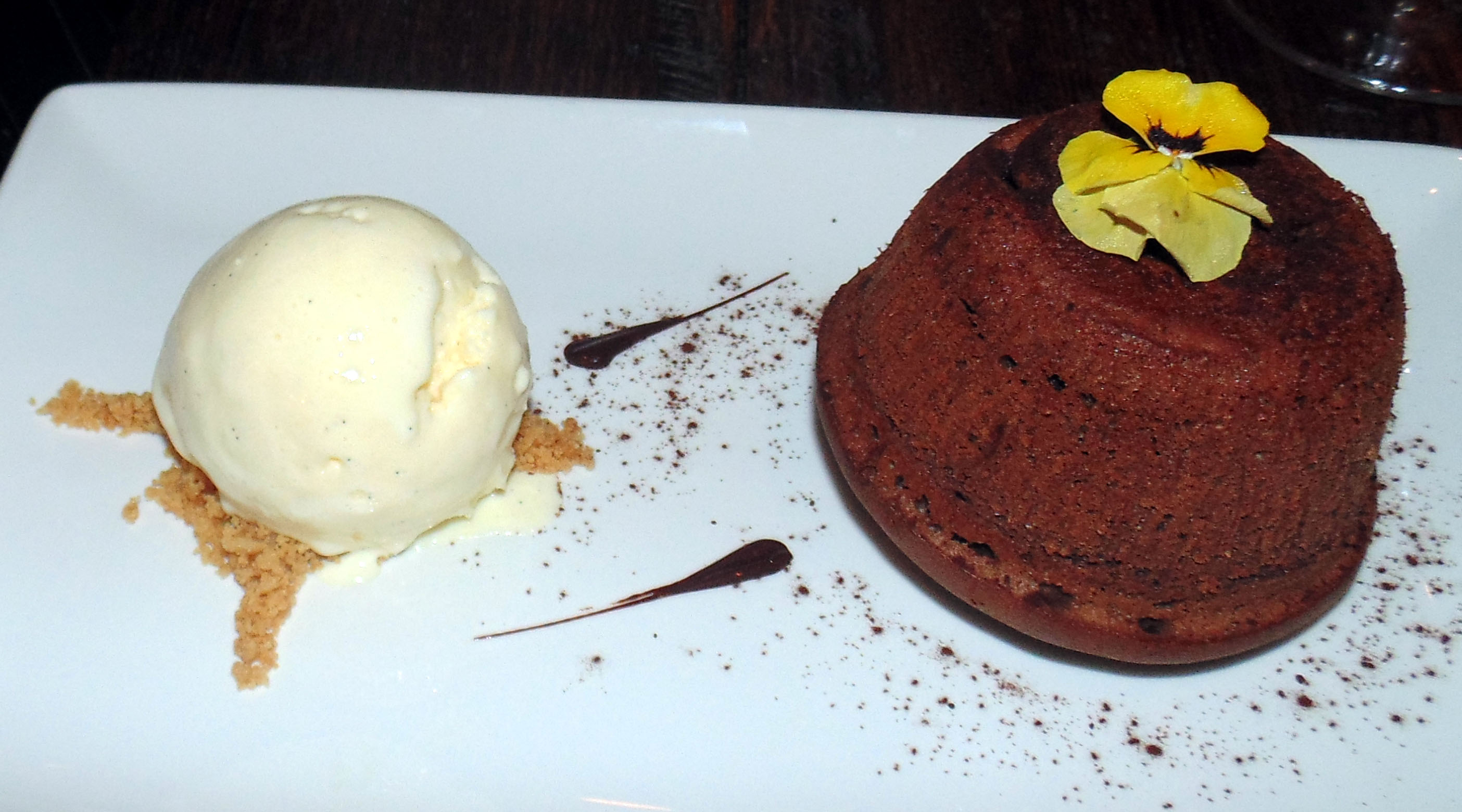 blended with California fresh. The modern space features a wood-burning oven, where the culinary team produces delicious hand-tossed pizzas topped with prosciutto, goat cheese, and burrata and finished with huacatay pesto. A chocolate lava cake with ice cream is a sweet ending at Blue Tavern.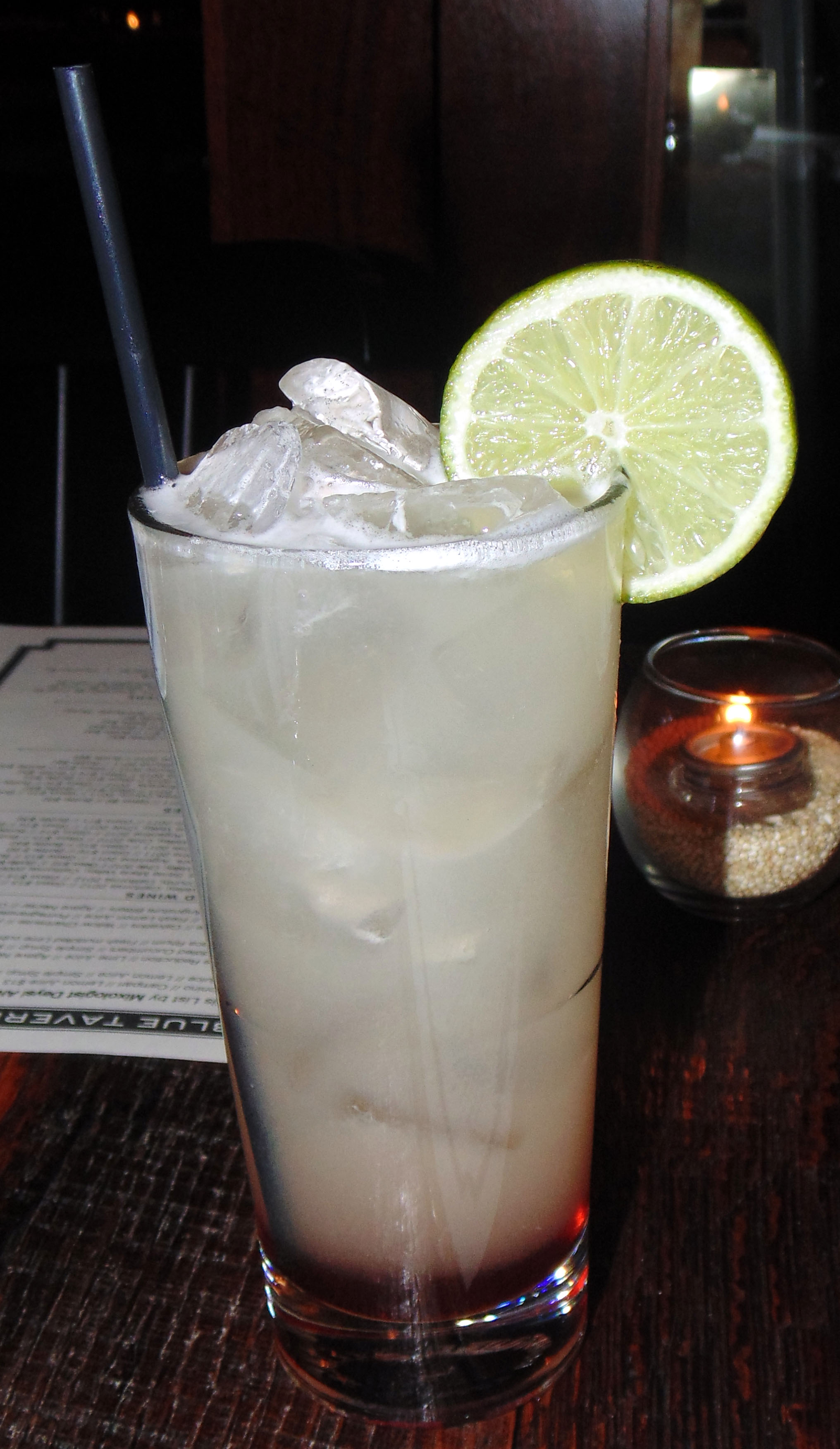 Acclaimed mixologist Deysi Alvarez offers original cocktails that are a blend of cultures and her cocktail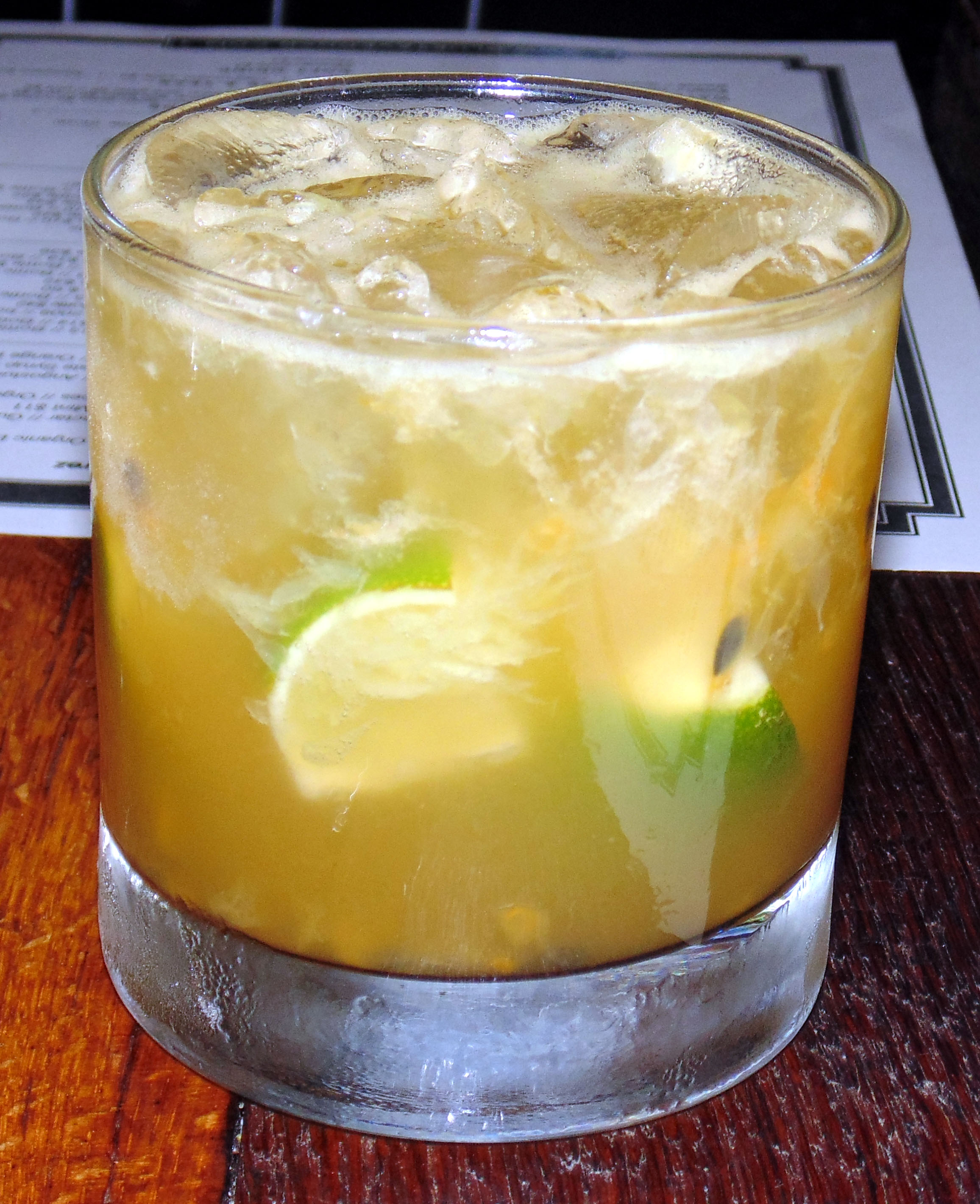 menu features drinks made with unique tinctures. The Mojito de Martinique is made with Clement Rum VSOP and clement cane syrup. The Margarita combines Espolon tequila, orange reduction, lime juice, agave nectar and Gusano salt for a refreshing change. Palma Fizz 12 puts a refreshing Peruvian twist on a standard vodka style cocktail. The Blue Tavern's wine list is focused on local vintners, and many of these wines have tasting rooms in the Funk Zone, located a few blocks from the restaurant.
Alex Carrasco is the Executive Chef at Blue Tavern, which seats 60 inside and 30 on the patio, and is connected to Hotel Indigo. The restaurant offers room service to hotel guests. Breakfast, lunch and dinner are served daily from 7 a.m.
Blue Tavern - 121 State Street - Santa Barbara, CA 93101- www.bluetavern.com
__________________________________________________________________
LUXE RODEO DRIVE HOTEL, GUITTARD CHOCOLATE COMPANY PROVIDED A SNEAK PEEK AND TASTING FOR THE UPCOMING
BEVERLY HILLS CENTENNIAL CAKE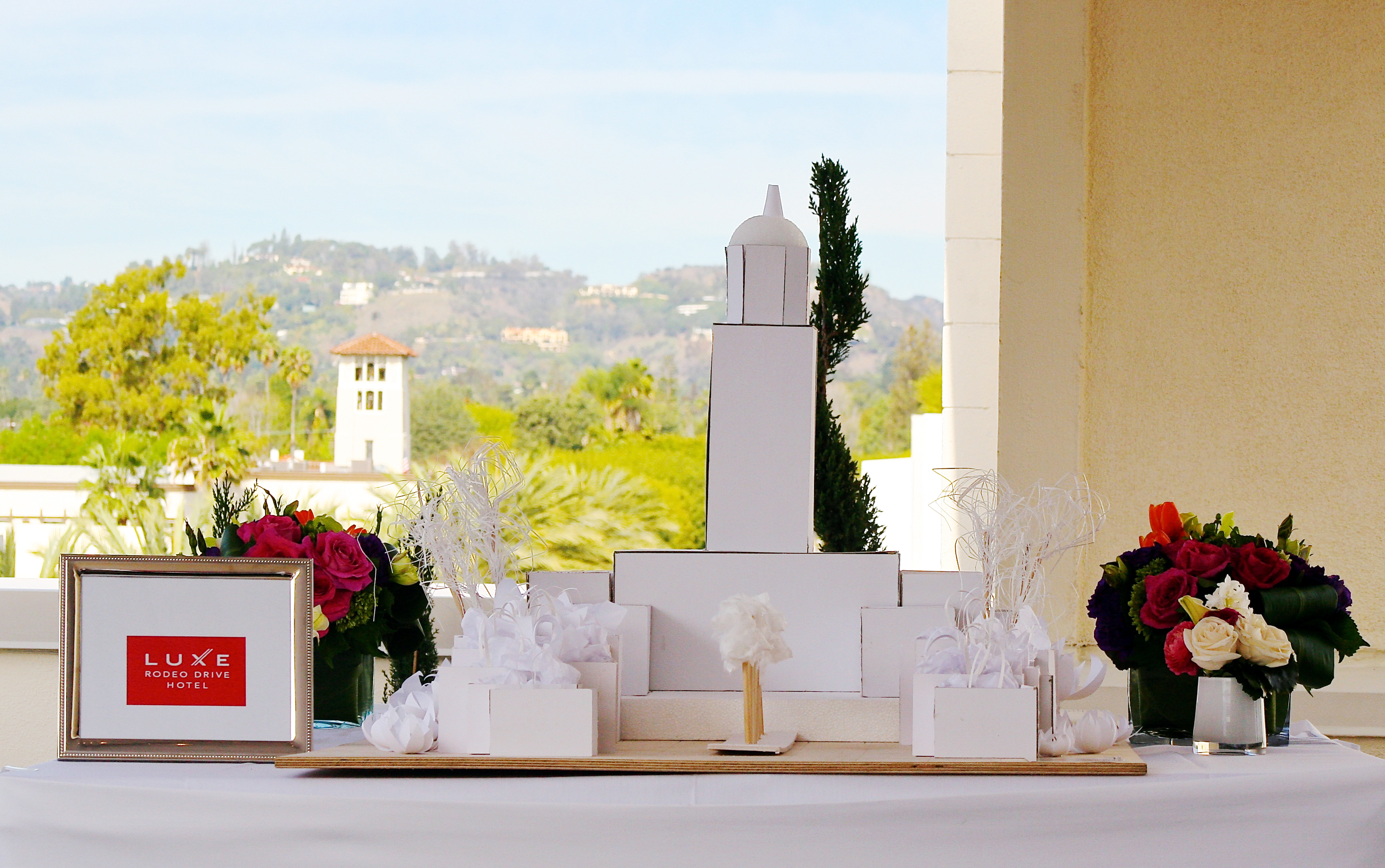 Preview of Beverly Hills Guittard Chocolate Cake for 100th Birthday Celebration by Barry King
Larger Than Life Beverly Hills Birthday Cake Will Serve 15,000 Slices At Beverly Hills Centennial Block Party On Rodeo Drive April 27th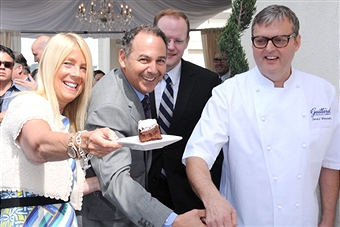 The hotel commissioned a 15,000-slice, 4,000-pound chocolate cake that is being created by Guittard's Corporate Pastry Chef, Donald Wressell, as a present to the city and the community, which will be presented at the kickoff of the Beverly Hills 100 Block Party on Rodeo Drive event on April 27th.  Those in attendance at the preview sampled the cake and received a first glimpse of model of the showpiece of the Beverly Hills event. 
Beverly Hills Mayor Lili Bosse, Beverly Hills city staff, and the Rodeo Drive Committee attended the event where Luxe Hotels' founder and chairman, Efrem Harkham, Luxe Rodeo Drive Hotel General Manager, Marcus Mueller, and pastry chef Donald Wressell presented the replica model.  The cake is fashioned after iconic city hall tower and the world famous Rodeo Drive, and will stand at a staggering 10-feet high, 15-feet wide, and 20-feet long.  
The Beverly Hills Centennial Block Party on Rodeo Drive will take place Sunday, April 27 from 3:30 to 8 pm.  The event will span the 200, 300, and 400 blocks of Rodeo Drive and will include carnival games and rides, entertainment and a grand finale to conclude the evening.
__________________________________________________________________
L.A. LIVE 2014 - "Best" Prepare Lunch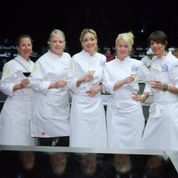 All-Star Lunch - Saturday March 22nd, 2014
Restaurant Stadium at L.A. LIVE's Event Deck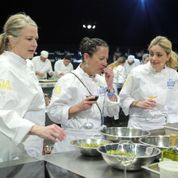 The "All-Star Lunch" celebrated the amazing women in the culinary industry with an exquisite five course lunch.Chefs Nancy Silverton, Nancy Oakes, Waylynn Lucas, Dominique Crenn and Naomi Pomeroy collaborated in the Restaurant Stadium as they cooked, plated, presented their award-winning food and techniques with the crowd.Florian Bellanger (French pastry chef / "Cupcake Wars") helped host the event along with master maitre d',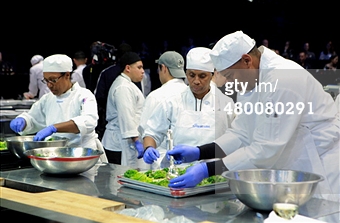 Donato Poto , and featured special guests including Ludo Lefebvre, Pierre Meneau and Marc Meneau. The menu included a carrot, mushroom and hazelnut herbed crème fraiche mousse; followed by a gem lettuce salad accompanied by labneh toast for a second course; then a seared scallop over polenta al negro, topped with uni, crab and panzanella; a lamb topped with preserved lemons and cabbage for the fourth course; and a buttermilk cake topped with textures of grapefruit, pistachio and coconut for dessert. 
__________________________________________________________________
PATINA ON THE MOVE AGAIN ...
In addition to our recent international expansion last fall with Patina Tokyo patinagroup.com/patinatokyo, we are also opening three new locations this year here in Los Angeles.
Our newest addition to the PRG family is Market Café, located at 550 South Hope Street on the corner of 6th Street in the heart of the Financial District in downtown Los Angeles. It's a great spot for those working in the area and looking for healthy yet delicious breakfast and lunch options. Take a look at some photos at patinagroup.com/market-cafe-550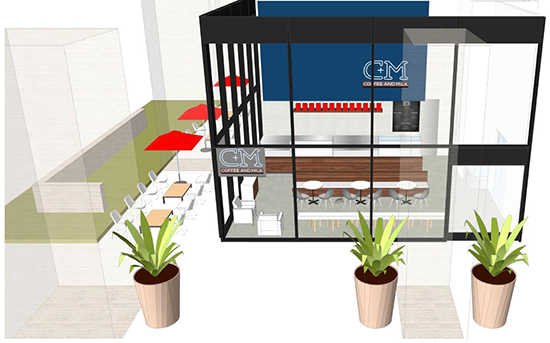 Second, we are close to opening our third C+M and fifth Market Café in Westwood at 11111 and 11150 Santa Monica Blvd. on March 19th! We are partnering up with the Irvine Company at the Westwood Gateway buildings and are excited for what the future may hold. Here's a sneak peak: patinagroup.com/market-cafe-westwood
__________________________________________________________________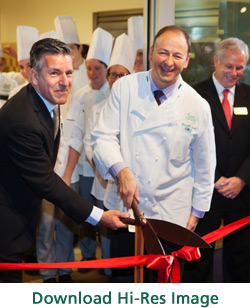 Chocolate Discovery Center Comes to The Culinary Institute of America
Ghirardelli Partners with College on Chocolate ClassroomThe Ghirardelli Chocolate Company, maker of premium chocolate products, has joined with The Culinary Institute of America (CIA) to open the Ghirardelli Chocolate Discovery Center. The facility, located at the college's Greystone campus in St. Helena, CA, was dedicated yesterday, March 4, with an unveiling and ribbon cutting—with a ribbon cutting using giant chocolate scissors.

In the Center, CIA students learn the science of chocolate and explore how quality chocolate can be used in baking, pastry, culinary, and beverage settings. It is home to the Chocolate and Confectionery Technology and Techniques course for baking and pastry arts degree students at the CIA. The Center also houses advanced education for professionals who want to hone their confectionery and chocolate making and sculpturing skills, as well as basic pastry arts classes for food enthusiasts.

"The rapid pace of innovation in the foodservice industry constantly creates new demands for specialized skills and knowledge," says CIA President Tim Ryan. "This exciting partnership will both inspire students and professionals to shape the future of the pastry arts and also delight chocolate aficionados everywhere."

"The Ghirardelli Company vision is to change the way the U.S. consumer experiences chocolate. All of us at Ghirardelli share a passion for our brand and a strong belief in its potential to connect with and engage consumers in all settings. We are excited to extend our passion to our foodservice business," says Marty Thompson, president and CEO of Ghirardelli Chocolate Company. "This partnership offers a unique opportunity to show future chefs first-hand the impact that our high quality chocolate can have on their menu. In turn, we look forward to having these chefs' creativity and passion inform and influence our new recipes and product innovations."

Adds Christopher Eklem, the company's vice president of foodservice, "Ghirardelli is committed to enhance our presence within the chef community. What better way is there than to partner with the prestigious CIA? The relationship with the CIA is a natural fit because their students are the future leaders of the industry segments we serve, such as restaurants, bakeries, and specialty coffee establishments."

The Ghirardelli Chocolate Discovery Center is centrally located on the first floor of the main building, where campus visitors can see students at work through the show windows. Many items produced there will be available for purchase in the Spice Islands® Marketplace and Flavor Bar at the CIA at Greystone.


___________________________________________________________

JACKS LAUNCHES MENU FOR LOCALS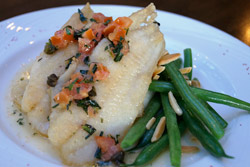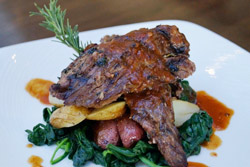 Jacks Restaurant, located inside the Portola Hotel & Spa, is proud to announce the launch for its exciting new "Local's Menu". The new dinner menu offers something special for the local Monterey community when they dine at Jacks and takes advantage of the delicious locally sourced ingredients available in Monterey County.
"For the last two years Jacks Restaurant has continued to enhance our offerings for our local community," said Sonny Petersson, Director of Food & Beverage at Portola Hotel & Spa. "First we introduced complimentary parking, 15% Locals Discount and our Wine Down Happy Hour in Jacks Lounge. I am pleased to announce that we are now introducing a three course locals menu for all of our local guests to come and enjoy a seasonal menu at great value."  
The three course, pre-fixed Local's Menu will be available from 5pm to 10pm, seven days a week for only $24.99 per person. Changes to the menu will be seasonal and include fresh and sustainable ingredients.
Complimentary self and valet parking is available to all restaurant guests.
To view the new menu, please click HERE.
Portola Hotel & Spa is Monterey's first and only Silver LEED® EB certified hotel and AAA Four Diamond Rating. The full-service hotel offers guests a rich, historical ambiance, with residential style and a dedicated staff to ensure an unparalleled guest experience. The hotel features 379 nautically inspired guest rooms and suites, ranging from 400 to 1,000 square feet. 
Portola Hotel & Spa is home to Jacks Restaurant and Lounge and Peter B's Brewpub, the Monterey Peninsula's first craft brewery. In addition, overnight guests have access to the hotel's spa and fitness facilities, complete with steam room, sauna, outdoor pool and Jacuzzi. The newly renovated 6,000-square-foot Spa on the Plaza offers 10 treatment rooms and an extensive spa menu of signature treatments. For more information please visit:
http://www.portolahotel.com/
____________________________________________________________

RICK J. CARUSO'S THE WHISPER RESTAURANT AND LOUNGE AT THE GROVE DEBUTS FRESH, NEW LOOK
 After a half-million dollar remodel, The Grove's intimate hot spot
Reopens with chic upgrades
 In honor of its 10 year anniversary, CEO of Caruso Affiliated and restaurant owner Rick J. Caruso reopened The Whisper Restaurant and Lounge at The Grove on Thursday, March 27th, after an extensive half-million dollar remodel.  The all-new chic, yet timeless interior now complements Executive Chef Anthony Jacquet's reimagined lunch and dinner menu, further solidifying The Whisper Restaurant and Lounge as an iconic, upscale dining destination for Hollywood's power scene, local patrons and tourists. 
"The Whisper Restaurant and Lounge has been a preeminent mainstay over the past decade. We married its classic, old Hollywood feel with a refreshed sophisticated, hip vibe.  Our goal was to make it relevant for Angelinos, but also for an international traveler who visits The Grove," said Rick J. Caruso, restaurant owner and chief executive officer of Caruso Affiliated. 
Staying true to its classic, old Hollywood feel, the remodeled interior space boasts a sophisticated yet hip restaurant and lounge atmosphere, which continues through the outdoor patio. A custom crystal chandelier, tufted banquettes, barrel-back lounge chairs, and marble cocktail tables are now in place, along with a mirrored wall and original artwork by renowned photographer Jim McHugh. The furniture's textured upholstery is soothing plum and gray tones, and together with a polished floor, have an inviting appeal. The kitchen has also been refreshed with a state-of-the-art cooking suite. 
Executive Chef Anthony Jacquet debuted his refined, yet traditionally classic menu; offering guests an exquisite selection of freshly prepared items including pressed juices, soups and salads and decadent main courses that celebrate the foods of America with a light touch of California. Lunch-goers were introduced to a variety of healthy options including the Vegan Cobb Salad, the Kale Waldorf Salad and a Vegan Soup, inspired by seasonal ingredients. 
The reimagined dinner menu encompasses modern twists on American signature classics such as Lobster Fettuccinewith Serrano Chile, Mint and Saffron Butter Sauce, Grilled Skirt Steak with Miso Butter Baste, Charred Asparagus and Black Garlic Fried Rice, Roasted Baby Beets Salad with Grapefruit, Avocado, Burrata, Pumpkin Seeds and Pomegranate Molasses, and Calamari with Sweet Chili-garlic Sauce and Grilled Lime. 
To accompany the new menu, Beverage Director Mike Kelly and Lead Bartender Lawrence Long have tailored a cocktail program to feature an array of seasonal hand-crafted cocktails and spirits as well as an updated wine list for the restaurant's wine-by-the-glass program. Newly added cocktails include The Longfellow with Angel's Envy Bourbon, Fresh Basil, Blackberry and Fig Bitters, The Bootlegger #2 with Hendricks Gin, Lillet Blonde, Cointreau and Fresh Lemon, aged in-house for four weeks, and the Pick Your Poison with Raspberry and All Spice Cider Shrub, Sparkling Water, providing guests the option to choose St. George Gin, Reyka Vodka or Basil Hayden Bourbon. 
Throughout the week, The Whisper Restaurant and Lounge showcase musical acts; providing guests the opportunity to enjoy live entertainment, while experiencing the restaurant's fresh new look and contemporary take on the chophouse. 
The Whisper Restaurant and Lounge is located at 189 The Grove Drive. The restaurant is open for lunch and dinner, Sunday - Thursday: 11:30 a.m. - 10:00 p.m. and Friday - Saturday: 11:30 a.m. - 12:00 a.m.
___________________________________________________________________________________________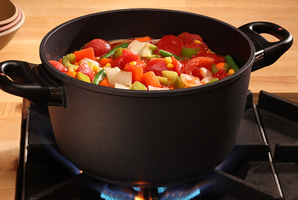 SWISS DIAMOND COOKWARE
100% Dependable to Make Perfect Favorite Dishes
By Bonnie Carroll
We all have tried various trend cook ware to prepare meals and special dinners for friends over the years. Often I would purchase pots and pans that were color coordinated with my decorator scene, with no concern about how they performed in food preparation.
A few years ago I was introduced to Swiss Diamond Cookware from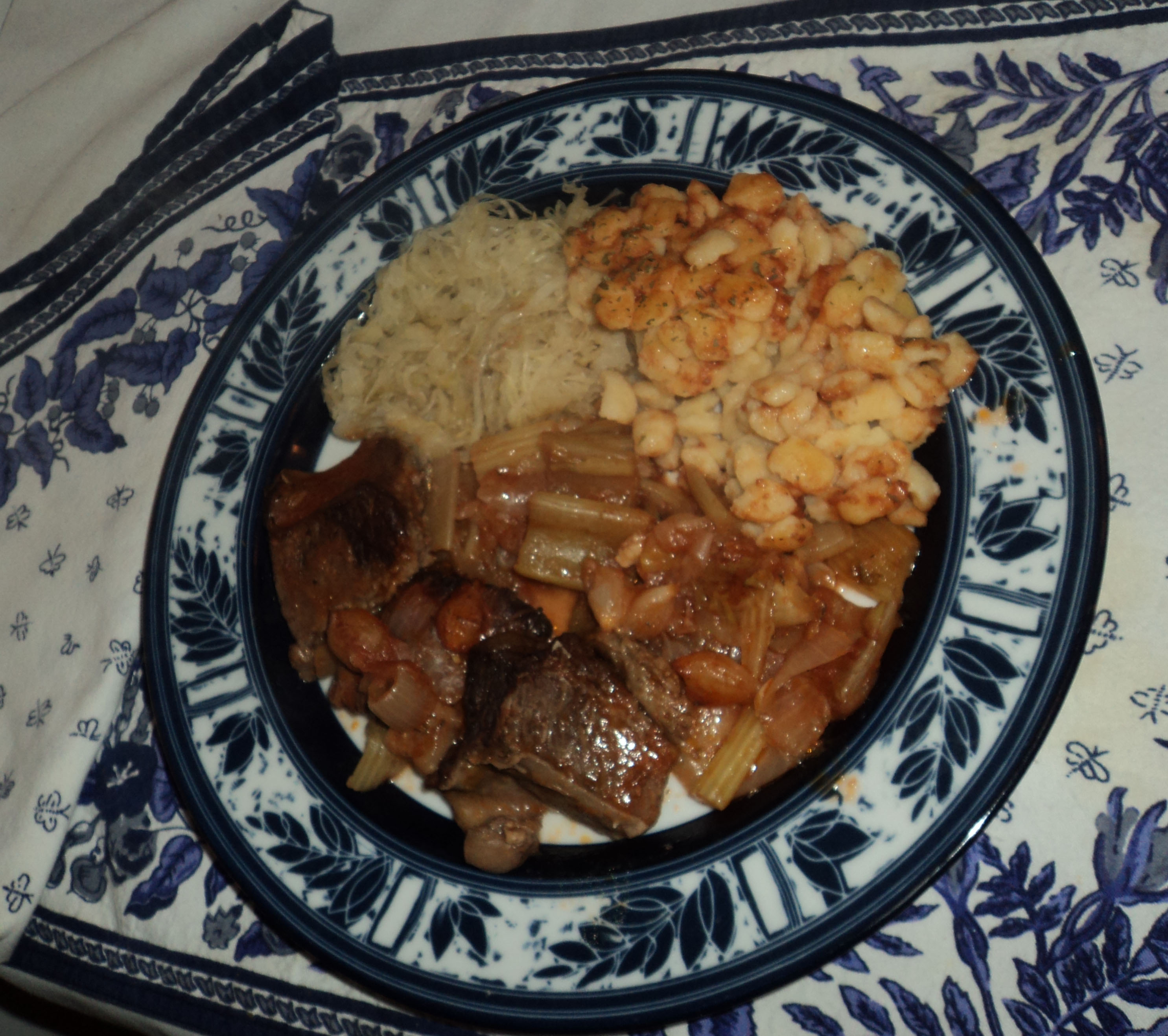 Switzerland, and that is when the real cooking pleasure began for me. I now use my Dutch oven for everything from pasta, to artichokes to my favorite meat dishes. Recipes turn out perfect every time due to the construction of these amazing pots. Replicating Wolfgang Puck's short ribs recipe is a cinch using this fantastic cooking pot that goes in the oven for best results, and it becomes a one pot meal center that is so easy. We like ours with sauerkraut & spratzle.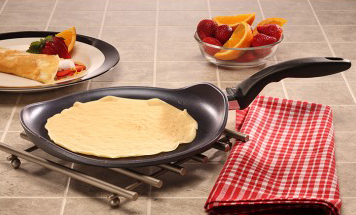 Another of the Swiss Diamond cooking gems is the crepe pan that makes perfect pancakes or crepes that are just right and never stick to the pan. These pans heat to the perfect temperature and cook your food the way it should be done; never burning or overcooking items. My son, who is not a chef, thinks he is a crepe/pancake champion while cooking up a stack with the Swiss Diamond.
For the full scoop on the exceptional construction and heating capabilities of these beautiful and extremely functional cookware products, that will last forever and keep everyone in your house smiling, especially the dishwasher. Go to www.swissdiamond.com.
Braised Short Ribs by Wolfgang Puck
Serves 6
1 bottle Cabernet Sauvignon
2 tablespoons olive oil
6 portions of beef ribs trimmed
1 teaspoon black peppercorns
Salt
Fine matzo meal for dredging
10 cloves garlic peeled
8 large shallots, peeled, trimmed, rinsed, split and dried
2 medium carrots, peeled trimmed and cut into 1" pieces
Medium leek coarsely chopped
6 sprigs Italian parsley
2 sprigs thyme
2 bay leaves
2 tsp tomato paste
2 quarts unsalted beef or chicken stock
Freshly ground white pepper
Pour the wine into a large saucepan set over medium heat. When the wine is heated, carefully set it aflame. Let the flames die out, then increase the heat and bring the wine to a boil; continue boiling until the liquid reduces by half. Remove from the heat. 
Center a rack in the oven and preheat the oven to 350°F. 
Heat the oil in a Dutch oven or large casserole, large enough to hold the 6 portions of ribs, over medium-high heat. Season the ribs all over with salt and the crushed pepper. Dust the ribs with about 2 tablespoons of matzoh meal and then when the oil is hot, slip the ribs into the pot and sear for 4 to 5 minutes on each side, until well browned. 
Transfer the browned ribs to a plate. Remove all but 1 tablespoon of fat from the pot; lower the heat to medium, and toss in the vegetables and herbs. Sauté the vegetable until lightly browned, 5 to 7 minutes, then stir in the tomato paste and cook for 1 minute to blend. 
Add the reduced wine, browned ribs, and stock. Bring to a boil; cover the pot tightly, slide it into the oven, and cook until the ribs are tender enough to be easily pierced with a fork, about 21/2 hours. Every 30 minutes or so, lift the lid and skim and discard whatever fat may have bubbled up to the surface. 
Carefully transfer the meat to a heated serving platter, cover, and keep warm. Boil the pan liquid until it thickens and reduces to approximately 1 quart. Season with salt and pepper and pass through a fine-mesh strainer; discard the solids. 
Pour the sauce over the meat.
---