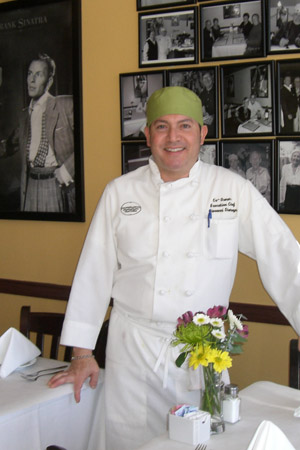 GIANNFRANCO'S TRATTORIA, Fine Cucina Italiana
A Delightful Taste of Italy in Carpinteria, California
by Bonnie Carroll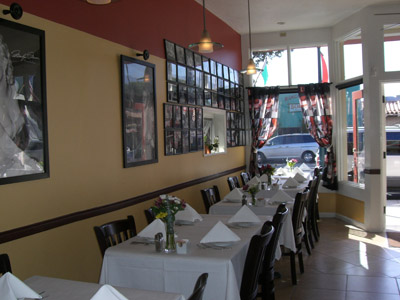 A delicious little taste of Italy is among the ranks of popular eateries on Linden Avenue in Carpinteria in the form of an authentic trattoria that has become a real family favorite and a community meeting place since its inception. The restaurant walls are lined with photos of Sinatra and his 'rat pack' as well as other celebrities of renown. Sounds of 'old blue eyes' favorites float through the dining room and into the outdoor patio. The ambiance is warm and welcoming and is alive with the sound of patrons enjoying the menu of rich Italian flavors paired with fine wine selections. The have a great wine list that includes local wines and some nice european selections.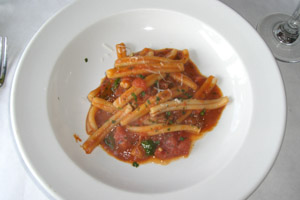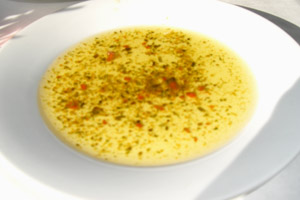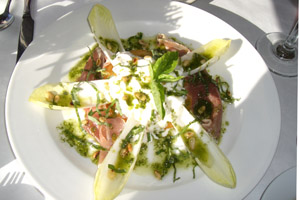 Co-owner/chef Giovanni attended the Santa Barbara City College Culinary School, opened his restaurant four years ago, and is living out his own 'la dolce vita' dream to be his own boss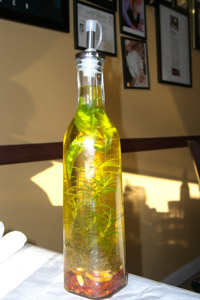 and create fine food. The plates he has designed, as well as the original recipes are so good you almost forget you are in Carpinteria and not some small town in Italy. "Some of the recipes are from my mother's family who were from Sicily" said Giovanni.
It is always so refreshing to meet someone who just loves food, is willing to learn, and has the real passion that separates a cook from a real chef. This guy has paid his dues, and his preparation and presentation not only deserves major kudos, but since this review every time I mention this chef to any local they say "that is my favorite restaurant." It is also obvious to me that he is doing everything right, but has the most important factor for a successful Italian eatery. . . love!
Original recipes for fish, chicken, steak, veal, risotto and a variety of wonderful pasta dishes fill his menu. This talented young entrepreneur is also creating and selling a signature olive oil for his customers.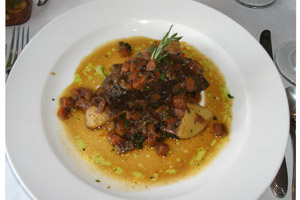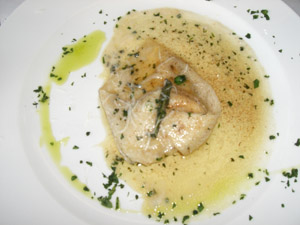 My favorites on his menu included the lobster ravioli in sage butter froth;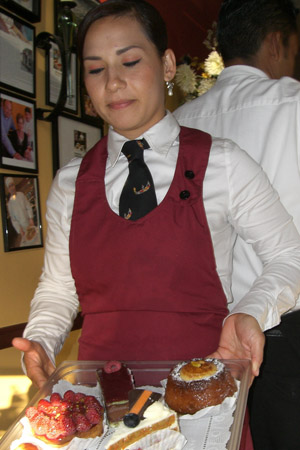 guancile pasta dish with Italian bacon in basil pomadoro sauce, and the braised short ribs, which fall off the bone, are simply outstanding. The ribs are slowly braised in herbs and wine over roasted potatoes and tasty spinach. Any of the antipasti offerings are wonderful, and the fantastic dessert tray will create a serious decision making situation, but also a sweet ending to a beautiful meal.
Giannfranco's Trattoria
666 Linden Avenue
Carpinteria, CA 93013
(805) 684-0720
giannfrancos@yahoo.com
---
FOUR SEASON CHEFS SHARE SPICY SECRETS . . .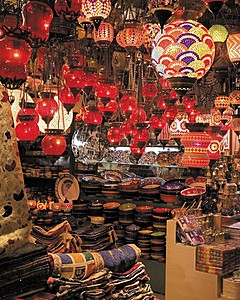 A meal is unforgettable when it ignites all senses. Four Seasons executive chefs from around the world agree that the key to creating memorable bites is proper seasoning. Their recommended first step: expand the home spice rack beyond the basics. By weaving in just a few overlooked flavours, creative cooks can turn out tantalising tastes from around the world each night of the week.
For those unsure how to begin a seasoning cabinet makeover, our savoury masters have shared their recommendations for underrated spices and ingredients worth a try:
---
Francis Ford Coppola's Personal Chef Comes to Chicago
Nella Pizzeria's new chef brings impressive history with famous director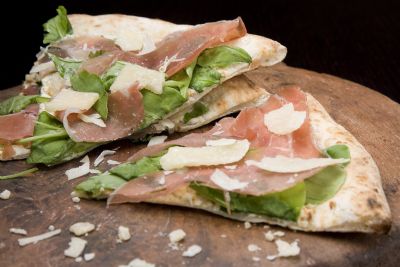 Born in Naples, Italy, pizza's origin, it should come as no surprise that Chef Alfredo Colle has made Nella Pizzeria Napoletana his new home. Chef Colle began cooking at merely 13 years of age and has continued to lead an impressive career, bringing with him traditional, Italian style and a matching, vivacious attitude.
After living and working in Paris for four years (1994-1998), Chef Colle met Francis Ford Coppola who couldn't help but fall in love with his cooking.  In 1999, Colle moved to the US where he worked as Coppola's personal chef and managed two of his restaurants in San Francisco.   From there Colle went on to work at restaurants across the country, from Arizona to New Jersey where he manned Brownstone for a short stint.
Now, Colle is the executive chef at Lincoln Park's Nella Pizzeria Napoletana, creating new and delicious Neapolitan-style dishes, including a dessert calzone, and bringing a new energy to the beloved restaurant.  Chef Colle loves to be on the floor, interacting with diners, making them laugh and even bringing kids behind the counter to help him make the pizzas.
"I did the culinary, more upscale, fine-dining restaurants, but Nella's is really the epitome of what I love to do.  A simple yet delicious concept with a laid back, casual atmosphere where you can have a little fun, make your customers feel comfortable like they know you, and serve good, authentic food," says Chef Colle.
---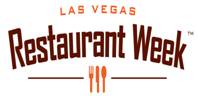 LAS VEGAS RESTAURANTS AND CELEBRITY CHEFS
COME TOGETHER TO SUPPORT THREE SQUARE FOOD BANK
DURING ANNUAL RESTAURANT WEEK AUG. 30 – SEPT. 5
Proceeds from Specially Priced Menus Help Fight Hunger
 Las Vegas Restaurant Week is making a highly anticipated return giving diners an opportunity to enjoy more than 80 of Las Vegas' popular establishments at discounted prices while raising money to feed the hungry.  The August 30 – September 5 event will feature special prix fixe menus priced at $20.10, $30.10 and $50.10, depending on the restaurant.  A portion of the proceeds will benefit Three Square, a non-profit organization in Las Vegas working to end hunger in Southern Nevada.
This year many of MGM Resorts International's finest restaurants are participating including: L'Atelier de Joël Robuchon, NOBHILL TAVERN, Diego, SEABLUE, Fiamma Trattoria & Bar, Wolfgang Puck Bar & Grill and Tom Colicchio's Craftsteak at MGM Grand; Sage, AMERICAN FISH, UNION Restaurant & Lounge, Bar Masa, Blossom, Jean Georges Steakhouse, Sirio Ristorante and Julian Serrano at ARIA; Café Bellagio, Osteria del Circo, Prime Steakhouse, Jasmine, Sensi, FIX, Todd English's Olive's, Yellowtail Japanese Restaurant & Lounge, FIX and MICHAEL MINA at Bellagio; Diablo's Cantina, BRAND Steakhouse, Dragon Noodle, d.vino Italian Food & Wine Bar and Andre's Restaurant & Lounge at Monte Carlo; The Steak House at Circus Circus; TENDER Steak & Seafood at Luxor; STACK, BLT Burger, Japonais, Fin, Onda, Samba and kokomo's at The Mirage; miX, Aureole, Fleur de Lys, Shanghai Lilly, STRIPSTEAK and Rick Moonen's rm seafood at Mandalay Bay.
"I look forward to participating in Restaurant Week each year as it is a great opportunity for chefs and restaurants to give back," said Chef Rick Moonen.  "Three Square's mission holds a special place in my heart and being able to serve on their Executive Culinary Council has only furthered my awareness and call-to-action to help this worthy cause." 
 Restaurant Week is scheduled to kickoff in grand style on Monday, August 30, with "Wet Your Appetite at WET REPUBLIC" featuring booths and food stations from several of the participating restaurants including Joël Robuchon, Craftsteak, Fiamma, Wolfgang Puck Bar & Grill, Jean Georges Steakhouse, Sage, Burger Bar, Fleur de Lys, Sensi, Osteria del Circo and Todd English's Olives.  Celebrity chef Hubert Keller will showcase his talents on the spin tables as special guest DJ during the party.  Live music, synchronized swimmers and Studio 54 go-go dancers complete the entertainment line-up.  Tickets to the event are $30.10 and can be used as a dining voucher at any participating MGM Grand restaurant during Restaurant Week.
 Sebastien Vallet, Chairman of Las Vegas Restaurant Week Committee and General Manager of Tom Colicchio's Craftsteak, said, "We are thrilled to have many of our restaurants and celebrity chefs in the MGM Resorts' family participating in Restaurant Week 2010.  Three Square is a fantastic organization and we are happy to help raise awareness and money while offering our guests world-class meals at a terrific price at their favorite restaurants."
 In the tradition of years past, special events are scheduled throughout the week with all proceeds donated to Three Square.
 Restaurant Week Special Events at MGM Grand:
 Aug. 29                      
"SEABLUE's Chef Stephen Hopcraft Presents: The Perfect Paella"
Noon  -                    
Learn to shuck oysters and prepare SEABLUE's signature Paella and   sangria.  Tickets are $60.10 plus tax
Aug. 30                       "Wet Your Appetite at WET REPUBLIC" 
8 p.m.                          Restaurant week kickoff event
Tickets are $30.10 plus tax
 Aug. 31                       "Tease in The Kitchen"                    L'Atelier de Joël Robuchon
10:30 p.m.                   Live burlesque show with live band, champagne and passed hors d'oeuvres.  Tickets are $70.10 plus tax
 Sept. 1                         "A Night of High Spirits"                 Tom Colicchio's Craftsteak
10:30 p.m.                   Selections of Scotch, fine California wines, tasting stations featuring Craftsteak signature dishes and a cigar roller.  Tickets are $30.10 plus tax.
 Sept. 2                         "Birufest 2010"                                 Shibuya
10:30 p.m.                   Taste 28 different Japanese and Japanese-style beers including Shibuya's own private labels, meet contemporary artist Dennis Drew and get inked with a temporary Japanese tattoo.  Tickets are $30.10 plus tax.
 Tickets for all events are can be purchased at the MGM Grand ticket office or concierge desks at MGM Grand, The Signature at MGM Grand, Bellagio, Mandalay Bay and ARIA.
Those traveling to Las Vegas for Restaurant Week or locals looking for a culinary staycation can take advantage of hotel and resort packages offered at many MGM Resorts properties.  MGM Grand is treating guests to an "All Access VIP package," which includes nightly entrance for two and 2-for-1 cocktails at Studio 54 or Tabú Ultra Lounge, two daily gym passes and complimentary Wi-Fi access.  ARIA rates start at just $149 a night plus tax and include a $50 resort credit and an ARIA souvenir logo cap and t-shirt per guest (mention code: Camp Vegas).  Guests can experience all that Monte Carlo has to offer with the "Summer Escape Party Package."  Rates start at $50 a night plus tax, and guests receive 2-for-1 tickets to Frank Caliendo, 2-for-1 cocktails at BRAND, $25 off cabana rental Monday – Thursday, complimentary admission to ROK Vegas at New York–New York and more.  Additional offers can be found by logging on to www.mgmresorts.com.
Restaurant Week is part of Hunger Action Month (HAM), Feeding America's "Give a Little, Feed a Lot" campaign to motivate local communities to take action and help end hunger. Three Square encourages everyone to visit the events calendar on their website to see how they can help end hunger in their own community during the month of September.
For more information about Restaurant Week and for a list of participating restaurants, visit www.threesquare.org.
---
 MONTAGE BEVERLY HILLS CHEF RICHARD RUSKELL
                                  EARNS RECORD WIN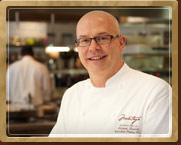 He's done it again. Richard Ruskell, the executive pastry chef at Montage Beverly Hills, has won a record fifth championship on one of the toughest televised cooking competitions, the Food Network Challenge.
Ruskell edged out three other chefs in three rounds of competition to take home the grand prize in the show's latest category, the Ultimate Cookie Clash.  His winning basket of Asian-inspired cookies netted Ruskell the $10,000 grand prize. Over a period of three years, Ruskell has appeared 11 times on the popular Food Network show. Along with his latest cookie crown, Ruskell has taken home wins for four consecutive cake-decorating challenges.
The show, which requires contestants to improvise recipes or cake decorating ideas according to set ingredients or themes, draws on many of the skills Ruskell has honed as a hotel executive pastry chef.
"I have a lot of experience in thinking quickly," Ruskell said. "And when you're in a competition, it's amazing what the mind comes up with. You have to do something special -- or lose."
The latest competition seemed tailor-made for Ruskell, an actor-turned-pastry chef who knows how to turn in an audience-pleasing performance, whether it's on stage or on a pastry tray. Yet the chef also knows that audiences of all kinds love a surprise, knowledge that inspires Ruskell to invent unique combinations of flavors.
The Food Network judges gave Ruskell high scores for each of his competition entries. The first, a savory spin on chocolate chip cookies, included Ruskell's genius additions -- diced fennel, minced green tea, toasted cardamom, sea salt and a colorful garnish of minced carrots.
The second round required the chef competitors to turn the flavors of a well-known dessert into a cookie. Ruskell chose apple pie and created a crunchy cookie crust with apple filling.
The difficult final round asked contenders to create a gift basket of three kinds of cookies with Asian-inspired flavors, which could include seaweed, ginger, sesame seeds and green tea. Ruskell more than met the challenge with cookies that played to his signature strengths -- finding new flavors to introduce to well-known recipes.
His top-scoring results tweaked the almond cookie with a dash of green tea. The Sayonara Trail Mix cookie riffed on the popular oatmeal cookie that he regularly serves to Montage guests. A French macaroon included a white chocolate ganache filling accented with mirin, a Japanese sweet rice wine.
"It was by far the hardest competition I've ever done on 'Challenge' because we really didn't know what ingredients were going to be available," Ruskell said.
Ruskell's flair for combining unusual but delicious ingredients not only helps him win cooking competitions, but also delights restaurant guests at Montage Beverly Hills, where patrons know to expect the unexpected.
Look for more news to come about the winning cookies making a guest appearance at Montage Beverly Hills.
About Montage Beverly Hills                 
Awarded Forbes Five Star in groundbreaking time, Montage Beverly Hills features 201 well-appointed guestrooms, including 55 suites, paying tribute to both old-style Hollywood and modern day luxury. The exterior, designed in the Spanish Colonial Revival style complements the rich history and tradition of Southern California's most celebrated neighborhood. Located steps from Rodeo Drive, in the heart of the Golden Triangle, guests and residents find convenient access to luxurious retailers and exquisite dining. Through every facet, Montage Beverly Hills embodies the essence of Hollywood's Golden Age. With our commitment to sustainability, Montage Beverly Hills was the first hotel and residences to receive Gold LEED certification in Southern California. For information and reservations, please contact Montage Beverly Hills at 310-860-7800 or visit the Web site, www.montagebeverlyhills.com.
---

SECOND ANNUAL BOUTIQUE TRADE SHOW
AUGUST 23 @ SOFITEL LOS ANGELES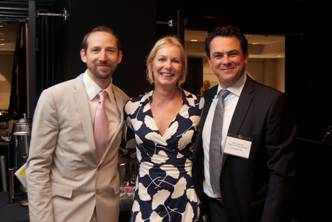 The Club Culinaire of French Cuisine held its Second Annual Boutique Trade Show at the Hotel Sofitel Los Angeles on Monday, August 23 from Noon to 6pm.  Sofitel Los Angeles is located at 8555 Beverly Boulevard, Los Angeles, CA 90048 (www.sofitellosangeles.com).
Mark Huddleston (RW), Kora Kroep (Club Culinaire)  and Bruno Laclotte (RW) 
 The Show, comprised of food, equipment and beverage manufacturers, importers and distributors, included some outstanding products such as:
-          Echo Beverages; locally produced water featured in 100% recycled and recyclable bottles,
-          Principe Foods; delicious Prosciutto di Parma of San Daniele, located in North East Italy,
-          Joy Cognac; Armagnac made in Gascogne featured in a bottle designed by Paco Rabanne,
-          IMP Foods; a wholesaler of fish for sushi restaurant which is part of the EIWA Group with Japanese chef training and tea ceremony schools in Japan to preserve the Japanese culture,
-           Ayoa Foods; thin crust pizza's and gourmet quiches produced right here in Los Angeles.
The Show attracted 700+ attendees from the Trade. Attendees included Alyson Thurber, Corporate Chef of Sharky's; Fred Mensinga, Executive Chef of the Anaheim Hilton; Hoss Zargaran, Wine Director and General Manager of Vibrato Grill; Ben Rogers, Proprietor of the Vintage Shoppe; Patty Gamba, General Manager of D'Caché to name a few. At the end of the Show, exhibitors and guests enjoyed an informal reception from 6 to 8pm.
                                         For more information please contact:
Kora Kroep, Executive Director, Club Culinaire of French Cuisine
Tel: 949 295 0506               Email: kora@clubculinaire.us    Website: www.clubculinaire.us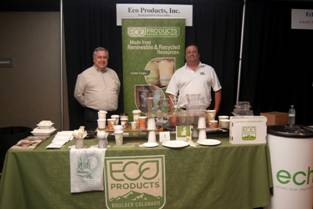 Echo Beverages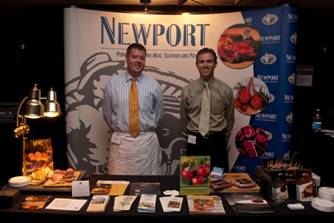 Tim Metro and Alex Hamlin from Newport Meat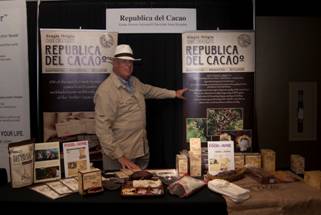 Bernard Duclos from Republica del Cacao
---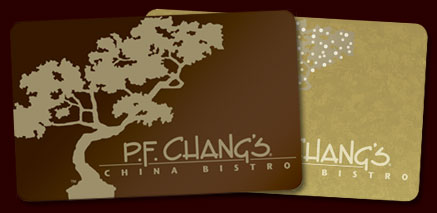 PF CHANG'S OFFERS HOME ENJOYMENT OF RESTAURANT HITS
I love PF Chang's Restaurants, and was delighted to know they are now selling three of my favorite dishes in the frozen food section of stores like Gelson's and others. General Chang's Chicken, Shrimp Lo Mein and Beef with Brocolli sell for $7.95 and you can find stores near you at www.pfchangshomemenu.com Bon Appetit!!
---
---