25TH ANNUAL AMERICAN
WINE & FOOD FESTIVAL
Another Great Charity Event by Wolfgang Puck & Barbara Lazaroff
by Bonnie Carroll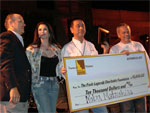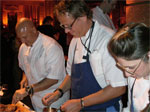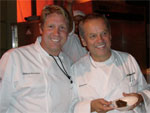 It was yet another grand testament to the talent of the dynamic duo who began this amazing charity event at Universal Studio twenty-five years ag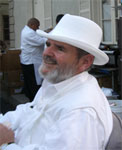 o. The Lexus sponsored event featured an outside living room setting that was truly a studio image, where Moet Hennessy USA poured til they dropped, and MasterCard was omni present.
The President of the Idaho Potato Commission Frank Muir presented Wolfgang and Barbara with a check for $10,000, and Nobu Matsuhisa got an award. The silent auction was filled with rare wines, dinner certificates for the hottest restaurants, and tickets from American Airlines to take you to your favorite destination. Proceeds for this event are donated to The Meals on Wheels Program.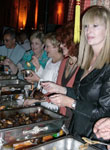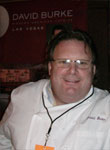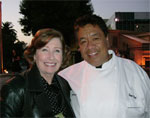 Participating chefs included Nobu Matsuhisa of Matsuhisa and Nobu, Paul Bartolotta of Bartolotta Ristorante di Mare, Michael Mina of Michael Mina, Todd English of Olives, Sam Choy, Mark Peel of Campanile, Tom Collichio of Craftsteak, Julian Serrano of Picasso, Slanted Door's Charles Phan, and Joachim Splichal of Patina among others. The Moët & Chandon Lounge was a surreal after-hours retreat for dancing,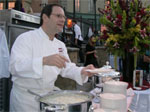 lounging, and savoring. It was the ultimate sensory experience of deliciously bubbling Moët & Chandon champagnes paired with a decadent dessert spread by an assortment of the country's top pastry chefs. Participating Pastry Chefs Featured in the Moet & Chandon Lounge were Florian Bellanger, Elizabeth Faulkner, Ian Flores, Martin Howard, Nicole Lindsay, Francois Payard, Sixto Pocasangre, Donald Wressell, and Sherry Yard.
The lounge was the focal point of the 25th Anniversary celebration, this dream-like venue featured spectacular entertainment and was filled with aerialists, acrobats, and surprise performers. Live Blues music set the mood to dance the night away under the stars.
---
MCCORMICK® AND CHEF MICHAEL SCHULSON TEAM UP TO HELP HOME COOKS PUT THEIR BEST FLAVOR FORWARD

Check Your Spices – and Enter to Win New Ones – at spicecheckchallenge.com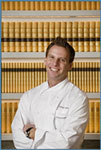 Michael Schulson, acclaimed chef and host of the Style Network's Pantry Raid, has a pre-holiday tip for cooks across the country: raid your pantry! Schulson has teamed up with McCormick to create the Spice Check Challenge – an easy way for home cooks to check the age of their spices and be sure that the ingredients in their pantry will deliver peak flavor.
"If you were wearing leg warmers when you last bought your cinnamon, it's time to throw it out and buy a new bottle," says Schulson. "Using spices that are too old means the flavor in your dishes could be compromised. I can't believe what I find in people's pantries – spices that are five, 10, even 15 years old! And, no one is more surprised than their owners, who just lost track of when they last bought spices."
Take the McCormick Spice Check Challenge
Schulson says it's easy to check the age of your spices to ensure you're putting your best flavor forward. Start by visiting spicecheckchallenge.com:
Use the McCormick Fresh Tester to determine exactly when a spice, herb or blend was produced.
Keep in mind the following "shelf life" guidelines for spices, herbs and seasonings:

Ground spices 2-3 years
Whole spices 3-4 years
Herbs 1-3 years
Seasoning blends 1-2 years
Extracts 4 years

Try some of Chef Schulson's pantry tips, such as stocking up on essentials you'll need to get you from Thanksgiving Day to New Year's Day – like nuts, chutneys, herbs and spices, chocolate, salsa and bread crumbs – to create quick and creative appetizers and side dishes.
Enter to win a free set of new spices from McCormick. There will be a new winner each week from Oct. 8, 2007 to Dec. 31, 2007.
In addition, to thank America's home cooks for checking their spices, McCormick is providing support to Feed the Children – a nonprofit organization dedicated to helping hungry people.

---
INTRODUCING UNCLE BEN'S INFUSED® CHICKEN & WILD RICE PILAF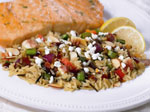 MARS Foodservices introduces Chicken & Wild Rice Pilaf to its line of UNCLE BEN'S INFUSED® Rice. Recognized by the Whole Grains Council as a "Whole Grain Good Source" for yielding 9 grams of whole grains per serving, the new flavor features a mellow taste with the distinctive color and texture of wild rice. Made with a proprietary process that locks seasonings into every grain- there's no flavor packet, stock, or seasoning to add, so you get moist, consistent flavor every time.
Customers will love the rich taste and vibrant plate appeal of new menu items such as "Warm Rice Salad with Roasted Chicken, Bacon, and Cheddar" and "Sonoma Rice Pilaf with Almonds and Figs." All UNCLE BEN'S® Brand foodservice rice products contain 0g trans fat.
For on-trend recipe ideas and information on UNCLE BEN'S INFUSED® Chicken & Wild Rice Pilaf, visit www.MARSfoodservices.com or call 1-800-432-2331.
---
HUMBLE CIRCUMSTANCES AND INGREDIENTS RESULT IN EXTRAORDINARY DESSERT
Hyatt Regency Century Plaza Offers First-Ever Release of Legendary Bread Pudding Recipe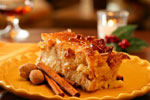 Los Angeles, CA (October 3, 2007) — It is a Hollywood rags to riches story. Born of basic ingredients by a resourceful pastry chef, the humble but beloved dish known as bread pudding was launched into stardom in the elite setting of the Century Plaza hotel's renowned dining room in 1972 when a sweet-toothed visionary put a new spin on an old dessert. Today, Hyatt Regency Century Plaza's Bread Pudding with Vanilla Brandy Sauce is a bona fide tradition. But at the time it was a clever way for Century Plaza's pastry chefs to make use of the mountains of croissants, bread and assorted pastry that were on hand for the hotel's daily parade of VIP guests and events. Now with the acclaimed bread pudding available on a limited basis from Thanksgiving through the New Year, the Century Plaza celebrates the season by sharing the recipe for this gem of a dessert for the first time ever in the hotel's storied history.
---
Guarantee Great-Tasting Holiday Dishes with the "Essential Eight"

McCormick® "Menu Math" Reveals Eight Spices Flavor More Than 180 Holiday Favorites

With the holidays just around the corner, home cooks should be sure to have eight essential spices on-hand, according to an analysis of holiday favorite recipes by McCormick, the world's leading spice company.
The McCormick Kitchens found these eight essential spices are key to more than 180 holiday recipes that will be prepared in kitchens across America between Thanksgiving Day and New Year's Day.
Allspice
Cinnamon
Clove
Ginger
Nutmeg
Sage
Vanilla
Poultry seasoning

"We looked at traditional favorites for the holidays and found that these eight ingredients really are the building blocks for all your meal occasions," said Laurie Harrsen, Director of Consumer Communications at McCormick. "It's a good idea now - before the holiday crunch - to be sure your pantry is properly stocked, so you don't come up short when you're putting together your Thanksgiving turkey, pumpkin pie or sugar cookies."
McCormick's "menu math" reveals that cinnamon tops the list, showing up in more than 40 recipes, from sweet potatoes, to glazed ham to French toast. Nutmeg is another holiday hero, the key to a perfect eggnog or butternut squash soup. And, nothing says it's the holidays more than homemade gingerbread, making ginger a must-have for the season.
Home cooks can enjoy entertaining this holiday season with delicious recipes featuring these essential eight spices. For a spectacular starter, try the Holiday Pomegranate and Orange Salad. It combines allspice and cinnamon with the sweet, tart flavor of pomegranate juice for a special vinaigrette. Savory Herb Rub Roasted Turkey features poultry seasoning and nutmeg with other spices to season the turkey inside and out. And, Overnight French Toast makes an easy and indulgent New Year's Day brunch. These are just a few of the holiday recipes available at www.mccormick.com.
Give the Gift of Flavor
This holiday season, McCormick presents two delicious ways to give the gift of flavor:
The Holiday Essentials Kit: The "Holiday Essentials" gift pack features allspice, cinnamon, clove, ginger, nutmeg, sage and poultry seasoning. A set of stainless steel measuring spoons and cups completes the gift set, making it easy and stylish to measure spices and ingredients. It is beautifully packaged in McCormick's signature green box and hand-tied with an antique gold ribbon. The gift box retails for $54.99 and is available at www.mccormickgourmet.com.
A New Cookbook: McCormick introduces Cooking with Flavor, a new hardcover cookbook that brings basic recipes to life by adding a dash of spice or seasoning. This instant kitchen classic gives cooks of all levels the recipes for success, offering more than 100 delicious dishes and mouth-watering food photography. The book retails for $24.95. Visit www.mccormick.com to buy Cooking with Flavor or to enter to win one for yourself as part of the Book a Day Giveaway (November 15 – December 20).
---
Executive Chef Mark Monette Redefines Traditional Thanksgiving Dinner with the Click of a Mouse
Spice up your Thanksgiving with succulent turkey, port wine sauce, creamy gratin of thin-sliced potatoes, brioche stuffing and French almond cake with rum pumpkin anglais – only available online from Colorado's most award-winning restaurant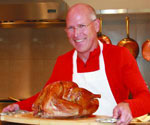 The four star Flagstaff House Restaurant is offering a unique gourmet feast that can be shipped to your doorstep just in time for Thanksgiving. Executive Chef Mark Monette, whose culinary creations have been featured by the Food Network, The New York Times and USA Today, has handcrafted a new version of the traditional Thanksgiving dinner.
As recipient of the Wine Spectator Grand Award since 1983 as well as the prestigious Mobil Four-Star Award, AAA Four Diamond Award and DiRoNA Award, the Flagstaff House Restaurant is the only restaurant of its caliber to offer a fresh, chef-prepared Thanksgiving meal online to families nationwide.
"Our new online Thanksgiving feast features a fresh organic free range turkey with seven chef-prepared accompanying dishes, sauces and trimmings shipped overnight from our kitchen to yours," said Chef Monette. "The fresh turkey is ready to cook. Everything else is heat, serve and enjoy. The complete dinner along with the Flagstaff House's after dinner coffee and tea service is only a few clicks away at www.shopflagstaffhouse.com."
Chef Monette's Thanksgiving Dinner
FIRST COURSE
To tease the palate, Chef Monette presents a first course of Colorado-grown organic roasted butternut squash soup, gently seasoned with winter spices. Just heat and serve.
MAIN COURSE
Fresh organic free range turkey with Chef Monette's personally prepared seasoning pack, ready to roast. Allow about 2 ½ - 3 hours roasting time.
To accentuate the turkey's juices, Chef Monette has included his specialty port wine sauce, which is an all natural veal reduction sauce that contains no additives or preservatives. Before shipping, this signature sauce goes through a 24-hour reduction process at the restaurant to give the sauce its beautiful sheen, flavor and texture. Just simmer and serve.
SIDES
Accompanying the succulent turkey is a creamy gratin of thin-sliced Yukon Gold and sweet potatoes, carefully layered and blended with nutmeg, tarragon and cream. Allow about 45 minutes warming time.
Especially for the holiday, the Monette family is sharing its traditional dressing made from brioche bread and expertly seasoned with sage, rosemary and thyme. Allow 45 minutes warming time.
In place of traditional cranberry sauce, Chef Monette's online Thanksgiving dinner includes a unique tomato jelly made from a family recipe of fresh tomatoes, sugar, white wine vinegar, and cinnamon and clove-infused lemon rind. Ready to serve.
The Flagstaff House's superb dinner rolls complement the meal. Ready to heat and serve.
DESSERT
Rounding out the online Thanksgiving dinner is Chef Monette's French Almond Cake topped with Rum Pumpkin Anglais. This dessert draws rave reviews from Flagstaff House diners. Ready to serve.
TO ORDER
To ensure adequate quantities are available for delivery in advance of the Thanksgiving holiday, orders must be placed by November 15, 2007. Order online at www.shopflagstaffhouse.com, or by calling the restaurant at (303) 442-4640. Available while supplies last.
The complete handcrafted gourmet dinner will serve up to six people. The cost for the complete meal is $178 plus overnight shipping and handling charges. All orders will be shipped fresh on Monday, November 19, 2007 to arrive in advance of Thanksgiving.
ABOUT Chef mark monette
Chef Monette's culinary experience includes working in several Four Star restaurants in New York City and various Michelin Three Star restaurants in France and the Orient, where he trained with several master chefs, including Bernard Herrmann and Thomas Keller.
Chef Monette became Executive Chef and Partner of the Flagstaff House in 1985 and has been responsible for the restaurant's culinary delights ever since. His unique style of cooking incorporates French American cuisine with Asian accents.
While at the Flagstaff House, Chef Monette has had the opportunity to prepare a special menu for the Emperor and Empress of Japan, Emperor Akihito and Empress Michiko, as well as the Prime Minister of Japan, Ryutaro Hashimoto, and his foreign ministers. The restaurant has also hosted many dinners for notable culinary dignitaries including Paul Bocuse, Angela Gaja, and Robert Mondavi.

---
NOTED CHEF GEOFFREY ZAKARIAN TRANSFORMS THE CHAMPAGNE LOUNGE AT COUNTRY INTO A VIRTUAL BON BON SHOP
-In celebration of the New York Chocolate Show, Geoffrey Zakarian's Champagne Lounge at The Carlton on Madison will be transformed into a delightful candy shop featuring hand-crafted chocolates-
Looking for something to soothe your sweet tooth? Chocolate lovers should head to The Carlton on Madison Avenue's hip Champagne Lounge from November 7-10, 2007, as it celebrates the upcoming New York Chocolate Show. The Champagne Lounge, located in the mezzanine level just steps away from the Michelin-starred Country, will be transformed into a virtual Bon Bon Shop where guests can select pieces of chocolate and order specially-created drinks.
To kick off the chocolate celebration, guests of The Carlton on Madison Avenue will enjoy a unique opportunity to experience these delectable treats as the hotel continues its guest "Experience Program." On November 6 from 5 p.m. until 7 p.m., the hotel will host a tasting of the hand-crafted chocolates along with Champagne in the lobby.
Throughout the week, Country's pastry chef, Hsing Chen, will create a unique selection of chocolates including Turkish Coffee Ganache with Milk Chocolate, Red Wine Ganache with Dark Chocolate, Salted Caramel Truffles, Coconut White Chocolate Truffles, Chocolate Coated Toffees, Pistachio and Cherry Chocolate Bark, and Truffle Lollipops. In addition to the a-la-carte pieces, the menu will feature "A Tasting of Chocolate" for $30, which will include a selection of the chocolates with a glass of Champagne or one of the following drinks: Gold and White Chocolate Martini, Fiery Dark Hot Chocolate, Hot Butterscotch White Chocolate, or Peanut Butter Milk Hot Chocolate with Marshmallow Cream.
The Bon Bon Shop at Country will be open November 7-10 from 6 p.m. until 12 a.m. offering the $30 Bon Bon Tasting menu, a-la-carte chocolates, hot chocolate drinks and the regular Champagne Lounge menu. Reservations will be accepted for table seating in the lounge through Country's reservation department at (212) 889-7100. The Café and Dining Room at Country will be serving their dinner menus during this time as well.
"When we were approached by the committee of New York Chocolate Show and Week, we were thrilled to partner with such a strong gourmet-centric network of worldwide events," said Geoffrey Zakarian, Chef/Owner of Country and Town restaurants. "Hsing's work with chocolate is extraordinary, and I am pleased to be able to offer it to guests in such a jewel box setting as our Champagne Lounge."
Located just minutes from area attractions including The Empire State Building, Grand Central Station, Union Square, Macy*s at Herald Square, Madison Square Garden and the shops on fashionable Madison Avenue, The Carlton on Madison Avenue is the perfect hotel to enjoy all that the city has to offer. After completing a multi-million dollar renovation and refurbishment process, the 316-room Carlton on Madison Avenue opened its doors with a completely new look that marries old world elegance with a modern New York feel. Luxury accommodations feature mahogany furnishings detailed with rich soothing earth tones that exude serenity and tranquility with a touch of elegance and modern luxury. Plush new bedding adds an element of comfort, drawing guests into the warmth of beautiful duvets and soft pillows. Elegant, spacious bathrooms also help to create an ambience of refinement. Guest amenities include luxury Penhaligon's bath products and Apple iHome® alarm clocks that offer guests the convenience of listening to their personal music library by docking their Apple ipod®. www.carltonhotelny.com
The Carlton Hotel on Madison Avenue is located in Midtown South Manhattan, between New York City's Gramercy Park and Murray Hill neighborhoods. Situated in the heart of Manhattan's business, shopping and entertainment districts, the hotel is within walking distance from the Empire State Building, Times Square, Madison Square Garden, Jacob Javits Convention Center, the Broadway theatre district and Fifth Avenue shopping. The hotel is managed by Gemstone Hotels & Resorts.
Headquartered in Park City, Utah, with an office in Stamford, Conn., Gemstone is a full-service management and asset management company that specializes in luxury and upscale urban hotels and complex resorts. The company is engaged in resort and unique hotel marketing and management and asset management for a variety of major hotel real estate investors and owners. Gemstone currently manages or asset manages more than 20 projects. Additional information about the company may be found at www.gemstoneresorts.com.