Bar Bambino Announces New Wine Director and Staff Promotions:
Benjamin Robert promoted to Head Sous Chef, Joshua Oakley promoted to Sous Chef and Collin Casey hired as Wine Director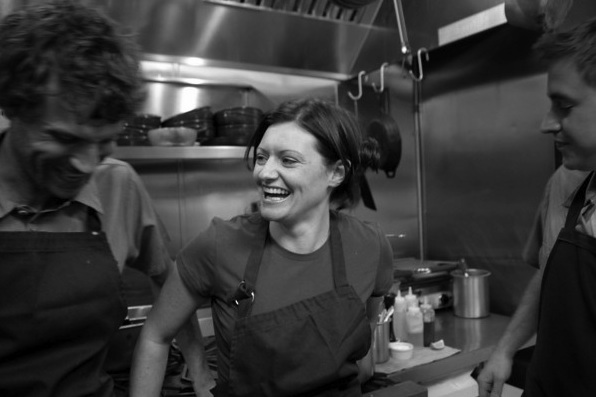 Photography by: Henry Dombey
 
Bar Bambino proprietor Christopher Losa recently announced two key staff promotions and a new wine director hire. Bar Bambino, which has blazed a trail by focusing on the cuisine of northeastern Italy with its Central and Eastern European influences, acknowledges and deepens its commitment to the advancement and specialization of that focus with a dedicated staff led in the kitchen by chef Elizabeth Binder.
 
Collin Casey
The youngest of three brothers, Collin Casey grew up next to his mother's apron while she cooked bread and pasta for sale out of their home.  So instinctual was Collin's connection to fine food that at ten years old, he could often be seen in a suit and tie in the window of a fine restaurant, appreciating gourmet cuisine with his mother.  Much to his parents' surprise, however, Collin veered away from culinary school and set his sights on a career as a hospitality specialist.  At just eighteen years old, he grew a beard to be taken seriously and thus facilitate purchases for his growing wine collection as he began to pester local sommeliers to let him taste and buy wine. 
 
Although Collin has experience opening and managing San Francisco's Baker & Banker restaurant, he cut his teeth as Assistant Wine Director for Ken Collura at the Oregonian's "Restaurant of the Year," Andina. Ken taught Collin to trust his palate and to apply his knowledge evenly.  Collin took this advice and hit the ground running as a consultant for Grand Cru LLC and then as Sommelier for La Mar Cebicheria Peruana, restaurant of famed Peruvian chef JoseLuis de Cossío.  Collin treasures dynamic, sustainable, eclectic and affordable wines made in small lots on family farms, a preference that aligns perfectly with Bar Bambino's green, family-centered ideals.  He is excited to share his love of old world tradition at Bar Bambino by carrying on the wine list focus on Central & Eastern European as well as northeastern Italian selections offering simultaneously great value and special gems.
 
Benjamin Robert
When now head sous-chef Ben Robert moved to San Francisco two years ago, he was lured in by Bar Bambino's sustainable focus.  With a degree in Plant and Soil Science from the University of Vermont, Ben's cooking style reflects a great degree of environmental responsibility.  His respect for the land began at fourteen years old, when he joined his father and grandmother in cooking, growing vegetables, fishing and hunting.  These activities and his degree at University of Vermont allowed him to connect with growers and sustainable farmers, giving him a deeper connection to the food sourcing.  During college he worked for several different restaurants refining his style and after graduating, his passion for horticulture developed into a passion for cooking with them.  He went on to become the executive chef of a Polynesian-French style restaurant called Tilley's Café for two years before moving to California and finding Bar Bambino.  Ben believes that cooking is a science that enables him to grow as a person. This ability to reinvent himself with every dish shows itself in the ever-changing offerings on the Bar Bambino menu.
 
Joshua Oakley
California native Joshua Oakley learned work ethic and precision as an infantry medic in the Army before attending the California Culinary Academy.  This real world experience brought him to some of the poorest countries in the world where he witnessed people share their meager portions of food with complete strangers like himself. Joshua decided to become a chef in order to celebrate and share that generosity of spirit.
 
Complimenting this grounded introduction to food, Josh heightened his culinary technique and skills in the upper echelon of fine dining at such restaurants as Gary Danko and Michael Mina.  It was no surprise that from the first time he visited Bar Bambino, he related to the naturally unpretentious ambiance of the food, staff, and venue.  Joshua developed a friendship with Losa through his frequent visits to the restaurant.  He confesses, "The one dish that kept me coming back, and thrilled me to learn how to make when I started working here was the Maiale al latte…pork slow braised in milk with sage and garlic." As Bar Bambino's new sous-chef, Josh is excited to further develop his repertoire while informing the current menu from his background.
 
About Bar Bambino
Nestled on an edgy urban block of San Francisco's Mission District is Bar Bambino, a neighborhood eatery that brings simple, elegant food and wine to the table in a convivial gathering spot. After more than three years of specializing in pan-regional Italian cuisine, Bar Bambino, under the direction of proprietor Christopher Losa and chef Elizabeth Binder has narrowed its focus to the northeastern corner of Italy, letting the diverse cultures found in Friuli, Alto Adige, Slovenia, Croatia, Austria and Hungry influence their offerings. Bar Bambino's seasonally inspired cuisine is served in a lively and informal, urban atmosphere. Featuring locally and sustainably sourced produce and meats, house-made pastas, and inspired desserts, Executive Chef Elizabeth Binder demonstrates a thorough knowledge of northern Italian cuisine while her understated touch brings a lightness and elegance to traditional recipes. Since opening in April 2007, Bar Bambino has garnered local and national accolades, repeatedly named as a San Francisco Chronicle Top 100 restaurant and as one of Bon Appetit Magazine's Top 10 Wine Bars in the nation. Bar Bambino at 415-701-VINO (8466) or email info@barbambino.com.
---
Bishop's Lodge Ranch Resort & Spa Announces Executive Chef Christopher McLean
Bishop's Lodge Ranch Resort & Spa has appointed Executive Chef Christopher McLean to bring his culinary creativity and passionate perfection of food to the resort.  Chef McLean brings in new tastes and refined flavors to Las Fuentes Restaurant with his sophisticated and unique dishes that define the restaurant's Nuevo Ranchero style menu.
Rich Verruni, Managing Director of Bishop's Lodge said, "We are happy to welcome Chef McLean to Bishop's Lodge Resort. He brings creativity and experience and we are excited to have him as a part of our team."
Chef McLean has worked with top chefs across the globe and is set to make his personal mark on Santa Fe's culinary scene at Bishop's Lodge. In his new role, Chef McLean will oversee all kitchen operations, including quality and execution. He has developed a menu that embraces the authenticity and sustainability of the historic ranch resort.  Chef McLean draws from French, Spanish, New Mexican, Mexican and Native American influences to continue the Nuevo Ranchero-style cuisine .  The result is a fresh and locally sustainable menu that supports the efforts of the New Mexico Department of Agriculture by proudly serving products from New Mexico farmers, ranchers, brewers and wine makers. 
Chef McLean's Specialty Dishes:
Pistachio Blue Salad
Hydroponic lettuce, organic arugula, Pt. Reyes blue cheese, jicama, candied pistachios
Green Chile Dusted Grouper
Fresh clams, Spanish chorizo, Yukon potatoes, bell pepper dice, chipotle broth
Forever Braised Buffalo Short Ribs
Sage and crecenza corn meal polenta cakes, celery root, green beans, ancho adobo braising reduction
Sweet Corn Crusted Beer Belly Quail
Stuffed with Hudson Valley foie gras, fresh mushrooms, and piñon nuts with root vegetables and prairie herb sauce
Bishop's Apple Barrel
Cinnamon stewed green apples, buttery brioche staves, house-made caramel, vanilla bean ice cream, apple chip
Visit: www.bishopslodge.com
---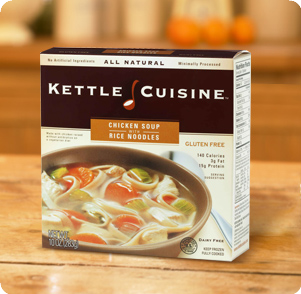 Curl up with a unique twist on a timeless comfort food. We start by making a soul-warming stock from scratch and we add crisp carrots, celery and tender chunks of all natural chicken and finish with Tinkyáda® rice noodles for a delicious classic that all can enjoy. A great lunch/dinner at home or easy to take-along for lunch at the office.
High in Vitamin A
14g Protein
Please note: product packaging contains the most accurate nutritional information
Winter Blues Fighter -- Chicken Soup with Rice Noodles
---