EGGPLANT PARMIGIANA

EXPRESS

AT IMÀGO,
HOTEL HASSLER ROMA'S PANORAMIC,
MICHELIN-STARRED RESTAURANT
Hotel Hassler Roma, owned and managed by Roberto E. Wirth, is one of Italy's most historic and venerated hotels, and is now offering the recipe, courtesy of its panoramic restaurant Imàgo, for one of Italian cuisine's most classic dishes: eggplant parmigiana.  And while most eggplant parmigiana recipes can become rather time-consuming, Imago's Executive Chef Francesco Apreda offers a quick and easy version that will rival any alternatives.

Eggplant Parmigiana Express (serves 6)


Ingredients:            
10 ounces

mozzarella di bufala
1/3 cup grated Parmesan cheese
Peanut oil (or olive oil)

Preparation:   

Cut eggplants into slices about 3/4 inch thick. Whisk eggs along with a pinch of salt in one bowl, and place flour in another bowl. Place eggplant slices in the bowl of flour, coating on all sides, and then in the bowl of whisked eggs.  Repeat this process once more. Heat peanut oil to medium-high heat and immediately fry eggplant slices until golden brown, turning once.

Place the fried eggplant slices on paper towels and sprinkle salt on both sides. Cut each tomato into four slices, taking out the seeds and juice, and then cut the mozzarella into slices.

Prepare "sandwiches" using the fried eggplants instead of bread. On each eggplant slice, place a layer of tomato, then a layer of mozzarella, and then some basil leaves, dusting between each layer with grated Parmesan cheese. Place in the oven, pre-heated to 180 degrees, for about 7 to 8 minutes, or until the mozzarella melts slightly.
Buon Appetito!

ABOUT IMÀGO:
With arguably the best panoramic view of the Eternal City, Hotel Hassler Roma's rooftop restaurant Imàgo underwent a multi-million dollar redesign (the first since the original Rooftop Restaurant opened more than 50 years ago) in December 2006, and was awarded its first Michelin star in November 2008. Headed by Chef Francesco Apreda, whose international training includes five years both in Japan and London, Imàgo's cuisine is an artful combination of traditional Italian ingredients and flavors with creative and innovative preparations.  The décor follows suit, blending modern and classic styles with pale grays and deep reds and custom-designed mirror tables that mesh beautifully with traditional touches of white marble flooring and antique-wood inlay.  Menus vary according to season, and Chef Apreda's whimsy. 

ABOUT HOTEL HASSLER ROMA:
Set atop the Spanish Steps and featuring a panoramic view of the entire city, Hotel Hassler Roma, owned and managed by Roberto E. Wirth, has been Rome's five-star lodging of choice for the world's elite for more than a century.  Each of the 82 rooms and 13 suites is individually designed and adorned in authentic Italian accents.  Highlights include the Michelin-starred panoramic restaurant, Imàgo, and the neighboring, Hassler-owned Il Palazzetto (www.ilpalazzettoroma.com), a charming 16-century, five-story palazzo that offers a restaurant and wine bar with panoramic terraces, four rooms, and the International Wine Academy of Roma on the ground floor (www.wineacademyroma.com), with various wine-tasting classes led by world-renowned sommeliers.
---
 CHEFS COLLABORATIVE MEMBERS AROUND THE COUNTRY CELEBRATE 40TH ANNIVERSARY OF EARTH DAY

Over 50 acclaimed chefs and restaurateurs bring diners to the table for "Earth Dinner" 


Chefs Collaborative and Organic Valley Family of Farms will commemorate the 40th anniversary of Earth Day with Earth Dinners at restaurants around the country.  Developed in 2004, the Earth Dinner provides diners with an opportunity to reconnect with their food, its source, and the memories and traditions associated with it.

"We're really pleased to have more than 50 member chefs and restaurateurs participating in this year's dinner series," says Melissa Kogut, Executive Director of Chefs Collaborative.  "Earth Dinners highlight the commitment to sourcing ingredients responsibly and talent of our member chefs. The dinners also educate the public about the importance of eating food that is locally grown, in season, and sustainable." 

Participating chefs have developed special Earth Dinner menus to be served during the week of April 18-24, 2010.  "It's great to be part of a national initiative like this that promotes my philosophy as a chef," says Chef Paul Virant of Vie Restaurant in Chicago, Il.  Chef Virant will offer a special Earth Dinner prix-fixe menu featuring regional favorites like local ramps and wood-grilled rainbow trout. 
 
Chef Twillia Glover of the Liberty Elm Diner will serve up a "Farm-to-Diner" dinner in a historic, lunch car located in the Elmwood neighborhood of Providence, Rhode Island. "One does not need to dine at a high end restaurant to receive a local, sustainable, and delicious meal," says Chef Glover who also owns her own catering business. 

The proceeds from the Earth Dinners will support Chefs Collaborative and its continued educational programming for chefs.  Restaurant contributions up to a total of $10,000 will be matched by Organic Valley Family of Farms.  "We're extremely grateful for the generous participation of our members and the support of Organic Valley," says Kogut. 

Click here for a full list of participating restaurants.

Founded in 1993, Chefs Collaborative is the nation's leading network of chefs fostering a sustainable food system through education and collaboration with the greater food community.  For more information, visit the Chefs Collaborative website:  www.chefscollaborative.org.
---
Mexican Food: Spicy, No! Rich in Flavor and History, Yes!
The history of Mexican food is long and distinct. Since before the 1500s, the making of fine Mexican cuisine has been in the making. The foods of Mexico are known for having rich flavors and brilliant colors, and are made from a variety of ingredients. Yet many people shy away from eating Mexican food because they buy into the myth that it is mainly a spicy cuisine.
Mexico is known for. Today, Mexican food still follows many of its original traditions, including the frequent use of corn, beans, avocado, tomato, and tomatillo.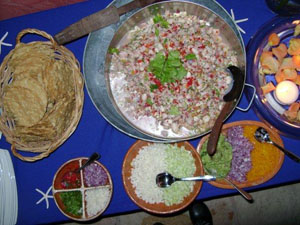 America and try the food here, they are always pleasantly surprised," explains Laurena Martini, executive chef of the Puerto Vallarta Beach Club (www.PuertoVallartaBeachClub.com), a new private boutique resort located on LosMuertosBeach along the Mexican Riviera. "They come in, somehow, believing it is going to be spicy and hard to digest, but they leave loving our food and wondering why it took them so long to discover it."  
Oaxaca has over 50 different spices and chilies ground into a paste with dark cocoa beans to create a delicious semi-sweet sauce for chicken or turkey, which is then lightly sprinkled with toasted sesame seeds. The stuffed Poblano chilies (chiles rellenos) that are lightly coated in egg batter and filled with cheese or meat and deep fried and laden with a tangy tomato and oregano sauce, are a treat that many people love.
Oaxaca
Shrimp and Mango Ceviche.
-300 grams fresh shrimp peeled and deveined
-1 large ripe but firm mango
-1 cucumber no seeds
-half red onion finely diced
-2 cloves garlic
-1 tsp minced fresh ginger
-1 small green chili with no seeds diced
- half red bell pepper diced
-2 tbsp chopped cilantro
-juice of 2 limes and half an orange
-2 tbsp olive oil
-sea salt and pepper to taste
Serve chilled with slices of avocado and fresh tostadas or corn chips.
Marinate the shrimp in lime juice for 2 hours, drain and combine with the rest of ingredients. If you prefer you can poach the shrimp in boiling water, drain, chill and then combine with other ingredients.
---
JIMMY'S FAMOUS AMERICAN TAVERN REINVENTS THE TAVERN TRADITION
With its harbor location, "frycook-meets-foodie" specialties and inventive beverages, Jimmy's offers comfort food for foodies
          Like many great ideas, the concept of Jimmy's was born somewhere between two and 12 microbrews among five great minds in the hospitality industry.  Inspired by his experiences learning to cook from his Air Force Colonel father, as well as eating and drinking his way through many of the nation's beloved restaurants and breweries, Duval decided to take it to the people by rallying some of the best in the business.  David Wilhelm, one of Southern California's most influential chef/restaurateurs, took the lead on bringing the concept to life by enlisting design gurus Jeff and Todd Hatch, as well as Consulting Chef Ryan Adams and Executive Chef James Nunn.  "People are hungry for comfort foods that remind them of their childhood, but that are crafted with delicious, sustainable ingredients," says Wilhelm. "Everyone on our team wanted to bring our collective experiences together to create a new version of the American tavern."
Hatch Design Group has created an inviting indoor-outdoor vibe at Jimmy's that combines an industrial feel with classic Americana elements. Guests can mingle in several areas including the lounge with garage-style doors, the large central bar, in cozy booths or on the extensive outdoor patio, complete with a fire pit.  From the Edison bulb light fixtures to the repurposed wooden bar, the mid-century hunting lodge meets 21st century modern lounge feel creates a unique atmosphere.  "Our vision was to create a design that inspires nostalgia," says Jeff Hatch.  "We weaved different eras and regions of American design together―from mid-century furniture to modern coastal architecture inspired by the Pacific Northwest―to foster the timeless tavern environment of comfort and camaraderie."
          The menu of Jimmy's is overseen by Executive Chef James Nunn, a former punk rocker, and pays tribute to some of the nation's favorite regional dishes.  Committed to serving locally raised, organic fare, the menu features selections with a lively twist meant to shock and awe the tongue with bold, craveable flavors.  Scrumptious dishes include: Southern Cheddar & Pimento Dip with Warm Corn Tortilla Chips; the Short Rib Reuben  with Gruyere, Pickled Red Onions and Grilled Caraway Seeded Rye; and Meatloaf with Bacon Rainbow, Mashed Potatoes, Veggies and Herb Gravy.  The one and only dessert is Vanilla Bean Ice Cream with Hot Fudge, Warm Chocolate Chip Cookies, Salted Skin on Peanuts and Whipped Cream - and yes, it's big enough to share.  On Sundays, Jimmy's serves a mouth-watering brunch with dishes including the "BUBBA," with Housemade Buttermilk Biscuit, Fried Chicken, Bacon, Cheddar, Sausage Gravy and Tater Tots; and Crème Brûlée 'Pain Perdu' with Bananas Foster Sauce.     
          The bar boasts an inventive selection of hand shaken classic and original cocktails created by Ryan Magarian of Liquid Relations.  The beer list offers West Coast microbrews on tap, bottled beers from independent American breweries and some old favorites like Pabst Blue Ribbon―served in a can unless otherwise requested―while the mostly local wine list is served by the glass, carafe and bottle.  Inventive house cocktails include the Aperol Smash with Hand Pressed Green Grapes, Fresh Local Peppermint, Vodka, Aperol Italian Bitters and Freshly Squeezed Lemon Juice; the Bees Knees with Plymouth Dry Gin, Freshly Squeezed Lemon Juice, and House Made Clover Honey Syrup; and the Celery Superstar with Hand Pressed Serrano Chili Pepper, Boca Loca Refined Cachaca, Freshly Squeezed Lime Juice, Freshly Extracted Celery Juice and Regan's No.6 Orange Bitters.
Jimmy's Famous American Tavern is located at 4990 North Harbor Drive and is open Monday – Saturday from 11:30 a.m. to 11 p.m., and Sunday from 10:00 a.m. to 2:00 p.m., then from 4 p.m. to 11 p.m.  For more information, please call (619) 226-2103 or visit www.j-fat.com.
----------------------------------------------------------------------
    SUMMER GRILLING TIPS FROM MCCORMICK
McCormick® Flavor Forecast™ Trend Report
Gets Grilled
First-Ever Grilling Edition Fans the Flames of Flavor
The sweet, spicy combination of red chili sauce and mango is one of seven flavor pairings America will be layering on this grilling season. The experts at McCormick have lifted the lid on the first-ever Grilling Edition of their signature Flavor Forecast, identifying top sizzling pairings and summer flavor trends.
"This season, expect to see backyard grillers experimenting with flavor layering – high-impact combinations of rubs, marinades, glazes and more – to boost flavor before, during and after grilling," said Kevan Vetter, Executive Chef at McCormick. "Another exciting trend is taking cues from traditional cocktail flavors and ingredients – rediscovering them as inspiration on the grill."
Here are the top five trends turning up the heat on flavor this year, according to the McCormick Flavor Forecast 2010: Grilling Edition:
Backyard Bistro - The surging popularity of at-home entertaining continues as grillers recreate the foods and flavors from their favorite eateries.
Layer It On! - Grill masters are embracing creativity by merging marinades, rubs, brines, mops, sauces and more.
Fired Up Fruit - Grilled fruits are being skewered alongside meats, pureed to make tenderizing marinades, and chopped for salsas and relishes.
Ethnic Sizzle - Nearly every cuisine around the globe claims a place on the grill – especially current favorites like Caribbean, Latin, Thai, Vietnamese and Indian.
Shaken, Stirred & Grilled - Using flavorful spirits in place of vinegars or other liquids is paving the way for new combinations like mojito marinades and bourbon-spiked pork tenderloin.
These delicious driving forces will showcase flavors that combine everything from sweet and spicy to warm and smoky, according to Vetter. The experts at McCormick have identified these seven pairings:
Applewood & Plum - Juicy plums accent the smokiness of applewood and add adventurous flair to all-American barbecue.  TRY IT: Applewood Grilled Shrimp & Plum Salad with Cinnamon-Honey Dressing 
Cilantro & Lime – Cutting across the diverse cuisines, this bright and zingy pair is a refreshing taste of summertime.
TRY IT: Tequila-Lime Skirt Steak with Avocado Chopped Salad
Rosemary & Fig – Figs are an unexpected and  regionally inspired match for aromatic rosemary. 
TRY IT: Tuscan Grilled Lamb Chops with Warm White Beans Provençal
Chipotle & Maple – This culinary comingling delivers an updated take on smoky, spicy and sweet.
TRY IT:  Grilled Chipotle-Maple Salmon with Wilted Spinach
Brown Sugar & Bourbon – A versatile duo that brings a delicious dose of Southern charm to the patio.
TRY IT: Brown Sugar Bourbon Pork Tenderloin with Grilled Cornbread and Peaches
Cinnamon & Coffee – Bold and confident – with just the right edge of bitterness.
TRY IT: Cinnamon Mocha Ice Cream Sandwiches with Grilled Strawberries


Red Chili Sauce & Mango –The unmistakable flavor of mango takes hot or sweet red chili sauce far beyond mere "condiment status." 
TRY IT: Thai Grilled Flatbread with Mango & Sweet Chili Sauce
For more on these grilling trends and flavors, visit ww.flavorforecast.com Recipes and grilling tips, are available www.lawrys.com
's famous black mole, the popular pozole, or chiles rellenos. There are also a variety of tasty salsas, used for topping these dishes. Traditional Mexican food was cooked in ceramic pots or cast-iron skillets over an open fire. Much of the food was either steamed or fried, as it is today.
---