GRACE... THE ESSENCE OF GOOD TASTE
by Bonnie Carroll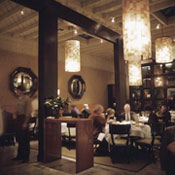 Grace Restaurant, located at 7360 Beverly Boulevard in Los Angeles, has become synonymous with fine dining at its very best. Executive Chef Neal Fraser and general manager Amy Knoll make any visit to this elegant and comfortable venue an evening to be remembered. Designer Michael Berman has beautifully branded his "American Trans-Modern" mark on Grace, with use of a warm color palatte in an open but intimate dining room, relaxing lounge area, and roomy banquet facility. The furnishings-from Klismos dining chairs to striking Aga John Oriental rugs and stylish staff uniforms all bear his talented touch.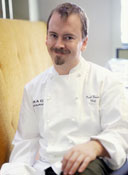 Described as a revolutionary Los Angeles chef, Neal Fraser offers New American cuisine that is heralded by the local and national media. His contemporary American fare is the essence of high quality, seasonal ingredients, along with the skillful blending of extraordinary flavors and textures that have made his dishes renowned. The halibut wrapped in Swiss Chard, grilled Hawaiian Ono, braised New Zealand lamb shank, and Thai lobster soup are among the dishes featured on his regularly changing menu, and pastry chef Elizabeth Belkind also offers some exquisite closings to your Grace experience. Chef Fraser offers 8, 10 and 12 course tasting menus, complete with wine pairings at Grace.

Every evening except Monday, superb service by an attentive and professional staff in the 85 seat dining room is smoothly implemented by Amy Knoll, and from your table seating to dessert and coffee it's all good! Two of the partners in Grace Restaurant, Richard Drapkin and Brooks Townsend, have composed a wine list that perfectly compliments the menu. The list includes both affordable and money-is-no-object prices - from Burgundy, Alsace, California, Germany and New Zealand, as well as new and old world wine regions. At least 20 wines are available by the glass.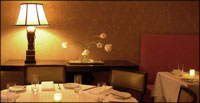 Not only do Neal and his partners manage to give foodies in Los Angeles, as well as visitors to the city a truly outstanding dining experience at their Grace restaurant, but Chef Fraser also gives freely of his time helping nonprofit organizations in the area to raise needed funds for their charities. I have seen him on many occasions preparing and serving his unforgettable dishes at these events, and have as much respect for his kind heart as I do his superior culinary skills. For reservations call 323-934-4400.
---
A BOE BREAKFAST With Chef Denise Shmikler
The Crescent Hotel in the Heart of Beverly Hills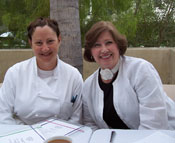 One of my secret hideaways for a delightful breakfast, with some of the most welcoming hotel staff in town, is Boe Restaurant in The Crescent Hotel, 400 N. Crescent Drive in Beverly Hills. This beautifully renovated boutique hotel has everything, has become a hot destination for after work cocktails and hors d'oeuvres and offers really healthy and delicious breakfasts on their charming patio in the morning. Below please find a variation on French toast by Chef Denise Shmikler that is a great way to start the day.