SANTE FE COMES TO LA
By Bonnie Carroll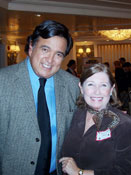 Governor Bill Richardson, his staff, and a group of enthusiastic visitors from New Mexico were among those present at a luncheon held at Shutters at the Beach Hotel in Santa Monica. The delegation was visiting California to celebrate the entry of their 1st float in the annual Rose Parade in Pasadena, California. The beautiful New Mexico entry was the creation of renowned designer Raul Rodriguez.
"We have a budget that balances, and New Mexico is a wonderful place to work and live," said Richardson. The Governor asked attendees from his state to share their ideas on the best way to enjoy New Mexico in 3 days or less, and everyone agreed this is an amazing place to vacation, but it's a big state to cover in just one trip. The Governor spoke to attendees about the unique qualities of his state, and upcoming programs in New Mexico, which include the worlds largest balloon festival, a variety of art festivals and the controversial "Space Program" they are presenting in cooperation with the owner of Virgin Records.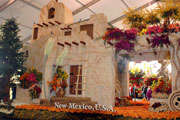 An army of people from New Mexico traveled to Pasadena to decorate the New Mexico float, and Cornelio Villegas, the owner of Don Cornelio's Chile products, presented Richardson with an autographed gift box of his fine food products during the luncheon, and thanked him for being the first Governor in New Mexico who listened to his appeal for help in growing his business, and offered him support to help his dream grow.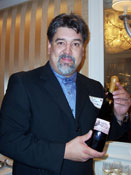 Also on display were a variety of very good Sante Fe area wines. According to Richardson, "the Franciscan Fathers brought the grapes to our area in the 1600s, and we do have some very fine wines." Tomas Sanchez of the New Mexico Wineries presented luncheon attendees with complimentary bottles of winery favorites, which included a wonderful dessert, merlot, champagne, and a delicious sparkling apple cider.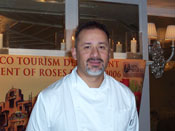 The authentic New Mexico luncheon menu was prepared by outstanding chef Enrique of the Galisteo Inn, and featured an elegant presentation of delicious Sante Fe inspired dishes including New Mexico sweet woods dairy goat cheese and lemon pancakes with prickly pear "mermelada" and pasta with southwestern vegetables, roasted green chile crema and toasted pepitas, as well as chicken enchiladas and cheese chilaquiles. Desert included chocolate-chile bistro cake and vanilla bean flan with orange-chipotle syrup. It was all delicious!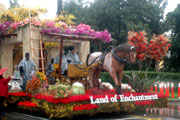 The New Mexico float entry traveled the parade route on schedule New Year's day, despite the worst rain storm in the history of the event, and Governor Richardson and his wife managed to wave and smile for the television cameras from beneath their rain gear, but, I have a feeling they will be back next year for the Tournament of Roses Parade because there is a likable "do or die" spirit about these Santa Fe folks that is admirable, and I certainly enjoyed meeting and breaking enchiladas with them. For visitor information see www.newmexico.org.
---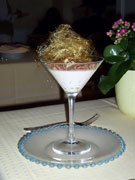 DECADENT DESSERT DU JOUR
AT FOUR SEASONS BEVERLY HILLS
by Bonnie Carrol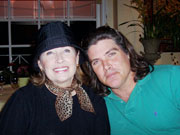 Birthday's come and birthday's go with a bevy of parties and pastries to enjoy with those we love. This year I sampled some delightful dessert surprises at the Four Seasons Hotel at Beverly Hills, where I brought in yet another year with my son, who was enroute to Costa Rica for a business/pleasure trip in Tamarindo.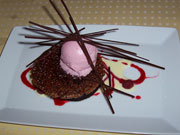 The dessert du jour menu included a magnificient custard cocktail covered with angel spun candies and sweet raspberry sauce, as well as a splendid scoop of strawberry ice cream setting on warm chocolate and adorned with thin dark chocolate sticks. They were both so original, beautifully presented, and simply delicious. It was fun to celebrate this sweet ending to my birthday at the Four Seasons with family and friends, where the food and service is never a disappointment.
---
Whole Foods Market® Makes Largest Ever Purchase
of Wind Energy Credits in United States
Historic renewable energy credit purchase to offset 100% of company's electricity use

AUSTIN, TEXAS. January 10, 2006.
Whole Foods Market, the world's leading natural and organic foods supermarket, has made a landmark purchase of renewable energy credits from wind farms to offset 100% of the electricity used in all of its stores, facilities, bake houses, distribution centers, regional offices and national headquarters in the United States and Canada. This is the largest wind energy credit purchase in the history of the United States and Canada and makes Whole Foods Market the only Fortune 500 Company purchasing wind energy credits to offset 100% of its electricity use. "Whole Foods Market is a leader in the natural and organic foods movement, and that involves caring about our communities and respecting our environment. This purchase of wind energy credits is a natural extension of that leadership and is integral to our core values," said Michael Besancon, Whole Foods Market Southern Pacific regional president and Green Mission task force leader. "Offsetting 100% of our electricity use with renewable, clean energy strengthens our commitment to be a leader in environmental stewardship by helping to clean the air and reducing our dependence on fossil fuels." As of December 9, 2005, Whole Foods Market is purchasing more than 458,000 megawatt-hours (MWh) of renewable energy credits from wind farms. This purchase will avoid more than 700 million pounds of carbon dioxide pollution this year. To have the same environmental impact, more than 60,000 cars would have to be taken off the road or more than 90,000 acres of trees would have to be planted. "Whole Foods Market has made the largest ever corporate purchase of renewable energy credits in the nation," said Kurt Johnson, U.S. Environmental Protection Agency Green Power Partnership director. "Conventional electricity generation is the largest industrial source of air pollution in the United States and wind power is a clean and renewable alternative. Whole Foods Market's commitment to wind power is providing an outstanding example of environmental leadership." Renewable energy credits make nationwide wind power transactions possible since it would be physically impossible to deliver electrons from a wind farm directly to all of Whole Foods Market's stores, facilities, and businesses. When a wind farm produces electricity, renewable energy credits are issued to track the exact amount of power created. Whole Foods Market has chosen Boulder, Colorado-based Renewable Choice Energy as its exclusive supplier of renewable energy credits after an extensive search process. Renewable Choice Energy is a leading national provider building the market for clean and renewable sources of energy. "Renewable Choice Energy is thrilled to have been chosen to make this record-setting renewable energy credit purchase possible," said Quayle Hodek, Renewable Choice Energy chief executive officer. "Whole Foods Market's commitment is an inspiration to everyone looking for a leader to demonstrate that wind power is ready for the mainstream." To help evaluate options and facilitate the purchasing process, Whole Foods Market involved the Washington, DC-based nonprofit environmental think tank World Resources Institute (WRI). Since 2000, WRI has been working with a number of Fortune 500 companies to increase their use of renewable energy. "By making this purchase, Whole Foods Market is taking a huge step toward advancing corporate renewable energy purchases," said Jonathan Lash, WRI president. "Corporate leadership is essential to the growth of wind power and Whole Foods Market's historic purchase has set a new benchmark for the industry."
---
VALENTINES GET "SPECIAL KISSES" AT CITYZEN
CityZen Pastry Chef Jewel Zimmer shares a recipe for "Passion Fruit Kisses"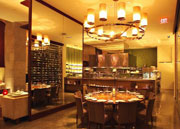 Guests dining in CityZen on Valentine's Day, February 14, 2006 can enjoy kisses from sweethearts, and the chef at the end of the meal. No, not a thank you kiss, but, rather, a delectable "passion fruit kiss" dessert to share with a loved one. "I wanted to give diners a treat at the end of their dining experience that will bring them together," said Jewel Zimmer, pastry chef of CityZen in Mandarin Oriental, Washington D.C. "Everyone wants a kiss from their sweetheart, and our passion fruit dessert has an alluring taste and silky texture that is truly seductive!" Diners unable to join CityZen on Valentine's Day can still pamper their loved one with kisses by creating the dessert in their home with this recipe from Pastry Chef Jewel Zimmer.
Passion Fruit Kisses
Meringue Kisses
Ingredients
½ cup egg whites, room temp.
1 cup sugar Passion Fruit Curd
4 eggs
¾ cup passion fruit puree (or juice)
1cup sugarsalt
Preparation For the Meringue Kisses:
Whisk ½ cup of egg whites until they hold a medium peak. Slowly add ½ cup sugar, whisking continuously until mixture holds a stiff peak. Fold in remaining ½ cup of sugar. Place meringue in a piping bag with a round tip and pipe your kisses 1 ½ inches in diameter on a tray lined with parchment paper. Bake at 250 degrees for 40 minutes, or until the slightest bit of color is showing. (These can be made a day or two ahead.) Store in an airtight container. For the Passion Fruit Curd: Whisk eggs, sugar and passion fruit puree (or juice) together. Place in a pot over medium heat. Continue whisking until mixture bubbles around the edge. Approximately 10 minutes. Place in a shallow pan with plastic wrap pressed against the surface to prevent a crust from forming and allow to cool in fridge.
To Serve Place kisses in a bowl and passion fruit curd in another bowl and put in the center of the table. Dip the meringue into the curd and give your sweetie a Passion Fruit Kiss.
CityZen is the award-winning signature dining restaurant at Mandarin Oriental, Washington D.C. Offering the creative, modern American cuisine of Chef Eric Ziebold, the restaurant is open for dinner only, Tuesday through Saturday, 5:30 – 9:30 p.m. For reservations or inquires about private dinners in CityZen please call (202) 787-6006.
---
RESTAURANT GUY SAVOY TEAM IN PLACE FOR MAY 2006 OPENING
Caesars Palace welcomes Paris culinary all-stars to Las Vegas
Las Vegas (January 2006) – With anticipation growing for the opening of one of Las Vegas' most-heralded new restaurants, Restaurant Guy Savoy, Caesars Palace announced that the team is in place for the May 2006 launch. This intimate fine-dining restaurant will be located on the second floor of the resort's new luxury Augustus Tower and will seat approximately 75 people for dinner.
Guy Savoy and Caesars Palace have gone to great lengths to replicate the original Restaurant Guy Savoy experience in Paris—from the sublime menu to the front-of-the-house and kitchen design to the impeccable but always approachable service. Guy Savoy is the darling of Paris chefs, having earned his third Michelin star for his eponymous restaurant, located just a few steps from the Arc de Triomphe. Savoy has five Paris restaurants. The prestigious Guy Savoy, is consistently chosen by top restaurant critics as one of the world's greatest fine-dining establishments. Another of his restaurants, Le Chiberta, was honored with its first Michelin star after only six months of operation. Savoy's superb cuisine, inviting dining environments, remarkable wine cellar and exquisite service have received a host of awards and accolades from around the world. In 2000, Savoy received the Legion d' Honneur – his country's highest honor – from the French Minister of Agriculture. In 2002, he was voted Chef of the Year by his French peers. Savoy has hand-selected his team to open Restaurant Guy Savoy at Caesars Palace, which includes long-time co-workers with exceptional international experience.
Franck Savoy, Guy Savoy's son, will be the restaurant's General Manager. He chose not to pursue the hospitality industry through the kitchen, but rather through the front door. After getting his education and training in the hotel industry in Glion, Switzerland, Franck worked throughout Paris until he was selected to run Les Bouquinistes, located on the Left Bank. Franck was most recently the Manager of Le Chiberta, another of Savoy's award-winning restaurants which is located near the Champs Elysees.
Damien Dulas, Guy Savoy's right-hand man at Guy Savoy Paris, will serve as Chef de Cuisine for Restaurant Guy Savoy at Caesars Palace. The new Las Vegas resident brings more than two decades of training and experience to the restaurant. Helping to shape the restaurant from the ground up in order to become the dining destination in this world-renowned city is his main goal.
Williams Caussimon will work as a roving chef, traveling back and forth between Paris and Las Vegas to ensure that whatever culinary magic is happening at Restaurant Guy Savoy in the City of Light also happens at Restaurant Guy Savoy in Sin City. Caussimon first began working with Savoy in 1995, and eventually was named chef of his Bistro Les Bouquinstes. After he moved to head up the kitchen at Chiberta in 2004, he was awarded his first Michelin star.
Laurent Soliveres has been working alongside Chef Savoy for 15 years, most recently as Chef de Cuisine, and will commute between Paris and Las Vegas. He will be in charge of menu changes as well as insuring that perfection on a Parisian scale is the rule of the day—everyday—at Restaurant Guy Savoy at Caesars Palace. Soliveres completed his training at the Avignon hotel and catering college then trained throughout France and Great Britain before joining the Guy Savoy team.
Laura Savoy, Franck's wife, has been responsible for marketing and sales for Chef Savoy's Paris restaurants. She will lead the same initiatives for the Las Vegas restaurant, promoting the private reception rooms for functions and events. Jean-Michel Wilmotte is the architect and designer who undertook the redesign of Restaurant Guy Savoy in Paris and is creating Restaurant Guy Savoy at Caesars Palace. He has been involved in the design and construction of hundreds of projects throughout France and the world, including those at The Louvre Museum in Paris, the Novotel hotel in Monaco, and the Sarrasin Bank in Switzerland. Like Chef Savoy's namesake restaurant in Paris, Restaurant Guy Savoy at Caesars Palace is being designed with the same modern elegance befitting such a world-class destination.