Significant Events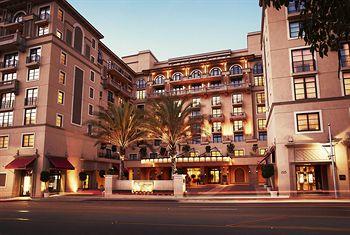 MONTAGE BEVERLY HILLS INTRODUCES THE WALLIS SUPPER CLUB
 PRE-THEATER DINING EXPERIENCE
Montage Beverly Hills announces the debut of The Wallis Supper Club, an exceptional new dining venue that provides elegant pre-theater service for patrons of the Wallis Annenberg Center for the Performing Arts. 
The Wallis Supper Club at Montage Beverly Hills offers ticket holders the opportunity to enjoy a seamless dining experience that complements the arts center's world-class performances. The club allows guests to enjoy reserved seating and expeditiously timed service of a three-course prix fixe dinner lightly themed to the evening's performance and prepared by Executive Chef Gabriel Ask. 
Upon arrival at the private, 50-seat restaurant perched in an elegant alcove, the scene is set for an immersive dining experience with a program for the evening's performance waiting for each guest. Complimentary valet parking and transportation to and from the theater provide guests further convenience. 
This private dining experience launches with a delicious twist on Hungarian cuisine in honor of "Parfumerie," the first theater production at The Wallis. Set in 1937 Budapest at Christmastime, the romantic comedy follows a courtship built through love letters--a perfect homage to the center's location on the grounds of the historic Beverly Hills Post Office.  
Patrons also have the unique opportunity to further the evening's theme by visiting "Timeless Scents: 1370 – 2013," an exhibition created especially for The Wallis that traces the history of iconic fragrances. 
The Wallis Supper Club is currently accepting reservations for pre-performance private dining for "Parfumerie," December 5- 7, 12- 14, and 19- 21. The dining experience begins at 6 p.m.; transfer to the theater commences at 7:30 p.m. Pricing, $115 per person for a minimum of two ticket holders, and is inclusive of tax, gratuity, valet and transportation. Reservations are required at least 48 hours in advance; for information and reservations call (855) 318-1059. For hotel information, visit www.montagehotels.com. 
Tickets for "Parfumerie" ($49 - $129).  Available in person at the Wallis Annenberg Center Box Office (9390 N. Santa Monica Blvd., Beverly Hills 90210); by phone at (310)746-4000 or online at www.thewallis.org. 
About Wallis Annenberg Center for the Performing Arts
Wallis Annenberg Center for the Performing Arts transforms a Beverly Hills city block into a vibrant new cultural destination with two distinct, elegant buildings; the historic 1933 Italianate-style Beverly Hills Post Office and the new, contemporary 500-seat, state-of-the-art Goldsmith Theater. Together the venues embrace the city's history and future, creating a new cultural landmark. Within the treasured Post Office, existing spaces are re-imagined into a flexible 150-seat Studio Theater, a theater school for young people, a café and gift shop. The buildings are surrounded by lush intimate courtyards, a sunken sculpture garden and a promenade event terrace.  Located in the heart of Beverly Hills, the Wallis is a home to artists from around the world and audiences of every age. 
About Montage Beverly Hills
Located in the vibrant epicenter of Los Angeles, Montage Beverly Hills is ideally situated for shopping and dining among Rodeo Drive's storied collection of shops, restaurants and galleries. The hotel features 201 well-appointed guestrooms, including 55 suites as well as 20 private Residences. Spa Montage features 20,000 square feet of space, a co-ed mineral pool and 17 tranquil treatment rooms and is home to the flagship full-service Kim Vō Salon. Italian cuisine is impeccably served at celebrity Chef Scott Conant's culinary gem, Scarpetta. Tucked discreetly above Scarpetta, £10 welcomes true connoisseurs to the lounge specializing in the world's most precious whisky, The Macallan Single Malt. With a commitment to sustainability, Montage Beverly Hills was the first hotel and Residences to receive Gold LEED certification in Southern California. For information and reservations, please contact Montage Beverly Hills at (855) 830-2355 or visit www.montagebeverlyhills.com. 
__________________________________________________________________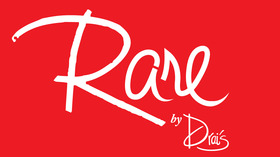 RARE BY DRAI'S NEW SUNSET PLAZA STEAKHOUSE OPENED DEC. 14
Victor Drai Brings his Hybrid Steakhouse/Bar & Lounge Experience to West Hollywood
with Sunset Blvd. Patio Seating and Live DJ
Rare New Year's Eve Celebration – Two Seatings – Reservation Only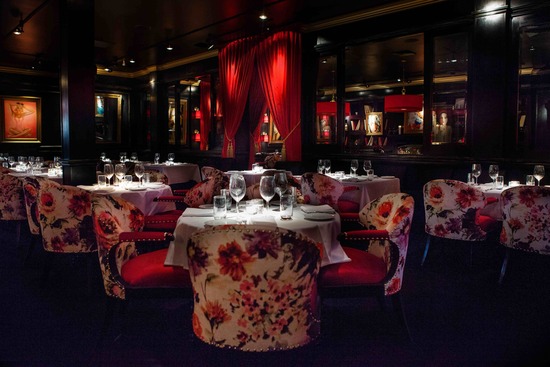 Rare by Drai's, Victor Drai's newest dining creation, opened on Saturday, December 14 - just in time for the holidays and New Year's Eve revelry. Putting a new twist on the traditional steakhouse experience, Rare by Drai's trades the conventional look and vibe of the steakhouse concept and replaces it with a rich, beautiful and sophisticated atmosphere, featuring a fresh and modern twist to the classic steakhouse menu with a dynamic indoor/outdoor bar and lounge led by mixologist Chris Hewes. Unlike other steakhouses, the bar and lounge at Rare is not merely a waiting space before dinner; it is designed to become the social gathering spot on Sunset Blvd. with its 33 seats, a DJ and access to the Rare patio. 
Walking into Victor Drai's newest restaurant is like walking into a great dinner party – and that is by design. "I've always believed in creating beautiful settings for my restaurants and clubs," explains Victor Drai. "Rare will definitely be sexy. We have stripped away the formal attitude associated with the steakhouse experience and replaced it with the Drai's mindset—which is a great dining experience combined with a striking design and an incredible staff."   
Like all great steakhouses, meats and seafood will take center stage, but in collaboration with Executive Chef Patrick Florendo, Drai has designed a menu that goes beyond the ordinary and even features his personal favorite: a Whole Roasted Loup de Mer, scented with lemon and thyme and roasted on a bed of fresh aromatic fennel.  In addition to Drai's signature dish, the menu features all prime-grade aged steaks (butchered in house and ranging from 7 oz. to 36 oz.), fresh seafood options such as the Grilled Skuna Bay Salmon and Steamed Bouchot Mussels, and specialty options such asLobster Truffled Mash Potato, Snake River Farms Wagyu Ribeye with roasted shallots and a signature house-madeHorseradish Cream steak sauce.  For those with a sweet tooth, Rare won't disappoint.  Stand-out dishes include a Frozen Godiva Candy Bar (featuring three layers consisting of a chewy caramel, a Godiva mousse and crunchy peanut butter),Tempura Cheesecake with mango coulis and shaved pineapple, and last, but not least, Bananas Foster Bread Pudding.  
The expansive restaurant features 220 seats split between the restaurant's main dining room, private dining room, bar and lounge and patio over-looking Sunset Blvd.  Rare by Drai's is a partnership with ESquared Hospitality, an international restaurant and hospitality group owned by Jimmy Haber and Keith Treyball.
Rare by Drai's is located at: 8720 W. Sunset Blvd., West Hollywood, CA 90069.  Rare by Drai's Hours:  Bar Opens nightly at 5:00 p.m. Dinner: Monday – Wednesday: 6:00 p.m. to 10:00 p.m., Thursday – Saturday: 6:00 p.m. to 11:30 p.m. For dinner reservations call 310-360-1525 or book at www.opentable.com 
In addition to Rare by Drai's, Victor Drai is set to open Drai's Nightclub Beach Club this spring – The Las Vegas Strip's only rooftop experience. Victor Drai also owns the famed Drai's After Hours at Bally's Hotel and Casino.
_________________________________________________________________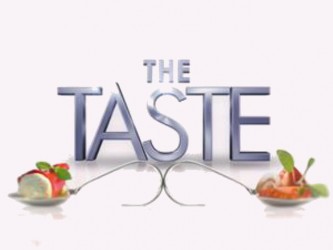 ABC's THE TASTE OPENS WITH SOME GREAT SPOONS      
By Bonnie Carroll 
Despite the best efforts of the British media and a not so nice nanny team Nigella Lawson was brilliant and beautiful on the opening segment of ABC's THE TASTE Television series.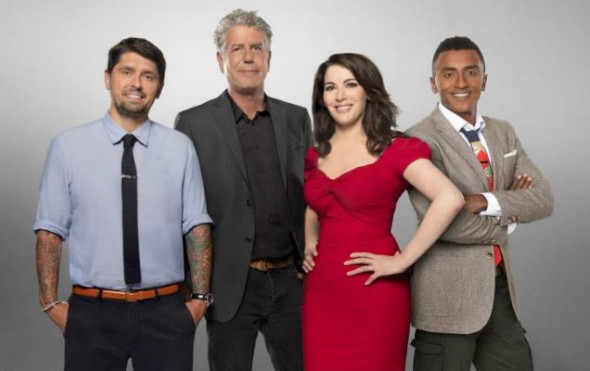 Judges Nigella Lawson, Anthony Bourdan, Ludo Lefebvre and Marcus Samuelsson were on fire for the first show of the season, where a bevy of talented and not so talented home cooks and chefs shared their skills to hopefully be selected to participate on one of the four prestigious teams to complete on upcoming shows. 
Congratulations to everyone on a great start, and I will be watching with interest to see what amazing tastes are served up on upcoming segments. 
__________________________________________________________________
PATINA TO PARTICIPATE IN DINE LA
JANUARY 20-JANUARY 31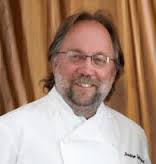 Joachim Splichal's PATINA 141 S. Grand Ave, Downtown LA, Nick & Stef's at 330 S. Hope Street in Downtown LA, Cafe Pinot at 700 W. 5th Street in Downtown LA and Ray's Stark Bar at 5905 Wilshire Boulevard at LACMA will participate in the DINE LA RESTAURANT WEEK. January 20-January 31.
For information visit: www.dinela.com
_________________________________________________________________


Chef Richard Sandoval To Unveil New "Test Kitchen: Japan to Mexico" Series at Zengo Restaurants Nationwide
Acclaimed Chef Richard Sandoval, who owns and operates the Latin-Asian inspired restaurant Zengo, announces the debut of an exciting new menu as part of the restaurant's wildly popular "Test Kitchen" series.  Every few months, Sandoval and his culinary team research and develop new recipes featuring the cuisine and spirits of one Latin and one Asian country. The result is a menu of specialty small plates and cocktails that showcase the flavors and techniques from each region. Each new dish will be marked with a special "TK" symbol on the menus at Zengo, noting that they are exclusive and available for a limited time only. The Test Kitchen: Japan to Mexico menu will be offered exclusively at Zengo restaurants nationwide - located in Denver, Washington, D.C., Santa Monica and New York -from Jan. 2, 2013, through March 31, 2013.
"With every Test Kitchen menu, my goal is to give my customers the opportunity to experience a burst of flavors that they would otherwise never have," says Mexican-born restaurateur Sandoval, who currently has plans to open a fifth Zengo location at the Royal Meridian in Dubai, UAE. "For this new menu, I drew inspiration from the rich and flavorful street foods of Japan and Mexico."
Zengo offers an innovative blend of Latin-Asian cultures, as chef Sandoval spins regional ingredients into beautifully balanced dishes designed for sharing. In fact, the new Test Kitchen menu will give guests the opportunity to explore the fusion of Japan and Mexico through an artful blend of seasonal ingredients, with tempting dishes such as achiote shrimp tempura roll made with avocado, jicama, chile, limon, chile toreado aioli and charred scallion; octopus aguachile tiradito with ginger green chile broth, white soy, Asian pear, avocado, nori and sesame; teriyaki pork belly gorditas "sliders"with crispy masa, Oaxaca cheese, guacamole, caramelized pineapple and pickled chilies, as well as kabayaki glazed lamb shank barbacoa with ginger, chiles, tamarind, arroz verde and pickled vegetable.  
For dessert, Corporate Pastry Chef Jose Luis Flores has created a tempting avocado panacotta comprised offresh avocado custard, tropical fruit salad and peanut chocolate cookie crumbs.
To complement these distinctive dishes, national beverage director Robert Day crafted unique cocktails with the flavorful fruits, spices and spirits of Japan and Mexico, including a calamansi old-fashioned cocktailmade with Japanese whiskey, fresh calamansi juice, agave and bitters, as well as a shiro margarita made with nigori, 100% agave blanco tequila, fresh lime juice, simple syrup and house-made sour.
For reservations, menu pricing for specific locations, or additional information, please visit www.RichardSandoval.com.
__________________________________________________________________
Food Fantasia - Chef's News
New Wineries and Chefs Announced 
For The 2014 Big Sur Foragers Festival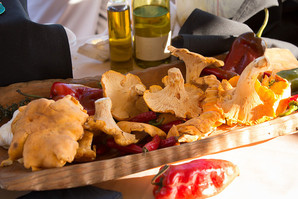 A celebration of the amazing array of wild foods will be the centerpiece for a weekend of gourmet food, world-class wine and beer, entertainment, expert-led foraging hikes and a friendly chef competition with celebrity judges.
Save the dates of January 17th through 19th, 2014. Big Sur area restaurants will host the culinary expertise of notable chefs preparing unique fare from rustic to elegant, paired with the region's amazing selection of wines and beers.
The event also serves as a fundraiser for the Big Sur Health Center. The community's non-profit health center will receive the proceeds from the foraging events to support the continued presence of local health care services.
Event schedule to include:
•                 "Firestone and Fungus at Big Sur Roadhouse." David Walker "The Lion" of Firestone-Walker Brewing Co. will be in the building. BBQ: Rain or Shine
·        NoBS Chili
·        BBQ Brisket
·        Baked field peas
·        Long-Cooked foraged winter greens
·        Roasted Mushrooms
·        And of course, Firestone-Walker brew....
·        $50.00 including beer pairing.
·        5:30-8:00pm.
·        Reservation seating-no single start time.
·        50-60 people.
•                 "Wild Mushroom Walk and Talk" at Pfeiffer State Park and at Ventana Inn & Spa, both led by expert foragers.  Cost per person is $35.
•                 "Fungus Face-Off" on the deck at Ventana Inn & Spa!
·        "Fungus Face-Off" at Ventana Inn & Spa from 1:00 pm – 4:00 pm. Cost per person is $45. A friendly competition among some of the area's notable chefs featuring chanterelles and other fabulous fungi. Celebrity judges areKGO's Joel Riddell, Jim Dodge and  Wendy Brodie.
·        Attendees also have an opportunity to cast their vote for "People's Choice".
·        Participating restaurants are: Big Sur Roadhouse, Hyatt Carmel Highlands, Esalen, Big Sur Bakery, Quail and Olive, Fernwood Resort, Bernardus Lodge, Carmel Valley Ranch and The Restaurant at Ventana.
·        Wine pairings will be provided by:
§  Baker & Brian
§  Chappellet
§  Comanche Cellars
§  Mesa del Sol
§  Madeline
§  Mercy
§  Dawn's Dream
§  Morgan
§  McIntyre
§  Filliponi
§  Pessagno
§  Scheid
§  Wrath
·        This year there will be a wine raffle!  Grab a ticket for $10 to win 30 or more bottles of wine in your own wine barrel!
·        A silent auction full of culinary delights, hotel stays, tickets to explore the area, art and so much more will take place during the food and wine sampling.
·        Grand Celebrity Chef Dinner at Ventana Inn & Spa.  "Foragers Dinner" at the Restaurant at Ventana beginning at 6:00 pm. The evening will be a very special meal prepared by Ventana's executive chef Truman Jones. The multi-course dinner, destined to be a memorable feast paired with an incredible wine selection, costs $175.00 per person.
·        Sunday Brunch at the new Big Sur Roadhouse
Tickets on sale now  at http://www.eventbrite.com/event/5769234937.  For more information go to http://www.bigsurforagersfestival.org/.
___________________________________________________________________

Sunday Brunch Cruise
Every Sunday all year-round (without all public holidays) 
Sunday relaxation - Swiss style!
This is one of our most popular cruises and a truly cozy way to spend Sunday morning! Our hearty, "all you can eat" brunch buffet is stocked with lots of goodies and many regional treats. Enjoy fresh Swiss bread, cheese and meat specialties while the waiter brings you an Italian espresso or hot tea. For the little ones we offer a special onboard nanny service, so that you may enjoy your brunch without interruption.
Timetable
Lucerne dep. 10.30, Lucerne arr. 13.00
Prices 
With Half-Fare Card: CHF 29.00
Without Half-Fare Card: CHF 39.00
With GA/AG Card: CHF 19.00
"All you can eat" brunch buffet: CHF 45.50
Children up to 12 years of age: CHF 3.00 per year of age
We ask for your understanding that dogs are not permitted on this cruise.
Other Sunday offers from Lucerne:
Sunday Breakfast Cruise
From Brunnen:
Sailor´s Breakfast on Lake Uri
Please reserve your table until 15.00 on Saturday before the cruise.
Phone: +41 (0)41 367 67 67 www.lakelucerne.ch.
__________________________________________________________________
THE FOOD CHANNEL TRENDS 2014
This is Part I of a two-part series, listing the Top Ten Food Trends for 2014 as identified by The Food Channel®, in conjunction with insights company CultureWaves®. See part II in Feb LBN Issue
1. The Midwestern Food Movement
This is all about farm fresh and local taken to the next level, using the types of food readily available in the Midwest. After all, the East Coast is known for Italian; the West Coast for seafood—perhaps its time the Midwest became more than a flyover state. In fact, chefs such as St. Louis' Gerard Craft  at Nicheare beginning to focus on the ingredients available in the Midwest and doing interesting things with root vegetables, steaks, and more. But there is nothing more Midwestern than a buttermilk soaked fried chicken, which led us to Amy Thielen, host of Heartland Table on the Food Network. Her new cookbook, The New Midwestern Table, is inspired by her Minnesota roots. We expect to see more Midwestern style cooking in this true food movement, as more chefs discover and put their own twists on some traditional foods that Midwesterners have kept secret for all these years.
For the Fried Chicken recipe, click here.
2. Low Tea
Bet you thought it was "high tea," didn't you? The reality is that the designation was more based on table size than anything! High tea was served at the dinner table, usually to the middle and lower classes, and was more substantial since it held them over while they served dinner to "the family" and may have replaced lunch (and maybe dinner, too) for them all together. The upper classes had a "low tea" that was more likely to be served in the drawing room or parlor, on a low table. It was meant to sustain them prior to evening activities.
The influence of Downton Abbey (which returns in January 2014) may reign here, but it's just one of the reasons we've called out the celebration of tea. It's also attributable to European roots and the desire to emulate great experiences at white table restaurants and bring them down-to-earth. Grandmothers everywhere love creating tea parties for their grandchildren, and are pulling out all the stops to create delicacies and milk-laced tea for their grandchildren. Those who have found more frequent small meals suit them better than three heavy meals a day have added afternoon tea for a quick pick up meal. Some might even consider it a follow up to brunch, since teatime recipes are often downsized brunch concepts. Let's just say we've developed a taste for tea.
Low tea is a light meal or snack, usually served around 4 pm, and  often shared with guests. We see a return to this "extra" meal and are creating some interesting recipes to help you recreate it, too. So check back for our follow up series of great recipes suited for a fabulous tea party!
3. Distracted Dining
You do it at home, especially when you eat on the run. Now restaurants are beginning to put their menu items into forms that accommodate the cell phone obsessed—so you can eat with one hand, while the other holds the phone. Sandwiches, wraps, small bites are all sticking to the menu and growing because they don't require two-fisted dining. These restaurants have given up the fight to have people concentrate on their food (or on their companion) and are bowing to the pressure to make it more convenient to eat and not run. Of course, we see the other side, too, where restaurants are creating "no cell phone" zones. But to accommodate the masses, we predict you'll see more catering to the multi-tasking.
4. Bread Rises to the Top
We've talked a lot about artisanal breads in the past, even calling out the now-mainstream trend toward pretzel bread. If you need an example, fast food chain Wendy's is launching a new limited time offer with brioche (replacing their more recent LTO, pretzel bread). Our culinary teams are looking carefully at what's next, but breads continue to be big, even in a gluten-free world. As we look at the overarching trend, it's about the flavor experience of bread and how it's moving more to the center of the plate. Expect breads in more flavors, more forms, and dipped in more than just egg batter in the future.
Some of this is led by a return to home baked bread, but it goes beyond that to bread with benefits (flax seed, anyone?), salted bread, flavored breads and bread as the main course. Instead of being a carrier, bread is now surrounding itself with a variety of proteins and flavors. Bread salad, breaded meatballs and meatloaf, bread pudding, muffin cups, flatbread pizzas, stuffing casseroles—all of these are making us rethink how bread impacts a meal.
5. Investing in Food
Even in the worst days of the Recession, you'd hear people say, "invest in food—we all still eat three times a day." The financial community has begun to take notice, with restaurant investments becoming hot property and restaurant stocks soaring. The overarching trend here goes beyond investing and is more about the way the food world has begun building trust. In previous years we've called out Food Insecurity issues and Local Somewhere, which are all ways to build trust with the world. Those in the food business take it seriously. After all, one attack of food poisoning can hurt a restaurant's image irretrievably.  The fact that stocks such as Potbelly and Darden are trusted means that investors have decided the food world knows what it is doing. We're beginning to trust what they serve—even when the discussion begins to revolve around extending food expiration dates and addressing world hunger in new ways. We get behind their causes, we support their staff, we even use our own social media to help build their brand equity.
Look at is this way: for a number of years, entertainment has driven celebrity chefdom, which eventually leads to those chefs opening restaurants. The tide has turned and great restaurateurs are finding ways to entertain, without having to give up their restaurant in the process—they are more believable because they continue to invest in the passion that made them popular in the first place. We've found "brand sanctuary" and are placing our trust in something we understand. After all, we still eat three times a day.
___________________________________________________________________
Aspiring Chef's Corner

I am running this recipe again for Chili Enthusiasts looking for a new recipe to please guests coming in January for sports gatherings or just some great comfort food. 
"CIAO BELLA" WHITE LIGHTNING TAKES 4 th AT CHILI COOKOFF
by Bonnie Carroll - Summer 2004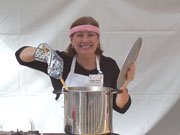 For nearly two decades I have devoted my time to interviewing and writing about top chefs around the world, and last month I took all that culinary wisdom and put it to work creating an original chili recipe for competition in the 11 th Annual Beverly Hills Chili Cook Off.
This was my very first cooking competition of any kind, and I arrived at 6:00 a.m. armed with all my knives, recipe ingredients, a big pot and my favorite apron. Only one side of my Bunsen burner stove worked, and it kept going out; I had to relight it seven times during the contest. By 9:00 a.m. my meat and vegetables were all golden brown and in the pot simmering with the additional menu ingredients. The original recipe was the result of an evening adventure with my cookbooks, that included studying the ingredients and preparations of some old cowboy kick-a—recipes, and then creating a recipe from their basic scheme that included choice ingredients from my Italian cookbooks. The end result was "Ciao Bella" chili; a northern Italian inspired concoction that was completely white, and a total contrast to the red hot chili presented by the other nine contestants.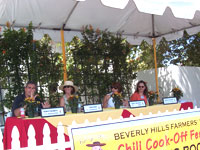 Executive Chef Celestino Drago of the Drago restaurant dynasty, and his daughter Franchesca came by to wish me luck, and a project producer named Derek from the Ellen Degeneres Show filmed me cooking and interviewed me for consideration to appear on a cooking segment with the popular show host. It was fun, I felt like Emeril for fifteen minutes, but I substituted 'Bam' with Tuto Bene! Bindu Kundanmal, last years 1 st place winner-- who ultimately became a second time winner in this years competition, was cooking her Indian inspired red hot chili in the space next to me, and we had great fun laughing and sharing food stories.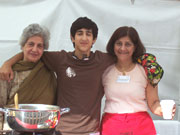 The sample bowls of my chili to be sent to the judges looked perfect, and I felt obligated to live up to my chef mentors by providing a presentation that was spectacular. My miniature bread sticks, sitting next to sliced tiny red & yellow tomatoes, resting on a basil leaf, were picture perfect, and the fresh Romano cheese was the coup de gratin. Following the judging we gave samples to the show attendees, and I was filled with pride by the people's choice approval I was given for my hard work. For possibly the first time I really understood how a chef must feel when they peak around the kitchen door to see a food writer gleefully gobbling up their signature entrée.
Thanks to all the dear chefs who have obviously, and possibly through osmosis, tweaked my imagination and skills to not only inspire me to create an original and different dish, but to have the bravado to stand by it in the face of stiff competition. To me that is what great cooking is all about; courage and imagination! I love you all, and thank you for your talent and the special gifts you have shared with me over the years. Salute!

CIAO BELLA CHILI
by Bonnie Carroll
INGREDIENTS:
Light olive oil as needed
3 large cans Northern white beans (Gelsons Market) 
2 large cans white sweet corn 
4 cups finely diced celery 
4 cups finely chopped yellow & green Italian squash 
1 large yellow pepper
2 large cans yellow Roma tomatoes (.99 Stores)
1 cup each: ground veal, chicken, turkey 
3 cups chopped white onion 
3 tbs chopped shallots 
½ cup chopped scallions 
½ cup chopped water chestnuts 
1 can finely chopped artichoke hearts (15 oz. can) 
1 cup dry white Italian wine (Bristol Farms) 
3 cloves garlic finely chopped 
1 tbs. white Worchester sauce 
1 tsp. white rice vinegar 
1 tsp white balsamic vinegar (Surfas chef supply) 
juice of 1 lemon 
1 tsp cinnamon 
1 tsp cumin 
1 tsp oregano 
1 tsp chili powder 
1 bayleaf 
3 large mushroom chopped 
1 tbs white chocolate cocoa powder (Bellagio Brand at Bristol Farms Market) 
keylime white pepper and salt to taste 
(8-10 servings)
PREPARATION: 
Brown meat, remove from pan and add onion, scallions, shallots, celery, pepper, squash in enough oil to cover bottom of the pan; cook over medium heat until lightly brown. The liquid can then be drained or can be left for added flavor. Add all spices (except white key lime pepper and salt, which should be added 30 minutes before serving) along with lemon juice, Worchester sauce, rice and balsamic vinegar, and simmer for 30 minutes. Place mixture in a gallon size pot and add the northern beans, white sweet corn, tomatoes, water chestnuts, artichokes and white wine and continue to cook on low heat until ready to serve. Don't forget white key lime pepper and salt in last 30 minutes.
GARNISH: 
Fresh grated Parmesan cheese 
Sliced tiny yellow and red tomatoes 
1 small basil leaf or basil leaf 
2 small breadsticks
---