It was a rainy afternoon in Santa Barbara as two of my travel writer friends from LA and I trudged over to the Funk Zone in Santa Barbara to have a special dinner at Loquita Restaurant on State Street, across from the Amtrak Station entrance.
The place was buzzing with dinner activity and attentive servers who were determined to please welcomed us and shared information on the cocktail and dinner menu. The open kitchen sends a warmth of welcome into the room and bar area as you come in the front door and sitting near the open kitchen watching the talented chefs and staff putting finishing touches on the dishes made the experience so much more alive.
The dining area includes tables to accomodate varying size groups and the booths overlooking the kitchen with a close up and personal chef's view is the best seat in the house. Old fashioned Spanish films are projected on the back wall for guests enjoyment and the bar is large and colorful with big stools where guests were enjoying drinks.
We selected a cocktail from the menu Playa Y Oro, a combination of Monkey 47, elderflower tonic, 24kt gold and silver that was golden, beautiful and an outstanding start with the El Bulli Olive, liquid manzanilla olives.  A parade of beautifully prepared small plates began filling the table to share and the fun began. Their menu offers such a variety of tapas, bocaditos, charcuteria, quesos, paella and dreamy desserts that it is difficult to settle on a few.
The wine list is a good size and includes not only local favaorites but also some very fine Spanish selections. We chose a Spanish wine from their fine pairing menu, and it was magical with our food choices, however, our server did lead us a bit on the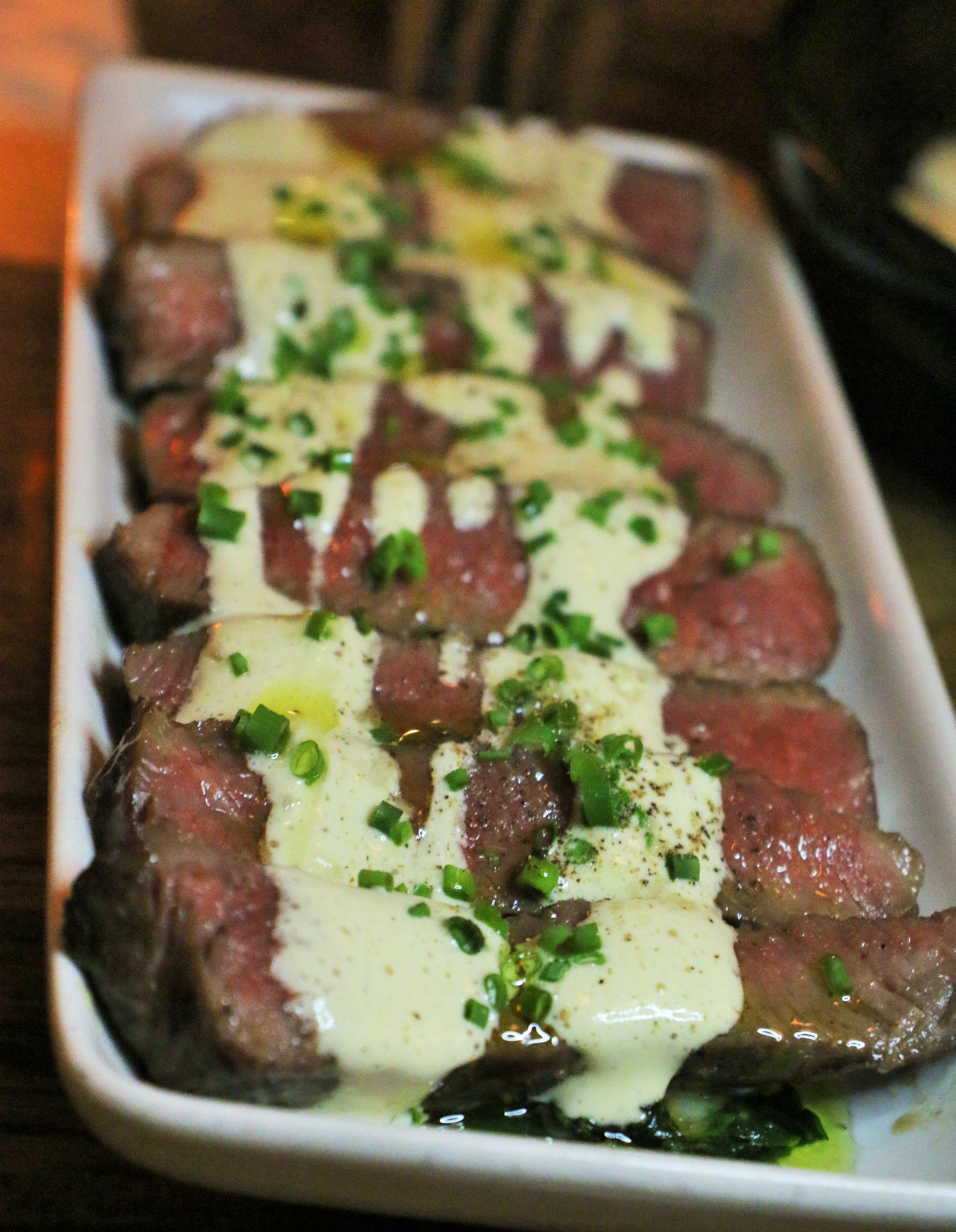 wine selection. I did not taste the Sangria but will the next time as I saw one at the next table that looked amazing.
Our Tapas specialties included Carpaccio De Carne, grass-fed beef, manzanilla olive, pickled mustard seed, 12 year shery vinegar and arbequina olive oil; Patatas Bravas, pommes dauphine, roasted garlic aioli, brava sauce and pimenton with parsley; Pescado, steelhead trout, shallot confit, smoked onion soubise and charred scallion vinaigrette; Pulpo Spanish octopus with black garlic aioli, lemon vinaigrette, potato puree, pickled red onion and pimenton;  Vaca 6 oz flat iron steak, spinach, smoked cabbage with tomatillo bearnaise sauce. These plates were all unique and outstanding!
The desserts we enjoyed included a flowerless chocolate cake with all the bells and whistles and Churos with a variety of sweet dipping sauces. It was such a fun sweet ending to our Spanish culinary adventure in the Funk Zone.
This was without our realizing it our "last supper" in Santa Barbara as the Coronavirus quarantine was imposed on the City of Santa Barbara the next day, and who know's when we will experience this outstanding Chef team, and staff offering again. So glad we were there and praying they make it back into recovery soon. Kudos and thanks to Loquita Chefs Nikolas Ramirez,Tim Connolly and Christian Chavez for an amazing dining experience and an evening to remember.
Lucky Penny: 
Celebrate with Lucky Penny from Cinco de Mayo through Mother's Day (May 4-9)
There's so much to celebrate we are taking the whole week! Beginning May 4th through Mother's Day,
Lucky Penny is serving frozen Margaritas alongside our signature Frosé.
Make sure to "make it a double"! The Mexican-inspired Milpas Pizza is making a comeback for the week as well,
featuring mouthwatering chorizo, potatoes, and a fried egg—a local favorite!
Lucky Penny now features live music and DJs every Friday (5pm-8pm), Saturday (12pm-3pm), and Sunday (12pm-3pm).
Order in person, online at www.luckypennysb.com, or call 805.284.0358. 
Helena Avenue Bakery: 
Breakfast Taco Special 
Helena Avenue Bakery's famous made-from-scratch baked goods, brunch menu and local coffee brighten any day.
Join us on Cinco de Mayo and devour our Breakfast Taco!
Fried farm egg, smoked bacon, crispy fingerlings, serrano avocado salsa, and cheddar in a flour tortilla ($8).
Add in a coffee drink featuring local producer Low Pigeon and take on the day!
Order in person, online at www.helenaavenuebakery.com, or call 805-880-3383.
La Paloma Cafe:
Margarita Day at LPC
Celebrate Cinco de Mayo on the garden patios of La Paloma Cafe, the newest hotspot in the Presidio Neighborhood.
Leave work early because we're opening at 4pm to offer our Classic Margarita and Hibiscus Margaritas for $7!
The kitchen opens at 5pm so stay on with us to savor our signature, wood-fired ranchero cuisine. 
Patio tables are first come, first served starting at 4pm! Reservations begin at 5pm.
Reserve your table at resy.com/cities/sba/la-paloma-cafe, or call 805.966.7029.
____________________________________________________________
FUN FOOD & FILM PAIRING AT 2021 OSCAR PARTIES
By Bonnie Carroll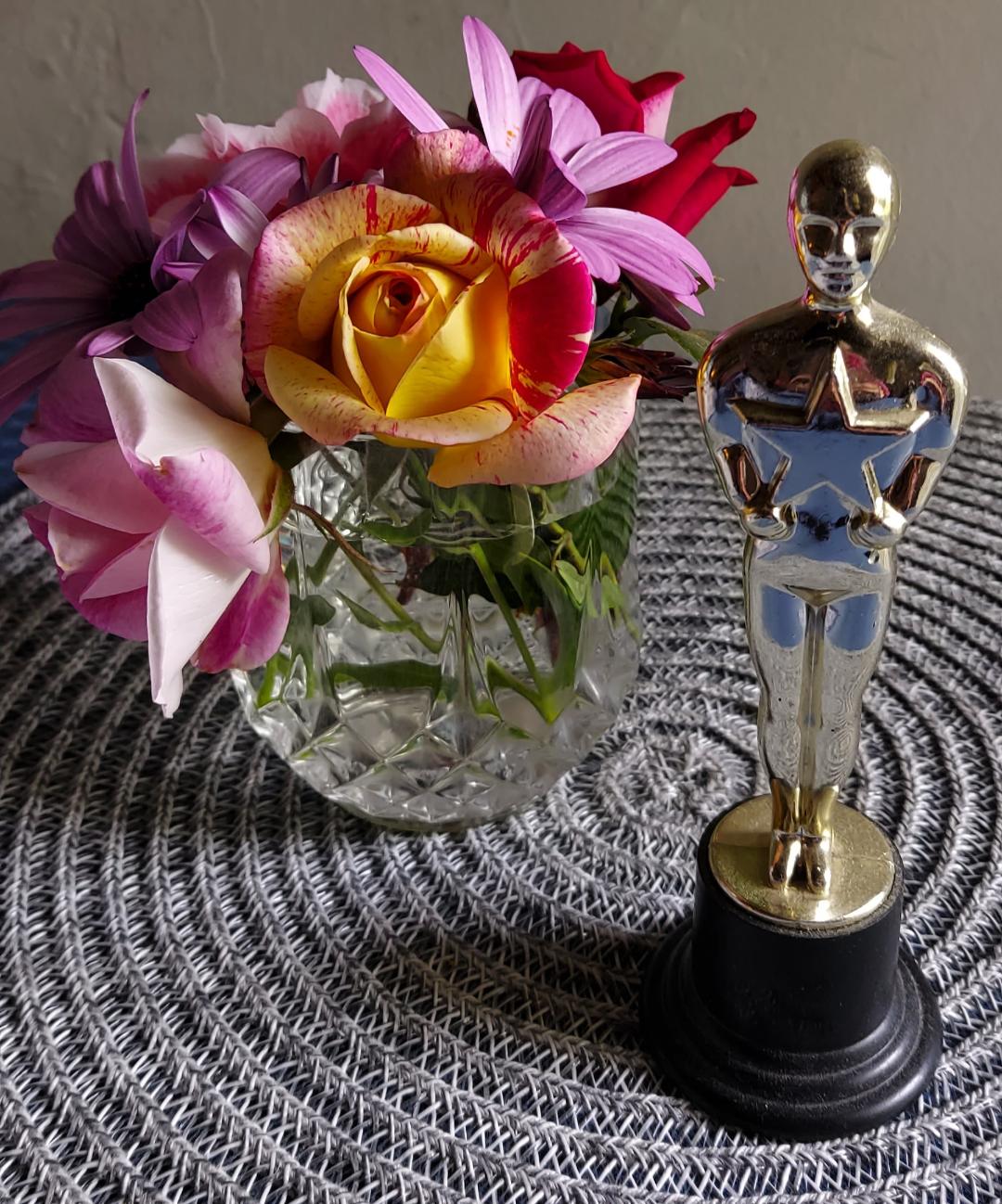 The 2020 Pandemic brought some unexpected changes in our Oscar activities and for the most part we were watching our favorite stars being given awards in strange ways. This year the historic Union Station in Los Angeles was designated an unexpected alternate award destination and it was stunning! It has been my pleasure to cover the Oscar Chef's and their menus in past years, but this is a new day at home … for now!
Most of us spent Oscar night in our living room, hopefully with friends or family to see who went home with the beloved 'golden boy'!  I am no exception, and this year I was home pondering what to serve for the evening or what favorite restaurant to call for a special delivery.  I began playing with the idea of pairing food bites with nominated films and below are some Oscar bites I thought might be appropriately savored with 2021 Oscar nominated films.
I know my British friends will all be rooting for The Father with nominations in six categories and starring Sir Anthony Hopkins and Olivia Coleman.  It seemed natural that a delicious traditional Fish n' Chip's plate would be quite right for this golden night, perhaps with a nice bottle of Fuller's London Pride.
Satisfying my Korean Kimchi and ramen longings would work so well for a MINARI win, paired with a Chum Churum cocktail and some sweet & sour Korean meatballs. The Director and supporting actress in this film are favorites for an Oscar this year. Could be a big night for the ladies in the industry.
The film MANK makes me think of recipes in the Hearst Castle cookbook I picked up there a few years ago. Options could include hamburgers, meatloaf, or a nice piece of roast beef from Hearst Ranch off Hwy 101 served with William's favorite Heinz mustard and ketchup; formally presented at the dining room table with silver utensils of course!
Nomadland is up for a slew of Oscars including best Director Chloe Zhao, and my dinner choice would be some New Mexico style fajitas. My favorite Mexican restaurant Los Arroyos delivers, and I know their dishes pair perfectly with a bevy of margarita choices to guarantee a special Oscar golden moment. Call your favorite Mexican restaurant for a delivery.
Chicago 7 brings to mind my favorite deep-dish pizza from Uno on the near north-side of Chicago where I once lived, or a Chicago style Italian beef sandwich with peppers on a hard roll from Three Pickles in Santa Barbara or let us not forget the venerable Pink's Dogs in Hollywood. A nice glass of Italian red or a favorite bottle of imported beer would do the trick with these yummy bites.
Beautiful Revenge makes my taste buds cry for a Starbucks Carmel Macchiato or something as deliciously cold, but perhaps served with a warm cinnamon roll to nibble on while curled up on a comfy sofa waiting for the best picture announcement.
Cancino brick oven pizza comes to mind for Sound of Metal, paired with a huge green salad and a Cervesa. Oscar nominations: Best Picture, Actor in a Leading Role (Riz Ahmed), Actor in a Supporting Role (Paul Raci), Writing (original screenplay), Film Editing, Sound.
Judas and the Black Messiah, brings to mind Free Breakfast for Children programs in cities across the nation, feeding at least twenty thousand school children in 1968-1969 so perhaps a spinach omelet with bacon paired with a Latte would be a win-win.  Oscar Nominations include Best Picture, Music (Original Song), Actor in a Supporting Role (Lakeith tanfield), Cinematography, Actor in a Supporting Role (Daniel Kaluuya), Writing (Original Screenplay)
Whether you had guest over or ordered out to dine during the Oscars it's a special evening and a chance to be kind to your local restaurant owners and have it all delivered to your door. Cheers, Bon Appetit and congratulations to the deserving winners of the 2021 Oscar Awards.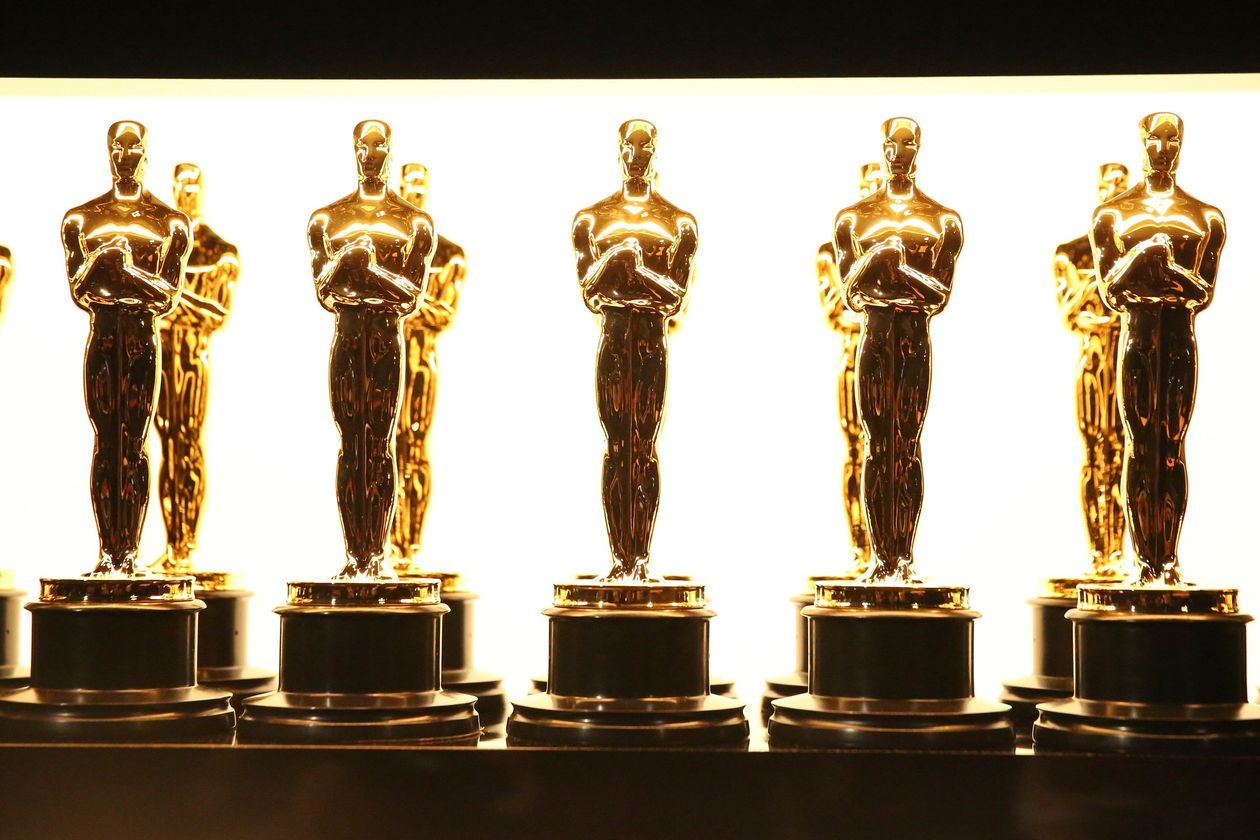 _____________________________________________________________
Nominees announced for the Restaurant Leader of the Year
The five CEOs vying for the honor this year are Jose Cil of Restaurant Brands International, David Deno of Bloomin' Brands, Rob Lynch of Papa John's, Charlie Morrison of Wingstop, and Todd Penegor of Wendy's. By Peter Romeo on Apr. 26, 2021.
Photo illustration by RB Staff
Extraordinary leadership during a historic economic and social crisis has earned five restaurant CEOs a nomination for the industry's top honor, Restaurant Business' Restaurant Leader of the Year. 
The nominees for the 2021 award are Jose Cil, CEO of Burger King and Popeyes parent Restaurant Brands International; David Deno, CEO of Outback and Carrabba's parent Bloomin' Brands; Rob Lynch, CEO of Papa John's; Charlie Morrison, CEO of Wingstop; and Todd Penegor, CEO of Wendy's. 
One of the five will be selected by the editors of Restaurant Business as the 2021 Restaurant Leader of the Year. That individual will be announced in June. 
The five nominees will participate in an online panel discussion on May 25 in collaboration with the National Restaurant Association Show. The Show To Go provides more details on this event and other upcoming and on-demand content.
In addition, the winner will be celebrated during Restaurant Business' Restaurant Leadership Conference in Scottsdale, Ariz., Dec. 6-9.
The nominees for this year's award were chosen on the basis of their respective charge's financial performance and culture, as well as for their character and the example they set in leading their organizations through a nightmarish time with no precedent. 
"There wasn't any manual they could off a shelf to guide their brands through the pandemic," said Jonathan Maze, editor in chief of Restaurant Business. "Each of our nominees had to come up with a strategy on the fly to cope with a business situation no one could have imagined 15 months ago. It was the ultimate test of their guts, brains and leadership skills." 
Past Restaurant Leaders of the Year have included Brian Niccol, CEO of Chipotle Mexican Grill; Greg Creed, then CEO of Taco Bell and KFC parent Yum Brands; Ron Shaich, CEO at the time of Panera Bread; Paul Brown, CEO of what is now Inspire Brands; Greg Flynn, president of the multi-brand franchisee Flynn Restaurant Group; and Danny Meyer, founder and chairman of Shake Shack and New York City's Union Square Hospitality fine-dining group. 
This year's process for selecting the Restaurant Leader of the Year differs from the method used in the past. As in those prior years , the editors of Restaurant Business first debated which restaurant leaders merited consideration for Restaurant Leader of the Year honors. That list was successively whittled down with spirited discussions of the candidates and the leadership they showed. 
Because limited-service operations had an advantage over their full-service counterparts when the industry was forced to rely solely on takeout and delivery, comparisons proved difficult. The staff decided to narrow the field to five finalists, chosen from across all industry segments, and to invite readers and a select panel of industry VIPs to weigh in with their choices.  
That process will begin next week, after profiles of all five are posted sequentially on RestaurantBusinessOnline.com. 
"We've improved the process to ensure we're picking the best of the best—no easy task when you're dealing with nominees of this caliber and judging their performance during an unprecedented challenge that's not fully over," Maze said.