BASTILLE DAY IN LA 2005
by Bonnie Carroll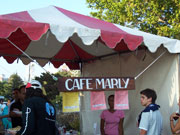 The leading French-language network sponsored Celebrez le 14 Juillet avec in the gardens of Page Museum in Los Angeles, where Passions Productions presented the best in French food, music, beer, wine and a marketplace of gifts from various regions in France. Award winning Frank Mottek of KNX Radio was the MC for the event, which featured music by Bijoux, Amelee M'Baye, Dreer Rouse & The Gathering, Hot Fab Djazz Club (Fabrise Vignati), Patje, Naked Rythms, Councilmember Tom La Bonge, and LA country officials were thanked by Phillippe Larrier, Consul General of France. He wished everyone a Joyeux "Bastille Day"! It was a truly French celebration, and a good time was enjoyed by all.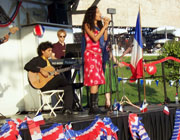 Sponsors for the event included Houles, Valrhona Chocolate, Café Marly BH, Chateau Bonnet Wine – W.J. Deutsch & Sons, Ltd., La Fondue Restaurant & Bar, Crème De La Crepe, Village French Bakery, Fabrique Delices, Regency Wines, Alliance Francaise de Los Angeles, Paris Pastry, Café des Artistes, Mimosa, Euro bubblies, Secret Garden Inn & Cottages-Santa Barbara, Air Tahiti Nui and Club Cullinaire.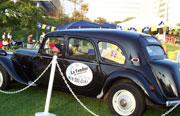 Guests enjoyed a game of Petangree "Feet together on the ground" invented in 1907 in the South of France. Today 57 International federations from Japan to Denmark exist, and it is today a part of the exam for the French baccalaureate on the program at the Academy of Aix-Marseille, near its building in La Ciotat. The game caught on and tournaments began in 1910 in Marseille and throughout France. The original court in La Ciotat still stands on the site of Vincent Negro's restaurant. For information on this historic game visit www.petangue.org.
---
CHEFS LIGHT UP UNICI GALLERY
LA's Unique Italian Glass Collection Shines in Unique Space
by Bonnie Carroll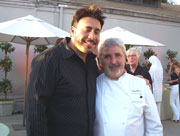 Celestino Drago, Chef talks with Michael, owner of UNICI
It was a night of Murano art and history combined with the best in Italian cuisine and a crowd of art lovers and great chefs at UNICI Gallery on Las Cienega Boulevard in Los Angeles.

Architect Michael Foroutan from Metaform took guests on tours to view the exquisite gallery he himself created to revel in the colors, textures and shapes of the spectacular glass collection. The outside patio, which was created for the evening, was a design fete in itself, with beautifully draped tables and a cheese & wine table of imported favorites. Celestino Drago and his staff passed some amazing appetizers, which included seafood cocktails in martini glasses, carpaccio, ahi tuna on chips and risotto with blueberries. It was all good, and you know it is good when chefs like Conny Anderson and John Gladish of the Regent Beverly Wilshire, and Henri Aubergine, owner of Mistral Restaurant show up for the food and art.

The selection of modern Murano artistry available at UNICI Gallery represents the finest available in the world, and represents the finest in Murano Glass blowing from the city of Venice to the adjacent island of Murano, now the center of Venetian commerce. For information see www.unici.us.
---
CLUB CULINAIRE ANNUAL
PICNIC DES CHEF CULINARY TOUR DE FRANCE
by Bonnie Carroll



The 25th Annual French Chefs Picnic was held in Griffith Park in Los Angeles, where people who love French culture, especially the food creations of master chef members of Club Culinaire, gathered to enjoy a magnificent lunch prepared by the participating chefs. Lunch was accompanied by French wine, music and a drawing for a trip to France or Tahiti, compliments of Air France.The menu represented foods from Paris, Provence, Lyon, and Normandy. This is my favorite event of the year, and my compliments to the hard working staff and chefs who continue to make it so delicious and delightful.

This years participating chefs and volunteers included: Christian Monchatre, Jonathan Club; Bruno Laclotte, Regency Wines; Michael Ohayon, La Koutoubia & Café Momo; Akira Hirose, Maison Akira; Christian Desmet, Seashell Restaurant; Michel Blanchet, Michel Cordon Bleu; Pierre Truyoo, Truwines; Tom, Jacques Bakery; Christophe Granger, Annandale Golf Club; Richard Cabrara, Michel CordonBleu; Marc Bineau, Food Square; Alexandre Ohayon, La Koutoubia; Lyon; Ann-Sophie Bonnal; Jean-Pierre Bosc, Mimosa & Café des Artes; Martin Herold; Emile Perez, Emile's Catering' Jamie Edlin, Hollywood & Wine; Jay Baum, Unibroue; Jennifer Carter, Discoveries in Wine; Scott Dolbee, Regent BeverlyWilshire; Mark Newman, Andiamo Vineyards/Grand Theatere; Kenjiro Taka, Amada Club + his 2 sons; Sylvie Francoz, Les Allymes; Andre Anagles, Frenchy's bistro; Roland Speisser, Beverly Hills Hotel; Murata-Amada Club; Dan Ketelaars, Danko Foods; Alan Weiss, West CentralProduce; Patrick Jamon, Regency Club; Dominique Raynal, Regency Club; Sylvain Rivet, Art Institute of Santa Monica; Kora Kroep, West Coast Event Productions; Luc, Jonathan Club; Darlene Bauer, West Coast Event Productions; Oliveira, Jonathan Club; Evelyn Ustarraz, Pipe Dreams Events; Jane Summer, Summer Communications; JFM, La Cachette; Isabelle Champ8gneulla, Emil's Swiss Pastries; Conny Andersson, Regent Beverly Wilshire; Jacques Duc, Frares Jaques Catering; Patrice, Patje Band; Christian Rassinouz, The Ritz Carlton-Laguna Niguel; JB Torchon, Wine Bistor-DJ' The Student of the Art Institute; Laurent Caraco, PRofeed; Pascdale Foratunet, Passions Productions; Antonio Perrone, MaxiBev; Ken Wolf, MaxieBev; Maurice Brazier, Chef Maurice; Chris Kaufmann, Emil's Swiss psastries' Berty Siegels, Pacific Dining Car; Marie & Caroline, Food & Feeling; Yvan Valentin, Sweet Temptations; Jay ARter, Danko Foods; Rober Berson, LA Patisserie; Dan Ketelaars, Danko Foods; Willie Mattice; Patrick Jamon, Regency Club; Jacques Tokar, Ice Carving by Jacques; Valerie Angles, Frenchy's Bistro; Michelle Tokar, Ice Carvings by Jacques; Don Whitemore, Dandy Don Homemade ice Creams; Joe Miler, Joe's; Fabian Sanchez, Cordon Blue school; Josie LeBalch, Josie's. MERCI FOR ANOTHER PERFECT PICNIC!! For Club Culinaire Events and information email: wcep@netzero.net.
---
CHEF NEWS:
Chef Michael Otsuka left the New York restaurant scene to take the top culinary position at the OJAI VALLEY INN, in Ojai California. The former chef at Thalia in New York is now the executive chef at the historic resort and spa. For information visit www.ojairesort.com.