JIMMY SHAW PRESENTS A TASTE OF MEXICO
La Costena Hosts Magnificent Mexican Faire
at Sur La Tabla Cooking Class
by Bonnie Carroll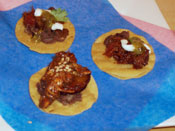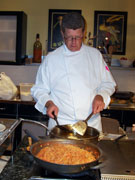 La Costenia's products were the basic essentials in a delicious dinner prepared for Mexican food enthusiasts by Jimmy Shaw, of Lotera Grill. The talented chef is a grandson of American and Scottish men who worked in the Mexican industry, was born in Mexico City, graduated from the University of Pennsylvania, and later went to work in the advertising field. His business success in food is based in national pride. "I tell my staff we're doing it for our country" says Jimmy with a laugh. The Loteria Grill's star serves up food the way it ought to be made, fresh and right in front of you. The restaurant is located in the center of the Farmer's Market on Fairfax, where thousands of visitors have savored his authentic delights.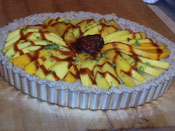 Johanna Lugo, marketing manager for La Costena said they look to partner with Mexican chefs who represent the highest expression of authentic Mexican cuisine, and that is why they invited Jimmy Shaw to prepare their Mexican cooking class at the Grove.
All four dishes prepared by Shaw and his staff were exceptional and included appetizers, entree and dessert. The restaurant tour of products from La Costena will include special menu items to be served in Loteria and additional restaurants around the country.
---
THE 23rd ANNUAL AMERICAN WINE & FOOD FESTIVAL
A Spectacular Culinary Evening that was Enjoyed by All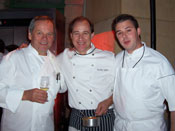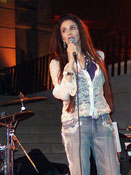 The Annual American Food and Wine Festival was a star-studded gathering where 55 celebrated chefs, and 60 fine wine and spirit dazzled 2,500 guests with their culinary flair and distinct flavors to raise funds for Meals on Wheels. The only person I did not see was one of my favorite chefs Joachim Splichal, but I was told he was cooking for Pavarotti, who was performing a last tour performance at the Hollywood Bowl. Once again, Wolfgang Puck, Barbara Lazaroff and a cast of the best in the world food and beverage presented an unforgettable evening for charity. You are all wonderful and we thank you!