EXECUTIVE CHEF JOHN PETTITT 
NOW AT WINE CASK
Historic Santa Barbara Restaurant Gets a New Style
by Bonnie Carroll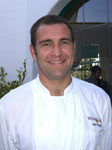 The Wine Cask Restaurant is rated among the top 100 restaurants in the world, and has been an icon venue in Santa Barbara since before the late Julia Child had her own table there. The location is centrally located, and the ambiance of the flowing Spanish style building, which includes a charming outdoor courtyard, is warm and inviting.
The Wine Cask is a large room, with rich interior, where family or business dining is enjoyed. Currently they offer a presto lunch, leisure lunch and to-go lunches for busy business patrons.  Intermezzo, a delightful meeting place, has become a favorite before and after Lobero Theatre performances, as well as a fun spot for a small plate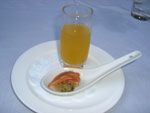 with wine, while enjoying live entertainment. The Wine Store adjacent to Intermezzo, offers a treasure trove of great California and imported wines for sale, and they also sponsor special wine tasting events throughout the year.
The new executive chef John Pettitt comes to the Wine Cask following a chefs position at Melisse, a Michelin 2 Star Award restaurant in Los Angeles. Although he has been respectful to maintain the patron favorites on the menu, he is also bringing his own classical training and style to introduce new dishes.
The tasting menu, which is featured daily at Wine Cask, gives patrons unique combinations of wonderful dishes, prepared with the freshest ingredients, and flavored to perfection. Pettitt's carrot and lemongrass soup is outst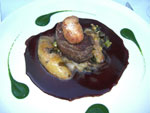 anding, as is the Ahi tuna carpaccio with cilantro and ponzu vinaigrette. The meat selection is the finest quality, and their 28 day dry aged New York steak with Bordelaise sauce is memorable. For dessert enjoy a combination of delicious apricot creations that melt in your mouth. The tasting menu may be enjoyed with or without wine. A sommelier will be happy to pair wines with your meal from their list of over 2000 wines.
Although the restaurant has gone through changes during my visits over seventeen years, it still remains one of my favorite locations, and Pettitt brings real culinary talent to truely enhance the dining experience at Wine Cask.  For catering menu and reservations please visit:www.winecask.com.

Wine Cask
813 Anacapa Street
Santa Barbara, California
805-966-9463
---
FOUR SEASONS HOTEL SAN FRANCISCO APPOINTS
MARK RICHARDSON AS NEW EXECUTIVE CHEF
AT SEASONS RESTAURANT
Four Seasons veteran chef gives center-stage to the bounty of regional seafood, organic meats and produce with new and innovative dishes
Four Seasons Hotel San Francisco is pleased to announce the appointment of Mark Richardson as Executive Chef of Seasons restaurant, where he will oversee all of the food services for the property. A native of Kentucky, Mark Richardson has spent nearly a decade with Four Seasons Hotels & Resorts in culinary positions, most recently as Executive Sous Chef at Four Seasons Hotel Boston where he led the reopening of the celebrated Aujourd'hui and The Bristol. Richardson brings with him an impressive resume and a passion for creating inventive dishes that showcase the freshest ingredients.
This spring, Richardson took the culinary helm at Four Seasons Hotel San Francisco and quickly embraced the vast availability and superior quality of fresh produce from local farms. "The San Francisco Bay Area is such an exciting place," exclaims Richardson. "San Francisco residents really know their food, and the local cuisine is the best in the country. It's a pleasure to cook for this audience. I personally love taking seasonal ingredients and showcasing their true flavor in clean, minimalistic dishes – I let the food do the talking."
At Seasons, Richardson will continue to offer Season's signature seasonal menu that innovates and refines the concept of the American steakhouse, creating a lineup of entirely new dishes each quarter to showcase the region's bounty. He also hopes to subtly incorporate a few molecular gastronomy techniques into some of the dishes. With a particular interest in the chemical make-up of ingredients, Richardson is encourages his team to push the envelope in an attempt to create new and intriguing tastes and textures while staying true to solid techniques.
"We are delighted to have Mark lead the culinary team at the property. With his talent paired with his accomplished career and inventive approach to American cuisine, we look forward to seeing Mark's fresh touches on Seasons' menu."
--Doug Housley, General Manager of Four Seasons Hotel San Francisco.
Richardson spent most of his childhood in the kitchen with his mother and grandmother, eschewing traditional televised sports for assisting in preparations for Sunday suppers. A graduate of University of Kentucky, Richardson earned his degree in Chemistry, aspiring to be a doctor before recognizing his passion for cooking and enrolling in the culinary school at Pennsylvania Institute of Culinary Arts. Graduating first in his class, Richardson joined Disneyland Paris for an externship, where he began to experiment with combining chemistry and the culinary arts in an emerging trend called molecular gastronomy.
In his spare time, Richardson experiments with new molecular gastronomy techniques in his kitchen. He is a motorcycle enthusiast, and, on his days off, may be seen cruising on his Suzuki GSX-R. Richardson is also fond of practicing mixed martial arts. He is a member of Confrerie de la Chaine des Rotisseurs, an international gastronomic society. For more information visit
 www.fourseasons.com/sanfrancisco.
---
FOOD NOSTALGIA

The name behind the face, however, has long been something of a mystery. People polled throughout the United States have guessed that the Gerber Baby grew up to be Humphrey Bogart, Elizabeth Taylor and even Bob Dole. But Ann Turner Cook, mystery novelist and retired English teacher, knows the real answer. She was the subject of a simple charcoal sketch by Dorothy Hope Smith, an artist who specialized in drawing children.
 
In 1928, Gerber was seeking a baby face for the ad campaign introducing its newly developed baby food. Smith submitted her drawing amid elaborate oil paintings and said that she could finish the sketch if it was accepted. The Gerber execs were so taken with it that they claimed it as it was, and the Gerber Baby made her debut. The illustration soon became so popular that Gerber adopted it as its official trademark in 1931. Since then, the Gerber Baby has appeared on all Gerber packaging and in every Gerber advertisement, making her the world's best-known baby.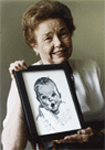 In December 1996, Ann Turner Cook herself was present at the unveiling of Gerber's first new label in more than 40 years. And while Gerber Baby Foods are sporting a new look, Mrs. Cook's young face is still a part of the Gerber image, a fact she finds "especially gratifying." But not surprising. After all, that face has come to represent Gerber's commitment to happy, healthy babies all over the world.



---