WINNING EASTER HAM RECIPE FROM MARTHA STEWART From Martha Stewart's "Everyday Food" Magazine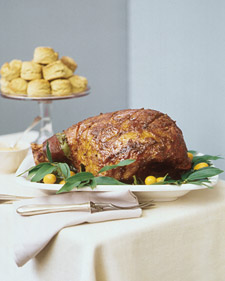 For a perfect Easter Dinner try this recipe from Martha:
Glazed ham withApricot Mustard Sauce:
1 (about 7 lbs) dsemi-boneless, spriral-sliced ham, room temperature
2 cups apricot fruit spread
1/4 cup ground mustard seed
Butter (1 tbs) for aluminum foil
Preheat oven to 375 F, with rack in lowest position. Line a large roasting pan with aluminum foil, place roasting rack in pan. Place ham, fat side up on rack, roast 1 hour. Meanwhile, in a small saucepan, combine fruit spread and mustard (they can be mixed and refirgerated up to 1 day ahead. Transfer 1/2 cup mixture to a small bowl to glaze ham. Set aside sauce pan with remaining mixture. After 1 hour, brush ham with glaze. Repeat every 15 minutes until brown and shiny, and an instant-read thermometer inserted in the thickest part, avoiding bone, registers 130 F, about 1 hour more (if glaze starts to burn, tent ham with buttered foil). Discard unused glaze. Remove ham from oven; cover loosely with buttered foil to keep warm. Temperature will then rise another 5 to 10 degrees. Bring mixture in saucepan to a boil. Serve ham with sauce.
Serves 12-14, $3.71 per serving.
---
SOMETHING NEW FROM CHEFS CHOICE Chef'sChoice®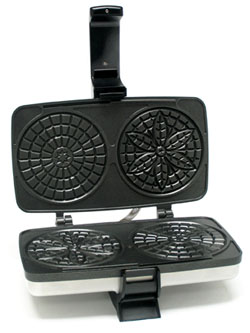 Puttin' On The Pizzelles! The Chef'sChoice® PizzellePro™ Model 834 bakes two thin traditional sized (4¾) delicious and delicate pizzelles in less than 30 seconds. Makes perfect size pizzelles for cannolis too. Featuring a baking indicator light and consistent even heating for perfect baking, it's always ready to bake with instant temperature recovery and non-stick easy release coating. MSRP $49.99 USA, Canada $69.99. Visit: www.chefschoice.com.
---
Warm Salad of Asparagus Spears and
 Seared  Lamb Chops with Fresh Mint Vinaigrette
Spring in California means plump new spears of just-picked asparagus paired with richly-flavored fresh California lamb. Fresh California Asparagus is in peak season right now with markets stocking plenty of the succulent, crisp green spears along with tender American lamb, two perennial consumer favorites.
 
California leads the nation in asparagus production with more than 50,000 tons harvested annually. The fertile Delta region and the irrigated San Joaquin Valley provide the best growing conditions for asparagus. The moderate climate and fertile soil help create the outstanding quality of asparagus grown in California.
 
The mild climate also is the key to California's fork-tender savory lamb. Tenderness, taste, and leanness can be attributed to good year-round growing conditions, brought about by California's superb weather. Here, we produce excellent-quality lamb with a reputation for taste second to none, and many different markets vie to purchase lamb from California's spectacular pastures and ranges.
 
Asparagus Spears and Seared Lamb Chops with Fresh Mint Vinaigrette is a fresh way to fuse the flavors of these two California spring superstars into one delicious main course dish. Celebrate the arrival of spring with the perfect fresh seasonal meal of thick juicy lamb chops combined with bright green succulent asparagus spears infused with tangy Mediterranean-inspired flavors.
 
"Surveys show that consumers are wild about the succulent green spears -- asparagus are consistently named America's favorite side dish in food buyer surveys - and we have now expanded our website http:www.calasparagus.com with a number of new offerings, information and recipes," stated Cherie Watte Angulo, Executive Director, California Asparagus Commission. Images are available at California Asparagus Photo Gallery:
http://www.calaspphoto.com.

Fresh, high-quality American lamb is available year round, but sales more than double in spring as families around the country gather for Easter, Passover and other seasonal feasts. "A culinary bridge across cultures, lamb is a common staple of spring cooking,  dates back to ancient times and is rooted in a number of religious  and family traditions," stated Megan Wortman, executive director, American Lamb Board. For more information,  http://www.americanlambboard.org.
---
YOUR OWN CHEF BY ZIPCODE
A new nationwide tool is taking cooking school to a whole new level. Gone are days of crowded classes (with kids half your age) or overpriced lessons at a gourmet retail shop, ChefzTable.com is bringing cooking school into the comforts of your own kitchen! I think your readers would have interest. More information below!

Type in your zip code, "et voila!" ChefzTable.com allows you to find professional and certified chefs right in your area. Learning to cook in your own home and incredibly affordable pricing is what ChefzTable.com is all about. Learn to cook one-on-one with the chef or host a cooking class party! Chefs come with the groceries, utensils, and do all of the clean up. Find out more at www.chefztable.com

---
                  CALLING ALL CULINARY STUDENTS . . . 
                  ENTER THE LATEST RECIPE CONTEST!

Enter the eatingvine.com recipe contest for a chance to win cash prizes.  The contest is open to any culinary student enrolled in a credentialed culinary school.  It's simple to enter - just add as many recipes to your eatingvine.com page by June 1, 2010.

Share your best recipes for appetizers, entrees, desserts, etc.  Include "Tasting Notes" along with your recipes, too, since ties will be determined by this.

Prizes include:  1st place $1,000; 2nd place $500; 3rd place $400; 4th place $300; 5th place $200 and 6th place $100.  Enter by noon on April 1, 2010 and one lucky person will be randomly drawn and will win a surprise raffle prize.  Keep on adding more recipes until 4PM on June 1st for the optimal chance to win one of the cash prizes.

Recipes will be counted on June 2nd and winners will be contacted via e-mail and posted on eatingvine.com.

Eatingvine.com is a new food and wine community which launched on February 5th.  Its focus is on recipe sharing and wine pairing.  This site is the first food and wine community that pairs your recipes with wines in your price range.  For a complete list of rules and more information, log onto www.eatingvine.com.
---
FRENCH ALMOND MACAROONS FROM NIEWLEN-MASSEY
For the macaroons:
10 oz. confectioner's sugar
10 oz. finely ground almonds
5 large egg whites
Pinch of cream of tartar
1/3 cup granulated or superfine baker's sugar
Red and yellow food coloring

For the filling:
9 oz. unsalted butter, softened
5 oz. confectioner's sugar, sifted
2 tsp. finely grated orange zest
1 tsp. Nielsen-Massey orange blossom water
1/2 cup raspberries
1 tsp. Nielsen-Massey rose water
Instructions:
1.      For macaroons: Using a fine sieve, sift confectioners' sugar and finely ground almonds, pushing through with a wooden spoon.
2.      Using an electric mixer, whisk egg whites until foamy. Add cream of tartar and whisk until soft peaks form. Add sugar, 1 tbsp. at a time, and whisk until dissolved. Stir meringue mixture into almond mixture (mixture will be stiff), then halve. Tint one half pink, the other half orange.
3.      Spoon 1 mixture into a piping bag fitted with a 1/2-inch plain round tip. Pipe walnut sized rounds onto parchment paper-lined baking sheets, then repeat with other mixture. Set meringues aside, uncovered, on baking sheets for 1 hour (this will help minimize cracking).
4.      Preheat oven to 300 degrees F/150 degrees C and bake macaroons, 2 baking sheets at a time, swapping sheets halfway through cooking, for 20 minutes or until firm to the touch. Remove from oven and cool on baking sheets. Slide a knife under each macaroon to release from paper, then store in an airtight container until ready to fill.
5.      For filling: Using an electric mixer, beat butter until pale and fluffy, then gradually beat in confectioners' sugar until combined. Transfer half the mixture from the bowl to another bowl and add orange zest and orange blossom water. Stir to combine. Add raspberries and rose water to remaining mixture in mixing bowl and, using the electric mixer, beat until well combined. Sandwich pink macaroons with raspberry filling and orange macaroons with orange filling.
Makes 50 sandwiched macaroons.
Tip: To create a perfectly smooth top on your macaroons, dip a finger into a bowl of water and gently smooth out any peaks.
                              Directions: 
 
Makes 4 servings

Season the chops with salt, pepper, garlic and oregano. Heat a heavy skillet over high heat. Add 1 tablespoon oil. Sear each side of the chops for 3-4 minutes for medium rare. Remove chops from pan. Set aside. Cover loosely to keep warm. Pour off any fat left in skillet while keeping lamb juices in the pan. Add stock and scrape up any brown bits from the pan. Boil until the liquid reduces to 1-2 tablespoons. Remove the pan from the heat and add the vinegar. Whisk in the remaining 3 tablespoons olive oil. Add chopped mint. Season with salt and pepper. Set aside. Cut asparagus into 3 inch spears. Steam until tender. Arrange warm asparagus and lamb on serving plate. Pour warm vinaigrette all over. Top with feta, onions and olives. Serve immediately.
 
Nutrients per serving:


Calories 314, fat 22 gms, calories from fat 194, saturated fat 9 gms, cholesterol 62 gms, sodium 300 mg, dietary fiber 8 gms, protein 25 gms
BRAT HANS POTOTO SOUP RECIPE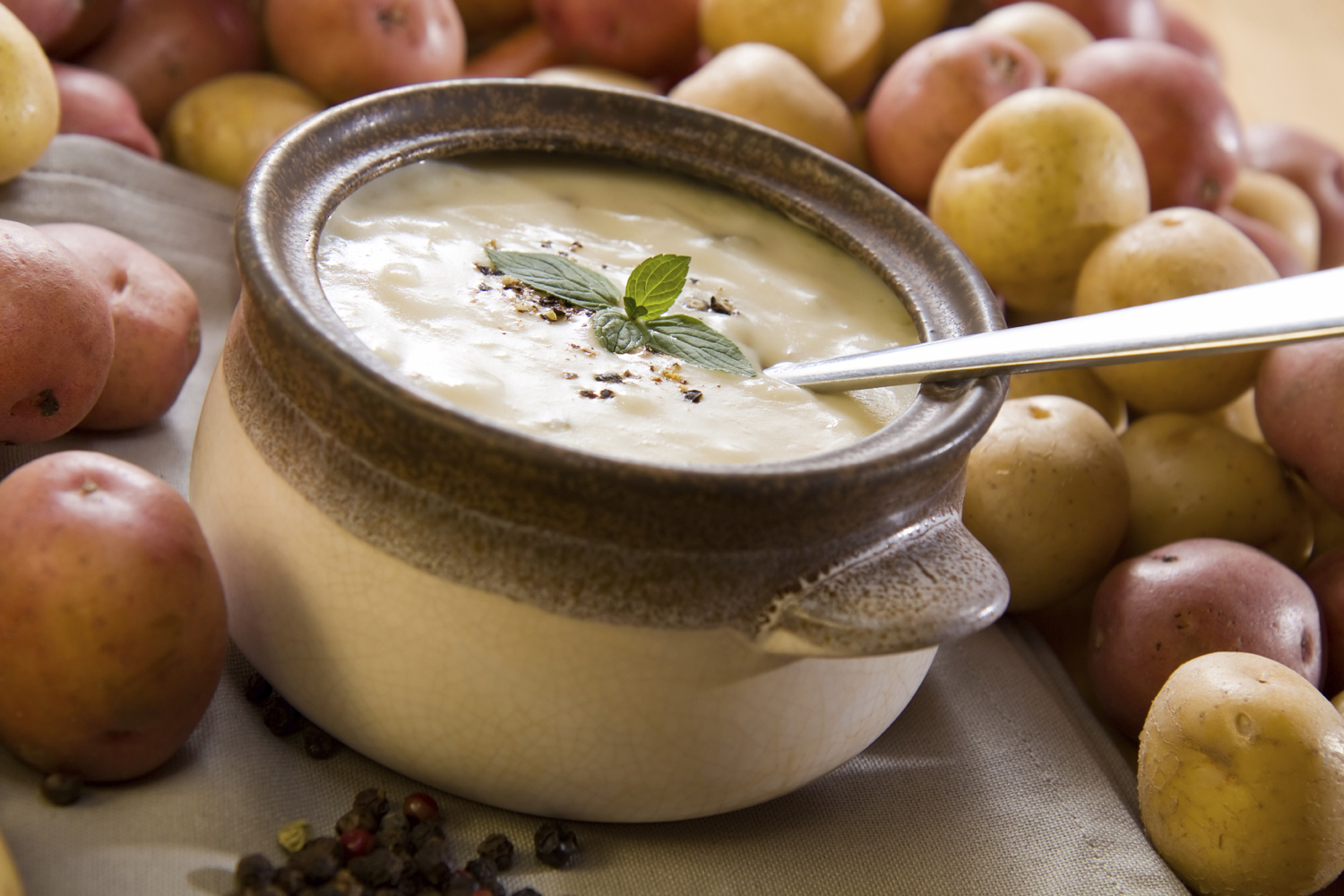 If you're interested, below is a recipe for baked potato natural chicken sausage soup from Original Brat Hans® that might be of interest to try and share with your readers. With a savory combination of cheesy goodness, potatoes and spicy or sweet sausages, this hearty soup will warm your bones and satiate the taste buds.
Ingredients:  
1/4 cup butter
1/4 cup yellow onion, chopped
3 cups chicken broth
1/4 cup all purpose flour
1 14-oz. can of evaporated milk
2-3 baking potatoes, baked or microwaved
2-4 links of Hans' natural chicken sausage (any flavor you'd like), sliced
1/2 cup of shreed asiago, chedder, or Swiss cheese
3 Tbsp. green onion, sliced
Salt and pepper, to taste
Instructions: Melt butter in large saucepan over medium heat. Add onion and cook, stirring occaionally, for 1-2 minutes. Stir in flour. Gradually stir in broth and evaporated milk. Scoop potato pulp from one potato and mash. Add pulp to broth mixture. Cook over medium heat, stirring occasionally, until mixture just comes to a boil. Dice remaining potatoes, with skin. Add the sausage and potatoes to soup. Heat through. Season with salt and pepper. Top off each individual bowl with sliced greene onion and cheese.
Visit:www.brathans.com for additional recipes and information.
---
---