SIPS   .   .   .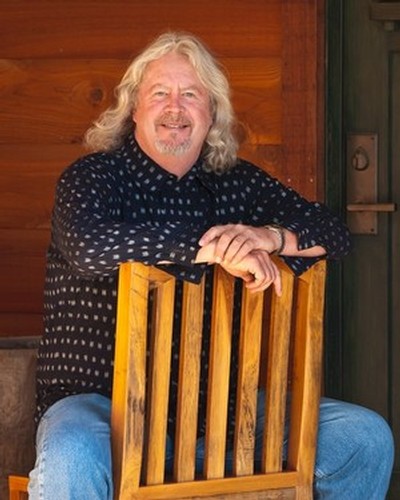 Jim Clendenen, Au Bon Climat Winery
Santa Barbara Community Shocked and Heartbroken over Death of Wine Icon Jim Clendenen at 68.
By Bonnie Carroll
The global wine industry lost a pioneering winemaker with the sudden death of Jim Clendenen, founder of Santa Barbara County's Au Bon Climat Winery. Not only was he considered brilliant in his field by everyone associated with wine, but his down to earth ability to impart the fine art of wine making to anyone who would listen, and his disarming sense of fun brought pure joy to those around him. The Los Alamos resident was just 68 and died in his sleep on Saturday, May 15, 2021. 
My first notice of this loss came from Doug Margerum, owner of Margerum Wines, in a social media message and I am still trying to process this huge loss to the wine industry, wine world, and our local community. Recently, I spoke with Doug about the masters of wine in our community, especially Clendenen, who generously shared his unique wine knowledge with so many of us at local gathering and special fundraisers over the years.
According to Stephen Janes, president of the Santa Barbara Vintners' board of directors and general manager at Margerum Wine Co., "He promoted Santa Barbara County wines more than anyone," he said. "He loved the culture of food and wine and was a mentor to hundreds of winemakers."
In 1989 and 1990 Au Bon Climat was on Robert Parker's short list of Best Wineries in the World, and in 1991 was selected by Oz Clark as one of fifty world-wide creators of Modern Classic Wines. Dan Berger of the Los Angeles Times named Clendenen the "Los Angeles Times Winemaker of the Year" in 1992; Food & Wine Magazine named him "Winemaker of the Year" in 2001, Germany's leading wine magazine, Wein Gourmet, in 2004 named Clendenen "Winemaker of the World;" and in 2007 Jim was inducted into the James Beard Foundation's "Who's Who of Food and Beverage in America."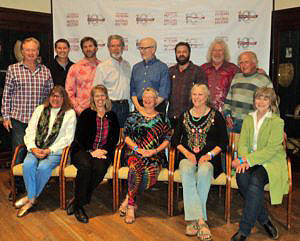 2016 Early Years of Winemaking Program Winemakers & Panel (Photo: B.Carroll)
I first met Jim and heard him speak on a panel with a group of amazing local wine makers at a special event in a nearby museum and was mesmerized and delighted by his upbeat sharing of the Clendenen wine story. Covering him at the Arthritis Foundation Gourmet Dinner and Taste of the Town in 2019, where he was the Lead Honorary Vintner for the major foundation fundraiser, it was grounding to observe the humility with which he accepted this special attention, while simultaneously warmly sharing his gratitude and joy with all in attendance. He was such a special man who will be so greatly missed.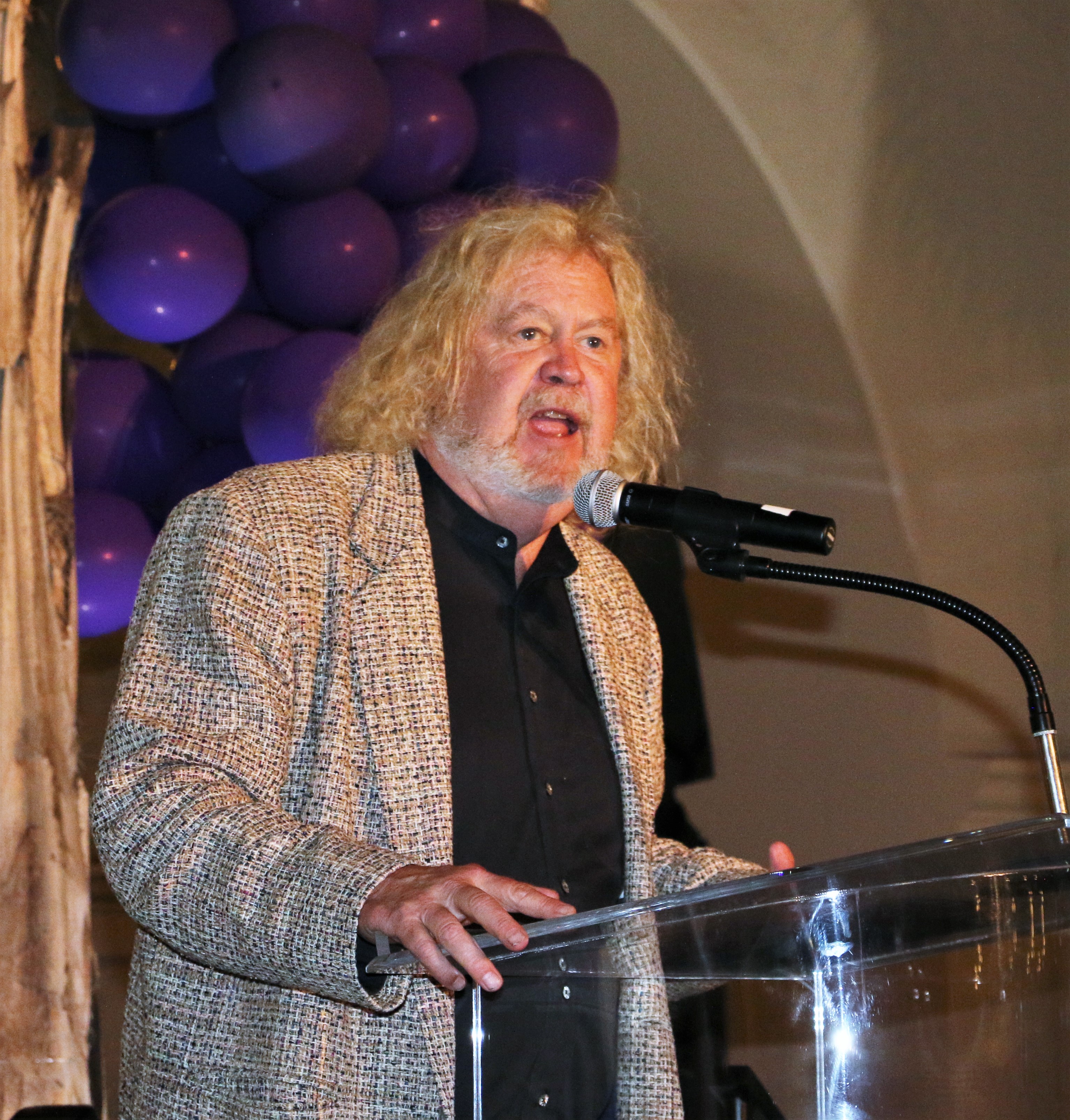 Jim Clendenen, 2018 Lead Honorary Vintner Arthritis Foundation SB (Photo: B.Carroll)
Jim Clendenen called himself "the mind behind" Au Bon Climat, the label he founded in 1982 with Adam Tolmach, who later started his own renowned label, Ojai Vineyard. Clendenen was a driving force at Zaca Mesa Winery, where fellow pioneering vintners Tolmach, Daniel Gehrs, Ken Brown and Chuck Carlson, among others, learned about winemaking from the ground up.
Known by the acronym ABC, Au Bon Climat features delicious pinot noir, chardonnay, and pinot gris from the Clendenen estate vineyard in Los Alamos, Bien Nacido and Sanford & Benedict vineyards, as well as additional Santa Barbara County vineyards and some in the Willamette Valley of Oregon.  He was considered a godfather of Santa Barbara County wines, a visionary, and a force of nature to everyone he met, from fellow winemakers to local wine lovers, and to the restaurateurs who bought and served his wine in the U.S. and around the world.
Bob Lindquist founded Qupé Cellars in 1982 and has worked side by side with Clendenen for most of their respective careers. Lindquist now makes wine under the Lindquist Family Wines label and shares cellar space with Au Bon Climat and Clendenen's second label, Clendenen Family Wines, at the winemaking facility located on Bien Nacido Vineyard in Santa Maria.
A native of Akron Ohio, Clendenen moved with his family to Southern California when he was young. In 1976, he graduated from UC Santa Barbara in pre-law with high honors. But he credited a school year spent traveling abroad and a subsequent Champagne and Burgundy trip to his wine obsession, even though Pinot became his ultimate wine of renown.
Morgan Clendenen, former wife of Jim Clendenen, mother of their two children Isabelle and Knox is founder of Cold Heaven Cellars and now resides in North Carolina. In a brief statement she wrote: "Jim was a beloved and devoted father, a visionary winemaker and a generous stalwart supporter of Santa Barbara wine country. We are shocked and heartbroken." She noted on Facebook that memorial plans will be finalized in the coming weeks.
Below are links for additional stories I wrote related to Jim Clendenen, Au Bon Climat.
https://fbworld.com/2016/11/01/the-early-years-in-santa-barbara-wine-country-at-museum-of-natural-history/
https://www.edhat.com/news/taste-of-the-town-provides-delicious-weekend
______________________________________________
Hotel San Luis Obispo's Spacious Rooftop Lounge and Terrace Announces New Offerings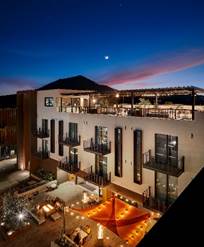 Open-Air  "High Bar" Is Luxury Property's Newest Venue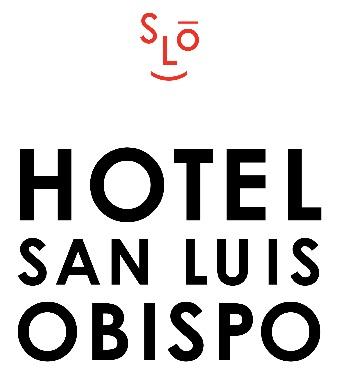 Hotel San Luis Obispo, Piazza Hospitality's first property on California's scenic Central Coast, has announced new menu offerings for its expansive rooftop terrace and accompanying lounge, High Bar. High Bar, which finished construction in June 2020 and initially opened last summer at limited capacity, is an inviting space for guests to revel in the stunning views of the Seven Sisters surrounding volcanic mountains range and San Luis Obispo's vibrant downtown. Its offerings include cocktails, wine, craft beer, light bites, and specialty pizza.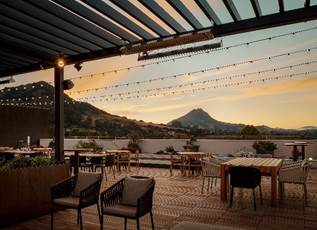 Delicious new menu highlights include Chef Kenny Bigwood's Stepladder Creamery Cheeseplate, Dungeness Crab Sliders and Thai Chicken Meatballs. Cocktails include original creations from the hotel's bartending team, Alex Mendoza, Steven Valdez and Hakon Bream. Mendoza's Mendoza Margarita is a sweet, fresh mix of Santo Reposado Tequila, Fresh Lime, Mango Puree, House-made Habanero Syrup and Tajin, producing a spicy finish. Valdez's Fruity Valdez is curated with Cucumber-infused Tito's Vodka, Midori, Cointreau, Muddled Cucumber, Strawberry Puree and Fresh Lime Juice.  Bream's tropical and refreshing Bream's Blueberry Mojito includes Sammy's Beach Bar Rum, Cream of Coconut, Mint, Lime and Soda.
The rooftop terrace also includes a lushly planted chef's garden.  Olives, herbs and citrus grown in the garden are infused in dishes curated for High Bar, and Hotel SLO's onsite restaurants Piadina and  Ox + Anchor.
"We're thrilled that those who didn't get to experience High Bar during its initial opening can do so now," said Circe Sher, co-founder of Piazza Hospitality.  "High Bar and our rooftop terrace is the perfect place to sit back and enjoy our talented food and beverage team's newest creations in a beautiful, safe, open air setting."
 Situated in the heart of downtown San Luis Obispo, Hotel San Luis Obispo is a luxurious eco-friendly retreat for visitors wanting to explore the attractions of the Central Coast.  The property is located just a block from the historic Mission San Luis Obispo, a Spanish mission founded in 1772, and steps from excellent restaurants and shopping.  Other nearby activities include surfing or fishing at many of the county's beaches, including world-renowned Avila Beach; hiking the Seven Sisters, the area's famous volcanic peaks, as well as hundreds of other trails; and winetasting at over 27 tastings rooms throughout the highly acclaimed Edna Valley wine appellation, just minutes away from the property. 
High Bar and the rooftop terrace are open daily from 2 p.m. – close.  For more information, please visit hotel-slo.com.
About Hotel San Luis Obispo
Bringing an unprecedented level of luxury accommodations, dining, and wellness to the city, Hotel San Luis Obispo is the ideal home base for exploring the California Central Coast's many attractions. The 78-room hotel provides exceptional amenities for its overnight guests and local patrons, including two onsite restaurants, Piadina and Ox + Anchor, led by Executive Chef Ryan Fancher.  Piadina offers a fresh California take on Italian cuisine with a menu showcasing its wood-fired oven, and Ox + Anchor is a modern spin on the classic steakhouse, providing a relaxed fine-dining experience with a menu that draws inspiration from the hills and sea that surround San Luis Obispo. For intimate gatherings to large celebrations, Hotel San Luis Obispo offers nearly 10,000 square feet of indoor and outdoor meeting and event spaces, ranging from a fully equipped board room and wine cellar to a grand ballroom and rooftop terrace for groups of up to 180 people for meetings and events.  A 10-minute drive from the coast, Hotel San Luis Obispo's location in the increasingly bustling downtown encourages guests to discover the city's numerous dining, shopping, wineries, and entertainment options, as well as providing convenient access to hiking trails and scenic beaches. 
---