FOUR SEASONS - A COLLECTION OF COCKTAILS
by Bonnie Carroll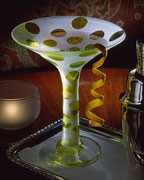 The Four Seasons properties throughout the world take pride in the flavorful and colorful cocktails served in their lounges and on their outdoor pool patios. Window's Lounge in the Four Seasons in Los Angeles was recently presented a "2005 Best Cocktails" award from Life Bites News, and so many creative recipes have been sent to us by this renowned hotel group. Below are some exciting Latin inspired recipes to try at home. Cheers!
Guaro Sour (From Four Seasons Costa Rica)
2 Oz of Guaro Cacique
2 Oz of sugar syrup or 2 tsp raw sugar
5 to 6 pieces of lime wedges
1 ½ scoop of ice cubes
Add lime wedges, Guaro Liqueur and sugar into a rock glass, muddle all the ingredients until you get the juices of the limes. Then add some ice cubes. Garnish with a sugar cane stick.
Sour Mash (From Four Seasons Carmelo)
2 Oz. Espinillar
4 Tea spoons of sugar
1 Diced lime
Mash the lemon with sugar, shake the mixture with Espinillar (local rum) & ice cubes and serve it in a sugar rimmed old fashioned glass.Garnish with a ¼ of lime or lemon.(Espinillar can be switched for Brazilian Cachaca).
Mexcalli (From Four Seasons Mexico)
1 oz. of Mezcal Reposado (middle aged)
½ oz. of Amaretto
1 dash of Chardonnay
½ oz. of lemon juice
Tamarindo Margarita (From Four Seasons Mexico)
2 oz. of Tamarindo syrup
1 ½ of Tequila Reposado (middle aged
1 dash of Cointreau
1 dash of Grand Marnier
Margarita glass rimed with salt and chile piquin
Caballo Loco (From Four Seasons Carmelo)
½ Oz. Espinillar(local rum)
½ Oz. Campari Bitter
½ Oz. Sweet Red Vermouth
½ Oz. Orange Juice
Shake all and strain into a chilled martini glass. Garnish with an orange twist
---
ROBERT PARKER PRAISES COVENANT CABERNET SAUVIGNON IN HIS LATEST REVIEW!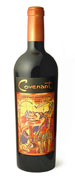 Esteemed wine critic Robert Parker has given kudos to Covenant Cabernet Sauvignon in his December 26th, 2005 issue of The Wine Advocate. Here's what Mr. Parker had to say about the first vintage and (soon-to-be-released) second vintage of Covenant.
Covenant 2003 Cabernet Sauvignon Napa Valley 93 points
"Covenant may be the finest kosher wine made in the United States. Fashioned from fruit grown in the valley floor Larkmead Vineyard, north of St. Helena, by former Wine Spectator journalist Jeff Morgan in partnership with Leslie Rudd, the 2003 Cabernet Sauvignon (550 cases of 100% Cabernet Sauvignon aged 14 months in French oak) is a superb effort. It boasts a dense purple color in addition to a sumptuous, sweet bouquet of black currants, flowers, and minerals. Opulent, layered, and rich, with serious concentration, this beauty can be drunk now or cellared for 12 -15 years."
(Only 75 cases left.)
Covenant 2004 Cabernet Sauvignon Napa Valley 90 – 92 points
"The inky, purple-tinged 2004 Cabernet Sauvignon (450 cases produced) reveals a pure nose of black currants and spicy oak, a beautifully textured, dense, full-bodied palate, and admirable persistence as well as length. It should come close to equaling the impeccably high quality of the 2003. The packaging and label are both striking."