SIPS   .   .   .
BOMANI BOLD BUZZ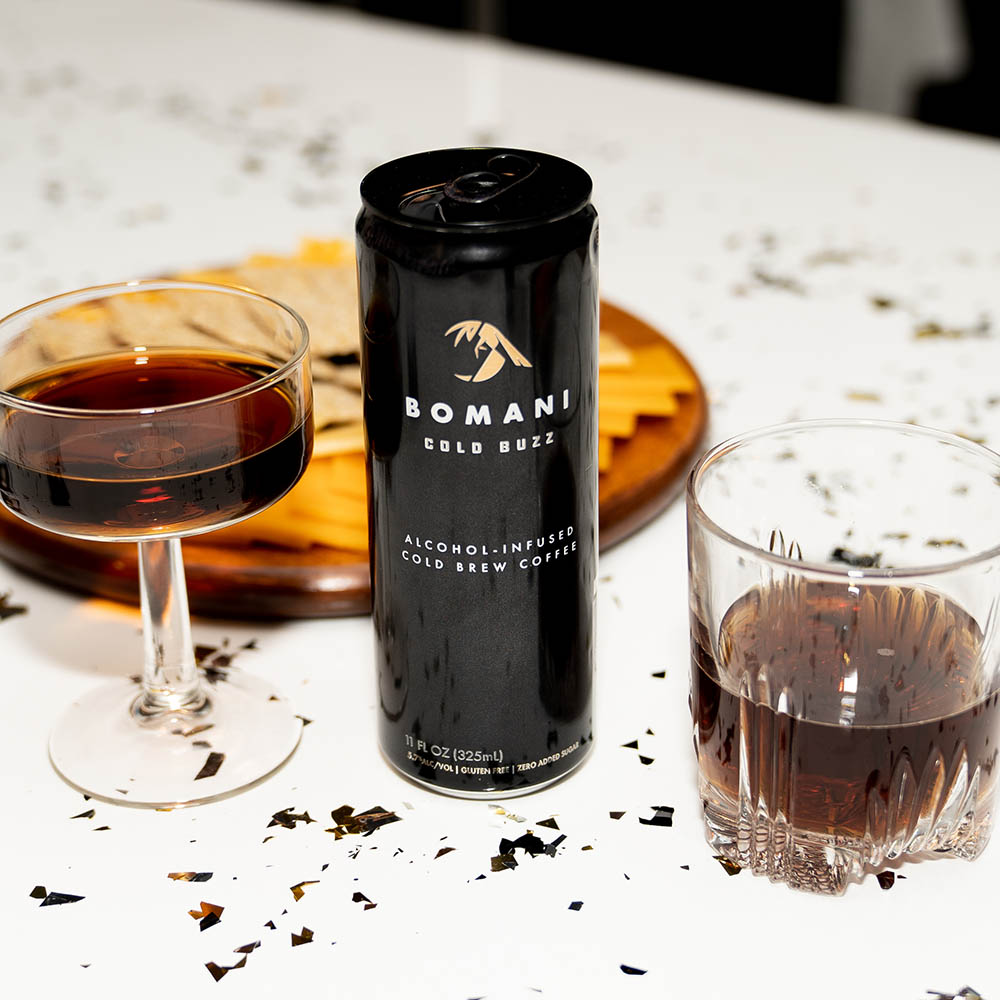 Read the story on this exciting new drink:
The three of us dedicated our lives and careers to see if we could really make it happen. We did research and found that similar products existed, but they were all high-calorie, heavy, and frankly, not too tasty.
First, we cold called and networked aggressively to find the top flavorists, chemists, and supply chain experts in the world. From there, we spent hundreds of hours with them developing BOMANI Cold Buzz, using our friends as guinea pigs for every new concoction. When the whole team tasted the final product, we were absolutely floored at how delicious it was and how well it complemented our busy lifestyles. At only 110 calories, zero carbs, 0g sugar, and gluten-free with approximately as much naturally-occurring caffeine as just over a half a cup of coffee, we realized we had struck liquid gold.
The very next morning, we walked into our corporate jobs and gave our two weeks' notice. The beautiful part is that we had no hesitation in quitting – we had found our purpose and embodied it in a sleek 12oz can.
Our purpose is to empower individuals who, like us, challenge the status quo.
Challenging the status quo is not supposed to be easy. We believe that you deserve to be able to work toward your purpose without sacrificing your social life or physical health.
So let BOMANI reward your hustle, energize your night, spark your brunch, and amplify your festival weekend.
BOMANI Cold Buzz: you deserve it.
Cheers, The BOMANI Brothers: Sam, Kai, and Amin
___________________________________________________________________
  AWARD WINNING WINERIES IN THE US
29/06/2020 For the sommeliers looking to give a fresh touch to their wine menu, here are the wineries that are making award-winning wines.
It's important to give a makeover or just a fresh touch to your restaurant's wine menu on a regular basis. Especially, when you are in the reopening phase after a long pause, it is necessary to put an extra effort into getting more eyes on your shelves. So, here are some of the wineries in the USA that are making award-winning wines. These wines are judged by wine buyers and experts in a way consumers would do.
Mercer Wine
In 1972, the Mercer family planted its first wine grapes in the Horse Heaven Hills. Since then, they have been producing mouth-watering Cabernet Sauvignons and world-class red blends and single varietal wines. The team at this winery gets the luxury of temperature control and immaculate conditions for fermentation. It also offers them the large Prosser facility providing space and efficiency for craftsman-style winemaking.
(Image source: Mercer Wine Brothers)
Some of their award-winning wines: