The CORZO Bliss
2 parts Corzo Silver Tequila
3/4 parts Domaine de Canton Ginger Liqueur
5 one-inch chunks of watermelon
5-7 mint leaves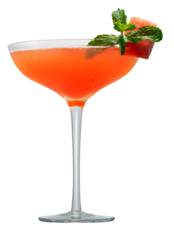 Process: In a mixing glass, muddle the watermelon and mint.  Then add remaining ingredients and shake well with ice.  Strain into a chilled cocktail glass.
Garnish: watermelon cube and mint leaves
---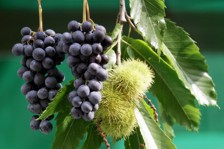 Grape Festival
24 - 26 September 2010
Transferred to Mendrisio since the opening of the Mercato Coperto, this fete finds its origins in Balerna, in 1944. In the last weekend of September, Mendrisio Old Town prepares its disguise: the inner courts of the old houses in the old centre are taken over by local sports and cultural associations, all with the responsibility of transforming each into true "grotti", where one can drink amazing wines and taste local food. Join the fete and walk the narrow streets of the old centre among the many stands offering a variety of produce to suit every taste. Where :
In vari punti della città
6850  Mendrisio
Website: www.sagradelluva.ch
---
1800 Sunrise Sangria


1 orange
1 lime
1 750ml bottle pink Prosecco (or cava, or other sparkling wine)
1 cup 1800 Tequila
2 cups lemon lime soda (or ginger ale)
1 Bosc pear, cored and cut into 1/2-inch pieces
1/2 pint raspberries

Slice half the orange into circles then slice in half to form half moons.  Squeeze the second half into a large pitcher filled with ice.  Do the same with the lime. Add the Prosecco, soda, and the 1800 to the pitcher and gently combine. Add fruit and serve.
---
The Driskill Hotel Wins 2010 Batini Cocktail Contest
"The Brazos Brasiliensis Batini" Celebrates Austin's Signature Tourist Attraction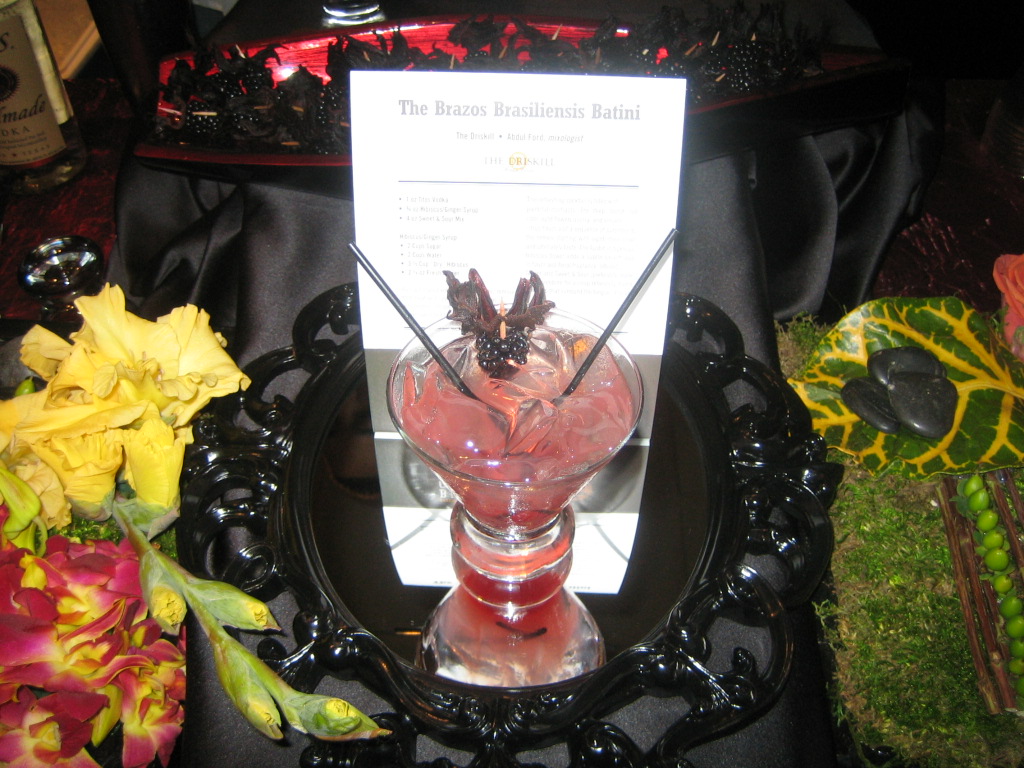 Like the city itself, Austin's new signature cocktail is cool, colorful and easy to enjoy. The Driskill Hotel's "The Brazos Brasiliensis Batini" uses local ingredients and unique presentation – it's garnished with a hibiscus flower and blackberry to resemble a bat – to capture the flavors of Austin and celebrate the city's most unique attraction, the 1.5 million Mexican free-tailed bats that fly from the Congress Avenue Bridge each night.
"The Brazos Brasiliensis Batini" won this year's Batini Contest, an annual cocktail throwdown hosted by the Austin Convention & Visitors Bureau and presented by Tito's Handmade Vodka, Radisson Hotel & Suites – Town Lake and the City of Austin, to name a cocktail that will represent Austin and the Congress Avenue Bridge bats at local and national tourism marketing events. This year's event was part of the City of Austin's inaugural "Night of the Bat" celebration.
The recipe is as follows:
"The Brazos Brasiliensis Batini"
• Tito's Vodka
• Hibiscus/Ginger Syrup
• Sweet & Sour Mix
Hibiscus/Ginger Syrup
• Sugar
• Water
• "Dry" Hibiscus
• Fresh Ginger
Boil all ingredients for 15 minutes; remove from heat and cool down for two hours in refrigerator. Strain and serve. Pick hibiscus flower over blackberry for bat garnish.
"The idea behind the drink was that, first and foremost, it had to be refreshing," says Abdul Ford, mixologist at The Driskill Hotel and creator of the winning drink. "It also had to be simple to make, but have complex flavors. And really, it had to look, smell and taste great."
Ford adds, "I've wanted to use hibiscus for awhile and this was the perfect opportunity because it offers great color, smell and subtle smooth flavor. Adding fresh ginger and sweet & sour made with fresh lemon, lime and Agave nectar just brought the drink together. All that was needed was a little Tito's Vodka and I was good to go."
The historic Driskill Hotel is located in the heart of downtown Austin, within walking distance of multiple distinct entertainment districts, must-see attractions, unique restaurants, upscale shopping and more. Built in 1886, The Driskill has 189 guestrooms and suites—no two of which are alike—and over 18,000 square feet of event and meeting space. The property is also home to the 1886 Café & Bakery, the award-winning Driskill Grill and the renowned Driskill Bar. For more information, visit www.driskillhotel.com.
---
MENDOCINO LEADS THE WAY AT SLOW FOOD WINE TASTING IN SAN FRANCISCO


Green Mendocino wineries will present a tour de force at the upcoming Golden Glass 2010 wine tasting, sponsored by Slow Food San Francisco.  The wine tasting takes place at Fort Mason Center, San Francisco, on June 12 from 1:00pm - 5:00pm.

Slow Food members eat and drink by the motto, "Good. Clean. Fair." To that end, the group's annual San Francisco tasting event highlights wineries with compelling environmental, sustainable, or regional stories.

Ten Mendocino wineries will be on hand at the tasting—more than twice the number of wineries from the rest of the state—to showcase their premium organic and biodynamic wines which rival the best from any wine region in the world.   In addition, the Mendocino Winegrape & Wine Commission will pour exclusively gold medal wines from the 2009 Mendocino County Wine Competition.

It's no wonder that Mendocino has such a distinguished place at this event. "America's Greenest Wine Region" boasts the nation's first organic winery, the first US producer of biodynamic wine, the largest certified organic grape grower in the state of California, and the largest producer of organic wine in the United States. The farmers, grapegrowers and winemakers from Mendocino are at the forefront of the sustainable, organic, Biodynamic® and fish friendly farming movements, and were there long before those became trends.

The 7th Annual Golden Glass 2010 will celebrate the efforts of over 100 international wine producers in all, which will be clustered by region throughout the Festival Pavilion in order to help attendees learn about regional and terroir nuances directly from the winemakers and proprietors. Golden Glass 2010 also includes a Slow Food Plaza featuring food by the Bay Area's top restaurants and artisan producers, a wine competition, and winemaker dinners.  Event proceeds will benefit the San Francisco chapter's Slow Food in School Programs and Slow Food USA's Ark of Taste.

To taste gold medal winners and world-class organic, biodynamic wines from Mendocino, visit us at Golden Glass 2010.  Tickets are $60.00 and available online at www.thegoldenglass.com.

Participating wineries from Mendocino include:
•    Barra of Mendocino
•    Baxter
•    Bink Wines
•    Breggo Cellars
•    Esterlina Vineyards and Winery
•    Handley Cellars
•    Magnanimus Wine Group
•    Navarro Vineyards
•    Pacific Star Winery
•    Paul Dolan Vineyards

The Mendocino Winegrape & Wine Commission is an alliance of 84 wineries and 343 winegrape growers in Mendocino County, California.  We place a strong emphasis on education, research, and specialized viticultural techniques appropriate to growing grapes and making wine in our 12 diverse regions.  From pristine wild lands and coastline to multi-generational hands-on family farmers and winemakers, America's greenest wine region is at the forefront of the sustainable, organic, Biodynamic and fish friendly farming movements.

Our website, TrueMendocinoWine.com, conveys the integrity of winegrapes, wines and people that define the Mendocino wine.
---
iT
 THE STEAMBOAT WINE FESTIVAL
A COMBINATION OF FINE FOOD AND EXCEPTIONAL WINES WITH THE RUGGED BEAUTY AND SKI VILLAGE VIBE
OF STEAMBOAT SPRINGS
August 5-8, Steamboat Springs, Colorado
One of the country's top wine events, the Steamboat Wine Festival brings together hundreds of artisan growers, vintners and culinary stars in a series of events that showcase the breadth and diversity of domestic and international wine regions while raising much-needed funds for Steamboat Adaptive Recreational Sports (STARS).
Throughout the festival, guests can participate in a number of wine tastings and pairings, gourmet dinners, educational seminars and culinary competitions. The festival also provides the rare chance to meet with owners, winemakers, Master Sommeliers, and senior representatives from wineries around the globe.
Outdoor events include mountain biking, hiking, and fishing, all of which include wine and gourmet lunches.
Events include:
·       Grand Tasting Kickoff Celebration: Wine on the Mountain at Thunderhead Lodge:  The Kickoff provides patrons with access to great wines, wonderful views from the top of the gondola, gourmet delicacies and entertainment. 
·       Grand Tasting: Steamboat Stroll:  The Stroll route takes attendees down to the beautiful Yampa River to mingle and share great wine.  Each Stroll stop offers a different variety of wines and delicious culinary samples.
·       Grand Tasting: A Toast of Steamboat:  An impressive gathering of domestic and international vineyards, gourmet food purveyors, live entertainment, and an array of luxury-related vendors are featured at this annual event.       
Other highlights are sessions including Winemaker for a Day, Chocolate and Wine, Secrets of Wine and Food Pairing, and many more.
There is more info available at http://www.steamboatwinefestival.com/
---

---
"A SALUTE TO SOUTHERN CALIFORNIA WINE"
ARTISAN WINE DINNER SERIES
CONTINUES AT TEMECULA CREEK INN WITH
"THE BEST OF ITALY," "ALL THINGS LOCAL"
AND "A TALE OF TWO VALLEY'S"THEMES
SET FOR SUMMER AND FALL, 2010
Savor the best of Italy without ever leaving Southern California with Temecula Creek Inn's "Best of Italy" artisan wine dinner featuring the wines of Robert Renzoni Vineyards, Friday, (June 25, 2010).  Then in August, discover the essence of Southern California's premier boutique winery, with a "All Things Local" farm-to-table concept at Palumbo Family Vineyards (August 20, 2010) followed by "A Tale of Two Valleys" a Rhone vs Temecula wine dinner featuring Leonesse Cellars (October 15, 2010).  All three dinners are part of Temecula Creek Inn's "Salute to Southern California Wine," a series of artisan wine events launched in March and continuing throughout the year.
            Wine isn't the only highlight at these dinners –Temecula Creek Inn's executive chef Salvatore Giuliano pairs each wine with dishes that are both seasonal and inventive, bold and familiar.  Each wine dinner allows novice and wine connoisseurs to discover new flavors, partake in discussion and debate, meet the region's top winemakers, and dine on the area's finest cuisine.
Temecula Creek Inn Wine Dinner Experience -2-2-2
This month, the resort will team up with Italian winemaker Robert Renzoni who will guide guests through the regional wines of Italy and serve the winery's premium varietals with a delectable four-course meal with a creative spin on classic Italian favorites. 
Menu highlights include Antipasti of The region, Cured Italian Imported Meats, Picked Eggplant, Pressed Olives, Fire-Roasted Red Bell Peppers, Aged Balsamic and Cold Pressed Extra Virgin Olive Oil; a second course of Shrimp Fra Diavolo, Farro from Rustichella d'Abruzzo;  a main course of Tenderloin of Beef Braciole Stuffed with Prosucitto, Fontina Cheese, Fresh Herbs with Oven Roasted Tomato, Rapini and Radicchio in a Genovese Sauce; and for dessert a delicious Lemoncella Panna Cotta with Berry Jus, and Oven Dried Cracked Spiced Zest.
In August, wine and food enthusiasts will be taken on a savory sojourn with a six-course dinner expertly matched to wines from Palumbo Family Vineyards.  Many of the courses Giuliano will prepare will reflect the usage of
local produce and products from the region in keeping with the family owned/operated theme.
The October, 2010 wine lovers evening will pair Southern California wine against those of the Rhone Valley in France.  Winemaker Tim Kramer and owner Mike Rennie of Leonesse Cellars will present a blind tasting of the wines, each paired with complementary dishes from Chef Giuliano.
Priced at $85 per person for June, $95 per person for August and $85 per person for the October dinner, the four-six course dinners exclude tax and gratuity, but each includes a complimentary wine and cheese reception, where guests can preview wines which will be served during the evening. 
The setting will be intimate, beginning with a wine reception on The Plaza at 6:30 p.m. for the June and October dinners and at 7:00 p.m. for the August
Temecula Creek Inn Wine Dinner Experience -3-3-3
dinner.  Each will feature artisan-inspired appetizers by Giuliano, wine tasting, and a four-course decadent four-course dinner at 7:30 p.m. (June 25 on the Plaza), 8:00 p.m. (August 20 at the Stone House) and 7:30 p.m. (October 15 in Temet Grill).  Reservations are required.
Those who want to make it an overnight event can reserve, a "A Salute To Wine" Country" package, available for one night only at the resort on Friday,
June 25, August 20 and October 15.  Priced from $319 per couple and based on double occupancy, the package includes one night of deluxe guestroom accommodations, wine dinner for two, and two sets of touring/tasting tickets. The package is not applicable to groups.
To make a reservation for each dinner, call 951-587-1465.  To book the special wine dinner package, call 877-517-1823, e-mail temeculacreekinn@jcresorts.com, or visit the web at
GETTING THERE
Secluded amidst the abundant natural beauty of Southern California's wine country, the 130-room Temecula Creek Inn is located 50 miles north of San Diego and 90 miles south of Los Angeles.  Visitors can arrive via Highway 15.
every sip. www.palumbofamilyvineyards.com.
Temecula Creek Inn Wine Dinner Experience -4-4-4
elevations. The property provides an ideal growing climate as well as scenic
vistas from which to enjoy the beautiful landscape that is Temecula.
The property was purchased in 2006. Although vineyards existed on a portion of
the estate, the majority of the property was virgin soil. This soil was ideal for the
planting of several varietals, including Pinot Grigio and Sangiovese. It
was the diversity of the land that convinced Robert and his family of the potential
for the property to become a truly great wine estate. Surrounded by soaring
mountains, the picturesque estate includes beautiful olive trees that add to the
lush landscape. The vineyards are set among rolling hills and along a creek that
flows through the lower vineyard and a smaller creek that meanders through the
picnic grounds at the rear of the property. 37350 De Portola Road, Temecula,
California, 951-302-8466, www.robertrenzonivineyards.com.
ABOUT PALUMBO FAMILY VINEYARDS
            Located in the heart of Temecula Valley wine country, Palumbo Family Vineyards is committed to small lot, handcrafted wines from varieties that are grown on the property.  Nicholas Palumbo, a passionate viticulturist and budding enologist, believes in producing only what he grows himself.  The unique terroir of his 12-acre vineyard provides perfect conditions for Merlot, Cabernet Sauvignon, Cabernet Franc and Sangiovese varietals.  The wines obtain their depth and character from their small-scale production.  Every step of the growing process is closely monitored.  Palumbo himself keeps a watchful eye on what goes into every bottle of wine, crushes the wine himself and pours his soul into
ABOUT LEONESSE CELLARS
Nestled in Southern California's wine country, Leonesse Cellars was founded in 2003 by Mike Rennie and Gary Winder, who together have more than 50 years of agriculture and grape-growing experience in the Temecula Valley.
Temecula Creek Inn Wine Dinner Experience -5-5-5
Their combined experience has lead to a true understanding of growing wine grapes of the highest quality, grapes which are concentrated, balanced, and ripe, ultimately producing wines of incredible depth and flavor. Among the wines produced at Leonesse Cellars are Chardonnay, Merlot, Cabernet Sauvignon, Riesling, White Merlot, Muscat Canelli, and Cinsault Port, as well as small lots of other specially selected varietals. 38311 De Portola Road, Temecula, California. 951-302-7601, www.leonessecellars.com.
---