SIPS   .    .    .
WHAT WINES ARE PERFECT FOR PAELLA?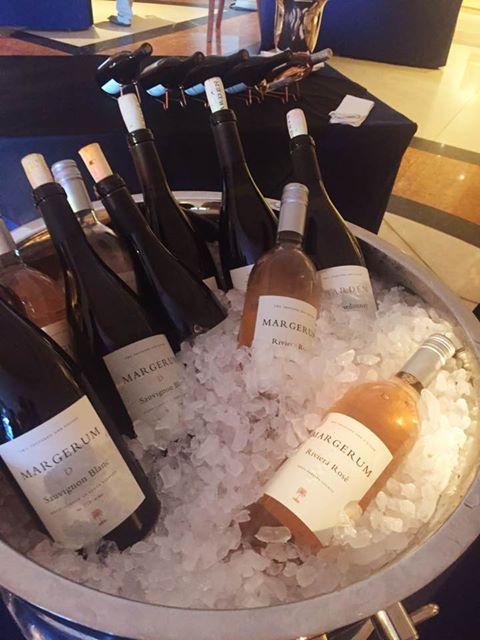 People usually associate paella with white wine, but according to experts this is a dish that pairs well with white, red or rose.
Paella is generally a recipe that includes chicken or rabbit, prawns, mussels or clams, red peppers, pimenton and saffron-flavoured rice. Some Latin-American versions include spicy sausage but in general it's savory with a secondary seafood flavor.
This is family style faire that works well with a large group.  Perhaps a Spanish chilled wine - very cold is best, and any dry rosé hits the spot perfectly. a solid red, not too tanic, is also a favorite of paella lovers. Margerum M5 is an ideal red to savor with paella.The garnacha blends are recommended, but stay clear of fruity blends. 
If white wine is your preference lighter reds and rose's from areas outside Spain might work well. Languedoc-Roussillon or rousanne, marsanne and voigner-based Languedoc whites are great.
What I look for in a white with paella is a richness and not citrussy or floral character - I think I would really like a California rose like Margerum Riviera Rose that would be ideal paired with paella.
Executive Chef Brandon Miller 
Chef Brandon Miller, formerly of Mundaka in Carmel, CA,became renowned for making authentic and delicious Paella that attracted patrons from far and wide to savor his culinary skill creating the traditional Spanish favorite. Below is an authentic recipe from this talented chefr. Enjoy!
.MUNDAKA PAELLA by Executive Chef Brandon Miller (Serves 6)
Ingredients (Sorito):
Olive Oil
½ cup Spanish Chorizo Sliced
2 each Large yellow onion finely diced
1 each Bay leaf
¼ cup Garlic Minced
½ cup Tomato Puree
1 pinch Smoked chili flakes
1 pinch Smoked chili powder
.
Paella:
1 cup Paella Rice
12 each Lamb Meatballs
2 lbs Assorted seasonal seafood
18 oz Shellfish stock
½ cup English peas
Extra Virgin olive oil
Salt & Pepper
.
In a 14" paella pan heat olive oil adding Chorizo, onions, bay leaf. Cook for a few minutes and add garlic and saffron. Cook until garlic begins to brown and add tomato paste, roasting it to remove any raw tomato flavor. Add tomato puree, chili flakes and smoked powder. Stir in rice and roast for a moment then add stock. Simmer over medium heat. Season seafood with salt and pepper and add according to how long each takes to cook. Total cooking time should be about 30 minutes. Add English peas with five minutes cooking time left. Finish with extra virgin olive oil and serve. (Shellfish stock is a combination shellfish shells, saffron, garlic, tomato, sherry, fish stock and herbs). Ole'
---