SoloRosa Meets Georg Riedel in Quest for
the Best Rosé Glass
Riedel Pink Vinum Glass to Benefit Breast Cancer Survivors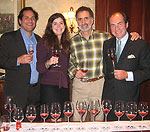 What is the ultimate rosé glass shape? It's a tough question, considering how many different styles of rosé are made throughout the world. Recently, SoloRosa was honored by a request from Georg Riedel, the ultimate authority in glassware, for assistance in selecting one glass from among his varied creations to best highlight rosé.
We tasted through leaner, subtle Old World rosés and lusher, fruit-forward New World rosés—including SoloRosa California Rosé and SoloRosa Napa Valley Sangiovese Rosé—all poured into the same extensive collection of glass shapes. As expected, the differences were often pronounced.
Yet one glass—now dubbed the Limited Edition Pink Vinum Rosé Glass—stood out for the tasting panel, which included SoloRosa co-owner Jeff Morgan, also the author of Rosé, A Guide to the World's Most Versatile Wine (Chronicle Books 2005). West Coast sommeliers Rob Renteria and Rebecca Chapa were also in attendance. (From left to right in photo: Rob, Rebecca, Jeff and Georg.) All agreed that the Pink Vinum glass seemed to illustrate the broadest array of qualities in each wine, highlighting their fresh, bright attributes while also distinguishing the terroir that defined them.
"This was a challenging tasting," Georg Riedel commented. "Rosé is far more varied and complex than many people imagine." The glass guru was particularly taken by our SoloRosa Sangiovese rosé, which he found to be "most unusual" and "quite lovely."
Riedel will donate 15 percent of the proceeds from the Pink Vinum Rosé Glass to the nonprofit organization, Living Beyond Breast Cancer. The group's programs and services include: conferences, teleconferences, a toll-free Survivors' Helpline (888.753.5222), The Young Survivor's Network and a website, lbbc.org.

---
New Concept Wine Label Introduced
by Innovative Wine Company "Wine That Loves"
A new wine brand that makes wine pairings incredibly easy is being launched this month by The Amazing Food Wine Company. Tracy Gardner, president, says his 'Wine That Loves™' brand "has been developed by working with one of the country's top sommeliers. The whole idea is to ensure that wine parings enhance the foods Americans enjoy most often."

Sommelier Ralph Hersom, formerly at Le Cirque 2000 and now Wine Director for The Amazing Food Wine Company, makes the point that "wine and food paired correctly is an amazingly wonderful experience, and it shouldn't be as difficult to achieve as it is right now. We want to help as many people as possible enjoy this experience all the time." Gardner adds, "We worked with chefs and sophisticated food lovers to provide these pleasures at the table every night."
"The wine industry is on the wrong track by not recognizing that food comes first in people's minds," Gardner says, "We want to recreate that lovely experience you have in a small European town when you order the local specialty and "some red wine" and they bring you the wine that works wonders with that dish.

To make the point, the front labels show only a chicken, pizza or other popular meal, with the brand name of the wine, 'Wine That Loves Roasted Chicken™' or the other entrees. Mandatory language, including country of origin, goes on the back. Currently the wine is being sourced from Italy, Spain and Chile, where excellent wines at extremely good values are prevalent. Suggested retail price is around $11.99, but will vary across the country.

Gardner's vision comes from a background in breakthrough innovation. "My goal is to double wine consumption in this country by solving the most difficult issue consumers face, 'what goes with what?' 'Wine That Loves' solves the problem." The wines are now beginning to enter distribution, as the company finds distributors in major markets. For more information, please visit the 'Wine That Loves' web site at the following link: www.winethatloves.com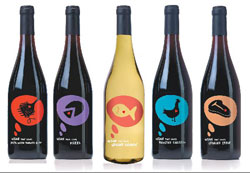 ---
WHAT DO YOU KNOW ABOUT WINE? KNOWLEDGE CARDS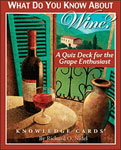 A Quiz Deck for the Grape Enthusiast by Richard O. Nidel
So you think you know a little bit about wine? Well, there's a whole lot more to crushed grapes than Pouilly-Fuissé, Gamay, and Beaujolais. For starters, there are bin numbers, Brix, and Botrytis cinerea to consider. Not to mention the origin of the custom of clinking glasses, the five crucial factors that give life to fine wine, and, of course, knowing which country consumes the lion's share of Port. Presented in an entertaining and educational question-and-answer format on the fronts and backs of the enclosed cards, this portable (and potable) enology course will quickly fortify your wine IQ.
If a little knowledge is a dangerous thing, think of how formidable you'll be after you think (and, perhaps, drink) your way through this deck of 48 What Do You Know About Wine? Knowledge Cards. And, as always: please think responsibly.
Cheers!
For more great What Do YOu Know About gifts visit www.pomegranate.com.
---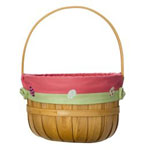 Easter Egg Cocktail
Pony glass is called for this layered shot. It is a small stemmed glass with a rounded bottom and fluted top, they hold about the same amount of liquid as a shot glass. You will also need a spoon.
3/4 Ounce Chambord Raspberry Liquor
3/4 ounce Tia Maria
3/4 ounce cream
Layer each of these into a Pony glass in the order given.
Carefully pour slowly, barely dribble the liqueurs into your glass.
Start with your first liqueur and pour it into your glass, now take your spoon and place the tip of the spoon very close to your first liqueur, now carefully and slowly pour in your second liqueur over the back of the spoon and into the glass, then your third.