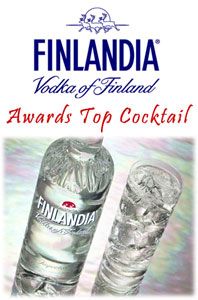 The eighth annual International Finlandia Vodka Cup competition took place on January 31, 2006 in Lapland, Finland. The event brought together top bartenders from around the world to showcase signature drinks which have brought the golden age of cocktails back to life. Bartenders from Serbia to Arizona to Russia competed against each other at the Laino Snow Village, Ice "hotel" in Lapland.
Jan Lindgren, who bartends at Level 5 in Helsinki, Finland, took home the first place trophy from this year's competition with his "Finlandia Blues" specialty cocktail. With thousands of participants from around the world, each market sent one winner to the finals in Finland. The bartenders were judged on the art, style and craft behind creative cocktailing as judges searched for the world's best aperitif, long drink and after dinner drink.
Below is one of Jan's winning cocktail recipes:
Finlandia Blues
2 oz Finlandia Cranberry Fusion
2 oz De Kuyper Sour Apple
4 pieces lime wedge
2 tsp blueberry
1 teaspoon Blueberry Syrup
Muddle and garnish with fresh blueberries and mint.
---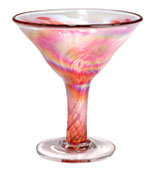 Daniel Reichert, owner of Vintage Cocktails, a libation catering service that specializes in "forgotten" drinks has created a signature cocktail for 'Desperate Housewives.' Red in color, and served in a martini glass, it is quite seductive looking.
DESPERATE HOUSEWIVES
1 1/2 oz. light rum
3/4 oz. Cointreau
3/4 oz. fresh lime juice
1/2 oz. pomegranate juice
1/4 oz. Maraschino liquer
Shake with ice, and strain into a cocktail glass.
---
Irish Eyes
1 oz Kilbeggan Irish whiskey
1/4 oz green creme de menthe
2 oz heavy cream
Shake with ice, strain and serve in a rocks glass. Garnish with maraschino cherry.
From the book The Spirits of Ireland, written by Ray Foley, Foley Publishing.