SIPS - JULY 2009
22ND Annual WINE FESTIVAL
SANTA BARBARA NATURAL HISTORY MUSEUM
Swirl, Sip, Savor …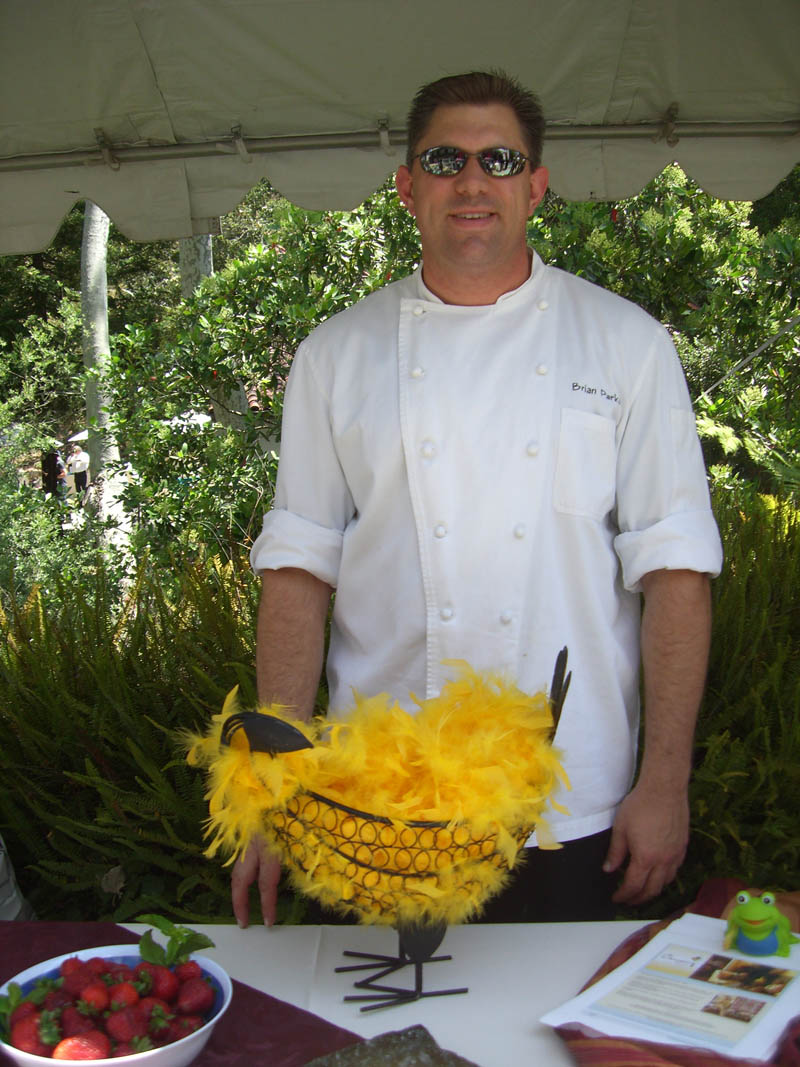 The 22nd Annual Santa Barbara Wine Festival on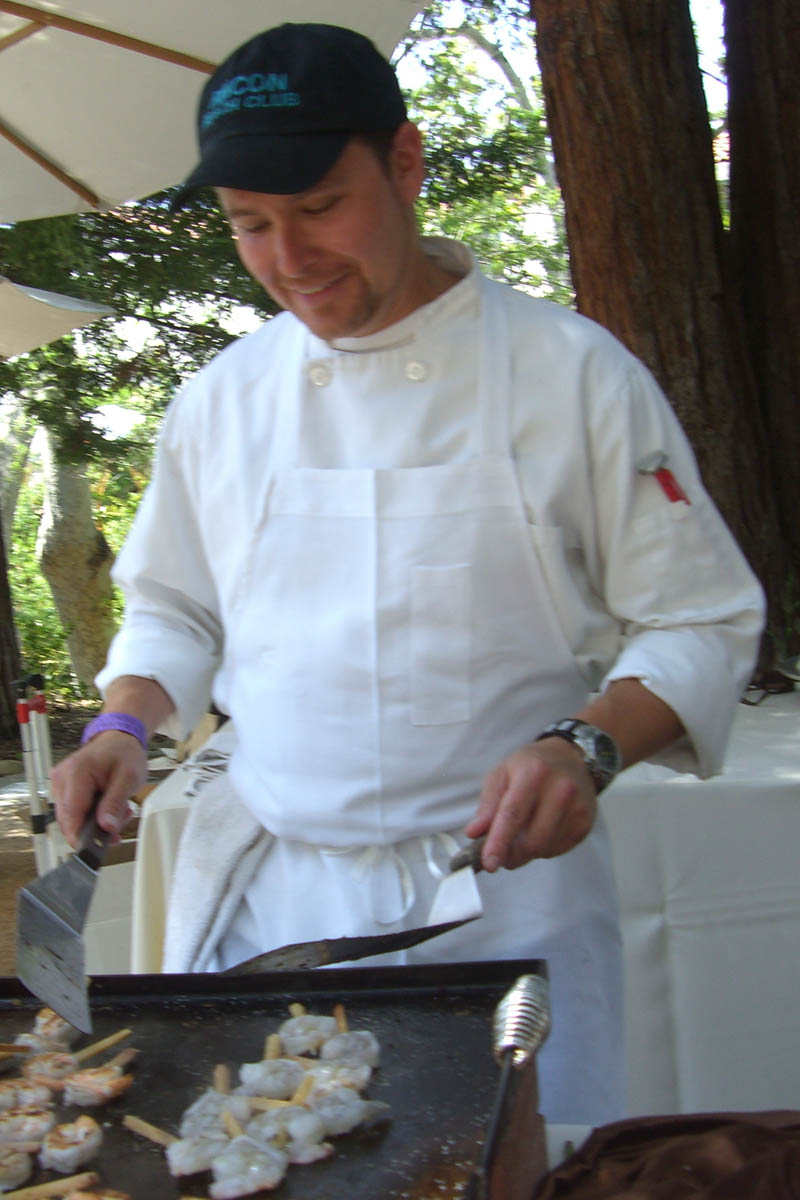 June 27th was a tremendous success, and included participation from the following area vintners and food providers. Held on the grounds of the Santa Barbara Natural History Museum, the event also offered visitors and patrons an opportunity to visit the latest exhibits, including Butterflies Alive, while savoring wines from renowned California vintners and delicious tastes from local chefs and food purveyers. Proceeds from the event support ongoing museum projects.
The 'afternoon in the woods' theme lends itself to a
perfectly divine experience for food & wine afficionados. Over a thousand people join in the fun at the museum each year, where live music and wine talk fill the air. The wineries represented are from Santa Barbara to San Francisco, and offer some wonderful sips to enjoy with a bevy of tastes from the best restaurants and caterers in Santa Barbara. Sponsors included:
Alma Rosa Winery & Vineyards

Andrew Murray Vinyards

 

Au Bon Climat Winery

Qupe

Rincon Catering

Whitcraft Winery

Babcock Winery & Vineyards

Bedford

Thompson Winery & Vinyards

Beckmen Yinyard

Melville

Foxen

Jaffurs Wine Cellers

Brander Vineyard

Kalyra

Palmina

Marmalde Café & Catering Company

The Berry Man – Ciao Bella Desserts

The Berry Man – La Mousse

Events by Philippe

Demetria Estate

Renaud's Patisserie

Cruise Bargaina

CORE

Cottonwood

Canyon

Fiddlehead Cellars

Ken Brown Wines

Flying Goat Cellars

Tolosa Winery

REC Solar, Inc.

Tablas Creek Vineyard

RN Estate Vineyards

Island View Catering

Huber Cellars

Simply ies

Byron

Cambris

IO

Kinton

Calcareous Vineyard

Jake's Cottage Cuisine Café

Tercero Wines

Riverbench Vineyard and Winery

Mosby Winery

Donati Family Vineyard

San Ysidro Ranch – The Stonehouse Restaurant

Municipal Wine Makers

Consilience and Tre Anelli

Scott Cellars

Pure Joy

Carr Vineyards and Winery

Sunstone

Guy Riedel Wines

Great Oaks Ranch

Village Modern Foods

Anglim Winery

Cass Winery

Zaca Mesa Winery

Santa Barbara Daily Sound

The Melting Pos

Lucas & Lewellen Vineyards

Santa Barbara

Winery

Christine Dahl Pastries

Michael's Catering

Fess Parker Winery

Coast at the Canary

Central

Coast

Culinary and Summerland Winery

De Paola Winess & Cheesepies

Hollister Brewing Company

Silver Wines

Carina Cellars

Oreana

Jessica Foster Confections

Rancho Sisquoc Winery

Global Gardens

Gioia

Pierre LaFond Bistro

Presidio Winery & Vineyards

The Wine Hound & Vogelzang

Kerr Wines

Westerly Vineyards

Dierberg Estate Vineyard

Herzog Wine Cellars

Opolo Vineyards

Coquelicot

Kaena

Bella Dolce Bakery

Dragonette Cellars

Hunt Cellars Winery

Lincourt

Sweeney

Canyon

Vineyard

Curtis Winery

Live Culture Lounge

Filiz Noche Cellars

Ampelos Cellars

Daniel Gehrs Wines

Firestone

Foley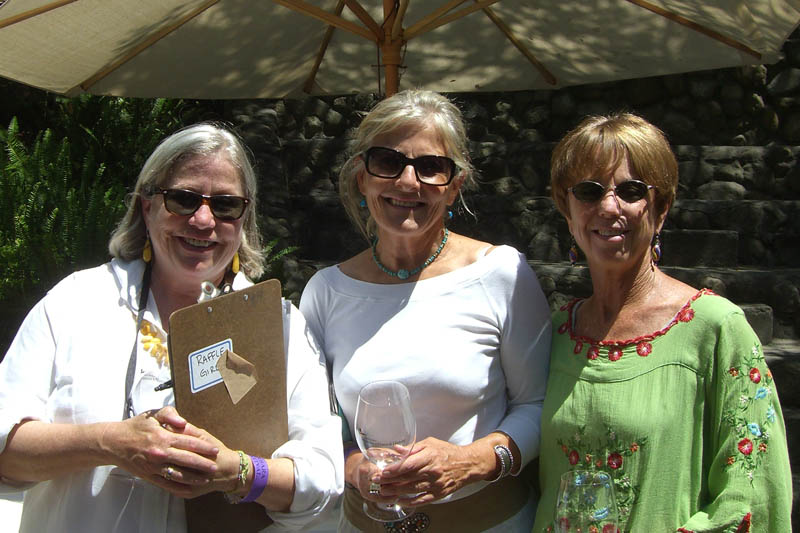 This was a total gastronimique experience in that the chefs and caterers served appetizers, entree samples and desserts that were outstanding. The variety of renowned wine surrounding these delicious little food venues provided some amazing pairing opportunities for attendees. SBNHM also auctioned off bottles of fine wine and dinners at local restaurants and cafe's, as well as a stay at the Santa Barbara Four Seasons Biltmore Hotel.
Major sponsors for the event included Riviera Insurance Services, LLC, The Berry Man, The Tent Merchant, Ventana, VC Reporter, KD8937.FM, K-Lite101.7, KTYD 99.9, Live 105.5FM, SB Independent, Oxnard 95.9, and Rec Solar.
---
                   CELEBRITY COCKTAILS FOR SUMMER

Madonna - Pomegranate Martini:

1 1/2 oz. Three-O Pomegranate Vodka
1 oz. Pom Wonderful pomegranate juice
1 1/2 oz. fresh blackberry puree
1 oz. cranberry juice

Shake well with ice and strain into a chilled martini glass

 Paris Hilton

Cherry Bomb:

1 1/2 oz. Three-O Cherry Vodka - 4 oz. Red Bull - Mix in a highball glass filled with ice - Garnish with a cherry

 Lauren Conrad -

Blackberry Vodka Collins:

2 oz. Three-O Berry Vodka - 2 slices lime - 3  fresh blackberries - 1 oz. simple syrup - Splash of soda water

Muddle the lime, blackberries and simple syrup, add the vodka and shake with ice; serve on the rocks

 

Megan Fox  -First Class Punch:

1 1/4 oz Three-O Vodka - 1 oz Domaine Canton Liquor - 1/2 oz agave nectar - 1/2 oz fresh lime juice - 1 strawberry - 4 basil leaves

Muddle the strawberry, basil, and Agave nectar. Add the rest of the ingredients, shake very well with ice and strain into a glass. Garnish with a strawberry

 
---
 KRUG ANNOUNCES THE CREATION OF THE FIRST KRUG ROOM IN THE UNITED STATES AT RESTAURANT GUY SAVOY AT CAESARS PALACE LAS VEGAS

Representatives of Krug, the world's premiere champagne, and acclaimed French chef Guy Savoy today announced the opening of The Krug Room at Restaurant Guy Savoy at Caesars Palace Las Vegas – the first of its kind in the United States..

 

A proven success story.  Krug Rooms are private dining rooms in exclusive locations around the world where groups can gather to enjoy superb cuisine, stimulating conversation and, of course, exceptional champagne.  Opening Friday, June 5, at Restaurant Guy Savoy Caesars Palace, the Krug Room will be  everything guests have always expected from the House of Krug - surprise, delight, discovery - a stunning experience that begins from the moment of arrival. Guests are escorted down a sleek wooden hallway through a discreet door into the restaurant's Krug Room.  The spacious room with its stunning contemporary art and elegant Krug-brand accessories is an intimate escape, offering a unique blend of privacy and glamour.

 

The Krug Room menu will change seasonally with a summer menu featuring a 6-course pairing menu highlighting culinary delights such as Colors of Caviar, Crispy Sea Bass with Delicate Spaces and the restaurant's famed Artichoke with Black Truffle Soup served with Krug Vintages from 1985 through 1995.  The Krug Room provides an exceptional dining adventure where guests experience a fusion of flavors through the encounter of the world's most acclaimed Champagne, Krug, with the iconic dishes from one of the world's greatest chefs, Guy Savoy.

 

Currently the only Krug "picnic" Trunk in the United States is on display at Restaurant Guy Savoy, featuring a chic collection of culinary and beverage accessories that might be associated with royal picnics.  Taking 700 hours to make by hand, and is perfect in every detail – the Krug Trunk offers exciting discoveries, both inside and out.  The dark brown foal-effect calfskin exterior is fitted with corners, hinges and handles in non-oxidizing nickel-plated brass to withstand long journeys. The trunk bears the Krug signature in nickel-plated lettering on its door, and may also be customized with the owner's name or coat of arms.

 

The first Krug Room opened in May 2003 in London in the legendary Dorchester Hotel.  The House of Krug then opened the Krug Room in Hong Kong's flagship hotel, the Mandarin Oriental and the Krug Room in the sophisticated and vibrant Masamichi Katayama designed Restaurant Tanga in Tokyo.

 

It goes without saying Krug Rooms offer the entire range of Krug champagnes:  Krug Grande Cuvée, Krug Rosé, Krug Vintage, Krug Collection and Krug Clos du Mesnil.  Naturally, every Krug Room has its own individual style, reflecting the specificities of its setting and location.  Equally remarkably, however, they all exude the same distinctive ambiance - at once intimate and inspiring - that is the perfect complement to the experience of Krug champagne. For more information, visit caesarspalace.com

 

 

ABOUT RESTAURANT GUY SAVOY

Caesars Palace welcomed Michelin three-star French chef Guy Savoy in May 2006 to its Augustus Tower, making this the famed chef's sole U.S. restaurant.  His coveted three Michelin stars are widely recognized as the pinnacle in culinary achievement.  In 1997, he was honored with a "Guy Savoy" entry in the prestigious Larousse encyclopedia.  In 2000 he received the Legion d' Honneur – his country's highest honor – from the French Minister of Agriculture, and, in 2009,  was named "Officier" of the Legion d'Honneur.  In 2002 he was awarded his third Michelin star and voted "Chef of the Year" by his French peers.  Since opening in May 2006, the Caesars Palace restaurant has received widespread critical acclaim including Esquire's "Best New Restaurants," and Gayot's "Top 40 Restaurants in the U.S."  It earned 3 -1/2 stars from the Los Angeles Times while Newsweek International called it "the best restaurant in Las Vegas, and one of the finest anywhere."  In 2008, after only two years of operation, Restaurant Guy Savoy won the AAA Five Diamond Award and the Wine Spectator Grand Award.
---
EL GRADO TEQUILA PARTNERS WITH DEMPSEY RACING

 "Tequila's Crown Jewel" Joins the Hunt for Rolex Series Championship;

Dempsey Team to Race with El Grado Livery at 24 Hours of Le Mans

 

Category-defining new tequila El Grado is racing to show tequila connoisseurs that it is "Tequila's Crown Jewel."  Now, Texas-based El Grado has joined a race of a different kind: professional motorsports.  El Grado has confirmed a partnership with Dempsey Racing to partner with the team for the remainder of the team's 2009 season as Dempsey Racing's drivers Joe Foster and Patrick Dempsey compete in their Mazda RX-8 GT in Grand-Am Rolex Sports Car Series races across the country.  In addition, El Grado is supporting Dempsey Racing in its Ferrari 430 GT entry in the 24 Hours of Le Mans (officially, Le 77ème Grand Prix d'Endurance les 24 Heures du Mans) with Team Seattle.  With El Grado's partnership, Dempsey Racing seeks to support the Team Seattle bid as they use professional motorsports to raise awareness for the groundbreaking work of Seattle Children's Hospital.

Dempsey Racing's Mazda RX-8 GT debuted in El Grado livery in time for the team's best finish (7th) in the Rolex Sports Car Series in Millville, New Jersey, a 10th place finish at Mazda Raceway Laguna Seca in California, and 7th in this weekend's Sahlen's Six Hours of the Glen in Watkins Glen, NY.  June 13-14, Dempsey and his teammate, Grand Am Koni Challenge Champion Joe Foster, compete in the 77th running of one of motor racing's crown jewels, the 24 Hours of Le Mans.  For this race, El Grado logos will grace a Ferrari 430GT prepared by multiple FIA-championship winning team Advanced Engineering, based in Milan, Italy.  Dempsey will take turns piloting the machine with Foster and racer/instructor Don Kitch, Jr.

As a team owner and driver in Dempsey Racing, Patrick Dempsey sheds his heartthrob image from feature films and television to focus on his driving. In this race, though, Dempsey follows in the footsteps of one other legendary actor and race car driver, Paul Newman, who drove a Porsche 935 in the 1979 24 hours of Le Mans and finished in second place.

"The El Grado brand and their management vision is a perfect fit for us at Dempsey Racing," comments Dempsey.   "This partnership has set the ground work for a long-term successful program.  I believe that the race track is the perfect place to create brand awareness for El Grado and our team is the right team to deliver it.  We look forward to expanding this partnership as the season progresses."  Following the Le Mans bid, Dempsey said, "this opportunity to ally with Team Seattle and enhances its efforts to drive funding to Seattle Children's Hospital and their Team France partner is an opportunity that Dempsey racing is proud to accept."

"Our team and partners are equally thrilled about our new partnership with El Grado Tequila" adds Foster.  "The business relationship and growth potential is endless.  We are excited to bring a new high end, exclusive brand into the Rolex Sports Car Series very much look forward to a long relationship."

 

In addition to its support of the team on the track, El Grado has been activating its sponsorship with online contests, on-premise promotions and personal appearances with the team.  Fans can visit www.elgradoracing.com to obtain contest details.  Prizes range from a trip for two to the October 8-10 Homestead-Miami Grand-Am Rolex Series races to diamond jewelry to accompany "Tequila's Crown Jewel™."

 

"El Grado Spirits is proud to support Dempsey Racing at home and as they represent the United States abroad," concludes El Grado Spirits co-founder Ashly Kubicek, echoing the sentiments of her partners Page Brockman, Ben Gonzales and Ron Park.  "As we launch our brand; we were excited to find a partner like Dempsey Racing who shares our belief that integrity matters.  We wish them the best of luck on the track, this weekend and every weekend.  We're looking forward to celebrating with El Grado in the winner's circle."
---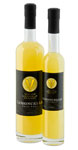 1 1/2 oz. lemon vodka (Paul Martin's uses housemade Meyer Lemon infused vodka)

1 oz  fresh lemonade

1/2 oz. Ventura Limoncello Originale

1/2 oz. simple syrup (equal parts sugar and boiling water)

2 torn basil leaves

Champagne or sparkling wine

 

Above ingredients (except basil and champagne)) are combined in a shaker on the rocks and shaken to blend, then strained into a martini.  Garnish with basil leaves, and  top with 1 oz champagne or sparkling wine.  Serves one.
---

HOLIDAY COCKTAILS FROM THREE OLIVES VODKA 

Roman Candle

 

3 oz. Three-O Berry Vodka

½ Oz. Cranberry Juice

Dash of Grenadine

½ oz. Blue Curacao

Shake vodka, cranberry juice and grenadine in a shaker with ice. Strain into martini glass. Pour Blue Curaçao gently down the side of the glass so it comes to settle on the bottom.

 

Sparkler

 

1 oz. Three-O Pomegranate Vodka

2 oz. Sparkling Wine

Splash POM Wonderful Pomegranate Juice

 

Combine vodka and pomegranate juice in the bottom of a champagne flute

Top with sparkling wine or champagne 

Fire Cracker

 

2 oz. Three-O Grape Vodka

½ oz. Blue Curacao

Splash Tonic

 

Shake vodka and blue curacao with ice and strain into a chilled martini glass

Add tonic and garnish with a cherry 

Cherry Bomber

 

1 ½ oz. Three-O Cherry Vodka

4 oz. Ginger Ale

Splash of grenadine

Mix in a glass filled with ice and garnish with a cherry

 
---
Algodon Wine Estates' 2004 Malbec scored 90 points out of 100 in a recent tasting conducted by Anthony Dias Blue, one of the most influential wine personalities in the United States.  
 
The ranking is featured in the July issue of The Tasting Panel, a leading monthly industry publication of which Dias Blue is Editor in Chief.  Each month, Dias Blue tastes over 500 wines and features his top picks in the magazine. 
 
"Mr. Dias Blue's high ranking is an honor and great achievement, serving as testament to our hard work and commitment to produce the utmost in quality," says Algodon winemaker Mauro Nosenzo.  Algodon Wines are produced under the direction of Camilo Aldao, a member of one of Argentina's oldest winemaking families, and also with the recommendation of Wine Master Anthony Foster and accomplished wine connoisseur Lee Lacy.

 "We are thrilled with this rating and believe it is only the beginning. In addition to this great Malbec, we are also producing wonderful Bonarda and Chardonnay," says Scott Mathis, Chairman of DPEC Partners and InvestProperty Group (IPG), the venture capital firm backing Algodon Wine Estates. "In December 2008 our Cabernet Sauvignon won the "Best Buy" distinction in a tasting conducted by Wines of Argentina, and we are confident there will be many more such accolades."
 
For more information, visit:  www.algodonwineesates.com. 
---
AIR FRANCE WINES SERVED IN NEW WINE GLASSES
 ON LONG-HAUL FLIGHTS
ALGODON WINE ESTATES' MALBEC RATED A "90"  BY WINE EXPERT ANTHONY DIAS BLUE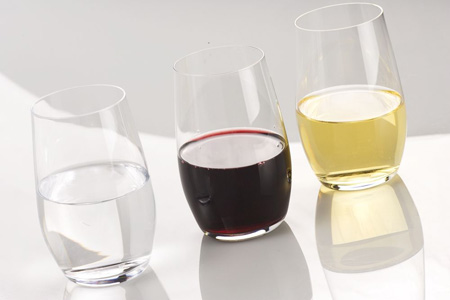 Since the beginning of June, passengers travelling in the La Première and Affaires cabins have been enjoying their wine in a new wine glass. These unique wine glasses, designed for Air France in collaboration with Olivier Poussier, Best Sommelier and Air France wine consultant, were developed from wine-tasting glasses used by professionals.

 

Meeting taste requirements and suitable for service on board, this new stemless glass, with a curved appearance, allows the flavor to flood out and improves the adherence capacity of the tannins on the glass surface.

 By providing a large oxygenation surface, which helps aerate the wine, all the flavors come through. The fineness and delicacy of the crystalline glass makes it a pleasure to hold and, of course, to drink.

 

This glass enables passengers to really appreciate the flavors, making wine-drinking on board a real moment of pleasure "à la française."

 

To complement this glass dedicated to wines and champagne, two other glasses have been designed to ensure the harmony of the range:

 . a larger glass for water and non-alcoholic drinks,

. a smaller glass for liqueurs.

 

 

Every year, Air France serves 870,000 bottles of wine in the La Première and Affaires cabins and close to a million bottles of champagne in all cabin classes.

 
---

The battle of the food festivals continues July 17th-19th as the Kirkland Waterfront takes on the Seattle Center. With an onslaught of art, style and taste, Kirkland Uncorked is ready to show the Westside how the eastside does a three-day summer celebration.

ART
Beginning Friday, Kirkland Avenue, and Marina Park will transform into Artists' Lane, showcasing over 60 of Northwest Art Alliance's Best of the Northwest artists. After strolling through Artist Lane, guests can put their newfound inspiration to use and stop by the "Arts for All" exhibit in the Kirkland Uncorked Promenade. The exhibit includes clay throwing demonstrations, drawing activities including a still-life model, kids' art activities and watercolor demonstrations. All kinds of artists are welcome from the fledgling doodler to the accomplished artiste.

STYLE
Kirkland Uncorked will showcase some of the newest lifestyle designs hitting the Pacific Northwest. Visit the Seattle Homes and Lifestyles Pavilion where lifestyle presentations from landscape to interior design will be displayed. Sounds of the area's top jazz musicians and bands from Pony Boy Records will fill the Marina along with the tunes of 98.1 Classical King FM will resonate throughout the waterfront.

After exploring luxuries on land, head seaward toward the The Boat Show. Experience the floating life of luxury in the lavish collection of yachts presented by the Seattle Boat Show. Guests will also have the opportunity to tour the historic Lady Washington Tall Ship making Marina Park it's port for the weekend.


TASTE Indulge your palate with over 60 wines from 20 Washington wineries in the Tasting and Lifestyle Garden. Afterward, visit The Grape Choice Wine Shop featuring bottles and cases of the varietals featured within the event. Need a break from the grape? Visit the Henry Weinhard's Beer Garden, pouring premium brands of Belgium Wheat, IPA, Private Reserve, and more.

To top off the tasting experience, guests are invited to sample some of the Pacific Northwest's finest restaurant samplings. Witness the talent of Washington's top chefs in a heated grilling competition.

Visit www.kirklanduncorked.com to learn more about Washington's signature summer festival and discover Kirkland's vibrant community at Kirkland Uncorked.
---
PEZULA SOMMELIER TO REPRESENT SOUTH AFRICA IN INTERNATIONAL

JEUNES SOMMELIERS

COMPETITION

Knysna, South Africa - June 25, 2009
: Mortimer Bester, a 24-year-old sommelier at Pezula Resort Hotel & Spa on South Africa's famed Garden Route, has won the
Chaîne de Rôtisseurs' Jeunes (Young) Regional Sommeliers
competition and will represent South Africa at the finals in the United Kingdom this September. Born and raised in Knysna, Bester, who was also named Best Wine Steward in South Africa in last year's Diners Club International Wine List national awards, had never tasted wine when he joined Pezula as a waiter in 2005. 
Bester was the regional winner of the
Chaîne de Rôtisseurs' Jeunes Sommeliers
competition last year. His high score on the final examination, which included blind tastings of wines from all over the world, secured his spot in the global finals. 
Werner Wentzel, Pezula's F&B Manager and Wine Director, who has mentored Mortimer for the past four years, says that once he started attending Pezula's in-house tasting sessions, his passion for and knowledge about wine began to grow so quickly that he was promoted to Sommelier in 2007. 
"In all my years in the industry, I have not come across anyone with more passion for wine.  Mortimer has amassed an incredible amount of knowledge in a very short space of time," says Wentzel. "He has hosted wine-tastings for guests at Pezula with wonderful results and his name appears more regularly than any other on our guest comment forms. He is an inspiration to all young South Africans." 
The 2009
International Jeunes Sommeliers
final takes place on September 25th in Stratford-Upon-Avon, and coincides with the 50th anniversary of the bailliage of Great Britain.
ABOUT PEZULA RESORT HOTEL & SPA:
Nestled on South Africa's lush eastern shore, straddling the Knysna Lagoon and the Indian Ocean, Pezula Resort Hotel & Spa is home to 78 luxury suites, the most luxurious spa on the continent, delicious cuisine, superb wines and a sport facility unlike any other. The newest edition is the Pezula Private Castle, set on secluded Noetzie Beach.
For more information please visit,
www.pezularesorthotel.com
---